Let's get this straight once and for all – despite being the capital of a desert nation, Abu Dhabi has plenty of green spaces.

There are parks scattered all over the emirate, often with brilliant facilities and places to eat and refresh yourself, as well as Al Ain – aptly named The Garden City.

When the weather is good, there's nothing like a good stroll around the park with your friends and family, maybe stopping for a picnic or an ice cream.

So here's our pick of places to go in the capital when you fancy some green time.
Al Khaleej Al Arabi Park
If you've ever driven along Khaleej Al Arabi Street of a weekend you'll doubtless have seen the cars parked up along the road and droves of people heading here for barbecues. The waterfront space has got to be one of the most popular places in the capital for a Friday or Saturday trip out.
Free. Khaleej Al Arabi Street.
Capital Garden
Also known as Al Asema Park, Capital Garden is in the middle of the city (it's the one with the ornamental coffee pots at the entrance in Al Markaziyah). It was built in 1976 and enjoys the distinction of being one of the oldest parks in the capital. Despite its downtown location, it's actually quite peaceful once you're inside the 5.6 hectare space. The hustle and bustle of the streets are drowned out by the sound of sheer tranquillity and the spouting fountains in the central pond. Like most parks, this one also caters to young families and has plenty for the kids with the usual play areas, including a mini climbing wall. It's split into smaller separate gardens, some of which have vending machines for refreshments, plus there's a café.
Dhs1. Sultan Bin Zayed the First Street.
Corniche Parks
If you're heading to the Corniche, chances are you're thinking of a beach day, but those sands are outlined by some lovely parks, ideal for a shaded stroll, and on the other side of the road are a bunch more green spaces. Starting from the east side, near Sofitel Abu Dhabi, is Recreation Park. The biggest attraction is a large sun dial – always popular with curious little minds. Next along the road is Formal Park, which is actually a lot more fun than its name suggests. It has barbecue pits, badminton courts, a concrete maze (for the kids?) and plenty of room to relax on the grass. At the end of the first stretch is Lake Park – with a 15m fountain and wooden bridges and walkways, it is a favourite with Instagrammers. Further along towards A'l Bahar you'll find more, each with plenty to offer, including skate parks, splash facilities and more. So, the next time you're looking for a weekend outing, skip the beach and check out one of these spaces.
Free. Off Corniche Road.
Delma Park
Found at the junction of Delma Street and Salam Street, Delma Park is kitted out with fitness equipment and a proper running track that's soft under foot. When it comes to refreshments, there are a few kiosks scattered around so you can treat yourself and the family to some tea, ice lollies and sandwiches. There's also a table tennis area, a basketball court, chess tables and a climbing wall for kids.
Free. Delma Street.
Heritage Park
Now this place is great for families who want to picnic in peace. The pretty spot is tucked away opposite Mina Port and is somewhat overlooked. There are barbecue pits and kiosks that make it convenient for groups. There's also a climbing frame to keep the kids entertained as you relax.
Free. Off Al Firdous Street, Corniche East.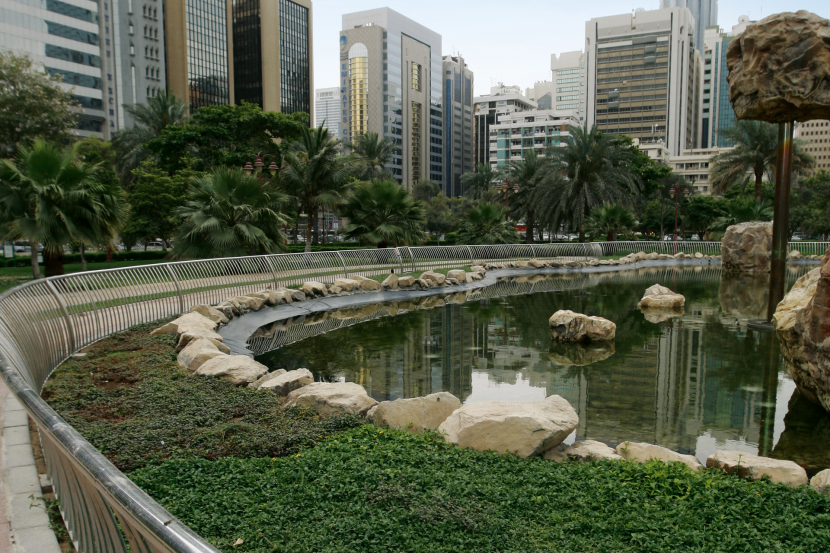 Khalidiyah Garden
Drop by this downtown green spot in the morning or late evening and you will bump into gangs of determined walkers and joggers circling the paved pathways, getting in their daily dose of exercise. Scattered date palms provide visitors with plenty of shade, and the terrain here is mostly flat, making it an ideal spot for picnics or for a little nap under a tree once the temperatures fall. There's a children's playground to keep the young ones occupied and a water feature, too. Parking isn't great around here, so beware if you're driving to the park.
Dhs1, free (kids aged ten and under). Between 30th and 16th streets, Al Khalidiyah.
Khalifa Park
Located just next to the Park Rotana, Khalifa Park covers a massive area – 500,000 sq m in total. But it's not all green grass and palm trees, there's also a museum that takes you down a time tunnel and explains the history of the development of the capital, an aquarium, a library and a miniature train that takes you around the circumference. There's also the Adrenagy Gym, which has a café inside serving healthy protein-heavy food. It's right next to our offices, so we'll keep an eye out for you from our window. Be sure to wave.
Dhs2. Next to Ministries Complex, Sheikh Zayed Bin Sultan Street.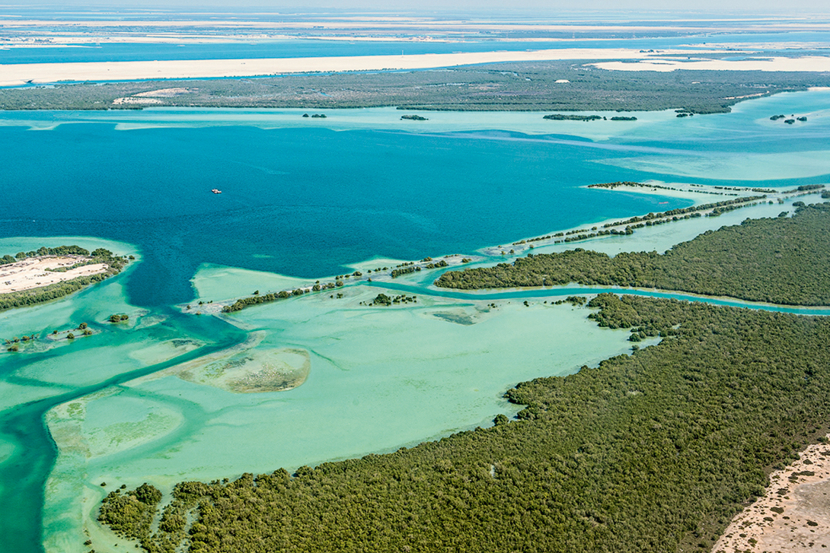 Mangrove National Park
Okay, this isn't your typical park, but our list wouldn't be complete without a shout out to this stunning landmark. The thriving ecosystem is a sanctuary for a variety of birds and marine life. Its atypical salt-tolerant trees also act as a barricade against erosion. Fun facts aside, you can marvel at the mangroves from the water (Captain Tony's runs various tours), or stroll along the pathway next to Eastern Mangroves Hotel & Spa by Anantara. The route is dotted with numerous cabanas under which you can take shelter, or set out a picnic basket.
Free. Eastern Mangroves, Sheikh Zayed bin Sultan Street. www.ead.ae.
Old Airport Park
This big park near Zayed Sports City is a welcome blast of green in relatively urban surroundings. There are places for kids to play, bathrooms and a KFC, if your idea of a chilled night is sitting under the stars with a bucket of fried chicken.
Free. Sheikh Rashid Bin Saeed Street.

Reem Central Park
Bringing a slice of urban relaxation to the mostly residential Reem Island is this space. While many parts of the island are still in development, there's enough to see and do here to warrant a visit if you live nearby. There are a fair few places to eat, too, with Taqado, Park House and more opening up. Head out for a run and finish with a coffee and a bit to eat. Perfect.
Free. Reem Island.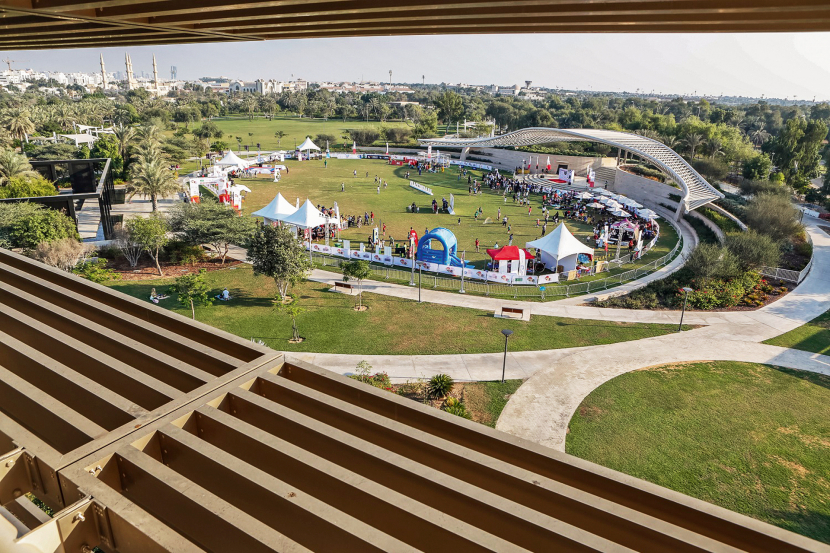 Umm Al Emarat Park
Umm Al Emarat Park, or Mushrif Park as it was previously called, might be almost at the end of this list, but it should be right near the top of yours. There's plenty going on here to keep the whole gang entertained. It was built in consultation with a few local groups who shared what facilities they'd like to see in a park. As a result, there is the Wisdom Garden (a place to ponder life's big questions), the Animal Barn (a petting zoo that's managed by Emirates Park Zoo and includes camels, goats, ponies and more), the Children's Garden, the Botanic Garden (which houses about 200 regional plant species), a 1,000-person amphitheatre, the Shade House (a structure that houses more than 30 species of shade-loving plants) and of course, rolling green lawns. In cooler months, the organic Ripe Market pitches up every Saturday and there are also places to eat such as SALT, Parker's and Pinza.
Dhs5. Al Mushrif (02 666 9559).
Yas Gateway Park
This sprawling area on Yas Island can often get forgotten about given all the other destinations nearby, but if you're in the mood for a stroll after all that shopping, there are few better places. Split down the middle by the Sheikh Khalifa Bin Zayed Highway, it is divided into two sections – north and south. There are huge grassy areas, ideal for walking, stretching out, having a kick-about or more. There are also tennis courts and it's a great place for a run. Kids will be kept happy by the sprinkling of play areas. It's a beautifully maintained space, so why not head over to Yas, pick up a few hot dogs from Ikea and relax out on the lawns awhile.
Free. Sheikh Khalifa Bin Zayed Highway, Yas Island.
Be the first to get all the latest Abu Dhabi news, reviews and deals into your inbox by signing up to our free
newsletter
,
click here to sign up
.