We love this city. No matter how long you've lived in the capital, it can always surprise you and there's always somewhere great to visit, dine, drink and have some fun.

We've been calling Abu Dhabi home for years now and we've loved it ever since.

So whether you're new to the city or you're veterans like us, here are 50 reasons why this city has it all, and then some.

1 Abu Dhabi's skyline is incredible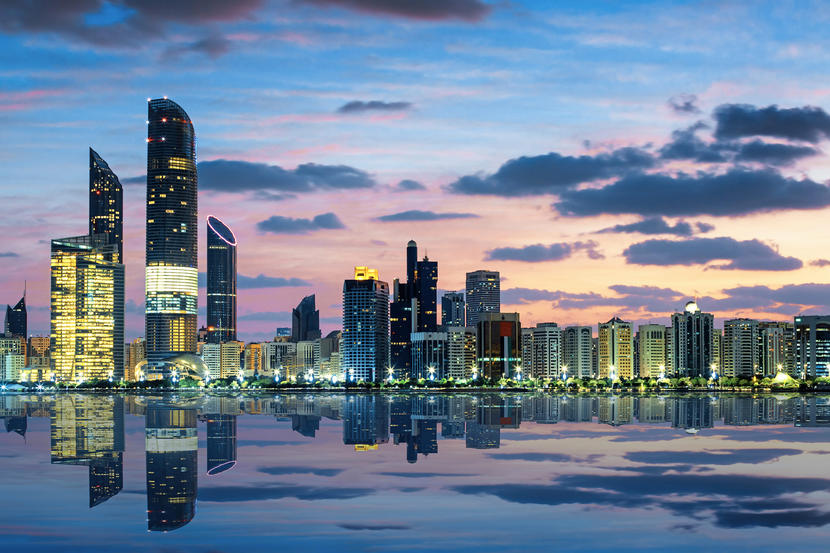 The capital, just like its sister city up the road, is home to a spectacular skyline. Located mainly along the corniche, meaning you can get amazing pictures from the turquoise waters, the capital is home to some stunning architecture including the World Trade Center Towers and Etihad Towers. Elsewhere in the city there are even more incredible buildings including Reem Island's Gate towers, Al Bahr Towers and Aldar HQ.
2 Al Ain
The Garden City is a cultural gem and is home to loads of great sites. A short drive down the E22 and you can explore Al Ain Palace Museum, Al Ain Oasis, Al Jahili Fort, Qasr Al Muwaiji and Abu Dhabi's highest peak, Jebel Hafeet. There's lots to see, so don't miss out.
3 Art and culture is everywhere
You can really get your cultural fix in Abu Dhabi, from seeing work by the world's greatest artists at Louvre Abu Dhabi to exploring pieces from local and international creatives and performers at artistic hotspots the Cultural Foundation, Warehouse 421, NYUAD Art Gallery and Manarat al Saadiyat. There's always something going on.
4 Beach clubs
We're not sure you'll find more pristine beaches and inviting waters than those you'll discover in Abu Dhabi. Grab your swimmers and you can lounge by the sea at luxurious beach clubs to top up your tan including Saadiyat Beach Club, Yas Beach and luxury hotels including The St. Regis Abu Dhabi, Park Hyatt Abu Dhabi Hotel and Villas and Rixos Premium Saadiyat Island. Remember to top up your sun tan lotion, trust us.
5 Boat trips
Whether you want to explore the natural mangroves, take in the skyline from the waters of the Corniche, set off from Yas Island or head out into the sea for a spot of fishing, there are lots of great boat trips to experience and plenty of great companies ready to set sail including Captain Tony's, Noukhada, The Yellow Boats and many more.
6 Brilliant golf courses
The pros themselves will tell you that Abu Dhabi has top golf courses when they're in town every year for the HSBC Abu Dhabi Golf Championship at Abu Dhabi Golf Club. If you're ready to tee off you can find excellent courses at Yas Links, Abu Dhabi City Golf Club, Saadiyat Beach Golf Club and more.
7 Brunch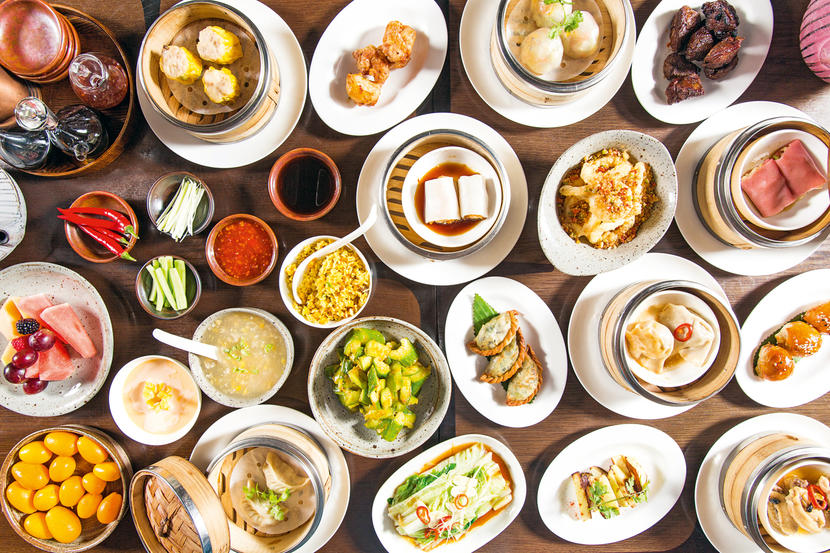 Abu Dhabi loves a brunch and there are so many to choose from you can't possibly have tried them all, although we've given it a good try. From lavish buffets serving every cuisine under the sun like at Saadiyat Rotana Resort and Villas, to bubbling hot pots at Dai Pai Dong, high-end Japanese food served to your table at Zuma or Latin American dishes served in style at COYA, you can never go wrong with a great brunch in Abu Dhabi. Keep your eyes peeled to Time Out Abu Dhabi for the latest deals, reviews and information on all things brunch.
8 Desert safaris are great fun
We do live in a desert, which can be easy to forget when strolling through shopping malls or feasting in some of the world's best restaurants. Take a short trip out of the city and you can safely explore the dunes with a desert safari and enjoy dune bashing, camel trekking and even sleeping under the stars if you want to see what life was like for the Bedouins of yesteryear. Check out Arabian Nights Village or companies such as Abu Dhabi Desert Safari (guess what they do?) to explore what lies beyond the city.
9 Eastern Mangroves
The stunning natural mangroves of Abu Dhabi are a picturesque backdrop when chilling at the Eastern Mangroves restaurants, but better still, you can get in a kayak and explore the channels of trees and see the wildlife that call the area home and learn a little more about the local ecosystem from a tour guide.
10 Excellent coffee is easy to find
Time Out Abu Dhabi runs on coffee and luckily there are loads of places where you can grab a great cup. The popular chains are all well and good but when we're searching for something more specliaised we head to excellent venues like Arabica, Local, Notes Café, Blacksmith Coffee Company, Architecture Coffee and Dose to name just a few. Check them out yourself or look at our guide to great coffee online.
11 Food from around the world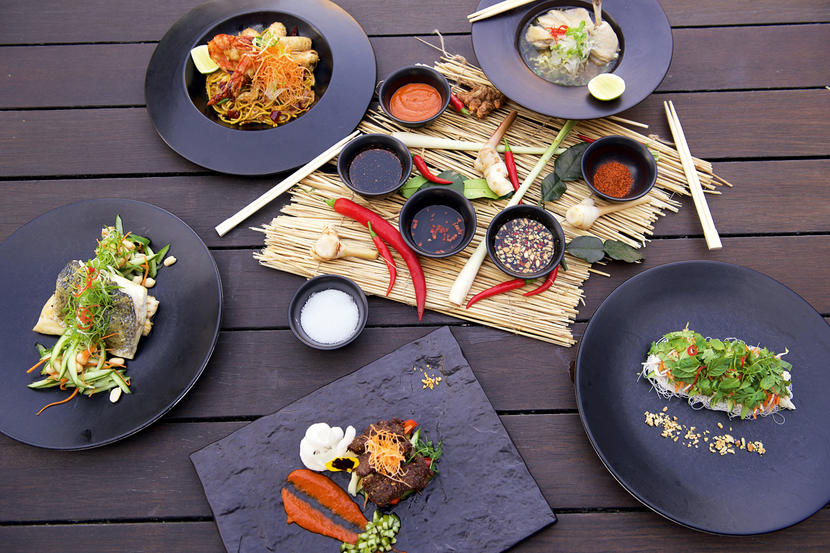 We're foodies and with Abu Dhabi being such an international country you can try food and dishes from from all over the world. From Ethiopian food at Bonna Annee and traditional Japanese dishes at Matsu to Peruvian delights at COYA and Thai dishes at Sontaya, all the bases are covered, whatever you've got a hunger for.

12 Good-value tailor-made suits
Need a suit fast and want it made exactly the way you picture it in your head? No problem, let the experts take care of you. In Abu Dhabi there are loads of great tailors and fabric stories where you can pick the style, cut and colour of your suit, be measured, and be walking around wearing it by the end of the week. Just make sure to haggle and get a good price. For a guide to getting a tailor made suit, visit our site for the complete guide.
13 Gold shopping is an actual thing
While the city has modernised, some things have stayed constant and the buying and selling of precious metals is one of those. Abu Dhabi's own gold souk is packed full of shops where vendors are waiting to sell you jewellery that's perfect for treating someone special or taking a souvenir home with you so you can remember the city.
14 Green spaces
While we love the concrete jungle, great cities are home to green spaces where you can take a load off and chill. In Abu Dhabi there are parks all over the place, strung along the Corniche, Khalidiyah, Mushrif and beyond, so you can enjoy a little escape from city life with a book and a blanket or just take a stroll to keep those daily steps up.
15 Happy hours
Nobody loves a great deal more than us and when it comes to going out we've always got you covered. Every night of the week in Abu Dhabi you can head out and enjoy a great deal on drinks with happy hour promotions. We've got all the deals you need to know about online and in the magazine so you won't have to break the bank for a beverage.
16 Hawksbill turtles live here
Turtles are beautiful and just like you they call Abu Dhabi home. Hawksbill turtles are known to nest along many of Abu Dhabi's beaches and can be seen swiming offshore too. Just take care if you ever see one in the water and if you spot a nest then leave it be, nature is best observed and not interfered with. If you want to help you can contact some of Saadiyat Island's hotels who do turtle walks during nesting season.
17 History is all around you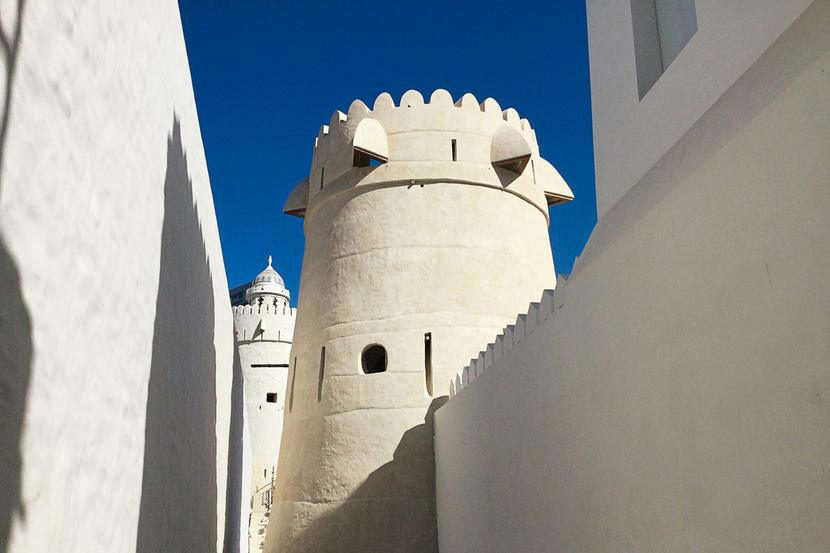 Abu Dhabi is a modern city but there are historical sites all over the emirate to explore. Among the skyscrapers you can find Qasr Al Hosn, the oldest standing building in Abu Dhabi and a quick trip down to Al Ain and you can take a walk around the former family home of the UAE's founding father Sheikh Zayed at Al Ain Palace Museum.
18 It has the world's fastest rollercoaster

If you love a thrill then you're in for a treat at Ferrari World Abu Dhabi. Formula Rossa, the world's fastest rollercoaster, lies in wait and it's a serious ride. Hitting top speeds of 240 kph you'll be fired along the track and back again before you know what's happened. It's a lot of fun.
19 It's brilliant for families
Dubai can be a bit of a playground and although there's loads of fun to be had in the capital, Abu Dhabi is definitely more of a family friendly city. With amazing parks, entertainment venues, classes, events and laid-back vibe, little one will love it and big ones will too. Keep up to date with all things family and kid-friendly with Time Out UAE Kids.
20 It's good for the 'Gram
We're guilty of it ourselves, but at least we can be proud of our Instagram page because the city we call home is a pretty one. From those picturesque shots of dunes and the ocean to showing off cool architecture and taking selfies with gold leaf coffee in Emirates Palace, this city really is an Instragrammers dream. Share your snaps with us and we'll re-post the best.
21 Incredible spas
When you live in a busy city and have a stressful job, or even if you don't, getting a robe on and going into relaxation mode is good for all of us. Helping to ease you towards total relaxation there are a number of world class spas at many of the city's finest hotels and you won't be stressed for long after a massage or treatment at the hands of the expert staff. Go on, treat yourself.
22 Karak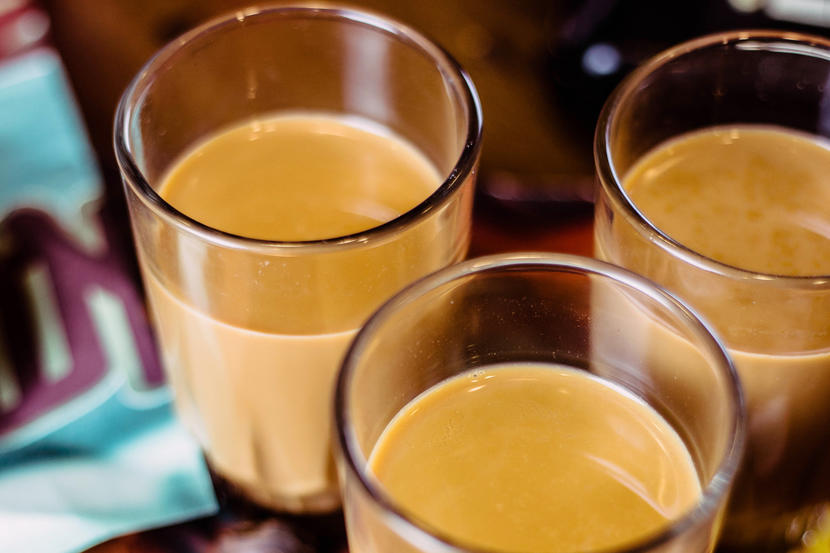 This country loves karak and we love a cup too. You can pick up a cup of this sweet tea across the city, and the best part is it's cheap. Everyone has their favourite spots for karak so we're not going to wade into that debate, but find yourself a greatplace serving the hot tea for no more than Dhs5 and you're on to a winner.
23 La Cava's cheese and grape night
Like in a romance novel, we've been head over heels with La Cava's 'Seven ate Nine' promotion ever since our first visit. Head to the restaurant and you can tuck into unlimited cheese, bread, cold cuts and paired grape for two hours for Dhs195 per person and you can even enjoy an extra hour of pure indulgence for Dhs80. What could be better?
Dhs195. Wed 3pm-9pm, Thu-Fri non-9pm. Rosewood Abu Dhabi, Al Maryah Island (02 813 5550).
24 Ladies' nights
Ladies' night are an institution in the city and every single night of the week you can enjoy a drink for free as well as some great deals on food. We've got all the latest offers online, so if you want a great deal, stick with us and we'll show you the ropes.
25 Louvre Abu Dhabi
We're not sure what to say about the museum that's not already been said. The structure is stunning, the exhibitions fascinating and the experience of visiting unrivalled in this region. If you've not been, what are you doing with your life? And if you've been before, go again, there's always something new to see. You have to book a slot in advance at the moment, but that's not too difficult is it?
Dhs63 (adults), Dhs31.5 (ages 18-22), free (under 18). Opening times vary. Louvre Abu Dhabi, Saadiyat Island (600 565 566).
26 Street Art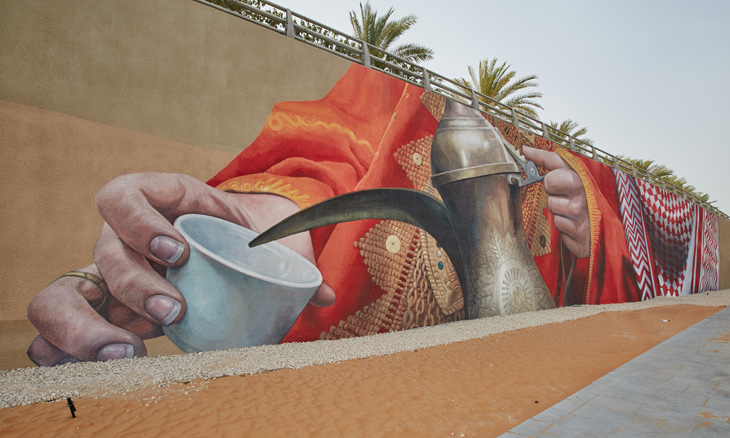 From the largest mural in the region at Marsa al Bateen to massive artworks in Al Raha Beach, more and more street art is popping up in Abu Dhabi. From modern art to highlighting cultural and traditional values, we love to see these impressive pieces pop up and we're sure you will too. Even taking a stroll along the Corncihe you'll see a sculpture dedicated to the love of cycling by artist Ai Weiwei. On Reem Island? Reem Central Park is full of it. Go, explore and see what you find.
27 Mina Fish Market is a unique experience
It's doesn't get fresher than Mina Fish Market where the local catch is sold to residents and restaurants who can get produce straight from the sea. Haggle for a great price, try new things, have the fish prepared and even cooked for you and you're on to a winner. Seafood doesn't get much better than this in these parts.
28 Nights out are amazing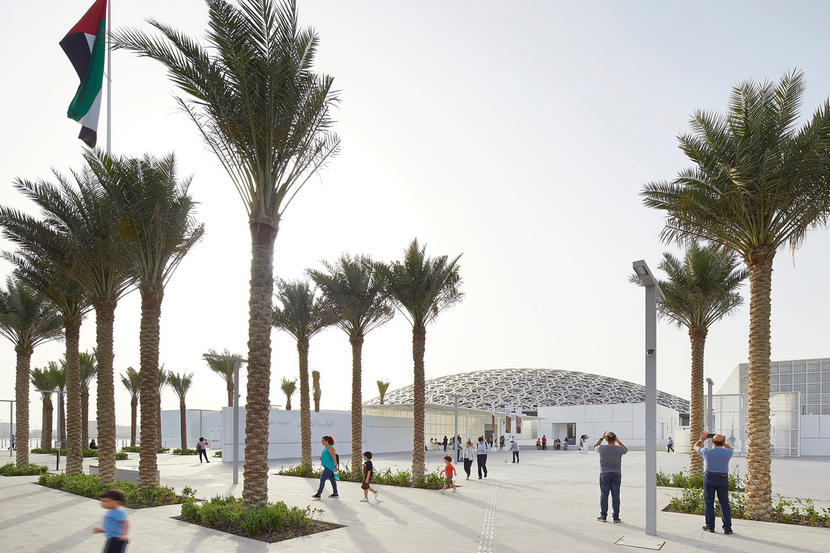 There's a brilliant nightlife scene in Abu Dhabi and yes you've probably seen us out in the wee hours enjoying music and a few refreshments. From the multi-level party atmosphere of ANNEX to the star-studded line ups that have shone at MAD on Yas Island there's a great nightlife scene. We'll keep you posted over at timeoutabudhabi.com.
29 Public beaches are beautiful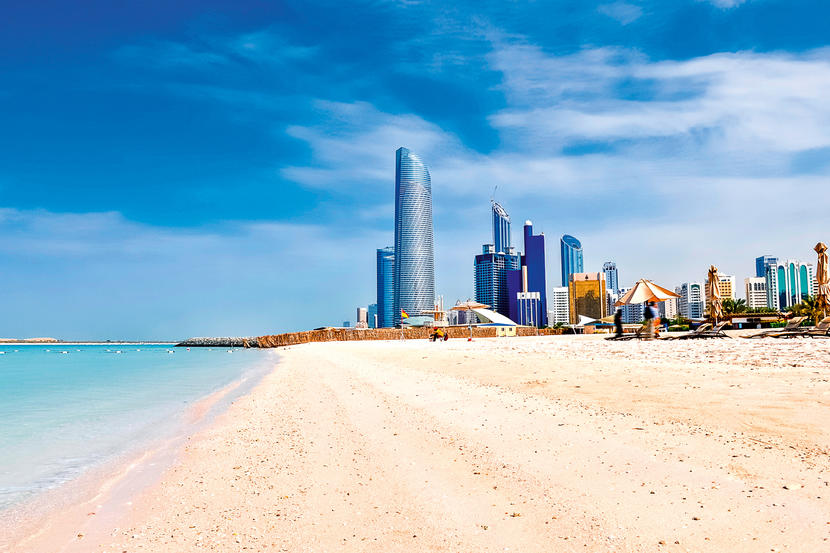 The best things in life are said to be free and when those things are public beaches we wholeheartedly agree. Head to Corniche beach, Al Bateen or Al Hudayriat island and you can lounge on the sand dip your toes in the water and enjoy the beautiful views all free of charge. It doesn't get much better than that.
30 Qasr al Hosn
Offering a glimpse into life before the city sprung up out of the sand, the ancient fort of Qasr al Hosn (built in 1761) is one the best cultural attractions in the country. Explore the site and learn more about the significance of the watchtower and get amazing pictures of the silver skyscraper surrounding the site contrasting historic and modern architecture.
Dhs30 (under 18s free). Rashid Bin Saeed Al Maktoum Street (02 697 6400).
31 Shawarmas are everywhere (and cheap)
Cheap food is sometimes the best food and with shawarmas that's definitely the case. If you're paying over Dhs7 for one, you're being fleeced, and often a great shawarmas costs even less than that. We have our favourite spots, everyone does, but it's hard to go wrong with garlic paste, chicken and fries, right? Want to see where we feast on the wraps? There's a whole guide to getting great shawarma over at timeoutabudhabi.com.

32 Shopping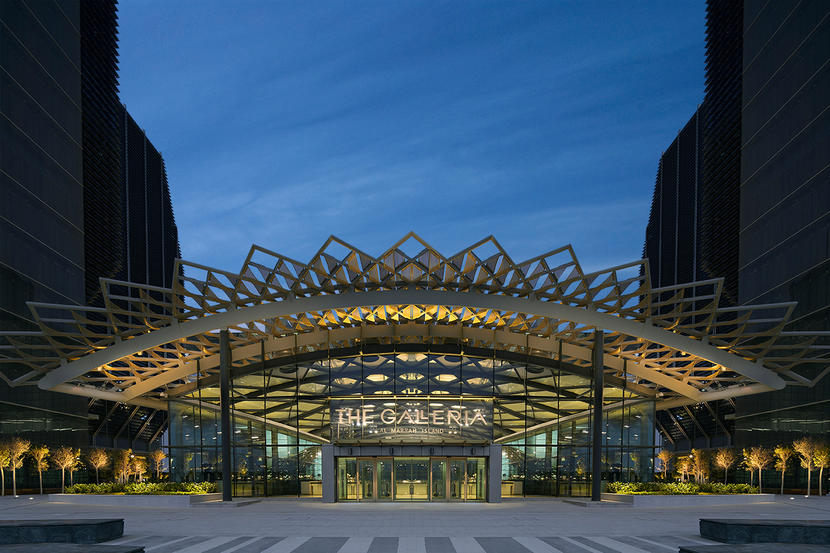 Abu Dhabi is home to some of the bet shopping in the world. Whether you're on the hunt for luxury brands at The Galleria Al Maryah Island, or just a spot of window shopping for the afternoon, you'll find everything you could need for a day of shopping at the likes of Yas Mall, Dalma Mall, Abu Dhabi Mall, Marina Mall and Mall at World Trade Centre. Plus there are plenty of spots to stop for a coffee or a bite.
33 Jubail Mangrove Walk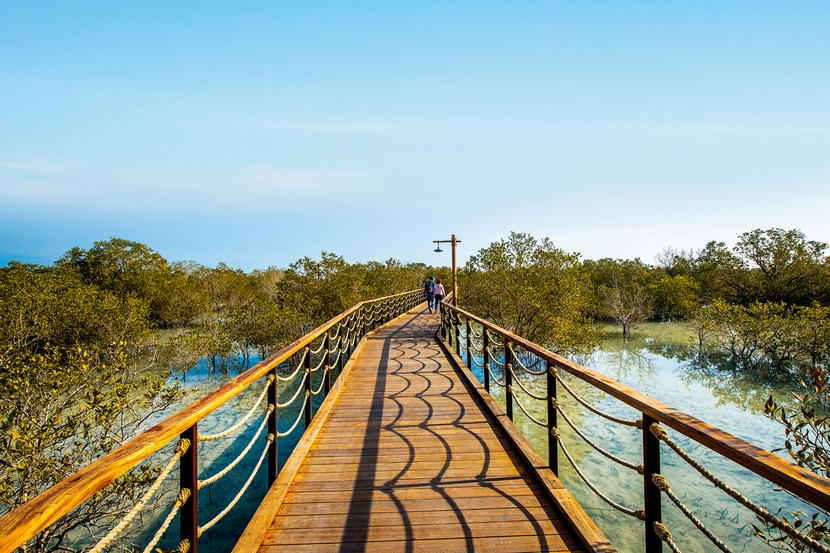 Ever since opening in January this year the picturesque walkway, offering you a chance to stroll through the mangroves, has been a real hit. Head along and you can explore the winding paths, see natural mangroves, take in the beautiful surroundings and even spot wildlife too. There's nowhere else quite like it in the country. It's still closed post-lockdown but watch this space for reopening news.
Jubail Mangrove Walk, Jubail Island, park.jubailisland.ae.
34 Star Wars was filmed here
We're a little bit nerdy and when we heard that Star Wars would film scenes in Abu Dhabi we were ready to take on the Empire ourselves. Star Wars Episode VII: The Force Awakens use the Abu Dhabi desert as the backdrop for the planet of Jakku and we think it looks amazing. It's not the only film to shoot here in the UAE, but it's definitely the coolest in our book.
35 Stunning scenery
We challenge you to find another city where you can see stunning sand dunes as far as the eye can see, turquoise waters of the ocean, glittering skyscrapers and breath-taking Oasis, with palm trees shield you from the sun. No really, we challenge you. It can't be done. Abu Dhabi is a real stunner and there's no denying it.
36 Sundowners
Just the word brings a smile to our face and there are plenty of places to watch the sunset with a cool drink in this city including those with seaside vibes and others in the heart of the city. From Buddha-Bar Beach, Tamba, 99 Sushi Bar and Restaurant, Hakkasan, Dusk and Cipriani. You're never short of options for a place to start the night with great views.
37 The Formula 1 season ends here
You may not be a fan of the F1 but come November every year you'll get caught up in Formula One fever. The last race of the season is held in the city and along with the fast cars comes great nights out, pop-up concepts, concerts and more making it one of the biggest events of the year, every year, in the UAE. This year the race will be behind closed doors but were sure there will be plenty of excitement and events to enjoy when the race arrives.
38 The International Playboys
This popular four piece is everyone's favourite local band and we've seen them rock out at venues across the city over the years. If you like a little loud music and are looking for some tip-top options, then check out he band's Facebook page to see where they'll be performing next and you can see for yourself. Visit www.facebook.com/ipboys.
39 Sheikh Zayed Grand Mosque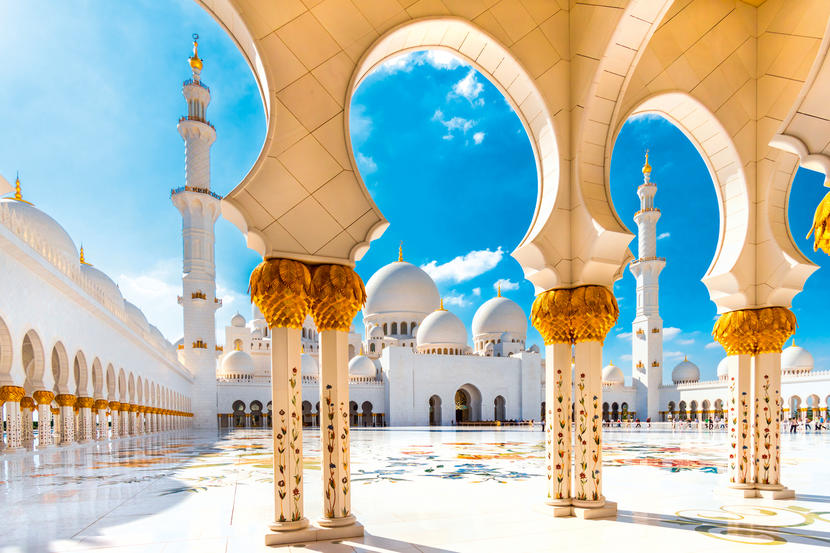 You didn't think we'd forgotten it did you? It's the jewel in Abu Dhabi's crown and everyone in this city has visited it. Not been? Worry not, every time a new visitor comes to stay we guarantee you'll be paying a visit and we can tell you, even after seeing it dozens of times, the beauty and incredible craftsmanship that has gone into creating the mosque is truly exceptional. This stunning attraction never gets old. Visit www.szgm.gov.ae for more information.
40 The sunsets
Being a coastal city, Abu Dhabi has many great vantage points to watch the sun set and the stars come out at night. Get the camera ready and see the big, burning ball of gas say goodnight. We recommend heading to the coast to see it shimmering over the water but wherever you set up, we promise you're in for quite a sight.
41 There are hundreds of islands
Abu Dhabi may sem like one big city but it's made up of hundreds of islands, not just the popular ones like Yas, Saadiyat and Hudayriat either, some are tiny, interconnected by bridges and others off the coast, making Abu Dhabi a unique place to live. You live on a desert island. Well, sort of.

42 TrainYAS means you can run around an F1 track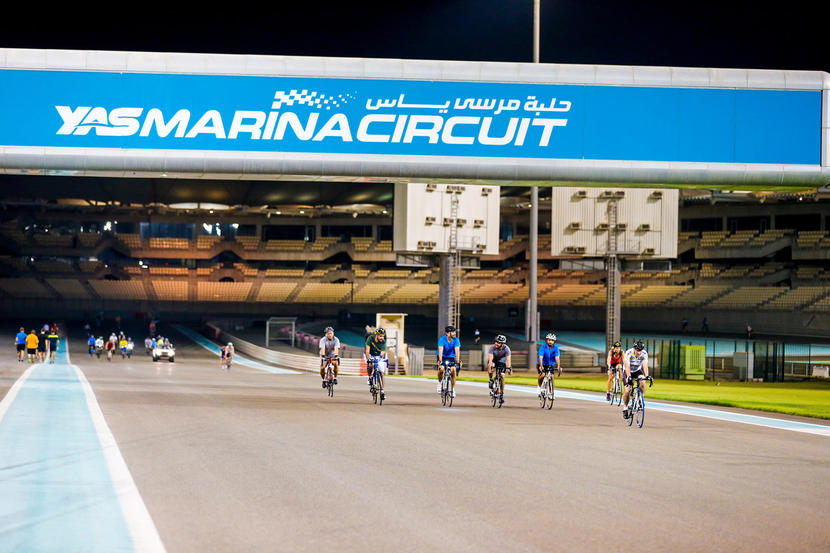 You can experience what it's like to rattle around Yas Marina Circuit as an F1 driver albeit much, much slower and not behind the wheel of a car going hundreds of kilometres an hour. Still, it's a great way to see the track and also keep fit too, and it's free.
Free. To register and for timings visit www.yasmarinacircuit.com.
43 Yas Marina
With it's picturesque marina, top restaurants and one of the most iconic hotels in the world, W Abu Dhabi – Yas Island in view, Yas Marina is one of the top places to be in the city. Whether it's for a stroll, a drink at Stars N Bars, food at The Scene or Aquarium or a night out at Mr Miyagi's, Casa de Cuba or Iris, there's always something going on here.
44 You can follow a top football team
Football, we love it and we do miss being in the stands back home signing songs and, erm, encouraging the referee. Football is big her, too, and you can follow one of the local teams in the Arabian Gulf League to cheer them to victory. Abu Dhabi teams include Al Jazira, Al Wahda and Al Ain, and when you buy tickets to the games you can get change from a Dhs20 note. Football and a bargain? Now you're talking.
45 You can go dolphin spotting
That's right, dolphins live here in Abu Dhabi, too, although you'll usually have to go out to sea to spot them. Hoever, there are places where they're visible from the land, and one organisation that's out to trace them and assess the health of the local population is The Dolphin Project, which schedule regular trips to see what they can see.
Fancy joining them for a trip? Visit www.wp.uaedolphinproject.org.
46 Vegan food is making its mark
Being vegan can be frustrating but in Abu Dhabi those following a plant-based diet are well catered for. Many of the city's restaurants offer vegan dishes and you'll be hard pushed to find a café serving coffee that doesn't have some dairy-free milk alternatives. Want to see what's what when it comes to being vegan in Abu Dhabi? We've got a whole section on our website at www.timeoutabudhabi.com/topics/vegan-abu-dhabi.
47 Walks along the Corniche
We love strolling along the Corniche to take in the beautiful surroundings of the ocean by one side and the city skyline on the other. With 8km of paths running from one end to the other you can walk, run, cycle or even hire an e-scooter to make your way along the Corniche.
48 Warner Bros. World Abu Dhabi
The world's largest indoor theme park is here in Abu Dhabi and there are a few familiar faces waiting to greet you, including Scooby Doo, Batman, Superman, Bugs Bunny and Fred Flintstone. With five different zones and rides and attractions for the whole family, this theme park is a great day out and we never say no to a chance to visit.
Dhs295. Daily 11am-8pm. Warner Bros. World Abu Dhabi, Yas Island (600 511 115).
49 World Records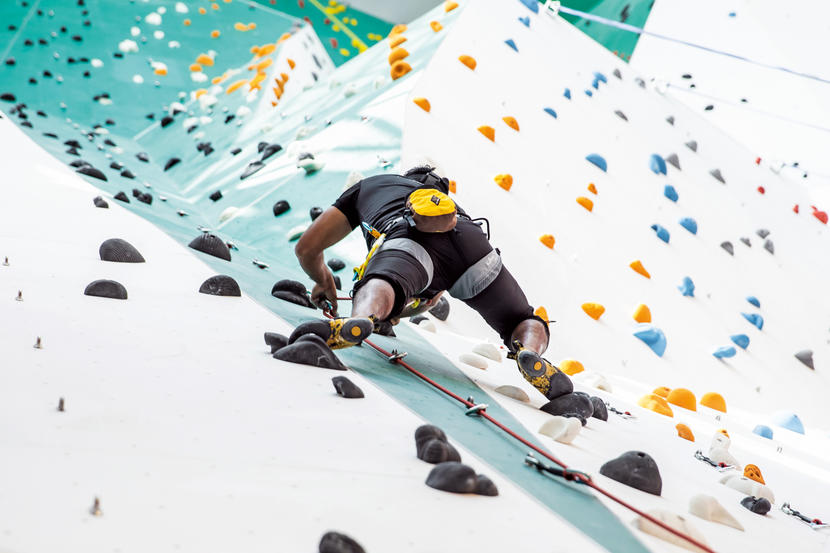 There are a lot of world records here in Abu Dhabi from the world's furthest leaning manmade tower at Andaz Capital Gate to the world's largest indoor climbing wall and indoor skydiving chamber at CLYMB Abu Dhabi. Add to that the world's fastest rollercoaster and biggest indoor theme park, there's a lot to boast about. Check out Abu Dhabi's Guinness World Records page by visiting our website.
50 Zaya Nurai Island
This picturesque island is so beautiful sometimes we wonder if it was created just for people to share pictures on social media. Head along for a bite, to lounge on the beach, for brunch or for a stay and you can take in the amazing surroundings as well as take the absolutely necessary picture at the sea swings at Smoking Pineapple for your Instagram page. It's ok, we've all done it. For more information visit www.zayanuraiisland.com.
Be the first to get all the latest Abu Dhabi news, reviews and deals into your inbox by signing up to our free
newsletter
,
click here to sign up
.