Abu Dhabi and the UAE is famous around the world these days and living here, we understand why.
A modern metropolis, a stunning desert landscape, world class restaurants, global events, impressive shopping destinations and everything in between, it's pretty great.
New to Abu Dhabi or looking at us from overseas and dreaming of coming for some fun in the sun?
Here are ten famous things about Abu Dhabi that you want to know.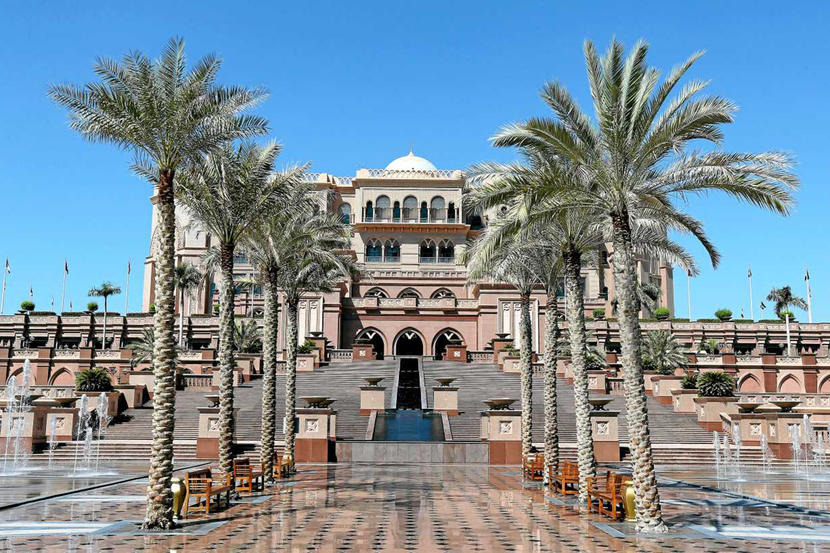 Without question it's the most lavish, luxurious and extravagant hotel in the world. With pristine lawns, world-class restaurants, stunning craftsmanship, amazing views and more gold than you can comprehend, it's a real spectacle. So much so that every day hundreds of tourists flock there just to get pictures of the world famous hotel. To be fair, it is stunning.
West Corniche, www.mandarinoriental.com (02 690 9000).
It has the world's tallest indoor climbing wall
This futuristic building looks impressive from the outside but step inside and you'll find something equally as impressive. CLYMB Abu Dhabi is home to the world's largest indoor flight chamber and the world's tallest indoor climbing wall. Both are suitably epic and worth checking out whether you call the capital home or are just in town for a visit.
From Dhs95 (climbing), From Dhs 215 (skydiving). Sun-Thu noon-9pm, Fri and Sat noon-11pm. Yas Island www.clymbabudhabi.com.
Modern wonder of the world, the Sheikh Zayed Grand Mosque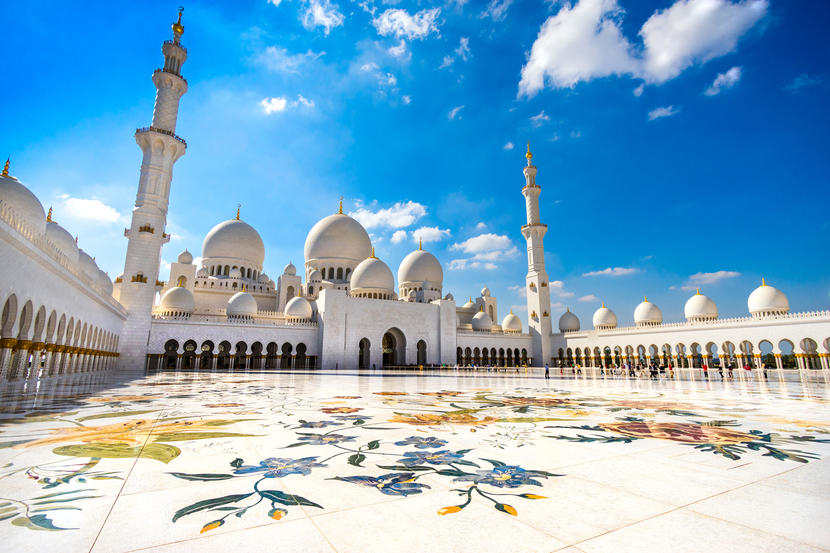 This is is the jewel in Abu Dhabi's crown and is easily one of the most stunning buildings in the world. The craftsmanship is unparalleled and a walk around the site is something every resident of Abu Dhabi has done a number of times but no matter how many times we visit, every time a new visitor comes, it never disappoints. This should be a t the top of our Abu Dhabi to-do list, but we're sure it already is.
Khor Al Maqta area, www.szgmc.gov.ae.
Star Wars was filmed here
It's easy to forget that Abu Dhabi is a city in the midst of a giant desert but take a short drive out of the bustling metropolis and you'll quickly be reminded. If you want to see sweeping dunes as far as the eye can see and a desert landscape that would brighten up any Instagram feed then the Liwa Desert is the ultimate destination. Loads of movies have used it as their backdrop, but perhaps most famously it was used in The Force Awakens. As always, when venturing into the desert take care, plan ahead and don't get stuck, trust us, it won't be much fun.
The Empty Quarter. Set co-ordinates for 20°N 50°E / 20°N 50°E.
The beautiful Jubail Mangrove Walk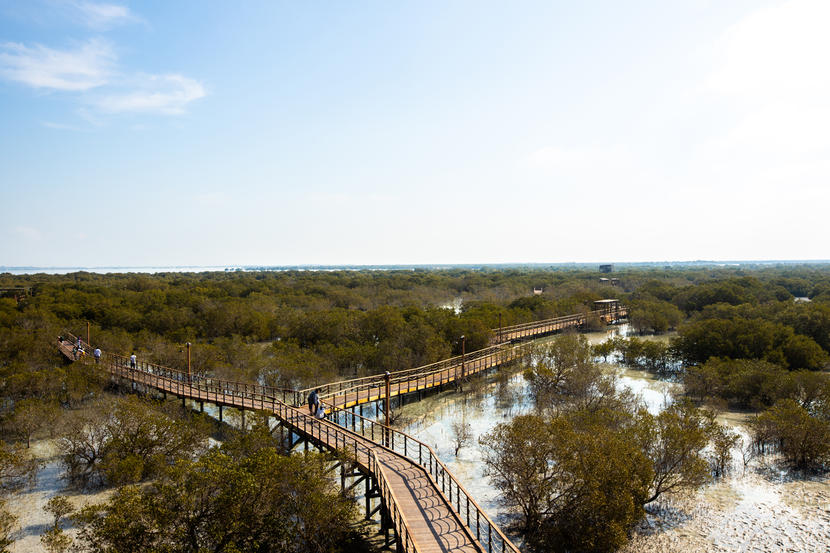 Jubail Mangrove Park may only have opened in early 2020 but it's quickly become one of the city's most popular sites and it's easy to see why. With picturesque scenes, and idyllic atmosphere and beautiful walks through the UAE's natural marine landscape, it's a wonderful escape from the busy city that's only a stone's throw away from downtown Abu Dhabi.
Free. Daily 8am-6.30pm. Jubail Island www.park.jubailisland.ae.
The final race of the F1 season is held at Yas Marina Circuit
It's has hosted the Grand Prix for more than ten years now, which is also the only day-to-night race in the calendar. Racing fans will be familiar with every twist and turn and for those that want to experience something a little different you can walk, run or cycle around the 5.55km track for free several times a week. It's a great way to keep fit and get up close and personal with one of Abu Dhabi's coolest attractions.
Yas Island, www.yasmarinacircuit.com.

The massive red exterior is nearly as iconic as the namesake car brand and it's one the sights people think of when Abu Dhabi comes to mind. Inside Ferrari World Abu Dhabi is the world's fastest rollercoaster, Formula Rossa, and you've simply got to try it. Hitting breakneck speeds it's not for the faint hearted and it really is one of the most adrenaline-fueled experiences you'll ever have in your life. Go on, strap in, everything will be fine.
Yas Island www.ferrariworldabudhabi.com (600 511 115).
Vin Diesel somehow flew a car between two of Etihad Towers
These impressive skyscrapers are arguably the most iconic part of Abu Dhabi's glittering skyline. They've even featured in movies too, remember the one where the car makes the jump between two of the towers? Yeah, it was pretty crazy. Head there and you'll find Jumeirah at Etihad Towers too, which is home to some brilliant restaurants and Ray's Bar which offers one of the greatest views in the city, especially when the sun is setting.
West Corniche (02 811 5555).
You can stay at the world's most Instagrammable hotel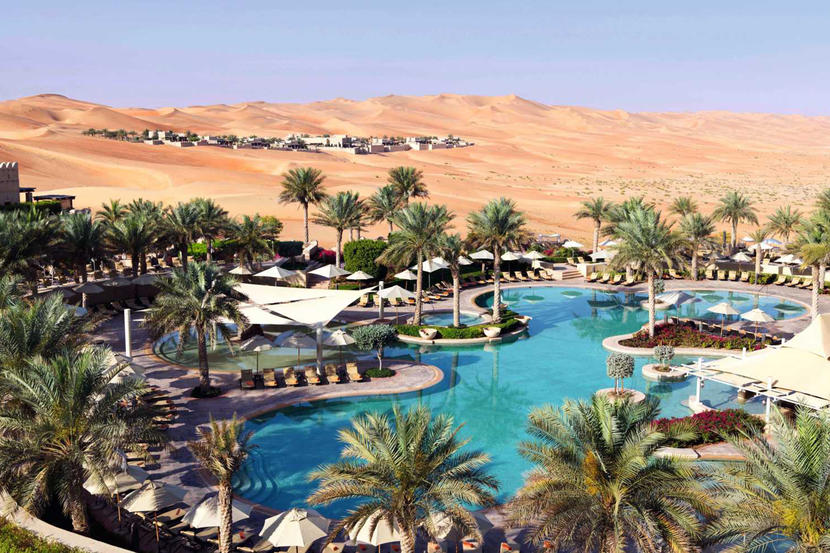 Qasr Al Sarab Desert Resort by Anantara was named the World's Most Instagrammable Hotel and there's no argument from us, other than the word "Instagrammable" isn't really a word at all. Making the most of the stunning natural landscape, nestled between golden dunes, this luxury escape is one of the most impressive places you'll ever spend the night. We're still dreaming of the last time we visited.
The Empty Quarter, www.anantara.com (02 886 2088).
You can visit the presidential palace Qasr Al Watan
It's not often you'll get to step inside a presidential palace but in Abu Dhabi you can. Qasr Al Watan opened to the public in 2019 and jaws hit the floor when it did. It's packed with stunning sites, intricate details and scenes so picturesque you have to, well, take a picture of it. You can go on guided tours and learn more when you're not saying "oooh| and "ahhh" at every turn.
Corniche West, www.qasralwatan.ae.
Be the first to get all the latest Abu Dhabi news, reviews and deals into your inbox by signing up to our free
newsletter
,
click here to sign up
.