Abu Dhabi is full of fabulous things for the whole family to do. So if you're looking for fun ways to spend time all together with the whole gang, then you'll want to check out our top suggestions.

We've rounded up the very best of what the UAE capital has to offer kids, mums and dads in this list (and what mum doesn't love a list?).

Enjoy.

Abu Dhabi Children's Library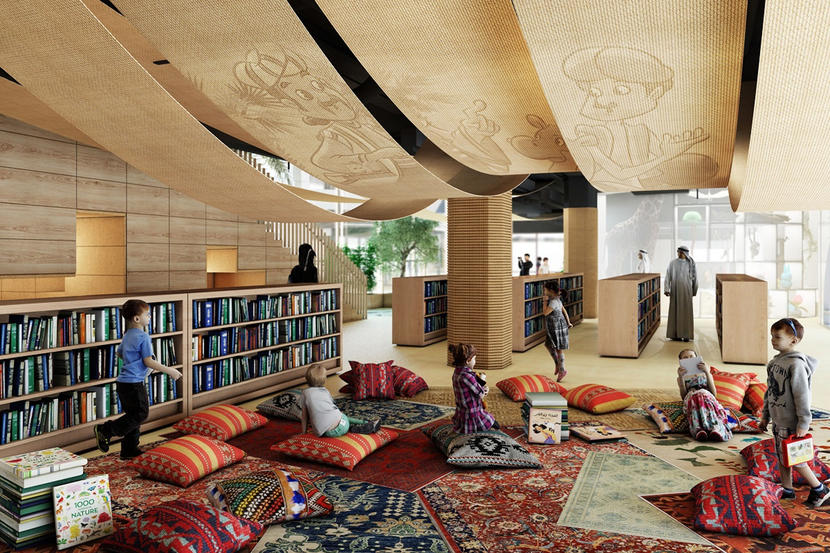 Ideal for your junior JK Rowlings, this brilliant children's creative hub will harness their love for literature.
Free. Open Sat-Thu 10am-8pm, Fri noon-10pm. Cultural Foundation, Sheikh Rashid Bin Saeed Al Maktoum Street, Al Hosn (02 657 6348).
Adventure Zone by Adventure HQ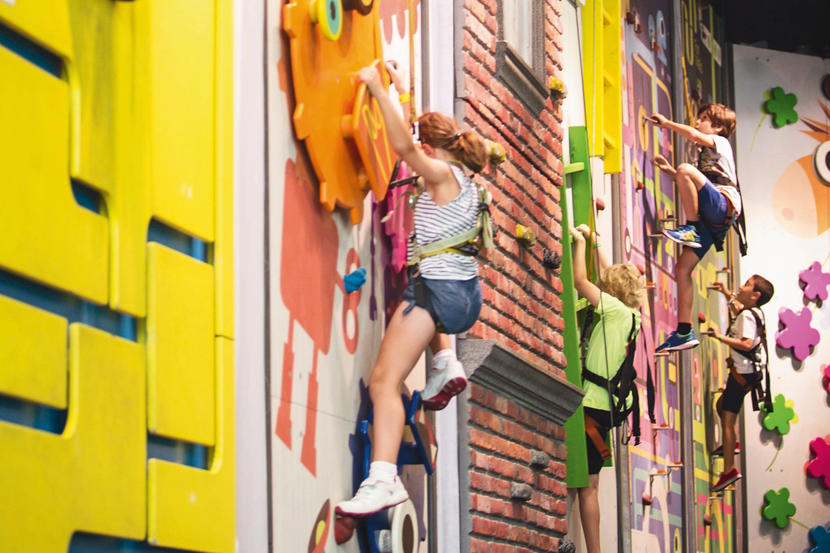 If your little ones have a head for heights, let them tackle The Climbing Pinaccle (it's more than 9m tall). There are also rope courses, zip-lining, biking and even caving adventures to be had.
From Dhs75. Open Sat-Wed 10am-10pm, Thu-Fri 10am-midnight. Yas Mall, Yas Island (02 565 0996).
Al Ain Zoo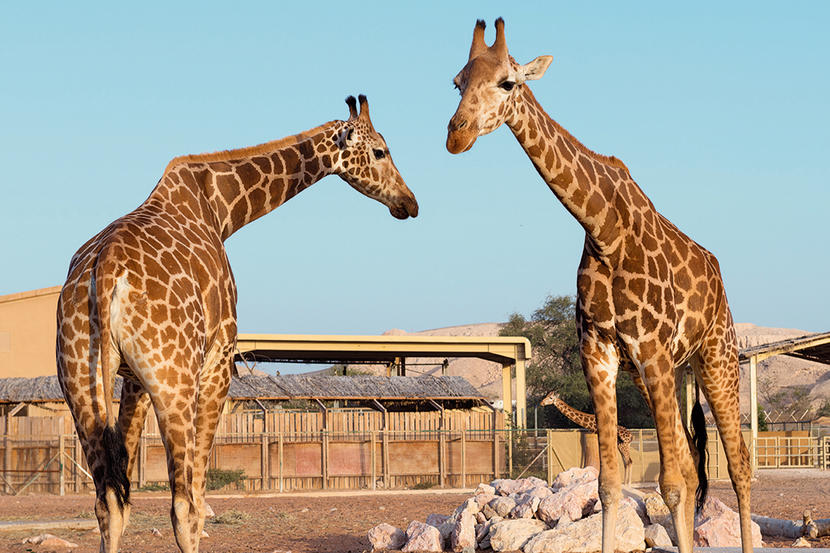 This 52-year-old spacious animal park is the granddaddy of all animal attractions in the UAE. More than 4,300 animals call it home, including leopards, wolves, monkeys, lions, tigers, hippos, crocodiles, rhinos, gorillas and giraffes. Education and conservation programmes are central to the facility's core beliefs and a high standard of care is apparent with animals having large spaces to themselves. As well as roaming around on foot, you can also head out on a safari drive (at the world's largest man-made safari park), sit down for a talk (the new expansion includes the Sheikh Zayed Desert Learning Centre) and enjoy bespoke experiences such as giraffe feeding and birds of prey demonstrations.
From Dhs30 (per adult), Dhs10 (per child aged three to 12). Open Sat-Tue 8am-9pm, Wed 8am-9pm (3pm is ladies only), Thu-Fri 9am-10pm. Nahyan The First St, Al Ain, Abu Dhabi, www.alainzoo.ae (800 966).
Al Wathba Wetland Reserve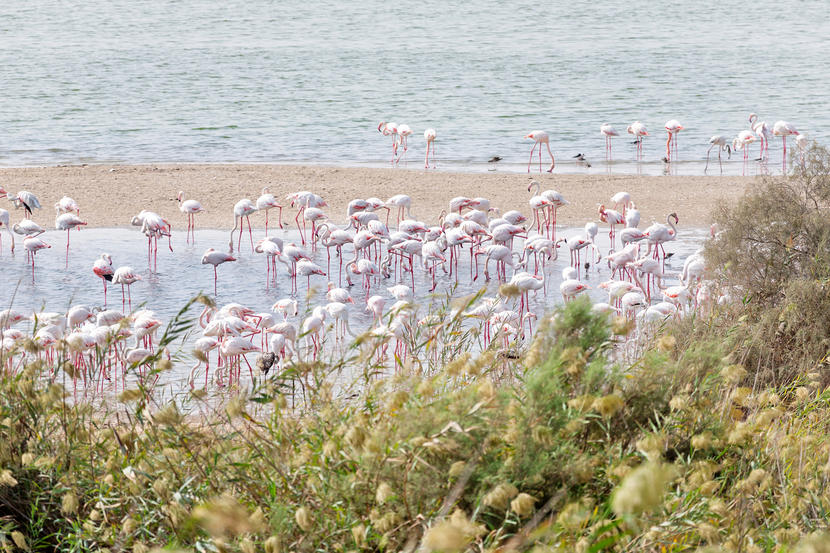 This protected area in Abu Dhabi is home to migratory birds (more than 200 species), as well as over 230 species of invertebrates, 11 types of mammals and ten kinds of reptiles. Think red foxes, desert monitors, greater spotted eagles and even the Ethiopian hedgehog. Plus it boasts a top breeding area for greater flamingos. You can spot all this from the provided bird-hides and the walking trail, as well as at the viewing platform. There's also a visitor's centre, where future guided walks, special events and school programmes can be planned, and you can review charts of the local inhabitants' active hours. Just make sure you stick to the sign-posted code of conduct to keep this area as well-preserved as possible.
Free. Open Thu and Sat 8am-2pm. Three kilometres from Mussafah, Abu Dhabi, www.ead.ae.
AquaFun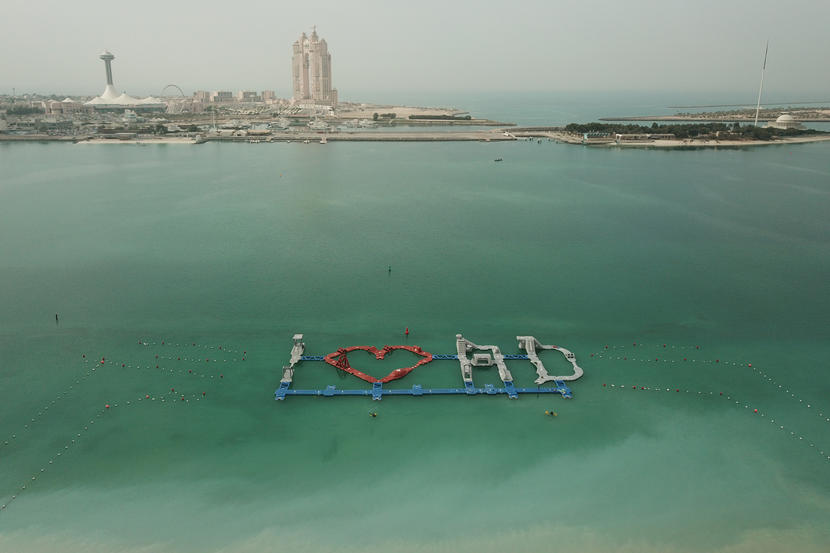 The capital's premier inflatable water park is both a wonderful workout and whole world of fun.
Dhs150 (adults and over-11s), Dhs120 (ages six-11). Open daily 9am-sunset. A'l Bahar, Abu Dhabi Corniche (050 588 1215).
Arabian Wildlife Centre
Budding conservationists will love learning about the different animals and ecosystems of the Arabian Peninsula here. Housing the world's largest collection of Arabian animals – such as oryx antelopes, Arabian leopards, and flamingos – the zoo creates open and convincing examples of the animals' natural habitats.
In the main building, nature lovers can see the animals through large panel windows, and enjoy the indoor exhibits and enclosures.

For a particularly memorable sight, head to the snake section – if they dare – the colours and abundance of nature's most slithery specimens creates quite a spectacle.
Free (under 12), Dhs15 (over 12). Sun-Thu 9am-5.30pm, Fri 2pm-5.30pm, Sat 11am-5.30pm. Al Dhaid Rd, E88, Sharjah. (06 531 1999).
BOUNCE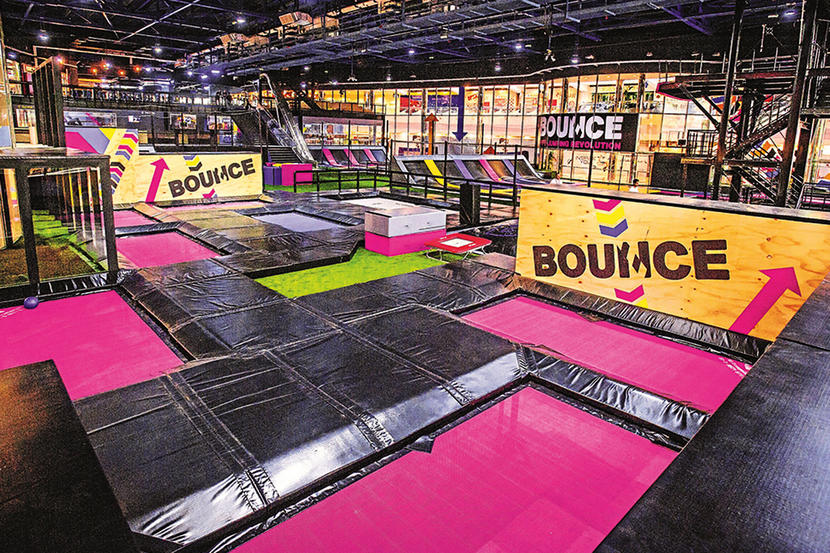 There's heaps of activities on offer in both the Abu Dhabi and Dubai branches, including the capital's "super tramp". This beast is four times the size of a standard trampoline and can generate a force of over 14Gs, which is what a fighter pilots feel.

X Park is a brilliant way to find your inner Spider-Man and jump around its many obstacles and pipes to work up a sweat, from its spider wall to its climbing wall. Kids can unleash all their pent up energy in this parkour zone.

Plus, billed as one of the most effective exercises you can do, trampolining is a fun, low-impact workout that tones muscles and improves coordination.
From Dhs75 (per session). Times vary. Marina Mall, Al Marina, Abu Dhabi, www.bounce.ae.
Caboodle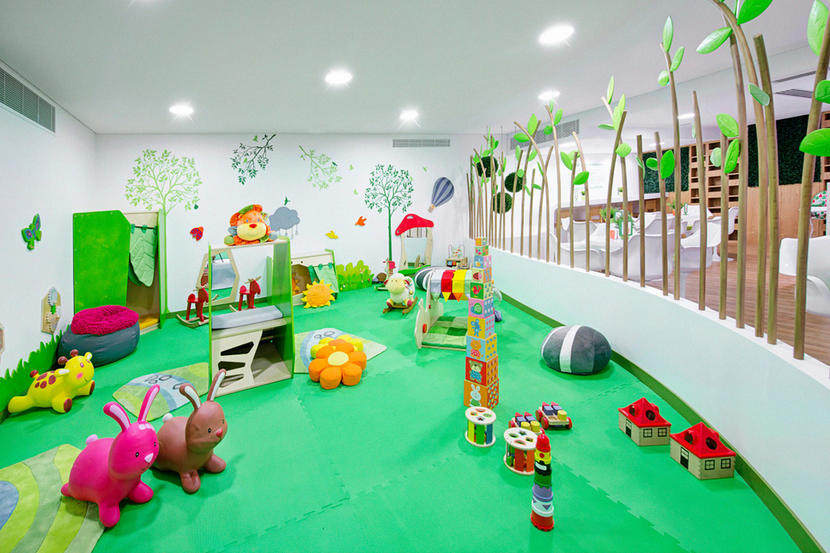 Super cute and colourful venue, Caboodle is a multi-purpose spot where the environment is both educational and stimulating. Kids can learn through play and exploration, and if mums wants to indulge in a spot of retail therapy while they do that, little ones can be left to play in the supervised play area (from Dhs55 per 30 minutes, kids three and above).

In addition, Caboodle features a kids' salon, healthy café, crafts and role play areas. Plus, it also hosts musical themed mum-and-tot classes filled with activities, crafts, games, stories and sing-alongs.
From Dhs45 (first hour), from Dhs20 (every additional hour), Dhs190 (day pass). Open Sat-Wed 9am-10pm, Thu & Fri 10am-midnight. The Galleria Al Maryah Island, Abu Dhabi, caboodle.ae (02 679 8019).
Cheeky Monkeys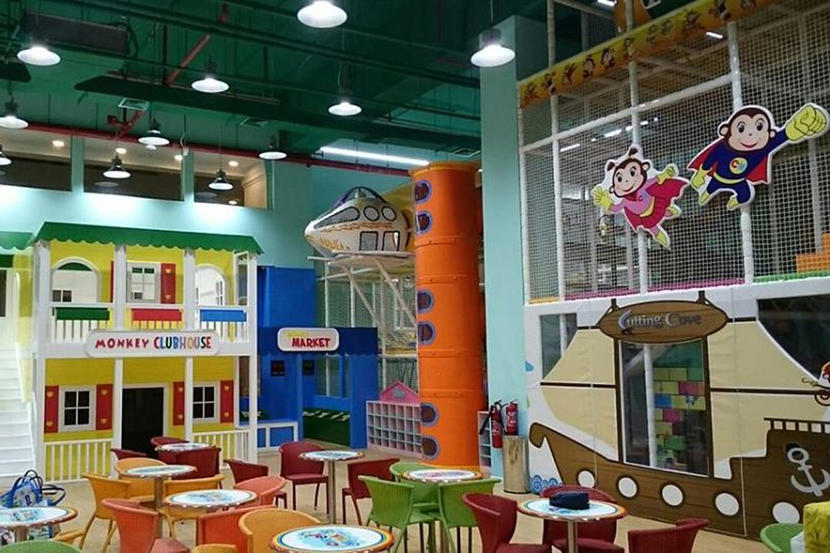 A world of colour and fun awaits little explorers at the Cheeky Monkeys soft play centres. Innovative neon-lit slides, mini zip lines, brilliant dressing up area and an enormous ball pit provide endless entertainment that energetic tots love. Plus there's a café serving hot kid-friendly meals and Starbucks coffee for the mums and dads.
Dhs55 (first hour, Dhs30 (subsequent hours). Times vary. Al Forsan Village Khalifa city A - Abu Dhabi, www.cheekymonkeys.com (02 449 3555).
Emirates Park Zoo

The word "zoo" can quite often get a true animal lovers hackles up, but this Abu Dhabi zoo is all about conservation. As well as helping to prevent endangered animals go extinct, the biologists and experts at Emirates Park Zoo have been able to provide critical information, such as fertility and survival rates for various mammals, birds, reptiles and amphibians to the National Academy of Sciences (PNAS). The zoo also offers a number of educational programmes for little ones where they can learn all about the furry, scaly and slimy residents and the importance of ensuring they have a future.
Free (under two), Dhs30 (kids three-16), Dhs35 (over 16). Sun-Wed, 9am-8pm; Thu-Sat, 9am-9pm. Al Bahia, Abu Dhabi, www.emiratesparkzooandresort.com (02 563 3100).
Ferrari World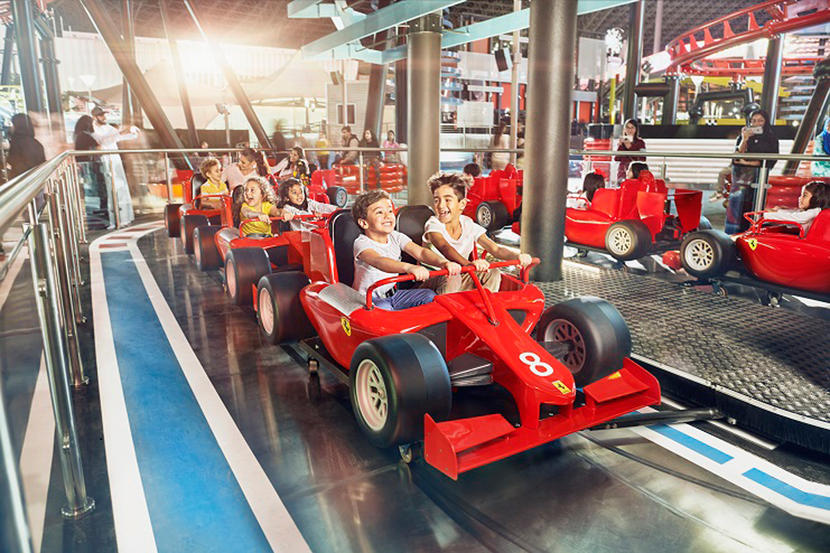 This massive Abu Dhabi attraction is a fantastic white-knuckle ride all-round. The theme park boasts more than 20 rides and activities, but the one you will want to strap yourself into is the record-smashing Formula Rossa. It's not for the fainthearted, however.

A recently opened family zone is perfect for little thrill-seekers, with various tamed down versions of the park's fast, white-knuckle rides.

There are heaps of less terrifying rides suitable for mini thrill-seekers such as the car carousel, driving school and an awesome super car museum – we can but dream as we gaze on the gorgeous motors.
From Dhs230 (kids), Dhs295 (adults). Open daily 11am-8pm. Yas Island, Abu Dhabi, www.ferrariworldabudhabi.com (02 496 8000).
KidZania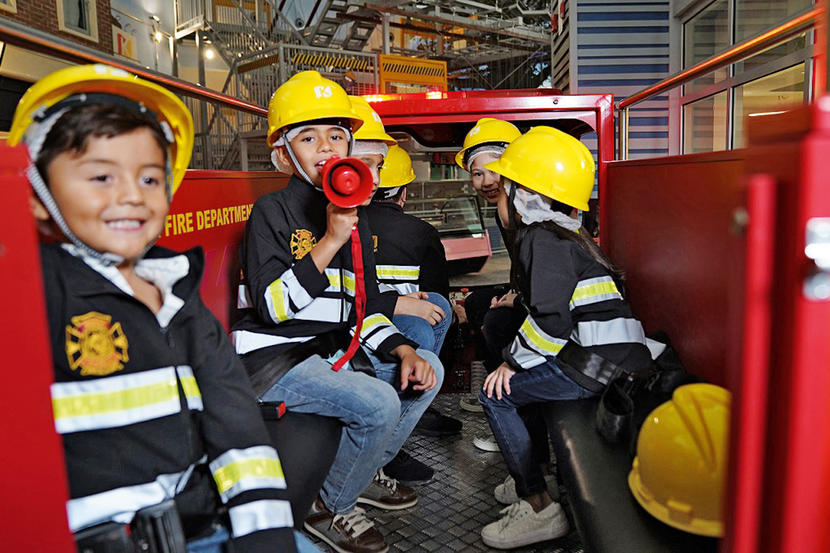 There's just something fun about pretending to be a doctor, a fireman, a chef or a builder. KidZania is a magical world of make believe where children can role play more than 40 professions and earn their own KidZania money, which they can then spend on their way out in the on-site shop.
From Dhs94.5 (kids two-three), from Dhs166.5 (kids four-16). Times vary. Yas Mall, Abu Dhabi, www.kidzania.ae (800 382246255).
Louvre Abu Dhabi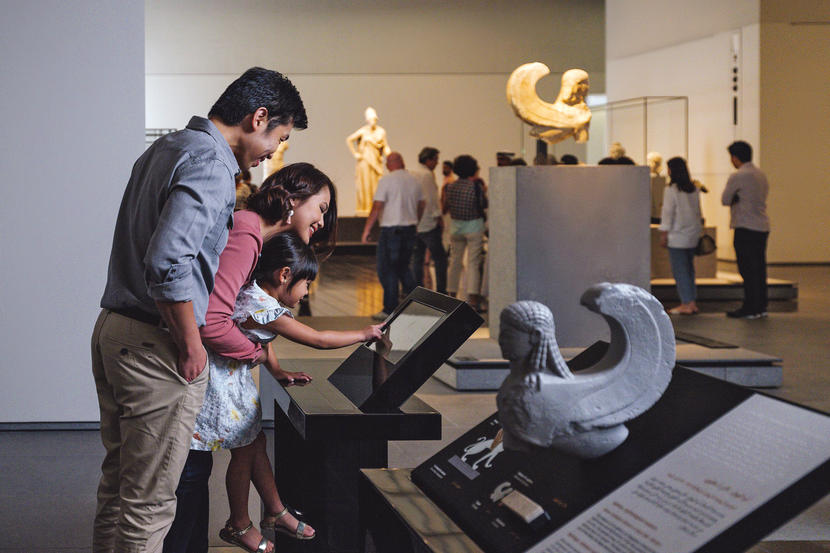 From super cool exhibitions to awesome holiday camps, the Louvre Abu Dhabi is a hot pot of learning and fun for inquisitive little minds. With its own museum dedicated to the youngest members of the family, there is always plenty going on to keep even the smallest of visitors entertained.

The Children's Museum hosts family-friendly experiences and workshops in both Arabic and English throughout the year, and the latest one to take residency is "A Costume Adventure" that is running until July 2020 – so catch it before it's gone.
From Dhs30. Open Sat, Sun, Tue, Wed 10am-8pm; Thu-Fri 10am-10pm. Saadiyat Island, Abu Dhabi, www.louvreabudhabi.ae (600 565 566).
Mangrove National Park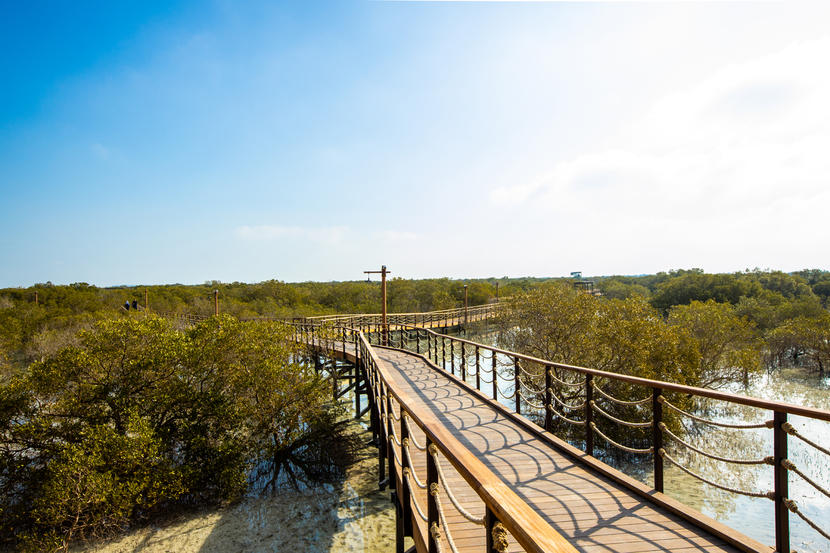 Home to around 60 bird species, such as the western reef heron, greater flamingos and the odd spotted eagle, Mangrove National Park, located along the Eastern Ring Road, boasts 19 square kilometres of forest. It's home to fish, shells, sponges, shrimps, echinoderms (another type of marine animal) and crabs. The mangroves are also interesting, with the ability to thrive in up to nine percent salinity – that's double the concentration of sea-water. Here, you can enjoy bird-watching, sunset tours on abras, kayaking and paddle-boarding – just ensure you abide by the rules in order to maintain the habitat.
Near Eastern Mangroves Hotel & Spa by Anantara, Eastern Ring Road, www.ead.ae.
Orange Wheels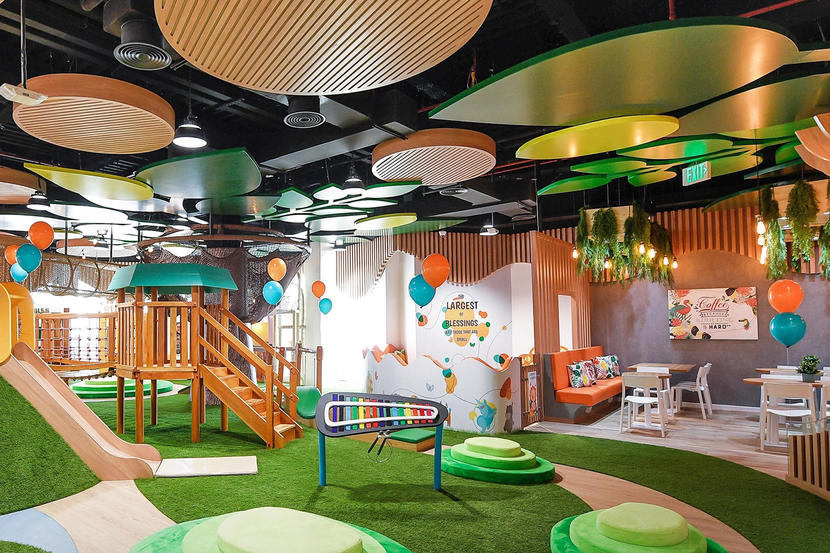 Little adventurers between the ages of six months to eight years have free rein to run, jump and explore the mega soft play destination where they can burn off energy in a safe environment.

Billed as a learning destination, they will be garnering new skills, without even realising.

Little princes and princesses can book themselves in for a quick trim – or something more drastic if they are feeling daring - in the on-site hair salon, or get that all-important Abu Dhabi mani-pedi in the spa where a rainbow of nail varnish colours are at their fingertips. Pampered expat kids, much?

And for mums and dads who fancy indulging in a spot of retail therapy the 'drop n shop' option (priced at Dh80 per hour) is a win for the whole family. Parents who want to keep an eye on their mini mes can stick around and kick back in the café where the great coffee tastes even better before 3pm because it's free.

Plus, plenty of regular offers such as kids eat free, Wednesday super saver deals and Tuesday Play Date discounts mean regular visits won't break the bank. Their future is bright, their future is Orange Wheels.
Dhs65 (first hour), Dhs40 (additional hours), Dhs200 (day pass). Open 10am-9pm Sun-Wed, Thu-Sat 10am-10pm. Al Raha Mall, Abu Dhabi, orangewheels.com (02 556 2229).
Umm Al Amarat Park
Little animal-lovers can get up close and personal with the cute and furry inhabitants of the park's Animal Barn and Petting Zoo.

In collaboration with Al Ain Zoo, the animal enclosure is open to kids of all ages and is home to a host of animals including ponies, rabbits, tortoises, pygmy goats, horses and camels.

If they want to, children can feed the animals and can also enjoy a camel or pony-ride in the park.
Dhs10 (park entry), Dhs10 (pony rides), Dhs10 (feeding the animals). Daily 8am-midnight. Umm Al Emarat Park, Mushrif www.ummalemaratpark.ae.
Warner Bros. World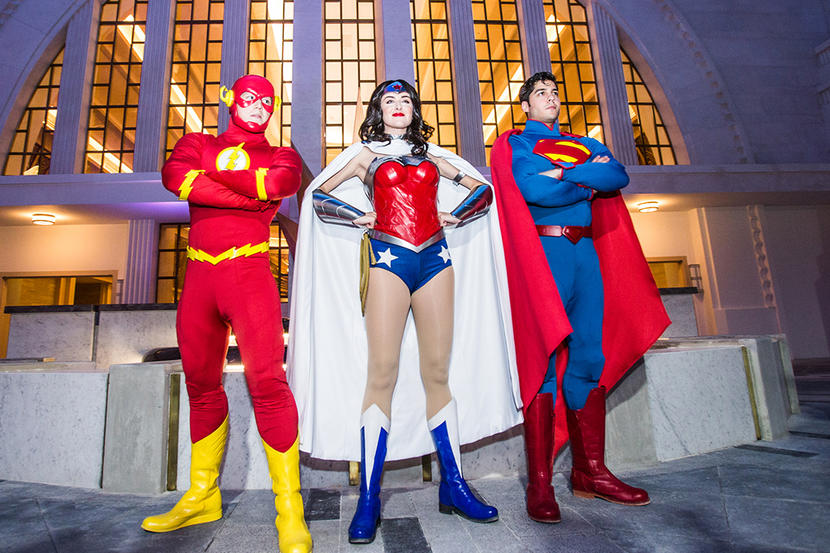 This indoor (which is why the middle of summer is a great time to go) mega-park brings superheroes, villains, cartoons and favourite characters from your childhood to life on Yas Island. Split into six distinct and vibrant zones – Bedrock, Warner Bros. Plaza, Metropolis, Gotham City, Cartoon Junction and Dynamite Gulch – there is plenty to keep even the smallest of adrenalin junkies entertained for hours, while the real thrill seekers risk the faster, white-knuckle rides.
Dhs295 (adults), Dhs230 (kids up to 1.1m), free (kids under three). Open daily 10am-9pm. Yas Island, Abu Dhabi, www.wbworldabudhabi.com (600 511 115).
Xtreme Zone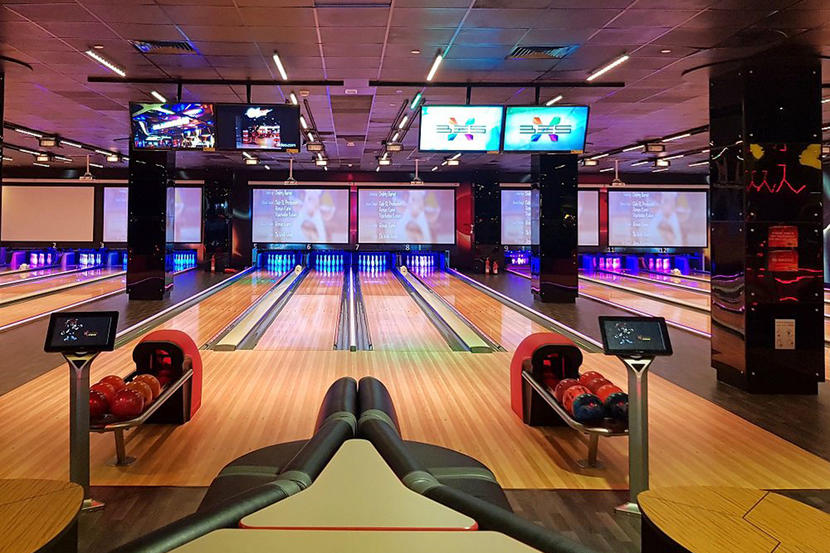 The Galleria Al Maryah Island in Abu Dhabi has opened a brand-new family entertainment centre.
Xtreme Zone promises a whole host of entertainment and activities for all the family from the little kids up to the big ones... And mums and dads, too.

The third location of this cool family destination is a sizeable 44,200 sq ft of entertainment for tiny tots, kids and teens, plus any parents who are keen to get in on the action. Team building anyone?

There's a 12-lane bowling centre, a trampoline park, billiards tables, climbing walls for mini spidermen and arcade games zone.

Plus, with the region's first Tag Arena, there's plenty to keep even the most energetic kiddos happy.

Don't worry mums and dads, there is an on-site café where you can get your all-important caffeine fix.
Prices vary. Sat-Wed 10am-10pm; Thu-Fri 10am-midnight. The Galleria Al Maryah Island, www.thegalleria.ae (02 628 9050).
Yas KARTZONE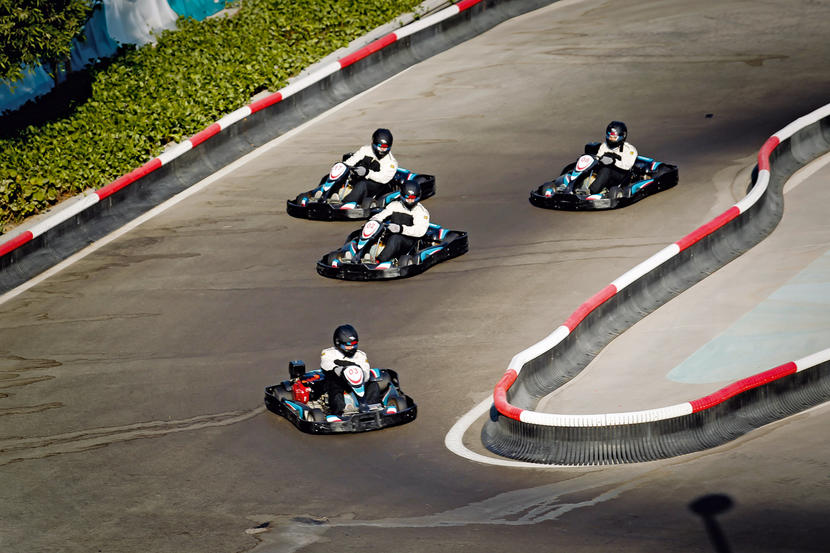 Kids with the need for speed? The Yas Kartzone is now bigger than ever. The 1km track has sessions for kids aged five to seven years old, and juniors aged eight to 12.
Dhs55 (kids), Dhs80 (juniors), Dhs120 (adults). Daily 9am-midnight. Yas Marina Circuit, Yas Island, www.yasmarinacircuit.com.
Yas Waterworld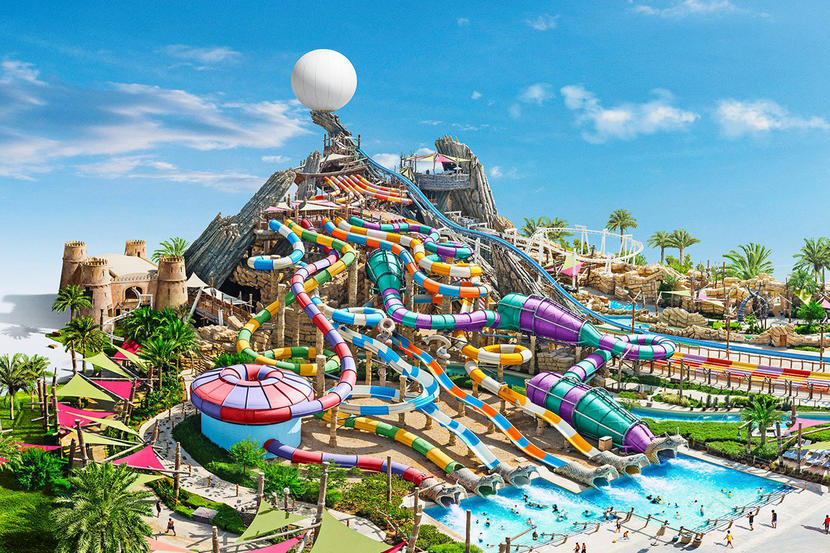 The park, uniquely based on the Emirati "The Legend of the Lost Pearl", theme is divided into four thrill levels: Adrenaline Rush, Exciting Adventure, Moving and Grooving and, finally, Young Fun. Each zone caters to different age groups and with 40 exhilarating rides and slides there really is something for the whole crew to enjoy. The Tot's Playground is a popular spot for parents with tiny ones who are just looking to splash about.
Yas Island, Abu Dhabi, www.yaswaterworld.com (600 511 115).
Be the first to get all the latest Abu Dhabi news, reviews and deals into your inbox by signing up to our free
newsletter
,
click here to sign up
.