The streets of Abu Dhabi might be proverbially paved with gold but that doesn't mean our pockets are permanently packed with it. Payday can sometimes feel as if it's eons away and yet you're almost down to your final few fils.

Fear not, our faithful friends, as we've come up with an array of ways to make your wages last longer. From fabulous free nights out to marvellous meal deals and super-saver staycation offers, you'll still have some dirhams left for one of those rare rainy days. Plus we know of some great places to go hunting for cut-price couture and have seconded a savings specialist to offer us all some cash-crunching counsel. Being frugal never felt so good…
Lavish ladies' nights
ANNEX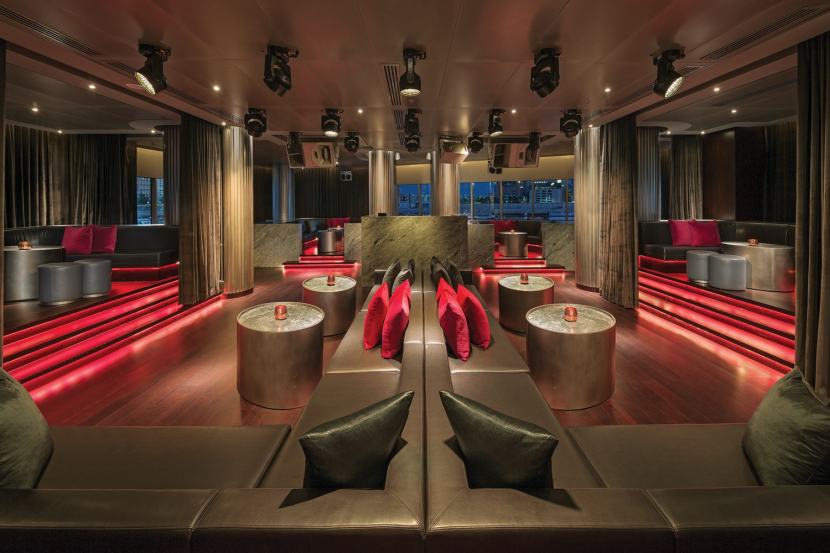 Set over three floors beside The Abu Dhabi EDITION, this vast venue is a haven for the city's cool crowd. Come here on a Wednesday for the two-part 'She is ANNEX' ladies' night. Part one: three hours of rooftop rhythms with free-flowing Italian bubbles for Dhs75 or bubbly for Dhs150. Part two: the same Italian bubbles deal plus 50 percent off selected dishes at The Club. Or you could make a special occasion of it and do both.
The Rooftop: Dhs75 (Italian bubbles), Dhs150 (bubbly). Wed 7pm-110pm. The Club: Dhs75 (Italian bubbles). Wed 11pm-2am. The Abu Dhabi EDITION, Al Bateen Marina (056 992 2305).
Dusk
Launched in the latter half of last year, the ladies' night at Mexican restaurant Dusk provides added incentive (as if you needed it) to hop over to Zaya Nurai Island for a midweek fiesta. The lovely bar staff will knock you up a Mexican mixed drink, or simply some grape or hops, as you tuck into the fine fare that's available with a 20 percent discount. Best of all, the beverages are on the house. Muchas gracias, amigas!
Free. Tue 7.30pm-11pm. Zaya Nurai Island (02 506 6274).
Eclipse Terrace Lounge
Tremendous treats are rarely more delightful than at this Four Seasons hot spot. Finish the working week by unwinding beside the pool with your best buddies and two free beverages, as well as a complimentary plate of small bites. For a chilled-out vibe with unbelievable vistas, this venue won't be Eclipse-d.
Free. Thu 7pm-10pm. Four Seasons Hotel Abu Dhabi at Al Maryah Island (02 333 2222).
Filini Garden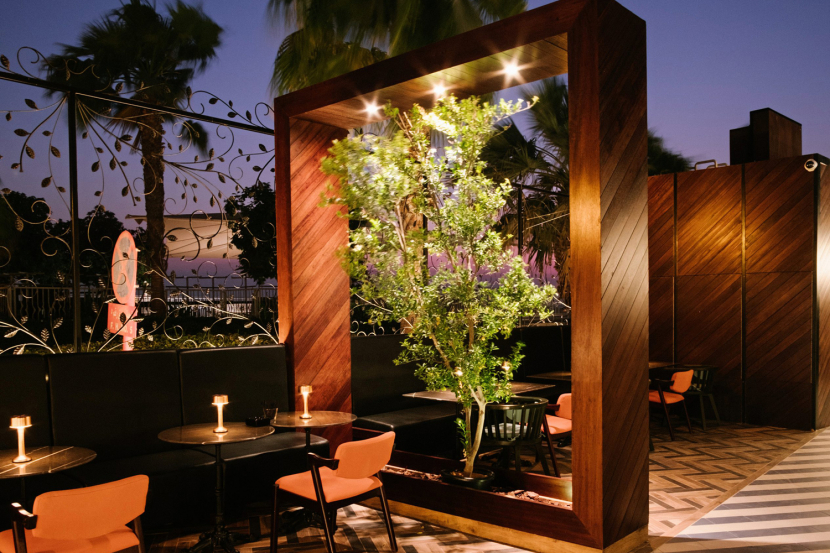 You don't have to like golf to love this glorious Italian restaurant overlooking Yas Links. And we're all 'fore' having a Monday meet-up with the girls here, particularly as for just Dhs55 you can enjoy a free flow of house beverages, half-price food and the soulful tunes of one of our favourite DJs in the capital, Cliff Townley. What's the word? Bellissima!
Dhs55. Mon 7.30pm-1am. Radisson Blu Hotel, Abu Dhabi Yas Island (02 656 2000).

LEXX
This super swanky bar at the Grand Hyatt quickly won us over with its warm welcome and swish interiors. And it soon introduced a deal for the girls, just to make us adore it more. Four free drinks (some real classics included) and a selection of snacks are yours for the taking. When it comes to a Wednesday get-together with the girls, LEXX is certainly more.
Free. Wed 8pm-5am. Grand Hyatt Abu Dhabi, Hotel and Residences Emirates Pearl, West Corniche (02 510 1234).
Pearls Rooftop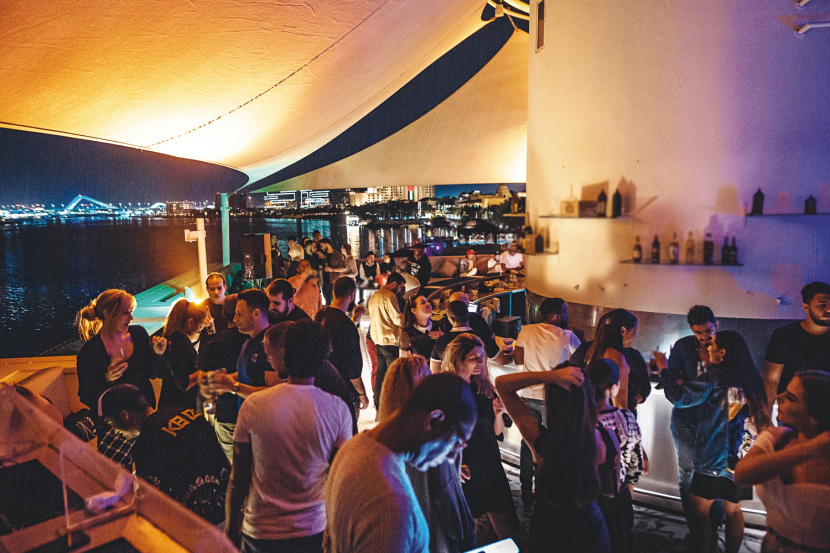 Like a long-lost friend who suddenly sent you a WhatsApp completely out of the blue, Pearls Rooftop is back at the top of our favourites' list. Each Monday it treats the ladies of Abu Dhabi right with free drinks and top tunes from DJ Slim and DJ Kaboo. If you're looking for a quality night out with the girls, this place is a proper pearler.
Free. Mon 9pm-3am. The Shangri-La Hotel, Abu Dhabi, Qaryat Al Beri, Khor Al Maqta (02 509 8555).
Ray's Bar
Even the most vertiginous of our girly gang can appreciate what Ray's Bar has to offer. The views from the 62nd floor of Jumeirah at Etihad Towers are mesmerising and the décor super sleek. There can be few better ways to see in the weekend than with three drinks and a snack at a bargain price. For us, Ray's will always amaze.
Dhs65. Thu 8pm-1am (snacks served until 11pm). Jumeirah at Etihad Towers (02 811 5666).

Stratos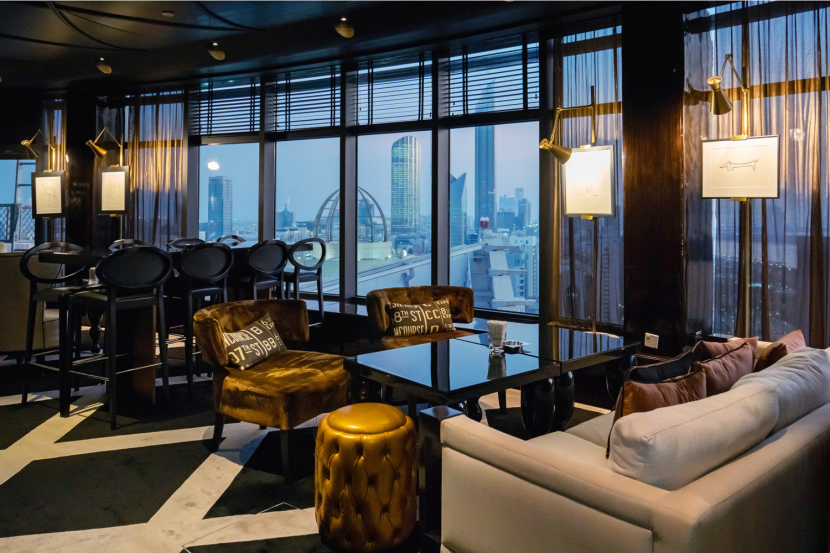 Some of our gal pals' worlds revolve around the Tuesday soirée at this superb steakhouse, not least because they can enjoy a perfect panorama of the city at night while supping on a range of free drinks. There's also 50 percent off the à la carte delights so we're not ashamed to Kiss & Tell about this fabulous night out.
Free. Tue 8pm-11pm. Le Royal Méridien Abu Dhabi, Sheikh Khalifa Street (800 101 101).
Tamba
Not only does Tamba serve up some of the finest Indian food in the capital (it won Time Out Abu Dhabi's Best Indian in 2018) but it also makes it easy to plan post-work drinks after you clock off on a Thursday. Four free beverages are what you'll find here, along with 30 percent off the dishes that make us fall in love with this place again and again.
Free. Thu 9pm-midnight. The Hub at WTC Abu Dhabi, Al Markaziya (02 672 8888).
The Warehouse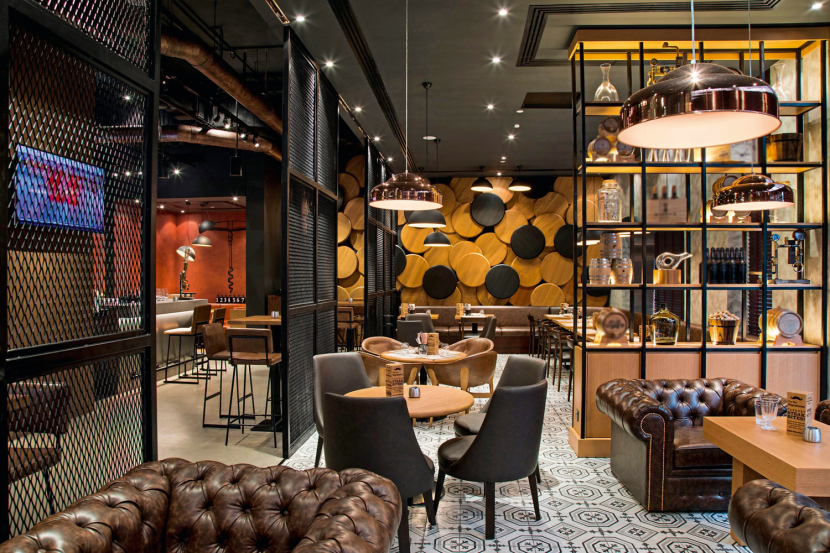 We don't hand out our Music & Nightlife gongs lightly but The Warehouse proved itself 2019's best of the best when it came to bars in the capital. By bringing you an array of daily deals, you certainly can't accuse this classy venue of being stingy. For the ladies, both Mondays and Tuesdays are particularly generous. Three free frozen mixed drinks on the former, a trio of gratis house beverages on the latter. Don't mind if we do.
Free. Mon 6pm-1am, Tue 6pm-1am. Pearl Rotana Capital Centre, Al Khaleej Al Arabi St (02 307 5552).
W Lounge
Why have one bar when you can have three? Clearly that was the thinking behind W Lounge, and we're totally on board. To go with the multiple drinks stations, this place doesn't just have a DJ, it has a 'music curator' (very fancy), and once a week you can groove to some old-school tunes on Vinyl Wednesdays with three free drinks for the ladies. The 'W' here clearly stands for 'Wow'.
Wed 6pm W Abu Dhabi – Yas Island (02 656 0600).

Gratis gents' nights
Hamilton's Gastropub
We love telling visiting family that this bar is an homage to Stevenage's finest F1 driver. But you can certainly temper their disappointment at discovering the truth with a lads' night out at a cool hangout such as this. Tuck into unlimited wings along with a bucket of hops on your tod for Dhs180, or team up with a mate and get all those chicken bites and a second hops bucket for Dhs320. Pace yourselves, though, as there are no extra points for 100 mph eating here.
Wed 7pm-11pm. Saadiyat Rotana Resort and Villas, Saadiyat Island (02 697 0000).
JW Steakhouse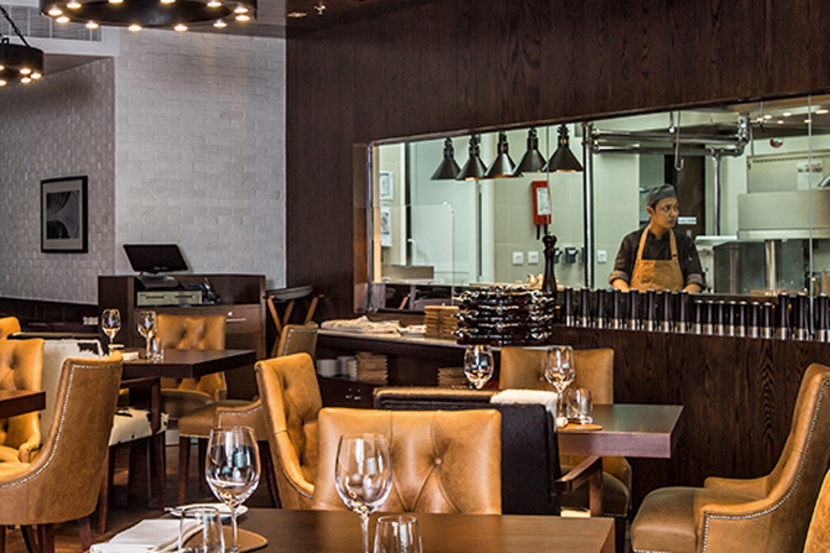 Leave your interminably indecisive buddies at home for this one as they might spend the entire evening pondering whether to go for half-price steaks or 50 percent off a bottle of grape. Wagyu, prime USDA, Irish grass-fed or Angus. Our mouths are watering just at the prospect. Choose your weapon and let JW's take care of the rest.
Prices vary. Tue from 6pm. Marriott Hotel Downtown, Abu Dhabi (02 304 7777).
Ray's Bar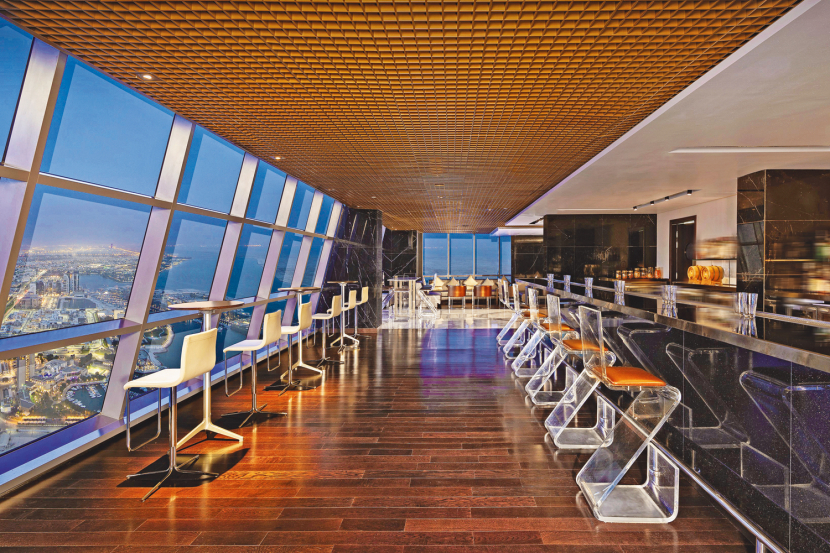 Gather the guy gang and head up to Ray's for the perfect way to finish the weekend. For less than Dhs100 you can choose three drinks from a selected menu, and snack on a dish from Ray's signature selection. With laid-back tunes and some of the finest views in the capital, this is a night that truly puts gents on top of the pile.
Dhs95. Sat 8pm-1am (snacks served until 11pm). Jumeirah at Etihad Towers (02 811 5666).

Staycation savings and pool passes
AT25
Abu Dhabi's loftiest pool bar and restaurant has gone up even higher in our estimations thanks to its latest cracking deal that will really let you unwind. For Dhs110 a head you'll be given full pool access, plus they'll give your money back in vouchers to spend on the à la carte menu here. Perfect for when all those lengths have broadened your hunger.
Dhs110. Open daily 11am-2am. Marriott Downtown Abu Dhabi, Rashid Bin Saeed Al Maktoum Street (02 304 7777).
Beach Rotana Abu Dhabi
We don't know about you but we find life's always more peachy when it's beachy. And at this remarkable Rotana hotel, there's more reasons to be beside yourselves with glee beside the seaside thanks to its Weekend Escape deal. Check in to a double room and then enjoy a free Beach Friday Brunch for two (you can upgrade to the house beverages packages for a mere Dhs100 a head). On the Saturday morning, tuck into a breakfast buffet at Essence restaurant and wonder why you haven't thought of this before.
From Dhs800 per room, per night. Al Zahiyah (02 697 9000).

Le Méridien Abu Dhabi
Thanks simply to having a Mastercard (most bank accounts in Abu Dhabi give you one anyway), you can save some serious wedge on a staycation at this beautiful beachfront hotel. Putting you right at the heart of all the Abu Dhabi action, Le Méridien offers three nights for the price of two, four for the price of three and two nights totally gratis should you be staying for six. All because you paid with plastic. Masterful.
Prices vary. Al Zahiya (02 644 6666).

Rixos Premium Saadiyat Island
To celebrate International Women's Day, everyone's favourite 'ultra all-inclusive' hotel is pulling out all the stops to keep the ladies happy. Flowers on arrival, a celebratory room set-up, a complimentary 30-minute foot massage at Anjana Spa, all-inclusive kids' activities (should the babysitter let you down) and ultra-premium beverages during your stay – could the lady in your life really ask for more? We doubt it.
From Dhs1,330 per room, per night. Saadiyat Island (02 492 2222).

Bargain bites
The Grille
You might not believe it but a round of golf is actually a fantastic workout (or a good walk spoiled, depending on how Mark Twain you are). So when we discovered The Grille at Abu Dhabi Golf Club had teed up an unlimited steak night, we were wholly won over. Replace those lost calories with a selection of the finest cuts (plus some chicken and seafood options), along with fantastic appetisers and salads. The piano stylings of Ani Vardanyan will help soothe those shanked-shot blues, too.
Dhs150. Fri-Sat 6pm-10pm. Abu Dhabi Golf Club, Sas Al Nakhl (056 536 2230).
@District by Amalfi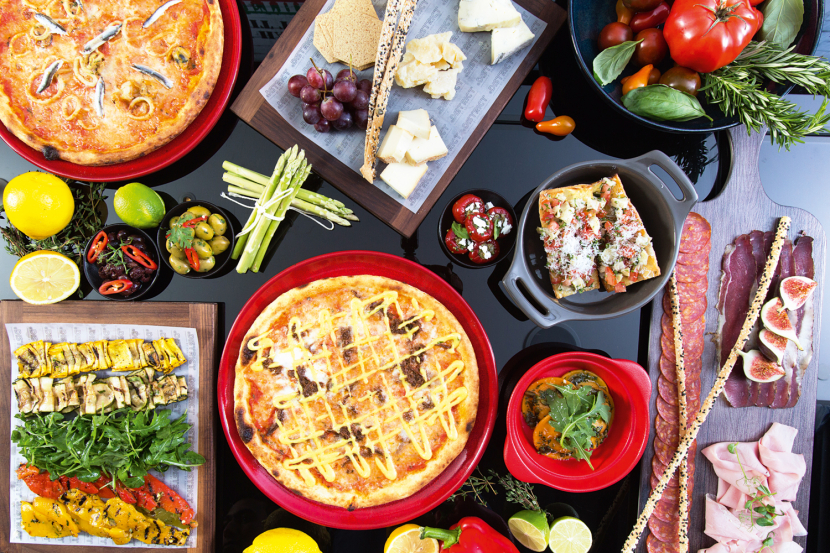 There a few more sumptuous smells than a freshly cooked pizza being finished on the stone. Tearing and sharing is caring, especially when this immense Italian ristorante is offering unlimited slices along with free-flowing hops and grape for a full two hours every single day. There must be a catch, right? Well no, actually. Unless you kick off the whole pineapple topping debate that is.
Dhs99. Daily 6pm-8pm. Le Royal Méridien Abu Dhabi, Shaikh Khalifa Street (800 101 101).

Zuma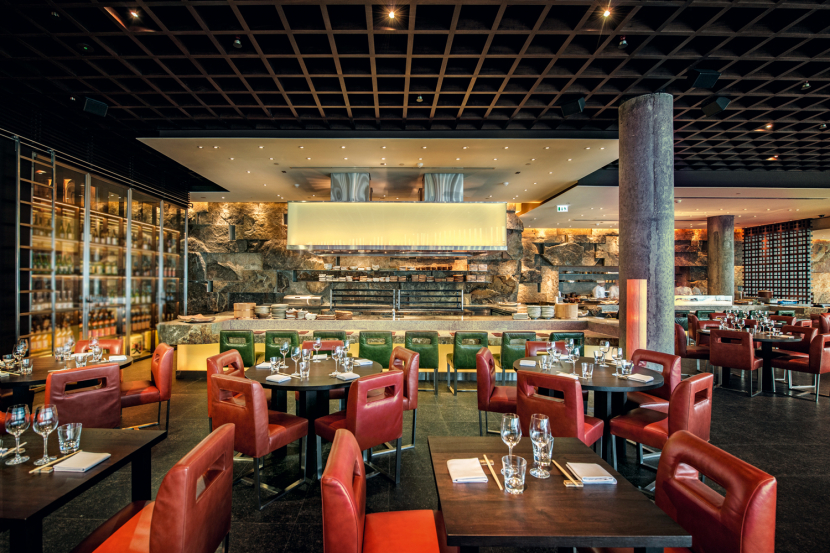 We defy anyone to not immediately fall head over heels in love with Zuma. This place has won an absolute throng of Time Out gongs, and the standards it keeps on setting can only continue to make foodies sit up and take notice. At lunchtime, the super savers among you can sample some of the finest dishes it has to offer including the miso-marinated black cod donburi and the grilled Australian wagyu ribeye with truffle mayo. Can we (Ebisu) express ourselves any clearer about how much we adore Zuma? It's as unlikely as us ever using emoticons in a review.
Dhs79. Sun-Thu noon-2pm. The Galleria, Al Maryah Island (02 401 5900).
99 Sushi Bar & Restaurant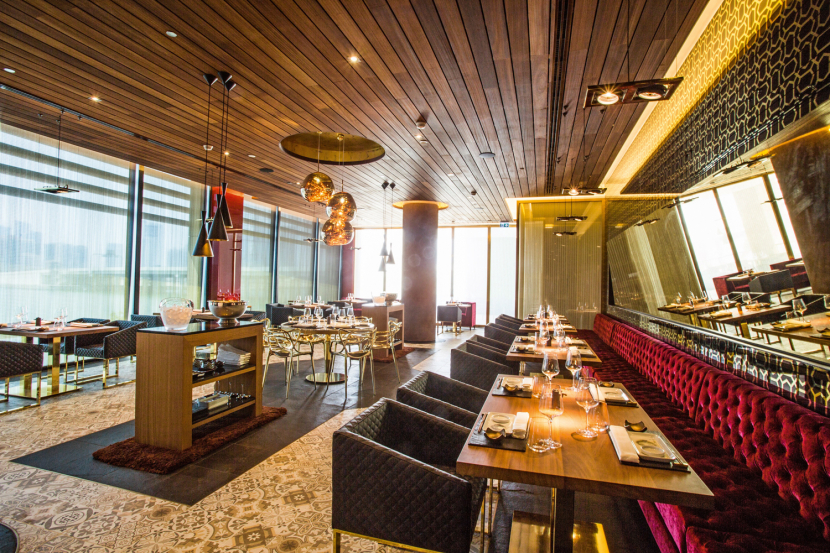 When it comes to taking clients out for a business lunch, or just hoping to impress flown-in family, offering them the option of having nine courses might seem like a trick only the most malevolent of magicians would be conjuring. But that's the deal at 99 Sushi Bar, and with some of the finest Japanese creations this side of Kyoto on offer, we're totally under its spell.
Dhs199. Daily Sun-Thu. 99 Sushi Bar, The Galleria, Al Maryah Island, Abu Dhabi (02 672 3333).

Dress for less
Adidas outlet in Mazyad Mall
Now you don't have to be Ian Brown (from The Stone Roses, kids) to be the funkiest kid in town (he's still got it, even at 56!) but it's hard to deny Adidas offers some of the most cracking clobber and cool creps on the planet. At Mayzad Mall you can get the look at a smidgen of the price thanks to its outlet shop devoted to that greatest of German brands. All day I dream about style.
Open Sun-Wed 10am-10pm, Thu-Fri 10am-11pm. Mazyad Mall, Mohamed Bin Zayed City (02 553 2200).
The Outlet Village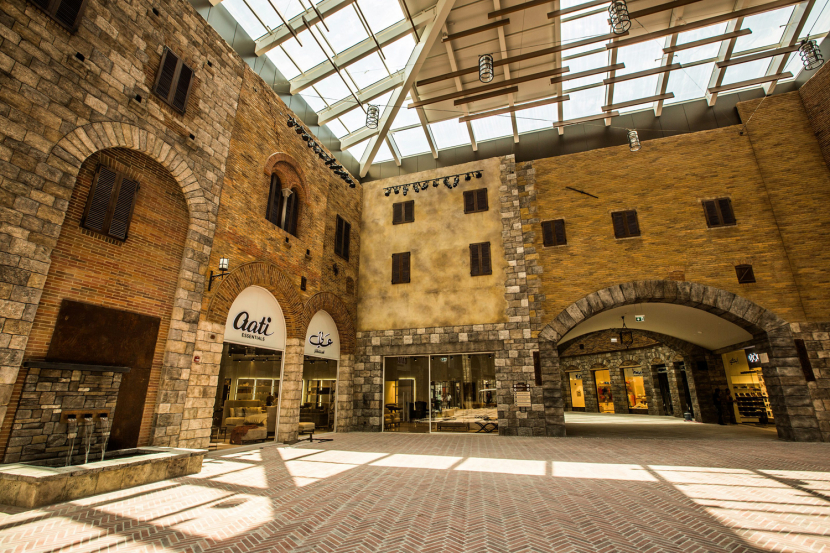 Finding that designer look can come at a premium. We have friends who'd happily shell out Dhs750 on a branded T-shirt (we say friends, more like frivolous acquaintances). The Outlet Village can help you dress to impress without having to take out a loan. Armani, Hugo Boss, Kate Spade, Lacoste, Michael Kors and Ted Baker are just some of the respected names helping you look great at this sprawling mall half way to Dubai.
Open Sat-Wed 10am-10pm, Thu-Fri 10am-midnight. Near Dubai Parks and Resorts, Jebel Ali (04 317 9999).

Feel well, save well
METROFITT
At this recently opened men-only gym it's not hard to feel the testosterone pumping as those weights are thrust up and down. But this isn't a place purely for the 'Oh, look at me' Instagram posters/posers as it offers the length and breadth of the 10,000 sq ft of space it has available to provide fellas from all walks of life the chance to shape up at a modicum of the price other gyms charge.
From Dhs199 a month. Bawabat Al Sharq Mall (055 254 3700).
The Heavenly Spa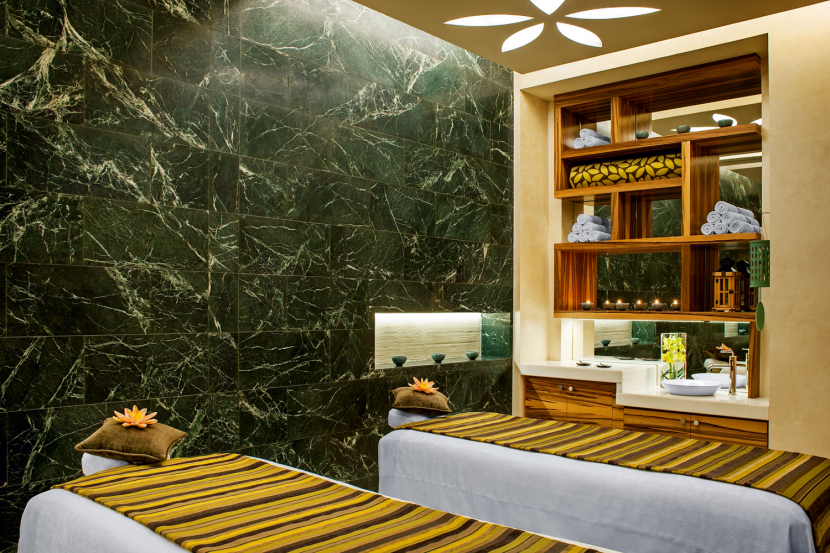 With Mother's Day just around the corner there can be few finer ways to say 'Mum, I love you' than with a wonderfully relaxing spa day at your minimal expense. For much less than the price of a cursory card and bunch of flowers you can indulge them in a Mommy Hours package that includes pool access, high tea, an Elemis gift bag, and a choice of three treatments (back massage, mini facial, foot massage or scrub). Brownie points, here we come.
Dhs275. The Heavenly Spa, The Westin Abu Dhabi Golf Resort & Spa, Sas Al Nakhl (02 616 9999).
Saray Spa
For a ladies' night with a definite difference, saunter over to Saray Spa where you and your BFF can be pampered to your hearts' content on a buy-one-get-one-free basis. The full menu of treatments is included in this deal, so you can both indulge in an array of body scrubs, massages, facials, body wraps and more. Free access to the pool and steam rooms, sauna and ice fountains are all part of the bargain.
Prices vary. Thu 4pm-10pm. Marriott Hotel Al Forsan, Khalifa City A (02 201 4000).
Yoga #AtTheGalleria
There's only so much of 'shop 'til you drop' that any one coherent human being can take. Granted, seeking out that new wardrobe is often a whole load of fun but think of your poor, bag-carrying bones. A free outdoor yoga class is surely the answer. And with wondrous views of the city and some professional guidance from the experts at Bodytree, this is something even the laziest can subscribe to.
Free. Mon, Wed & Sat 8.30am-9.30am. Sky Park Level 4, The Galleria, Al Maryah Island (02 493 7400).

Balance the Books
Experts' top tips
Who are they..?
Debbie Steedman is the co-founder of Shop Well For Less UAE, a Facebook community with more than 20,000 members. She's dedicated to finding money-saving tips and tricks for UAE residents and is a frequent guest on the radio here.

What is the best advice..?
Keep a log of money that you spend, write everything down or use one of the many tracking apps that are available on the market.

If you're renting, look at downsizing or moving to a cheaper area. Rents have come down dramatically in the last year.

Take a look at motoring expenses, changing your gas guzzler for a smaller option can half your expenses.

Cut the daily cup of coffee from your favourite shop, this can save you up to Dhs5,000 in a year.

Take your own lunch to work, or pack something that can be prepared easily at the office.

Cut down on eating meat, look at cooking a few meat-free options throughout the week.

Make the most of voucher apps such as Groupon.

Look at supermarket own brands. They are often a lot cheaper than the imported alternatives.

Shop around, if you have time, and don't waste money on fancy cleaning products. Buy environmentally friendly versions that can do a good job.
Be the first to get all the latest Abu Dhabi news, reviews and deals into your inbox by signing up to our free
newsletter
,
click here to sign up
.