In a city where you can order coffee with gold sprinkled in it, hire private yachts for a birthday party and sleep in luxury suites staring up at a Swarovski crystal chandeliers, it is easy to find yourself overspending.

Dates in Abu Dhabi, however, do not need to lead to mountains of debt.

Sunsets, walks in the park, stargazing and a healthy dose of art, beauty and cultural enlightenment are cheaper than the latest celebrity chef's canapés. We'll let you in on a secret – they're often more enjoyable, too.

While the writers of Time Out have, and with good reason, been called cheap – never let it be said we're not romantic.

That's why we've kept credit cards hidden away and gone in search of brilliant budget date ideas in Abu Dhabi.

You, your loved one and your bank manager can thank us later.

Appreciate world cinema on "Happiness Island"
Time Out-ers love spaceships, explosions, car chases and capes as much as anybody. But we're also fans of world cinema, classic re-screenings and artier films. Which is why you'll spot us on date night watching the curated collections in this cultural quarter. We're usually the only ones wearing capes. Recent shows have included subtitled German, Czech, French, Korean and Spanish films. Plus a screening of Back To The Future (our favourite).
Free. Cinema Space, Manarat Al Saadiyat, Saadiyat Island, www.cinemaspace-abudhabi.splashthat.com.
Be workout buddies at TrainYas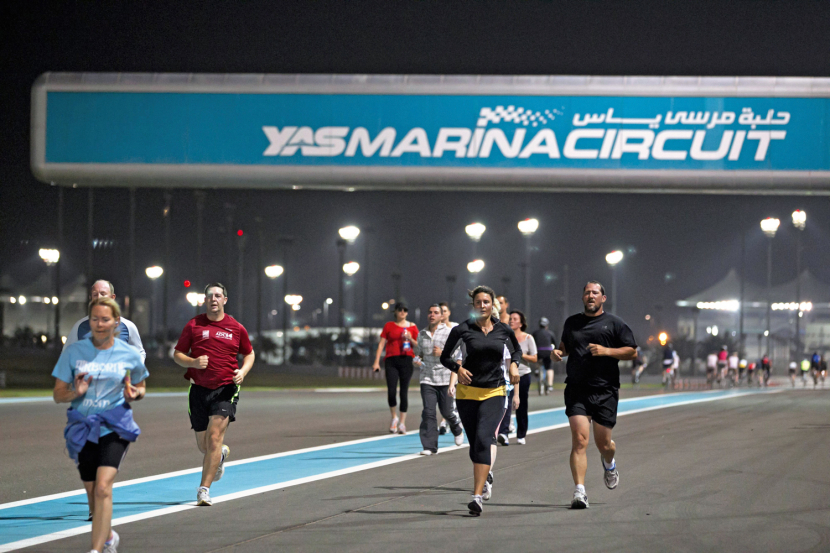 Spending time together doing the things you both love. What more could you want from a date night? For every couple that likes to dine out in style there is another who share fitness goals and buddy up on workouts. No, really. Whether you are the types to go head-to-head in a straight bike race, you're training together for a jogging challenge or just fancy a sunset stroll, these free exercise sessions are an ideal hang out. Go down on the actual track of the Abu Dhabi F1 Grand Prix circuit and work on getting fit together.
Free. Sun and Tue 5-10pm. Yas Marina Circuit, Yas Island, www.yasmarinacircuit.com (800 927).
Contemplate art and beauty at Warehouse421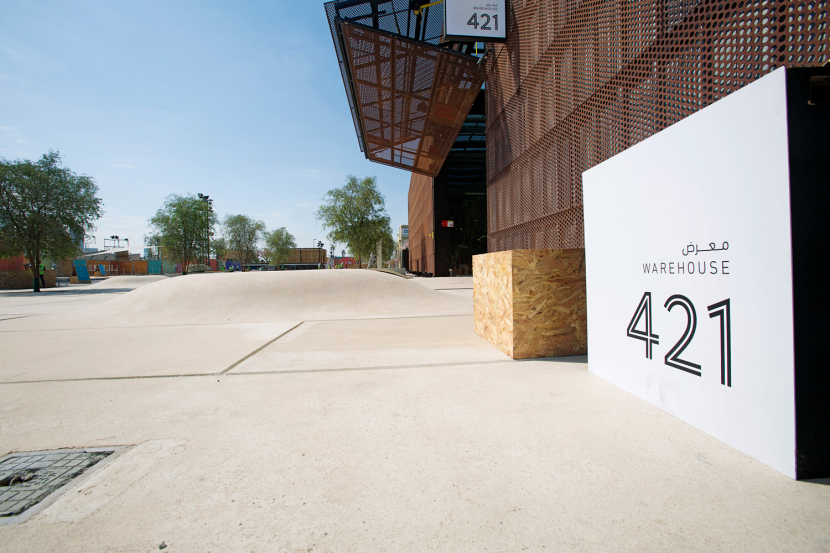 Who said date night had to be easy? You're not paying much, but you can still work for your enlightenment. This creative hub, gallery and workspace at Mina Zayed nearly always has cool exhibitions, screenings, talks and workshops – many of which are free. Go along, have a look and talk about it afterwards. Cost = nothing. Reward = a warm cultural glow that you can bask in.
Free. Tue-Sun 10am-8pm. Warehouse 421, Mina Zayed, www.warehouse421.ae (02 676 8803).

Discuss cuteness at Panda Bao Bao
Who doesn't find pandas adorable? Nobody. Who doesn't like a table groaning with steamed dim sum? Again, nobody. So it is Time Out's duty to tell you that both universal lovelies can be enjoyed under the same roof at this panda-themed joint. The theme crops up on cutlery, bowls, wall art and more. Have a good look around and enjoy one of Abu Dhabi's finer budget dining corners.
Dhs32 for a mixed steamed bao selection. Daily 11am-midnight. Panda Bao Bao, Defence Road, Al Dhafrah (055 5127 461).
Get flexible with free yoga
Even loved ones can be a pain in the neck sometimes. Luckily, there are few things better for a pain in the neck than learning about yoga. Alfresco group wellness sessions take place in the city every week and are a quirky way to start off a date night. Stretch out your body in the gentle breeze and learn how the calming activity can bring you health and happiness together.
Free. Sun and Wed, 7-8pm. Seven Wellness, Umm Al Emarat Park, www.ummalemaratpark.com.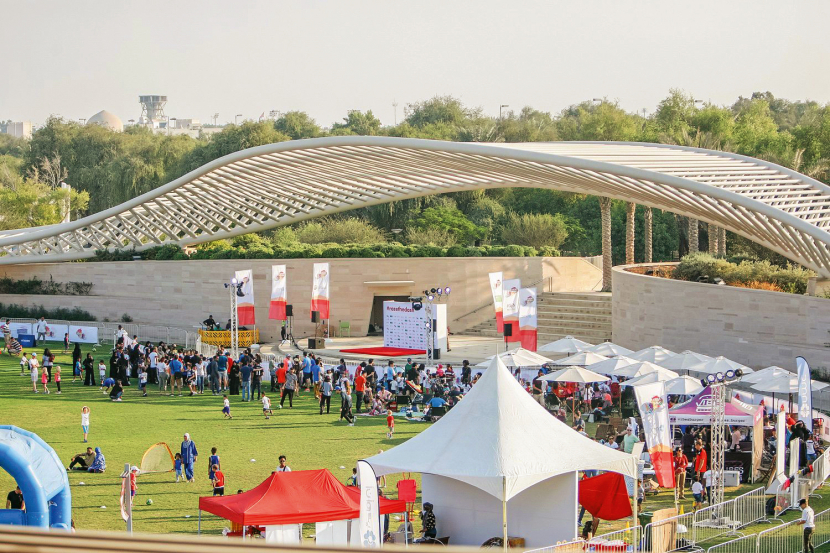 Have an organic afternoon at Ripe Market
It isn't gold-plated, it isn't high up in a skyscraper, we're yet to see it pop up on a rapper's Instagram. In fact, if you break it down, it is just a few people in the park selling lumpy parsnips by the boxload and sacks full of kale. But it is so much more. To the point we'd call it a must-see. Atmosphere comes from some live acoustic music, regular workshops and activities and local artisans flogging stuff in the shade of trees. You'll have to pay Dhs10 to get in the park, and whatever you spend on fruit and veg, of course, but strolling around the market is free.
Free. Sat 3-9pm. Ripe Market, Umm Al Emarat Park, www.ripeme.com (04 315 7000).
Half-priced movie night
A night at the flicks has been a classic date idea for decades. Let us let you in on something that really isn't a secret, but people still seem to not understand. You would be crazy to pay full price for cinema tickets in Abu Dhabi. With offers galore it is one of the most easily discounted activities out there. VOX Cinemas alone is currently advertising half price, buy-one-get-one-free or similar deals for customers of (take a deep breath) du, Emirates NBD, Najm, HSBC, Citibank, Visa, Standard Chartered, CBD, ADCB, FAB, LIV, Noor Bank, RAK Bank, Arab Bank, NBF and Sharjah Islamic Bank. If none of that covers you, then maybe it is time to change bank. Half-priced movies await, after all.
Various prices. Check listings for timings. Various locatioan including VOX Cinemas, Marina Mall, Corniche Breakwater, www.voxcinemas.com (600 599 905).
Partner up for a quiz
While the quiz is free to enter and you could actually turn a profit if you claim one of the prizes, we'll forgive you if you eat into your budget by taking advantage of the buy-one-get-one-free main course deals during the McGettigan's quiz. Getting your geek on has never been so fun for couples looking to tighten purse strings.
Free. Mondays from 8pm. McGettigan's, Al Raha Beach Hotel & Resort, Channel Street, www.mcgettigans.com (02 652 4333).
Read poetry in the Wisdom Garden
"A thing of beauty is a joy forever. Its loveliness increases, it will never pass in to nothingness". Not the words of Time Out, but of romantic poet John Keats. It seems unlikely that he was talking about an Arabian sunset behind a palm tree on a hushed evening, but he could have been. It costs nothing to sit together and talk in this gorgeous corner of the gorgeous Umm Al Emarat park. As the man himself would have said, "scenery is fine, but human nature is finer".
Dhs10 (park entry). Daily 8am-midnight. Umm Al Emarat Park, www.ummalemaratpark.ae (02 666 9559).
Ride tandem through the dunes at Al Wathba
OK, truth be told a tandem bike might not be the most practical mode of transport. But a side-by-side ride through the dunes together is a free, fun and fitness-friendly way to spend time together. You'll see the odd peloton speed by and there is the occasional family out for a ride, but best of all is the chatting couples enjoying the scenery. There are all manner of loops and circuits, ranging from 8km to 30km, so repeat rides are recommended.
Free. 24 hours. Al Wathba.
Salsa together at Burro Blanco
Salsa dancing is passionate, energetic and fun. It is a fantastic activity for couples. This isn't that. This is the spicy sauce popular in Mexican cuisine. Which came first? We don't know, but we'd like to think someone invented a dance in celebration of a dip. Thankfully for couples looking to save money the sauce is just as enjoyable. Especially when scooped up with lightly salted tortillas at Abu Dhabi's best budget restaurant. Two people can easily eat for Dhs100 at this casual Al Khalidiya gem. Look out also for the avocado fritas and hope that your dining partner doesn't mind sharing.
Dhs15 for tortilla chips and salsa. Sat-Wed 11am-10pm; Thu 11am-midnight; Fri 4pm-midnight. Al Khalidiya, www.burroblanco.ae (02 309 3911).
Sing karaoke duets
The Best Things In Life Are Free by Luther Vandross and Janet Jackson, Money Can't Buy Me Love by The Beatles and, er, Mo' Money Mo' Problems by Notorious B.I.G. Those are just some of the songs you could sing up on the karaoke stage at Time Out award-winning sports bar Velocity. There is no minimum spend and getting up to belt out a classic needs courage not cash.
Free. Mon 7pm-11pm. Velocty, Marriott Hotel Downtown Abu Dhabi, Sheikh Rashid Bin Saeed Street (02 304 7777).
Skip mains and eat at a dessert restaurant
The emergence of this dining trend makes perfect sense for a casual date night. You eat at home, ensure that you have something healthy then go out for your pudding. Not only does it mean you're not handing over hundreds of dirhams you're also not going to have a conversation about whether you will have any afters. Take your pick of location, but we're going to walk off some of our calories by dropping in at the food trucks on Hudayriat Island's beach. Chocolicious!
Daily. 11am-2am. Chocolicious, Al Hudayriat Beach, Al Bateen.
Snack and stroll on the corniche
We'll be honest and say we were rather pleased at Time Out Towers when we came up with the phrase "snack and stroll". They are, after all, key ingredients of a pleasant budget date night. Disputes have broken out over what should constitute the snack. Ice cream (we like the peanut butter cup from Cold Stone Creamery), there is a Maltesers crepe at Crepe Delicious that looks big enough to share (Dhs39) or a trusty shawarma are all good walk and talk options. No such debate over location, though. The variety and sights of the Abu Dhabi Corniche win every time.
Daily. 9am-midnight. Cold Stone Creamery, Abu Dhabi Corniche, www.coldstone.ae (055 213 6507).
Stargaze from the Al Sadeem Observatory
The home of astronomy in Abu Dhabi hosts occasional stargazing events, private viewings of awe-inspiring celestial occurrences such as meteor showers and talks. They are sometimes free and they always have the potential to be mind-blowing. For the starry-eyed it is an occasion to savour and remember.
Free. Check with the observatory for event timings. Sat, Tue and Thu 6pm-4am. www.alsadeemastronomy.ae.

The Dhs50 dinner for two and gift challenge at a souk
A trip to Al Ain could be an ideal date and it doesn't have to cost much. Make the budget central to your visit and a long evening can be spent bargain hunting. Set a budget limit, we reckon Dhs50 is achievable yet challenging, and get dinner, drinks and a souvenir for that price. The souk itself has clothing, spices, scents and Arabian essentials, so there is plenty to choose from. With street food options including south Indian curries or the ever-reliable shawarma and fresh juices it is a night to entice all the senses. Especially the sense of having saved money.
Dhs50 maximum. Sat-Thu 9am-11.30pm. Souq Al Zafarana, Al Jimi, Al Ain (03 762 1868).
The Dhs50,000 fantasy window shop challenge at Yas Mall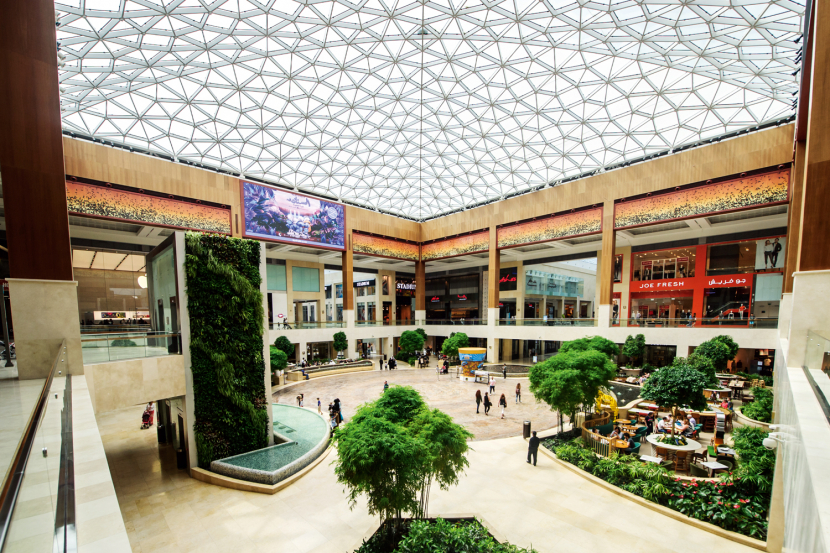 If times are so hard you don't even have Dhs50 to spare for date night then it is time to let your evening enter the realm of fantasy. Don't save, but splurge. But only in window shopping. You're not permitted to spend a single dirham. Just walk around and say the things you would buy each other if you weren't broke. Take it very seriously – we're talking spreadsheet on your phone and a running tab of everything you fake buy. Dhs50,000 should be enough for two people. If you really get into it you can even try on clothes, watches and even a tiara, Just be sure to hand it back and walk away without splashing the cash (or damaging the goods...).
Free. Sat-Wed 10am-10pm; Thu-Fri 10am-midnight. Yas Mall, Yas Island, www.yasmall.ae (800 927 6255).
Watch sunset over the Louvre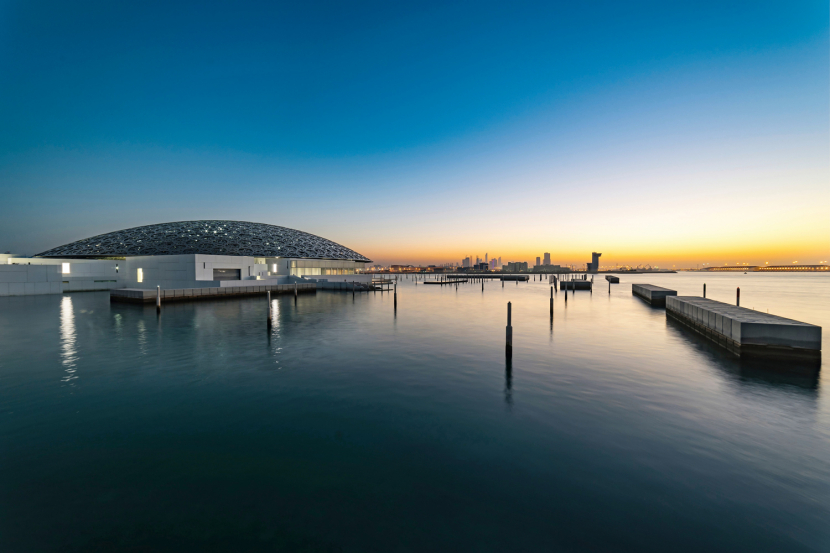 The cultural import has been gamechanger for the UAE arts scene since it opened its doors. Visit it at your earliest convenience. Then make a plan to go back again as soon as you're able. Between visits we recommend just walking up and gaping at it from outside and marvelling at the architecture as the sun sets. Not only is it a serene and beautiful way to spend a date, it is also likely to set new like records on your Instagram. And that's what is important, right?
Free. Daily. Sunset. Louvre Abu Dhabi, Saadiyat Cultural District, Saadiyat Island, www.louvreabudhabi.com (600 565566).
Be the first to get all the latest Abu Dhabi news, reviews and deals into your inbox by signing up to our free
newsletter
,
click here to sign up
.