Life can be expensive here in Abu Dhabi but it doesn't always have to be.

Sure, we love visiting high end restaurants, booking luxury hotel stays and treating ourselves to the finer things in life, but our bank balance doesn't always thank us for it.

Want to enjoy the best of Abu Dhabi without breaking the bank? We hear you.

Here are 100 things you can do in Abu Dhabi for under Dhs100.
Culture
Take a class at Abu Dhabi Art Hub
With its downtown location and ever-changing exhibitions, Abu Dhabi Art Hub is great place to visit if you're looking for a dose of culture. You can explore what's on show in the galleries, with works from local and international artists, or check out the list of art classes covering skills such as calligraphy, as well as regular talks from emerging and established artists. There's a lot going on here.
Free, class prices vary. Daily 10am-10pm. WTC, Khalifa Street (055 550 9640).

Immerse yourself in the arts with Abu Dhabi Festival
Abu Dhabi Festival returns for its seventeenth edition from March 31 to April 9 2020. Some of the big events this year include a return for cellist Yo Yo Ma, a debut by US jazz musician Gregory Porter and two performances from the American Ballet Theatre and the Cleveland Orchestra, who will present Romeo and Juliet. Helping to share the arts with everyone, tickets to many of the events start from Dhs100. That's sounds like a pretty good deal to us.
From Dhs100. Locations and times vary. March 31-April 9 2020, www.abudhabifestival.ae

Check out Al Ain Classic Car Museum
In 2019, the Al Ain Classic Car Museum will celebrate its tenth birthday. Despite its relative newness, this current location at Ain Al Fida Complex is actually its second spot, having moved there in 2013. The reason for the new location? The rapid growth of the collection, which quickly became too large for its original housing. The classic cars on show here are rotated, meaning each visit should yield a surprise, but if you happen to own a suitable vehicle, you can also have it displayed here. On top of that, it offers restoration and maintenances services, whether you're driving a Model-T or a muscle car from the 1960s.
Dhs10 (Adults), Dhs5 (kids). Open Sat-Thu 9am-6pm; Fri 4pm-8pm. Al Ain, www.alainclassiccarsmuseum.net

Explore Al Ain Palace Museum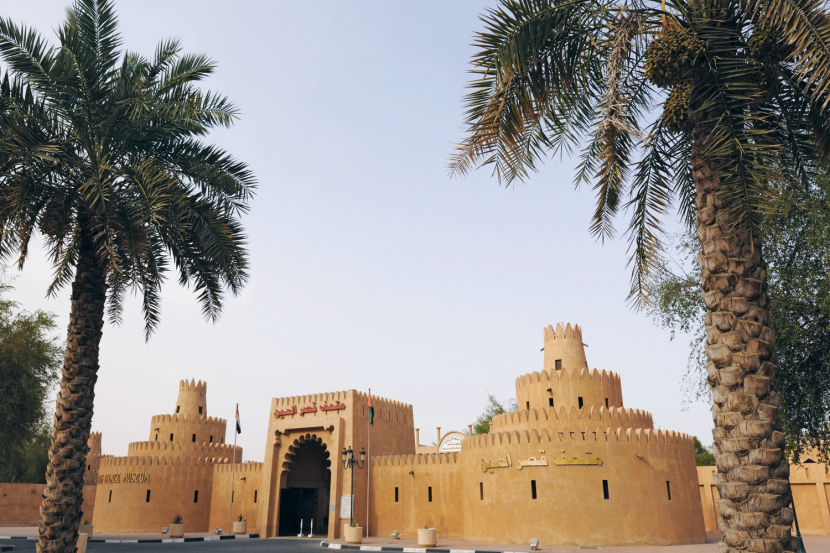 This historical venue was the royal residence of UAE founding father HH Sheikh Zayed until 1966. The building, constructed in 1937, has loads of great things to see and offers some unrivalled insight into the childhood of the founding father of the UAE. The sprawling grounds are impressive and there are plenty of great photo opportunities, too.
Free entry. Sat-Thu 8.30am-7.30pm; Fri 3pm-7.30pm. Hessa Bint Mohammed Street, Al Ain, visitalain.ae (03 711 8388)

Explore art and culture at Al Qatatra Arts Centre
This cool cultural spot in the Garden City hosts regular events, exhibitions, workshops and more throughout the year. When you visit you can learn about local history, archaeology, local cultural traditions and a whole lot more. Plus, it's beautiful and would look good on that Instagram feed of yours.
Free. Sat-Thu 8am–8pm. Mohammed Bin Khalifa Street, Al Qattara (03 711 8225)

Explore local art at The Cultural Foundation
If you're feeling creative then there's plenty of opportunities to express yourself at the Cultural Foundation. Located at the historical Qasr al Hosn fort, the Cultural Foundation has been fostering creative talent in Abu Dhabi since its launch in 1981. Inspiring youngsters to take an interest in the arts and give creative talent a platform to showcase their ability, the foundation is a meeting place for experienced and aspiring artists to meet and create. A diverse public programme includes workshops, artist-guided tours, live painting, masterclasses and live music. Check it out for yourself.
Free. Various times. Qasr Al Hosn, www.culturalfoundation.ae.

Learn more about dirhams at the Currency Museum
You might not think much about your dirhams before you hand them over but there's lots of interesting things to learn about the local currency. The UAE Currency Museum opened in 2013 to mark the 40th anniversary of the UAE Central Bank and at the centre you can see a variety of old notes, coins and historic regional currency including the Indian rupee and Saudi Arabian riyals. Who knew money could be so fascinating?
Free, booking required. Sun-Thu 9am-3pm. King Abdullah Bin Abdulaziz Al Saud Street, Al Bateen (02 691 5265).

Check out a new exhibition at Etihad Modern Art Gallery
Fancy some culture? At the end of 2019, a new exhibition has opened showcasing the work of Filipino artist Manuel Baldemor. The collection of paintings depict scenes in simplified geometric forms with a folk art character. Most of his subjects in his art are inspired by his hometown Paete, its people, their everyday activities, and their celebrations.
Free. Thu 3pm-10pm. Etihad Modern Art Gallery, Huwelat Street, Al Bateen (055 923 2398).

Travel back in time with the Heritage Village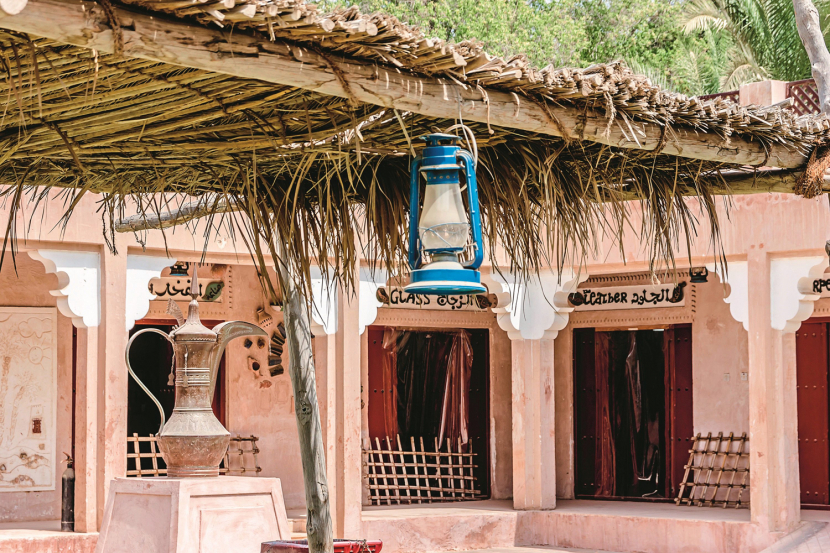 Abu Dhabi wasn't always skyscrapers, smart technology and supercars (yes, we know that's hard to believe). Want to catch a glimpse of life in the UAE before it evolved into a modern metropolis? Take a trip to the Heritage Village and you can see a snapshot of traditional Emirati life and heritage. The free-to-visit village showcases a range of local crafts, explores the history of pearl diving and gives insight into the past that can sometimes be forgotten.
Open Sat-Thu 9am-4pm; Fri 3.30pm-9pm. Near Marina Mall, Corniche Breakwater (02 681 4455).

Explore Korean culture
Learn more about The Land of the Morning Calm with a trip to the Korean Cultural Center. The immersive venue has a host of displays and experiences to get you clued up on Korea as well as regular classes from arts and crafts, cooking, film screenings and much more that you can sign up for. If you're also planning a trip to Asia it's a great resource for helping to plan your holiday.
Free. Sun-Thu 9am-6pm. Ministries Complex, near Khalifa Park www.uae.korean-culture.org.

Feel cultured at Manarat Al Saadiyat
Once upon a time, Manarat Al Saadiyat was little more than a display case showing what the grand plans were for the wider island. Today it's a destination in its own right, hosting events, workshops and exhibitions and more. There's loads going on here at this trendy space and it's worth checking out to find out more.
Free entry. Open daily 9am-8pm. Saadiyat Island (02 657 5800).

Check out Qasr Al Hosn
As the oldest standing building Abu Dhabi, Qasr Al Hosn is a great place to visit to imagine the city long before the skyscrapers dominated the capital's skyline. Built in 1790, the old stone fort was originally constructed to overlook the coastal trade routes and offer protection to the growing settlement on the island. Now, having completed successful restoration, you can see the original structure and visit a number of other cultural attractions at the site.
Dhs30 adults, Dhs15 children. Sat-Thu 9am-7pm; Fri noon-10pm Corner of Zayed the First Street and Sheikh Rashid bin Saeed Street, www.qasralhosn.ae.

Discover Qasr Al Muwaiji
Head to the Garden City of Al Ain and you can explore an impressive archaeological and historical structure and UNESCO World Heritage Site, at Qasr Al Muwaiji. The impressive structure is also birthplace of the country's president, HH Sheikh Khalifa bin Zayed Al Nahyan in 1948. Visitors can explore a variety of historical and traditional experiences, including oral narrations of the significant moments of Sheikh Khalifa's life from his early childhood, leadership and vast national achievements. The museum also features interactive activities and performances that celebrate the overall spirit of the significant cultural site as well as daily tours. It's one to check out when in Al Ain.
Free entry. Tue-Thu, Sat-Sun 9am-7pm; Fri 3pm-7pm. Khalifa Bin Zayed Street, Al Ain, www.qasralmuwaiji.ae.

Hang out at hipster art space Warehouse 421
Warehouse 421 is effortlessly cool. It's a repurposed warehouse in the heart of Mina Zayed and there's always something going on. Art galleries, exhibitions, events, film screenings and workshops – as much as it's a cliché, there truly is something for everyone. If you want to find out what local and regional artists are creating and catch a glimpse of brilliant work from overseas then this is the place to do just that.
Open Tue-Sun 10am-8pm. Mina Zayed, www.warehouse421.ae.

Explore the Women's Handicraft Centre
Showcasing local arts and craft, the Women's Heritage Centre is an important, yet little known-about, cultural centre in the capital. You can check out work made by local women, learn more about traditional skills and practices and support the venue, run by the Abu Dhabi Women's Association, by picking up a few items at the store. Just remember to ask permission before taking pictures and show respect at all times when visiting.
Free. Sun-Thu 7am-3pm. Karama Street, Al Mushrif (02 447 6645).

Wander the Zayed Heritage Centre
With new hotels and better roads, the Al Bateen neighbourhood is fast modernising but one of its highlights proudly looks to the past. The Zayed Heritage Centre focuses on the life of the UAE's founding father, the late Sheikh Zayed, displaying personal artefacts and photographs as well as providing a snapshot of an era of tremendous change in his country. Tours are available, but you need to book a week in advance.
Free. Open Sun-Thu 8am-2.15pm. Al Bateen (02 665 9555).
Entertainment
Pick up a new book or donate one of your own
Sharing is caring, and if you care about getting a great book then you don't want to miss this. Helping to instill a love of reading and encourage the community to share great reads with others, Fifth Street Café has launched a sharing library. The free-to-use library gives readers the chance to pick up a new book and drop off books that they've already finished for others to enjoy. The selection is limited at the moment and it varies depending on what has been donated. So if you have a bunch of books sitting around your house gathering dust then why not donate them and give them a new lease of life? We think it's a great idea.
Courtyard by Marriott World Trade Center Abu Dhabi, Al Markaziyah (02 698 2255).

Work your brain cells in the Challenge Chambers
This Al Wahda Mall venue offers games that are just the right mix of tension and excitement, because sometimes it's fun to push yourself to the limit isn't it? You'll need to be on the ball, so make sure you have a good sleep the night before. You and your friends have less than an hour to overcome a series of challenges and puzzles before you become trapped in your room forever (well, not literally but you do lose the game, which is almost as bad).
From Dhs75. Open Sun-Wed 10am-10pm; Thu-Sat 10am-midnight. Al Wahda Mall, Hazza Bin Zayed Street, Al Wahda (02 445 2522).

Catch free screenings at Cinema Space
Bored of flashy Hollywood blockbusters? You'll adore Cinema Space. The place is a dream for all film buffs, with free screenings of restored classics and arty cinematic masterpieces on every week. It won't cost you a thing either (if you don't count the obligatory snacks), as all the showings are free to enter.
Free. Manarat Al Saadiyat, Saadiyat Island, www.cinemaspace-abudhabi.splashthat.com.

Have some fun at Hili Fun City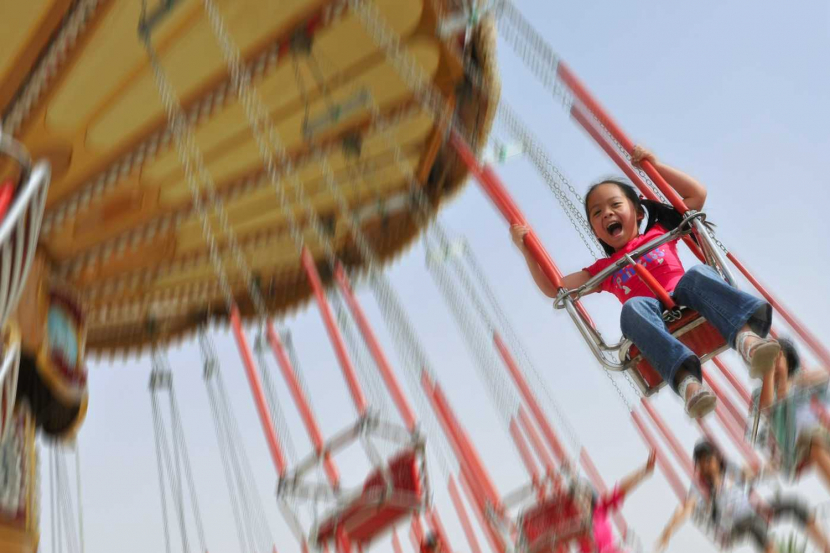 With 25 attractions in total, with many aimed at younger children and families – Abu Dhabi's Yas Island is still the place to go if you're chasing high-octane rollercoasters and other death-defying rides. Instead, Hili has more wholesome offerings such as the Circus Train, Sinbad's Farm, and Jumping Star. As well as all the rides, there's an ice-rink and a wide selection of restaurants, all of which were spruced up during a recent refurbishment.
Dhs50. Open Mon-Thu 4pm-10pm; Fri-Sat noon-10pm. Ardh Al Jaw Street, (03 784 5542).

Let little ones pretend to be grown-ups at Kidzania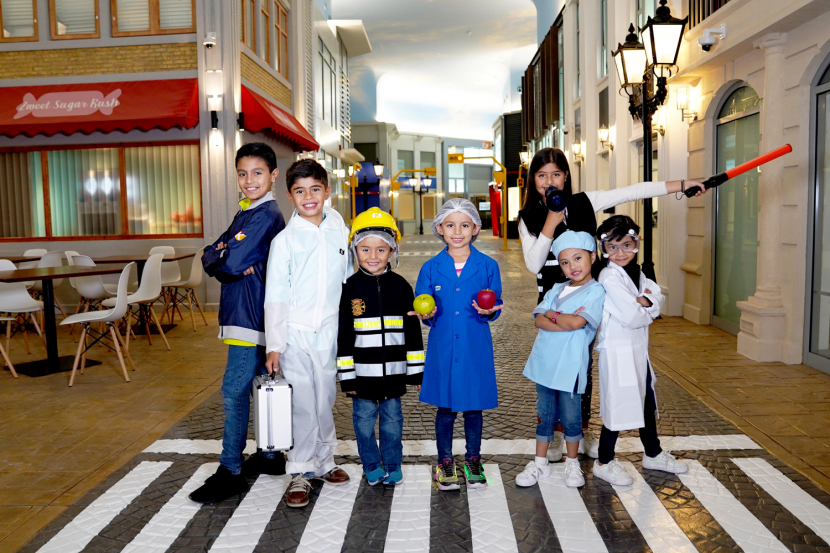 This isn't just your standard playpark, because here youngsters can take on 60 real-life jobs and dream of what they'll be when they grow up. It's basically an interactive city made especially for children and ran by them, which is pretty cool. Kids from one to 16 can have a go at being surgeons, firefighters, chefs, police officers, builders, models, actors, artists, radio hosts and more – and they'll get paid. We wish adults could have a go.
From Dhs94.50. Open daily 10am-10pm. Yas Mall, Yas Island, www.abudhabi.kidzania.com.

Explore international performances at NYUAD
The Arts Centre at NYUAD is known for bringing some amazing international acts and events to the capital to cross cultural barriers. This year, expect more of the same, with more than 100 live performances, 22 artist residencies, three world premieres and 14 UAE premieres and debuts, as part of the fifth performing arts season. Taking place until May, the pan-genre, eclectic and exciting calendar of events, curated under the theme of 'connection', has something for everyone. From animated graphic novels to circus acts and Egyptian jazz, there's a real mix of performances, events and workshops. There's lots to check out and enjoy again this year. Prices vary depending on the event, performance and experience, but many start from Dhs100.
From Dhs100. Dates and times vary. NYU Abu Dhabi Arts Center, Saadiyat Island www.nyuad-artscenter.org.

Watch spoken word at Rooftop Rhythms
Spoken word and poetry is incredibly popular in the Middle East and the tradition has been practiced in the UAE for centuries. Keeping the tradition alive and helping to inspire a new generation to take an interest in verbal performances, Rooftop Rhythms has been holding regular shows in Abu Dhabi since 2012. Never been to a show before? Tickets to the event are free but registration is required due to high demand. All you need to do is visit www.nyuad-artscenter.org to reserve a ticket when they become available in the coming weeks closer to the event.
Free. Dates and times vary. NYU Abu Dhabi Arts Center, Saadiyat Island www.nyuad-artscenter.org.

Get your giggle on
Who doesn't like to laugh? And we're not talking about typing LOL, we're talking big belly laughs that leave you in stitches. If you're in need of a dose of laughter then you can head along to a show by Abu Dhabi comedy troupe Yalla Laughs. The collective of comedians from all over the world hold regular shows in the city and they're always free. For the full schedule of events keep your eyes peeled to their Facebook page and sit in the front row if you dare.
Free entry. Various times, dates and locations, www.facebook.com/yallalaughs.
Sport and fitness
Whack a ball on a driving range
Depending on your skill level, hitting 75 golf balls can feel like a teasing hors d'oeuvre or a frustrating impossibility. In any case, that's the very reasonable number of balls available for Dhs50 at the Abu Dhabi City Golf Club and its excellent driving range.
Dhs50 or Dhs75 for unlimited balls. Open daily 5.30am-midnight. Abu Dhabi City Golf Club, Mushrif (02 445 9600).

Cycle Al Wathba Cycle Track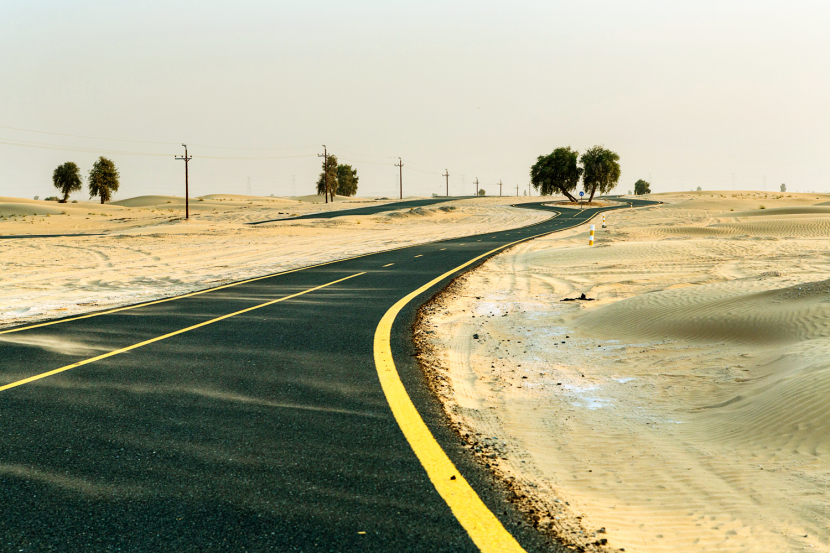 If you love to cycle, Al Wathba cycling track is one of the top places to go. You can choose from 8km up to 30km loops, and with it being open 24 hours a day you can arrive whenever you like and hit the track. Don't worry if you haven't got a bike, either and you can hire one from FLS Bikes from Sunday to Thursday between 4pm and 10pm and on Friday and Saturday from 6.30am to 10pm. A standard aluminum or hybrid bike costs Dhs30 per hour and it's Dhs60 for carbon bikes. Plus kids' bikes are available to hire for Dhs30 and bike trollies can also be rented for Dhs30 per hour, so the whole family can come along. Helmets are included and there are washrooms, changing facilities and lockers are the base. Just remember to take plenty of water, sunscreen and if you're planning on doing the full 30km maybe some seat padding wouldn't be a bad idea, either.
Bike hire from Dhs30. FLS Bikes open Sun-Thu 4pm-10pm; Fri-Sat 6.30am-10pm. Al Wathba Cycle Track open 24 hours, www.flsbikes.com.

Take on an inflatable obstacle course
Enjoying amazing views of the ocean and right on the beach A'l Bahar is great location for chilling out in the capital. If chilling out isn't your thing and you grew up watching Gladiators, Fun Hose and other cool obstacle themed shows then why not try the water obstacle course and see if you can make it to the end without ending up soaked. Don't worry, if you slip and fall, only all the people on the beach watching will be laughing at you, you'll get over it.
Dhs90 for obstacle course. Daily 10am-10pm. Corniche West www.al-bahar.ae

Strike a post at Bodytree Studio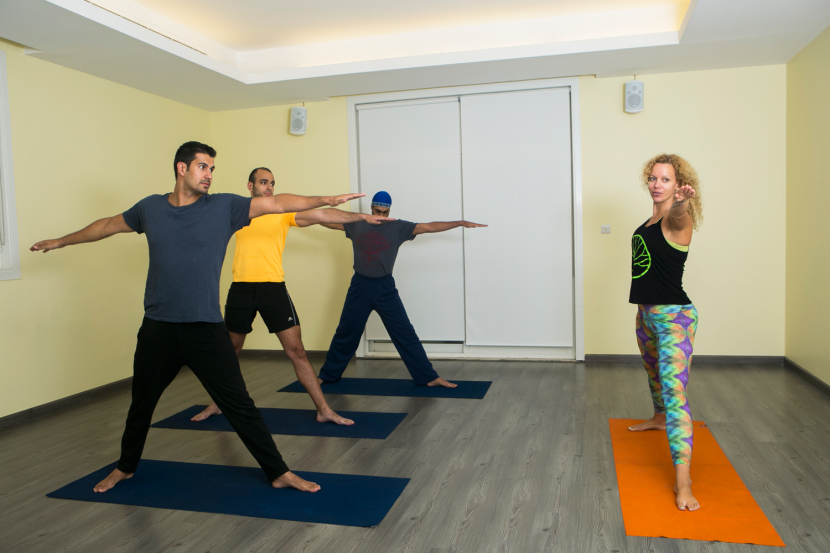 Yoga has us in positions we never thought we'd ever be, quite literally but you can't go from couch to lotus overnight. Offering a wide range of classes covering yoga, Pilates, dance and more, you can choose a class that suits you and enjoy a relaxing and rewarding session at Bodytree Studio's inviting venue. Never tried yoga before? There are beginners classes too so you don't have to be an expert to try it out.
From Dhs80 per class. Sun-Thu 8am-8pm, Fri 8am-3pm, Sat 8am-7pm. Hazza Bin Zayed the First Street, www.bodytreestudio.com (02 443 4448).

Jump around at Bounce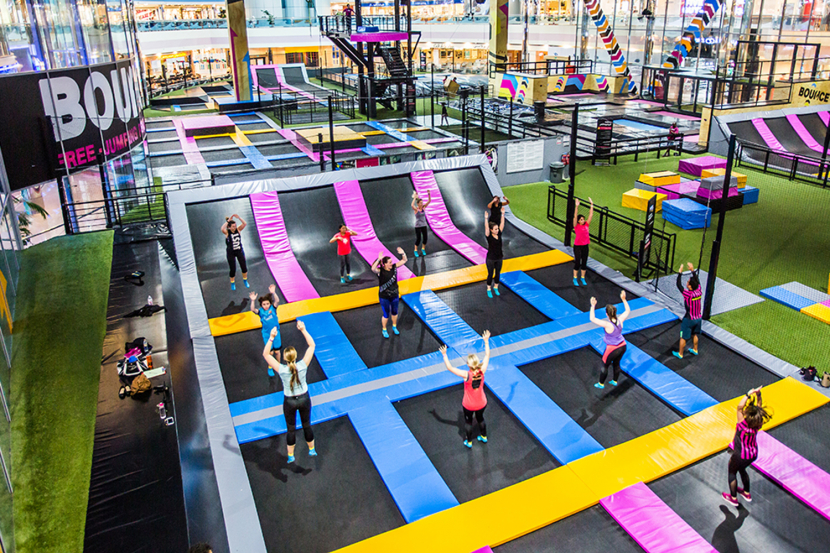 Trampolines are just fun and when you throw giant slides, zip-lines and dodge ball into the mix then we're all in. Available to children and to adults, Bounce Abu Dhabi is the place to be to, well, bounce, try obstacle courses and all the rest. It's a lot of fun.
Dhs75 for children, Dhs85 for adults. Marina Mall, Abu Dhabi and Remal Mall, Al Ain, bounce.ae.

Have a game of bowling with some friends


Maybe it's our love of The Flintstones or the film Kingpin that gives us a soft spot for bowling, or maybe it's wearing a borrowed pair of shoes and showing off? Either way, ten pin bowling is fun and it's not too expensive either. Head to Zayed Sports City and you can play games of ten pin bowling for just Dhs16 a go. Yabba dabba doo.
Dhs16 per game. Daily 9am-1am. Zayed Sports City (02 403 4648).

Take on the world's largest indoor climbing wall
Feeling adventurous? CLYMB Abu Dhabi is home the world's tallest indoor climbing wall and you can try it for under Dhs100. A range of climbing experiences will be on offer to cater to people of all abilities and if you're up for it you can take on the SUMMYT, a 43m climbing wall that is the largest in the world. It's an epic way to spend an hour.
From Dhs95 (climbing). Sun-Thu noon-9pm, Fri and Sat noon-11pm. Yas Island, www.clymbabudhabi.com.

Hire a bike and cycle the Corniche
Fancy a bike ride? You can saddle up for a cycle along the Corniche by hiring a bike from Cyacle. On your way across the cycle lane that line's the ocean front location you can take in the scenic view of the skyline and the sea on your way.
Dhs20 per day. Locations vary. 24 hours, bikeshare.ae.

Have a ride on an e-scooter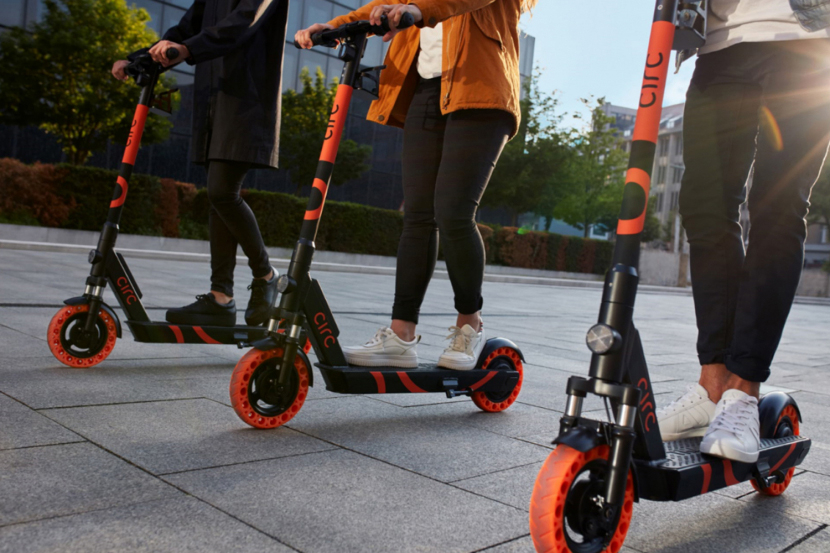 E-scooters are everywhere, and they are a lot of fun to ride. With scooter located across the city including Reem Island, Yas Island, the Corniche and Al Zahiyah, if you see one, why not try it out. Multiple companies run the scooters, including Circ and Lime, just download the corresponding app and you'll be on your way soon.

Watch a game of football
Here in Abu Dhabi there a number of clubs that you can lend your support to, including Al Jazira Club, Al Wahda FC, Al Dhafra FC and Baniyas Club. Plus, just down the road in the Garden City, there's Al Ain FC, one of the country's most successful sides in recent years. Never been to a game? Many match tickets start from Dhs10 so why not check it out yourself?
From Dhs10. Dates, times and locations vary www.abu-dhabi.platinumlist.net.

Chill at Inner Space Centre
To some it may be disappointing that the Inner Space Centre has nothing to do with the Martin Short classic sci-fi movie of the same name, but for plenty of others this meditation hub is a marvel in its own right. There are lectures, courses and seminars to introduce you to mediation, mindfulness, and living life with less stress, and most of them are free.
Free (workshops). Open Sun-Thu 7pm-7.30pm; Fri 6.30pm-7.30pm; Sat 2.30pm-5.30pm. Bain Al Jessrain (050 515 9646).

Go on an adventure in a traditional rowing boat
If you're an active person and fancy something a little different then you can take to the water with some friends to see Abu Dhabi in a new way on board a traditional rowing ship. Aquatic experiences can be expensive but if you have a party of eight then you can each pay Dhs100 to hire the boat and then set off on a fun and eco-friendly tour of the capital's mangroves.
Dhs800 (for eight people). Times vary. Eastern Mangroves www.sea-hawk.ae.

Get training at StepZSC
If you're planning on starting a new fitness routine then StepZSC is a good option. Taking place every Monday from January 6, the free training event sees you climbing up and down the many steps at the International Tennis Centre. This isn't just one, long slog up a never-ending staircase. This is a short, high-impact workout fueled by loud pumping music. All you need to do is register at www.stepzsc.ae and then step up, get it?
Free. Mon 4pm-5.30pm (ladies only); 5.30pm-8pm (public). International Tennis Centre, Zayed Sports City, www.stepzsc.ae.

Get your skates on at Zayed Sports City
Whether you're inspired after seeing Blades of Glory or I, Tanya, or just fancy taking to the ice you can do that right here in the capital. Yes, we live in a desert, but at Zayed Sports City the ice skating rink is a great place to embrace your inner Michelle Kwan.
Dhs50. Saif Ghubash Street. Times vary, zsc.ae.

Go for a spin at The Trip at Inspire Sports
The Trip is the spin class to end all spin classes. More like experiencing a 3D rollercoaster than a workout, it's a fully immersive experience. On entering the studio it feels like you've come to some weird cinema where you sit on bikes instead of seats. The 40-minute HIIT session is projected on to a huge screen, and each class takes you through a different digitally created worlds. You'll go up and down hills, travel the world (trip to Greece anyone?), and even go into space. This could be the ride of your life.
Dhs60. Ladies only. 30th Street, Al Bateen (050 157 5508).

Rack 'em up and shoot some pool
Pool is a pastime we love. We might not be brilliant at it but on occasion we've managed to win a few games and avoid potting the black too early. Fancy a game? Head along to Zayed Sports City and you can play at the city's biggest billiards room and hire a table by the hour for Dhs37. That's a price worth paying to beat your friends.
From Dhs37. Daily 9am-1am. Zayed Sports City (02 403 4648).

Punch your way to fitness
There are loads of fun ways to get fit but we can think of few less fun than working up a sweat with boxing gloves on. At punch you can take on a HIIT workout before taking out all your aggression a punch bag to relieve some stress. Plus, if you're a first timer you can get two classes for the price of one. Not bad, eh?
Dhs100 for one class (two classes if a newcomer). Sat-Thu 1pm-9pm. Zayed Sports City www.punchclub.ae.

Get a move on at The Room
This one of the friendliest studios in the capital, and no-matter how nervous you are about joining a group fitness class (there's really no need, but just in case), the welcoming staff will make you feel totally at ease from the moment you walk through the door. The Room started off specialising in spinning classes before it expanded to include other workouts like boxfit, Pilates, yoga and body pump. The soundtracks to the spin classes are on another level of awesome, and the studio also hosts classes by guest teachers, special events like healthy eating seminars and open days where people can come along and try the sessions for free.
From Dhs75 per class. International Tennis Centre, Zayed Sports City (02 444 4945)

Workout with Sweat
This boutique studio is ran by the same people who own healthy eating café Nolu's, and Raw by Nolu's is conveniently located just next door for when you want a post-gym smoothie or salad. But before you get to that stage you need to try out one of the awesome workouts. There are 45-minute spin sessions which are joined by upbeat tunes and glitter balls, intense Tabata sessions, challenging strength classes and a variety of ladies-only sessions too. As the name suggests, you'll literally come out dripping.
From Dhs70 per class. The Walk at Al Seef Resorts & Spa By Andulus, Khalifa Park area (050 232 8733)

Have a game of mini golf
Let the pros take care of the long game at the HSBC Abu Dhabi Golf Championship. If you're looking for a little fun for the little ones or fancy a game yourself then you can sink some putts at the cool neon-lit Tee and Putt mini golf and see if you're short game is up to scratch.
Dhs65 per person, Dhs60 if three people or more. Dalma Mall, Mussafah. Daily 10am-10pm. Contact: 02 555 5307, teeandputt.com

Make waves at Wadi Adventure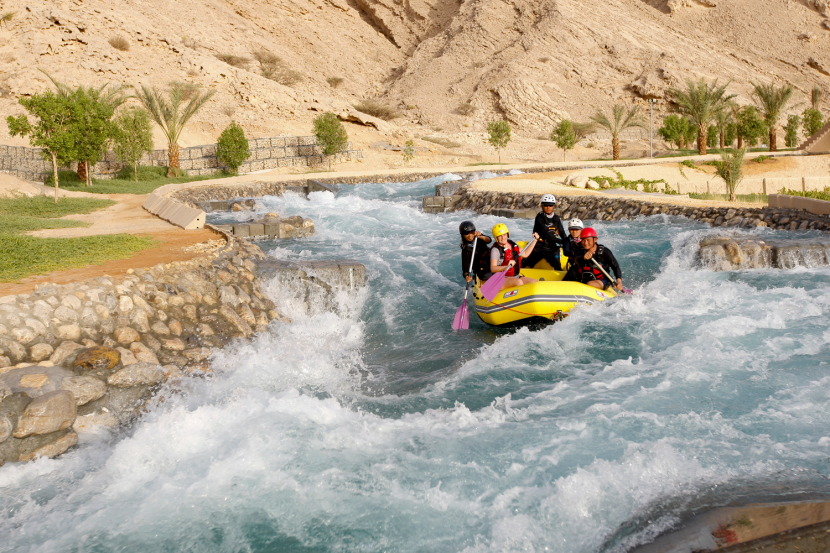 Waterparks are always fun. Until someone splashes you in the face when you don't expect it that is, in which case you have every right to be in a mood for ten minutes. Fancy splashing around? Head to Wadi Adventure and you can chill by the pool and watch as people take on far more adventurous activities around you.
Dhs65 (Adults), Dhs45 (kids). Daily 11am-6pm. Wadi Adventure, Al Ain (03 781 8422) www.wadiadventure.ae

Hit the track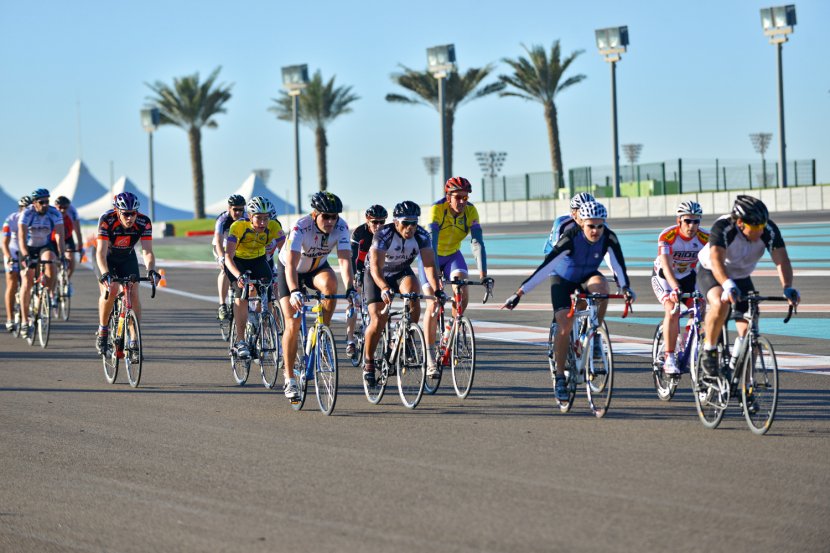 We love Yas Marina Circuit and not just during F1 weekend. With TrainYAS and TrainAM you can walk, cycle or run the 5.55km track absolutely free and build up your fitness or just take in the sights of a world-class Formula One circuit. Sessions are held five times a week on two evenings and two mornings. Evening training takes place on Tuesday and Sunday from 6pm to 10pm and morning training sessions take place on Monday, Wednesday and Thursday from 5am to 8am. You can hire a bike for free or get on your running shoes and go for it. Just remember to register beforehand or on site and you'll be on track in no time.
Free (registration required). Tue & Sun 6pm-10pm, Mon, Wed & Thu 5am-8am. Yas Island, www.yasmarinacircuit.com

Get flexing at YogaOne
If all this CrossFit and functional training business sounds a bit much, you can always head for the more serene environment of yoga studio YogaOne. But while it might be calmer, it doesn't mean that the workouts are easy. The hot flow classes take place in rooms heated to between 35 and 37 degrees, and the extra sweating will really make you feel the effects. The schedule also includes power vinyasa, Pilates, yin and meditation and more. It also hosts special classes from guest teachers, and if you're really into it you can even sign up to take part in the studio's yoga teacher training programme, which will start at the end of August. This is a brilliant place to learn more about yoga.
From Dhs80 per class. Mangrove One Compound, Khalifa Park area (02 562 1217)
Food and drink
Treat yourself and a friend to afternoon tea
Is there anything more luxurious than an afternoon tea? The cakes, the tiny sandwiches, the latter of dreams all devoured alongside a hot cup of tea. What's not to love? Head to the Westin Abu Dhabi Golf Resort and Spa and you can enjoy an afternoon tea for two for Dhs99. That's great value if you ask us. We'll have one of everything thanks.
Dhs99, booking required. Times vary. The Westin Abu Dhabi Golf Resort and Spa (02 616 9999).

Grab a bite at Abu Dhabi's best budget restaurant Burro Blanco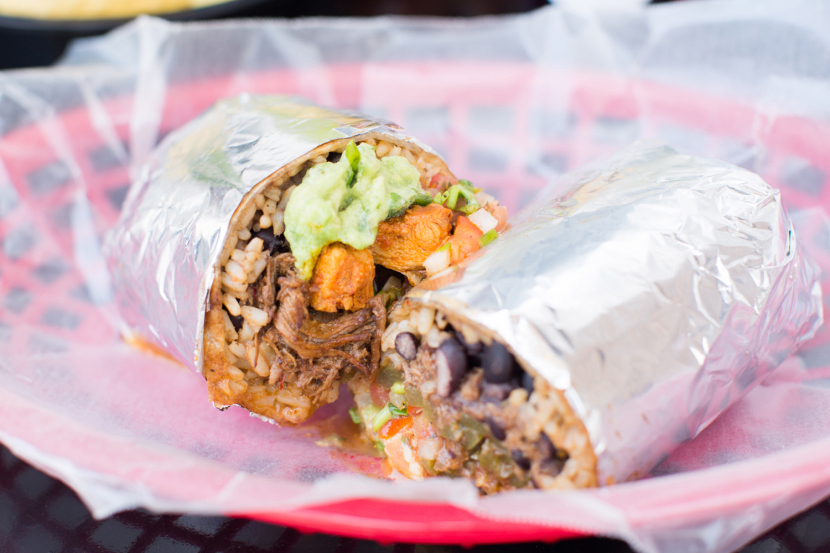 This casual Mexican doesn't rely on stylish décor or fancy gimmicks to attract its customers, not when it produces some of the finest burritos that the capital has to offer. You could be forgiven for walking past this Al Khalidiya outlet without realising it's there, but that's part of the charm. Our go-to order is a 12-inch pulled beef burrito with zesty black beans, coriander lime rice, medium hot salsa, guacamole and aged white cheddar, but whatever you go for, it will be brilliant. Plus, even though we know we've raved about them before, there are few things better in the world than the avocado fritas, featuring silky green fruit encased in a light batter and served with a variety of spicy salsa dips.
Zayed the First Street, Al Khalidiya (02 309 3911).

Shop for some fresh, local produce at a farmers market
Deerfields Mall is bringing back its popular Farmers Market every Friday and Saturday from 4pm until April 2020. With produce on offer from local farmers you can pick up fresh fruits, vegetables and more that are locally-grown and produced by more than 20 farmers dotted around Abu Dhabi and Al Ain. Away from the food a Marhaba Market will also take place, where local businesses can set up stalls to sell their locally-made products and handicrafts. Plus, movie screenings, colouring sessions, carnival entertainment and more will also be on hand to keep the little ones busy during your visit. We love a market.
Free. From Nov 7, Fri and Sat, 4pm onwards. Deerfields Mall, Al Shahama Road (02 501 0826).

Get a taste for gold at Emirates Palace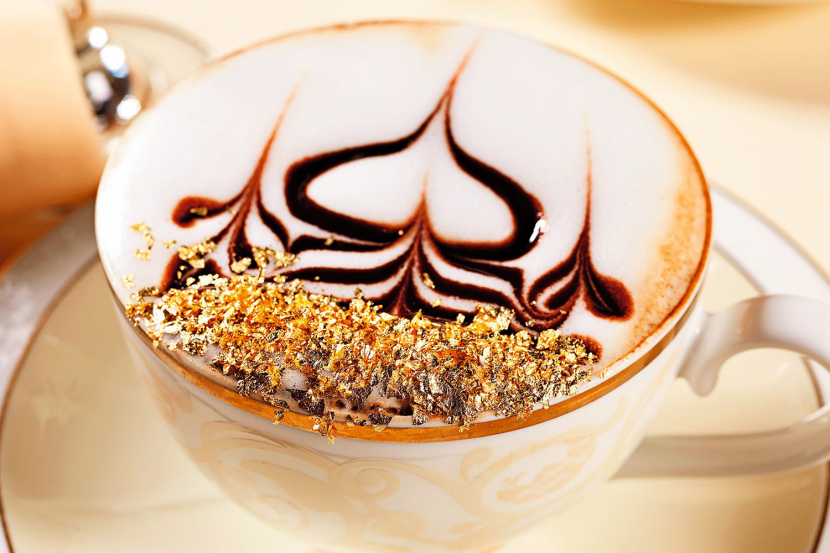 You've seen it on Instagram, surely? Head to Emirates Palace and you can taste gold, literally. At Le Café the famous 23 karat gold cappuccino has become pretty popular among residents and tourists. It's a coffee, yes, but with a sprinkling of precious metal on top it looks incredible and is the ultimate indulgence. You've got to try it at least once right?
Dhs76. 7am-12.30am. Le Café, Emirates Palace, West Corniche (02 690 7999).

Shop some local produce in Mina Zayed
We all have our favourite spots for getting groceries but there's something incredibly satisfying about haggling for a top price. Head to Mina Zayed and you can find the freshest local seafood, vegetables and fruit at the markets and you can have a go at getting a great deal. The friendly vendors remember a face so the chances are if you keep going back the prices will get even more wallet friendly and you'll still get great food to take home. Try it!
Free, prices depend of your haggling skills. Daily 8am-2pm. Mina Zayed

Buy organic food from Ripe Market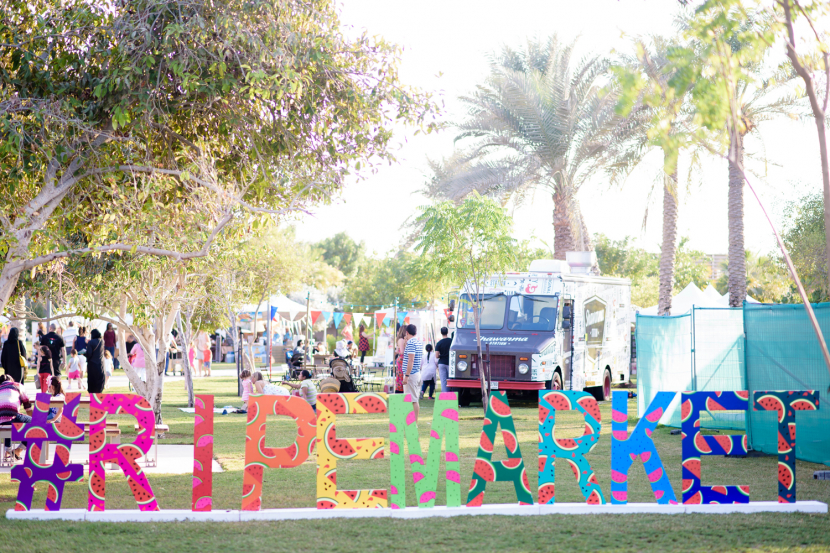 If you're looking to stock up on organic fruit and veg at Ripe Market with only a Dhs50 budget, prepare to go hungry for the rest of the week, as it won't get you much. However, if you just fancy an afternoon stroll in the sun, then you should know that this market is set in one of the city's finest parks and offers live music, food stalls and other vendors as well as the fruit and veg on offer.
Dhs10 (park entry). Ripe Market open Sat 3pm-9pm. Umm al Emarat Park, Mushrif (04 315 7000).
Leisure
Sail on a traditional abra boat
Fancy going for a trip on the beautiful blue waters of Abu Dhabi. We hear you. Sometimes we daydream about getting on a ship and sailing into the sunset but that's for another time. You can take a short trip on the water on board a traditional abra boat ride for a ride between Souk Qaryat Al Beri and Yas Marina with Captain Tony's. Even better still, it won't cost you a fortune and you can forget about traffic for a change. Perfect.
Dhs25. Times vary. Visit: captaintonys.ae.

Shoot some paint at Action Paintball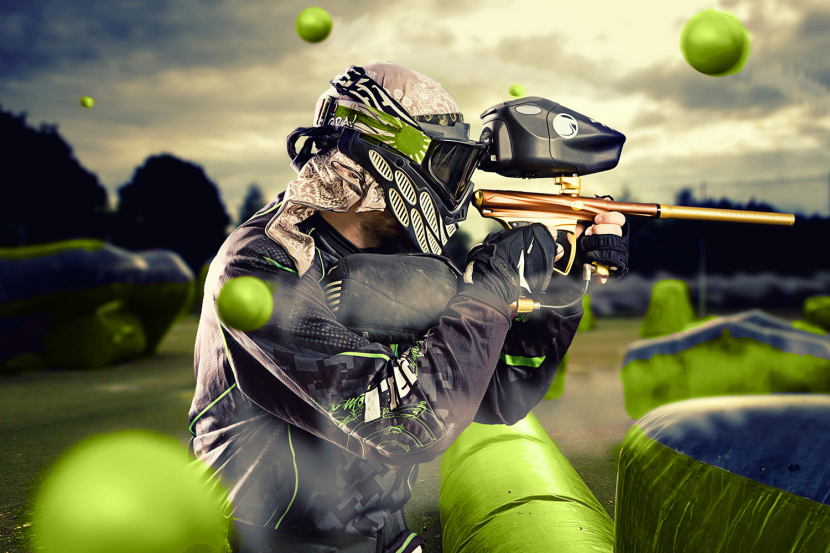 With a cool paintballing course, which has various zones both indoors and outdoors, accommodating up to 60 players at one time, Action Paintball is very cool. Armed with heavy guns that shoot marble-sized pellets of paint at the opposing team, you can bring out their inner soldier while tackling a range of obstacles and scenarios. Each player is also given a health tracker, which will display their heart rate and how many calories have been burned during the game. Not up for it? You can take part in some target practice (the bullets are only going one way so a lot less dangerous) or hop aboard the converted, open-top London-style bus that serves up refreshing drinks and snacks as they watch all the high-adrenalin action unfold below them on the battlefield.
FromDhs99 (per 100 paintballs). Sun-Wed, 10am-10pm; Thu-Sat, 11am-11pm. The Last Exit, Sheikh Zayed Road, Dubai, www.actionpark.ae (04 235 8893).

Take the kids to Action Zone
Action Zone, at The Mall at World Trade Center Abu Dhabi, is home to a games for kids of all ages. There's also Jump Up, a trampoline playground, and Zone PC Gaming Lounge, also known as "the gaming spaceship" with professional gaming PCs, PS4s, and more. Kids and teenagers can expect tonnes of new game titles. Plus, more fun at Party Time, a first-of-its-kind hall in Abu Dhabi featuring an LED dancefloor. More attractions will be added in April including Zero Gravity, a virtual reality ride.
From Dhs70 (per hour).Open 10am-10pm (weekdays), 10am-11pm (weekdays). The Mall at World Trade Center Abu Dhabi, Al Markaziyah (02 634 0133).

Go wild at Al Ain Zoo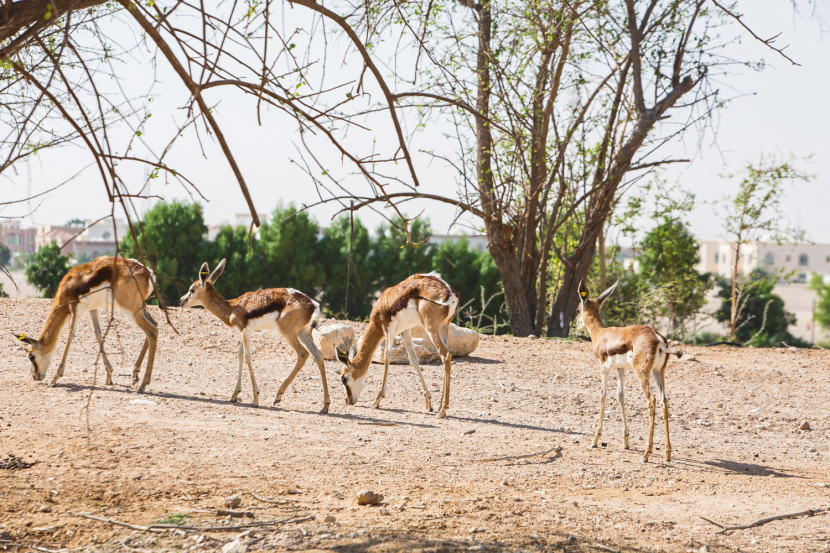 With a whole host of animals including rhinos, giraffes, tigers, hippos and crocodiles – you'll find all sorts of wonderful wildlife at the emirate's largest zoo. If you've never fed a penguin, here's your chance. Plus, while you're there you can check out the Sheikh Zayed Desert Learning Centre to learn more about the natural habitat, wildlife and how Bedouins made the UAE their home despite being against the elements.
Dhs31.50 (adult), Dhs10.50 (child). Al Ain (800 966).

Visit the Abu Dhabi Children's Library
Giving families another reason to visit The Cultural Foundation, an all-new children's library has launched at the venue inside Qasr Al Hosn. The modern space provides a learning and educational area for kids as well as materials for them to read and an opportunity to connect with the UAE's heritage. Plus, with dedicated reading zones and a year-round programme of events it gets two thumbs up from us.
Free. Sat-Thu 10am-8pm, Fri noon-8pm. Qasr Al Hosn, www.alhosn.ae

Head out camping
Going on a camping trip to take in the sights, sounds and smells of nature, is an amazing way to explore the UAE. Plus it can be a relatively inexpensive option for travellers who aren't afraid of a little bit of sand. But before you pack the car and head out remember to pack smartly, bring appropriate clothing, water, a spade if you're going off road, to camp away from the bottom of dunes or the water's edge and most importantly - leave nature as you found it before you arrived (please don't litter). It's always smart to travel in groups too and let others know where you're planning to camp. It's quite easy to get lost, or stuck, so don't take on more than you can manage and try to go with experienced campers for the first few times you venture out.

Chill on Al Bateen Beach
A stone's throw from Al Hudayriat, the relatively small (it's only 800 yards long) but perfectly formed Al Bateen is where you'll find some of the finest capital grains going. Hugely popular with the locals, although not so much so that it ever feels crowded, this Blue Flag beach is fantastic for fishing, watersports and busting out the picnic hamper on. When the kids tag along, they'll be in their element in the children's playground (but still in earshot if the screams of delight are anything to go by). There's plenty of parking, meaning you could easily bail out and sit in your motor with the AC full blast and some soothing sounds on the stereo – but where's the fun in that, eh?
Free. Open daily 8am-sunset. Al Bateen, Khalifa Al Mubarak Street, Abu Dhabi (no number).

Chill on Al Hudayriat Island
This huge island opened its beach back in 2018, and while the rest of the island remains untouched, the space just over the hulking Hudayriat Bridge is a popular spot. There are food trucks and sports facilities from the island and the 600 m-long beach is open daily from 8am to 7pm and is free to use for the public. There are also three new slipways for boats and jet-skis, making it a must-visit for thrill-seekers in the capital.
Free. Open daily 8am to 7pm. Hudayriat Island.

Chill out in Khalifa Park
Located just next to the Park Rotana, Khalifa Park covers a massive area – 500,000 sq m in total. But it's not all green grass and palm trees, there's also a museum that takes you down a time tunnel and explains the history of the development of the capital, an aquarium, a library and a miniature train that takes you around the circumference. It's right next to our offices, so we'll keep an eye out for you from our window. Be sure to wave.
Dhs2. Next to Ministries Complex, Sheikh Zayed Bin Sultan Street.

Soak up the sun at Al Maya Island
A short 20-minute boat ride from Abu Dhabi is a one-stop-shop for water sports. Wakeboarding, kneeboarding, kite surfing, banana boating, kayaking and parasailing are all possible here, in between dips in the pool and a leisurely lunch at the resort's restaurant, so you can easily while away an entire day (or an entire weekend if you book a room) when you feel like escaping the city for some aquatic adventures.
Dhs100 (entry, day package), water sport prices vary. Sat only, 10am-6.30pm. www.almayauae.com (02 667 7777).

Hit the beach on the Corniche
Yes, in the summer months sunbathing is something of an extreme sport but for the majority of the year it's a brilliant way to spend a few hours. While there are many beach clubs where you can enjoy a luxurious afternoon, the city is also home to a few public beaches that are absolutely free. Bring a towel, water and some snacks and you can soak up the sun at the Corniche public beach without spending a fil. Dive into a book, kick back and relax. Go on, you deserve it.

Chill at the Corniche's parks
If you're heading to the Corniche, chances are you're thinking of a beach day, but those sands are outlined by some lovely parks, ideal for a shaded stroll, and on the other side of the road are a bunch more green spaces. Starting from the east side, near Sofitel Abu Dhabi, is Recreation Park. The biggest attraction is a large sun dial – always popular with curious little minds. Next along the road is Formal Park, which is actually a lot more fun than its name suggests. It has barbecue pits, badminton courts, a concrete maze (for the kids?) and plenty of room to relax on the grass. At the end of the first stretch is Lake Park – with a 15m fountain and wooden bridges and walkways, it is a favourite with Instagrammers.
Free. Off Corniche Road.

Feed the animals at Emirates Park Zoo & Resort
You can feed a whole range of animals at this awesome zoo, but the most daring experience is the crocodile feeding. Each weekend, you can get up close and personal with the crocs and even feed them their dinner. Don't worry, though, as you'll be in an elevated enclosed private area to make sure you're 100 percent safe. It's an incredible chance to marvel at the beauty of these enigmatic creatures and if you're brave enough, you can even hold a baby croc yourself.
Dhs75. Fri-Sat 5pm-8pm. Emirates Park Zoo and Resort, 12th Street (02 501 0000).

Explore the Mangroves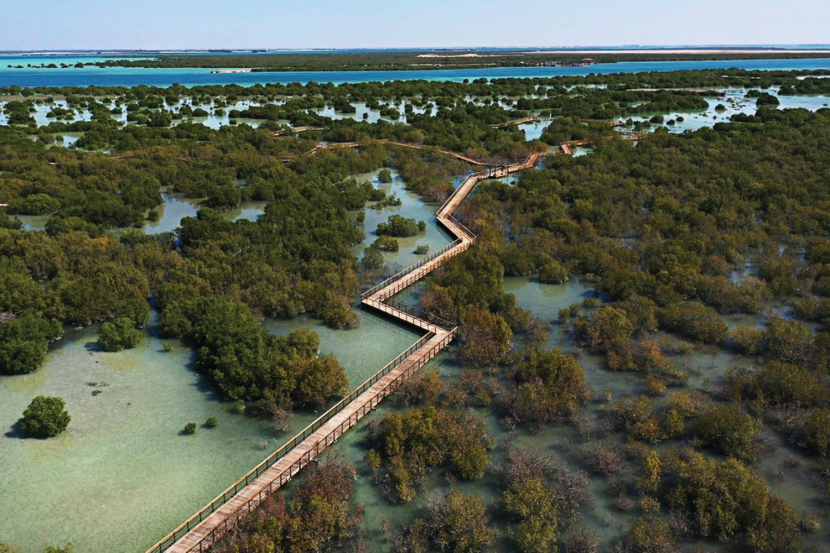 Mangroves are one of the UAE's most beautiful natural landscapes and you can see them here in Abu Dhabi. Home to an abundance of wildlife, the picturesque national park is a great place to check out with a walk along the promenade (we'll forgive you for snapping a few selfies along the way). Plus, from early next year a new walkway in the heart of the park will allow you to get right into the mangroves and see the amazing turquoise waters.
Free. Easter Mangroves Promenade

See the sights from Marina Eye
Every major city around the world seems to have a gigantic Ferris wheel these days and Abu Dhabi is no exception. With views towards the city and out towards the Arabian Gulf, it's unsurprisingly popular around sunset when the Dhs50 (Dhs30 for kids) entry is a total bargain.
Dhs50 (adults), Dhs30 (kids). Open Sun-Wed 11am-11pm; Thu-Sat 11am-1am Thursday-Saturday. Near Marina Mall, Corniche Breakwater (02 681 8300).

Chill out in Masdar Park
Ever been to a sustainable park? Well, all parks are quite sustainable come to think of it, but we reckon you've never been to one quite like Masdar Park. With food trucks and offices made from recycled shipping containers, solar powered benches where you can charge your phone, fun play parks, art installations and places to enjoy a picnic in the cooler weather, it's a fun place for a family day out for everyone.
Free. Daily 8am-10pm. Masdar City www.masdar.ae.

Check out Mirfa Beach
Granted, just getting to Mirfa from the capital is something of a mission but trust us, once here you'll soon realise why this is one of our most beloved secluded spots. Perennially peaceful and consummately clean, you'll never be fighting for space with your 6am-towel-laying European holidaymakers at Mirfa. Watersports are the name of the game here, so your more active companions will be delighted you let them hitch a ride. You'd be unwise to try and do it in a day so pack the camping stove and pitch up for the night, gazing merrily at the stars and patting yourself on the back for a job well done. For a seaside sojourn that's full of mirth, head to Mirfa.
Free. Open daily 24/7. Al Gharbia.

Win prizes at a quiz
What was the name of the third man in the Apollo 11 mission? Sorry, we love answering trivia questions whatever the subject and we're not the only ones. If you like to show how smart you are – or just have some clever friends – then you can join any of the pub quizzes across the city nearly every night of the week. Just think up a witty team name, click here to find a quiz and then get yourself along. Plus with prizes on the line, it can get competitive. Just don't steal our answers or use Google, please.

Stroll, skate or play in Reem Central Park
Not only is it absolutely massive but there's also loads to do in this cool public park. Located in the heart of Reem Island, the green space feature playparks, outdoor gyms, restaurants, a beachfront, a fountain with daily light shows, sports courts and a skate park. Fitness workshops and film screenings are also held in the park as well as regular meet-ups and there's even local art on display throughout the space. It's very cool.
Open 24 hours www.reemcentralpark.com.

Soak up the sun on Saadiyat Beach
It's one of the most picturesque places to top up your tan in Abu Dhabi and dolphins have been known to make an appearance too. In the sea obviously, they won't be lounging next to you. Bring a towel, water and sun cream (please don't forget it) and head to Saadiyat Island to relax for the day, finish that book or take endless selfies, you know which one of those people you are.
From Dhs35 per person, Dhs75 with sun shade and beach towels. Daily 7am-6.30pm. Saadiyat Island.

Explore Umm al Emarat Park
Umm Al Emarat Park, or Mushrif Park as it was previously called, might be almost at the end of this list, but it should be right near the top of yours. There's plenty going on here to keep the whole gang entertained. It was built in consultation with a few local groups who shared what facilities they'd like to see in a park. As a result, there is the Wisdom Garden (a place to ponder life's big questions), the Animal Barn (a petting zoo that's managed by Emirates Park Zoo and includes camels, goats, ponies and more), the Children's Garden, the Botanic Garden (which houses about 200 regional plant species), a 1,000-person amphitheatre, the Shade House (a structure that houses more than 30 species of shade-loving plants) and of course, rolling green lawns. In cooler months, the organic Ripe Market pitches up every Saturday and there are also places to eat such as SALT, Parker's and Pinza.
Dh10. Daily 8am-midnight. Al Mushrif (02 666 9559).

Top up your tan mid-week at Yas Beach
We don't think you can ever spend too much time at the pool or beach, and this beach club has absolutely everything you need for a perfect day in the sun. The huge infinity pool is complimented by an open-air DJ booth, bar, private chalets, dreamy cabanas and a very funky and tropical-themed tiki restaurant. Make sure you keep an eye out for regular big events as well. If you still want to experience a cool beach bar without paying high-end prices, it's a super option, and a session on the sunbeds will help your friends to go home with that much sought-after holiday glow.
Dhs60 (Sun-Thu) Dhs120 (Fri-Sat) Open daily 10am-7pm. Yas Island (056 242 0435).
Nightlife
Party at Annex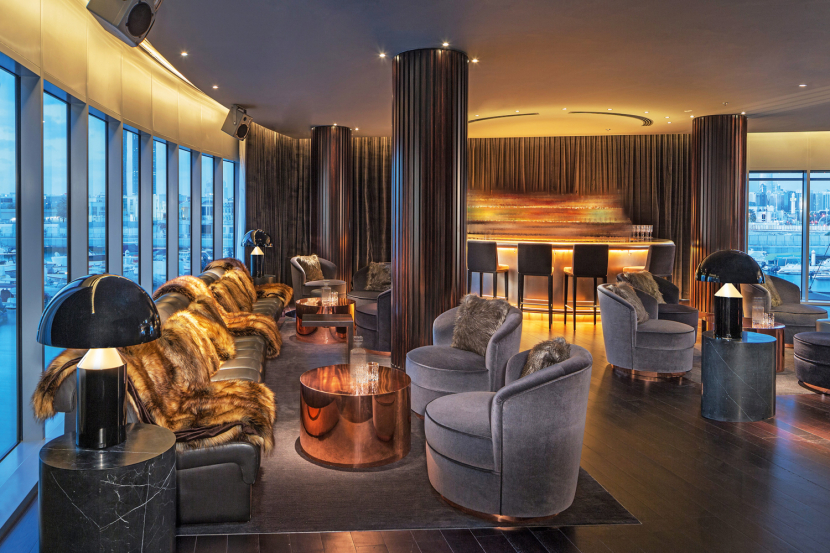 The Abu Dhabi EDITION has established itself as one of the coolest hotels in the capital, which is partly down to its incredible three-tier venue called ANNEX. While the bottom two floors host big parties and top DJs, the rooftop terrace holds fire pits, comfy sofas, and a well-stocked bar serving excellent mixed drinks (we can highly recommend the coffee-based ones, in particular). The views over Al Bateen Marina are really something else, and as you take in outline of Etihad Towers and gaze over the moored boats below, your friends will be super jealous of your life in Abu Dhabi. Some events require an RSVP but are always free entry.
Open Tue-Wed; Fri-Sat 6pm-midnight. The Abu Dhabi EDITION, Al Bateen (04 304 70002).

Watch the sun set at Buddha-Bar Beach
With cool DJs, pretty mixed drinks and elegant hostesses, Buddha-Bar Beach has an amazing, spacious outdoor area that leads right onto the white sands of Saadiyat Beach. It's really got the 'wow' factor, and it's the perfect place for a sundowner or two. If you arrive between 5pm and 8pm from Saturday to Wednesday, you can get three selected drinks for Dhs100 and watch the sun set over the beach. Bliss.
Open Sat-Wed 5pm-1am; Thu-Fri 5pm-2am. The St. Regis Saadiyat Island Resort, Abu Dhabi (02 498 8888).

Have one on the house, daily
It must be good being a lady in this city. Every single night of the week there is somewhere in the city offering free drinks and nibbles if you're female. Ladies' nights are extremely popular and we're not surprised. Free drinks, bites to eat and great fun any night we want? Sounds good to us. Check out the full listings on our website and you'll have a free drink in your hand in no time.

Party at MAD on Yas Island
If you're looking to take your pals 'out out' in Abu Dhabi, this is the place to go. The largest nightclub in the UAE will keep you dancing all night long, and into the early hours of the morning too. This venue really doesn't do things by halves, and you should expect live dancers, lots of dry ice and to feel very, very tired the next day. Many of the nights here feature a special guest, so if you're lucky you might catch a performance from a big name like Tinie Tempah, Akon, Ne-Yo and French Montana, who are just some of the acts who have played here in the past.
Open Thu-Fri 11pm-3.30am. Leisure Drive, Yas Island (055 834 6262).
Sightseeing
Visit Al Ain Oasis
If you're looking to enjoy a cultural experience that feels a world away from a busy city then this is the one to visit. The 3,000 acre oasis is jam-packed with 147,000 palm trees and has been a UNESCO World Heritage Site since 2011. You can see how early inhabitants in the region created irrigation systems and a steady water supply to combat the intense heat of the desert. Plus, it makes for some amazing Instagram shots too.
Free entry. Sat-Thu 9am-4pm; Fri 2pm-4.30pm, Hessa Bint Mohammed Street, Al Ain, visitalain.ae.

Explore Al Hili Archaeological Site
Located a short drive outside of Al Ain, this historical site and gardens, is an interesting place to check out. Highlighting the ancient monuments of the Garden City, you can see many historical attractions including monuments, forts and tombs dating back thousands of years. Plus with a large garden with plants and fountains it's a nice place for a day out while the weather is a little cooler.
Free. Daily 4pm-11pm. Mohammed Bin Khalifa St, Al Ain.

See Al Jahili Fort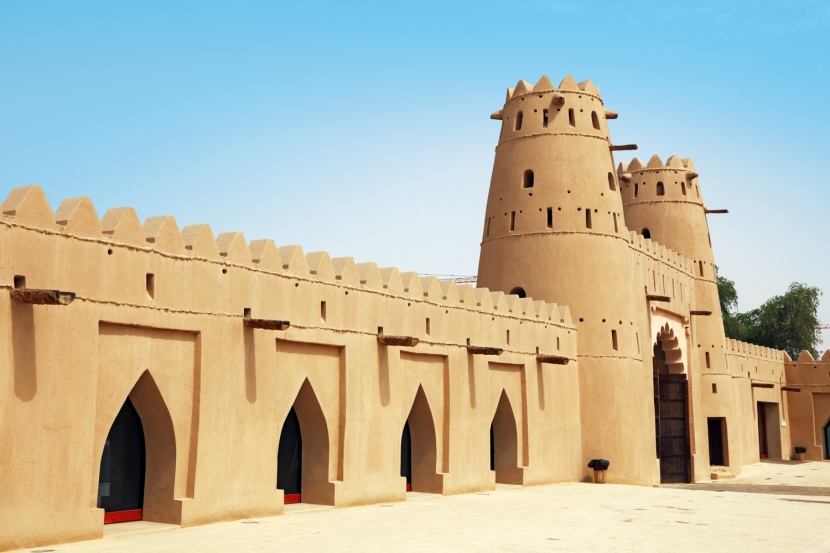 This picturesque fort is one of Al Ain's oldest and most impressive structures. It's also a former residence of Al Nahyan family and parts of the original building still remain despite being fully resorted in 2007. As well as giving insight into local history, there are exhibitions, events and attractions at the historical site throughout the year so keep an eye on the calendar to see if you can get involved. The site is also pictured on the Dhs50 note, too.
Free. Tue-Thu and Sat-Sun 9am–5pm, Fri 3pm–5pm. Hessa Bint Mohammed Street, Al Ain (03 711 8311).

See a real glimpse of history at Al-Meraikhi Old House
It's one of the UAE's oldest buildings and as well as being a fantastic phot opportunity it offers a real glimpse into the past. Historically the building was the home of a Mohammed Bin Hassim Al-Meraikhi, a pearl diver, and there's nothing else quite like it in the emirate. You'll have to get the ferry across to Dalma Island to visit and it's not always open but if you fancy a day trip and are interested in local culture this should be on your to do list.
Free. Dalma Island. Ferry times vary. Visit: dalmaisland.com.

Check out Al Mezyad Fort
Sitting close to the border with Oman, Al Mezyad Fort is one of the Garden City's largest historical structures. Spanning 3,600 square metres the fort, constructed in the 19th century, has been restored using traditional methods in recent years. With more than 40 rooms across the space, the fortified structure is a cool attraction for history buffs of those who want to connect with local culture while in Al Ain.
Free. Near Green Mubazzarah.

Go flamingo spotting at Al Wathba
Head to the UNESCO site Al Wathba Wetland Reserve and you'll not only get the chance to check out a cool natural wetland but also see some great wildlife. Flamingos have made the site their home and while they like to migrate, you can catch colonies (or flamboyances) of the birds at the site relaxing in the water. Don't worry, you'll spot them easily, they're bright pink after all. Plus a new observation tower is being built at the site so soon you'll be able to get an even greater vantage point. The wetlands are still closed for the summer but are set to re-open very soon. Watch this space.
www.ead.ae.

Spot some dolphins
Who doesn't love dolphins? If you know someone that doesn't, don't trust them, they're clearly quite strange indeed. Want to see some in the waters of Abu Dhabi? You got it. The UAE Dolphin Project is a non-profit initiative that aims to take a scientific approach to tracking the species in our waters. Gaze out to sea long enough and report any sightings, or volunteer with the organisation to become more involved in this great project and find out where the best spots to see them are. Here's a clue, they're in the ocean, that's all we're saying.
Visit www.uaedolphinproject.org or call 050 955 1742 for more information.

Daydream about a new vehicle at Emirates National Auto Museum
One of the quirkier museums anywhere in the UAE, the Emirates National Auto Museum has a collection of 200 vehicles owned by HH Sheikh Hamad Bin Hamdan Al Nahyan. Among several highlights, there's the world's largest truck.
Dhs50. Open daily 9am-5pm. Drive South from Abu Dhabi on Abu Dhabi-Liwa Road (055 749 2155).

Get some amazing snaps of Emirates Palace
It's lavish, it's grand and it's incredibly gold. Emirates Palace is iconic in this part of the world and if you've ever visited it's easy to see why. The massive hotel is super impressive and the swathes of tourists pouring in every day are testament to that. You can get some great shots of the Abu Dhabi skyline from the entrance or look at the incredible interior and top up your Instagram feed. We've all done it, don't worry.
Corniche West (02 690 9000).

Explore the Empty Quarter
Have you forgotten we live in a desert? When you drive south of Abu Dhabi you'll soon remember. If you've been on Instagram and seen those snaps of dunes spreading as far as the eye can see well the good news is that these picturesque scenes are right on your doorstep. The Liwa desert is a sprawling landscape and it isn't for the faint-hearted. If you're going off road, things can get rough and ready and should you be going dune bashing make sure you prepare and don't bite off more than you can chew. Throw a few tents and sleeping bags in the back and you can even spend a night under the stars but remember to bring water, not to travel alone and leave nature the way you found it. We'd all like to enjoy it for many years to come, thank you very much.
Set your GPS for 22.974905, 53.785472 and explore.

Check out the cool Fossil Dunes
Pack the car and head out on the road for a trip to see some amazing sights. Out in the desert at Al Wathba's fossil dunes you can explore a collection of twisting, wind-swept towers of rock. It's an unique place, and budding photographers will love the shadows and shapes created at sunrise and sunset. The dunes are very fragile so please don't climb all over them or damage them when taking pictures and try to leave the site as you found it when you head back to the city.
Open 24 hours. Off the E30, behind Al Dhafrah Air Base, co-ordinates: 24.192078, 54.584732.

Watch the sunset at The Founder's Memorial
There are many great places to watch the sun set in the city but The Founder's Memorial is truly special. As night descends on the city, The Constellation, an artwork and memorial to the late Sheikh Zayed, lights up. Standing 30m tall and using 1,327 geometric shapes, the installation projects a portrait of Sheikh Zayed out into the night and it's brilliant to watch. Plus, the site just won at the CODA (Collaboration of Design + Art) awards 2019 in the Institutional category, so you know it's pretty amazing.
Open daily 9am-10pm. Corniche West, www.thefoundersmemorial.ae.

Check out Green Mubazzarah
The Garden City is home to some pretty spectacular scenery, (Jebel Hafeet anyone?) and at Green Mubazzarah it's certainly scenic. The lush, green views and hills at the feet of the Abu Dhabi's highest peak make for quite the setting and if you fancy you can even have a dip in the natural hot springs too. Go on, why not?
Free, Dhs20 for hot springs. Daily 11am-8pm. Green Mubazzarah, next to Wadi Adventure (03 783 9555).

Take in the view from the top of Jebel Hafeet
It hardly seems Everestian, but at 1,249m Jebel Hafeet is the highest mountain in the UAE and fewer than 100m shorter than Ben Nevis, Britain's loftiest peak. There are a glut of tourist attractions around this part of Al Ain, but arguably nothing more spectacular than hitting the summit here which, thanks to a road up it, is really a pretty simple task.

See the Jebel Hafeet Tombs
Ok, tombs may not appeal to you unless you think you're Indiana Jones, but these incredible archeological sites In Al Ain are well worth a visit. Thought to date back over 5,000 years, the site offers a glimpse into the ancient past of the UAE and the rituals of the time. The dome-shaped tombs are an impressive site and were constructed from local stone thousands of years ago. The site is off the beaten track and you'll need a 4x4 to reach it but just make sure not to damage anything and leave the site as you found it before arriving.
Free. GPS coordinates 24.0451051, 55.7997776.

See the Liwa Forts and Oasis
If seeing something that's off the beaten track is what you're after then set course for Liwa Forts. Located near Liwa Oasis, which is also worth seeking out, these forts, constructed by Bedouin tribes in the 19th and 20th centuries, were built to protect their most treasure resource: water. These are not an official tourist destination don't expect a gift shop, a guide or resources, just check them out, take your pictures and make sure to leave them as you found them for the next person to explore. There are at least five forts to explore along the road including Al Jabbanah Fort, Attab Fort, Mezair'ah Fort, Dhafeer Fort and Qutuf Fort.
Head towards Hamim and set your GPS for 23 07 60.00, 53 45 59.99.

Explore Louvre Abu Dhabi


Louvre Abu Dhabi has become one of the most popular tourism destinations in the region and we're sure you've already added to your list of things to do with visitors when they come to town. If you've still never been, we'd be surprised, as there is so much to see and do from amazing exhibits and changing exhibitions, to activities, events and even film screenings, too.
Museum entry Dhs63 (adults), Dhs31.5 (ages 13-22), free (under 13). Oct 30-Feb 18. Louvre Abu Dhabi, Saadiyat Island, www.louvreabudhabi.ae (600 565 566).

See the epic Tal Moreeb dune
The Moreeb Dune, or 'terrifying mountain' as it's also known, is an epic sand dune that has to be seen to be believed. With a reported 300m high slop at an angle of 50 degrees, it's not the most inviting of dunes for trying to traverse. But that's where you'd be wrong, every December the Liwa Sports festival sees bold drivers take on the slop at breakneak speeds as part of the annual festivities. It makes for quite the sight and a fantastic camping experience so why not check it out for yourself?
Free. Moreeb Dune www.lsc.ae.

Explore Qasr Al Watan
The stunning Qasr Al Watan, part of the Presidential Palace, has opened its doors to the public for daily tours. A total of 149,000 unique pieces of silver, crystal and china were used in the construction of the palace that was completed in 2017. Visitors are able to explore a host of facilities and attractions during their visit including the extensive gardens, great hall, library, visitors centre, courtyard and more. Plus, in the evening, a light and sound show projected onto the building's façade reveals the palace's significance to the country's culture and history.
Dhs60 (adults), Dhs30 (children aged four to 17), free for kids under four. Daily 10am-8pm. Corniche West www.qasralwatan.ae.

Marvel at Sheikh Zayed Grand Mosque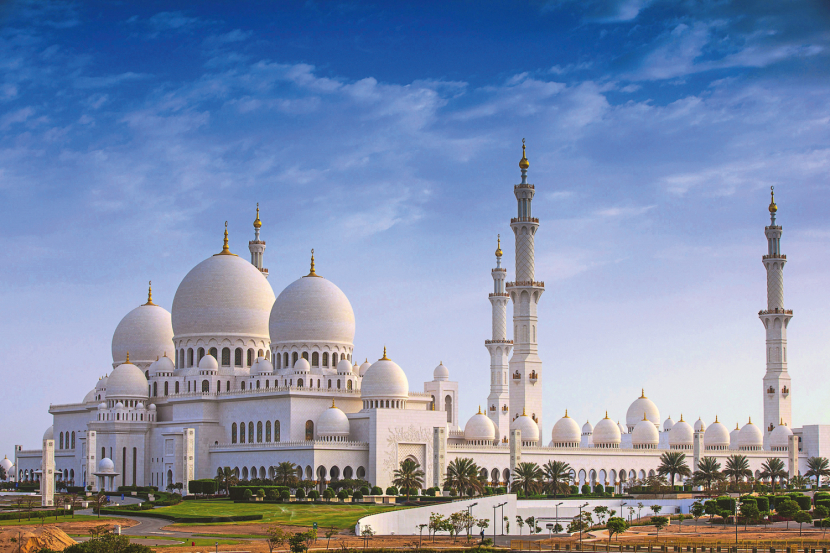 Okay, it's unlikely that you've never been and there's a good chance that every time a new visitor comes out to see you that you find yourself back at Sheikh Zayed Grand Mosque. But that's a good thing. What can you say about it that hasn't been said before? It's stunning, it's one of the most iconic structures in the region and with 82 domes, 1,000 columns, 24-karat gold chandeliers and the world's largest hand-knotted carpet it's a masterclass in craftsmanship and architecture. Just remember to be respectful, dress conservatively and to get those brilliant snaps for social media.
Open Sat-Thu 9am-10pm; Fri 4.30-10pm. Sheikh Rashid Bin Saeed Street (02 419 1919).

Visit Wahat Al Karama
This military memorial was built in recognition of the UAE's armed forces and as well as being a fitting tribute it's also an architectural wonder. The name means "oasis of dignity" and it is a permanent homage to soldiers who have given their life protecting the nation's values and security. The sculpture features massive aluminium slabs that lean on one another and the site also features a visitors' centre and a 4,000 square metre plaza enjoying amazing views over Sheikh Zayed Grand Mosque.
Open daily 9am-10pm. Khor Al Maqta (02 668 1000).
Be the first to get all the latest Abu Dhabi news, reviews and deals into your inbox by signing up to our free
newsletter
,
click here to sign up
.