We're sure you've all had friends tell you that your life in Abu Dhabi looks like a dream, and really, it's hard to argue with them.

Here we can experience beautiful beaches, wild desert, glamorous restaurants, fascinating cultural sites and more, all within a short drive. We're really very lucky.

So whether you're looking for something new to do with your weekend or you're just here on a short holiday, you'll have the time of your life working through our list of the most brilliant things to do in Abu Dhabi.
1 Treat yourself to a fancy coffee at Al Bateen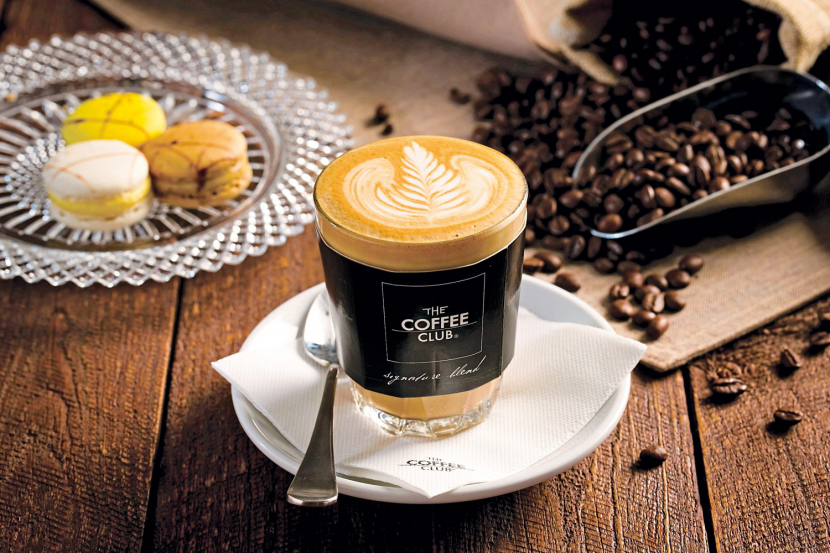 This is one of the most happening areas in the city. It's always busy and the atmosphere is buzzing and very family friendly. With views over the boats and Etihad Towers, it's a thoroughly picturesque place to chill out. It's a big place for the city's coffee lovers too, with The Coffee Club, % Arabica, No. FiftySeven Boutique Café and tashas all providing lovely settings to relax with a quality brew. New outlets are opening up all the time, too.
Various locations. Al Bateen Marina, Al Bateen.
2 Pick your catch and eat it at Al Mina Fish Market
You can enjoy a memorable lunch or dinner for as little as Dhs20 at Al Mina Fish Market. Buy your seafood from the men in blue, take it to the men in red to be gutted and filleted and then hand it over to the cooks, who will rub in spices and roast it over a charcoal grill. All that's left is to sit on a lobster pot and tuck into some of the best fish you've ever tasted.
Prices vary. Open daily 7am-10pm. Mina Fish Market, Al Meena (02 670 3888).
3 Live the high life at Buddha-Bar Beach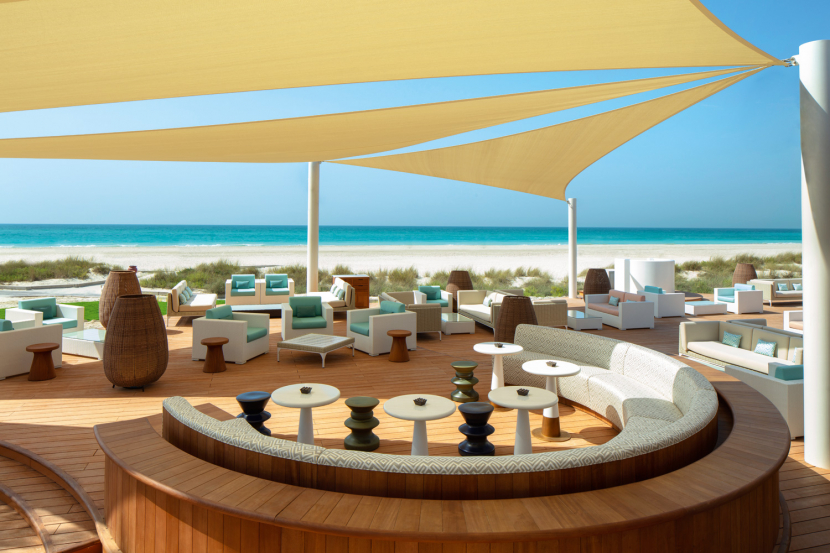 With cool DJs, pretty mixed drinks and elegant hostesses, Buddha-Bar Beach has an amazing, spacious outdoor area that leads right onto the white sands of Saadiyat Beach. The only difficult bit is choosing whether you want to collapse into one of the squishy bean bags on the beach, or relax on one of the white sofas on the wooden decking. Either way you'll be in a prime location for watching the sun vanish over the clear waters of the Arabian Gulf.
Open Sat-Wed 5pm-1am; Thu-Fri 5pm-2am. The St. Regis Saadiyat Island Resort, Abu Dhabi (02 498 8888).
4 Experience wallet-friendly Mexican grub at Burro Blanco
Low-key Mexican eatery Burro Blanco, tucked away in Al Khalidiya, serves up Mexican cuisine that, quite frankly, deserves to be recognised far and wide. You'll also see the casual restaurant popping up stalls at events through the city, from the ADNOC Abu Dhabi Marathon to the Yas Marina Block Party. The burritos are huge, the quesadillas are super cheesy and, perhaps best of all, the avocado fritas are made from fresh, soft avocado encased in a fluffy batter, deep fried and served with a creamy chipotle dip. We didn't name this our Best Budget Restaurant in 2019 for nothing.
Dhs23. Sat-Wed 11am-10pm, Thu 11am-midnight, Fri 4pm-midnight. First Zayed Road, next to ADNOC station, Al Khalidiya (02 309 3911).
5 Chill out at Brick Rooftop Bar & Kitchen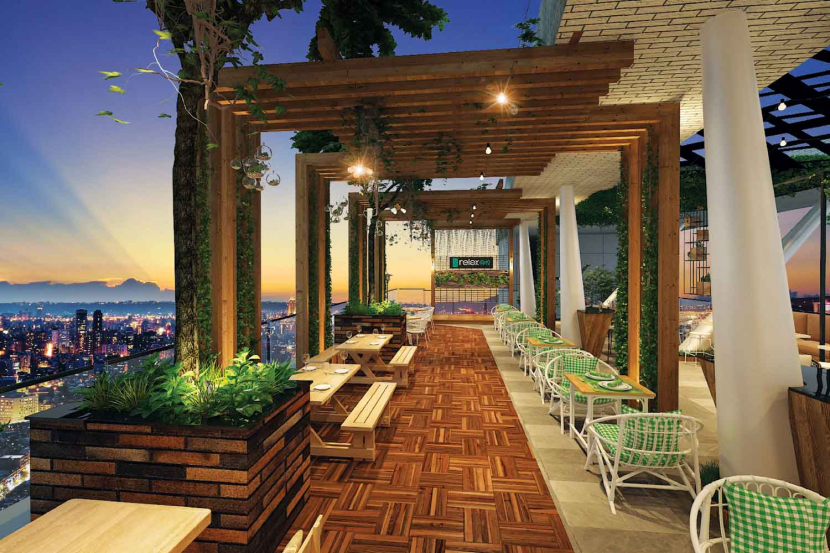 One of the nicest venues to open up its doors in 2019 is Brick Rooftop Kitchen & Bar at Aloft Abu Dhabi, and to say that it's impressive is a bit of an understatement. Found up on the 12th floor of the hotel, the venue offers incredible views of the Abu Dhabi skyline, live acoustic entertainment on weekends, reasonably priced mixed drinks and international plates all prepared in the restaurant's trademark brick ovens. The Temptation Tuesday ladies' night also offers free sparkling from 10pm.
Daily 5pm-3am. Aloft Abu Dhabi, Al Khaleej Al Arabi Street (02 654 5000).
6 Start the weekend with a vegan buffet and yoga at Café 302
Life in Abu Dhabi involves a lot of eating and partying, so you might be reaching a point where you fancy a bit of a detox. Well, Café 302 is helping us to start the weekend on a healthy note by offering a Thursday night all-you-can-eat vegan buffet dinner. Once a month, the Roots & Shoots event also features a 60-minute yoga session, so you'll be feeling properly relaxed by the time you dig in.
Dhs89 (buffet), Dhs149 (buffet and yoga, once a month only). Thu 6pm-10pm. Al Maha Arjaan by Rotana, Fatima Bint Mubarak Street (02 610 6666).
7 Dance outdoors at Casa de Cuba
As the winner of our Best New Venue award at the Time Out Abu Dhabi Music & Nightlife awards 2019, there are many reasons why we love Casa de Cuba. Filled with bright tropical flowers, expertly crafted mixed drinks and amazing tunes from live DJs, it's always a great night out. Nothing beats dancing to the mix of pop, hip hop, RnB, soul and dance tunes from the Candypants DJs and taking in the views of the super yachts of Yas Marina. Classier than Mr Miyagi's and more laid-back than Iris, while the weather is cool we should all be spending every weekend at this al fresco bar.
Sun-Thu 6.30pm-3.30am; Fri-Sat 4pm-3.30am. Yas Marina, Yas Island (056 742 7435).
8 Hire a scooter with Circ
You must have noticed all the electric scooters whizzing around various parts of the city by now, and we think it's about time you gave it a go. E-scooter company Circ has scooters up for grabs on the Corniche, Yas Island and Masdar City, and they are super easy to use. All you need to do is download the Circ app, set up an account, load your account with credit and you're ready to go. Geofencing means you won't be able to ride it out of a defined area and you can leave it wherever you like within the area. Happy scooting.
Various locations, including Yas Island, www.goflash.com.
9 Try indoor skydiving and rock climbing at CLYMB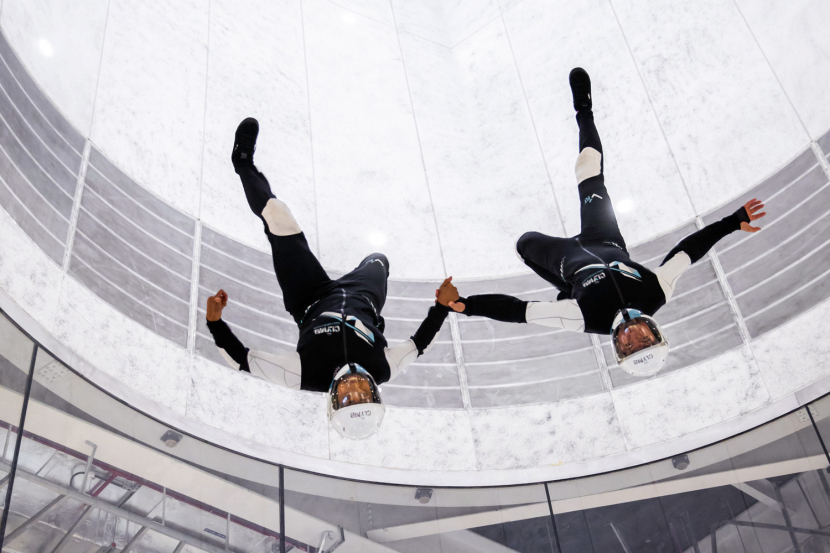 As the latest attraction to open on Yas Island, CLYMB Abu Dhabi has received a lot of attention since opening in November 2019. But considering the fact that it's home to both the world's biggest indoor skydiving flight chamber and the world's tallest indoor climbing wall, it's hardly surprising. Children as young as three are able to try the huge flight chamber (which measures a massive 10m by 26m), and climbing experiences on the 43m climbing wall SUMMYT will set you back less than Dhs100 per person. It's an experience you'll never forget, which is why it's on the cover of this issue.
From Dhs95 (climbing), From Dhs 215 (skydiving). Sun-Thu noon-9pm, Fri and Sat noon-11pm. Yas Mall, Yas Island, www.clymbabudhabi.com.
10 See a show at the Cultural Foundation
The recently renovated theatre at the Cultural Foundation can seat up to 900 people, and there's always some kind of cool performance on. The programme includes world-class contemporary, popular and home-grown performing arts across the genres of music, dance and theatre. There really is something for everyone. Whether you want to see an Arabic rock band, Argentinian tango or a full orchestra perform, you can experience it all. It's a great way of seeming cultured to your visiting parents, too.
Various times, dates and prices. Qasr Al Hosn, Sheikh Rashid bin Saeed Al Maktoum Street, www.qasralhosn.ae, www.culturalfoundation.ae.
11 Create your own art with Design & Dine
Artistic events company Design & Dine has been around Abu Dhabi for a few years now and it offers you the chance to create a piece of artwork from scratch, meet new people, and enjoy a bite to eat and a beverage in the process. You don't have to possess any artistic skill to take part (even we've been known to manage it), and the yearly programme involves Christmas specials, secret garden parties and even fitness collaborations involving HIIT and yoga classes.
Times, dates and locations vary. www.designanddine.net.

12 Explore the natural beauty of the Eastern Mangroves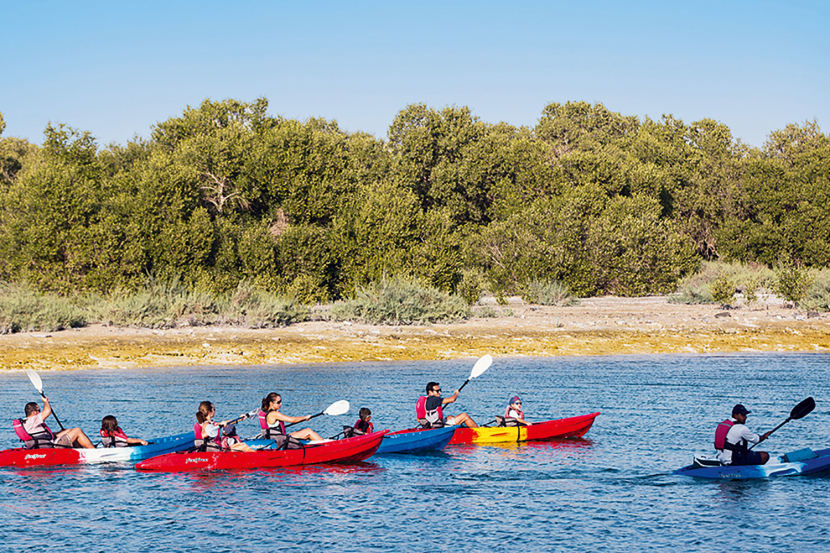 Abu Dhabi's Mangrove National Park takes up about 43 square miles of the city's landscape. You can explore this area of outstanding beauty by kayak, paddleboard or boat (you can hire equipment from several different operators), and refuel afterwards at one of the many cafés on the Eastern Mangroves Promenade. A boardwalk is also due to open here this year.
Eastern Mangroves Promenade, Salam Street (02 406 1462).
13 Smash your fitness goals at F45 Training Zayed Sports City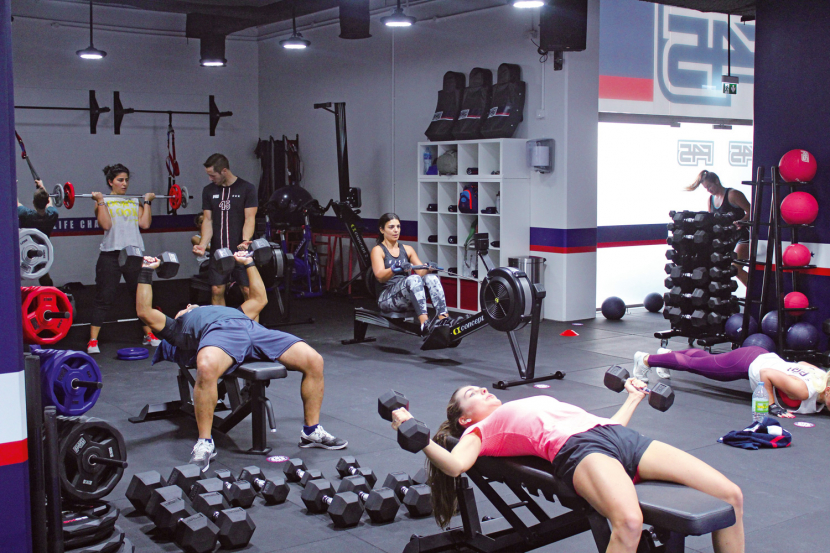 Life is busy here in Abu Dhabi and perhaps more notably, it also includes a lot of eating. So having a quick and very effective workout routine is pretty much essential if we want to stay fitting into our jeans. Luckily F45 Training arrived in the capital last year and since then it has been letting us cram our daily sweat-session into super-fun 45 minute classes. The routines change every day, with some focusing on strength, some on cardio, and some including a mix of both. The Friday 'Hollywood' workouts even feature a live DJ set just to add to the buzz and if you're really looking for a diet and lifestyle transformation you can sign up to the F45 Challenge programme, which includes meal plans and plenty of friendly advice. If you want to give it a go you can get a free week trial by downloading the F45 Glofox app. You'll soon be hooked.
Free (one-week trial), Dhs105 (one class). Ramp 40, Zayed Sports City (056 332 3113).
14 Hold a falcon at the Falcon Hospital
Abu Dhabi is home to the world's largest falcon hospital and tours of the institution are held twice a day. You'll get to learn about the history of the hospital, visit some of the treatment rooms and watch simple procedures take place. But the best bit is probably getting to hold one of the falcons and get a picture with it.
Tours are held daily at 10am and 2pm. Dhs170 (adults), Dhs60 (children). Sweihan Road, Al Shamkha, www.falconhospital.com (02 575 5155).
15 Ride the world's fastest roller coaster at Ferrari World Abu Dhabi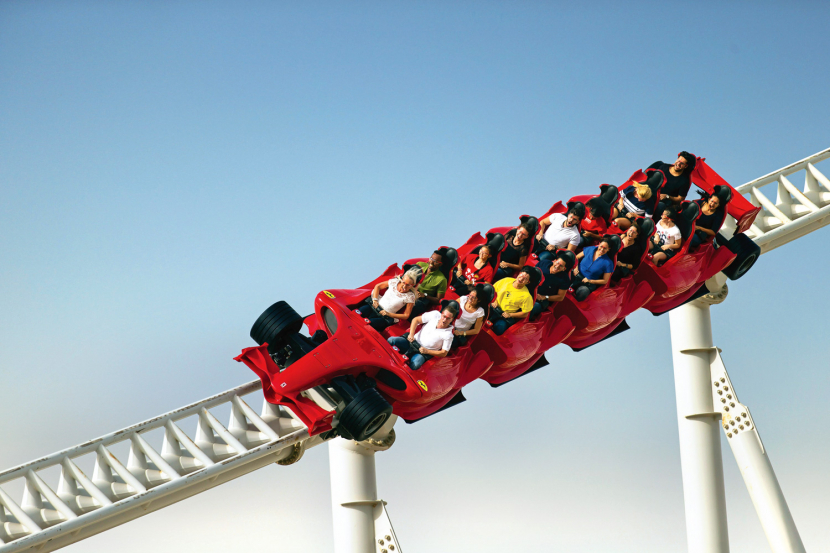 Love roller coasters? Well then you have to check out Ferrari World Abu Dhabi. Formula Rossa is the fastest roller coaster on the planet, and the adrenaline-pumping attraction reaches dizzying heights of 52 metres and incredible speeds of 240km per hour. But there are also lots of gentler experiences to be had, with rides for young children, a soft-play area and a junior race school experience all found in this huge indoor theme park. You don't have to be fanatical about cars to have a great day here.
Dhs295 (single day ticket). Open daily 10am-8pm. Yas Island (600 511 115).
16 Mingle at Filini Garden
Overlooking Yas Links, visiting this classy restaurant offers far more than just the opportunity to critique the nearby golfers. The garden-like setting is put together brilliantly, with plenty of opportunities for photos by the trailing vines and cute vintage bicycles. The Italian dishes are beautifully presented and sophisticated, while the ladies' night on a Monday offers free-flowing sparkling grape for less than Dhs60 and 50 percent off food. Music is provided by a saxophonist or from funky DJs and it's always packed out with a stylish and fun-loving crowd. You should definitely join them.
Ladies' night: Dhs55 (free-flowing sparkling). Mon 7.30pm-1am. Open Sat-Wed 5pm-1am, Thu 5pm-3am, Fri noon-3am. Radisson Blu Hotel, Abu Dhabi, Yas Island (02 656 2000).
17 Watch local talent at Homegrown UAE
The Abu Dhabi EDITION has thoroughly established itself as one of the coolest hotels in the capital, and this is partly down to its incredible three-tier venue ANNEX. The exciting bar launched the arts and entertainment event Homegrown UAE back in November, and since then it has been shining a spotlight on some of the UAE's most promising emerging talent. The free events feature packed line-ups of local comedians, musicians, singers and a whole range of different performers, and we can't wait until the next one.
Free. Dates TBC. ANNEX, The Abu Dhabi EDITION, Al Bateen (04 304 70002).
18 Get a sweat on at Hudayriat Island
This relative newcomer on Abu Dhabi's beach scene has been open since 2018. Hudayriat Island spans a massive 3,000 acres, and the 600 metre-long beach is the perfect place for a weekend chill out. But there's plenty for fitness fanatics, too. You can explore the island by taking on the 5km and 10km running and cycling tracks, and rent bikes for Dhs50 an hour. The jet ski slipways also make it a top spot for the capital's thrill-seekers (there are plenty of you out there but if eating is more your thing, check out the food trucks instead).
Free. Open daily 8am-7pm. Hudayriat Island.
19 Let the kids play make believe at KidZania
KidZania at Yas Mall offers kids in the capital the chance to role-play more than 50 professions – and we're more than a little bit jealous. The 55,000 sq ft space is a scaled down replica of a bustling city where little ones can have a go at taking on loads of fun real-life jobs. Kids can become surgeons, firefighters, chefs, police officers, builders, models, actors, artists, radio hosts and more, with 'establishments' inside the complex including Astronaut Training Centre, Animation Studio, Milk Factory (why not?) and Crime Scene Investigation (where do we sign up?).
From Dhs94.50. Open daily 10am-10pm. Yas Mall, Yas Island, Abu Dhabi, abudhabi.kidzania.com.
20 Indulge at La Cava's grape and cheese night
There's something about the ritual of grape and cheese that just sends everyone into a frenzy of excitement, and the themed event at La Cava has become a much-loved tradition here in the capital. Featuring more than 15 different types of grape (including red, white, pink and sparkling), the deal is available every evening. It also gives you access to the incredible selection of cheeses, and whether you like your fromages a bit blue and smelly, mild and creamy, smoked or super sharp, you'll find it all amongst this decadent spread at this cracking venue on Al Maryah Island.
Dhs150. Daily 7pm-9pm & 9pm-11pm. Rosewood Abu Dhabi, Al Maryah Island (02 813 5550).
21 Kayak around the Louvre Abu Dhabi
The Louvre gallery definitely has the wow factor. The beautiful building is amazing in itself, and it houses artefacts and pieces of art from all over the world sitting together side by side. But now you can have the unique experience of marvelling at this impressive piece of architecture from onboard a kayak. Watersports company Seahawk run one-hour kayak tours throughout the weekend and also several night tours during the full moon period, too. Exploring this beautiful building from the water is a super cool thing to do, and a great activity whether you've got visitors in town, or you just fancy doing something different with your weekend.
Dhs126. Fri-Sat 10am-5.30pm. Saadiyat Cultural District, Saadiyat Island, www.seahawk.ae.
22 Party with urban stars at MAD on Yas Island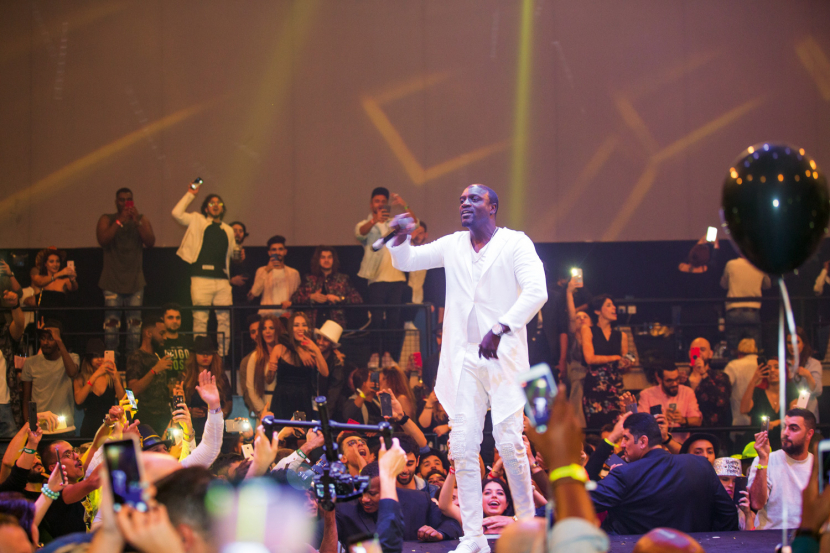 As the UAE's biggest nightclub, Akon, Iggy Azalea and Tinie Tempah are just a few of the huge names who have entertained the revellers at MAD over the years. If you're feeling flashy, you can go all out and hire a table up near the DJ booth, or it's just as fun to join the throngs on the floor around the huge bar. Be prepared for lots of dry ice, live dancers and a very late night.
Open Thu-Fri 11pm-3.30am. Yas Island (055 834 6262).

23 Feast on award-winning food at Marco's New York Italian
Marco Pierre White opened up his second restaurant in the capital back in September and with a cool bar area, lots of retro booths and photos of the man himself covering the walls, it's certainly a venue made for Instagram. But this casual, yet buzzing restaurant isn't just a stylish place to hang out and feel like a slick hipster. The Italian plates are simple (like all good Italian grub should be), expertly made and created with the best possible ingredients, and it was an easy decision to name it our Best Newcomer at the Time Out Abu Dhabi Restaurant Awards 2019. Make sure you pop it on your list of places to check out in 2020.
Daily noon-3pm & 6pm-11pm. Fairmont Bab Al Bahr, Khor Al Maqta (02 654 3333).
24 Make the most of your weekend at Nahaam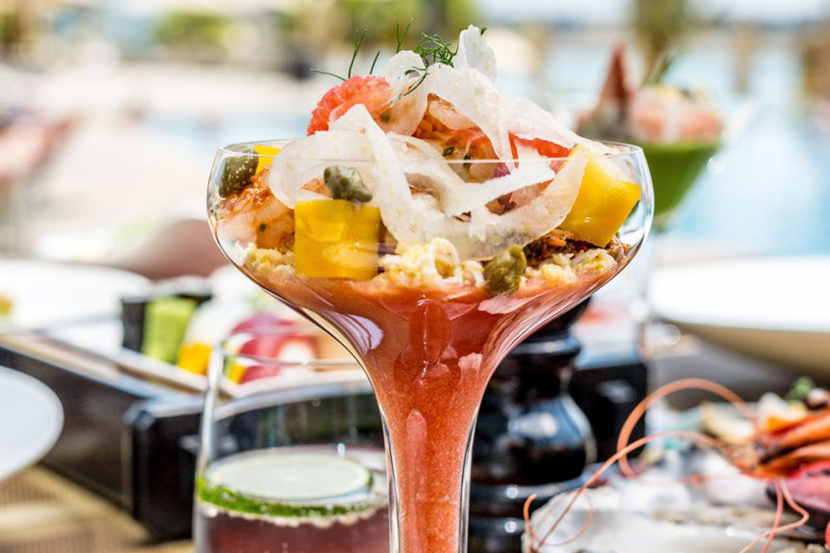 The Friday brunch at Nahaam bagged our Best International Brunch gong at the Time Out Abu Dhabi Restaurant Awards 2019, and there are many reasons why it really is tremendous. This laid-back gathering provides amazing food from across the hotel's restaurants, and there were many new additions to the 2019 menu, including South American bites like guacamole and ceviches from Richard Sandoval's Latin restaurant VaKaVa. Our favourites, however, continue to come from the barbecue outside. Entertainment throughout the afternoon is provided by a DJ and music duo Treble Maker, and pool access is included, too. It makes for the most dreamy afternoon.
Dhs390 (soft drinks), Dhs450 (house beverages), Dhs575 (bubbly), Dhs185 (kids aged nine to 14). Fri 12.30pm-4pm. Jumeirah at Etihad Towers, West Corniche (02 811 5666).

25 Cure home sickness with the perfect roast at OAK Room
We love a roast dinner here in Abu Dhabi, and one of the best places to go for your weekly fix of beef and Yorkshire puddings is the OAK Room at the Abu Dhabi EDITION. The menu at the Weekend Brunch includes a choice of quality meats, plus a hearty fish pie and a vegetarian option. It's all served with Yorkshire puddings, vegetables and lots of gravy and there are traditional desserts to end with too, including mixed berry trifle and a selection
of British cheeses. It's what weekends are made for.
Dhs250 (soft drinks), Dhs388 (house beverages), Dhs488 (bubbly). Fri-Sat 12.30pm-4.30pm. The Abu Dhabi EDITION, Al Bateen (02 208 0000).
26 Take a tour of presidential palace Qasr Al Watan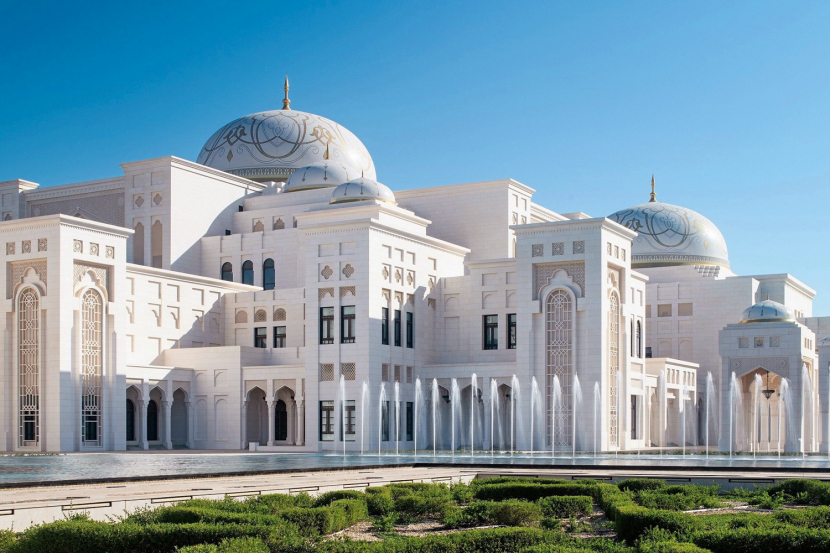 We've all driven past those incredibly grand gates and wondered what it would be like to take a glimpse inside Abu Dhabi's Presidential Palace. Well Qasr Al Watan (Palace of the Nation) opened to the public in 2019, and now you can take tours around this incredible building. It contains a huge library, various exhibitions and an enormous chandelier made from 350,000 crystals.
Dhs60 (adults), Dhs30 (children). Daily 10am-8pm. Qasr Al Watan, Al Ras Al Akhdar, www.qasralwatan.ae.
27 Feel on top of the world at Ray's Bar
If you have visitors in town, or just fancy a flashy night out and a nice reminder of why you're so very lucky to live in the capital, an evening at Ray's Bar is just what you need. Located on level 62 (yes, it's ridiculously high) of Jumeirah at Etihad Towers, this bar treats its patrons to some of the best views in the city. The mixed drinks aren't the cheapest, but there's a decent ladies' night on a Thursday and a gents' night offer on Saturdays.
Free entry, drink prices vary. Open daily 5pm-2am. Jumeirah Etihad Towers, West Corniche (02 811 5666).

28 Buy some local produce at Ripe Market
Offering up fresh fruits and vegetables as well as a number of local vendors selling unique and handmade items, it's easy to see why Ripe Market is so popular. The outdoor event takes place every Saturday in the stunning Umm Al Emarat Park, and it's a great place to wind down the weekend before the working week starts again. Plus with live music, entertainment and food trucks, you can also get a bite to eat and really make it a proper day out for the family.
Free (Dhs10 entry to the park). Sat 3pm-9pm. Umm Al Emarat Park, Al Mushrif, www.ripeme.com.
29 Go dolphin watching at Saadiyat Public Beach
Saadiyat Island has postcard-perfect bright blue waters and white sands, and if you're lucky you might even spot a pod of dolphins while you're relaxing on a towel. There's a small fee for entering the beach, and this is to help preserve this stunning area of natural beauty. The Beach Café offers food and beverages and they'll even deliver your refreshments straight to your lounge chair, meaning you don't have to move at all.
Open daily 8am-sunset. Dhs25 per adult and Dhs15 per child aged six-12. Kids under five go free. Sun lounger and an umbrella: Dhs50 (weekdays), Dhs75 (weekends and public holidays). Saadiyat Island.
30 Dive into the Arabian Gulf with Serdal Pearl Diving
Fancy getting adventurous? Well on the Serdal Pearl Diving Exhibition you can plunge headfirst into the waters of the Arabian Gulf – and maybe even find your fortune while you're down there. The six-hour trip sees guests board a traditional Emirati dhow from Yas Marina and sail toward a diving site one nautical mile away. While on board, you'll listen to folkloric pearl diving stories and join the hosts in singing along to age-old Emirati songs. You'll then be taught traditional pearling and diving methods to harvest real oyster shells from pearl beds in the depths of the Arabian Gulf. This is an experience not to be missed.
Dhs500 (adults), Dhs250 (kids under 12), free (kids under eight). Wed-Fri, 8am-1.30pm. Yas Marina, Yas Island (054 445 5515).
31 Relax with a cup of karak at Shay Madhboot
Karak is just one of those things that you have to try while you're here. We can also guarantee that once you do, you'll be totally hooked. Sweet, creamy and beautifully spiced, karak makes every other cup of tea you've ever had seem totally rubbish in comparison. We're afraid it's time to say bye to those blended bags that you used to think were the greatest. You can get it from thousands of places across the city, but Shay Madhboot serves an exceptional cup, and savouring a steaming mug of it while chatting with your fellow karak lovers is a blissful way of spending an afternoon without having to push the boat out.
From Dhs5. Open Sun-Thu 7am-10pm, Fri-Sat 8am-10pm. Dihan Street, Muroor (02 621 7323).
32 Go on safari at Sir Bani Yas Island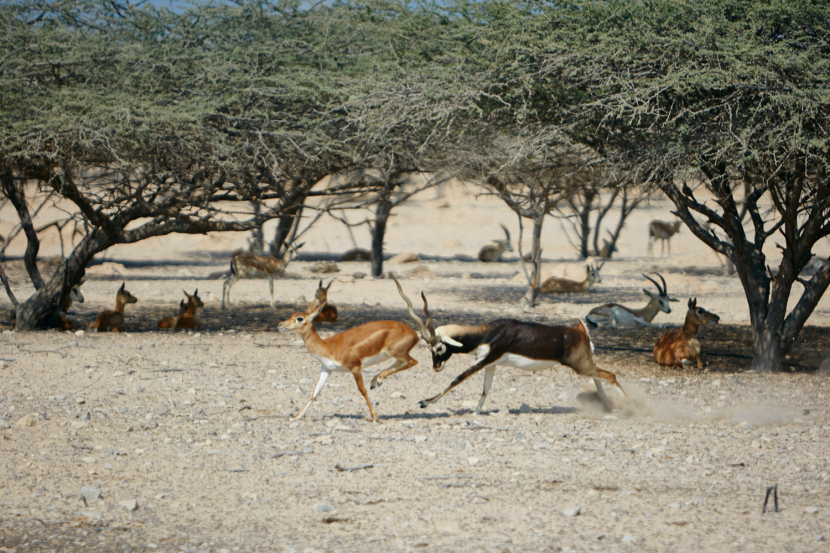 This island safari park is so super cool. Home to a whole host of free-roaming wildlife like cheetahs, giraffes and oryx, you can get there by taking a boat or a 50-minute seaplane ride from Yas Island. You can explore this incredible place by taking a wildlife drive through the park, going on a nature walk or on a horse ride. There are also three Anantara hotels on the island if you want to turn your visit into more than a day trip.
Prices vary. Sir Bani Yas Island, off coast of Ruwais (02 801 5266).
33 Take in the Abu Dhabi skyline at The Corniche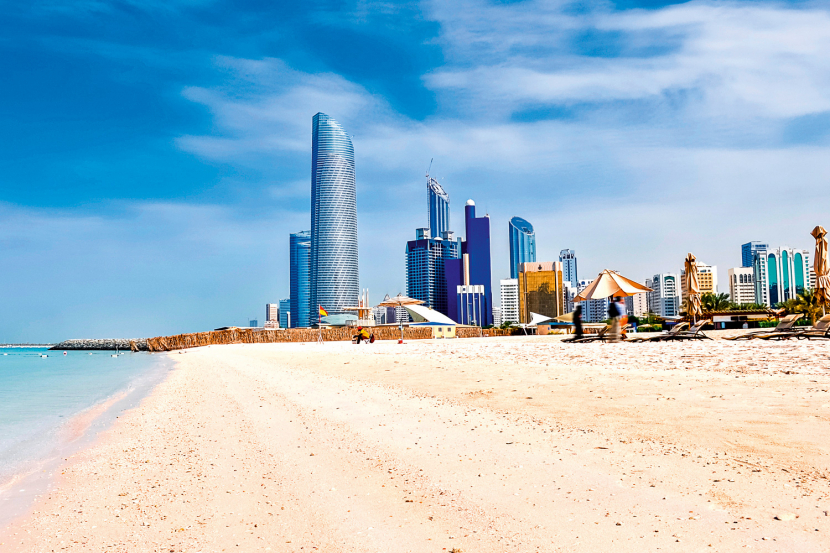 This eight-kilometre stretch of beach has free public areas, parks, playgrounds and loads of cool cafés and food trucks. Walking, jogging or cycling along the waterfront also lets you take in some of the most iconic buildings in the capital such as Emirates Palace and The St. Regis Abu Dhabi. You'll also be able to get some amazing pics of the white sands and blue waters. You can hire a bike for a whole day for Dhs20 from bikeshare service Cyacle, and afterwards you can recover with a snooze on the public beach (which is free to enter).
From Dhs20 (bike hire for 24 hours). The Corniche, www.bikeshare.ae (800 292 253).
34 Go on an adventure in The Empty Quarter
Every Abu Dhabi resident should take a trip into the Empty Quarter at least once, if only to get some incredible pictures of the huge sand dunes. The amazing landscape looks like a film set, and indeed scenes from Star Wars: The Force Awakens were shot here. Head out on a desert safari to try dune bashing, camel riding and experience a traditional Bedouin barbecue dinner. It's a couple of hours drive from the centre of Abu Dhabi, but once you're out there you'll feel a million miles away from a big city.
Tours are provided by various companies, including Desert Rose Tourism (050 177 7458).
35 Take part in free yoga at The Galleria Al Maryah Island
Freeling stressed? Well now you can take part in free yoga sessions three times a week at one of the most popular shopping malls in the city. The classes take place on Monday, Wednesday and Saturday mornings from 8.30am to 9.30am at the Sky Park at The Galleria Al Maryah Island. From the rooftop park you'll get great views of the city, and to take part all you need to do is reserve your spot at least 24 hours in advance by emailing yoga@thegalleria.ae. You'll need to bring your own mat and water, and every participant gets a discount in the mall's food outlets, meaning you'll also have the perfect excuse to treat yourself to breakfast afterwards.
Free. Mon, Wed, Sat, 8.30am-9.30am. Al Maryah Island, yoga@thegalleria.ae
36 Chuckle until your sides hurt at The Laughter Factory
These monthly gigs are always a barrel of laughs, and Jason Manford, Lee Mack and Jack Whitehall are just some of the huge names who have appeared on the comedy tour over the years. Taking place at the Park Rotana Abu Dhabi, it's the perfect excuse to gather your friends and forget about your worries for a night. Grab a seat early, just make sure you're not right down the front or the joke could well be on you.
Dhs140 (early bird), Dhs160 (general). Park Rotana Abu Dhabi, Khalifa Park area, www.800tickets.com.
37 Marvel at the beauty of The Sheikh Zayed Grand Mosque
This is one of the world's largest mosques and arguably Abu Dhabi's most iconic attraction. Sheikh Zayed Grand Mosque is so stunning it will take your breath away, and it can hold up to 40,000 worshippers at one time. To experience it properly you can join one of the free tours which take place several times a day and are run by local guides with a wealth of knowledge and friendly demeanour.
Free. Open Sat-Thu 9am-10pm; Fri 4.30pm-10pm. Sheikh Rashid Bin Saeed Street (02 419 1919).
38 Dine on a helipad at The St. Regis Abu Dhabi
Glamorous, flashy and extravagant are all words you might use to describe the capital of the UAE. But few things are more 'Abu Dhabi' than dining on a helipad. The Helipad Sunset Suppers at The St. Regis Abu Dhabi let you dine 255 metres up in the air, and there's even a saxophonist up there to entertain you as you take in the amazing views of the city.
Monthly. The St. Regis Abu Dhabi, Nation Towers, West Corniche (02 694 4553).
39 Start you day on a high at TrainAM at Yas Marina Circuit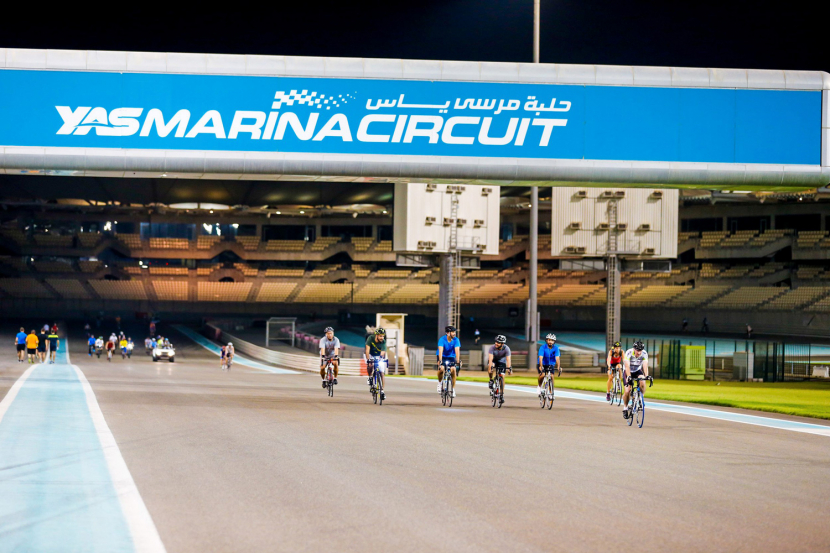 TrainYAS has been around for a while now, offering us the chance to run, walk or cycle your way around Yas Marina Circuit for free every Sunday and Tuesday evening. But now early birds in the capital can get their fitness fix several mornings a week with the recently introduced TrainAM scheme. Taking place from 5am to 8am on Mondays, Wednesdays and Thursdays, it's the perfect opportunity to get some cardio in on the 5.5km track before heading off to work or starting your day. You need to bring your own bike and water for TrainAM, but at TrainYAS there are 400 bikes available to rent for free and regular water stations along the track.
Free. TrainAM: Mon, Wed & Thu 5am-8am. TrainYAS: Sun &Tue 6pm-10pm. Yas Marina Circuit, Yas Island, www.yasmarinacircuit.com (02 659 9800).

40 Check out the venues at W Abu Dhabi – Yas Island
There are loads of amazing hotels in Abu Dhabi but there is no venue as iconic (and new, to be honest) as W Abu Dhabi – Yas Island. The Yas Island hotel was first previewed at 2018's F1 weekend and it really was the place to be during the Abu Dhabi Grand Prix 2019. With 499 rooms, including two-floor 'wow suites' with private pools, and that amazing view of Yas Marina Circuit, it is without a doubt one of the most exciting properties in the capital. If you can't quite stretch to a staycay here, you can always check out the new and shiny food and drink outlets such as Garage, W Lounge, WET Deck and Roastery, which all join the already well-established Italian restaurant Amici and Indian venue Angar.
Timings vary. W Abu Dhabi – Yas Island (02 656 0000).
41 Go white water rafting at Wadi Adventure
If you're into water sports, you'll be in your element at Wadi Adventure. This adventurous waterpark really does have it all. You can navigate your way through the world's longest man-made white water rafting, and even have a go at surfing and wakeboarding. Or, if you prefer being up in the air for your adrenaline-fuelled activities, you can have a go on the aerial obstacle course, which includes a two-storey airpark, zip line, climbing wall and swing.
Dhs65 (adult entry). Open daily 11am-7pm. Al Ain (03 781 8422).
42 Get creative at Warehouse 421
Ultra-cool creative hub Warehouse 421 was built by renovating two former industrial warehouses in the Mina Zayed area of Abu Dhabi. Since opening in November 2015, it has hosted numerous exhibitions and showcased the work of so many talented local and regional artists and designers. There's also a calender of special events such as talks, workshops, film screenings and performances.
Prices vary. Open Tue-Sun 10am-8pm. Mina Zayed (02 676 8803).
43 Meet your favourite characters at Warner Bros. World Abu Dhabi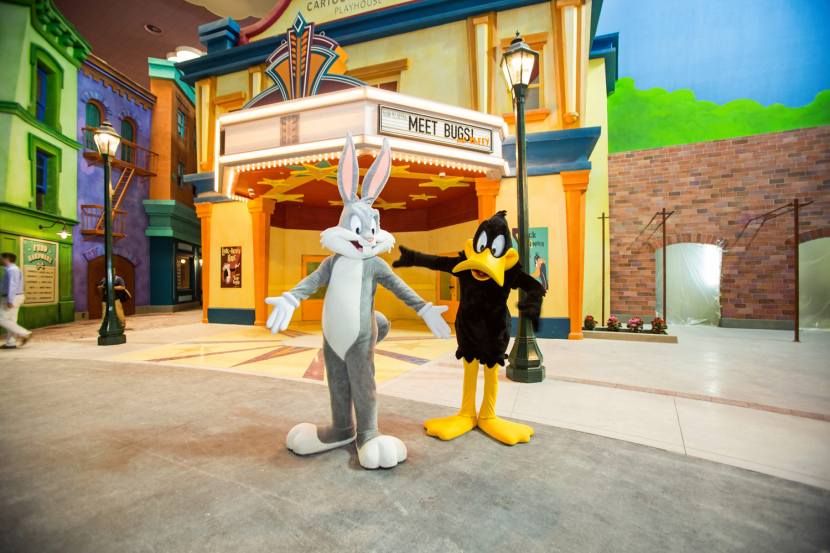 This theme park is 1.53m sq ft of pleasure, with 29 rides set in six distinct lands. Some of the highlights include getting to chomp down on a Bronto burger in Fred Flintstone's favourite diner, and exploring Gotham City with Batman in the Knight Flight ride.
Dhs295 (general admission). Open daily 10am-8pm. Yas Island (600 511 115).
44 Get a proper vegan feed at Wild and the Moon
2019 was a big year for vegans in Abu Dhabi, with new plant-based dishes and menus popping up all over the place. One of the latest vegan restaurants to open is Wild and the Moon at Qasr Al Hosn, and we're pretty obsessed to say the least. The extensive menu includes breakfast dishes like chia pudding, granola bowls, moon porridge and matcha bowls, lunch time bites like the focaccia of the day and homemade soups, snacks like kale crisps, banana cake and date cookies and much more.
Sat-Thu 9am-8pm; Fri 10am-10pm. The Cultural Foundation, Qasr Al Hosn, between Zayed the First Street and Hamdan Street www.wildandthemoon.ae.
45 Get lost in the Wonder Maze
The world's largest mobile maze is back in Abu Dhabi, this time at Al Ain Zoo. The Wonder Maze, consisting of a series of paths made out of thousands of metres of rope and tarpaulin, will be at the family attraction until April 2020. The configuration of the maze will be changed regularly, so if you figure it out the first time you try it the chances are next time you visit you will have to find the right path once again. The sneaky things.
Dhs35 (free for children under one metre in height). Zoo entry Dhs9.45 for children and Dhs28.25 for adults. Until April 22 2020. Daily 9am-8pm. Al Ain Zoo, Al Ain, www.alainzoo.ae.
46 Party at a music festival at Yas Beach
Designed to be a "beach playground", a visit to Yas Beach is always lots of fun. British band Bastille recently played here as part of the Club Social 2019, but the shoreline here also hosts Caribbean festivals and beach parties. When the music isn't playing you can enjoy 400 metres of golden sands, a huge pool and a wide selection of dining options including freshly made pizzas and authentic Arabic food. Or, if you want to stay active and compete against your crew (or beat them into submission), there are two volleyball courts available as well.
Open daily 10am-7pm. Dhs50 per adult and Dhs25 per child aged six-12 from Sun-Thu, Dhs100 per adult and Dhs50 per child from Fri-Sat. Yas Island (056 242 0435).
47 Watch a film under the stars at Yas Movies in the Park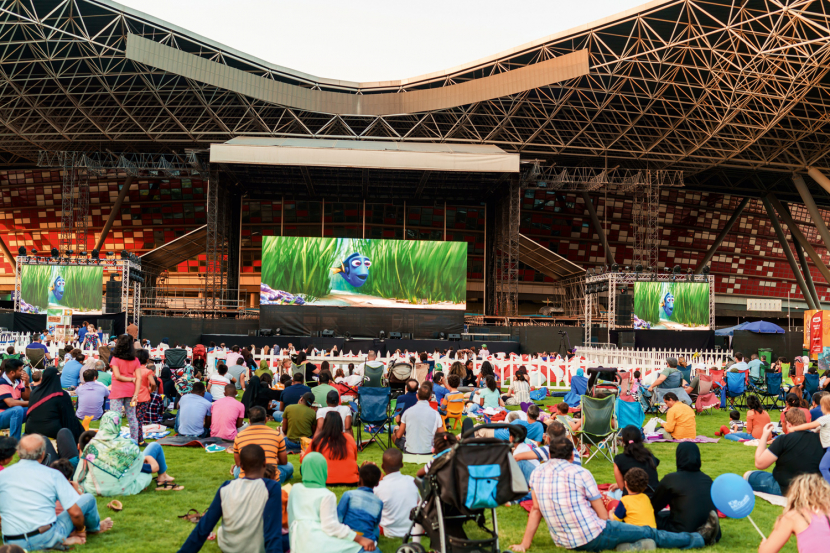 We're so lucky to live in a place that treats us to year-round sunshine, and one of the best ways of making the most of our blissful lifestyle is by experiencing the sheer joy of watching a film outdoors. But Yas Movies in the Park not only offers free screenings of family-friendly films and huge Hollywood classics. There are also loads of food trucks to browse, a fun festival vibe and some of the movies even come with live singing and dancing performers. It appears at du Arena periodically throughout the year so check out the website for the latest.
Free. du Arena, Yas Island, www.yasmovies.ae.
48 Get a quick round in at Yas Links
Whether you're a keen golfer or you've never picked up a golf club in your life, you'll love this beautiful course. Running alongside the bright blue Gulf, experienced golfers will find plenty to challenge them. There's also group lessons available to help you get into game, and after working up a thirst on the fairways you can refuel at Japanese restaurant Matsu or the relaxing Hickory's Sports Bar.
From Dhs425 per player. Yas Links, Yas Island, www.yaslinks.com (02 810 7710).
49 Surf at Yas Waterworld
Yas Waterworld boasts more than 40 slides, rides and attractions. A day here will have you sliding through a giant snake, plunging from the top of a mountain and screaming yourself hoarse on the Bandit Bomber rollercoaster. You can recover afterwards on one of the poolside sun loungers, and even have a go at surfing on the world's largest sheet wave. The only question you'll have to ask is how much fun can you handle in one day?
From Dhs250. Open daily 10am-6pm. Yas Island (02 414 2000).
50 Get a photo on the swings at Zaya Nurai Island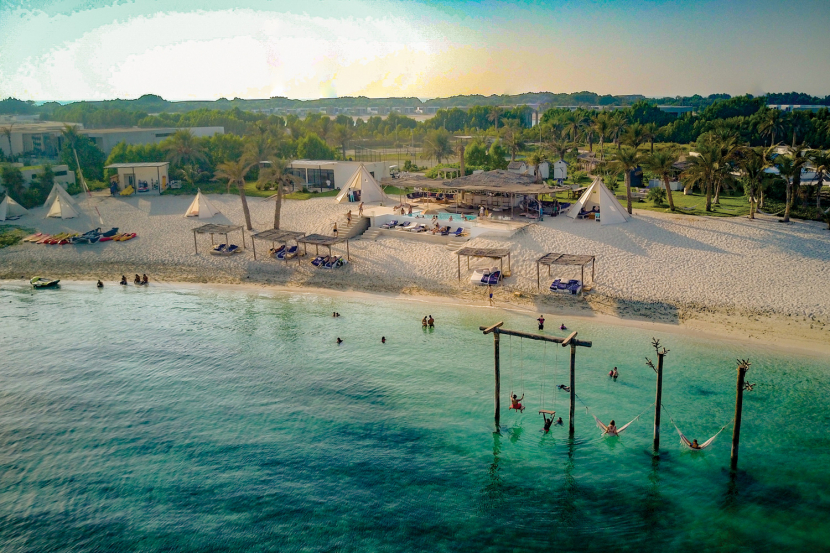 We couldn't possibly write a list of the best things in Abu Dhabi without including the incredible Zaya Nurai Island. We'd actually make the trip to this island resort just to get a pic of us posing on the swings out in the blue water (only there for Instagrammers, of course), but it's also an amazing day out in general. The island resort is home to the very cool Smokin' Pineapple bar, and although there's a minimum spend of Dhs440 per person, once you've had one of the superb pizzas (baked in a very funky pineapple-shaped oven) and a few drinks, you'll reach the target quite easily. In 2019 it introduced a new Tuesday ladies' night at Mexican restaurant Dusk, and opened a new kids' waterpark.
Dhs440 (minimum spend). Smokin' Pineapple open daily 10am-10pm. Zaya Nurai Island (02 506 6274).
Be the first to get all the latest Abu Dhabi news, reviews and deals into your inbox by signing up to our free
newsletter
,
click here to sign up
.