DESERT
Al Badeyah Desert Camp
Sleeping out under the stars is an experience you'll never forget, and with its petting zoo, trampoline and municipal majlis, this camp is very family friendly.
Dhs380 per adult, Dhs300 per child, kids under three go free. www.abet-uae.com (02 445 2644‬).

Arabian Nights Village
Desert glamping at its very finest, Arabian Nights has a superb on-site restaurant, wonderfully comfy lodgings and even an oasis pool that
is a true one-off. Dune bashing here is a must. Hold on tight...
From Dhs300 per adult, Dhs200 per child. Arabian Nights Village (02 207 8989).
Jebel Hafeet Desert Park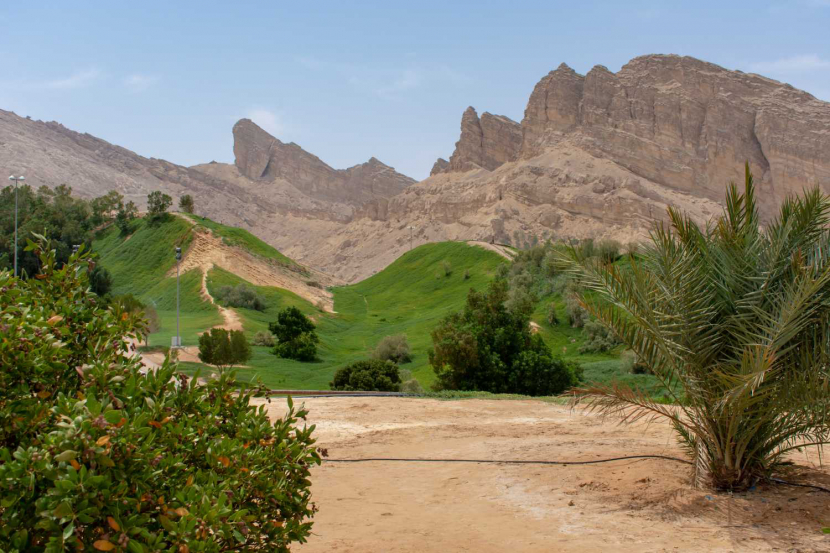 Home to archaeological remains and offering desert escapades in the shadow of the mountains, this park is perfect for hikers, bikers, campers and amateur historians alike. Get ready for an exciting adventure the whole family will remember.
Times and prices vary. Mezyad Fort, Al Ain (no number).
Liwa Oasis
Famous for its annual date festival and the Moreeb Dune (one of the largest in the world), Liwa was the birthplace of the Bani Yas tribe and is worth visiting just to see its pair of forts.
Al Gharbia (no number).
The Empty Quarter
Take a guided tour of the Rub Al Khali, an almost immeasurably vast expanse of desert, and you'll swiftly understand the sheer surprising beauty of true desert wilderness.
From Dhs700 with Arabian Tours (056 222 8286).
PARKS
Al Ain Paradise
With its world record-holding hanging baskets and meticulously manicured grounds (plus its mini Eiffel Tower), this a stroll in the park full of utter joy.
Open 24/7 when in season. Off Nayhan the First Street, Al Ain.

Al Khaleej Al Arabi Park
A wildly popular waterfront spot where just the waft of the fired-up barbecues is enough to entice you in, especially on a Friday or Saturday night.
Free. Khaleej Al Arabi Street.
Al Khalidiya Park
Joyous for joggers but also great for families, this is a mainstay of the capital's park life. It has plenty of kiosks to grab a refreshment from and lots of activities for the little ones.
Free. Open daily 8am-10pm. Al Khaleej Al Arabi Street.
Basra Park
A ladies-only venue, Basra Park offers a respite from the busy world of motherhood, with plenty to keep the kids entertained. Shaded areas, swings, slides and climbing frames are all available, thankfully.
Free. Open daily 24/7. Zayed Al Awwal Street.
Capital Garden


A welcome oasis in the middle of the city with a large lake that has its own fountain show along with a cafeteria and plenty of distractions
for the kids.
Dhs1. Open daily 8am-10pm. Al Danah (02 417 3711).
Corniche Parks
Choose between Recreational, Formal and Lake and every which way you'll find some welcome respite from your busy working week. The latter is particularly Instagram-worthy.
Free. Off Corniche Road.
Delma Park
Fitness fans head here in their droves, but you can also relax awhile safe in the knowledge there are refreshments available and even a game of chess should you wish to show brain over brawn.
Free. Delma Street.
Heritage Park
A secluded spot opposite Mina Port that is ideal for a family picnic, or burying yourself in a book, or a birthday barbecue. You choose.
Free. Off Al Firdous Street, Corniche East.
Khalidiyah Garden
Plonk yourself down for a picnic under the date palms and marvel at the keep-fit fans whizzing around you. The water feature and playground will keep the kids occupied, too.
Dhs1, free (kids aged ten and under). Between 30th and 16th Streets, Al Khalidiyah.
Khalifa Park
A wide expanse of green (500,000 sq m in total), a miniature train, museum, gym and library make this a prime example of how to keep both brains and bodies active, even when you're just chilling.
Dhs2. Next to Ministries Complex, Sheikh Zayed Bin Sultan Street.
Reem Central Park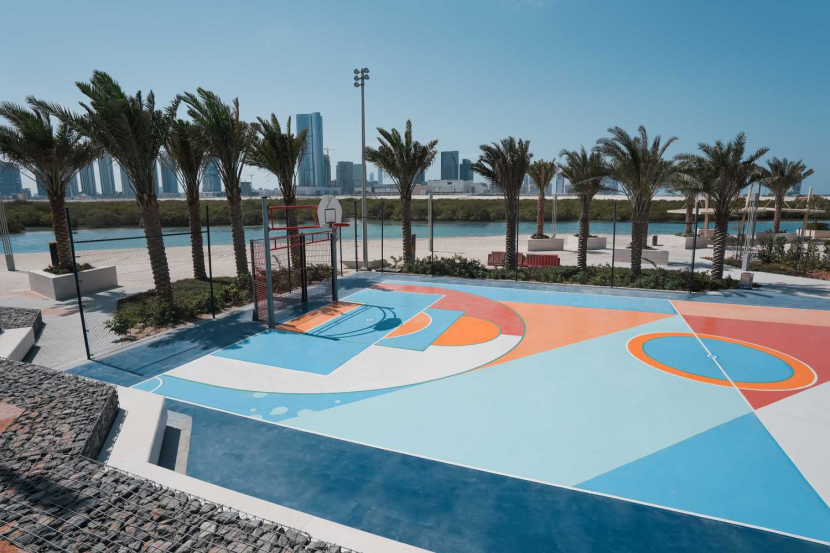 A communal hub for the Reem residents, the restaurants, flowing fountain, skateboard park, sports courts and children's playgrounds are all brimming with fresh sea air.
Free. Reem Island.
Umm Al Emarat Park
Whether its the Wisdom Garden, Animal Barn, Children's Garden, Botanic Garden or Shade House you head for here, this is the mother of all parks, and a huge family favourite in Abu Dhabi. The food options are great as well.
Dhs5. Al Mushrif (02 666 9559).
Yas Gateway Park
Tucked in between all the other attractions Yas Island has to offer, this split park provides both serenity in its chilled-out green spaces and activity in its tennis courts and kids' play areas.
Free. Sheikh Khalifa Bin Zayed Highway, Yas Island.

WATERSPORTS
Dragon boating
A tremendous team sport that evokes a real spirit, and plenty of paddle power. The Capital Dragons are a welcoming crew who'll embrace even complete amateurs. What are you waiting for? Get fit and make new friends in the process.
capitaldragons.weebly.com
Free diving
Underwater adventures have never been so exhilarating, especially when you can hold your breath long enough to truly swim with the fishes.
Of course, you'll need to get some good training before you dive in.
Prices and times vary. Visit freedivinguae.com (056 976 1000).

Flyboarding
Just keeping your balance as you're projected from the ocean is a thrill enough but when you can look like a film star doing so, now that's something else.
Prices and times vary. Visit seasport.ae (02 553 5497).
Jet skiing
James Bond wannabes will love the chance to recreate that famous scene from The Spy Who Loved Me on a jet-ski. The rest of us would be glad just to not tragically bail out while doing so.
From Dhs225 for a lesson with Captain Sam's. Al Bateen Jetty (056 477 7970).
Kitesurfing
A kite school made for riders by riders, Eywoa's instructors will have you pulling off some natty tricks in no time. Plus, they'll show you some secret surfing spots we'll all be envious of.
From Dhs300. Visit eywoa.com for more information (056 329 2695).
Kayaking
There's only place any would-be kayaker should head in the capital, and that's the Mangroves. An afternoon adventure here will make your Instagram followers green with envy.
Dhs160 (adult), Dhs130 (children under 11). Noukhada Adventure Company, Sultan Bin Zayed The First Street, www.noukhada.ae (02 558 1889).
Stand-up paddleboarding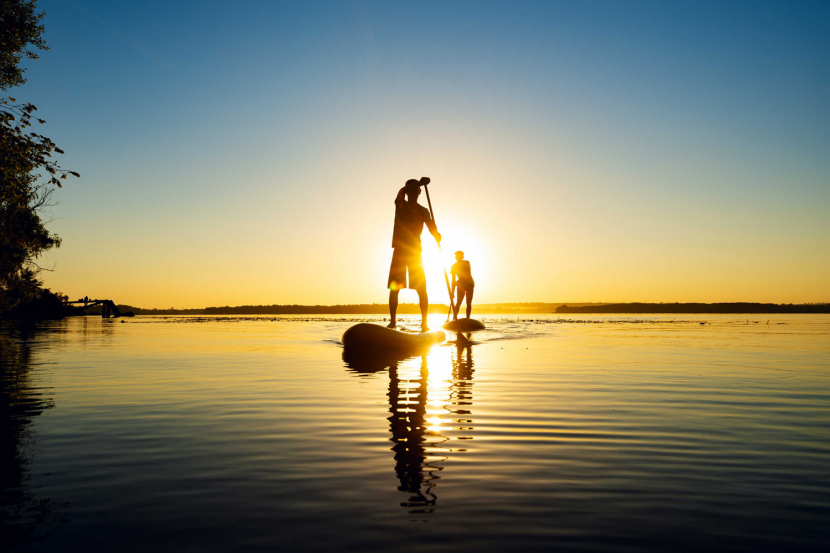 Also at its finest within the Mangroves, this is a perfect pursuit for you stand-up guys and girls. Paddling your way serenely surrounded by nature. What's not to love about it? Especially when the worse you are, the more of a workout you'll find you get...
From Dhs120. Captain Tony's, Eastern Mangroves Marina (02 635 0040).
Wakeboarding
Al Forsan trains some of the UAE's finest exponents of wakeboarding thanks to its one-of-a-kind water cable park system that runs at speeds of up to 38kph. Get on board.
Prices and timings vary. Al Forsan International Sports Resort, Al Forsan (02 556 8555).

WILDLIFE
Abu Dhabi Falcon Hospital
Being the national bird of the UAE, caring for these fabulous flying machines is a 24/7 job at this hospital and museum where you can also see dynamic displays of patients back in full flight.
Near Abu Dhabi International Airport (02 575 5155).

Al Ain Zoo
Rhinos, giraffes, tigers, hippos and crocodiles – you'll find all sorts of wonderful wildlife at the emirate's largest zoo. If you've never fed a penguin, here's your chance.
Dhs31.50 (adult), Dhs10.50 (child). Al Ain (800 966).
Al Wathba Wetland Reserve
The UAE's first protected wetland has counted 250 different bird species on its guest list. Flamingo fans will be in their element, with a flamboyance of some 4,000 of them making this their home from autumn to spring.
Open winter months only. Al Wathba, www.ead.ae.
Emirates Park Zoo
Snakes, birds, primates and reptiles are just some of the attractions at this animal lovers' resort that counts some 1,700 animals among its guests.
Dhs35 (adults), Dhs30 (ages 3-16), Free (under-3s). 12th Street, Al Bahia (02 501 0000).
Mangrove National Park
Nature's gift to Abu Dhabi, this sprawling site
of brilliant biodiversity protects the city's coast from the tide while giving a home to herons, flamingos, foxes, turtles, dolphins and more.
Near the Eastern Ring Road (02 445 4777).
Sir Bani Yas Island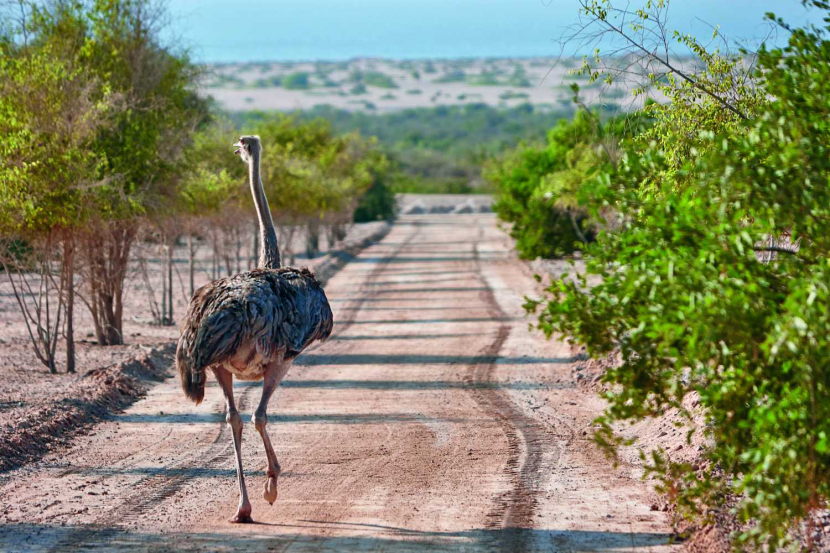 More than 10,000 animals roam free on this incredible island, with the Arabian oryx its most chilled-out attraction. Gazelles, giraffes, hyenas and cheetahs can also be spotted, along with some amazing archaeological sites.
Al Gharbia, Abu Dhabi.
Be the first to get all the latest Abu Dhabi news, reviews and deals into your inbox by signing up to our free
newsletter
,
click here to sign up
.