As the weather starts to cool and you settle into the new season in Abu Dhabi, your visitors will no doubt be starting to arrive, all looking to experience the best of the city in a few days (and they'll probably expect you to take a week off work, at the busiest time of year, and foot the bill for everything, not that we're bitter...).

But before you start to panic about how you're going to please everyone, take a look at our handy guide on how to plan the perfect itinerary for a trip to the UAE capital.

Whether you're making a schedule for a few days of culture and relaxation with your parents (warning: this is a guide for traditionally stereotypical mums and dads, not PC-emboldened millennials), or a party package for your mates, we've got all the essential information you need to show off this brilliant city.



FOR DAD
Al Wathba Cycle Track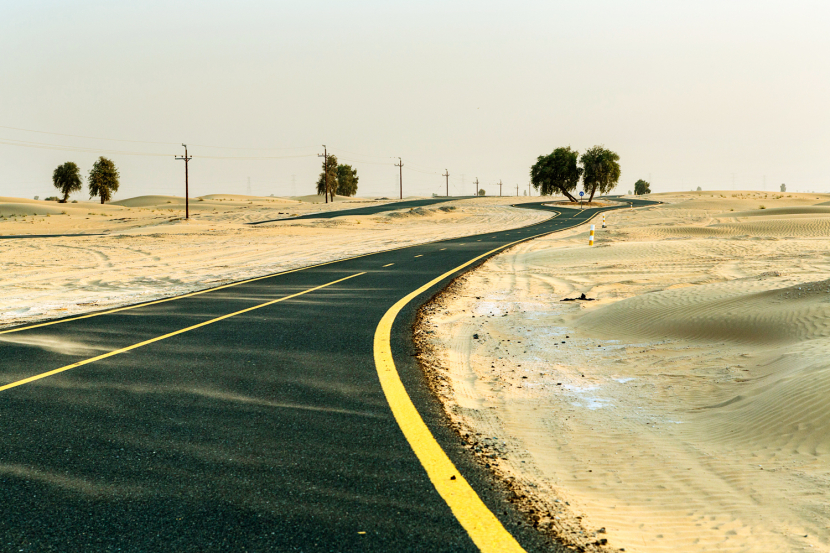 Keen cyclists will be in their element here. Located next to the camel-racing track (which is an amazing place in itself) and with views of sand dunes as far as the eye can see, It's definitely not your average place for a bike ride. Here you can tackle anything from a leisurely eight kilometres to a calf-aching 30-kilometre loop. But with such a stunning backdrop, your dad will be having far too much fun to think about how tired he is.
Free. Open daily 24 hours. Al Wathba Cycle Track, E22 Abu Dhabi-Al Ain Road, sportinabudhabi.ae.
Ferrari World Abu Dhabi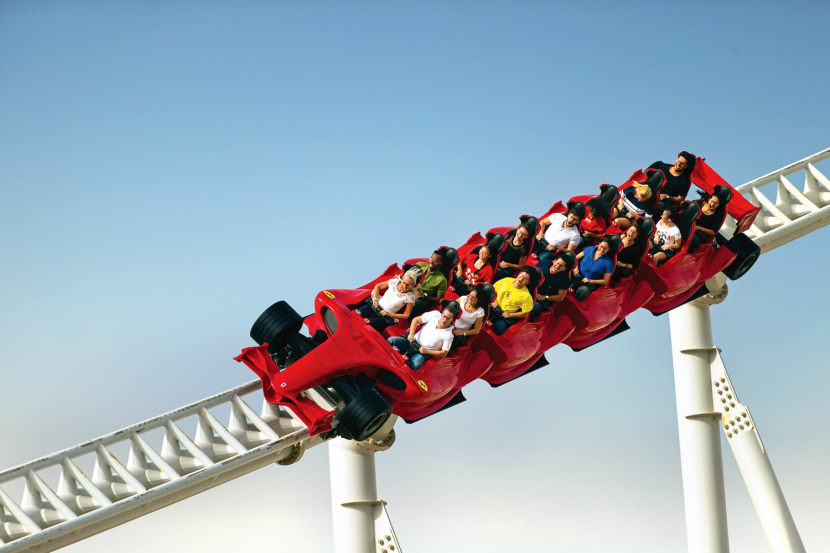 Home to the world's fastest rollercoaster, this huge theme park is a big hit with fans of fast cars, or thrill seekers in general. The big attraction is Formula Rossa, which as the fastest rollercoaster in the world reaches speeds of 240km an hour and heights of 52 metres, so you'll get a great view of the island while you're up there too. But if being twisted upside down and thrown along at high speeds isn't really your dad's thing, there are also loads of gentler rides, plus big displays showcasing Ferrari cars and explaining the history of the company. Until October 12 you can go on all the rides for Dhs100 when you visit from Thursday to Saturday, between 5pm and 8pm.
Dhs295 (single day ticket). Open daily 10am-8pm. Yas Island (600 511 115).
Qasr Al Hosn
If your old man loves a bit of history, make sure you head Downtown to visit this 18th century fort. The impressive building is the oldest in the city, and it houses an exhibition that lets visitors explore the lives of the past rulers of Abu Dhabi. You can also view great works of art in The Cultural Foundation and discover more about traditional crafts in the House of Artisans. There's easily enough to keep you busy for a whole afternoon.
Dhs30. Open Sat-Thu 9am-7pm; Fri noon-10pm. Sheikh Rashid bin Saeed Al Maktoum Street, www.alhosn.ae.
Ray's Bar
This slick bar at Jumeirah at Etihad Towers offers one of the best views in the city, in fact, it won our Best Bar with a View at the Time Out Abu Dhabi Music & Nightlife Awards 2019. Up on the 62nd floor (we know, it's ridiculously high), it's a classic spot to take visitors. With a full view of the Corniche and the surrounding islands, it's the perfect position for watching night fall. You'll also be able to get 50 percent off selected drinks during happy hour between 6pm and 8pm.
Open daily 6pm-3am. Jumeirah at Etihad Towers, Corniche West (02 811 5666).
Saturday Roast at OAK Room
Of all the many restaurants in the capital, few ooze as much charm as OAK Room. This super-cool steakhouse has a rock and roll theme, with arty shots of The Rolling Stones, David Bowie and Lou Reed covering the walls, and an awesome soundtrack of the best British rock and indie artists. So if your dad loves fine cuts of meat and classic rock, head to the hipster-friendly Al Bateen hotel for the Saturday Roast. Featuring delicious meats dished out by the meat sommelier (yes, really), and classic puddings such as Victoria sponge it's a dreamy way to spend an afternoon.
From Dhs250. Sat 12.30pm-3.30pm. The Abu Dhabi EDITION, Al Bateen (02 208 0000).
FOR MUM
Al Ain Oasis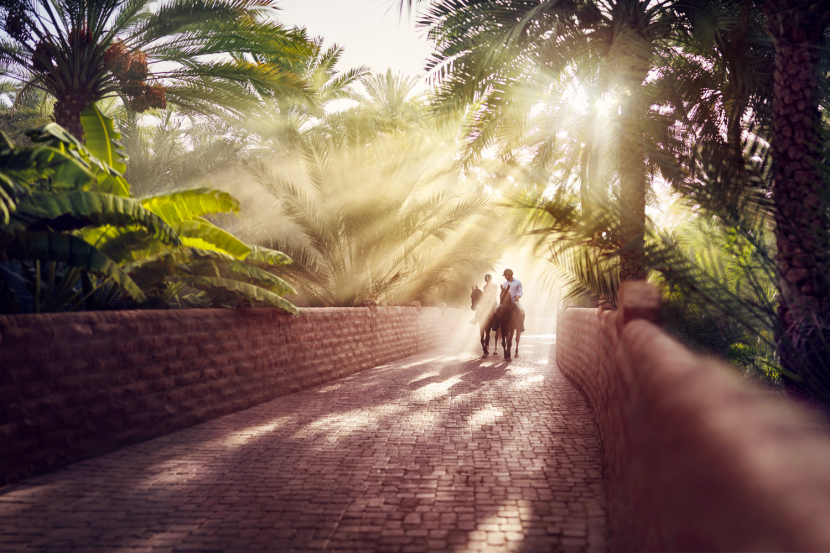 This calming area of greenery is a UNESCO World Heritage Site that houses up to 100 different species of vegetation. So if your mum fancies a break from the excitement of the city, this is a lovely place for a stroll and to get some peace and quiet. Wandering through the shaded pathways and 147,000 date palms really is wonderful and the educational Eco-Centre explains exactly how this delicate ecosystem is maintained.
Free. Open daily 8am-5pm. Al Mutawaa, Al Ain (02 599 5438).

Emirates Palace
This stunning hotel is on a whole new level of opulence. From the excessively gold interior, to the amazing grounds (covering 100 hectares), to the iconic structure (including 114 huge domes), just wandering around this striking place is a real treat. You can even splash out and buy your mum a cappuccino that's covered with real 24-carat gold flakes. If that doesn't impress her, we don't know what will.
Open daily. West Corniche (02 690 7999).
Louvre Abu Dhabi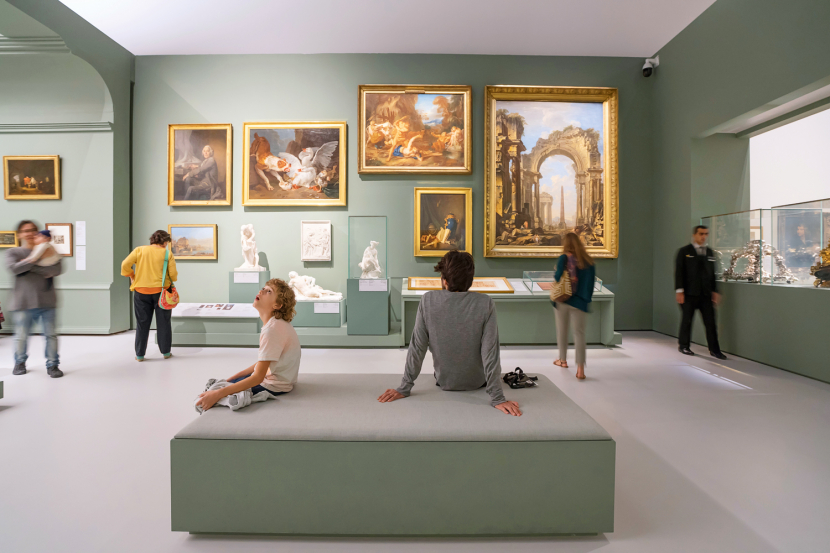 You don't have to be a total art or history fanatic to appreciate this amazing museum. But while the domed building might be one of the most striking parts, it's inside where the real wonders are found. The main gallery explores the evolution of art and mankind in chronological order, while the exhibition Rendezvous in Paris: Picasso, Chagall, Modigliani & Co. (1900-1939) features more than 80 works by the likes of Picasso, Modigliani, Chagall, Gris, Soutine, Brancusi and de Lempicka.
From Dhs60 (adults), Dhs30 (ages 13-22), free (under 13). Saadiyat Cultural District, Saadiyat Island, www.louvreabudhabi.ae (060 056 5566).
Qasr Al Watan
Everything about Abu Dhabi's Presidential Palace is incredibly grand and beautiful. You can now take a tour around Qasr Al Watan (Palace of the Nation) and marvel at the glittering hallways and rooms within this incredible building. It contains a huge library, various exhibitions and an enormous chandelier made from 350,000 crystals. It's totally stunning.
Dhs60 (adults), Dhs30 (children). Open daily 10am-8pm. Al Ras Al Akhdar, www.qasralwatan.ae.
FOR YOUR MATES
Al Mina Fish Market
If your pals are holidaying on a budget, you can enjoy a memorable lunch or dinner for as little as Dhs20 at Al Mina Fish Market. Buy your seafood from the men in blue, take it to the men in red to be gutted and filleted and hand it over to the cooks, who will rub in spices and roast it over a charcoal grill. Then sit on a lobster pot and tuck into some of the best fish you've ever tasted.
Prices vary. Open daily 7am-10pm. Mina Fish Market, Al Meena (02 670 3888).
ANNEX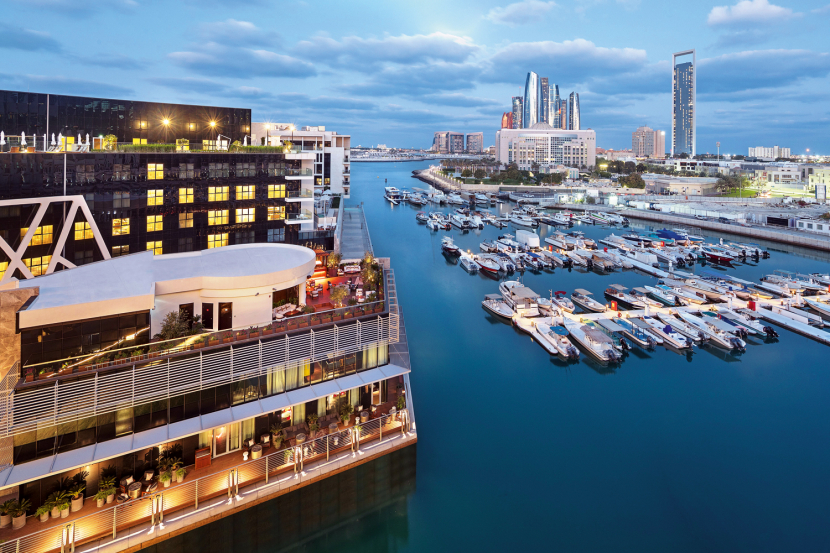 The Abu Dhabi EDITION has established itself as one of the coolest hotels in the capital, which is partly down to its incredible three-tier venue called ANNEX. While the bottom two floors host big parties and top DJs, the rooftop terrace holds fire pits, comfy sofas, and a well-stocked bar serving excellent mixed drinks (we can highly recommend the coffee-based ones, in particular). The views over Al Bateen Marina are really something else, and as you take in outline of Etihad Towers and gaze over the moored boats below, your friends will be super jealous of your life in Abu Dhabi.
Open Tue-Wed; Fri-Sat 6pm-midnight. The Abu Dhabi EDITION, Al Bateen (04 304 70002).
Buddha-Bar Beach
With cool DJs, pretty mixed drinks and elegant hostesses, Buddha-Bar Beach has an amazing, spacious outdoor area that leads right onto the white sands of Saadiyat Beach. It's really got the 'wow' factor, and it's the perfect place for a sundowner or two. If you arrive between 5pm and 8pm from Saturday to Wednesday, you can get three selected drinks for Dhs100 or three drinks and a bar bite for Dhs150. Make sure you get it on your itinerary and check our website for news on the upcoming events.
Open Sat-Wed 5pm-1am; Thu-Fri 5pm-2am. The St. Regis Saadiyat Island Resort, Abu Dhabi (02 498 8888).
MAD on Yas Island
If you're looking to take your pals 'out out' in Abu Dhabi, this is the place to go. The largest nightclub in the UAE will keep you dancing all night long, and into the early hours of the morning too. This venue really doesn't do things by halves, and you should expect live dancers, lots of dry ice and to feel very, very tired the next day. Many of the nights here feature a special guest, so if you're lucky you might catch a performance from a big name like Tinie Tempah, Akon, Ne-Yo and French Montana, who are just some of the acts who have played here in the past.
Open Thu-Fri 11pm-3.30am. Leisure Drive, Yas Island (055 834 6262).
Saadiyat Beach Club
Abu Dhabi is home to countless pools, but there are few that can rival the one at this very stylish beach club. The square pool is framed by floating cabanas containing the comfiest poolside beds, while friendly servers are always on hand to bring you mixed drinks and any tasty bites to eat from the impossibly chic pool bar. Ladies can get access for Dhs90 on Mondays, or Dhs150 on Tuesdays, which also includes free-flowing beverages from 11am until 3pm. There's parties and club nights on at the weekend too, so whether you want to top up your tan, dance the night away, or simple get some fabulous snaps for the 'gram, make sure you take your friends here.
Dhs90 (ladies' day Mon), Dhs150 (ladies' day Tue), Dhs250 (Sun-Thu) Dhs375 (Fri-Sat) Dhs1000 (pool cabana) Open daily 8am-sunset. Saadiyat Beach Club, Saadiyat Island (02 656 3500).
The Galleria Al Maryah Island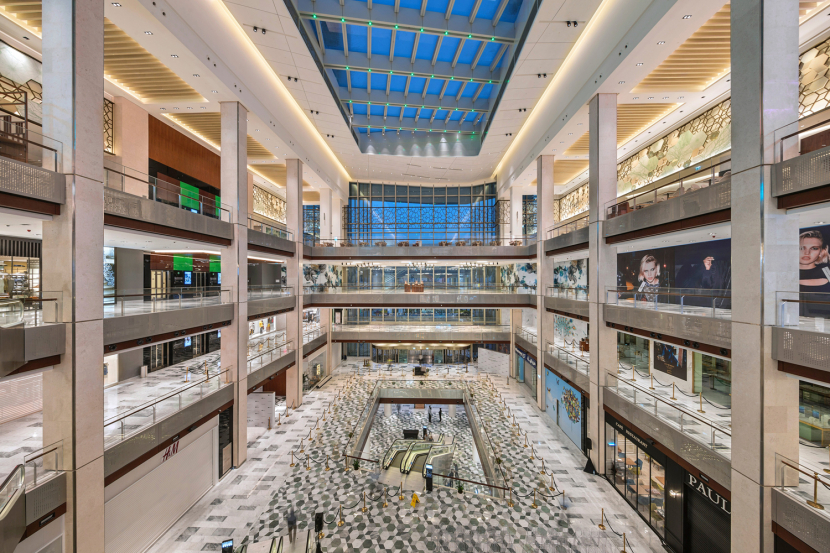 In case you hadn't heard, this mall has just added a huge extension, with 250 new shops and more than 70 new places to eat. If your friends fancy a shopping spree, this is the perfect place to take them, with Zara, H&M, Monki, Debenhams, Missguided, Decathlon, Japanese bookstore Kinokuniya and more all in one place. You can also take a pit stop at the largest Magnolia Bakery in the world and try some of the famous banana pudding, or build your pizza at Blaze Pizza, if you're in need of some sustenance.
Al Maryah Island, www.thegalleria.ae.
Yas Beach
We don't think you can ever spend too much time at the pool or beach, and this beach club has absolutely everything you need for a perfect day in the sun. The huge infinity pool is complimented by an open-air DJ booth, bar, private chalets, dreamy cabanas and a very funky and tropical-themed tiki restaurant. Make sure you keep an eye out for regular big events as well. If you still want to experience a cool beach bar without paying high-end prices, it's a super option, and a session on the sunbeds will help your friends to go home with that much sought-after holiday glow.
Dhs60 (Sun-Thu) Dhs120 (Fri-Sat) Open daily 10am-7pm. Yas Island (056 242 0435).
FOR YOUNGER VISITORS
Kidzania
This isn't just your standard playpark, because here youngsters can take on 60 real-life jobs and dream of what they'll be when they grow up. It's basically an interactive city made especially for children and ran by them, which is pretty cool. Kids from one to 16 can have a go at being surgeons, firefighters, chefs, police officers, builders, models, actors, artists, radio hosts and more – and they'll get paid. We wish adults could have a go.
From Dhs94.50. Open daily 10am-10pm. Yas Mall, Yas Island, www.abudhabi.kidzania.com.
Yas Waterworld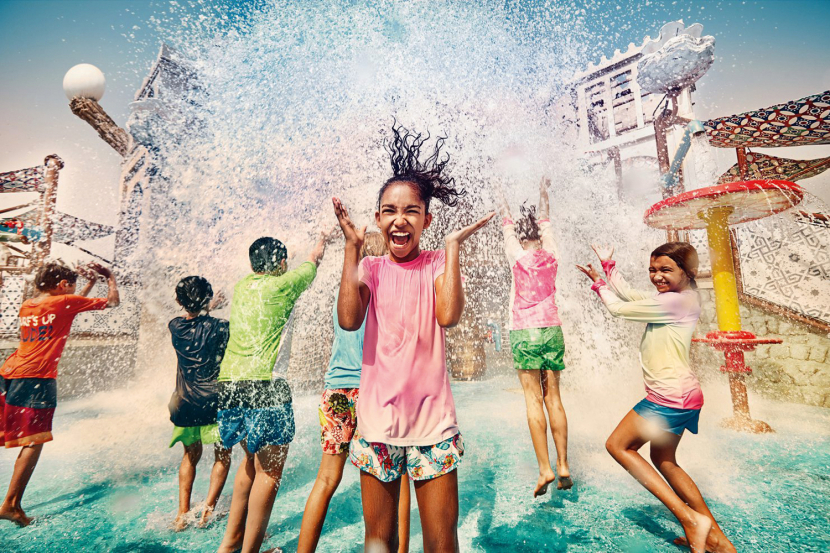 There are few things in life more exciting than a day at a water park, and Yas Waterworld boasts more than 40 slides, rides and attractions. Children will have the time of their lives plunging through giant snakes, riding the Bandit Bomber rollercoaster and playing in the wave pools. Toddlers have their own infant pool and slide complex, and there's even an immersive 5D cinema experience where everyone can expect to get a little bit wet.
From Dhs250. Open daily 10am-6pm. Yas Island (02 414 2000).
Warner Bros. World Abu Dhabi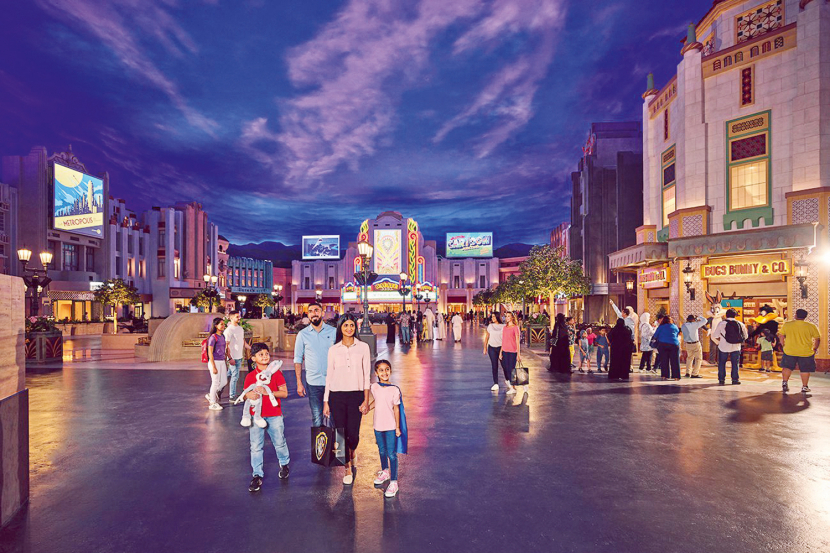 This immersive indoor theme park has 29 rides all based around the most popular Warner Bros stories. Kids will be in their element, and they'll even be able to meet some of their favourite characters as you wander around the six different lands. They'll get to fly through Gotham City with Batman, have a go at solving crimes with the Scooby Gang and go on more exciting adventures.
Open daily 10am-8pm (rides open from 11am). Dhs295 (adults), Dhs230 (children). Yas Island, www.wbworldabudhabi.com.
FOR EVERYONE
Eastern Mangroves
Abu Dhabi's Mangrove National Park takes up about 111 sq km of the city's landscape. You can explore this area of outstanding beauty by kayak, paddleboard or boat (you can hire equipment from several different operators), and refuel afterwards at one of the many cafés, restaurants and bars on the Eastern Mangroves Promenade, or in the pretty special Anantara Eastern Mangroves Abu Dhabi hotel.
Eastern Mangroves Promenade, Salam Street (02 406 1462).
Friday brunch at Nahaam
Everyone needs to try at least one brunch while they are here in Abu Dhabi, and Nahaam at Jumeirah at Etiihad Towers has loads to please every member of the family. The buffet is spread throughout the classy dining room and out on to the terrace, and guests also get complimentary access to the beach and gorgeous infinity pool. Highlights include the grilled meats from the barbecue smoker, fresh seafood (including whole yellowfin tuna), wood-fired pizza and fruity mixed drinks. There are also new dishes from the recently opened Latin restaurant VaKaVa, and entertainment is provided from a live DJ and music duo Treble Maker. You have to try it.
Dhs390 (soft drinks), Dhs450 (house beverages), Dhs575 (bubbly), Dhs185 (kids aged nine to 14). Fri 12.30pm-4pm. Jumeirah at Etihad Towers, West Corniche (02 811 5666).
Sheikh Zayed Grand Mosque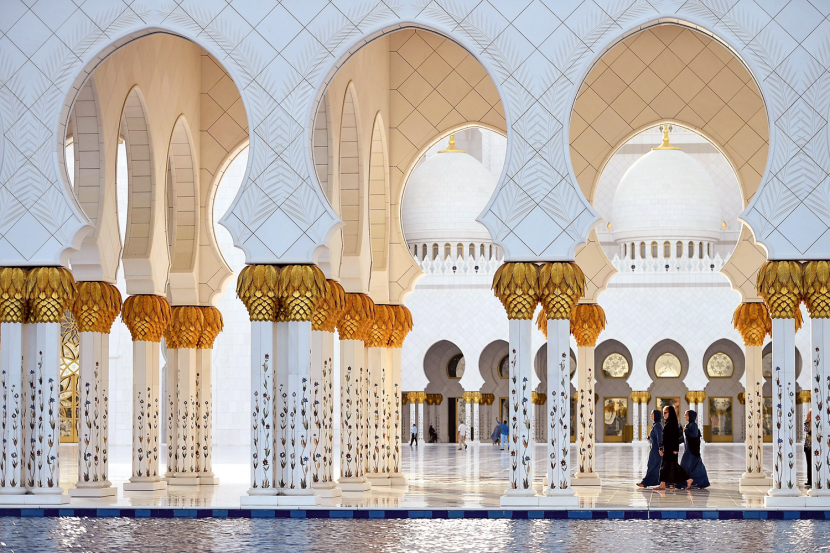 This is one of the world's largest mosques and arguably Abu Dhabi's most iconic attraction, so it's just not right to plan a tour of the emirate without including it. It's so stunning it will take your breath away, and it can hold up to 40,000 worshippers at one time. To experience it properly you can join one of the free tours which take place several times a day and are run by local guides with a wealth of knowledge and a friendly demeanour.
Free. Open Sat-Thu 9am-10pm; Fri 4.30pm-10pm. Sheikh Rashid Bin Saeed Street (02 419 1919).
The Empty Quarter
Every visitor to Abu Dhabi (and resident, for that matter) should take a trip into the Empty Quarter, if only to get some incredible pictures of the huge sand dunes. The amazing landscape looks like a film set, and indeed scenes from Star Wars: The Force Awakens were shot here. Head out on a desert safari to try thrilling dune bashing (just tell your mum to be brave), camel riding and experience a traditional Bedouin barbecue dinner.
Tours are provided by various companies, including Desert Rose Tourism (050 177 7458).
TrainYAS at Yas Marina Circuit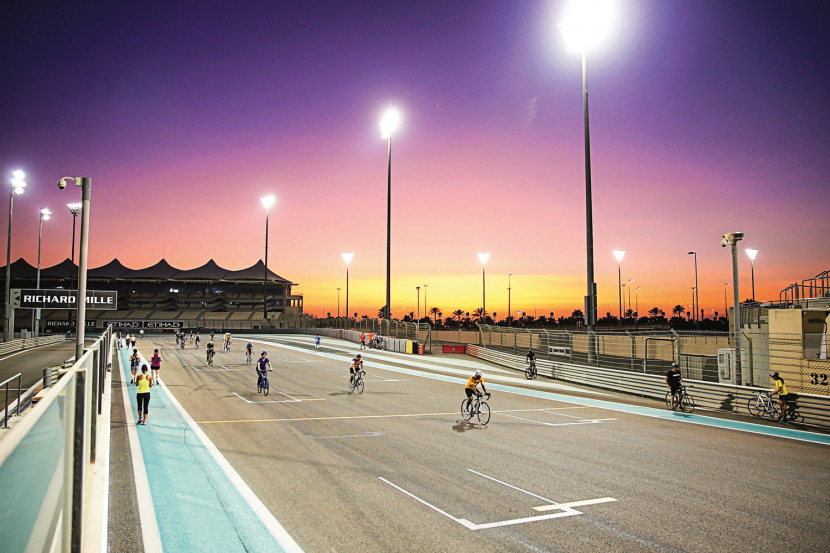 Your guests can run, walk or cycle your way around Yas Marina Circuit for free every Sunday and Tuesday evening, while Wednesday night hosts a special ladies-only session. There are 400 bikes available to rent for free and regular water stations along the track. With pumping music and friendly vibes, it's a super fun way of letting them experience this awesome race track, which hosts the Abu Dhabi Grand Prix every November. It'll also help you all burn off those multiple trips to the chocolate fountain at brunch.
Free. Sun, Tue & Wed 6pm-10pm. Yas Marina Circuit, Yas Island, www.yasmarinacircuit.com (02 659 9800).
Zaya Nurai Island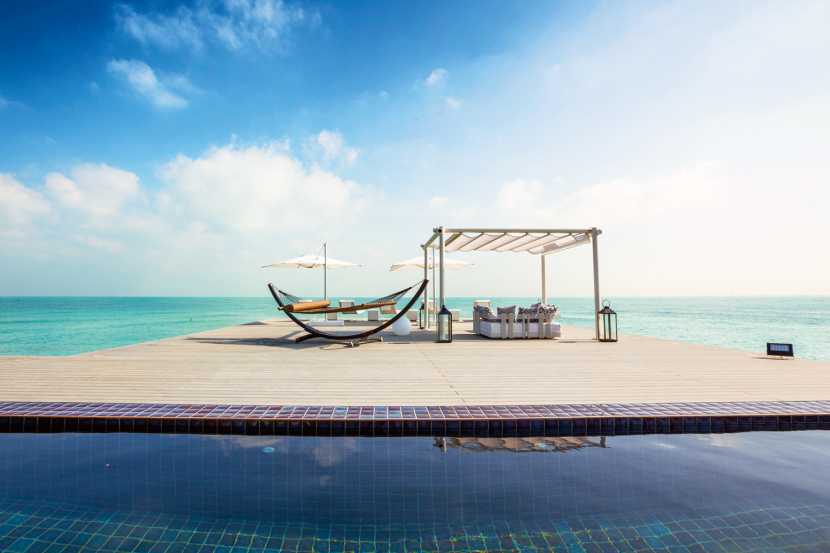 We would make the trip to this island resort just to get a picture of us posing on the swings out in the blue water (only there for Instagrammers, of course), but there's so many things to love about this luxurious island resort. To go here for the day there's a minimum spend of Dhs440 per person at the very cool Smokin' Pineapple beach bar, but once you've had one of the superb pizzas (baked in a very funky pineapple-shaped oven) and a few drinks, you'll reach the target quite easily. Kids can also play on the recently opened waterpark, and a day trip here will ensure that nobody ever forgets their visit to Abu Dhabi. You'll be everyone's favourite child/friend/auntie/whatever afterwards.
Dhs440 (minimum spend). Smokin' Pineapple open daily 10am-10pm. Zaya Nurai Island (02 506 6274).
Be the first to get all the latest Abu Dhabi news, reviews and deals into your inbox by signing up to our free
newsletter
,
click here to sign up
.