The beautiful game isn't always so beautiful, especially if you're having a kick around in a car park with jumpers for goal posts.
If you want to get a game going and don't know where to find a pitch then not to worry, there are loads of places across the city where you and your friends can get your game on.
Abu Dhabi Cricket
Okay, you might look at the name and think we've lost it, but this cricket club is also available to footballers who want to play a game. In fact, the venue has eight five-a-side football pitches on offer, artificial grass pitches and natural grass, too, so you can find the right fit for a kick about in no time and start focusing on adding some more goals to your game.
From Dhs200 per hour. Times vary. Abu Dhabi Cricket, Khalifa City, www.abudhabicricket.ae.
Al Forsan International Sports Resort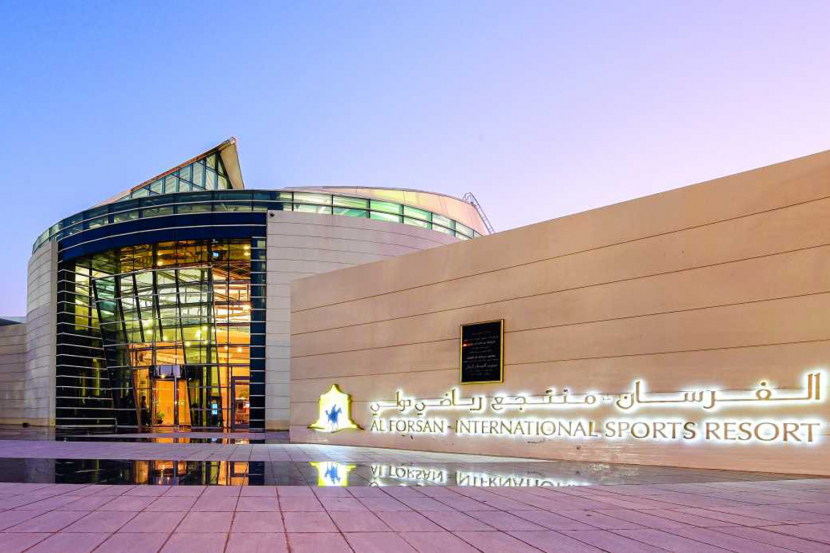 Get your game on at this sprawling complex that houses everything from wakeboarding to horse riding. If you mean business you can hire the 11-a-side full-size pitch, and with natural and artificial surfaces available you can customise your match depending on your preference and what footwear you have, too.
From Dhs550 per hour. Times vary. Al Forsan International Sports Resort, Khalifa City, www.alforsan.com.

Armed Forces Officers Club and Hotel
Take your pick from a AC-cooled air dome, outdoor grass pitch, football cage and indoor pitches at this extensive sporting destination. There's something to suit every footballing crowd at this venue and with referee services available as well, you can get help deciding on free-kicks, penalties and all the rest, so you don't have to argue with your mates.
Times and prices vary. Armed Forces Officers Club and Hotel, Al Maqta, www.afoc.ae.
Koora Sports
This outdoor venue is great for organising a game in the winter, but in the summer months, with little-to-no shade it's maybe best to gather your friends in the early morning or evenings. With two full-sized pitchesthat can also be split to six-a-side or eight-a-side you should be sorted even with the inevitable dropouts. The pitch is in good condition and it's floodlit at night so you don't have any excuses for missing a cross or losing your man.
Dhs300 per hour six-a-side, Dhs600 per hour eight-a-side. Times vary. Next to Leaf Tower, Reem Island www.koorasports.ae.
Military Officers Accommodation
We know what you're thinking, it's surely too hot to play football in the summer, but how about an indoor air-conditioned pitch? Head to Al Maqta and you can enjoy a cool game of football until you start getting out breath and sweating. With two astroturf six-a-side pitches you can organize a kick about and none of your friends can moan about the heat.
Dhs480 per hour for six-a-side. Daily 11am-midnight. Next door to Armed Forces Co-operative Society, Al Maqta (050 644 4593).
The Dome
If you've ever been to The Dome you'll know that the first thing you notice is that there's no dome. But what's in a name? This venue is a regular spot for football tournaments and league matches for amateur teams in the capital and you can hire the pitches for a semi-serious or completely casual game with friends. It is outdoors so if you plan on playing during the day then make sure that you keep hydrated or you might not make it until the end. The pitch is ready for five-a-side, eight-a-side and 11-a-side matches.
From Dhs160 (off peak), Dhs320 (peak times) for five-a-side. Open daily 8am-1am. Sheikh Rashid Bin Saeed Al Maktoum Street (02 447 0754).
Yas Kicks
You might not know it, but hidden behind Ferrari World Abu Dhabi on Yas Island is the Yas Kicks complex where you can play the beautiful game. With a number of pitch sizes on offer including five-a-side, seven-a-side and a full-size pitch you have a few options. Plus, where else in the world can you play football while watching the fastest roller-coaster in the world? Only in Abu Dhabi.
Times and prices vary. Yas Kicks, Yas Island www.facebook.com/yaskicks
Zayed Sports City
Home to City Football Schools and a number of other clubs from the capital over the years, Zayed Sports City is available to suit any of your footballing needs. With a staggering 18 pitches that can be used for futsal, five-a-side, seven-a-side and 11-a-side matches, you can't really go wrong. Plus with the Zayed Sports City Stadium at the heart of the complex you can take that as inspiration to push your game to the next level.
From Dhs578. Times vary. Zayed Sports City, Saif Ghubash Street www.zsc.ae.
Be the first to get all the latest Abu Dhabi news, reviews and deals into your inbox by signing up to our free
newsletter
,
click here to sign up
.