Situated in the far east of our great nation, close to the border with Oman, Al Ain can feel like a remote city to many in the UAE. The reality could hardly be more different – for one thing there's a larger population here than in the Scottish capital Edinburgh, Germany's financial city Frankfurt or Spain's flamenco hometown Seville. For another, while Al Ain may not have as much preserved architecture as those cities, it has a deep history to rival any of them.

There are traces of human history dating back over 4,000 years here, remarkable tombs and examples of early irrigation that can't be found anywhere else in the UAE.

It's perhaps no surprise that with such deep roots in the history of the region, UNESCO decided to inscribe some of Al Ain's treasures into their famous World Heritage List. And its hardly a shock to learn either that this was the hometown of the UAE's founder Sheikh Zayed.

If that makes it all sound like a living museum, then you should know that modern Al Ain is also a vibrant, forward-facing city with a commitment to recreation that rivals its dedication to museums and culture. Dubai and Abu Dhabi may hog the headlines when it comes to tourism, but Al Ain offers many things those near neighbours cannot – and with none of the crowds to get in your way.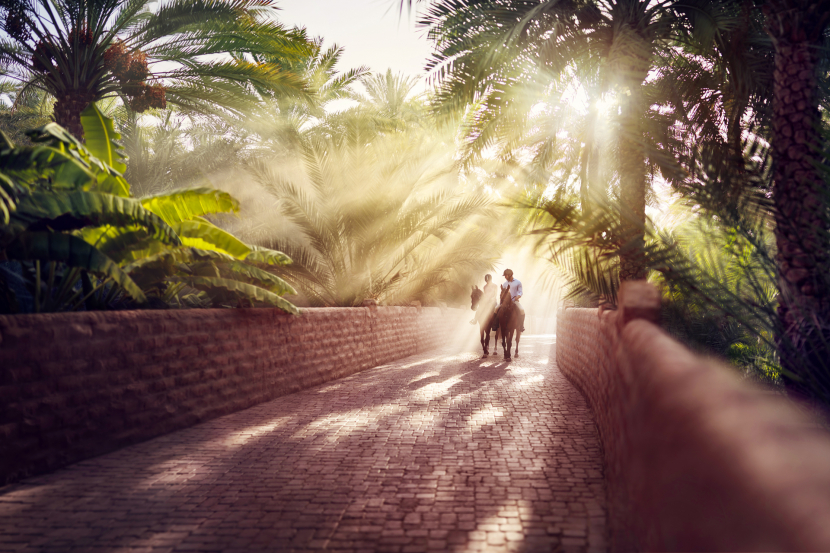 SIGHTS
Al Ain Oasis
Human habitation can be traced back 4,500 years at Al Ain Oasis. In acknowledgement of this extraordinary past, UNESCO made it a World Heritage Site in 2011, citing among other things, "one of the oldest examples of the sophisticated falaj irrigation system, which dates back to the Iron Age". Having been closed off for a number of years, since UNESCO's endorsement, the site is now open to the public, with walkways through a spectacular 147,000 date palms. As well as the irrigation system and the trees, there are circular stone tombs from ancient settlements on the spot.
Open daily 8am-5pm. Hessa bint Mohammed Street (02 599 5438).
Al Ain Zoo
The role of the zoo has changed over the years from simply collecting animals to entertain the public to educating the people on the importance of conservation. Al Ain Zoo celebrated its 50th birthday last year and continues to go from strength-to-strength. Thankfully, the majority of the species held here come from desert environments: Arabian sand cats, hyena and Arabian oryx to name a few. Some visitors may find the sight of great apes (gorillas and chimpanzees are both here) a little less reassuring, but between the excellent Sheikh Zayed Desert Learning Centre and the magnificent animals roaming out on the safari experience, the dedication to education and animal welfare is clear.
Open daily 9am-8pm. Nahyan the First Street, www.alainzoo.ae (800 966).
Hili Archaeological Park
For a deeper dive into Al Ain's ancient history, the Hili Archaeological Park is the place to be. Many of the artefacts gathered here come from the Umm an-Nar period, which dates from about 2,500BCE to 2,000BCE and is named after the island near Abu Dhabi on which remains of this important culture were first discovered. At the heart of the park sits the Hili Grand Tomb, which itself is 4,000 years old and is one of the region's best architectural examples from the period. If all that sounds a little dry for you, then the surrounding park is also gorgeous and all very much worth the short drive out of the city.
Open Sat-Thu 4pm-11pm; Fri 1pm-11pm. Off 10th Street (02 666 4442).

Jebel Hafeet
In a part of the country where most peaks are actually giant sand dunes, Jebel Hafeet is an anomaly. Rising higher than 1,200m out of the desert, its dramatic appearance may well be one of the reasons people were drawn to settle in Al Ain in the first place. With no other meaningful mountains around it may seem hard to believe, but Abu Dhabi's highest peak is just 100m lower than Britain's best effort, Ben Nevis. Summiting this is considerably simpler thanks to a road all the way to the top – head up here on a clear day for marvellous views across Al Ain and beyond. It's also possible to cycle to the summit, but needless to say going down is a lot more fun than going up.
MUSEUMS
Al Ain Classic Car Museum
In 2019, the Al Ain Classic Car Museum will celebrate its tenth birthday. Despite its relative newness, this current location at Ain Al Fida Complex is actually its second spot, having moved there in 2013. The reason for the new location? The rapid growth of the collection, which quickly became too large for its original housing. The classic cars here are rotated, meaning each visit should yield a surprise, but if you happen to own a suitable vehicle, you can also have it displayed here. On top of that, it offers restoration and maintenances services, whether you're driving a Model-T or
a muscle car from the 1960s.
Open Sat-Thu 9am-6pm; Fri 4pm-8pm. Al Ain Faida Complex, www.alainclassiccarsmuseum.net

Al Ain Museum
First opened 50 years ago, the Al Ain Museum is the oldest museum in the UAE. While its focus is on the ruling Al Nahyan family, the museum houses artefacts recovered from the many archaeological sites scattered across the region, including flint tools and arrowheads dating to the 6,000 BCE. Parts of the original structure are themselves well over a century old and in order to keep both it and the important exhibitions inside fresh, at the time of writing the museum is closed for restoration. Keep an eye on the government website for news of its new configuration.
Hessa Bint Mohammed Street, www.visitabudhabi.ae (03 711 8311).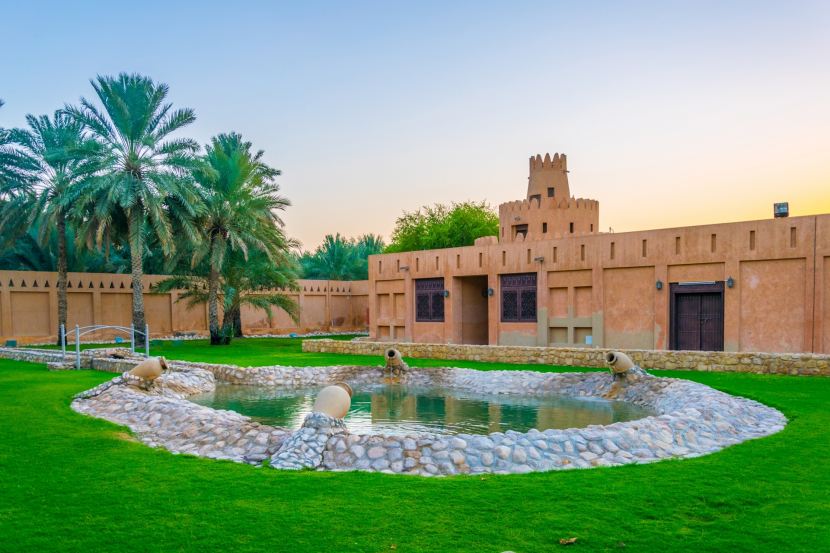 Al Ain Palace Museum
Perhaps the grandest of all Al Ain's properties, the palace was originally built in 1937 and was the residence of the UAE founder Sheikh Zayed until 1966. Today it primarily exists as a museum, but a number of the royal dwellings have been restored and opened to the public, too. As well as the on-site art gallery, one of the most interesting features is the majlis, which was used to entertain foreign guests and dignitaries during a time of enormous social and economic change in the UAE. Though once a heavily guarded residence, today the Al Ain Palace is open for royals and commoners alike.
Open Tue-Thu & Sat-Sun 8.30am-7.30pm; Fri 3.30pm-7.30pm. Hessa bint Mohammed Street (03 711 8388).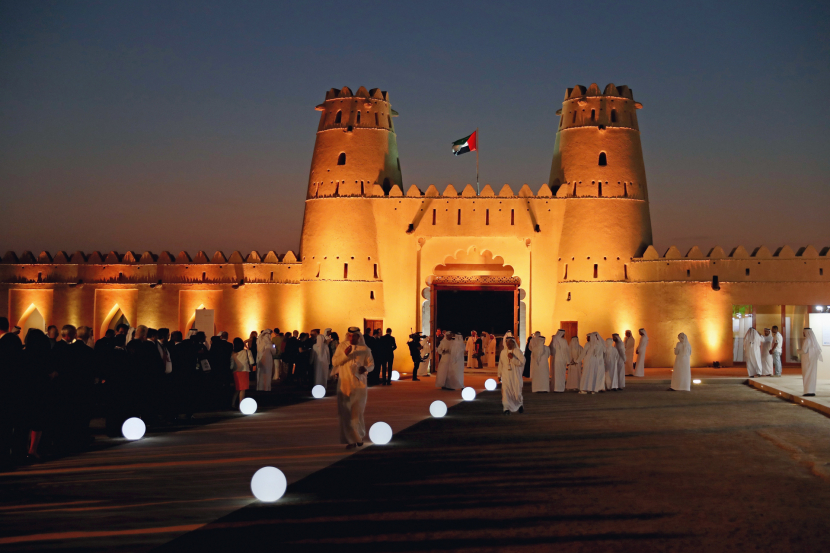 Al Jahili Fort
It took until 2008 for the Jahili Fort to be opened to the public – a long wait considering it was originally built in the late 1800s. These days it is primarily used as a museum and exhibition space, featuring a permanent collection detailing the exploits of the great British explorer William Thesiger's adventures in the Empty Quarter. While the displays inside are, of course, interesting, so is the structure itself – the former home of the Bani Yas tribe, at various times in its history it has served as a royal residence, a shelter for date farmers, and even a barracks for the British army.
Open Sat-Thu 9am-5pm; Fri 3pm-5pm. Sultan Bin Zayed Al Awwal Street (03 711 8311).
Qasr al Muwaji
The birthplace of His Highness Sheikh Khalifa Al Nahyan, Qasr al Muwaji is today a living museum. Located on the edge of Al Ain Oasis, it was built in the early part of the 20th century by the ruling family, and though they have since moved to much grander accommodations in Abu Dhabi, this area remains an important part of the UAE's heritage. That switch to the capital actually saw the original buildings abandoned and fall into disrepair, but a meticulous restoration project has returned everything to its former glory, allowing a rare look into a bygone era.
Open Sat-Thu 9am-7pm; Fri 3pm-7pm. Khalifa bin Zayed Street (03 767 4444).
SPORTS AND ACTIVITIES
Al Ain FC
The Hazza Bin Zayed Stadium is one of the newest (and most impressive) stadiums in the UAE and the sort of grand home deserving of the country's most successful club team. Al Ain FC play in their famous purple jerseys in this 32,000-seater arena. And while it's always buzzing with the roars of the team's passionate fans, it's rarely sold out, meaning tickets are easy to come by, as well as being very affordable. If you're worried that this translates into a lack of quality, then think again – last year Al Ain beat the legendary Argentinian team River Plate here to make it to the final of the FIFA Club World Cup. Can't make it to a club game? Well, the Emirati National Team often plays here, too, when prices come down further still.
Dates and times vary, Hazza Bin Zayed Stadium, Al Towwaya, www.alainclub.ae (04 457 3212).

Al Ain Raceway
Back in the capital the focus on driving is resolutely on the professionals at the spectacular Yas Marina Circuit, but out east, it's a lot easier to burn rubber thanks to the Al Ain Raceway. Regardless of your experience level, there are karting opportunities for you – from total beginner and junior classes, through to endurance races for those with loftier dreams. The circuit may only be 1.6km long, but its configuration is regularly changed to make sure drivers are faced with evolving challenges. For those just starting out, there's a karting school alongside an on-site shop stocking everything you need to get racing.
Open Mon-Fri 2pm-9pm; Sat 10am-6pm. Khatam Al Shiklah Street, www.alainraceway.com (03 768 6662).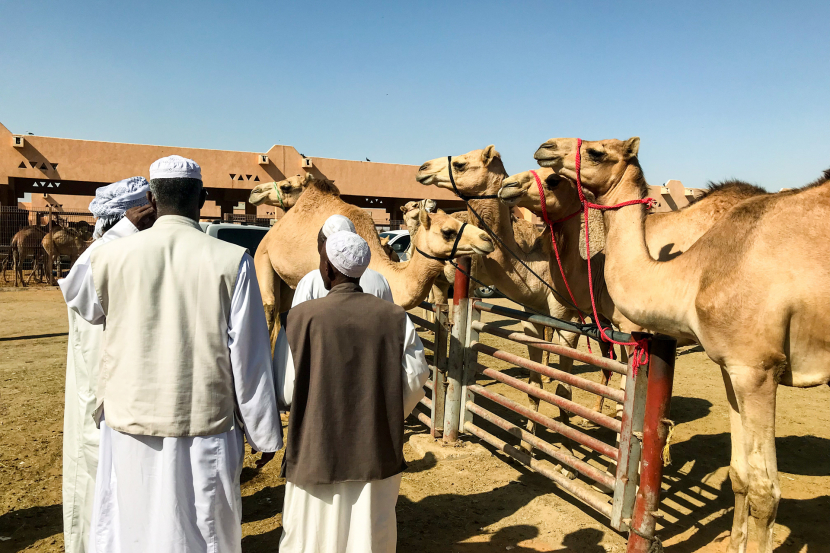 Al Ain Camel Market
OK it's not technically an activity, but for an experience unlike any other in Al Ain, head to the camel souk. Here you'll get a taste of Arabia as it always has been – and not just a taste, but a smell too. Surrounded by the funky dromedaries it's easy to feel a little overwhelmed, but visitors are absolutely welcome. Even if you have no intention of buying a live, half-tonne camel, you can at least come and take photos of the babies or spectate as some ferocious, timeless haggling goes on around you.
Open Tue-Thu and Sat-Sun 6am-7pm; Fri 3pm-5pm. Zayed Bin Sultan Road (03 711 8311).
Hili Fun City
Compared to some of Al Ain's historic sites, Hili Fun City is a very modern addition, but having been around since 1985, it's one of the city's older continuously functioning institutions. There are 25 attractions in total, with many aimed at younger children and families – Abu Dhabi's Yas Island is still the place to go if you're chasing high-octane rollercoasters and other death-defying rides. Instead, Hili has more wholesome offerings such as the Circus Train, Sinbad's Farm, and Jumping Star. As well as all the rides, there's an ice-rink and a wide selection of restaurants, all of which were spruced up during a recent refurbishment. All in all it's incredible value for just Dh50.
Open Mon-Thu 4pm-10pm; Fri-Sat noon-10pm. Ardh Al Jaw Street, www.hilifuncity.ae (03 784 5542).

Surfing
Wadi Adventure isn't all about rafting (that will come soon enough, don't worry). You could always try your hand at surfing. This is particularly ideal for those looking to learn the process of hanging ten or non-ironically saying 'cowabunga', thanks to the focus on safety and the predictability of the smooth waves. There's no having saltwater splash in your eyes while you wait for the perfect wave – here a machine sends them out at regular levels. After that, you just need balance, timing, and a lot of determination. Nail it here, then head out to the ocean for the real thing.
Open daily 11am-7pm. Jebel Hafeet, www.wadiadventure.ae (03 781 8422).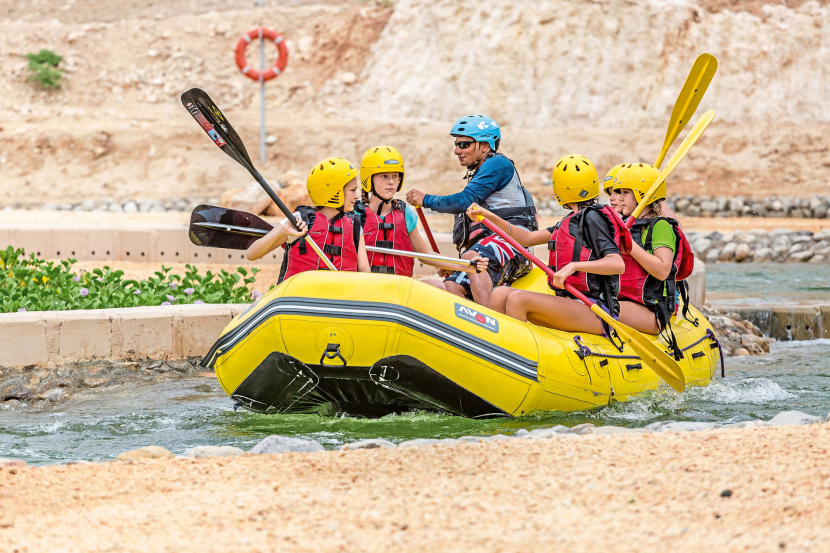 White water rafting
Yes, the ocean may be more than 100km away and, no, there aren't any roaring rivers in close proximity, but that doesn't mean you can't come to Al Ain to have an aquatic adventure. In fact, you could argue that the Garden City is in fact the UAE's very best place for watersports, thanks largely to the elaborate setup at Wadi Adventure. This is the only place in the country where you can try white-water rafting. It's considerably safer here than launching out into the wilderness to try it, and the cunning technology behind the scenes means there are various levels to help build confidence for beginners or provide steeper challenges to those with more experience. As well as that, there are experts on hand for tuition and all the safety equipment you could possibly want.
Open daily 11am-7pm. Jebel Hafeet, www.wadiadventure.ae (03 781 8422).
HOTELS
Al Ain Rotana
This resort is super close to the historic Al Jahili Fort. As well as more than 240 rooms with an Art Deco flourish, there's also a Trader Vic's (with a Friday brunch), Lebanese restaurant and lounge bar. Outside of F&B there's a Zen the Spa and gym to relax and work out, a pool and loads more. You're guaranteed a good stay here.
Rooms from Dhs305. Zayed Bin Sultan Street, www.rotana.com (03 754 5111).

Aloft Al Ain
Is Aloft the trendiest hotel in Al Ain? It certainly markets itself that way. Only a few years old, it's just around the corner from the Hazza bin Zayed Stadium, home of Al Ain FC. On match days there's nowhere more convenient to stay, but at any time of the year you can be part of the cool crowd hanging out at The Rooftop bar or the mixed drinks specialists at the WXYZ Bar. Don't fancy any of that? You can always head to Re:fuel, because nothing says hip quite like silly punctuation.
Rooms from Dhs200. Al Towwaya, www.marriott.com (03 713 8888).
Ayla Grand Hotel
This mini chain has three properties in Al Ain, but the newest is the Ayla Grand. It says it's the tallest hotel in the city, and who are we to argue? Rooms here are comfortable and cosy, even the suites are decorated in a way that makes you feel right at home. When it comes to food there's a café, all-day-dining spot and a relaxed rooftop venue overlooking the pool with views of the city and over the ever-so-close border to Oman. The smaller Ayla Hotel is closer to Al Jahili Fort and there's another attached to Bawadi Mall.
Rooms from Dhs219. Othman Bin Affan Street, www.aylahotels.com (03 705 1111).
Danat Al Ain
Danat's Al Ain property may be the most complete resort anywhere in the city – you could easily spend your entire time in the city here and not get bored. There are seven restaurants, three pools, a 24-hour gym and extensive grounds, accommodating to up to 900 guests at any one time. If you do fancy going to see more of the city, then the concierge has a number of suggested itineraries to take in Al Ain's historic sites.
Rooms from Dhs360. Al Salam Street, www.alain.danathotels.com (03 704 6000).
Mercure Grand Jebel Hafeet
Other properties around Al Ain may argue the finer points on who provides the fanciest rooms or best service, but surely no one can rival the Mercure Grand's location atop the mighty Jebel Hafeet. With 124 rooms and a huge outdoor pool, it offers incredible vistas across the city and out to the desert beyond. Unsurprisingly it's also a marvellous place to enjoy sunset, especially if you elect to have a meal in one of its alfresco restaurants.
Rooms from Dhs255. Jebel Hafeet, www.accorhotels.com (03 704 6888).
Radisson Blu Hotel & Resort, Al Ain
If your main reason for coming to Al Ain is to visit its UNESCO World Heritage Sites then you should definitely consider staying at the nearby Radisson Blu Hotel and Resort. Even if you've got no intention of interacting with all that history, however, then this newly-rebranded property still has plenty to offer, including three swimming pools, six restaurants, four bars – oh, and more than 200 rooms. If the building seems at all familiar, it's because for 45 years prior to this recent rebirth, it was a Hilton hotel.
Rooms from Dhs225. Khalid Bin Sultan Street, www.radissonblu.com (03 767 6666).

Telal Resort Al Ain
While Al Ain doesn't pretend to be Abu Dhabi or Dubai in terms of luxury hotels, perhaps its grandest offering is Telal. Located west of the city, it's a decadent desert dwelling presented with legendary Emirati hospitality. To add to the feeling of being in a palatial Bedouin environment, there are desert gazelles milling around, while the property's villas call to mind traditional Arabian designs while offering modern comfort.
Rooms from Dhs400. Remah, www.telalresort.ae (03 702 0000).
RESTAURANTS
Al Fanar
The formula developed by Al Fanar has proved so popular that it is soon to open outlets in Riyadh and London. Given the chain's far-reaching ambition, it seems only appropriate that these forerunners in Emirati cuisine also have a presence in Al Ain. With inspiration drawn from the UAE's fare in the 1960s, it has several Emirati staples on offer, including slow-cooked lamb served with rice, light lentil soups, and some more uncommon offerings such as grilled squid appetisers.
Open Sat-Wed 9am-11pm; Thu-Fri 9am-midnight. Souq al Zafarana (03 766 5200).

Coriander
If you like Indian food but are keen to dodge the fieriest curries, then Coriander may well be ideal for you. Specialising in North Indian cuisine, there is a selection of dishes from Punjab to Uttar Pradesh. Located in the Bawadi Mall, its open kitchen means you can see the dishes being prepared before they arrive to your table, whether that's the dahi lasooni tikka, a mushroom matar masala or any other item from the extensive menu.
Open Sat-Wed 11.30am-11.30pm; Thu-Fri 11.30am-midnight. Bawadi Mall (03 784 0500).

Famous Dave's
Consistently chosen as America's favourite barbecue restaurant, this tasty joint is famous for packing its meats with spices, then slow-smoking in a pit of smouldering hickory. Choose from Texas-style beef brisket, beef short ribs, cedar-planked salmon, smoked rack of lamb to name a few.
Opening soon: Open Sat-Wed 10am-10pm, Thu-Fri 10am-midnight (no number).
Jones the Grocer
What once seemed like an edgy newcomer to the UAE's food and beverage scene is now so well established as to seem ubiquitous. Al Ain's branch of Jones the Grocer is located out at the Hazza Bin Zayed Stadium and provides diners with the same stellar options they may have found elsewhere in the country, including spiced lamb flatbreads with pulled lamb shoulder, and black quinoa, kale and roast sweet potato salads.
Open daily 8am-midnight. Hazza Bin Zayed Stadium (03 766 0115).

Solidaire
Not to be confused with the monotonous card game, Solidaire offers an array of Levantine food and Mediterranean food in a cosy setting inside the Hili Mall. There's a broad selection of hot and cold mezze, as well as slightly less common dishes such as shish barak. If you fancy sourcing your dinner from slightly further west, then the chefs also offer a number of classic pasta dishes, including four cheese fettucine and penne arrabbiata.
Open daily 8am-1am. Hili Mall (03 765 0600).
Tanjore
Frequently voted as one of the best eateries in the whole of Al Ain, Tanjore is the Danat hotel's premiere restaurant. Specialising in food from across the whole of India, there's a focus on their enormous tandoor oven. Although that provides
a huge array of succulent meaty dishes, there's a commitment to vegetarian options, too. It doesn't get much more authentically Indian than that.
Open Tue-Thu, Sun 7pm-11pm; Fri-Sat noon-3pm, 7pm-11pm. Danat Al Ain (03 704 6000).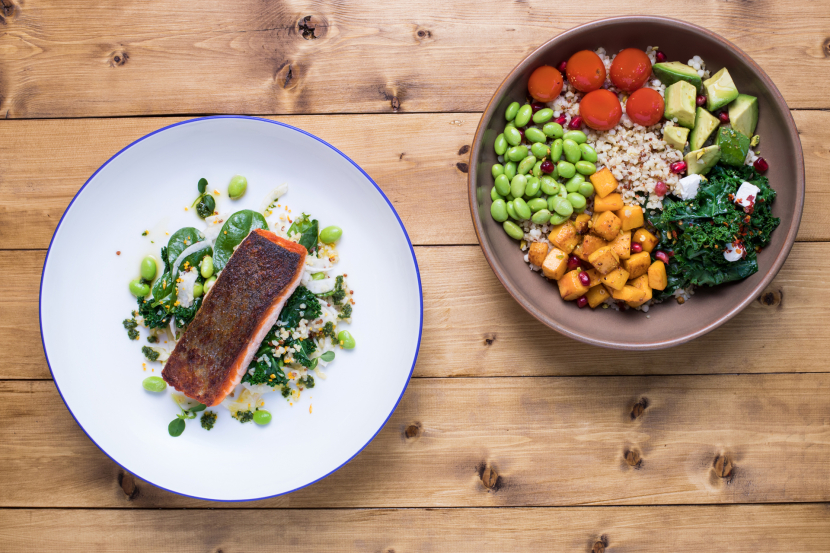 The Coffee Club
As well as expertly crafted hot and cold coffees, this quiet little haven also specialises in fresh and healthy meals such as power bowl salads, gourmet wraps, and everyone's favourite all-day breakfast choice: smashed avocado with eggs. Don't worry, not all the dishes are good for you, also on offer are pancakes, burgers and incredible chocolate brownies.
Open Sat-Wed 10am-10pm, Thu-Fri 10am-midnight. Al Jimi Mall (03 722 7151).

MALLS
Al Ain Mall
Each of the malls in town seeks to talk up their own unique selling point but nowhere else offers you the chance to go ice skating on the city's largest rink. If that's not your sort of thing, then you can always hit the laser tag or have a blast Trampo Extreme, which has everything to do with trampoline-based fun. And all of that says nothing of the 350 shops, nor the 60 restaurants inside this downtown mall.
Open Sat-Wed 10am-10pm; Thu-Fri 10am-midnight (03 766 0333).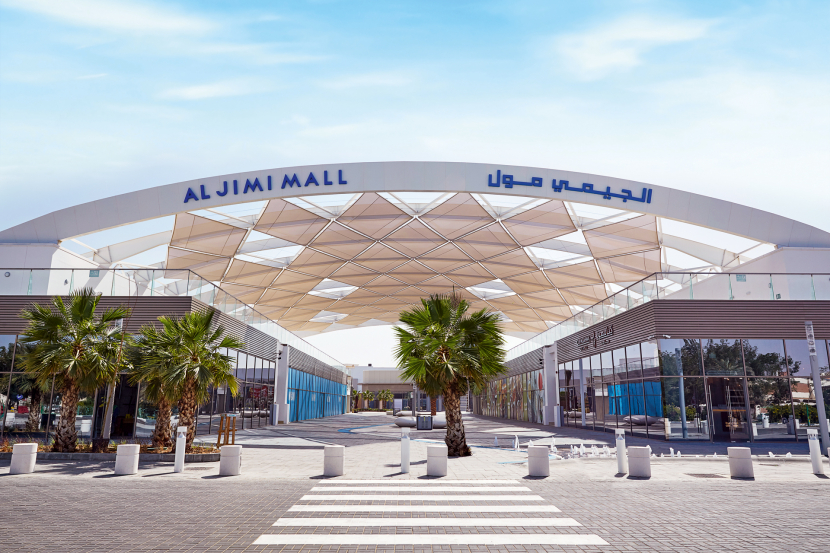 Al Jimi Mall
Built in the early 1980s, the oldest mall in Al Ain was originally a fruit and veg market. Having been remodelled to be a traditional shopping centre for much of the last 20 years, it has now undergone a major refurbishment and extension. The new incarnation boasts 1,200 extra car parking spaces – double its former capacity. Additionally, there are almost 100 extra shops and 30 more eateries. Al Ain's first VOX Cinema complex is also here, complete with KIDS and MAX screens and a rather swanky THEATRE by Rhodes. And Abu Dhabi's first outdoor retail park has been created at the back of this stalwart, all giving a new lease of life to the place.
Open Sat-Wed 10am-10pm; Thu-Fri 10am-midnight (03 762 3859).

Bawadi Mall
Bawadi has a colossal 400 shops. They're joined by a bowling alley, a play zone for youngsters, and an eight-screen cinema. There's also a Carrefour Hypermarket on site and dozens of restaurants ranging from the fastest of fast-food chains to seafood specialists. Yet for all the extra bells and whistles, the focus is of course on retail – you can buy everything from holidays to televisions, jewellery to socks. Just be sure to leave plenty of time to navigate it all.
Open Sat-Wed 9am-midnight; Thu-Fri 10am-1am (03 784 0000).
Hili Mall
Located in the historic Hili neighbourhood, this mall may feel a little mismatched with its historic surroundings, but with more than 150 units inside, it has something for everyone. Originally opened as the Wahat Mall in 2013, today it has a family entertainment centre, a total of 27 different dining options. Elsewhere you'll find everything from chocolate makers to florists.
Open Sun-Wed 10am-10pm; Thu-Sat 10am-11pm (03 762 0207).
Be the first to get all the latest Abu Dhabi news, reviews and deals into your inbox by signing up to our free
newsletter
,
click here to sign up
.