Living in the UAE doesn't always come cheap. After a while all those brunches start to take a toll on your wallet as well as your waistline. Luckily, you don't need to spend a thing to experience some of the best that Abu Dhabi has to offer...
Bask in the sun at Al Bateen Beach
Though many of the city's beaches charge entry fees or belong to lavish hotels (and are therefore off limits to non guests), this lovely little stretch of sand is totally free, and still comes with plenty of facilities such as toilets and changing rooms – as well as the still waters and clean sand that, we're pleased to say, come as standard in Abu Dhabi.
Open daily 8am-sunset. Khalifa Al Mubarak Street, off Al Khaleej Al Arabi Street.
Brush up on your Arabic at The Language Club
You needn't sign up for an expensive course to get to grips with the basics of Arabic. The Language Club is trying to make mastering it fun and sociable by offering volunteer-led conversation lessons most Thursdays. You can also practise European languages (including Spanish, German, Portuguese and even Russian) at the friendly exchanges that run on other days of the week. Yalla!
Dates and times vary, call ahead to check. O The Language Club, 1868 Café, Khalifa City A, Mohammed Bin Khalifa Street, www.1868uae.com/language-club (02 553 1868).

Catch a classic flick at Cinema Space
With a brilliant roster of world cinema and restored classics (such as the superb Korean zombie flick Night Train To Busan or It's A Mad, Mad, Mad, Mad World), this film club should always be at the top of your to-do list. Seating is limited so RSVP via the website where the full programme is also listed.
Manarat Al Saadiyat, Saadiyat Cultural District, cinemaspace-abudhabi.splashthat.com (02 6575 800).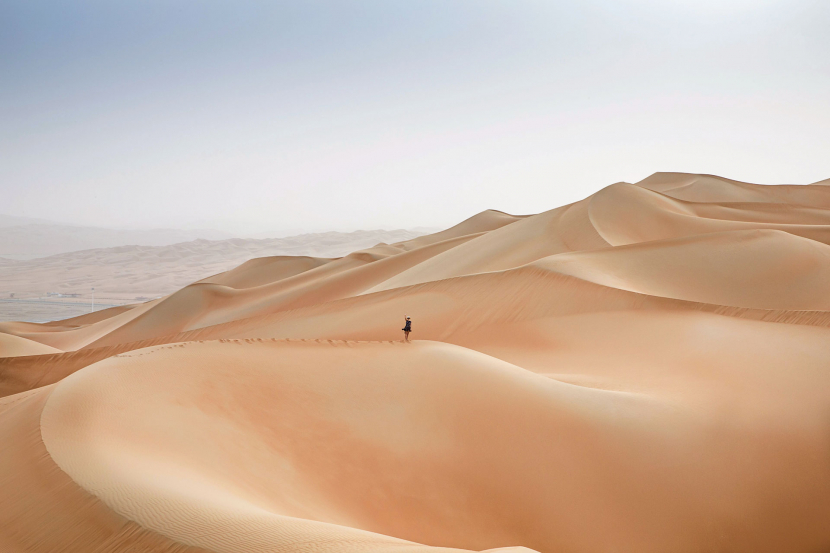 Conquer Moreeb Dune at Liwa
Every Abu Dhabi resident should take a trip into the Empty Quarter at least once, if only for the bragging rights gained by battling your way to the top of this giant dune. At 300 metres high, the view from the top is spectacular. A road winds its way out to it through dramatic desert, which means you don't even need a 4x4 to experience this majestic, sprawling stretch of sand.
After passing through Liwa, turn left off the E90 near Liwa Police Station and continue to the end of the road.
Contemplate contemporary art at Salwa Zeidan Gallery
Minimalist, cutting-edge, contemporary art is the focus of this gallery that has exhibited everything from conceptual photography to futuristic sketches and vibrant abstract paintings created with acrylic and rice paper.
Open Sun-Thu 10am-7pm. The Collection at St. Regis Saadiyat Island Resort, Abu Dhabi (02 666 9656).
Cook up a storm at the Korean Cultural Center
Abu Dhabi's Korean Cultural Center runs regular free cooking lessons so you can try your hand at rolling (and eating) your own gimbap (Korean sushi) or learn how to whip up a killer bulgogi.
First Floor, Building 5, twofour54, Khalifa Park, uae.korean-culture.org/en/welcome (02 491 7227).
Cycle through sand dunes at Al Wathba Cycle Track
Bring your own bike for a spin around Al Wathba Cycle Track, where you can tackle anything from a leisurely eight kilometres to a calf-aching 30-kilometre loop through rolling dunescapes. There are no amenities along the way, so start early and make sure you come prepared with plenty of water and sunscreen. For the full loop, a backpack filled with snacks and seat padding won't go amiss either.
Al Wathba Cycle Track open 24 hours; Al Wathba Westland Reserve open Thu & Sat 8am-4pm, last entry 2pm.

Dive into the local art scene at Etihad Modern Art Gallery
With the opening of incredible international galleries such as the Louvre, it can be easy to forget about the city's burgeoning local art scene. Enter Etihad Modern Art Gallery, which does host art from international talent but primarily promotes Emirati traditions and cultures. Wandering around is, of course, free, but you can also settle into an upcycled oil barrel and treat yourself to a lotus milkshake at the gallery's café.
Open Sat-Thu 10am-10pm. Villa 15, Al Huwelat Street, Al Bateen (02 621 0145).
Enjoy an alfresco film at Yas Movies in the Park
Taking place over periodic weekends throughout the year, the next event promises a full schedule of feel-good films as well as one to-be-announced "immersive" experience that will get you up on your feet and singing along (there will also be live actors in the audience, don't say we didn't warn you).
April 18-20, 4pm-midnight. du Arena, Yas Island, www.yasmovies.ae.
Escape the city at Al Ain Oasis
Wander through pathways shaded by hundreds of thousands of date palms at this serene and shady escape an hour-and-a-half's drive away. The UNESCO World Heritage Site has a visitor's centre housing cultural exhibits about the oasis, a collection of gardens perfect for picnicking, and the sun-dappled palms are infinitely Instagrammable, if that's your thing.
Open daily 8am-5pm. Al Mutawaa, Al Ain (02 599 5438).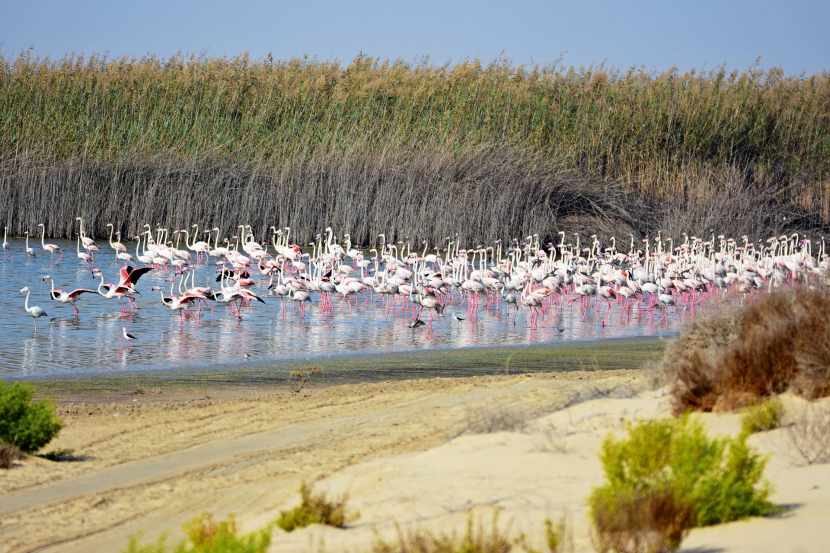 Find flamingoes at Al Wathba
In a city surrounded by dry desert, it can be easy to forget that exotic wildlife actually lives around these parts – and in this case, practically in the middle of the city. Al Wathba has a pleasant three-kilometre hike through flamingo-dotted wetlands, plus it's easy enough to attempt with kids or a large group of visiting relatives in tow.
Open Thu & Sat 8am-4pm, last entry 2pm. Al Wathba Wetland Reserve, www.ead.ae.
Get involved with art at Warehouse 421
This cutting-edge arts space is always running free talks, film screenings and the occasional interactive piece of performance art. Its most recent exhibition displayed stunning photography exploring abandoned spaces around the country.
Open Tue-Sun 10am-8pm. Mina Zayed, www.warehouse421.ae (02 676 8803).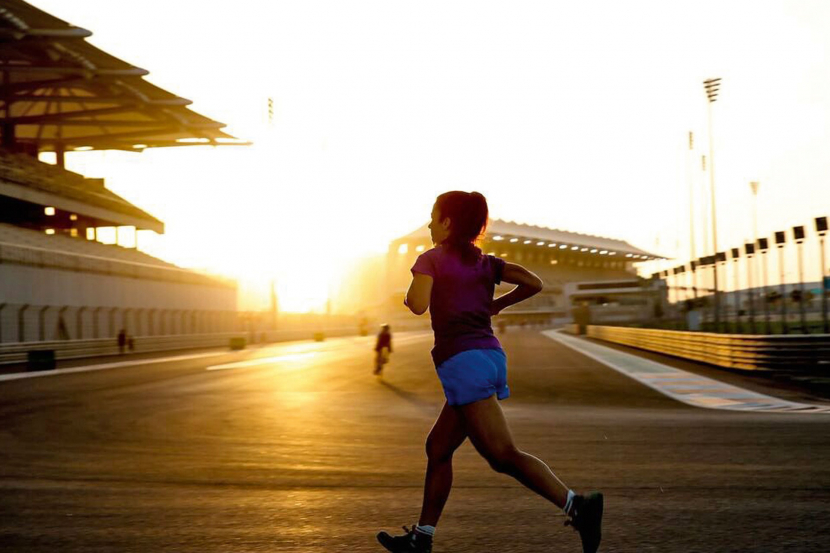 Get your cardio in at TrainYAS
Run, walk or cycle your way around Yas Marina Circuit, heading past the twinkling marina and under the elaborate, glowing Yas Hotel tunnel. There are 400 free bikes available for use and the water stations along the track, and you can even turn up straight from the office – they rent out pairs of shoes for Dhs10, so there's no excuse not to hit your daily step goal.
Sun, Tue & Wed (ladies only) 6pm-10pm. Yas Marina Circuit West, Gate 20, Yas Island, www.yasmarinacircuit.com (800 927).
Go for a stroll on the Corniche
Perhaps obvious, but still worth including, a walk along the corniche (which is dotted with parks to people-watch in and a public beach to lounge on) is one of the easiest ways to spend a leisurely, free afternoon in the city. Plus, you can pick up a cup of karak for no more than a couple of coins, too. Perfect.
Open 24 hours.
Have an off-shore adventure at Shuweihat Island
This isn't the sort of place you can pop down to on a whim (it's a couple of hours' drive out of the city near the turn-off for Sir Bani Yas Island) but trust us, it's worth the trip. It's just off the mainland and you can drive onto the island before scrambling down the rocks on the far side to find a stunning little collection of beaches, coves and caves, backed by low-lying, reddish-orange cliffs and surrounded by crystal clear water. Camping is not allowed, so plan to set off early.
Off the E11, exit towards Adnoc petrol station after Ruwais and continue around the small military airport onto a narrow bridge leading to the island.
Immerse yourself in tradition at Qasr Al Hosn
If you haven't yet visited the city's oldest building, you won't regret making the time to now. After 11 years of huge renovations finally wrapped up in 2018 this place is flourishing and aside from exhibitions about Abu Dhabi's fishing-settlement roots (some of the artefacts on display date back to the 6000 BCE), the beautiful 18th-Century building plays host to weekly cultural performances including the Al Ayyala dance, traditional chanted poetry and the changing of the guard (check the website for the schedule).
Open Sat-Thu 9am-7pm, Fri noon-10am. Sheikh Rashid Bin Saeed Al Maktoum Street, www.qasralhosn.ae (02 697 6400).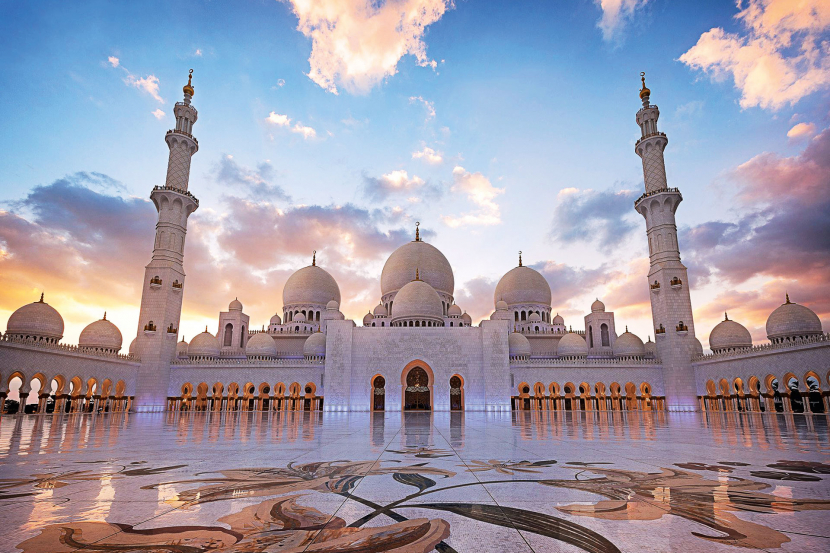 Marvel at Sheikh Zayed Grand Mosque
One of the world's largest mosques and arguably Abu Dhabi's most iconic attraction, Sheikh Zayed Grand Mosque makes our lists of free, and best, things to do every time. Its dazzlingly white exteriors must be seen in person to be fully appreciated, and its equally stunning interiors – that house the largest carpet in the world – are best viewed in the company of one of the knowledgeable tour guides.
Open Sat-Thu 9am-10pm, Fri 4.30pm-10pm. Sheikh Rashid Bin Saeed Street, www.szgmc.gov.ae (02 419 1919).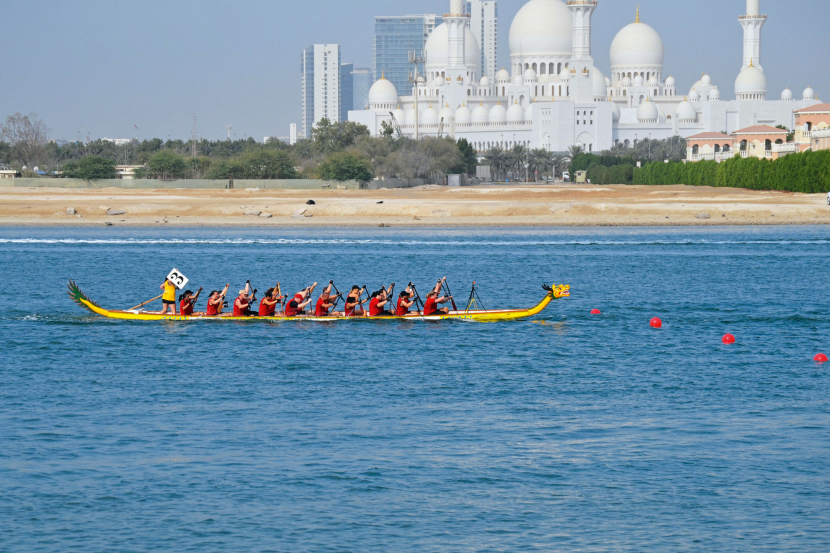 Paddle your way to fitness with the Abu Dhabi Capital Dragons
Dragon boating is an ancient Chinese team sport and this team are always on the lookout for new paddlers – no previous experience necessary. Get out on the water to work on your core strength, flexibility and stamina at their free sunrise fitness sessions.
Sunrise fitness sessions Sun, Tue & Thu 5.10am-6.20am. Abu Dhabi Sailing & Yacht Club beach,
www.meetup.com/capitaldragons.
Play around at Khalifa Park
Boasting wide open spaces, plenty of room for cycling, barbecue facilities and even
a maritime museum, we think Khalifa is one of the most underrated parks in Abu Dhabi. There's an abundance of greenery and even a few football goals set up if you can rally together a five-a-side team.
Open Sun-Wed 10am-10pm, Thu-Sat 10am-11pm. Sheikh Zayed Bin Sultan Street, next to Park Arjaan by Rotana, khalifapark.wixsite.com/khalifapark.
Rock up and camp at Fossil Dunes
Pack supplies for a barbecue – or set up camp for the night – out in the desert at Al Wathba's fossil dunes where you can explore a collection of twisting, wind-swept towers of rock. It's an unique campsite, and budding photographers will love the shadows and shapes created at sunrise and sunset.
Open 24 hours. Off the E30, behind Al Dhafrah Air Base, co-ordinates: 24.192078, 54.584732.


Sing or slam at Rooftop Rhythms
An open mic night dedicated to fostering up-and-coming talent, Rooftop Rhythms has been gathering an ever-growing crowd of live music and spoken word enthusiasts for years. Go along to cheer on those brave enough to hit the stage, or, if you fancy yourself as the next Scroobius Pip, you can sign up to their slam competitions.
Dates, times and locations vary, check the website, www.rooftoprhythms.org (050 818 7317).
Step back in time at Heritage Village
At this quaint recreation of a traditional Emirati village, you can watch demos of pre-oil era crafts such as metal work, pottery, weaving and glassblowing. See expert falconry, visit a few camels, browse pearl diving artefacts in the museum or stroll onto the nearby beach which has pretty views of the skyline.
Open Sat-Thu 9am-4pm, Fri 3.30pm-9pm. Abu Dhabi Corniche Breakwater, near Marina Mall (02 681 4455).
Surround yourself by sculptures at The Art Gallery
The exhibitions on display here are always unique and superbly curated. The current show (February 26 to June 1) is no exception: Swiss installation artist Zimoun constructs immersive, sensory sculptures – some encompassing entire rooms – that play with space and sound. His minimalist sculptures are made from materials such as cotton, cardboard and motors and explore ideas of biology and engineering.
Open Mon-Sat noon-8pm. NYU Abu Dhabi, Saadiyat Island (02 628 8000).
Split your sides at Yalla Laughs
A much-loved stand-up night, Yalla Laughs will give you a good giggle, but is also shaking up the traditional format of a comedy show. They keep things interesting by interspersing their regular programming with Beat the Camel events in which the comedians compete to stay on stage as long as possible.
Dates, times and locations vary, check the Facebook page. www.facebook.com/yallalaughs.
Relax with yoga at Ripe Market
The Ripe Market hardly needs an introduction. The weekly gathering of local businesses is well known throughout the country, but you may not know that there are community yoga classes every week, too. The sessions, run by BodyTree Studio, are suitable for all levels and as long as you bring a mat you can enjoy a totally free workout.
Sat 5pm-6pm. Umm Al Emarat Park, 15th Street, Mushrif, www.ripeme.com, www.bodytreestudio.com (02 443 4448).
Be the first to get all the latest Abu Dhabi news, reviews and deals into your inbox by signing up to our free
newsletter
,
click here to sign up
.