Driving time: 2hrs 50mins (265km).

The drive north to this UAE exclave is almost as stunning as the scenery that greets you upon arrival.

Over the years, Hatta has been used as a summer home by our neighbours in Dubai wanting to escape the heat and, due its relatively mild climate, has become a draw for holidaymakers from the UAE as a whole.
The government has just forked out Dhs1.3 billion on a project to make the area more eco-friendly and desirable for tourists,
so now is a better time to visit than ever.

Things to do
Visit the rock pools
The Hatta rock pools are natural fresh water springs and waterfalls forming deep pools within the crevices of the rock, where you can glide through the clear waters to your heart's content. The pools themselves are situated in Oman, so you'll need a passport or Emirates ID to cross the border, but the drive up from Abu Dhabi is an experience in itself.
After tearing your way through vast stretches of desert, you will come to rocky crevices, natural water pools and palm oases.
The best time to see the pools themselves is early morning or late afternoon, when a misty light settles over the peaks, casting deep shadows between the crevices. Streams of fresh water flow between narrow openings in the rocks and as you wade further through, the crystal clear pools become incredibly deep, allowing you to see the fish swimming around your feet.
Go kayaking on Hatta Dam
The Hatta Dam looks like it could have been taken straight from a postcard. It's surrounded by the lofty peaks of the Hajar Mountains and the blue waters are an absolute sight to behold. Get out on the water with a spot of kayaking, costing just Dhs60, or alternatively you can venture out on a pedal boat (Dhs120) or donut (Dhs150) if you're with mates.
From Dhs60. Hatta Kayak, Hatta Dam, Hatta, www.hattakayak.com.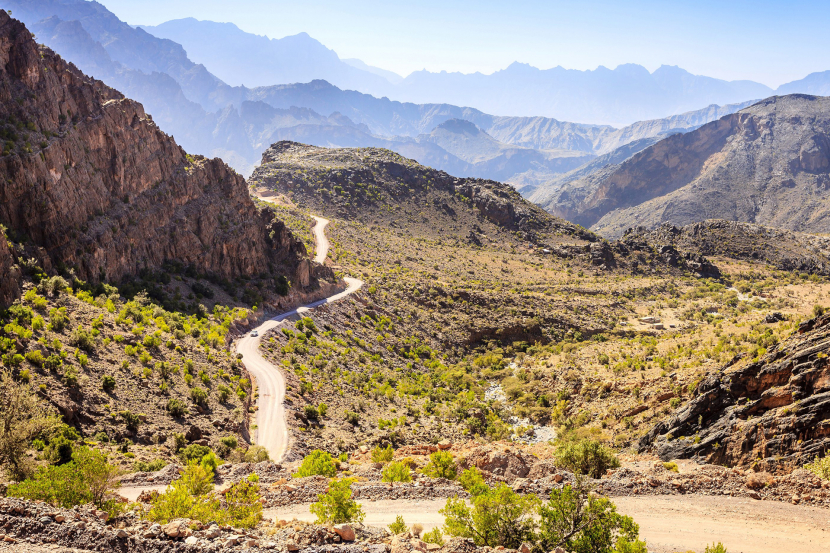 Go mountain biking in the Hajar Mountains
Abu Dhabi might be famed for sand dunes, watersports and super-fast cars hurtling round an F1 track, but head to Hatta, and the Hajar Mountains offer a whole new way to get your adrenaline fix, with mountain biking in the great outdoors.

If you don't have your own set of wheels, stop off at Showka Bicycles on the way and hire a mountain bike. The store is open at 6am at weekends and an hour will set you back Dhs75. Two hours will cost Dhs150 and three to four will be Dhs225. Once kitted up head for the hills. The Hatta Bike Trail Mountain Centre (www.hattamt.ae) has loads of suggested routes, which are colour coded like ski slopes by ability, with green for beginners, up to black for experienced riders. You can camp at the trail centre and parking is free, too.
Bike rental: From Dhs75 per hour. Open Sun, Wed, Thu 8am-4pm; Fri-Sat 6am-4pm; closed Mon and Tue. Showka Bicycles, Hatta, www.showka.bike (050 859 1934).
Get the adrenaline pumping at Hatta Wadi Hub
The hub offers "paid and free" experiences, including mountain bike rides, kayaking along the dam, axe throwing, freefall jumping off cliffs and twin zip-lining.
From Dhs30 (archery). Hajar Mountains, Dubai, www.visithatta.com (800 637227).
Explore the town
Hatta is home to the 16th-century Hatta Fort and the Juma Mosque, built in 1780, and Hatta Heritage Village is a detailed desert replica of an ancient mountain settlement.
Make a night of it
JA Hatta Fort Hotel is based up in the picturesque mountain landscape of Hajar. All 48 of the resort's deluxe chalet-style rooms, and two suites and villas, have climate-controlled showers, sun-terraces and balconies. Outside, the 80-acre garden space offers a huge array of leisure and entertainment activities. From swimming to archery, mini golf and tennis, there's something for everyone.

If you're in a bit more of a relaxed mood, take advantage of the hotel's swimming pools, spa area or gymnasium; while families can enjoy strolling around the mini zoo, featuring goats, ducks and camel rides
JA Hatta Fort Hotel, Dubai-Hatta Road, www.jaresortshotels.com (04 809 9333).
Be the first to get all the latest Abu Dhabi news, reviews and deals into your inbox by signing up to our free
newsletter
,
click here to sign up
.