For many people, their idea of a dream holiday is chilling on the beach with some sun, a good book and the sound of crashing waves.
But for those of us lucky enough to live in Abu Dhabi, that's a standard weekend.
It's easy to take for granted the abundance of great seaside spots we have in the capital.
And it's now the perfect time of year to go and rediscover just how great they are.
Here's our guide to Abu Dhabi's best public beaches.
Al Bateen Beach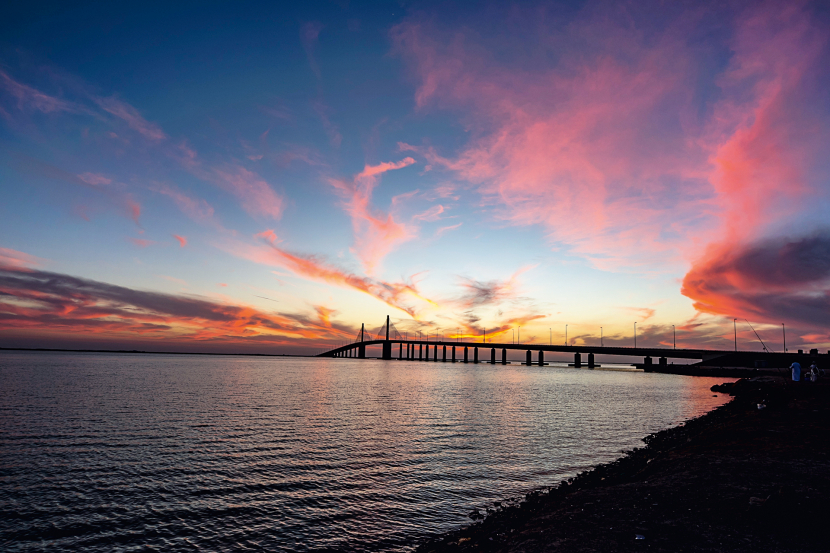 This spot is popular with both expats and locals, thanks to its family-friendly vibe. The beach is also popular for fishing and swimming.
The waters are very calm and the views from the 800m stretch of sand are equally soothing.
You can see the Hudayriat Bridge, which leads to the newly opened Hudayriat Island, whether you're lying on your towel or over at the children's playground.
And if you are feeling a little active, you can hire kayaks or stand-up paddleboards and get out on the water.
There are also a handful of cafés, around 100 car parking spaces and plenty of lifeguards on duty.
Free. Open daily 8am-sunset. Al Bateen, Khalifa Al Mubarak Street, off Al Khaleej Al Arabi Street.
Al Maya Island & Resort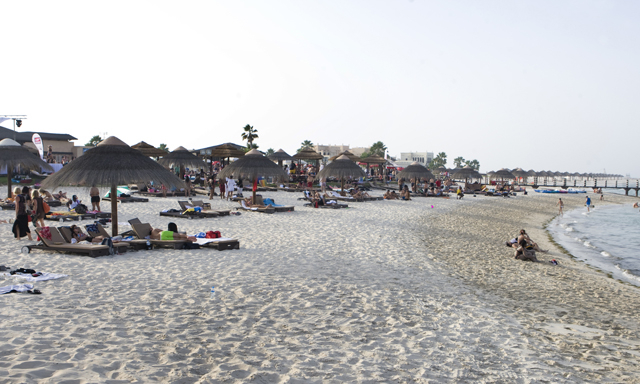 This is the perfect place to enjoy banging beats and revel in a party atmosphere on Fridays.
You can catch a boat from a dock next to the Khalidiya Palace Rayhaan by Rotana and then take a 20-minute jaunt over to this resort, a truly isolated spot on an island off the coast of the Corniche.
Guests can choose to lay out on one of the many sun loungers available, sit around the poolside bar, hit the dance floor and party to tunes being spun by top city DJs, or jump into the massive pool and socialise around the swim-up bar.
There's also a small beach volleyball section if you fancy a game with friends.
Saturdays have more of a chilled vibe, with groups enjoying a small getaway from the mainland. The food options are pretty good and there are even villas available to rent, too.
Dhs100 shuttle boat service on Saturdays includes entrance and use of facilities. Fri-Sat 10am-8pm, www.almayauae.com.
Corniche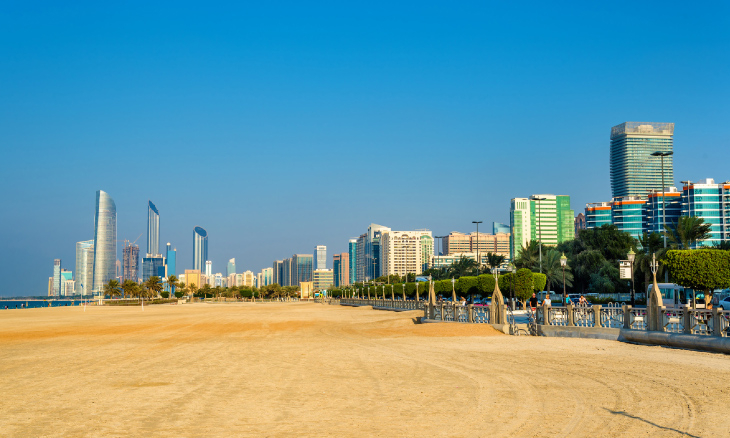 Abu Dhabi's pristine Corniche beachfront is a fantastic family spot on which to enjoy the sand between your toes.
It's divided into three sections: Al Sahil is for singles and groups, Gate 2 is for families and has a quiet zone and Gate 3 is for families, especially children.
The seaside boardwalk is four miles long and the walkways are paved and dotted with benches and gardens that overlook the glory of the open Arabian Gulf.
Surrounding the Corniche beach there are children's play areas, separate cycle and pedestrian pathways, cafés and restaurants.
There are also plenty of free sports facilities on offer, including volleyball courts and football pitches and three playing fields.
And if your family likes a bit of adventure then take a speedboat or jetski off the Corniche and marvel at the Abu Dhabi skyline, or go snorkelling to discover local marine life.
BAKE, a beach management company, operates at Gate 2 (families and quiet zone) and Gate 3 (families and children zone).
BAKE Beaches open daily 8am-8pm. Dhs10 per adult and Dhs5 per children under 12. Kids under five go free. Dhs25 per lounger. Public beaches open daily 8am-8pm. Free.
Hudayriat Island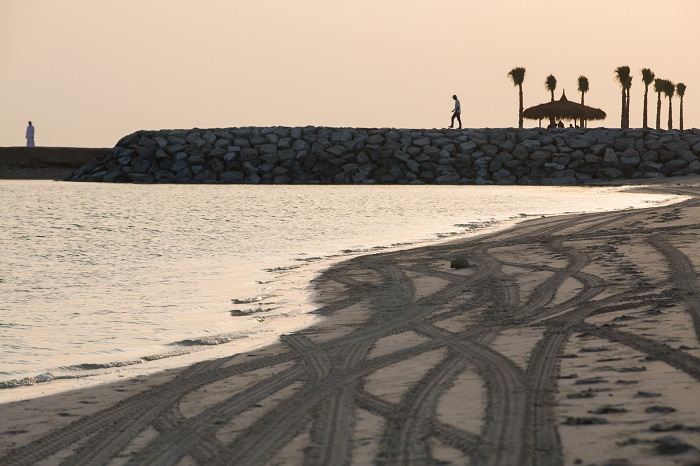 The newcomer on Abu Dhabi's beach scene has been making waves since opening earlier this year.
And big plans are afoot to give this 3,000 hectare island a bright future.
Expect a host of food trucks and sports facilities from the island, which is connected to the mainland via the bridge formerly known as the 'Bridge to Nowhere'.
The 600 metre-long beach is open daily from 8am to 7pm and is free to use for the public.
There are also three new slipways for boats and jet-skis, making it a must-visit for thrill-seekers in the capital.
Free. Open daily 8am to 7pm. Hudayriat Island.
Saadiyat Public Beach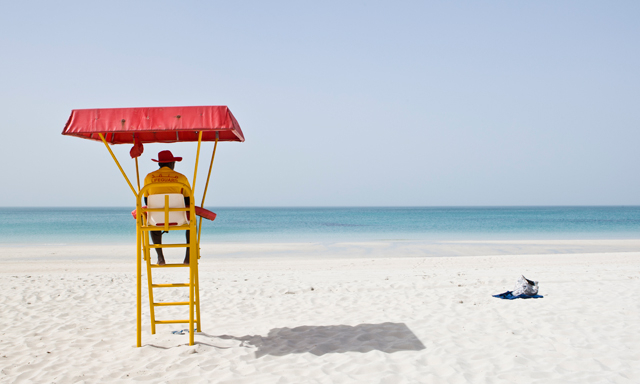 Close to the Park Hyatt Abu Dhabi, this sanded area is set on Saadiyat Island's serene natural shores. The 400m beach is a great spot for a day out with friends and loved ones, to enjoy Abu Dhabi's clean, warm turquoise waters.
For an extra fee, there are beach yoga classes to ensure guests' bodies and minds stay in shape, along with eco-friendly water sports activities such as windsurfing and sailing.
The Beach Café offers food and beverages and will deliver straight to your lounge chair, so you don't have to move at all.
To make the beach experience even more enjoyable and relaxing, there are showers and changing rooms, together with sun loungers, towels and lockers for rent.
Managed by BAKE, you'll have 300 loungers to choose from, a towel and locker rental service, as well as showers and changing rooms.
Open daily 8am-sunset. Dhs25 per adult and Dhs15 per child aged six-12. Kids under five go free. Sun lounger and an umbrella: Dhs50 (weekdays), Dhs75 (weekends and public holidays). Saadiyat Island.
Yas Beach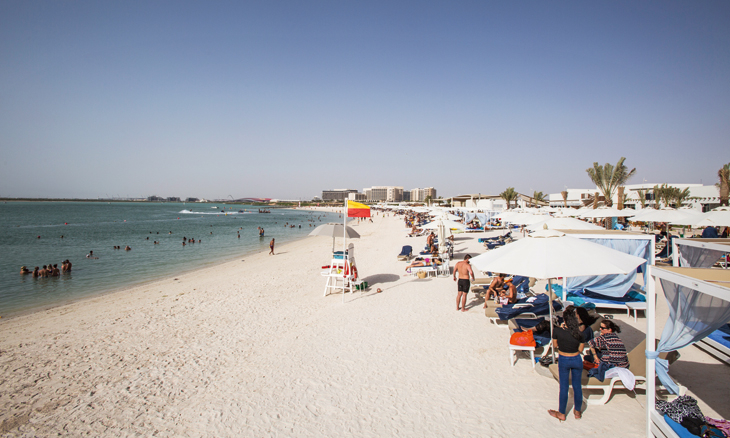 Styling itself as a "beach playground" big on beats and brunches, Yas Beach is a must-visit location.
The club is situated on a revamped area of the existing club, which aims to attract Abu Dhabi's most earnest party people with a raft of international DJ bookings and dining packages.
With 400m of golden sands, this is another venue that caters for pretty much every need you may have. There's a huge pool and five private chalets to enjoy.
There is also an abundance of loungers, so you won't have to get there early to mark your territory with your towel.
There's a wide selection of dining options including freshly made pizzas and authentic Arabic food, so you'll be spoilt for choice.
If you want to stay active and compete against your crew, there are two volleyball courts available and if you'd rather do your own thing, hit the shores for some thrilling water sports such as stand-up paddleboarding.
Staying at one of the hotels on Yas Island? Then entry is free.
Open daily 10am-7pm. Dhs50 per adult and Dhs25 per child aged six-12 from Sun-Thu, Dhs100 per adult and Dhs50 per child from Fri-Sat. Yas Island (056 242 0435).
Zaya Nurai Island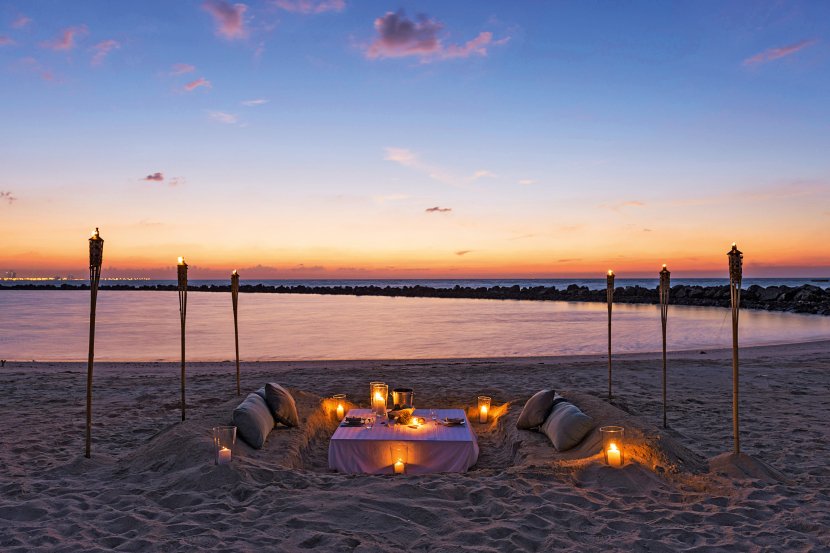 You could spend your life travelling the world and you'd struggle to find a beach which tops this one for pure, indulgent luxury.
Take a ten-minute private boat ride from Saadiyat Island to this luxurious secluded island that is conveniently accessible from all major travel ports in the UAE.
This place is a magnet for Abu Dhabi mainlanders and thankfully the resort offers day passes for you to check them out.
You can just take a leisurely stroll on the beautiful beach or plunge into an adventure with one of the water sports such as stand-up paddleboarding, beach snorkelling, pedalo boating and sea kayaking.
But if you'd rather unwind and let your worries slip away then opt for a day at Zaya spa, where treatments start from Dhs220.
There are also plenty of dining options to choose from including Frangipani, which offers dishes that use organic and seasonal produce – and there's even a regular Friday brunch.
Dhs300 per person, including boat transfer. Open daily 10.30am-11pm. Advanced booking required (02 506 6274).
Be the first to get all the latest Abu Dhabi news, reviews and deals into your inbox by signing up to our free
newsletter
,
click here to sign up
.