1. 99 Sushi Bar & Restaurant
You might not expect it to be the case, but Abu Dhabi is basically obsessed with sushi. It also does it very well, which is handy really. You'll hear people talk about Japanese restaurant Zuma as being THE place to eat out, but if you're looking for amazing sushi, you can't do any better than 99 Sushi Bar & Restaurant. Not only does every dish taste sensational, but they look brilliant, too. Basically like works of art. Obviously you'll be documenting every minute of your trip on social media, and these beautiful dishes (the Golden Bricks sushi is like a Midas touch of genius) are prime Instagram material.
Open daily noon-3.30pm, Sun-Wed 7pm-11.30pm, Thu-Fri 7pm-12.30pm. The Galleria, Al Maryah Island (02 672 3333).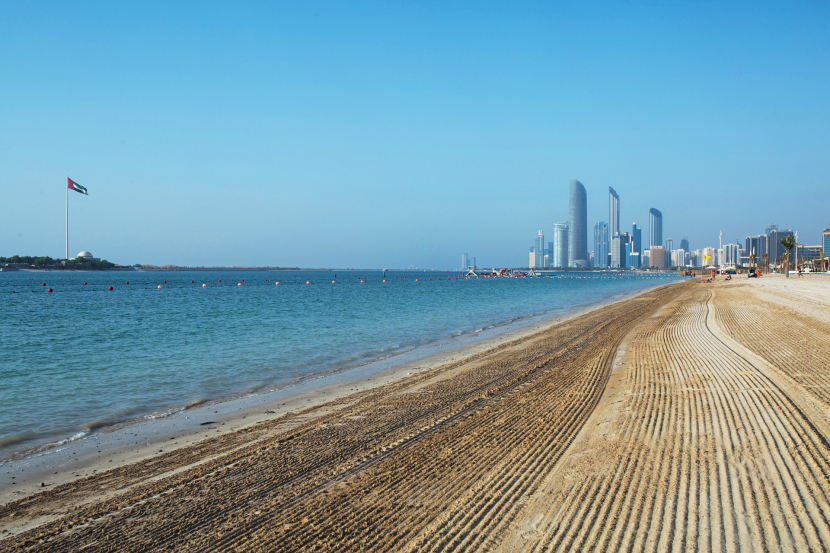 2. A'l Bahar
You'll be spoilt for choice when it comes to which beach to visit in the capital. We don't think it's possible to get bored of relaxing on a sunbed and gazing out at the clear-blue sea, but we accept that it's not for everyone. A'l Bahar is a unique beach because of the brilliant, and perhaps slightly unusual, activities on offer there. You can't train in an outdoor gym, play on a huge inflatable water park (suitable for adults as well) and attend a yoga class on every beach in the world. But don't worry, it's not all about the athletic activities. There are also loads of food trucks where you can refuel, as well.
Free. The Corniche. www.visitabudhabi.ae.
3. Al Ain Oasis
Your preconceptions of the capital may have been that it is place made up entirely of skyscrapers and barren desert, but Al Ain Oasis is actually the total opposite of that. This calming area of greenery is a UNESCO World Heritage Site that houses up to 100 different species of vegetation. Wandering through the shaded pathways and 147,000 date palms really is wonderful. The modern and very educational Eco-Centre also explains exactly how this delicate ecosystem is maintained.
Free. Open daily 8am-5pm. Al Mutawaa, Al Ain (02 599 5438).
4. Corniche
While we're sure that you're keen to enjoy plenty of sushine while you're here, we bet that you want to see all the major sights, too. Well, walking, jogging or cycling along the waterfront at the Corniche lets you do both at the same time. As well as snapping pics of the white sands and blue waters, you'll also see the majestic Emirates Palace and The St. Regis Abu Dhabi. Plus ther are loads of lovely spots for a drink or a bite to eat. You can hire a bike for a whole day for Dhs20 from bikeshare service Cyacle, and afterwards you can recover with a snooze on the public beach (which is free to enter). Keep an eye out for any interesting marine life, it hasn't been long since a very rare (and harmless) whale shark was spotted swimming just off the shore.
From Dhs20 (bike hire for 24 hours). The Corniche, www.bikeshare.ae (800 292 253).
5. COYA
You can't leave the city without visiting COYA. Whether it's for the lively Friday brunch, an incredible evening meal or a boogie in the very stylish Pisco Lounge, you'll have a blast. The combination of the cool and colourful interior, vibrant atmosphere and inventive and flavourful dishes makes this one of the city's top dining locations. It's just so very hard to beat. The views of the Al Maryah waterfront are also stunning, so don't leave without taking a photo from the balcony.
Open Sun-Thu and Sat 12.30pm-5.30pm; Sun-Mon, Wed, Sat 7pm-midnight; Tue, Thu-Fri 7pm-12.30am. Fri brunch 12.30pm-4pm. Lounge open daily 12.30pm-1.15am. The Galleria, Al Maryah Island (02 306 7000).
6. Eastern Mangroves
The mangrove tree is a fascinating species, and Abu Dhabi's Mangrove National Park is home to thousands of the them. The pretty area is perfect for kayaking, paddleboarding or going for a boat ride (you can hire equipment from several different operators). Although you can still see the city's skyscrapers in the distance, everything is peaceful here. The only sounds you'll hear are the birds singing and your paddles splashing in the water. You can refresh yourself afterwards with a bite to eat from one of the many outlets on the Eastern Mangroves Promenade.
Eastern Mangroves Promenade, Salam Street (02 406 1462).
7. Emirates Palace
Think you've experienced the highest possible level of luxury? Well think again. You clearly haven't been to Emirates Palace yet, and this stunning hotel is on a whole new level of opulence. From the excessively gold interior, to the amazing grounds (covering 100 hectares), to the iconic structure (including 114 huge domes), you have to at least go and have a wander around. The dining options are also fantastic. Chinese restaurant Hakkasan serves up a brilliant brunch and it has only just opened its appropriately flashy terrace. Oh, and don't leave without trying one of the hotel's famous gold cappuccinos from Le Café. We know, it's so Abu Dhabi.
Open daily. West Corniche (02 690 7999).
8. Empty Quarter
If you've ever wanted to see a proper desert, as in one that looks like it's come straight out a scene from Disney's Aladdin, then you need to factor in a trip to the Empty Quarter. This is the world's largest uninterrupted sand mass, and it just goes on and on and on. The ever-changing sand dunes are beautiful to behold, while the tallest stands at a massive 300 metres. There's so much to do out here, including camel trekking, falconry shows and dune walking. If you have the chance, spend a night at the very luxurious Qasr Al Sarab by Anantara. Resembling an old Arabian fortress, this very fancy desert hideaway is home to an incredible spa and many top restaurants.
Qasr Al Sarab Desert Resort by Anantara (02 886 2088).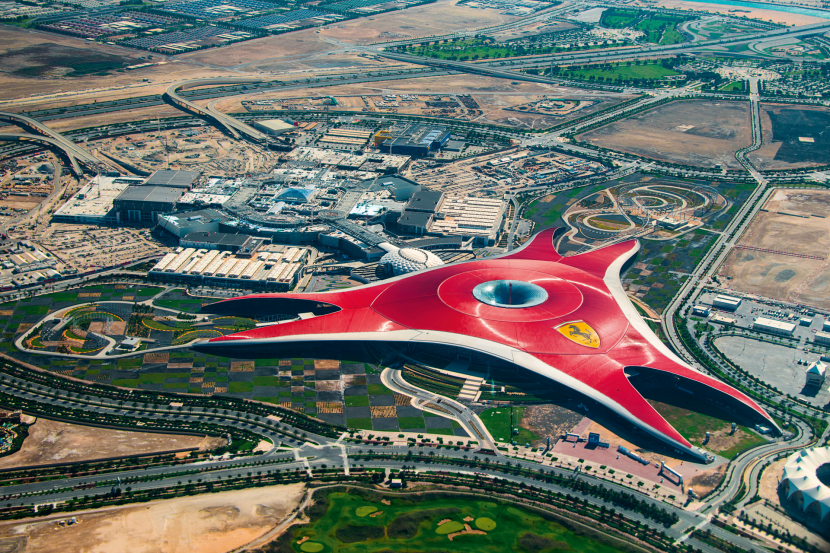 9. Ferrari World Abu Dhabi
Adrenaline junkies will obviously be drawn to this attraction, but you don't need nerves of steel to have the best day here. The world's fastest rollercoaster will really get your heart pounding, while the simulator experience lets you experience what it's really like to race in a Ferrari. There are also lots of rides for young children. Little ones will have to be dragged away from the soft-play area and they'll love having the chance to get behind the wheel for themselves in the junior race school experience. For all those reasons and more, you need to head here. Forza Ferrari!
Dhs295 (single day ticket). Open daily 10am-8pm. Yas Island (600 511 115).
10. Filini Garden
Overlooking Yas Links, visiting this classy restaurant offers far more than just the opportunity to critique the nearby golfers. The garden-like setting is achieved brilliantly, complete with trailing vines and cute vintage bicycles. The Italian dishes are beautifully presented and sophisticated, while the ladies' night on a Monday offers free-flowing sparkling grape and 50 percent off food. Music is provided by a saxophonist or from funky DJs. Whevever you visit, expect top tunes, a classy vibe and amazing views.
Open Sat-Wed 5pm-1am, Thu 5pm-3am, Fri noon-3am. Radisson Blu Hotel, Abu Dhabi, Yas Island (02 656 2000).

11. Heritage Village
On first glance, Abu Dhabi will seem totally glamourous, flash and full of excitement. This is, of course, correct, but as well as experiencing the many great restaurants and bars, it's also essential to learn a bit about the city's very interesting history. Replicating everyday life in the pre-oil era of the UAE, the walled complex at the Heritage Village contains a fort (used to repel invaders from the sea), a souk (for trading goats and other goods), and a mosque. There's also demonstrations of traditional skills such as glass blowing, pottery, weaving
and spinning.
Free. Sat-Thu 9am-4pm, Fri 3.30pm-9pm. Near Marina Mall, Abu Dhabi Corniche Breakwater (02 681 4455).
12. Jebel Hafeet
Standing at an impressive 1,240 metres, Jebel Hafeet is the tallest mountain in Abu Dhabi. Looming over Al Ain and right by the border with Oman, the craggy limestone has been weathered and shaped over millions of years. If you love epic road trips, this should certainly be on your itinerary. The dramatic winding road takes you through 21 turns (some very tight), and all the way up to the peak. The views from the top are phenomenal. This legendary stretch of road is essentially like our answer to Australia's Great Ocean Road or other similarly unforgettable drives. You'll feel like you're starring in an episode of Top Gear. If you're really after
a challenge you can always attempt to cycle to the top, but don't worry, you won't find us volunteering to do that either.
Al Ain. www.visitabudhabi.ae.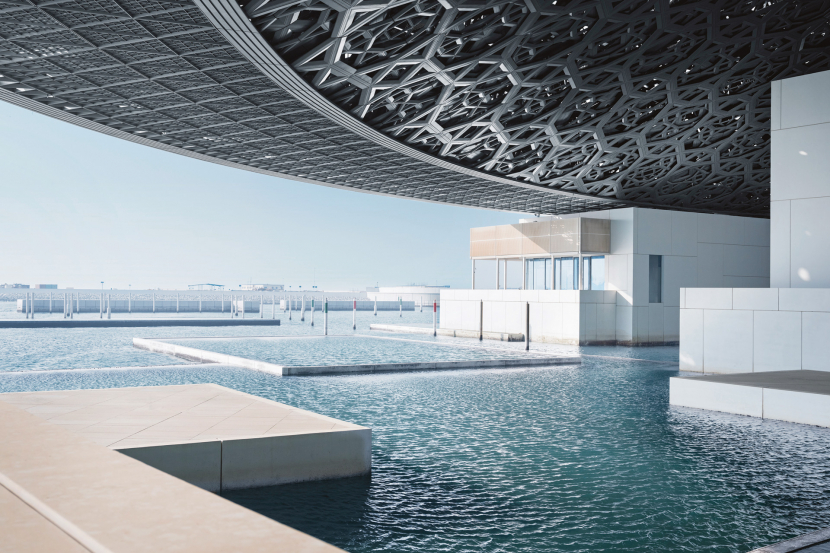 13. Louvre Abu Dhabi
Since opening in November 2017, the Louvre has become one of the city's biggest tourist attractions. Housed within the Saadiyat Island Cultural District, even the building is incredible to behold. As well as the permanent collections, the mesmerising museum also hosts four temporary exhibitions a year. You can still view the amazing collection of Japanese art in Japanese Connections: The Birth of Modern Décor up until November 24. Recently named as one of the Seven Urban Wonders of the World by Hilton Hotels and Resorts, this is without a doubt a 'must-see' sight. You don't have to be a quirky hipster to appreciate these magnificent works of art.
Dhs60 (adult) Dhs30 (ages 13-22). Open Sat-Wed 10am-8pm, Thu-Fri 10am-10pm. Saadiyat Cultural District, Saadiyat Island (600 565 566).
14. MAD on Yas Island
This is one of those super nightclubs that is so legendary that it's talked about in hushed tones. If you're heading to this cavernous building for a night out, you're guaranteed to have a good time. Splash out and pay for a table up near the DJ booth, or join the throngs on the floor around the huge bar. Either way, you'll have a night to remember. As the UAE's biggest nightclub, Akon, Iggy Azalea and Tinie Tempah are just a few of the huge names who have entertained the revellers here over the years.
Open Thu-Fri 11pm-3.30am. Yas Island (055 834 6262).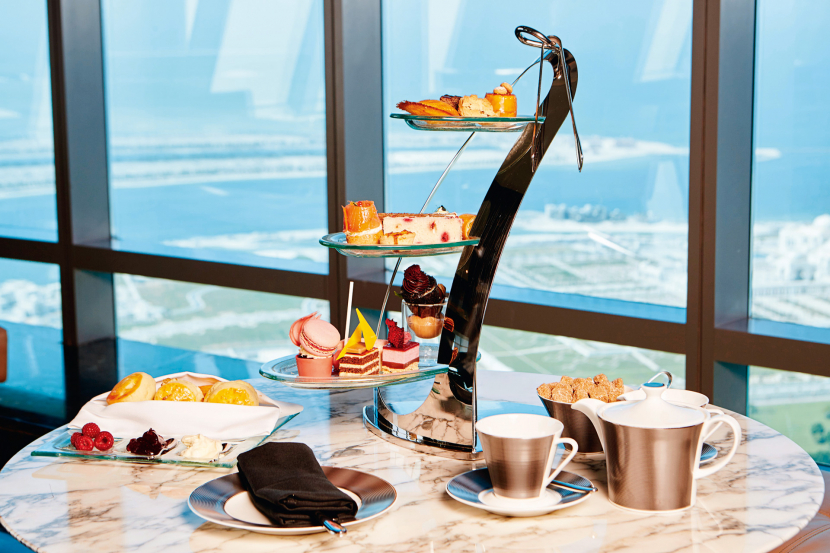 15. Observation Deck at 300
All the way up on level 74 of Jumeirah at Etihad Towers, Observation Deck at 300 is the highest vantage point in the city. We're sure you can imagine how great the views are, plus how many likes your snaps of this scene will get on Insta. As well as the city's skyline, you can see as far as the Corniche and the bright-blue Arabian Gulf. This lovely spot specialises in fine tea and coffee, so make sure you treat yourself to a cuppa while you're up there.
Dhs95 (including Dhs55 café voucher). Open daily 10am-7pm. West Corniche (02 811 5666).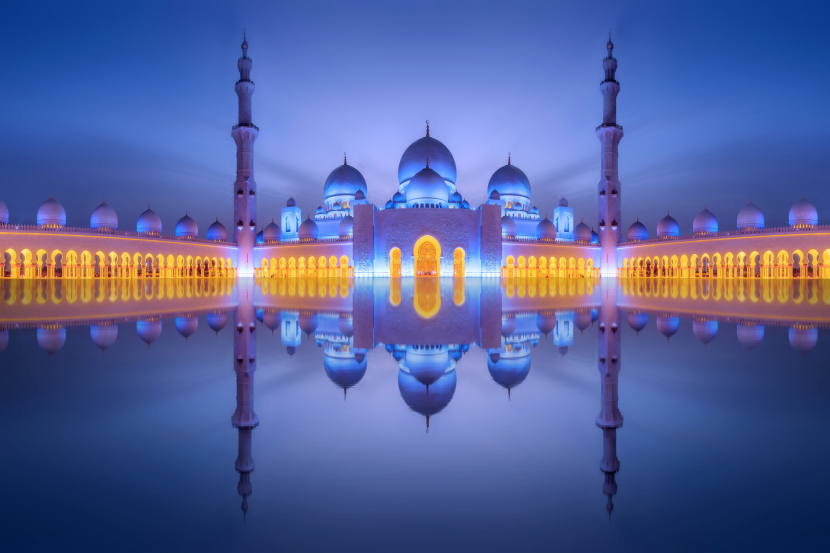 16. Sheikh Zayed Grand Mosque
This magnificent building is one of the first things that locals will tell you to go and see, and we have many very good reasons to be so proud of it. This is the one of the jewels in tha capital's crown and it has the capacity to hold an incredible 40,000 people. The design was influenced by architecture from as far afield as Turkey, Morocco, Pakistan and Egypt, and the end result is totally awe inspiring. The iconic prayer hall holds the world's largest chandelier, and the experience of wandering bare foot around the immaculate passage ways is totally humbling.
Free. Open Sat-Thu 9am-10pm, Fri 4.30pm-10pm. Sheikh Rashid Bin Saeed Street (02 419 1919).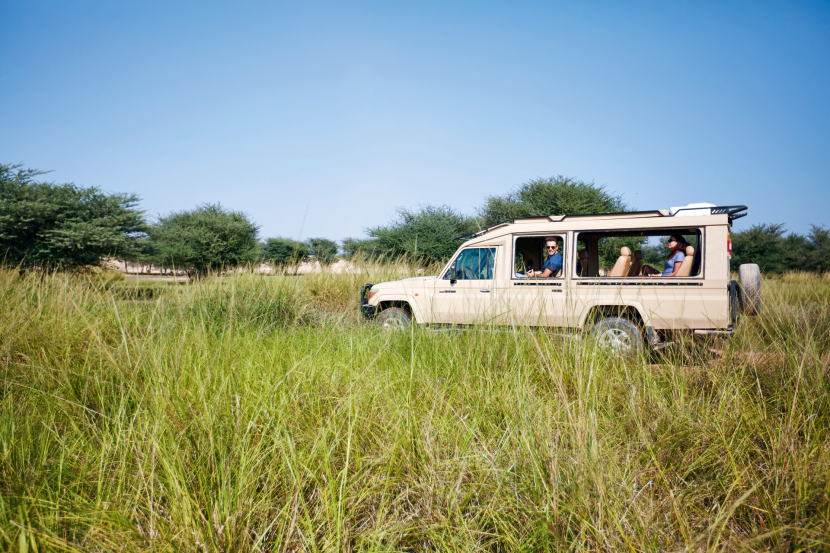 17. Sir Bani Yas Island
You're probably already overloaded with ideas about things to do now, but Sir Bani Yas Island is yet another attraction that's totally unique to our amazing city. The island safari park is home to free-roaming cheetahs, giraffes, hyenas, oryx and many more fascinating animals. Just a 50-minute seaplane ride from Yas Island, you can experience all kinds of adventures here. Head out with one of the expert guides on a wildlife drive through the park, get closer to the exotic flora and fauna on a nature walk or even go horse riding. There are also three Anantara hotels on the island if you want to turn your visit into more than a day trip.
Prices vary. Sir Bani Yas Island, Desert Islands (02 801 5266).
18. Try Emirati food
Karak is just one of those things that you have to try while you're here. We can also guarantee that once you do, you'll be totally hooked. Sweet, creamy and beautifully spiced, karak makes every other cup of tea you've ever had seem totally rubbish in comparison. We're afraid it's time to say bye to those blended bags that you used to think were the greatest. Shay Madhboot serves an exceptional cup of chai, and savouring a steaming mug while chatting with your fellow karak lovers is a blissful way of spending an afternoon.
From Dhs5. Open Sun-Thu 7am-10pm, Fri-Sat 8am-10pm. Dihan Street, Muroor (02 621 7323).


19. Wadi Adventure
If you're craving some excitement, Wadi Adventure has it all. Scream as loud as you like on the 200m zipline and on the giant swing, before daring yourself to try rafting through whitewater rapids. We can guarantee you'll never have felt so alive as when you are navigating through this hectic river. The other water-based activities include surfing and wake boarding. Once you're done with all the exhausting activities you can recover on one of the loungers by the pool.
Dhs65 (adult entry). Open daily 11am-7pm. Al Ain (03 781 8422).
20. Warner Bros. World Abu Dhabi
This huge indoor theme park is every big kid's dream. But come on, we all love Scooby Doo, Looney Tunes and Batman don't we? Made up of five magical lands: Metropolis, Gotham City, Cartoon Junction, Dynamite Gulch and Bedrock, the experience takes you through all your favourite Warner Bros. productions. Home to 29 rides, and with regular shows on throughout the day, there's loads for all ages to enjoy.
Dhs295 (general admission). Open daily 10am-8pm. Yas Island (600 511 115).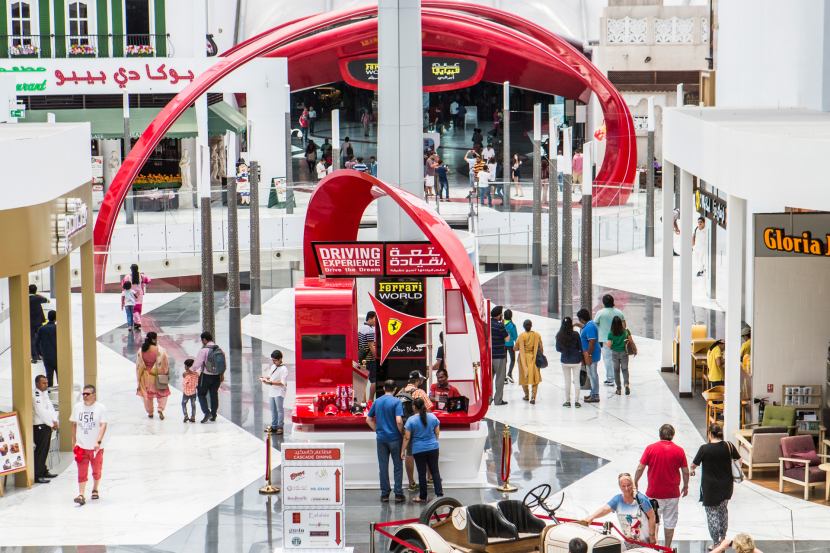 21. Yas Mall
Abu Dhabi isn't short on malls. In fact, during the long, hot summers it seems like we spend every weekend sheltering in these air-conditioned sanctuaries. But obviously they are so much more than a convenient place to escape from the heat. With every type of shop you could wish for, plus an extensive selection of dining outlets, Yas Mall has to be the best of all the brilliant shopping destinations. The glass ceilings and light and airy feel means that it doesn't even seem like you're inside most of the time. Make sure you grab some tasty meats from the recently opened Dickey's Barbecue Pit, and marvel at the perfectly-styled interior of the department store Tryano. But be warned, can easily lose a whole day to just shopping, browsing and eating.
Open daily Sat-Wed 10am-11pm, Thu-Fri 10am-midnight. Yas Island (02 414 6401).
22. Yas Marina Circuit
Every November, hordes of motorsport fans descend upon Yas Island for the F1 finale, the Abu Dhabi Grand Prix. It's a flashy and exciting event full of super yachts, celebrities and, of course, the world's greatest racing drivers. But the Hermann-Tilke-designed Yas Marina Circuit is here all year round, not just when it's hosting one of the world's biggest motor races. If you're here on a Tuesday, you can sign up to run or cycle around the iconic track for free. These very popular TrainYAS sessions let you work out and sightsee at exactly the same time. Brilliant.
Free. Tue 6pm-10pm. Yas Marina Circuit, Yas Island, www.yasmarinacircuit.com (02 659 9800).
23. Yas Waterworld
This enormous water park is home to more than 40 slides, rides and attractions. It's also just as exciting for adults as it is for the kids. We mean, where else can you slide through a giant snake or plunge from the top of a mountain? It's all totally silly and very good fun. Don't miss out on riding the metre-high waves on Bubble's Barrel or shooting the water guns at Bandit Bomber.
Dhs250 (adults), Dhs230 (children). Open daily 10am-6pm. Yas Island (600 511 115).

24. Zaya Nurai Island
Want to feel as glamorous as a celebrity? Well, taking a private speedboat to the five-star island resort of Zaya Nurai will definitely do the trick. It just isn't how normal people live is it? The exclusive Smokin' Pineapple bar really has one of the best spots in the world. We'd actually make the trip just to get a pic of us posing on the swings in the water (only there for Instagrammers, of course). Okay, there's a minimum spend of Dhs440 per person, but once you've had one of the superb pizzas (baked in a very funky pineapple-shaped oven) and a few drinks, you'll reach the target quite easily. Plus, in order to get to live like kings and queens for the day, we think it's more than worth it.
Dhs440 (minimum spend). Smokin' Pineapple open daily 10am-10pm. Zaya Nurai Island (02 506 6274).
25. Zuma
Ask any resident for a restaurant recommendation and there's a very high chance that Zuma will be the first name they say. It would almost be nice if someone came up with a more controversial answer at some point wouldn't it? But there's no escaping the fact this high-class Japanese restaurant does everything brilliantly. From the beautifully-crafted dishes, to the intimate and friendly atmosphere, we always love dining here. Just make sure you book a table; there's never a quiet night at Zuma.
Open Sun-Sat noon-3.30pm, Sat-Wed 7pm-midnight, Thu-Fri 7pm-1am. The Galleria, Al Maryah Island (02 401 5900).
Be the first to get all the latest Abu Dhabi news, reviews and deals into your inbox by signing up to our free
newsletter
,
click here to sign up
.