There's no denying it, it's warm right now in Abu Dhabi.
In fact, it's hotter-than-the-sun warm.
And for those of us who have just arrived in the capital ready to start a new life (or ready to restart after a few months away), there's one solution we spend all week daydreaming about.
When we go outside and it feels like our faces are melting off, there's only one thing we're dreaming of – jumping into the clear waters of an ice-cold swimming pool. (We know, last week we said it was eating ice creams, but we're using poetic license here.)

While beach days are one of the best things in the world, stepping on boiling hot sand is painful and not always necessary at this time of year.
We just want leisurely afternoons of going from the pool, to the bar and then back to the sunbed.
Nothing more strenuous than that will cut the mustard.
So, we've rounded up the coolest (both in the literal and trendy sense) pool days in the capital. Get ready to dive in.
Aloft Al Ain
The Rooftop is a hip hangout where all the cool kids are clamouring to go, and there are several good reasons for that. With brilliant views over Jebel Hafeet, the UAE's second highest mountain peak, you'll be updating your Insta story every half an hour at this swanky open-air lounge. Sunbathe all day and then get your groove on when the sun goes down. Fridays offer all you can eat barbecue food with house drinks for Dhs199. Be there, or be prepared to miss out.
Dhs199. Open daily 9am-2am. Aloft Al Ain, Hazza Bin Zayed Stadium Development, Al Ain (03 713 8888).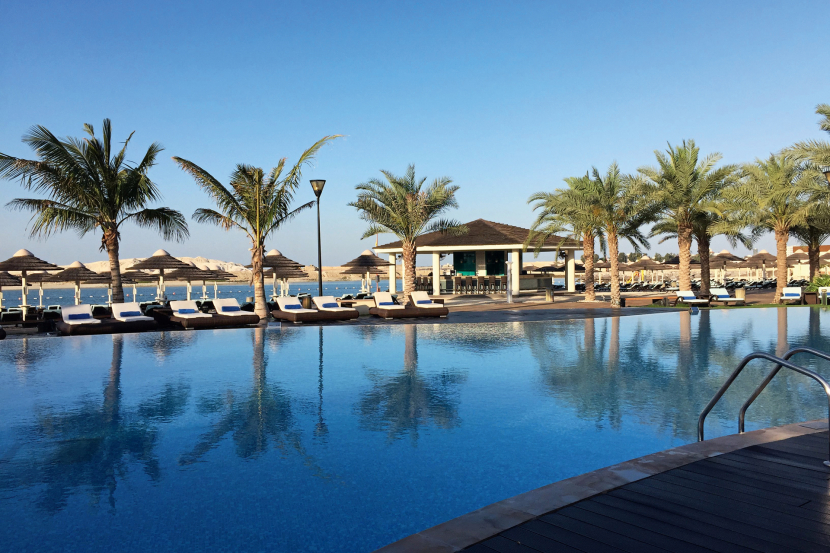 Bayshore Beach Club
Imagine an oasis of calm surrounded by palm trees and overlooking the Arabian Gulf. This is the blissful scene that greats you at Bayshore Beach Club. As well as the various pools, there's also a private beach, swim-up bar and private cabanas. Plus, if you're feeling active, you can have a go at kayaking, playing beach volleyball and paddle boarding. The best bit is possibly the fact that its south-facing position means that it gets the sun all day long. We think this could be our favourite tanning spot.
Dhs90 (Sun-Thu) Dhs170 (Fri-Sat). Open daily 8am-8pm. InterContinental Abu Dhabi, King Abdullah bin Abdul Aziz Saud Street
(02 697 2316).
Beach Rotana Abu Dhabi
As the name suggests, you can't get much closer to beautiful seaside views than at this fun and family-friendly beach club. The temperature controlled swimming pool looks over an immaculate private beach, and there are two beach bars available to keep you well hydrated (obviously you'll have to try and compare them both).
Dhs95. Open daily 9am-6pm. Beach Rotana Abu Dhabi, Al Zahiya (02 697 9000).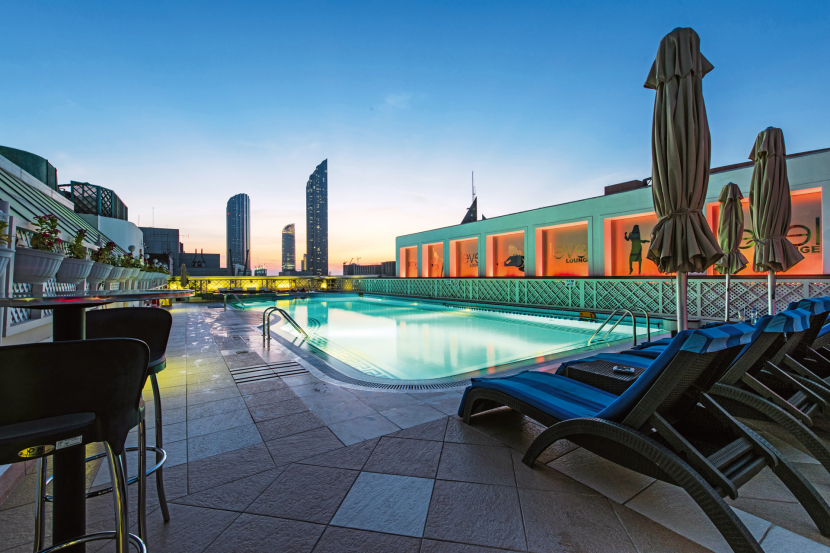 Crowne Plaza Abu Dhabi
We are obsessed with taking photos of Abu Dhabi's fabulous skyline, and a day at this beautiful rooftop pool lets you do just that, while also taking a refreshing dip at the same time. What's better than that? There's also something about a poolside view of towering skyscrapers that will never ever stop being thrilling. If for some reason you get bored of swimming and topping up your tan, you can always head inside and use the jacuzzi, sauna and fitness centre. You can also get a deal from the Level Lounge bar right next to the pool. The day pass includes a drink, three delicious tapas dishes and access to the pool.
Pool and facilities: Dhs80 (Sun-Thu) Dhs100 (Fri-Sat). Level Lounge deal: Dhs120. Daily 5pm-8pm. Crowne Plaza Abu Dhabi, Hamdan Bin Mohammed Street (02 616 6200).


Emirates Palace
You just know you can't fail to have a brilliant day at the Emirates Palace. Featuring a large jacuzzi, swim-up bar (always a win in our eyes) and three small bubble pools, Las Brisas Pool is made for relaxing in. Meanwhile the Adventure Pool is the place to release your inner child and laugh yourself silly on the lazy river and water flumes. It's genuinely hard to leave at the end of the day.
Dhs310 (Sun-Thu) Dhs410 (Fri-Sat). Cascades Adventure pool open daily 7am-sunset; Las Brisas Leisure Pool open 7am-9pm. Emirates Palace, West Corniche (02 690 7310).

Fairmont Bab Al Bahr
You can combine working out, catching some rays and taking some envy-inducing snaps at this swish hotel pool. You'll certainly have earned your dinner after splashing through several laps of the 50m-long pool, while the views of the Abu Dhabi creek and Sheikh Zayed Grand Mosque can't be found anywhere else in the world. Once you add the floating palm trees into the frame it can be described as nothing but picture-perfect.
Dhs160 (Sun-Thu) Dhs210 (Fri-Sat). Open daily 6am-8pm. Fairmont Bab Al Bahr, Khor Al Maqta (02 654 3160).
Four Seasons Abu Dhabi
Although a lively bar by night, during the day the pool at the upmarket Eclipse Terrace Lounge is a serene place to top up your vitamin D levels, and even have a poolside massage. Healthy lunch options are served as you take in the panoramic views over the sparkly water and city skyscrapers, and there's a good happy hour once the evening creeps in. An afternoon here will not only help you cool off from the constant heat, but also appreciate the wonderful city we live in.
Pool open daily 8am-8pm. Bar open daily noon-8pm. Four Seasons Abu Dhabi, Al Maryah Island (02 333 2333).
Grand Hyatt Abu Dhabi
If you've had a long week and everything seems to be going wrong, a day pass at the Luma'a Health Club & Spa is just what you deserve. Extending over an entire floor, it has everything you need for a solid day of pampering. This includes a traditional Turkish Hammam, sauna, steam bath, relaxation rooms, and a 24-hour fitness centre with an outdoor gym terrace. This is all before you've stepped out and seen the sensational views from the 50m outdoor infinity pool. There's certainly no filter required.
Dhs100 (Sun-Thu) Dhs150 (Fri-Sat). Grand Hyatt Abu Dhabi Hotel and Residences Emirates Pearl, West Corniche (02 510 1234).
Hiltonia Beach Club
Described as a "leisure oasis located in the heart of the Corniche", this stylish beach club boasts an incredible spa and sensational views over the turquoise waters of the Gulf. The weekday Dip & Dine deal is Dhs130 and includes access to the private beach and a delicious two-course lunch at the beach restaurant Escape. Or, for a weekend treat, you can get access to the beach and pool plus a three-course lunch at Vasco's with packages starting from Dhs189. Sign us up now.
Dhs130 (Weekday Dip & Dine) Dhs170 (Weekend Dip & Dine) Dhs189 (lunch at Vasco's) Dhs254 (lunch at Vasco's with soft drinks) Dhs344 (lunch at Vasco's with house beverages and mixed drinks). Open daily 8am-8pm. Hilton Abu Dhabi, Corniche West
(02 692 4247).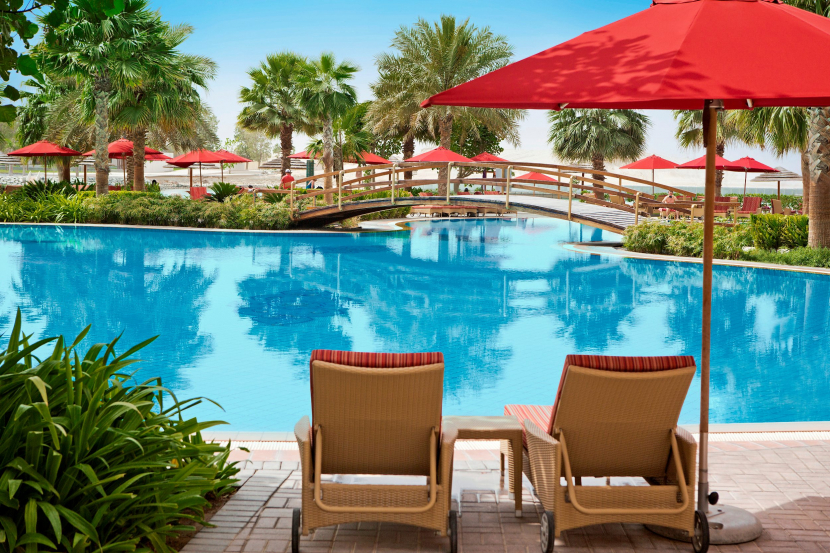 Khalidiya Palace Rayhaan by Rotana
When you want to just chill and escape the sometimes hectic city life of Abu Dhabi, this is the ideal spot to retreat to. At 1,400 sq m, the outdoor pool is nothing short of huge, and the beach is a hefty size as well. There's also a sauna, steam room and jacuzzi. If you fancy indulging in some pure relaxation with your partner, you can get a couples' day pass to the beach and pool plus a 60-minute Balinese massage for Dhs888. Bliss.
From Dhs88 (pool and beach access). Open daily 7am-8pm. Khalidiya Palace Rayhaan by Rotana hotel, West Corniche (02 657 0182).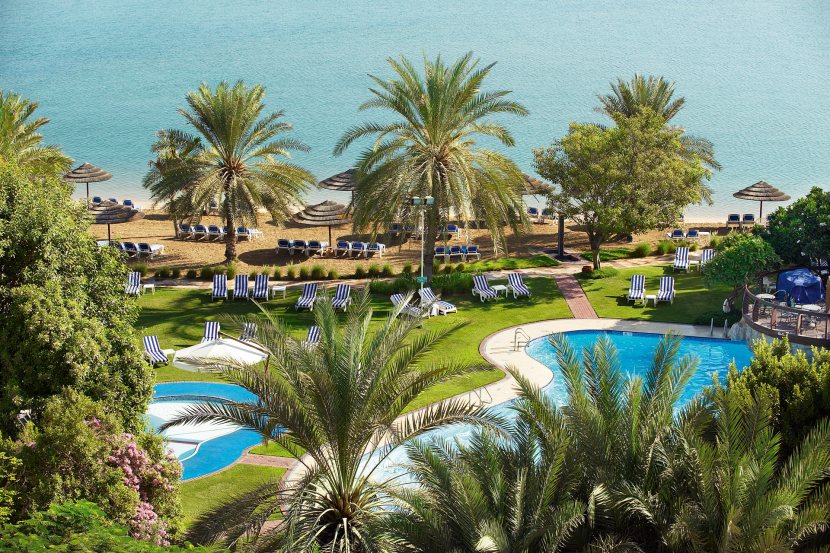 Le Méridien Abu Dhabi
Although this is right in the middle of Abu Dhabi, the landscaped gardens that frame this veteran resort make it feel like you've escaped to somewhere more peaceful. Day passes grant you access to a private beach and two outdoor pools. The training pool is perfect for working off your Friday brunch, while the main pool is the place to lather on your sun cream, lie back and concentrate on having a day of self-indulgent 'me time'. There are plenty of options for food and drinks too.
Dhs55 (Sun-Thu) Dhs88 (Fri-Sat). Open daily 7am-8pm. Le Méridien Abu Dhabi, Tourist Club Area (02 644 6666).
Marriott Hotel Al Forsan
If you're craving a lazy day by the pool, grab a good book and head to the sunbeds at Marriott Hotel A Forsan. Surrounded by carefully positioned palm trees, this is an Insta-tastic spot to spend a day. But a day pass here gets you far more than just a peaceful snooze in the sun. Thrown into the package is a 60-minute massage, lunch and a soft drink at Splash Pool Bar. There's also a 50-metre lap pool if you feel like you need to earn your dessert (also included).
Dhs550. Open daily 10am-10pm. Marriott Hotel Al Forsan, 12th Street, Khalifa City A (02 201 4000).
Nation Riviera Beach Club
A pool day at the Nation Riviera Beach Club is an unforgettable experience. The 200-metre private beach is made for Instagram and the huge pool and swim-up bar is a total dream. Kids will love the children's club that's shaped like a pirate ship, as well as the fully-supervised indoor and outdoor activities. The couples' weekend pass costs Dhs630 and comes with access to all the facilities, a cabana sunbed, fruit platter, unlimited water and a bucket of six hops or one bottle of grapes. Sounds like the best day ever to us.
Dhs160 (Sun-Thu) Dhs210 (Fri-Sat). Open daily 8am-8pm. The St. Regis Abu Dhabi, Nation Towers, Corniche West (02 694 4780).
Radisson Blu Abu Dhabi, Yas Island
This pool pass has more than enough goodies thrown in to fill a whole day. As well as access to the gorgeous outdoor swimming pool, it includes a 60-minute massage at The Spa. We can practically feel the tension lifting from our back and shoulders just from thinking about it. Access to the modern and very swish gym is also included, and when you need to refuel after all your relaxing, there's a 25 percent discount valid at all the hotel's restaurants.
Dhs349. Open 6am-8pm. Radisson Blu Abu Dhabi, Yas Island (02 656 2000).


Rosewood Abu Dhabi
Looking out from this pool is the kind of scene that makes you feel very smug about living in the sensational city of Abu Dhabi. Cooled in the summer for extra refreshment, a dip in this lovely oasis is guaranteed to make everything better. The 25-metre pool is also perfect for getting some lengths in and experiencing the rare event of exercising outside without seriously overheating. When the sun sets the signature tree-shaped lights are illuminated and the fun at open-air bar Glo really kicks off.
From Dhs150. Open daily 6am-8pm. Rosewood Abu Dhabi, Al Maryah Island (02 813 5550).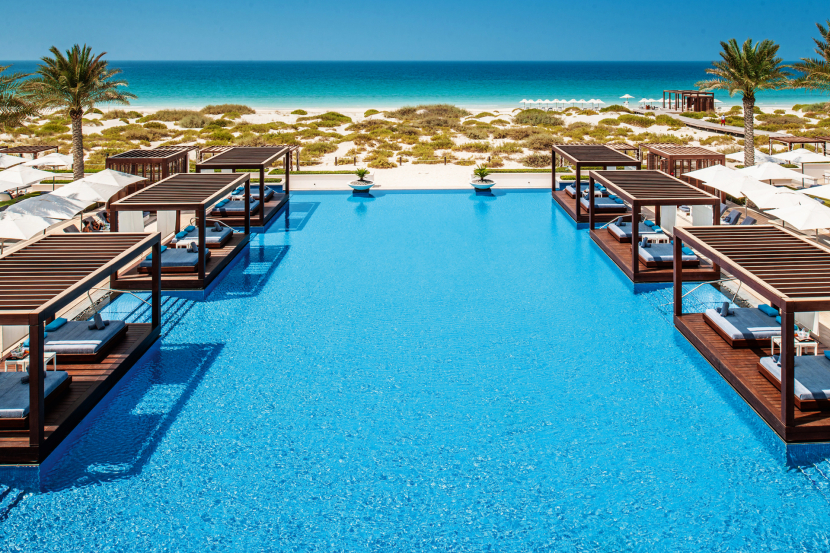 Saadiyat Beach Club
Abu Dhabi is home to countless pools, but there are few that can rival this magnificent lagoon that overlooks the azure waters of the Arabian Gulf. The square pool is framed by floating cabanas containing the comfiest poolside beds. It's a mesmerising scene that leaves you torn between wanting to take dozens of photos and jumping into the clear waters as soon as possible. The friendly servers are always on hand to bring you mixed drinks and any tasty bites to eat from the impossibly chic pool bar Cabana9.
Dhs90 (ladies day offer Mon-Tue) Dhs210 (Sun-Thu) Dhs320 (Fri-Sat) Dhs1000 (pool cabana) Open daily 8am-sunset. Saadiyat Beach Club, Saadiyat Island (02 656 3500).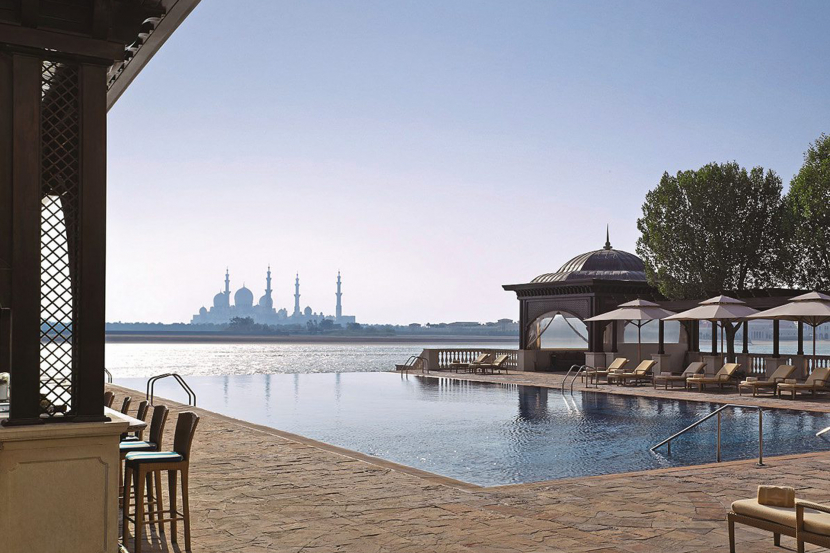 Shangri-La Abu Dhabi.
Set in what seems like a world of its own, it's partly the stunning views over towards the Sheikh Zayed Grand Mosque that make this sophisticated pool so special. The grand white building of the five-star hotel makes for an impressive backdrop, and with staff on hand to bring you a superb selection of snacks and drinks from the pool bar and restaurant, you don't have to move all day if you don't want to. We're already pencilling it in for our next lazy Saturday afternoon.
Dhs160 (Sun-Thu) Dhs240 (Fri-Sat). Open daily 9am-11.30pm. Shangri-La Abu Dhabi, Khor Al Maqta, Qaryat al Beri (02 509 8888).
The Westin Abu Dhabi Golf Resort & Spa
Whether you want to plough up and down and burn off as many calories as you can, sleep on a sun lounger or play in the pool with the kids, you'll find exactly what you need at the Westin Abu Dhabi. The adults-only 'Zen pool' is also as amazing as it sounds. A day pass here includes access to all these pools, a health-inducing treatment at the appropriately named Heavenly Spa, and high tea at chic eatery The Lounge. We think September just got that bit better.
Dhs275. Open daily 6am-9pm. The Westin Abu Dhabi Golf Resort & Spa, Sas Al Nkhl, Abu Dhabi Golf Club, Khalifa City (02 616 9999).
Yas Beach
This is the ultimate beach club. It has absolutely everything you could wish for. The huge infinity pool is complimented by an open-air DJ booth, bar, private chalets, dreamy cabanas and the very funky and tropical-themed Tikki restaurant. On Fridays it's home to one of the hottest pool parties in the capital. There are lively tunes, ice-cold beverages and amazing music, making this the gathering that everyone wants to be seen at. Keep an eye out for regualr big events, as well. Oh, and all you lucky Etihad staff get 30 percent off food and drinks, too.
Dhs60 (Sun-Thu) Dhs120 (Fri-Sat) Open daily 10am-7pm. Yas Island (056 242 0435).
Yas Hotel Abu Dhabi
There are two pools here. The Latitude pool has a dream-like spot on the rooftop with views of the F1 racetrack; it's a great spot for watching the sun set over the yachts at Yas Marina. During the evenings the roof turns into a stylish lounge bar with outdoor seating, chilled beats, premium mixed drinks and very moreish snacks. A day pass also gets you 50 percent off drinks from 2pm to 6pm. The Longitude pool is adults-only and super-cool. Home to giant inflatables, this is the place to get your Insta snaps. There's 50 percent off drinks from 2pm to 8pm.
Latitude Pool: Dhs160 (adults) Dhs110 (kids). Open daily 8am-8pm. Longitude Pool Dhs160. Open daily 6am-9pm. Yas Hotel Abu Dhabi, Yas Island (02 656 0600).
Be the first to get all the latest Abu Dhabi news, reviews and deals into your inbox by signing up to our free
newsletter
,
click here to sign up
.