Bruce Lee, Chuck Norris, Ralph Macchio. Even though none of those names really mean anything to Abu Dhabi, please read on anyway.

But should such martial arts movie stars quicken your hearts and make you want to bust out your best one-inch punch, ruthless roundhouse or knockout crane kick then maybe it's time to get back into the dojo.

Here are ten UAE specialists who'll teach you that 'wax on, wax off' doesn't just apply to polishing your car at the weekend.
Abu Dhabi Muay Thai
Not to be confused with the popular Polynesian-inspired tipple, muay Thai is known as the 'art of eight limbs'. Fighters use punches, kicks, elbows and knee strikes (therefore having eight points of contact) so this sport is far more than just the plain old 'muay', or 'boxing', of its moniker. At Abu Dhabi Muay Thai you'll be schooled in the basics by, among others, three-time 54kg champion of Thailand, the exotically named Master Tim. Your first session is free, and who knows, you might even be convinced to swap mixed drinks for mixed martial arts forever after it.
Free (first class), prices and timings vary thereafter. National Cinema Building, Najda Street & Virginia International Private School, Shakhbout City (02 676 9658).
Adrenagy


Don't be put off by the somewhat contrived portmanteau of its name, Adrenagy means business. One look at its state-of-the-art training arena and professional-level fight ring will tell you so. Its martial arts offering promises to train both your brain and body, with muay Thai and kickboxing coaches ready to put you through your paces, potentially building up to a slot on one of Adrenagy's popular fight nights. And even if you can't cut it, you could always grab a healthy meal at its on-site café, pour some water over your head and video call your mates regaling them about your latest 'ring triumph'.
Prices and timings vary. Khalifa Park, Gate #1, Salam Street (02 444 1121).
Cobra Fitness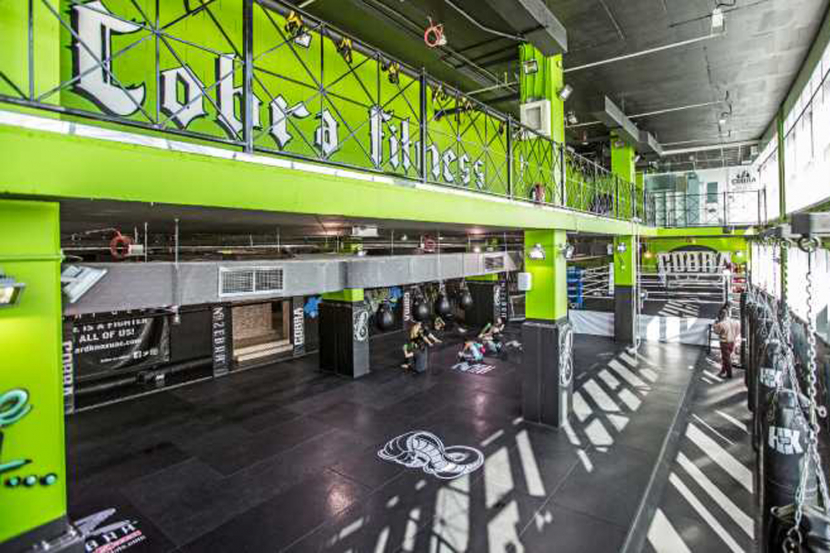 This super-cool venue in Khalifa City offers a wide range of classes, with plenty of options for those looking to get fit or stay in shape. But if you'd prefer to be a bit more hands on, then you can also learn the fine art of Brazilian jiu jitsu at Cobra. This sport is actually all about self-defence, teaching you how to handle yourself when someone bigger comes at you, using their added size to your advantage through the power of leverage. And once you have them on the deck, slap on a constrictive chokehold or jarring joint-lock. That'll soon make old Goliath think twice about picking on you next time.
From Dhs400 (one-month), or Dhs500 (ten classes). Class times vary. Al Bandar, Al Raha Blvd, Khalifa City (02 449 6524).
Emirates Karate
A martial arts scene stalwart with 35 years under its black belt, Emirates Karate's methods are tried and tested. Although many of its classes are for the younger, more impressionable wannabe warriors of Abu Dhabi, there are plenty of sessions for adults. Along with the high standards of its instructors, what makes Emirates Karate a big draw is the fact it runs sessions in countless venues across the city. This means your next 'chop' could be nearer than your local butchers. The senseis here use the Japanese terminology, though, so that's a shuto-uchi, thank you very much.
Prices and timings vary. Various locations including Hamdan Street, Al Zahiyah (02 676 6757).
Titan Sports Academy
When you run as many programmes covering as many sports as Titan does, it could be tricky to keep your eyes on the ball (or punchbag, or sneaky finishing move). But thankfully, martial arts is just one of the range of disciplines this place excels at. Judo, taekwondo, Brazilian jiu jitsu and muay Thai are all taught at Titan and its quest to reduce obesity among the UAE's youth is admirable. But it's not just the young pups they cater for, adult classes are also widely available. Its martial arts package is available in a one-month subscription, too. But where's your commitment, eh? It takes longer than a few weeks to become a true Titan.
Dhs750 (one month). Family Development Foundation, Al Bateen (02 235 6097).
Be the first to get all the latest Abu Dhabi news, reviews and deals into your inbox by signing up to our free
newsletter
,
click here to sign up
.