Who said healthy food can't be delicious? And, who said you can't call your café "Steroid"?
Many people, we're sure, but their messages didn't reach Emirati duo Fatema Al Mheiri and Mohammed Al Tamimi.

They're exploring the delicious balance between crunching and munching: running a top-notch eatery next to a gym.
The pair launched Steroid Café, whose slogan is "100 percent healthy meals" and mascot is a bulging bodybuilder who makes the Incredible Hulk look like Olive Oyl. It's quickly becoming a star of Abu Dhabi's casual dining scene.

There are many unusual things about this homegrown spot, starting with its location. It's hidden behind a dusty car sales room and sits right next to MProve Fitness centre. Actually, the gym and café are run by the duo. So once you're done lifting weights, you can stomp next door and lift forkfuls of food instead – muscles bulging.

Secondly, the food is delicious and nutritious.

And thirdly, well, who needs a third reason to love this place after point two (although the coffee is crazy-good, too).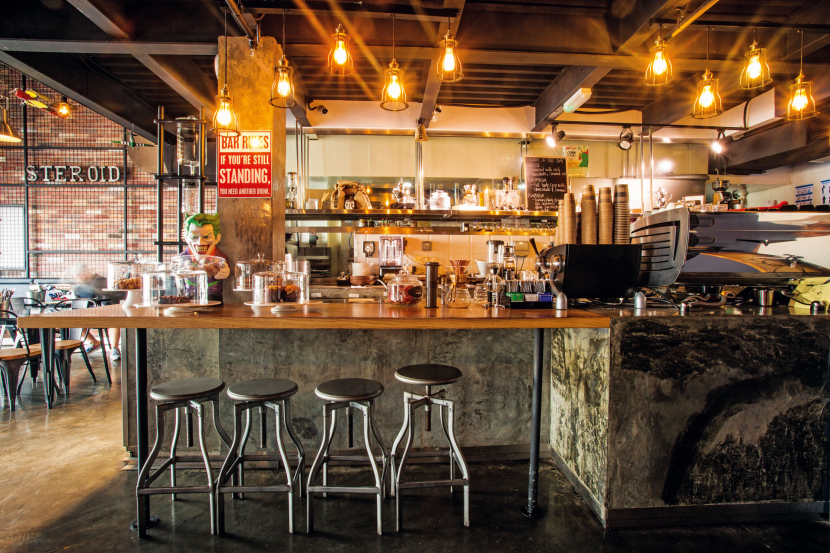 The café has been going from strength to strength since launching two years ago, earning itself a loyal following. But they're not all gym-goers, as many people turn up just to sample the menu and forgo the workout.

However, resisting the urge/guilt to train in the 4,000 sq m MProve next door is quite a challenge after wolfing down the energising dishes on offer.

Be prepared to pull your socks up, puff out your chest and hit the menu full on, as the dishes sound like they're pumped full of testosterone (they're not). They include the Steroid sweet potato volcano (a salad), power bowl (dried fruit, chia seeds, yoghurt), TNT (protein smoothie) and bulletproof (coffee), to name a few.

The duo have found the right balance between bold and beautiful and when the quality is this good, they've every right to shout loudly and proudly.

Al Tamimi explains: "The menu is something that has been created as a result of our passion for health and nutrition, as well as good, delicious food from our travels.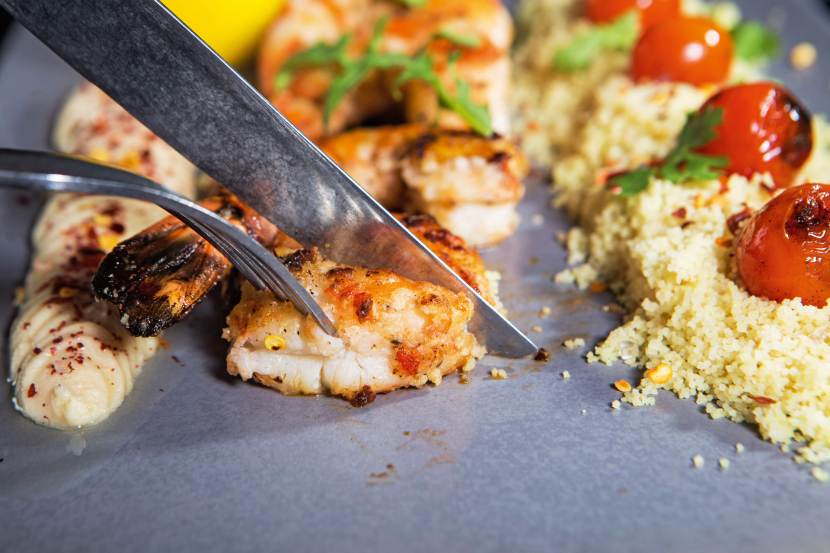 "We centre our dishes on giving customers the best fuel for their workout regime, too. While we also take pride in the coffee as we hand-pick everything we serve.

"It's a really fun, relaxed space and we're extremely proud of what we've achieved. Yes, our main focus is on healthy food however we still have our naughty days.

"Every weekend we serve our 'cheat menu' that includes dishes like wagyu cheeseburger and cheesecake."

Another unusual characteristic for a café is the all-day, every day 14-item breakfast menu. For fans of brinner (breakfast meals eaten at dinner-time) this is the place for eggs benedict, porridge, acai bowls, steak and eggs or shakshouka in the evening. Plus, with the exquisite hand-picked, home brewed coffees you'll have just the caffeine fix to stay here until well after the sun's gone down.

The décor is brilliant, too. It's industrial-style with a twist. Think wooden benches, open kitchen and metal bar stools alongside a grinning statue of The Joker from Batman and planes dangling from the ceiling.

It might not sound like the sort of thing that works. But, this isn't your ordinary café.

Open daily 7am-midnight. Next to MProve Fitness Center, near Princess Cars showroom, Khor Al Maqta (02 555 7146).
Be the first to get all the latest Abu Dhabi news, reviews and deals into your inbox by signing up to our free
newsletter
,
click here to sign up
.