Does the thought of doing a full-on cardio session make you shudder with horror?

Well Abu Dhabi might just make you change your mind. Fitness is hugely popular here in the capital, and sweating our way through an indoor cycling or spin class is one of our favourite ways to stay happy and healthy.

You'll find spin classes at so many different studios throughout the city, but we're well aware that if you've never tried one before, words like 'hill sprints' and 'standing climbs' can all sound a bit daunting.

But try one of our top spin classes and you'll see that this very accessible form of exercise isn't scary at all.

It's suitable for all fitness levels, and with many of the workouts providing pumping music, disco lights and even video game-style worlds to ride through, it's so much fun too.
Xpin & Sculpt at Fit & Flex
If a class of non-stop cycling sounds a bit much for you, then Xpin & Sculpt at Al Raha wellness studio Fit & Flex will be right up your street. The 45-minute session sees you switch between working on the bikes and using weights, which means that you get a cardio and strength workout all in one go. This is a high-intensity class which is done in short bursts, and it's designed to burn a serious amount of calories. Plus, if it's your first time at the studio, you get to try it for free.
Dhs78.75. Wed 8.30am-9.15am. Amwaj 1, Al Raha Beach (055 1466 123).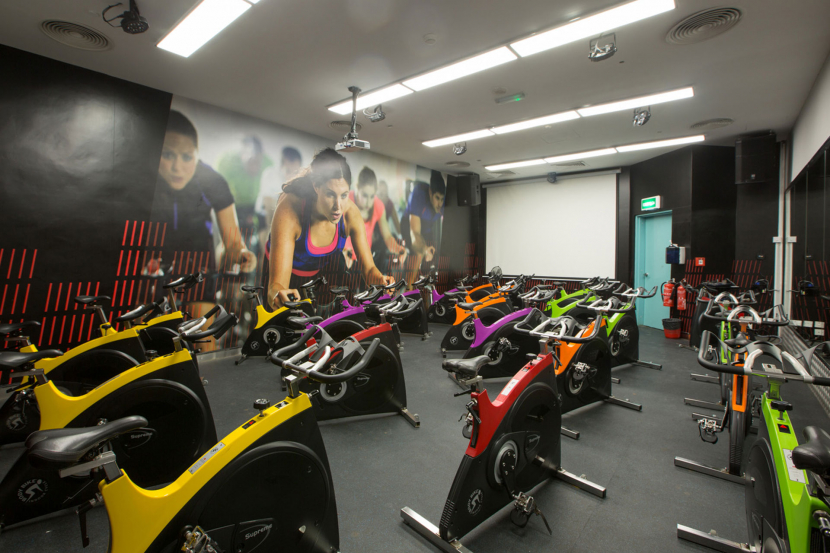 RPM at Fitness First
If you're terrified of finding yourself in a spin class with loads of expert cyclists, you'll be relieved to hear that RPM comes with zero pressure attached. This cycling programme is all about working at your own pace and smashing personal goals. Only you are in charge of how hard you push yourself, but while you're there, you may as well do it properly, right? Taking you over challenging steep hills and through speedy flat stretches, this Les Mills class will help you to take your cardio fitness up to the next level. You can request to try a complimentary class at Fitness First by visiting ww.fitnessfirstme.com.
Membership prices vary. Various locations, including Dalma Mall, Musaffah (02 550 4330).
The Trip at Inspire Sports
We all like to lose ourselves in a workout, forget about whatever is going on with the rest of our lives and just sweat out all the bad energy. But in immersive spin class The Trip by Les Mills, you really do get to escape to another world. The bikes are set up opposite a huge screen, and during the 40-minute class you'll race through a beautiful digital world. The special effects and soundtrack are brilliant, and the sessions will see you travel through Egypt, Santorini, Tokyo and many more amazing settings. It's like riding a rollercoaster, going on holiday and entering a video game all at the same time, and you'll come out absolutely dripping.
Dhs60 (ladies only). Daily, timings vary. Al Khaleej Al Arabi Street, Al Bateen (050 157 5508).
Sweat 45 at Sweat
We love a class that gets you in and out within 45 minutes, especially when it's a super intense one that leaves you buzzing and feeling fantastic. Sweat is a very cool and trendy fitness studio at The Walk at Al Seef, and its spin classes come with pumping music, an enthusiastic team to keep you pushing yourself to your limits, and even a disco ball to add to the atmosphere. Once you've totally exhausted yourself you can celebrate with a smoothie from Raw by Nolu's, which is right next door. We'll have
a Chunky Monkey please.
Dhs80. Daily, timings vary. The Walk at Al Seef Resorts & Spa By Andulus, Khalifa Park area (050 232 8733).
Spinning Club Night at The Room
This friendly studio is based in the sporty complex of Zayed Sports City, and it started off specialising in spinning classes before it expanded to include other workouts. Each session in the designated Cycling Room is taught by expert 'Spinning Master', and Spinning Club Night is a particularly awesome class. Featuring thumping music and colourful lights, everyone is encouraged to whoop and dance their way through every track. Never before will you have left a club feeling so good, and it almost feels too fun to be proper exercise. But never fear, your legs will be aching for days afterwards.
Dhs75. Thu 6.30pm-7.30pm. The International Tennis Centre, Zayed Sports City (02 444 4945).
Be the first to get all the latest Abu Dhabi news, reviews and deals into your inbox by signing up to our free
newsletter
,
click here to sign up
.