As far as Abu Dhabi is concerned, watersports can include everything from squeezing into a wetsuit and being propelled along on a board of some type, to a variety of rafting, rowing and wide-ranging pool-based activities.

There are group activities, solo pursuits, groups that offer a social aspect as well as a sporting one and things that really require you to put the effort in.

Here in Abu Dhabi there are loads of options to splash your cash.

Dragon boating
A sport that has an enduring appeal in the Emirates, there are numerous teams, meets and races around the country. On the Venn diagram of paddles-up boating, it sits on the cross section between rowing and kayaking, but with added social activities thrown in for good measure. Long-standing team the Desert Dragons meet on Monday and Wednesday evenings for training, or Saturday mornings for earlier risers.
Visit www.desertdragonsad.com for more information.

Flowboarding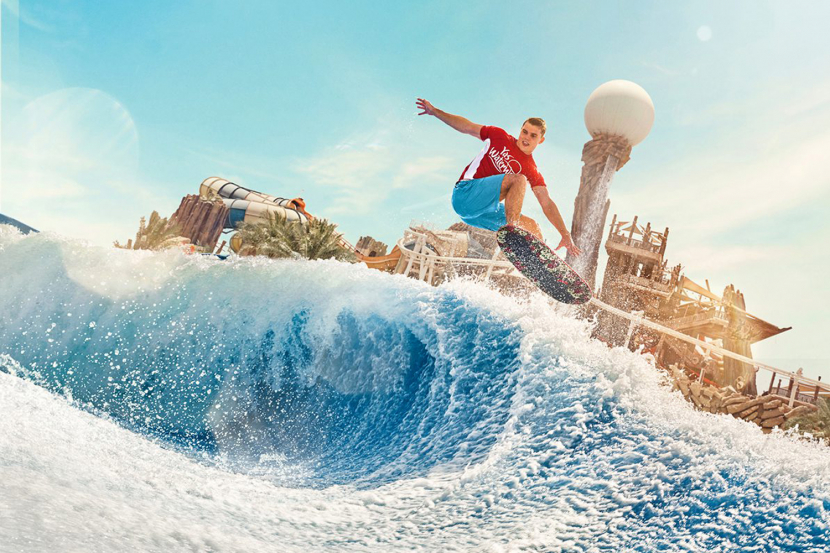 We don't have a great deal of swell for surfers in the Arabian Gulf, but artificial waves can be found on flowboarding and body boarding simulators at the Yas Waterworld waterpark. Bubble's Barrel is just one of the adrenaline thrill rides on the site that simulates surfing with what it claims to be the world's largest sheet wave. We don't know what that means either, but we love the promise of year-round surfing and guaranteed waves.
Daily. 10am-7pm. Yas Waterworld, Yas Island, www.yaswaterworld.com (600 511 115).
Flyboarding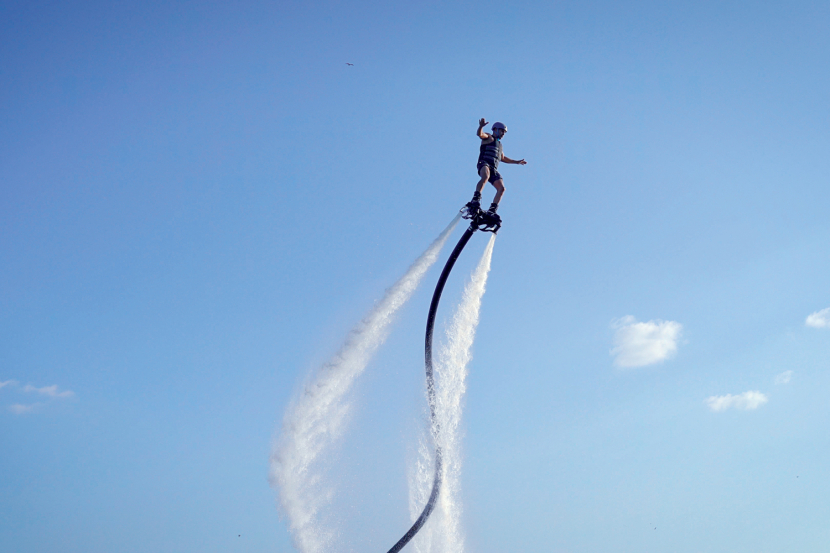 There are two types of people in the world: those that can strap on a pair of jet-powered shoes and hover gracefully 10m above sea level, and, like us, those that will faceplant into the sea without getting more than a torso out of the water. Everybody starts off as the former, and practice can help you become the latter. See also the aquajet powered backpacks at Abu Dhabi Marine.
Daily. Call for timings. Abu Dhabi Marine, Abu Dhabi Corniche, www.abudhabimarine.ae (056 946 6898).
Hydrofoil
Eywoa is a marine sport centre in Yas Marina that is run by enthusiasts of the sports and offers training and community in a variety of challenging and fun activities. You can learn how to kitesurf, wakeboard, wake surf and more, but it is hydrofoiling that captures our eye. Hard to explain, but if you imagine a surfboard as being like an ironing board, then a hydrofoil is the same board, but with the legs folded down. The attachment on the bottom of the board raises the device out of the water giving it a hovering quality that reduces the need for waves or wind and makes you go faster. Confused? Us too. Just remember the words "faster", "hovering", "surfing" and get ready for your new favourite sport.
Daily. Sunrise-sunset. Eywoa, Yas Kite Beach, www.eywoa.com (050 121 0264).
Kayaking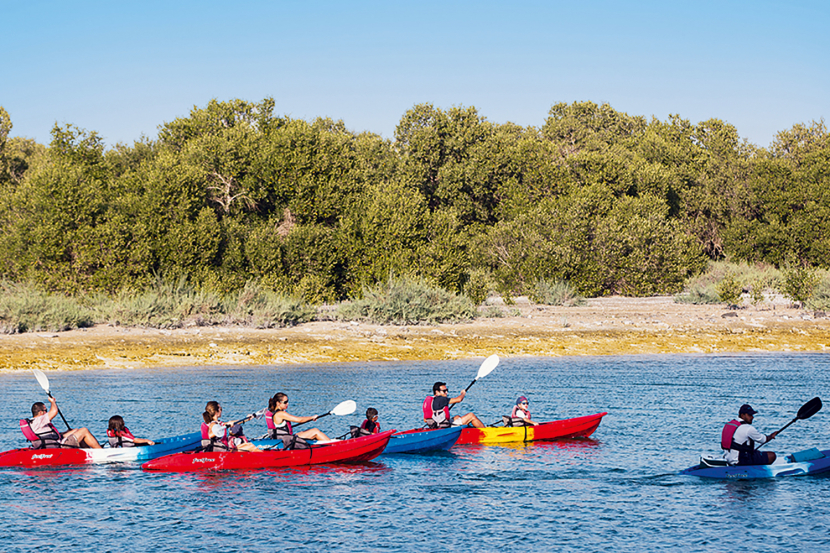 Abu Dhabi is a city that loves to kayak. It can be done off the beach, through the mangroves, in artificial white water conditions. We've been fans of the up-close-to-nature tours of the Eastern Mangroves as long as Time Out has been publishing and they are strongly recommended. However, the full-moon kayak tours around the Louvre are fast becoming one of the most visually stunning things to do in the city. The waters are calm and the gorgeous architecture of the city's premier art destination and atmospheric lighting are just as impressive.
Daily. 7am-6pm. Sea Hawk, Eastern Mangrove Promenade, www.sea-hawk.ae (02 673 6688).

Rowing
More full-body workout than idle beach pursuit, this Olympic sport has a well-respected club with a station here in Abu Dhabi. Whether you're going along for team building, competitive level training or to join the squad, Yas Marina club Monty's Rowing School can be seen powering through the water faster than some motorised craft.
Call for timings. Monty's Rowing School, Yas Marina, www.montysrowingschool.com (050 738 0910).
Sailing
To some watersports enthusiasts there is swimming, sailing and everything else is distraction. For yacht owners and sailing enthusiasts this is the hub of Abu Dhabi's sailing world. From the one person Laser craft used in the Olympic Games to catamarans, large crew yachts and traditional dhows, there are boats for all categories here.
Sun-Thu. 9am-5pm. Abu Dhabi Sailing and Yacht Club, Theater Road, www.adsyc.ae (02 658 3333).

Scuba diving
Hobby or sport? Does it really matter? Once you have pulled on your goggles and stuck your head in the underwater world you will be in a place that defies definitions. Get PADI-qualified at one of Abu Dhabi's dive centres and a world of wonder is waiting for you.
Daily. Check for timings. Al Mahara Dive Centre, Beach Rotana, Al Sikeek Street, www.divemahara.com (050 111 8125).
Sea-fishing
It might not feel like sports when you are sitting in deck and reaching into the cooler for your third drink, but it is, okay? You're just as sporty as somebody at the gym or on the rugby pitch and don't let anybody tell you otherwise. Another sandwich anyone?
Captain Tony's, Yas Marina, Yas Island, www.captaintonys.ae (02 650 7175).
Stand-up Paddleboarding
Like a surfboard that you stand on and paddle, it is one of the most commonly seen water activities at the city's beach clubs. We're fans of the eco-tourism company Noukhada, which operates tours around the gorgeous mangroves. It even has stand up pedalboards, which are propelled by foot rather than arm. Well worth a look.
Noukhada, Eastern Mangroves Marina, www.noukhada.ae (050 721 8928).
Swimming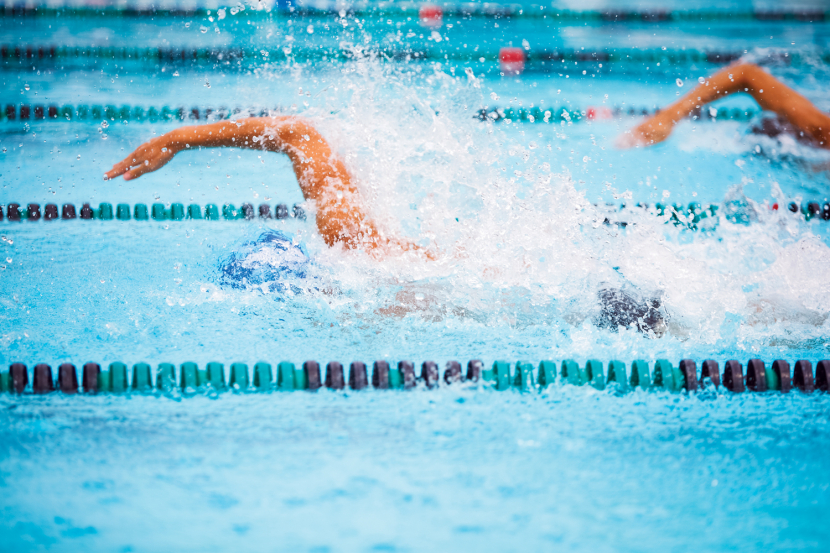 None of the other sports can be undertaken, safely at least, if you can't swim. Lessons are available in pools that can take you all the way from water wings and first strokes all the way up to Olympic level thanks to local swim club Hamilton Aquatics. It offers training, community events and even races and challenges for the more advanced. It is also a good place if you're looking to compete in a triathlon, water polo or board-diving.
Hamilton Aquatics, Brighton College Abu Dhabi, www.hamiltonaquatics.ae (058 982 8057).

Wakeboarding
This sport is to waterskiing what snowboarding is to regular skiing and the facility at the Al Forsan Sport Centre is regarded as one of the world's finest. Unlike other pursuits where you are towed along behind a boat, this innovative centre has a motorised cableway that propels participants at speeds of up to 38kmph. The aim of the game is to perform as many aerial tricks as you can while holding on to the cable and staying on the board.
Sun-Thu, 2-11pm, Fri, 10am-10pm. Al Forsan International Sports Resort, Khalifa City A, www.alforsan.com (02 656 5656).
Whitewater rafting
Whitewater rafting and the desert seem like strange bedfellows, but one look at the simulated rapids of this Al Ain adventure centre will show it is a concept that works. You can try kayaking and surfing here too, but it is the rafting river that stands out. With life jacket and a safety helmet on you are safe, but the thrills are challenging enough that Wadi Adventure has attracted world championship rafters and Olympic kayak teams to test themselves in the faux river conditions.
Daily. 11am-7pm. Wadi Adventure, Jebel Hafeet, www.wadiadventure.ae (03 781 8422).
Wibit
Another floating assault course that really would be a welcome addition to the Olympic Games, The Club's Wibit facility is insane amounts of fun. The half-hour sessions, which include a short safety briefing, are as exhausting as any fitness session and much more fun. Swim on out to the floating bouncy castle, clamber aboard and then try and run around as much as you can before falling in.
Daily. Check for timings. The Club, Mina Sadiyat, www.the-club.com (02 673 1111).
Be the first to get all the latest Abu Dhabi news, reviews and deals into your inbox by signing up to our free
newsletter
,
click here to sign up
.