If you're anything like us, then you'll have spent all your time in Abu Dhabi eating and partying.

So you might be setting yourself the goal of making 2020 the year when you get super fit and healthy, but knowing which one of Abu Dhabi's many gyms and fitness studios to head to for your work outs can be tricky. There's just so many to choose from.

But the good news is that we have a huge choice of brilliant gyms and fun workouts to try here in the capital.

So whether you're into dance, heavy lifting, yoga or boxing, you can find a way of making exercise actually feel like fun (yes, really).

So here are our top ten places to work up a sweat in Abu Dhabi.

Bodyism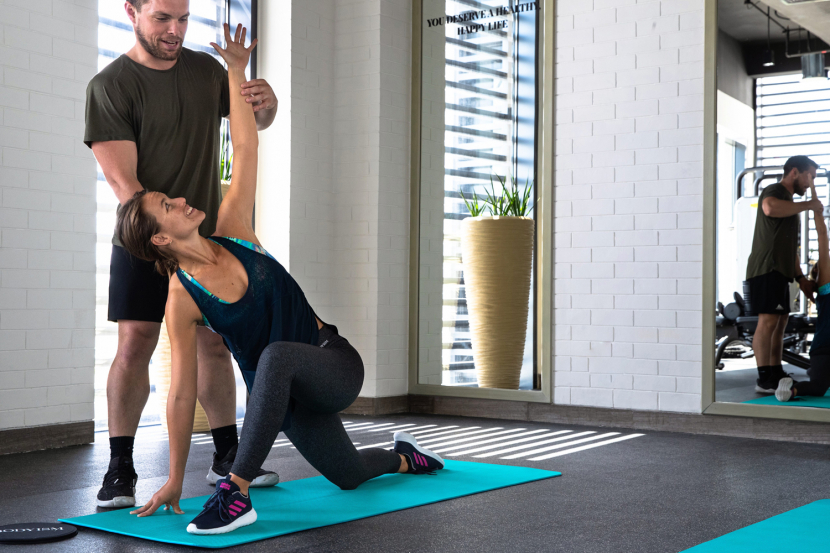 This swish fitness centre is found at the very beautiful Jumeirah at Saadiyat Island Resort, and it's just as pretty and fancy as the rest of this sensational hotel. With shiny studios and only the best equipment, the classes cover barre, Pilates, yoga, boxing, and also some specially created Bodyism classes too. For instance, Blueprint mixes interval training with yoga, Pilates and stretching (it sounds a bit odd, but it works, believe us), while Warrior is a high intensity circuit workout. With friendly instructors, and a gorgeous setting not far the blue Gulf, going to the gym here is like being on holiday (well, almost). Plus, if you sign up before the end of September, you can make the most of the discounted summer rates.
Jumeirah at Saadiyat Island Resort, Saadiyat Island (02 811 4444).

F45 Training Zayed Sports City
This studio is only just over a year old, but it's already got a legion of very loyal members. You've probably heard people talking about going to Varsity, Panthers, Romans and Docklands and wondered what on earth they are going on about, but they're actually the names of just some of the studio's super-fun circuit workouts. Each class lasts 45 minutes, except for the hour-long Friday Hollywood class, which is also joined by a live DJ set, just to add to the fun. The classes are easy to follow and no two are exactly the same as the moves are ever changing. Plus, with screens around the room and helpful and supportive instructors, there's zero pressure and no feeling that anyone else is watching you. Once you start trying the cardio and strength workouts (they alternate every day), you'll be totally hooked. Our personal favourite is cardio session Foxtrot, if we feel like punishing ourselves after a particularly heavy brunch. It really is life changing.
Ramp 40, Zayed Sports City, www.f45training.ae/zayedsportscity (056 332 3113).

Flo
This is by far the prettiest studio we've ever been to. Housed in a villa in Al Bateen, we wish we could move everything from the plush carpets to the fancy changing rooms into our own homes, but at least we get to come here to join in with packed schedule of fabulous classes. The ladies-only studio specialises in every kind of yoga and Pilates class you can think of, plus a few more. This includes antigravity, TRX, reformer and jump-board, all joined by the most pristine equipment and expert instructors. The barre classes are particularly killer, and we have a whole new level of respect for those who practice it since we tried the 'Bend it like Barbie' workout. But with such gorgeous studios and a welcoming and calming environment, coming here for a workout won't seem like a chore at all. You'll soon be making it part of your regular routine.
Villa 34, Mileih Street, Al Bateen (02 644 6496).

Haddins
This isn't your typical gym. Founder Michael Haddin leads his team of trainers on to push, challenge, educate and have fun with their clients. The place runs a variety of classes including boxing, pilates, circuit training, yoga and its own Work Out of the Day. But it is best known for Primal Fitness – a 20-day, intense programme that focuses on body transformation through activities such as bending, pulling, pushing, running, squatting, jumping, and in addition to helping you get back to your fittest self. It's based at Zayed Sports City but it also runs sessions at Saadiyat Beach Club.
Open Sun-Thu 5am-9.30pm, Fri 8.30am-12.30pm, Sat 2pm-6pm. Primal Fitness, Zayed Sports City (02 403 4233).

Inspire Sports
This ladies-only gym is perhaps best known for doing The Trip, the famous spinning class by Les Mills. During these 40-minute sessions you really do get to escape to another world, as all the bikes are set up opposite a huge screen showing a 3D landscape. The special effects and soundtrack are brilliant, and each session will see you travel through Egypt, Santorini, Tokyo and many more amazing settings. But this studio also offers excellent classes in Pilates, body pump, body step, Zumba and pound, which lets you unleash your inner rock star and burn calories by pretending to beat drums with florescent drum sticks. It's super fun.
Al Khaleej Al Arabi Street, Al Bateen (050 157 5508).

PUNCH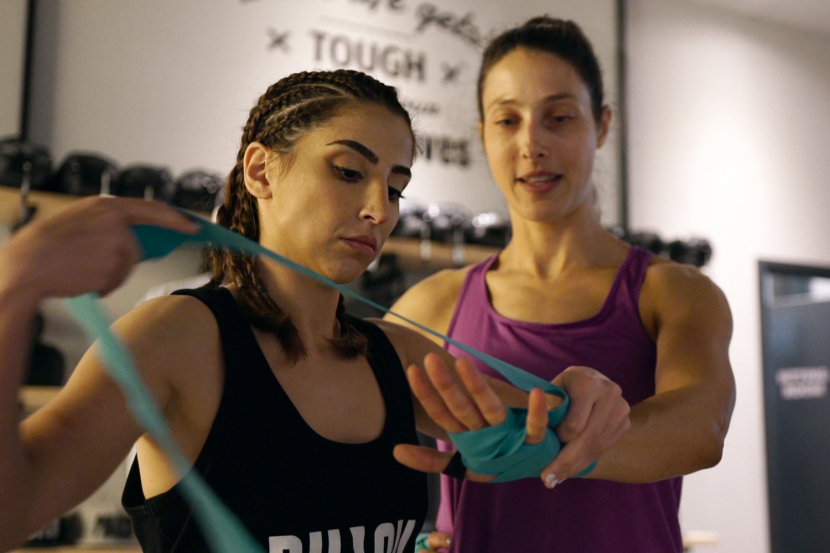 This is without a doubt the coolest boutique boxing studio in the capital. With stylish branding and merchandise, it's all very Insta-friendly and it's compulsory to post a least one selfie in your PUNCH gloves every time you go. The classes take place in what is basically a nightclub, complete with flashing colourful lights and pumping motivational tunes. The PUNCHIIT classes mix boxing techniques with a series of high intensity interval training exercises like burpees, push-ups and mountain climbers, while the PUNCHARD workouts are more focused on mastering boxing techniques. Whichever one you do you'll come out buzzing and feeling significantly less stressed. Funny how attacking a punching bag for 45 minutes can do that, isn't it?
International Tennis Complex, Zayed Sports City (02 666 9717).

Sweat
This boutique studio is ran by the same people who own healthy eating café Nolu's, and Raw by Nolu's is conveniently located just next door for when you want a post-gym smoothie or salad. But before you get to that stage you need to try out one of the awesome workouts. There are 45-minute spin sessions which are joined by upbeat tunes and glitter balls, intense Tabata sessions, challenging strength classes and a variety of ladies-only sessions too. As the name suggests, you'll literally come out dripping.
The Walk at Al Seef Resorts & Spa By Andulus, Khalifa Park area (050 232 8733).

The Room
This one of the friendliest studios in the capital, and no-matter how nervous you are about joining a group fitness class (there's really no need, but just in case), the welcoming staff will make you feel totally at ease from the moment you walk through the door. The Room started off specialising in spinning classes before it expanded to include other workouts like boxfit, Pilates, yoga and body pump. The soundtracks to the spin classes are on another level of awesome, and the studio also hosts classes by guest teachers, special events like healthy eating seminars and open days where people can come along and try the sessions for free.
International Tennis Centre, Zayed Sports City (02 444 4945).

Vogue Fitness
CrossFit seems to be one of those things that you either love or hate, and judging by the fact that CrossFit studio Vogue Fitness now has three branches across the city, it's fair to say that Abu Dhabi has gone a little bit mad for it. Consisting of fast-paced functional movements, Vogue Fitness Yas or CrossFit Yas is a bit of an institution in Abu Dhabi. The members are super dedicated, and there's a real sense of community. Meanwhile, the studios in Al Raha and the recently opened one in Marina Mall offer a variety of high-intensity workouts, including the infamous Mayhem, which is so full-on that they only put it on the schedule once a week. It might sound and look intimidating, but it really isn't. It's suitable for everyone from CrossFit beginners to the very experienced, and the regular opens or 'showdowns' let you indulge in a bit of friendly (or semi-serious) competition and have a go at beating your mates.
Various locations, including Yas Marina, Yas Island (02 583 2380).

YogaOne
If all this CrossFit and functional training business sounds a bit much, you can always head for the more serene environment of yoga studio YogaOne. But while it might be calmer, it doesn't mean that the workouts are easy. The hot flow classes take place in rooms heated to between 35 and 37 degrees, and the extra sweating will really make you feel the effects. The schedule also includes power vinyasa, Pilates, yin and meditation and more. It also hosts special classes from guest teachers, and if you're really into it there's even the opportunity to sign up to the studio's yoga teacher training programme.
Mangrove One Compound, Khalifa Park area (02 562 1217).
Be the first to get all the latest Abu Dhabi news, reviews and deals into your inbox by signing up to our free
newsletter
,
click here to sign up
.