Calling something Abu Dhabi's best pizza is a bold move, which is why we've narrowed it down to this list instead of just picking one.
We may prefer our crust thin rather than deep dish but really, when it comes to pizza, we'd be up for trying anything. Except pineapple, sorry but we're just not keen.
Every week you can catch us enjoying a few slices and we apologise for nothing.
Up for trying a slice or two? Trying to list every single pizzeria and Italian restaurant in the city would take forever (or a very long time, at least), but here are some of the places we totally recommend.
Back in town after a short hiatus away from the city, 800 Pizza is a reliable pizza place to get your fix. If you like your base thin, toppings perfectly proportioned then you're in for a treat. Try the pepperoni pizza, our favourite, it's a showstopper.
Paragon Mall, Reem Island www.800pizza.com (800 74992).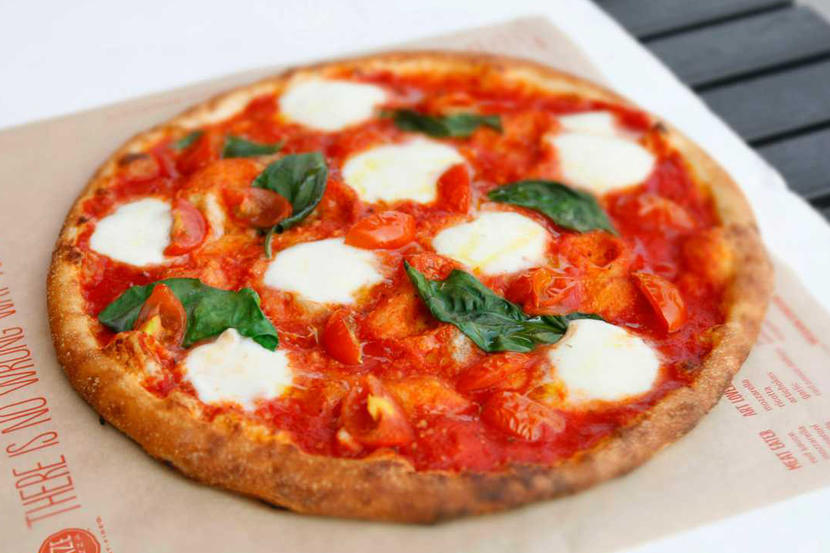 The first UAE branch of Blaze Pizza popped up at The Galleria Al Maryah Island last year and we were quickly impressed. Choose your toppings and watch as your pizza goes from assembly to being in your mouth in minutes, as it's cooked to order right in front of you. Awesome.
The Galleria Al Maryah Island, www.blazepizza.com.
Cafe Milano
A hit with politicians and celebrities in Washington DC, the Abu Dhabi outpost is a classy place at the Four Season at Al Maryah Island with great views of the waters outside. While it might not seem like a pizza kind of place, we urge you to try the San Babila, a simple combination of tomatoes, buffalo mozzarella, oregano and basil.
Four Seasons Hotel Abu Dhabi at Al Maryah Island (02 333 2630).
There's a lot of things to love about this homely restaurant in Pearl Rotana Capital Centre and the pizza is one of them. The sight of a freshly baked pizza making its way from the oven to your table is as exciting as it gets in our book and we've never left disappointed, or hungry for that matter.
Pearl Rotana Capital Centre, Khaleej Al Arabi Street (02 307 5551).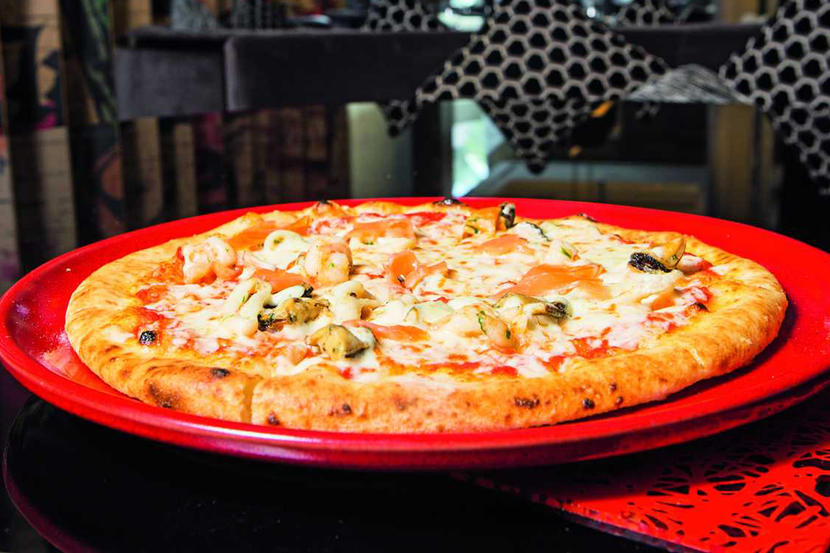 Pizza is close to perfect at this cool and quirky Italian restaurant and with regular offers meaning you can eat pizza until you can barely move, you'll quickly fall in love with the place. You might never leave, if you eat too much that is.
Le Royal Meridien Abu Dhabi, Sheikh Khalifa Bin Zayed Street (800 101 101).
Freedom Pizza
This UAE chain has become the go-to for takeaway pizza for many across the country and were a market leader in offering vegan pizzas for those following a plant-based diet. The pizzas always hit the spot and the wings are no slouches either, but that's a conversation for another time.
Various locations, www.freedompiza.ae (02 641 0029).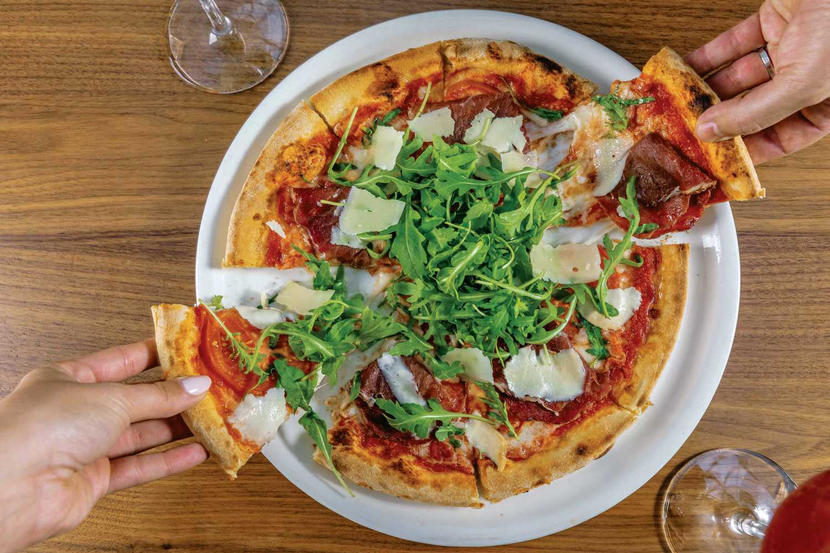 Okay, this is one of our favourite pizzas ever, not just in Abu Dhabi. That may be, in part, due to the fact we were force-fed a slice by Marco Pierre White himself, but it's as close to perfect as pizza can get and that's why it was named among our best dishes in Abu Dhabi list. Trust us, it's magnificent.
Fairmont Bab Al Bahr, Khor Al Maqta (02 654 3333).
As well as having stunning views over Saadiyat Island, the pizza at Mare Mare is equally as impressive. The burrata pizza is up there with the best of them. The crust and base are a thing of beauty and when you've got a huge ball of buratta at the centre we can forgive you for using a knife and fork to get stuck into every bit. Plus, it was named on our 35 best dishes in Abu Dhabi list so you know it's good.
Jumeirah at Saadiyat Island Resort (02 811 4342).
Pinza
Pinza will argue they don't sell pizza they sell pinza, but whatever it is, it's delicious. The oval shaped baked breads (they're pizzas, trust us) have a perfect thin crust, wonderful toppings and combinations. We're big fans of this pizza,. Sorry. we mean "Pinza", obviously.
Umm Al Emarat Park, Mushrif (04 551 5582).
Pizza Di Rocco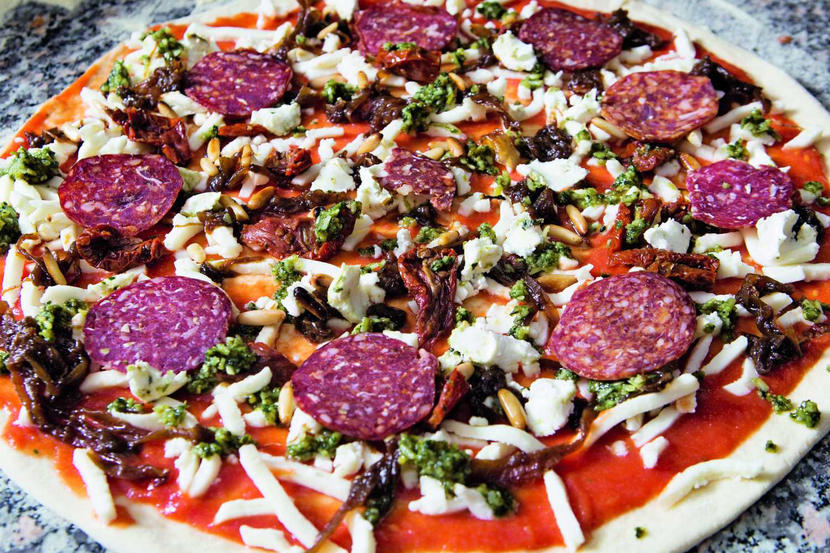 Pizza Di Rocco has a solid reputation for quality and it's often our go-to for pizza parties at home. The bases are wonderfully thin and well-fired and we've never really been left disappointed with anything we've ordered. The bresaola and diavola options are particular highlights, but everything is good really.
Various locations including Sheikh Zayed Bin Sultan Street and Etihad Plaza www.pizzadirocco.com (02885 3222).
Pizzaro
Pizzaro is just fun to say in a terrible Italian accent (you're doing it now too, right?) but it's also a great choice for a slice. Known for its consistency, good quality and good choice of toppings you can't really go wrong here, unless you use a knife and fork, of course.
Various locations including Khalidiya and Khalifa City www.pizzaro.ae.
Prego's is an ever-popular and much-loved Italian restaurant in this city and there's a lot to like about it. It's homely, unpretentious and the food is great. When it comes to pizza, all the bases are covered and we'd happily bite in to any of them, especially the burrata.
Beach Rotana, Al Zahiya (02 697 9011).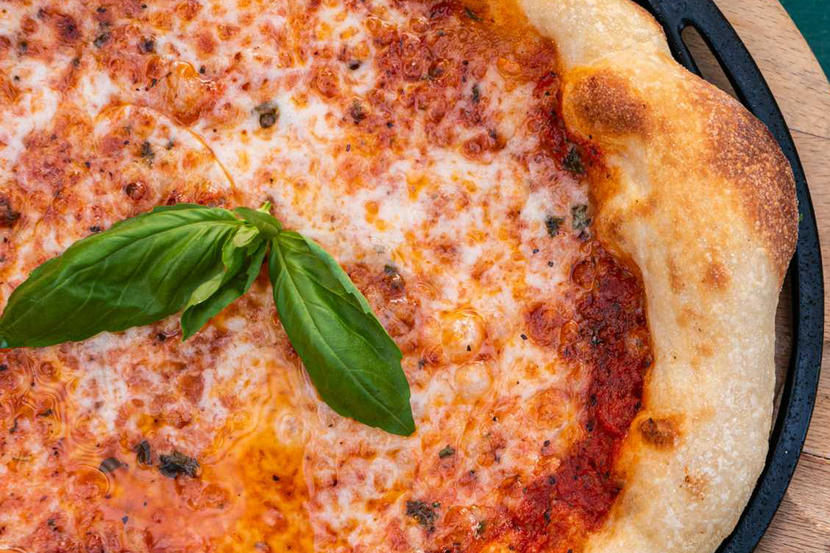 We love this Italian restaurant and that, if we're being honest, is partly due to the fact that you can get a whole pizza and some hops for under Dhs50. Talk about value. Plus, you know a place makes good pizza when the margherita is first class.
Westin Abu Dhabi Golf Resort and Spa, Sas Al Nakhl (02 616 9998).
As soon as you walk into this swish and fancy restaurant you'll see the impressive pizza oven, especially if that's your dish of choice (like us). The crust is bubbled and perfect, the toppings in perfect proportion and the pizza so good that you simply will not share with anyone, seriously, get your hands off, this is ours and we're not feeling generous. Don't ask again, please.
Saadiyat Rotana Resort and Villas, Saadiyat Island (02 697 0000).
Spaccanapoli
It's a veteran restaurant that (if we're being brutally honest) could do with a bit of a spruce up, but when it comes to the food we wouldn't change anything. The pizzas are brilliant and in particular the dello chef, topped with lobster, burrata and truffle (we know, how posh) is simply magnificent.
Crowne Plaza Abu Dhabi, Hamdan Bin Mohammed Street (02 616 6261).
Verso
As bright and breezy a restaurant as you could hope for, this spot at the Grand Hyatt is a really fun place to dine. There's lots to like about this place, but the pizza is definitely one of the main draws. The contadino, with homemade fennel sausage is our pick.
Grand Hyatt Abu Dhabi Hotel & Residences Emirates Pearl (02 510 1234).
Villa Toscana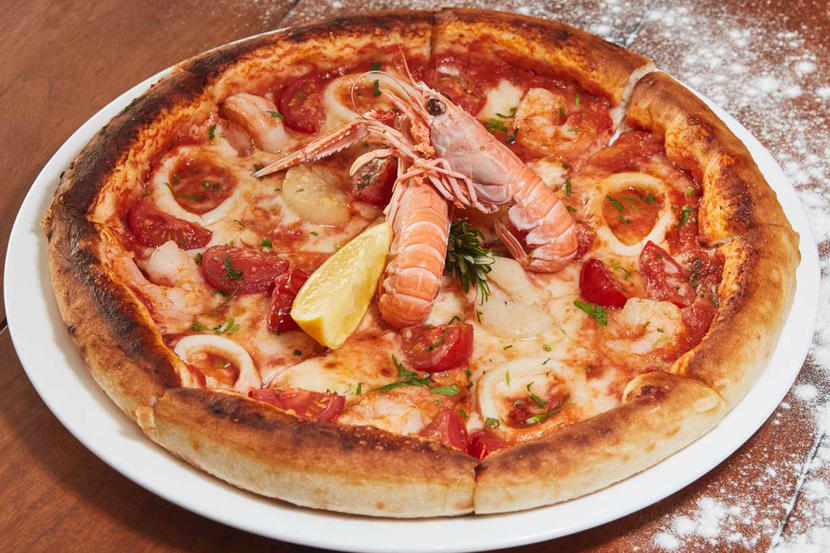 Serving authentic Italian food with sophistication and style, Villa Toscana is a heavyweight when it comes to Italian restaurants in this city. When it comes to the pizza you can expect quality and brilliant flavor, of course, and we'd forgive you for using a knife and fork in this fancy joint, we'll look the other way, go on, it's fine, really.
The St Regis Abu Dhabi, Corniche West www.villatoscana-abudhabi.com (02 694 4553).
Be the first to get all the latest Abu Dhabi news, reviews and deals into your inbox by signing up to our free
newsletter
,
click here to sign up
.