Let's face it, you're not going to cook every night are you? Here are some new places, vegan spots and healthy venues you can order from.
New venues
There are loads of amazing places to eat in Abu Dhabi and there are always new restaurants popping up.

Loads of them also deliver and some venues offer a delivery-only service.

Here are 15 places that are new to delivery apps in the city. Not all of them deliver across the entire emirate, so be sure to check before you order.

Deliveroo
90 Centigrade
It's new to The Grand Millennium Abu Dhabi and it's new to Deliveroo. Order from 90 Centigrade and you can get a selection of dishes including eggs Benedict, halloumi pancakes, salads, lobster pasta and even steak and chips delivered fresh to your door.
Bouchon Bakery
The Galleria Al Maryah Island's popular café and restaurant is also new to world of delivery apps. Log in to Deliveroo and you can order a selection of dishes from breakfasts, salads, main courses and more as well as coffee, sandwiches and pastries.
Graffiti Burger
If fast food is the order of the day the Graffiti Burger could be the place to be with a plethora of burgers on offer as well as fries, onion rings and all the sides you could want all delivered to your door.
Salam Bombay
You can take your pick from a selection of vegetarian Indian dishes at Salam Bombay incuding biryani, daal, puri, paratha and more. Plus there's even a 30 percent discount on all food (at the time of writing) through Deliveroo.
Shabby Chic Café
Super-cool Shabby Chic Café is new to Deliveroo. You can order a selection of dishes including risotto, pasta, breakfast dishes, saj, jacket potatoes and more all sent to your home when you want it.
Talabat
Go Biryani
You can guess from the name what's on the menu here. There's also a selection of snacks including samosas, masala fries, sweet treats like gulab jamun and raita.
I Love Burgers
If you love burgers then what better place to order from? Take your pick from a number of options and sides, all cooked fresh and delivered directly to your home when hunger strikes hard.
Ketogenic
Ordering from home but still following a diet? Ketogenic serves up a selection of, yes, keto dishes covering a lot of options including beef tenderloin, cauliflower mac and cheese, smoked chicken wings, lemon cod and more.
Le Pont Café
Ideal for lunch, Le Pont café serves up a wide range of sandwiches, pizzas and more, as well as a selection of individual and large cakes for when you need to satisfy your sweet tooth.
Wendy's
US burger chain Wendy's is new to delivery and you can order the brand's most popular burgers, chicken sandwiches, ice cream sundaes, chicken nuggets and all the rest when you need a quick bite.
Zomato

Bombay Canteen
It's all about Indian cuisine at this venue named after the Indian city, so if you fancy a fish curry, chicken tikka platter, butter chicken, dahi puri, pav bhaji and the rest then there's a new place to try.
Crazy Burger
If you're not intimidated by the name then you'll be pleased to find many variations of burgers on offer here including some interesting options like the chicken doughnut burger, Oman chips beef burger and cordon bleu burger, to name just three.
Kura Kura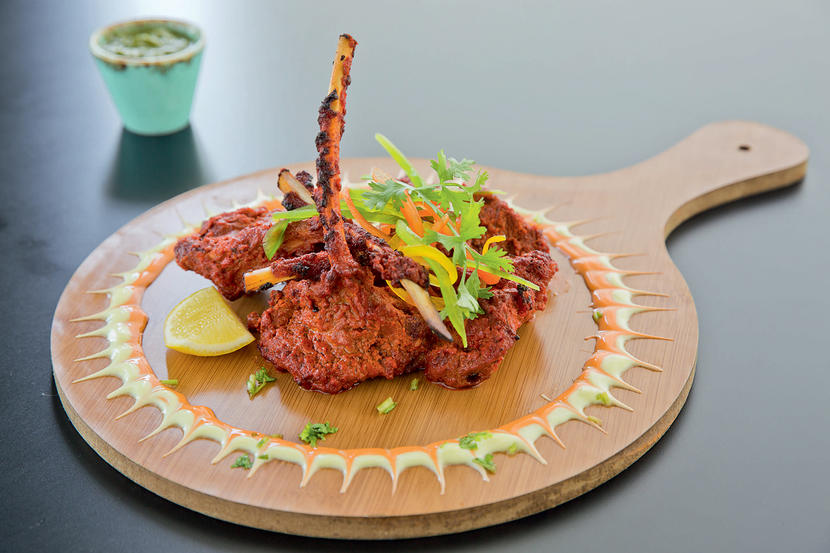 We love this Indian restaurant and it was nominated in the Best Newcomer category at the Time Out Abu Dhabi Restaurant Awards 2019. See why we think it's worth checking out by placing an order yourself for home delivery.
Mamma Mia!
Of course, with a name like that it's Italian cuisine on offer here. Take your pick from a range of pastas, risottos, pizzas and much more including burgers to be sent fresh to your home when hunger strikes.
Poke Central
Poke bowls have become a big thing in the past 12 months and now there are poke restaurants popping up everywhere. Fancy a fresh bowl of poke at home? This nifty venue sends a selection of bowls to your door ready for you to tuck into.
Healthy deliveries
If you're in need of a takeaway but don't quite fancy bingeing on junk food then fear not, there are plenty of healthy alternatives in Abu Dhabi to keep you going.

In fact, the city is full of restaurants and cafés that specialise in clean eating and guess what? They all offer delivery services meaning you won't have to leave the comfort of your own home to eat well – or lift a finger in your kitchen, for that matter.

From salad bowls and nutrition-fuelled meals to low carb, vegan and heavy protein dishes, the options are endless. Simply take your pick, sit back and wait for a healthy breakfast, lunch or dinner to be served directly to your doorstep.

Here are some of our favourites in the capital to order now. You can find them all on Zomato or Deliveroo.
All Things Acai
Get your acai fix here and enjoy the variety of bowls on offer. Whether you're a fan of peanut butter-based acai or prefer yours with berries, there's something for you. In fact, you can even create your own.
Prices vary. Open daily 8am–3am. Financial Center, Abu Dhabi (04 350 2041).
Diet Bite
If a quick bite for dinner is what you're after then take a look at Diet Bite's menu. The restaurant has a range of healthy hot meals from grilled prawns with brown rice to salmon and chicken dishes. They've also got breakfast and lunch options.
Prices vary. Open Daily. 8.30am-12.30pm. Near Sahara Hotel Apartments, Al Nahyan (050 876 6317).
Diet Bites Restaurant
From quinoa pastas and penne with vegetables, to grilled-fish dishes and low-calorie pizzas, Diet Bites Restaurant offers a range of balanced meals.
Prices vary. Open daily 8.30am-12.30pm. Al Falahi Tower, Embassies District (02 4449498).
Joud Café
This café has an excellent selection of nutritious breakfast options. Order everything from acai bowls and smoothies to omelettes, shakshuka and peanut butter French toast. They've got pancakes too, as well as a selection of lunch and dinner options.
Prices vary. Open daily 8am–-10pm. Al Bateen Park Plaza, Al Bateen (056 525 8235).
Kcal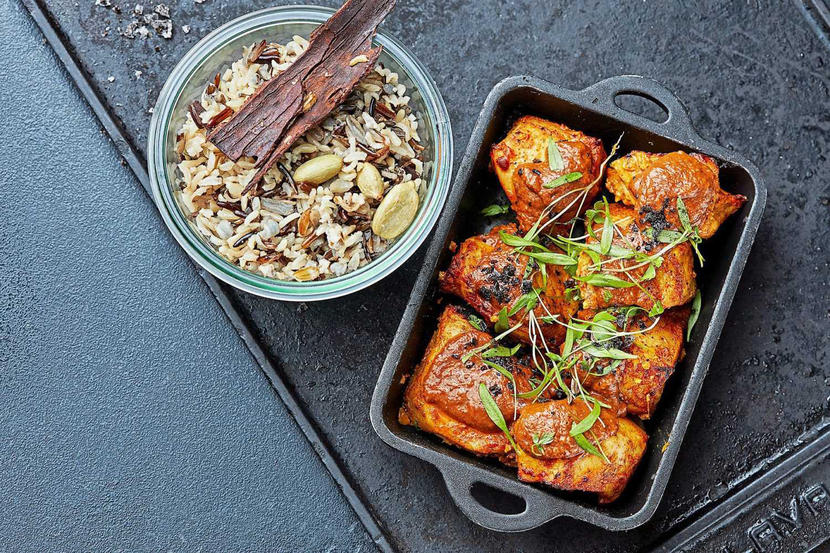 As well as a variety of incredible--sounding breakfast options (there's a peanut butter, strawberry and banana burrito...), Kcal offers a wide range of salads, protein bowls and healthy wraps as well as hot meals such as grilled chicken and roast veggies, salmon teriyaki and pasta-free lasagne.
Prices vary. Open daily 8.30am-11.30pm. Mamoura Building Tower B, Al Nahyan (600 595 955).
Nolu's Downtown
Nolu's serves American food options but with a healthy twist. You can get everything from kale and quinoa salads to salmon risotto and low-calorie burgers.
Prices vary. Open daily. 9am-11pm. The Galleria, Al Maryah Island (02 6441516).
Poke and Co.
Poke bowls are great because they're both healthy and delicious. At Poke and Co. you can choose between their best-selling dishes (including Ono, Aloha, Kahuna and Pokérrito) or build your own bowl from scratch with your favourite toppings.
Prices vary. Open daily 10am-11pm. Al Zahiya (058 641 9039).
Right Bite Express
Salads and superbowls, healthy sandwiches and wraps, protein pots and a selection of hot meals including roasted vegetable lasagne and grilled chicken with mash, it's safe to say they've got you covered at Right Bite Express.
Prices vary. Open daily 11am-12.30pm. Madinat Zayed Area (04 5269171).
SoulFull
Feed the whole family with Soulfull's selection of healthy bundles, which each include a number of wraps or salad boxes, fruit pots, energy bites or cakes and fresh juices depending on which option you go for – there are bundles for three or six.
Prices vary. Open daily 8am-11.30pm. Arc Building, Al Reem Island (800 7685).
The Raw Place
As the name suggests, The Raw Place offers a selection of organic meals, fresh detox juices and plant-based options. There are lentil lunches, mung bliss balls and other light bites, as well as hot soups.
Prices vary. Open Sat-Thu 7pm-11pm; Fri 8am–11pm. Sheikh Khalifa Street, Al Markaziyah (02 633 4677).
UNDER500
As the name gives away, the meals at UNDER500 are all about giving you some of your favourite dishes with fewer calories (fewer than 500, of course). Order anything from customisable all-day breakfast options to soups, salads and host dishes such as chicken and crushed sweet potato or steak and mushroom rice.
Prices vary. Open daily 8am-12.30am. Madinat Zayed Area (04 350 2055).
ZEROFAT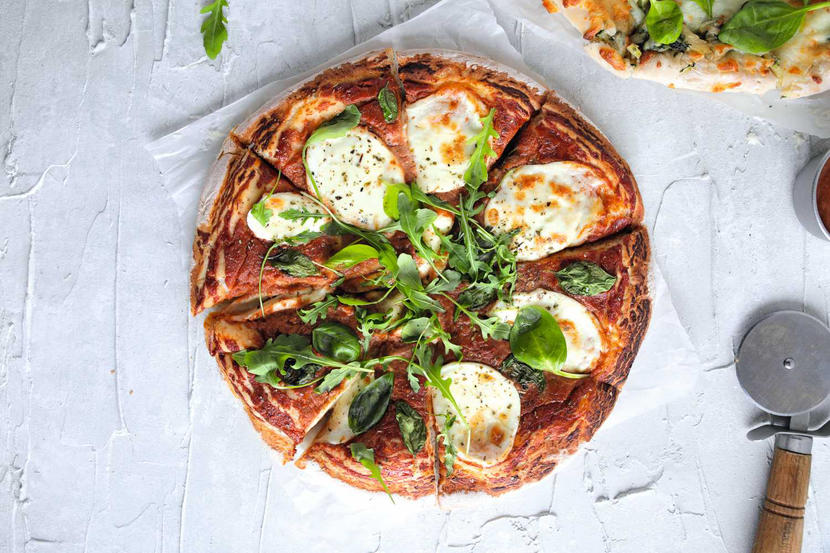 Priding itself in helping us live a healthy lifestyle, ZEROFAT has a selected of 'morning routine' breakfast options including healthy shakshuka, egg towers and low-fat pancakes served (from 8.30am till noon), 'Cardio meals' including herbal crispy salmon, steak and vegan noodles, as well as 'protein packed' options including a selection of healthy burgers and some sandwiches.
Prices vary. Open daily 8am-midnight. The View Tower, Embassies District (02 5544455).
Vegan dishes
With many of us turning to a vegan diet, the options for plant-based dining have grown in abundance here in Abu Dhabi. Not only are there endless restaurants with healthy takeaway options in the capital, there are plenty of places that offer vegan dishes and menus for home delivery, too.

To help you pick the best, here are a few of our favourite spots to order your next vegan meal from…
BareBurger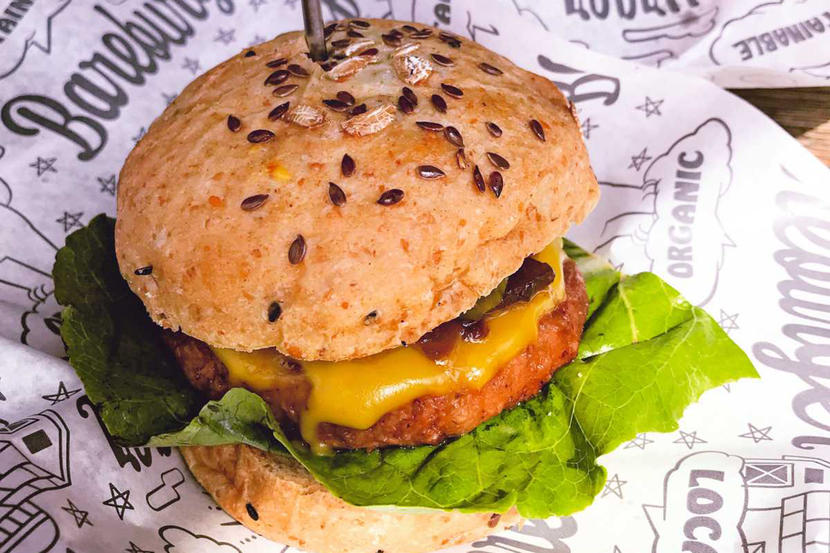 Just because you're vegan, doesn't mean you always have to eat healthily. We all love a nice, juicy burger and at Bareburger, you can get just that – except it's plant-based. The restaurant has a vegan burger menu with seven different choices, from sweet potato and quinoa based burgers, to vegan cheeseburgers.
Prices vary. Open daily noon-10pm. Marina Mall, Marina Village (02 441 1723).
Biriyani Pot
Here, you can get a variety of vegan biriyanis and curries including vegan tofu tikka masala, vegan daal tadka, vegan vegetable biriyani and more. There's even a vegan mango lassi for you to wash it all down with.
Prices vary. Open daily 11am-11pm. The Galleria Al Maryah Island (02 676 6555).
COCO Asia
The restaurant specialises in Asian cuisine with many vegetarian options that can be customised to vegan meals. There's also a vegan green papaya salad.
Prices vary. Open daily 11am-11pm. 3rd Street, Al Khalidiya (02 622 5554).
Guilt Free Café
This vegan café offers everything from 'chickin' burgers and matchstick fries to vegan bowls, tofu wraps and beetroot risotto, so you'll definitely be spoilt for choice.
Prices vary. Open daily 8am-9pm. Umm Al Emarat Park, Mushrif (052 277 3333).
Hoi An
Vegan and vegetarian dishes are heavily rooted within the culture of the Vietnamese restaurant Hoi An, and as a result, all dishes are customisable for vegans meaning you can take your pick of whatever you like.
Prices vary. Open daily 6pm-11.30pm. Shangri-La Hotel Qaryat Al Beri, Abu Dhabi (02 509 8555).
Pinza
For vegan pizza, order from Pinza who have six different options for you to choose from including a truffle vegan pizza, a faux meat one and potato-based pizzas.
Prices vary. Open daily 11am-1am. Umm Al Emarat Park, Mushrif (04 551 5582).
Pizza Di Rocco
The popular restaurant is known for serving authentic Italian pizzas straight to your front door and has a special vegan section on its menu. Choose between a selections of seven different vegan pizzas each with loads of different toppings.
Prices vary. Open daily 11am-midnight. Salam Street, Al Dhafrah (02 885 3222).
Simple Café
Not just a vegan restaurant but it is gluten free and dairy free, too, so anything on the menu is up for grabs. They serve a wide selection of salads, hot meals, sandwiches and desserts.
Prices vary. Open daily. 7am – 9.30pm. Simple Café. Tennis Complex, Zayed Sports City, Al Madina Al Riyadiya, Abu Dhabi (02 5833612).
Taqado Mexican Kitchen
The restaurant's bestselling item is the vegan quesadilla, so if you're a fan of Mexican this will be right up your street. You can also get vegan tacos (both soft and crispy), burritos, nachos and special vegan rice boxes.
Prices, time and locations (02 6770700).
The Better Burger Co.
Fancy a burger? Then order from this extensive 100 percent vegan menu. They've got BBQ burgers, chilli burgers, classic burgers, California burgers, you name it...
Prices vary. Open daily 10am-10.45pm. Downtown Abu Dhabi (054 306 9230).
The Raw Place
Okay, this was in the healthy section, but The Raw Place also offers a selection of organic vegan meals and fresh detox juices. There are lentil lunches, mung bliss balls and other bites.
Prices vary. Open Sat-Thu 7pm-11pm; Fri 8am–11pm. Sheikh Khalifa Street, Al Markaziyah (02 633 4677).
Be the first to get all the latest Abu Dhabi news, reviews and deals into your inbox by signing up to our free
newsletter
,
click here to sign up
.