If you're in need of a takeaway but don't quite fancy bingeing on junk food then fear not, there are plenty of healthy alternatives in Abu Dhabi to keep you going.
In fact, the city is full of restaurants and cafés that specialise in clean eating and guess what? They all offer delivery services meaning you won't have to leave the comfort of your own home to eat well – or lift a finger in your kitchen, for that matter.
From salad bowls and nutrition-fuelled meals to low carb, vegan and heavy protein dishes, the options are endless. Simply take your pick, sit back and wait for a healthy breakfast, lunch or dinner to be served directly to your doorstep.
Here are some of our favourites in the capital to order now.
You can find them all on Zomato or Deliveroo.
All Things Acai
Get your acai fix here and enjoy the variety of bowls on offer. Whether you're a fan of peanut butter based acai or prefer yours with berries there's something for you. In fact, you can even create your own.
Prices vary. Open daily 8am–3am. Financial Center, Abu Dhabi (04 3502041).
Diet Bite
If a quick bite for dinner is what you're after then take a look at Diet Bite's menu. The restaurant has a range of healthy hot meals from grilled prawns with brown rice to salmon and chicken dishes. They've also got breakfast and lunch options.
Prices vary. Open Daily. 8.30am-12.30pm. Near Sahara Hotel Apartments, Al Nahyan (050 876 6317).
Diet Bites Restaurant
From quinoa pastas and penne with vegetables, to grilled-fish dishes and low-calorie pizzas, Diet Bites Restaurant offers a range of balanced meals.
Prices vary. Open daily 8.30am-12.30pm. Al Falahi Tower, Embassies District (02 4449498).
Joud Café
This café has an excellent selection of nutritious breakfast options. Order everything from acai bowls and smoothies to omelettes, shakshuka and peanut butter French toast. They've got pancakes too, as well as a selection of lunch and dinner options.
Prices vary. Open daily 8am–-10pm. Al Bateen Park Plaza, Al Bateen (056 525 8235).
Kcal
As well as a variety of incredible sounding breakfast options (there's a peanut butter, strawberry and banana burrito...), Kcal offers a wide range of salads, protein bowls and healthy wraps as well as hot meals such as grilled chicken and roast veggies, salmon teriyaki and pasta-free lasagne.
Prices vary. Open daily 8.30am-11.30pm. Mamoura Building Tower B, Al Nahyan (600 595 955).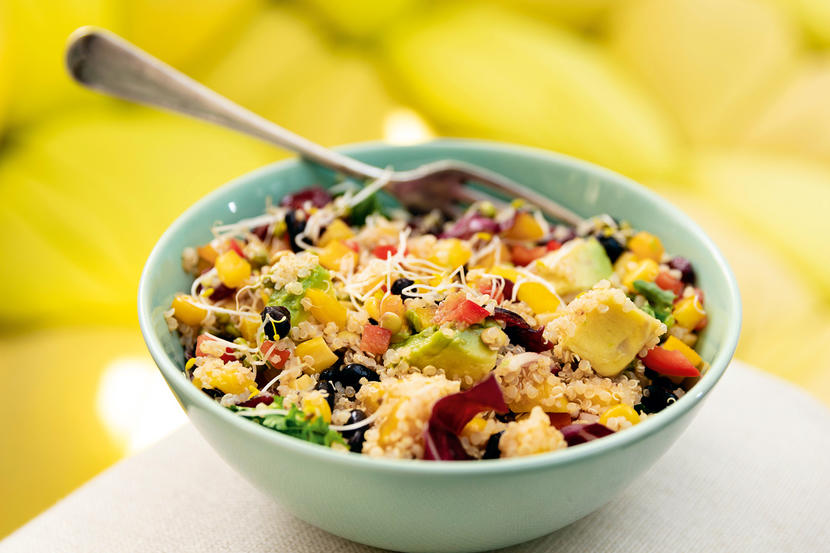 Nolu's Downtown
Nolu's serves American food options but with a healthy twist. You can get everything from kale and quinoa salads to salmon risotto and low-calorie burgers.
Prices vary. Open daily. 9am-11pm. The Galleria, Al Maryah Island (02 6441516).
Poke and Co.
Poke bowls are great because they're both healthy and delicious. At Poke and Co. you can choose between their best-selling dishes (including Ono, Aloha, Kahuna and Pokérrito) or build your own bowl from scratch with your favourite toppings.
Prices vary. Open daily 10am-11pm. Al Zahiya (058 641 9039).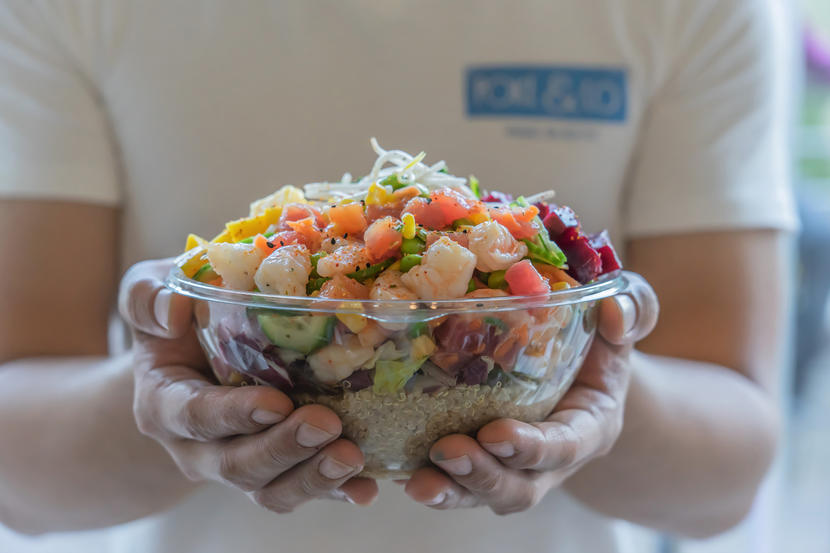 Right Bite Express
Salads and superbowls, healthy sandwiches and wraps, protein pots and a selection of hot meals including roasted vegetable lasagne and grilled chicken with mash, it's safe to say they've got us covered at Right Bite Express.
Prices vary. Open daily 11am-12.30pm. Madinat Zayed Area (04 5269171).
SoulFull
Feed the whole family with Soulfull's selection of healthy bundles, which each include a number of wraps or salad boxes, fruit pots, energy bites or cakes and fresh juices depending on which option you go for – there are bundles for three or six.
Prices vary. Open daily 8am-11.30pm. Arc Building, Al Reem Island (800 7685).
The Raw Place
As the name suggests, The Raw Place offers a selection of organic meals, fresh detox juices and plant-base options. There are lentil lunches, mung bliss balls and other light bites, as well as hot soups.
Prices vary. Open Sat-Thu 7pm-11pm; Fri 8am–11pm. Sheikh Khalifa Street, Al Markaziyah (971 2 633 4677).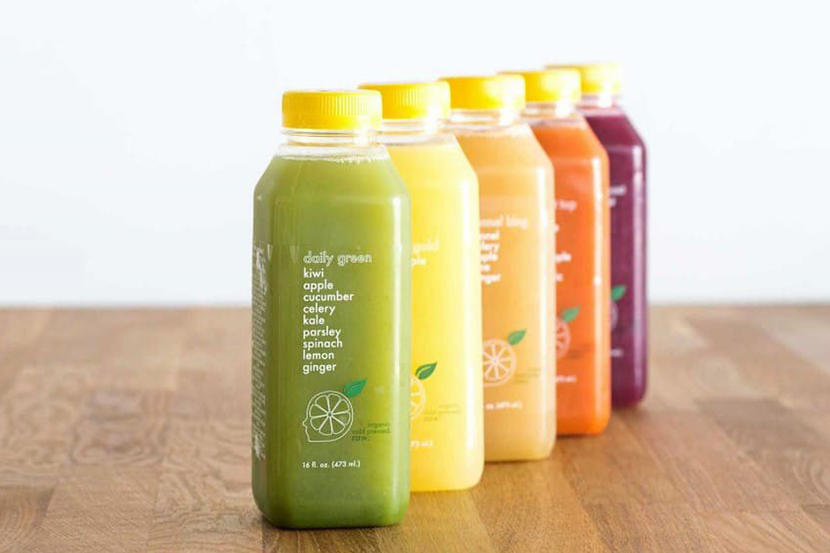 UNDER500
As the name gives away, the meals at UNDER500 are all about giving you some of your favourite dishes with fewer calories. Order anything from customisable all-day breakfast options to soups, salads and host dishes such as chicken and crushed sweet potato or steak and mushroom rice.
Prices vary. Open daily 8am-12.30am. Madinat Zayed Area (04 350 2055).
ZEROFAT
Priding itself in helping us live a healthy lifestyle, ZEROFAT has a selected of 'morning routine' breakfast options including healthy shakshuka, egg towers and low-fat pancakes served (from 8.30am till noon), 'Cardio meals' including herbal crispy salmon, Sheppard steak and vegan noodles, as well as 'protein packed' options including healthy burgers and sandwiches.
Prices vary. Open daily 8am-midnight. The View Tower, Embassies District (02 5544455).
Be the first to get all the latest Abu Dhabi news, reviews and deals into your inbox by signing up to our free
newsletter
,
click here to sign up
.