If like us, you like to do Christmas properly, you might be feeling like you have had enough turkey dinners, mince pies and gingerbread men to last you a life time (or for the next 12 months anyway).
So now that January is almost here, many of you will be starting the year with resolutions to overhaul your diet and eat healthy, fresh food instead.
But the good news is that eating healthy food in Abu Dhabi doesn't mean you are limited to boring limp salads.
There are so many brilliant restaurants found throughout the capital which specialise in making wholesome, nutritious plates that also taste fantastic and leave you feeling full up and satisfied.
So to help you with your January cleanse and New Year goals, here's where to get the best healthy food in Abu Dhabi.
BLOOM Vegan Kitchen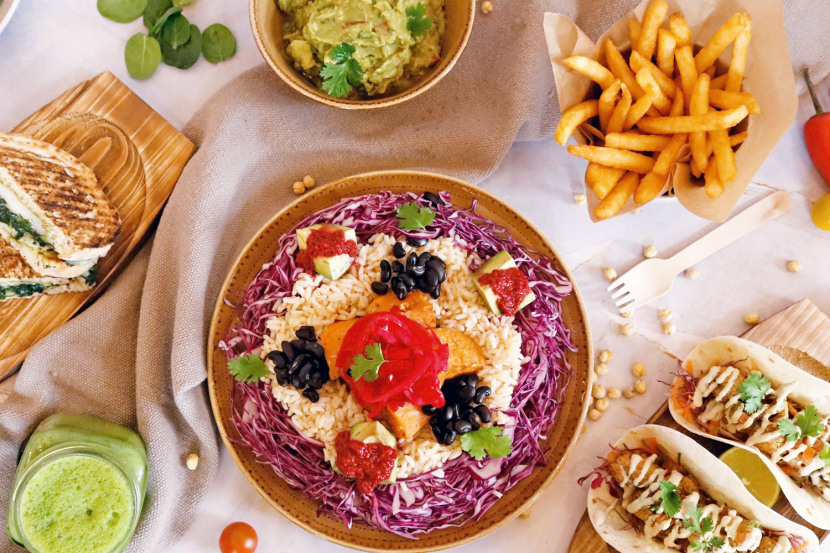 Takeaway food service BLOOM Vegan Kitchen has only been operating in the capital for a couple of months, but its already got many fans. Offering tasty plates which are all 100 percent vegan friendly and served in packaging which is 90 percent recyclable, BLOOM is an environmentally conscious brand which specialises in fresh and healthy homemade dishes. The menu includes nutritious breakfast plates like hummus veggie toast, colourful quinoa bowls, huge mushroom burgers and more. It's the perfect accompaniment for a night in with a movie.
www.bloomvegankitchen.com.
Café 302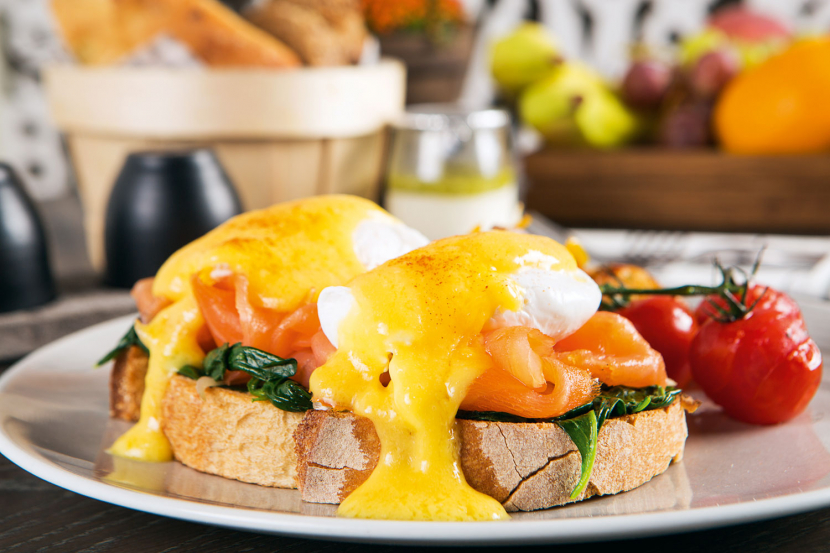 Life in Abu Dhabi involves a lot of eating and partying, so you might be reaching a point where you fancy a bit of a detox. Well, Café 302 is helping us to start the weekend on a healthy note by offering a Thursday night all-you-can-eat vegan buffet dinner. Once a month the Roots & Shoots event also features a 60-minute yoga session, so you'll be feeling properly relaxed by the time you dig in.
Dhs89 (buffet), Dhs149 (buffet and yoga, once a month only). Thu 6pm-10pm. Al Maha Arjaan by Rotana, Fatima Bint Mubarak Street (02 610 6666).
Foodshed
There's a friendly, rustic vibe to this cute café, and with excellent coffees and so many super healthy dishes, it always attracts a crowd. If you're here for a quick lunch you might go for the vegan wrap packed with quinoa, seasonal veggies and loads of creamy avocado. Other strong options include either the chickpea or aubergine and lentil curry (both perfect bowls of comfort food), and the Country Garden pizza, which is topped with vegan cheese, mushrooms, tomatoes, baby sweetcorn and colourful peppers.
Open daily 8am-10pm. Khalifa Park area (02 671 1113).
GuiltFree
This is one of our go-to choices whenever we're feeling too lazy to cook. Offering an online delivery service and a food truck that regularly appears at events around the capital, every dish is homemade, organic, responsibly source, and 100 percent vegan friendly. Offering everything from vegan sushi to pizzas to power bowls and nibbles like buffalo cauliflower, anything you choose will be wonderful. The pistachio pancakes are on another level of delicious, and now we've discovered its breakfast options, including acai bowls, avocado toast and Turkish bagels, we never want to go back to our usual bowl of porridge ever again.
www.guiltfree.ae.
Jones the Grocer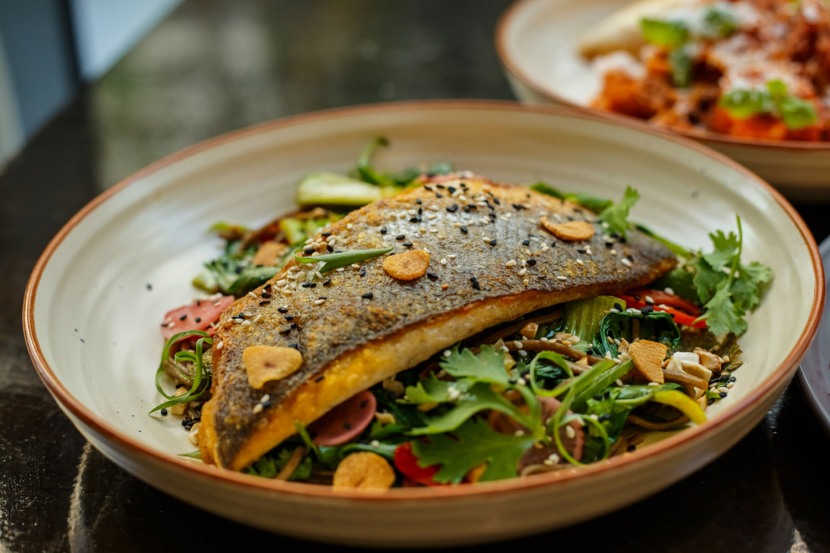 This Aussie café is super popular throughout the city, and while the beef burgers might be raved about, the healthier options are just as incredible. You can start your day with a wholesome mango coconut chia bowl, grab a bowl of warming lentil or sweet potato soup for lunch or try a fresh salad or hearty sandwich with a side of sweet potato fries for a weekend treat. Plus, if you really love the dishes, you can also take part in vegan cooking classes to learn how to make the eatery's signature masterpieces at home.
Open Sun-Thu 10am-11.30pm, Fri-Sat 9am-11.30pm. Various locations, including Pearl Plaza Tower, Al Khalidiyah (02 639 5883).
Market at EDITION
This is without a doubt one of the most exciting healthy venues in the city. Celebrity British chef Tom Aikens has put together a list of dishes the likes of which you'll find nowhere else, and we love it a little bit more every time we visit. If you're a bit of a foodie (like us), you'll be thrilled to see that almost everything includes ingredients like buckwheat, flax seeds, chia seeds, turmeric yoghurt, blueberry labneh and other similarly exotic additions. Highlights include the cured salmon bagel with beetroot, sprouts, dill cream and garden greens, plus the rye, quinoa and chia seed porridge if you're looking to start your day on a high. But honestly, anything you choose will be fantastic, and you don't even have to feel guilty about it afterwards, which is always nice.
Daily 6.30am-6pm. The Abu Dhabi EDITION, Al Bateen (02 418 2503).
Moni's Healthy Choice Café
You'll find products from this Abu Dhabi-based clean eating brand being sold all over the capital, including at Souq Planet, Your Urban Market and even at yoga studio YogaOne. But the local company also has a café in Al Bandar too. Producing a huge range of vegan dishes as well as gluten and dairy-free options, the tempting menu includes breakfast puddings, salads, soups, cakes and of course, lots of awesome protein balls. You can even get all the best fashionable beverages like celery juice and golden and matcha lattes made with coconut, almond, brown rice or oat milk.
Al Bandar, Al Raha Beach (050 818 8870).
Raw by Nolu's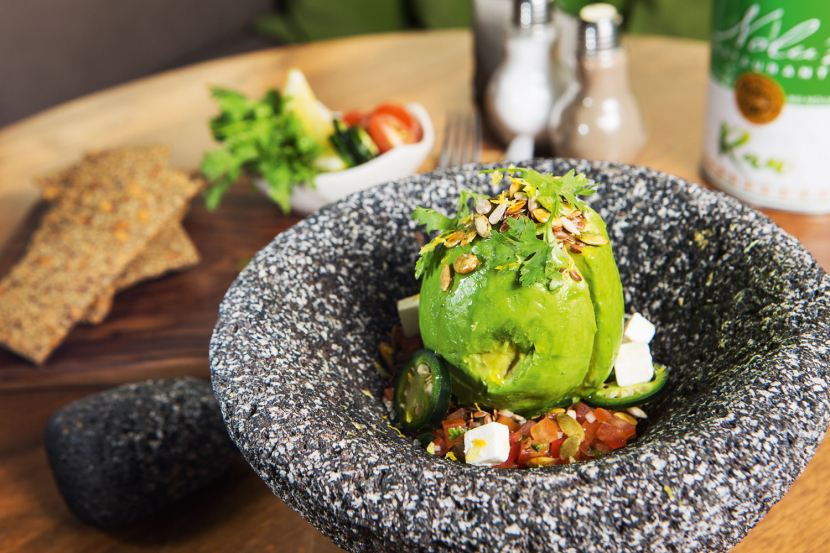 Nestled next to Al Seef Mall and mere metres away from two gyms, the healthier branch of Nolu's has managed to bag a perfect location. While many might just call in for a post-workout smoothie to go, we like to take a seat in the cosy indoor area or on the sunny terrace, and treat ourselves to one of the colourful build-your-own superfood bowls or one of the wholesome breakfast options. The edamame explosion toast is exceptionally tasty, and you can also never go wrong with the beautiful kale Caeser salad.
Al Seef Village, Khalifa Park area (02 444 8080).
Sweet Greens
This wholesome restaurant hasn't even been open for a year yet, but it's already got many fans. The menu is split into sections according to how many calories you're looking to consume, with everything from light dishes offering 300 calories, to the 'naughty series' where calories aren't counted at all (nobody wants to pay attention to that on cheat day). You'll also find a dedicated vegan section, with each category offering salads, wraps, burgers, pastas, pizzas, smoothies and juices. It's a simple but brilliant system, and we can highly recommend the vegan mojo wrap (featuring spinach, avocado, black beans and rice), plus the spicy avo chicken burger (put avocado on top of anything and we're sold). The owners are super friendly too, so make sure you take your time and stick around for a chat.
The Clubhouse, Rihan Heights (02 633 5563).
Simple Café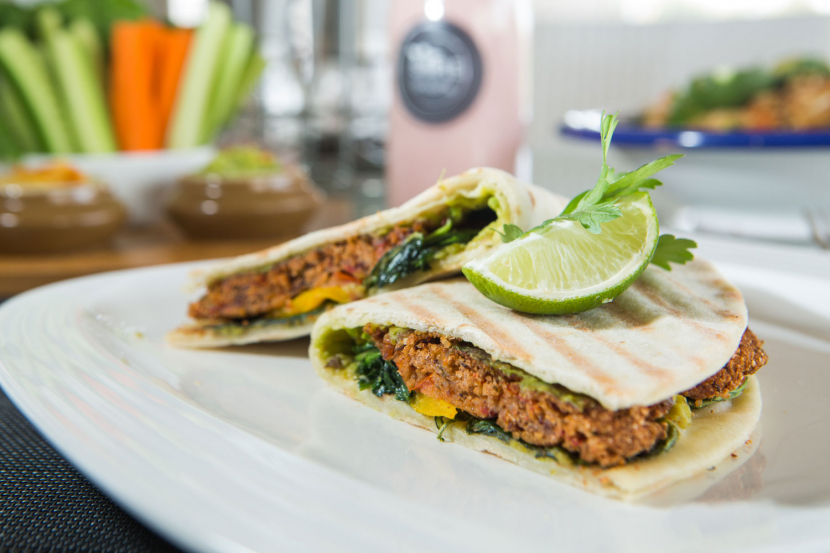 With numerous gyms just a few metres away from its outdoor seating area at Zayed Sports City, this hole-in-the-wall café has plenty to tempt in all the health-conscious gym-goers and sporty types who pass by every day. If you're looking to really do things properly then you sign up for a meal plan, or you can simply drop and pick up a nutritious smoothie bowl, salad, snack box or main course. Vegans are very well catered for too, with the vegan feta bread, tofu tikka masala with cauliflower rice and the summer quinoa salad with vegan cheese among the many highlights.
Open daily 7am-9.30pm. Abu Dhabi International Tennis Centre, Zayed Sports City (050 418 8378).
Wheatfields
Hidden away in Al Rayyana compound, it seems that most of Khalifa City is in love with this gourmet supermarket and café. The smoothies (in particular the peanut butter crunch) are wonderful, while the vibrant salad bar is a glorious sight for any foodie or health food fanatic. The main menu includes healthy breakfasts, wraps and sandwiches, including vegan-friendly options like American-style pancakes, breakfast burritos, vegan cheese pizzas and much more. It's all prepared with great care, attention and high-quality ingredients.
Open daily 7am-midnight. Al Rayyana, Khalifa City (02 550 0971).
Zerofat
First launched in Al Ain in 2016, homegrown brand Zerofat specialises in creating healthy food with a difference. Looking through the menu, you might be thinking that some of the dishes look too delicious to possibly be healthy. But the venue promises they are. We can't think of a better way to start the day than with the peanut butter and banana pancakes immediately grabbed our attention (is there a better combination in the world? We highly doubt it). But there are also omelettes with a variety of fillings, classics like eggs benedict and refreshing acai bowls. Or, if you're eating later in the day, the options sound good, too. We honestly don't know where to start with our long list of favourites, but the huge sandwiches and burgers definitely deserve a mention. The big hitters include the mighty 'shroom beef burger, which comes loaded with toppings in a wholewheat bun, and the roasted chicken sandwich, which features layers of creamy avocado and low-fat cheese.
The View Tower, Al Muroor Road (600 542 524).
Be the first to get all the latest Abu Dhabi news, reviews and deals into your inbox by signing up to our free
newsletter
,
click here to sign up
.