Abu Dhabi Corniche offers a stunning eight-kilometre stretch of beautiful beaches, parks, playgrounds and loads of cool food trucks.
Whether you've got visitors in town or want to do something fun with your day off, it's a super place to visit.
We love coming here for an evening stroll or jog, but it's also lined with great restaurants and bars too, all offering fantastic views of the gorgeous blue Gulf.
So next time you've after a drink or a bite to eat with a breath-taking view, head to one of these brilliant venues below.
Almayass
With a bright and casual dining room and menu that blends Armenian and Levantine cuisine there's plenty to savour at Almayass. It's also got a splendid view of the private beach at the Sheraton Abu Dhabi Hotel and Resort, as well as the bright blue Gulf beyond.
Daily 9am-11.45pm. Licensed. Sheraton Abu Dhabi Hotel and Resort, Corniche East (02 644 0440).
Azura Panoramic Lounge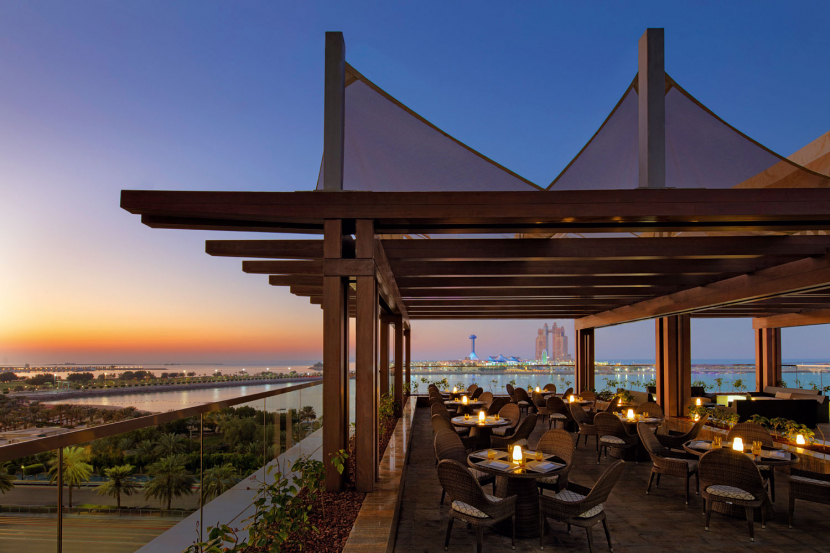 With a much sought-after position right on the Corniche, The St. Regis Abu Dhabi was lucky enough to bag one of the best locations in the capital. Azura Panoramic Lounge has an elevated perch in Nation Towers and as the name suggests, the unobstructed views over the Gulf and Abu Dhabi landmarks such as Emirates Palace are stupendous. The daily happy hour (from 5pm to 8pm) is timed to coincide with the sun setting and the tapas-style plates are served in generous portions.
The St.Regis Abu Dhabi, Nation Towers, Corniche Road (02 694 4553).
Breeze Lounge
Any visit to Emirates Palace is enough to you feel like an actual prince or princess, and an evening at Breeze Lounge gives you a real taste of royalty. Recline in a sofa or tent-covered table and give your best nonchalant 'Oh, I always hang out at stupidly fancy places like this' pose for your increasingly jealous Insta followers. Earning its name from the fact that you are close enough to the glittering waters to literally feel the sea breeze, this is the kind of setting that makes you want to pinch yourself.
Emirates Palace, West Corniche (02 690 7999).
Cabana Beach Bar & Grill
This quaint white building is another bar which has a location that's so perfect it's almost laughable. Right on the sandy shores of the immaculate Corniche beach, here you can feel the sand between your toes as you sip on mixed drinks and dine on high-quality bar dishes such as hearty burgers and sandwiches overflowing with every millennial's favourite trendy green fruit (no we're not bored of avocados yet, thanks for asking). Sounds just awful, doesn't it?
Nation Riviera Beach Club, Corniche Road West (02 694 4553).
Catch Rooftop
While seafood restaurant Catch is the place for beautifully crafted fish dishes, head upstairs to Catch Rooftop and you'll find a totally different type of vibe. This is the perfect late-night bar. It's talked about a lot in Abu Dhabi and with very good reason. If you've planned a big night out, make sure you save this for your final destination. Found at Nation Riviera Beach Club in the heart of the Corniche and boasting a, yes you guessed it, cooler than cool rooftop terrace, the views over the gulf and bright lights of the city are simply stunning. Whether you arrive to watch the sunset or turn up past midnight, this is basically the dream setting to enjoy a mixed drink or light bar snack, of which the selection is huge and reasonably priced.
Nation Riviera Beach Club, Corniche Road West (02 611 0909).
Hakkasan Terrace
As you make your way to this exclusive outdoor bar, either through the private entrance at Emirates Palace, or through the restaurant and along the winding stone path, you can't possibly fail to be impressed by the backdrop. With the glittering outline of the Corniche's skyscrapers in front of you, you can relax on one of the comfortable cabana beds or hang out by the bar, where you can watch the efficient bartenders at work. Make sure you try some of the incredible dim sum while you're there, too.
Emirates Palace, West Corniche Road (02 690 7739).
Li Beirut
As last year's winner in this category, the venue at Jumeirah at Etihad Towers impresses us every time we visit. The portions are huge, the mezze is varied and made with the most super ingredients money can buy, and enjoying it all out on the balcony whilst admiring the view of the private beach is an experience that's hard to beat.
Jumeirah at Etihad Towers, Corniche West (02 811 5666).
Observation Deck at 300
The new winner of our Best Afternoon Tea title offers some of the best views in the city. Head to the lofty floor of Jumeirah at Etihad Towers for an afternoon with incredible views. It's a popular spot with tourists, thanks to its 360-degree view of the city. But that isn't all it's got up its sleeve to make a visit here an unforgettable experience. The exquisitely crafted high tea menu provides top-quality staples alongside a fantastic line-up of hot teas and coffees. The triple-deck tray of food is quite a generous serving for one, and the scones are a delight.
Jumeirah at Etihad Towers, Corniche West (02 811 5666).
Ray's Bar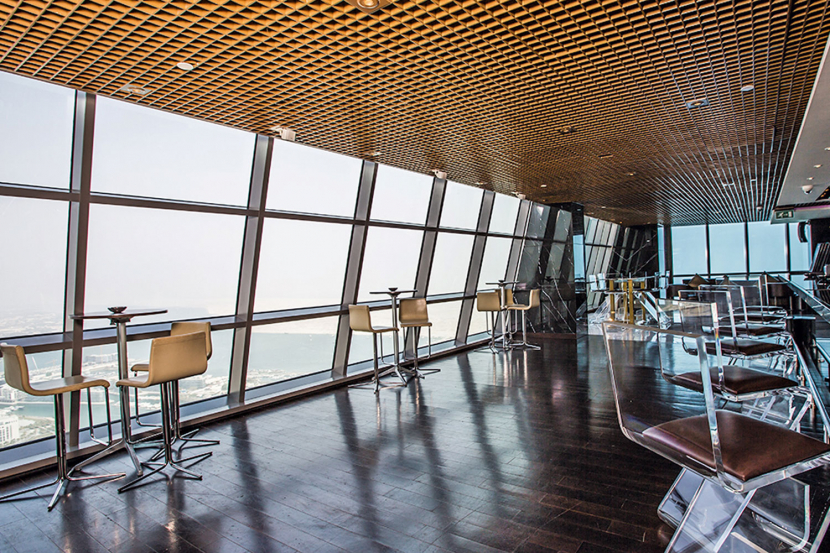 While the capital is home to so many great sundowner spots that are either on ground level or just a few storeys up, few bars take you as high up in the sky as Ray's Bar. Perched on the 62nd floor of Jumeirah at Etihad Towers, you're treated to incredible views of the Corniche and the surrounding islands. Make sure you take a wander around the bar and photograph the sunset from every angle before the stars start to come out.
Jumeirah at Etihad Towers, Corniche Road West (02 811 5666).
Verso
The sunny demeanour (in both the décor and staff) of this Italian restaurant isn't enough to win you over, then the almost perfect pizzas and totally tasty arancini certainly will be. We love the chilled out Saturday brunch here, which also offers tasty mains delivered to the table and super antipasti and dessert buffets. Get a table outside if you can and enjoy admiring the stunning infinity pool and Corniche beyond.
Grand Hyatt Abu Dhabi Hotel & Residences Emirates Pearl, Corniche Road West (02 510 1234).
Be the first to get all the latest Abu Dhabi news, reviews and deals into your inbox by signing up to our free
newsletter
,
click here to sign up
.