Al Fanar Restaurant & Café
A fabulous throwback to the good old days, Al Fanar rekindles the spirit of the '60s. A menu packed full of recipes passed down through generations awaits, with the saloona laham badaweya, or mutton stew, a real highlight. But given its roots in fishing folklore, it would be remiss of you not to try one of the seafood dishes, the machboos samak (simmered fish with yellow rice) being particularly pleasing to the palate.
Open Sun-Wed 8.30am-10pm, Thu-Sat 8.30pm-11pm. Yas Mall, Yas Island (02 877 2272).
Al Mandi & Madhbi House
As its name suggests, this Musaffah restaurant specialises in two cracking chicken dishes – the mandi and madhbi. You must try both to experience the subtle differences between this pair of Emirati staples (it's all in the method, you'll be assured). Aside from these obvious draws, the chefs here also knock up some mean meat curries, while the grilled seafood is also spot on. And then there are the delightful desserts...
Open daily 7am-11.30pm. 16th Street, Musaffah (02 550 6770).
Al Mrzab Popular Restaurant
It's clear that this eatery has gained its popularity by keeping to what it knows best – cooking up a range of excellent Emirati fare without the need for airs and graces. A good sign for any restaurant serving traditional food is the fact the locals often eat here, too. And you'd be hard pushed to find better biriyanis or fish curries than you would at Al Mrzab.
Open Sat-Thu noon-11pm, Fri 1.30pm-11pm. Airport Road, Al Mushrif (02 666 2333).
Lgymat & Rgag
The whole world has fallen in love with street food again and there are few places in the capital that recreate such humble yet wholesome flavours as Lgymat & Rgat. Its deep-fried dumplings slathered in the sticky date syrup (or dibbs, to those in the know) are so moreish you'll feel like taking an XL box home with you, while the cheese rgag flatbreads (at just Dhs6 apiece) are worth the visit alone.
Open daily 8am-10pm. Near Khalidiya Tower, Al Khalidiya (02 666 3881).
Meylas
Starting life as a food truck, it soon became clear the brain behind Meylas was far too good to solely deliver meals on wheels. Shaikha Al Kaabi's passion for the food she grew up with now has a brilliant base in Al Muneera where the sheer array of her talents is given maximum exposure. Put the Mashwi Bel Rgaag on your bucket list. It's a lamb shoulder dish to die for.
Open daily 9am-11pm. Al Muneera, Al Raha (02 444 8884).
Mezlai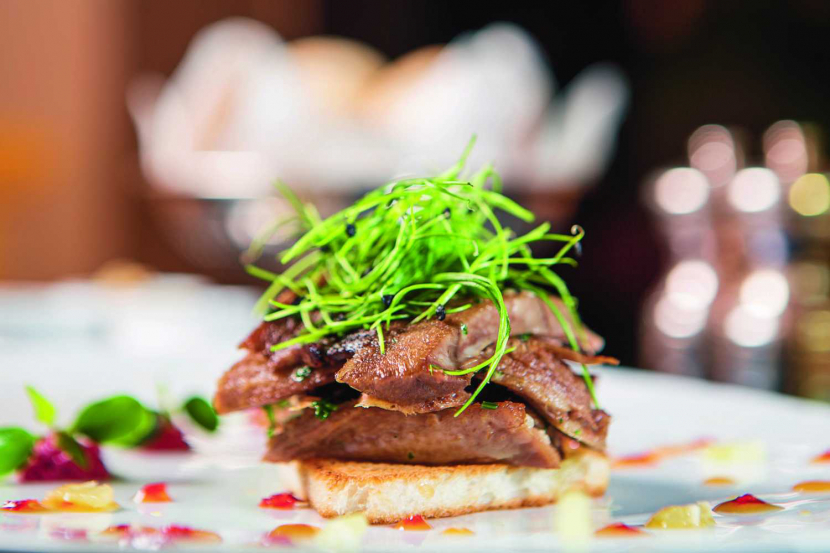 Arguably Abu Dhabi's poshest place for Emirati fare, Mezlai has a reputation for using local ingredients and bringing them to a fine dining level. The setting is majestic but it's only once you devour the dishes that you truly feel like royalty. The mughrabia with scallops is second to none, while the camel tannour is so hearty you might have difficulty removing yourself from your throne once you're done.
Open daily 1pm-10.30pm. Emirates Palace, Corniche Road West (02 690 7999).
Milas
Should you ever be stuck for breakfast ideas, Milas will take such quandaries out of your hands and deliver some of the finest morning pick-me-ups known to man. Take your usual eggs benedict and upgrade them to the Eggxactly Balaleet and you'll see what culinary creation is all about. At lunchtime, there's the chance to try pasta with an Emirati twist. Don't toss it asunder. As for dessert, there are even riffs on that most regional of aromas, in the form of Mystery of Oud – a scented sweet treat that will charm all your senses at once.
Open Sun-Thu 9am-11.30pm, Fri-Sat 9am-midnight. Shangri-La, Qaryat al Beri (02 558 0425).
Souq Al Mubarakiya Restaurant
Social media savvy and with the Instagram-worthy creations to back it up, Mubarikaya knows how to gain an audience – and keep it. Priding itself on dishes grandmother would be proud of, the staples such as machboos and mutabag are worthy of any special occasion. Try the selection of seafood plates and you'll instantly want to return for more. Wash it all down with a sweet melon juice in a bedouin-inspired setting.
Open daily noon-11pm. Beside Mazyad Mall, Mohammed Bin Zayed City (02 444 3001).
The Royal Bukhari
Feasts fit for kings and queens are what The Royal Bukhari specialise in, but should you be dining alone, the lamb or goat banquet might be a tad over the top. The shish taouk, chicken madfon or fried fish still come in portions large enough for you to kindly request they box up your leftovers as food this good should never go to waste. Despite the regal name, don't sweat over airs and graces – this is a no-frills dining spot with the emphasis firmly on great food.
Open Sat-Wed 11am-midnight, Thu-Fri 11am-1am. Airport Road, Al Mushrif (02 665 6114).
Yadoo's House
Grandmother knows best, especially when it comes to filling breakfasts to set you up for the day. A shakshuka here is worth a thousand anywhere else, while the house platter (served with some cracking karak tea) will certainly put a spring in your step. Lunchtime dishes include a super salona and marvellous machboos. If only everyone had a yadoo like you.
Open daily 8am-11pm. Al Muroor St, Embassies District (02 441 1311).
Be the first to get all the latest Abu Dhabi news, reviews and deals into your inbox by signing up to our free
newsletter
,
click here to sign up
.