What's better than a scone layered with strawberry jam, proper clotted cream and a pot of Earl Grey?

The answer is not many things at all, and when you pair this dream combination with cute little sandwiches with the crusts cut off and mini cakes and pastries, it makes us the happiest people in the world.

Luckily Abu Dhabi is obsessed with the ritual of afternoon tea, and you'll find so many cosy cafés and glamorous lobby lounges serving towers of sweet and savoury treats across the city.

They're not ordinary spreads either (this is still the UAE after all), and you'll find everything from gold cappuccinos to truffled egg mayonnaise sarnies and Arabian sweets, plus all your favourites such as cheesecakes, bakewell tarts and mini macarons.

So whether you've got visitors in town, you fancy a girly afternoon or simply want to try out an alternative activity to your usual weekend brunch, these deals will have you supping while pointing your little finger out and enjoying some of the most sophisticated bite-sized treats imaginable.

Pass the cucumber sandwiches, please.

Alba
Tea at The Ritz is a very special event, and it's one that's worth dressing up for. With chandeliers, a vaulted ceiling and dove-grey walls, this hotel lounge is classic and elegant. Everything on the spread is suitably classy and you'll feel very grown up as you tuck into high-end bites such as cucumber and quail egg sandwiches, smoked salmon nibbles and mini raspberry tartlets. The choice of tea is also impressive, and you can even treat yourself to a gold cappuccino, if you want to really live your best life.
Dhs160 (food). Daily 2pm-5pm. The Ritz-Carlton Abu Dhabi, Grand Canal, Khor Al Maqta (02 818 8282).

Al Meylas
This lounge at the luxurious Four Seasons has a majlis-style setting, which is perfect for entertaining your visitors and introducing them to a bit of local culture. The Arabic afternoon tea is a spectacular thing, with fancy versions of local street food specialities such as manakish and shawarma, plus dates and thyme scones, goat's cheese kunafa and more. Alternatively, you can go for the English afternoon tea, which stars a selection of popular classics such as cucumber and cream cheese sandwiches, shortbread, macarons and éclairs.
Dhs150 (one person), Dhs250 (two people). Daily 3pm-7pm. Four Seasons Abu Dhabi, Al Maryah Island (02 333 2222).

Central Grounds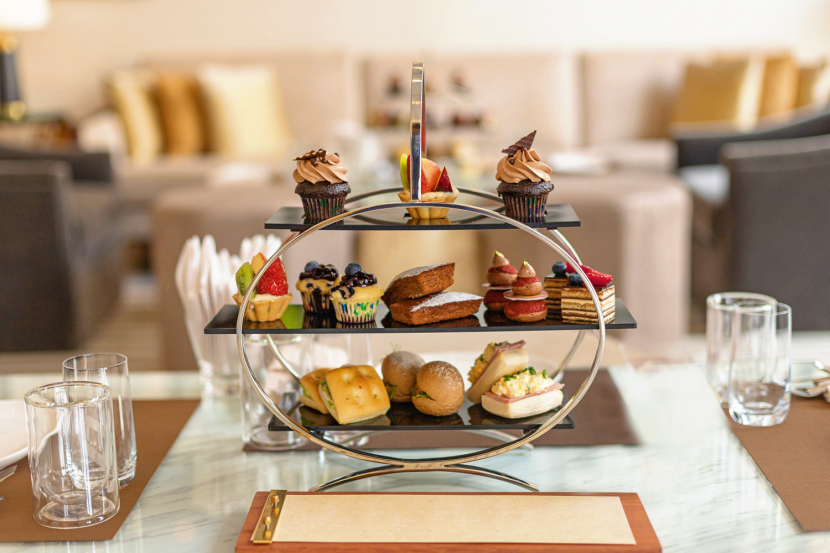 The deal in this stylish café includes sandwiches, scones, fresh pastries and many more delicious bites. Plus you can wash it all down with a choice of herbal teas, coffee or just a classic pot of English breakfast. You'll want to stay all afternoon.
Dhs80. Daily 1pm-5pm. Marriott Hotel Downtown Abu Dhabi, Sheikh Rashid Bin Saeed (02 304 7777).

Crystal Lounge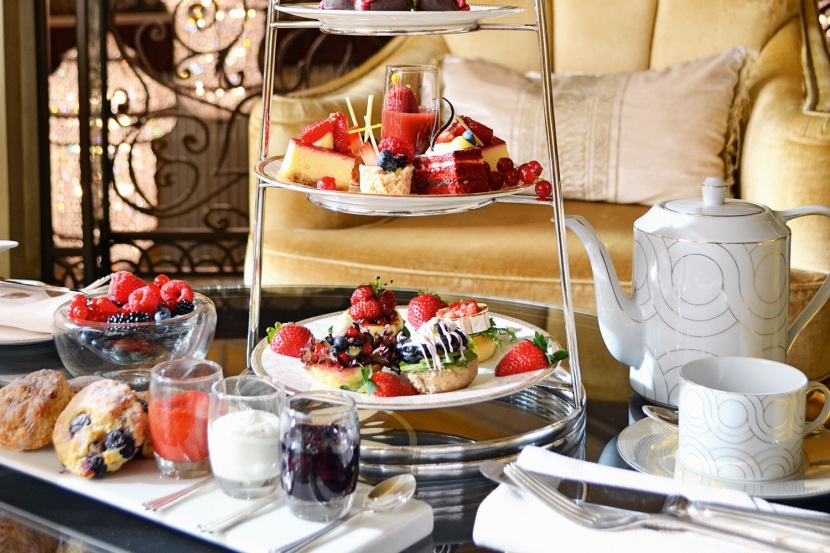 The lobby at the St. Regis Abu Dhabi is one of the most impressive in Abu Dhabi, and it's almost impossible not to take a snap of it as soon as you enter. Sitting at the top of this beautiful hotel's grand staircase is Crystal Lounge, which specialises in exceptionally decadent afternoon teas. A tea sommelier is on hand to explain the wide selection of hand-picked leaves, and for the food you can choose from a classic spread or one inspired by the Middle East. The classic features traditional offerings such as smoked salmon sandwiches and English fruit cake, while the locally inspired The St. Regis Afternoon Tea boasts exciting dishes such as babaganoush with grilled courgette and baklava.
Dhs195 (adult). From Nov 1. Daily 2pm-6pm. The St. Regis Abu Dhabi, Nation Towers (02 304 8316).
Filaments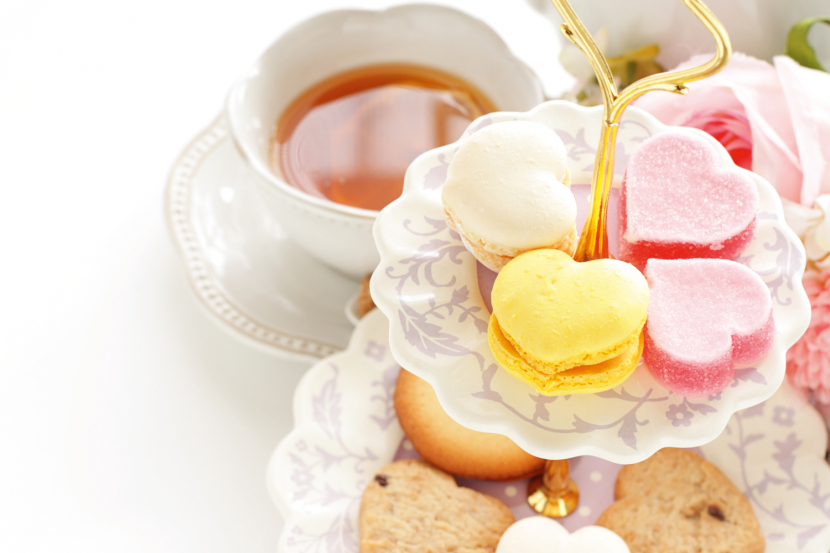 There's a two-for-one offer on this lovely afternoon tea spread at the moment, and you can choose between a classic or Arabic option. The former comes with all your favourite sandwiches, pastries, cakes and fresh scones served with real Devon cream and jam, while the latter features regional creations such as date cookies and Arabian sweets. Both are a total joy.
Dhs120 (for two). Daily 3pm-6pm. Southern Sun Abu Dhabi, Al Mina Street, Al Zahiyah (02 818 4888).

Le Café
Nothing quite says "Oh, look how fancy and lovely Abu Dhabi is" like the afternoon tea at Le Café. Once you've taken in the gold lobby (everything is gold, we're not exaggerating), take a seat at this swish venue and choose from several high tea options. The Verdant Affair is a vegetarian afternoon tea with Mediterranean-inspired sandwiches filled with fresh vegetables, creamy cheeses and of course plenty of scones and mini pastries. Meanwhile, the Royal Afternoon Tea is quite literally fit for a king or queen, and the Traditional Afternoon Tea includes all the most elaborate ingredients in the world such as truffle, 23-karat gold (yes, really) and more. Remember to book your table at least 24 hours in advance, this place is popular.
From Dhs350 (vegetarian, hot drinks), Dhs478 (Royal, hot drinks), Dhs387 (Traditional). Daily 2pm-6pm.Emirates Palace, West Corniche (02 690 9000).

Lobby Lounge (Jumeirah at Etihad Towers)
While there's plenty going on in the top levels of Jumeirah at Etihad Towers, the Lobby Lounge also has the wow factor. You'll be photographing the cool centrepiece hanging from the ceiling as well as the high tea offering, which currently has an American theme to it. This means you can expect quirky delights such as beetroot bagels filled with salmon and cream cheese, cranberry and orange scones and cookies and cream brownies. It sounds like our kind of feasting.
Dhs220. Daily 2pm-6pm. Jumeirah at Etihad Towers, West Corniche (02 811 5666).

Lobby Lounge (Marriott Hotel Al Forsan Abu Dhabi)
The Al Forsan Tea is served in the pretty main lobby lounge at this Khalifa City hotel. It features all your favourite traditional nibbles including plenty of dainty sandwiches and savoury bites, sweet cakes and perhaps best of all, homemade scones with clotted cream and jam. The tea is free flowing, too, and you can gaze out of the window at the pretty garden while you eat. Bliss.
Dhs99. Daily 2.30pm-5.30pm. Marriott Hotel Al Forsan Abu Dhabi, Khalifa City A (02 201 4131).
Lobby Lounge (Shangri-La Hotel, Qaryat Al Beri)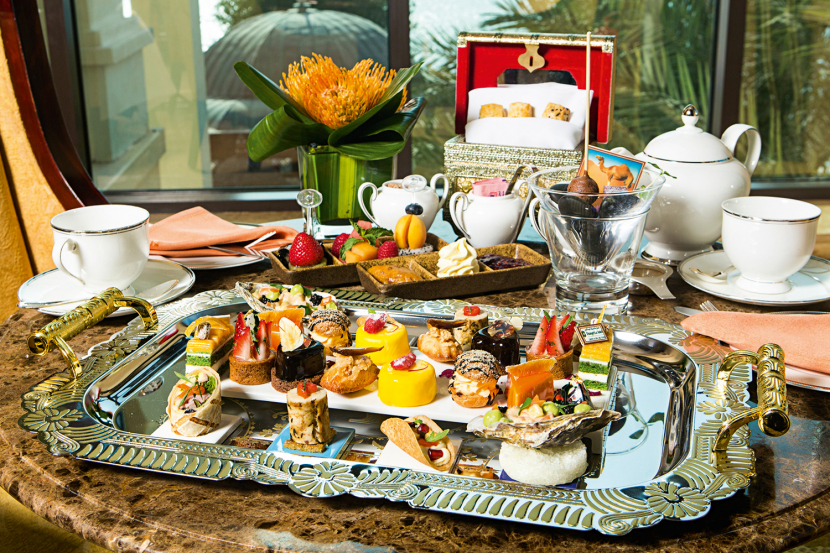 If you grab the corner table in this decadent lobby lounge you'll have a perfect view of the private beach, the Grand Canal and the impressive outline of the Sheikh Zayed Grand Mosque. The staff are super friendly, too, and until the end of November the venue is serving a special pink afternoon tea in honour of Breast Cancer Awareness Month. Beetroot is used to dye the bread and scones a funky shade of pink, and the decorated cakes are like works of art. Highlights include the roast duck and avocado sandwich and the mini strawberry scones, while the coffee and loose-leaf tea options are excellent as well.
Dhs110 (afternoon tea), Dhs150 (afternoon tea and manicure or pedicure). Daily 2.30pm-6pm. Shangri-La Hotel Qaryat Al Beri, Abu Dhabi (02 304 8036).

Majlis Lobby Lounge
This is a truly spectacular afternoon tea, which even includes live stations dishing out fresh stacks of waffles and pancakes, plus a huge chocolate fountain with plenty of dipping options. The floor-to-ceiling windows of the venue offer panoramic views of Al Maryah Island and the Downtown skyline, and packages include unlimited tea and coffee or Italian mixed drinks.
Dhs200 (tea and coffee), Dhs220 (mixed drinks). Daily 3pm-6pm. Rosewood Abu Dhabi, Al Maryah Island (02 813 5550).

Majlis Saadiyat
This Jumeirah resort is one of the most recent hotels to open on Saadiyat Island and of all the beautiful venues in the area, Majlis Saadiyat is certainly up there. Set in the light and impressive lobby, you can choose from a traditional or Arabic afternoon tea spread. Highlights of the traditional option include fun yet high-end savoury treats such as lobster BLTs and chicken waffles, plus sweet bites including bounty cake and apple crumble tart. Meanwhile, the Arabic spread offers laqaimat, cheese kunafa and many more traditional nibbles to feast upon.
Dhs155 (afternoon tea), Dhs300 (Arabic afternoon tea for two). Daily 2pm-6pm. Jumeirah at Saadiyat Island Resort, Saadiyat Island (02 811 4342).

Observation Deck at 300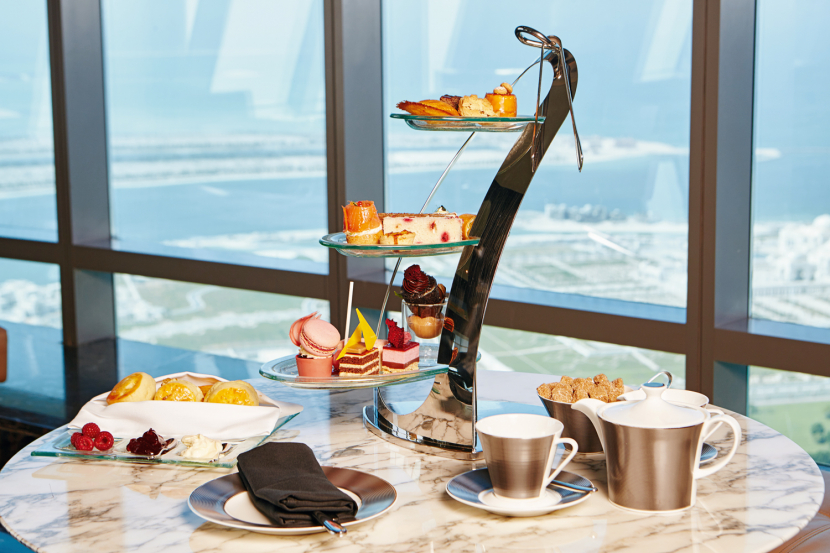 If you've got visitors on the way then make sure you add an afternoon of enjoying this incredible tea to your itinerary. As the name suggests, you get a 360-degree view of the city, but it's not just the amazing vistas that draw so many people here. We also awarded it our Best Afternoon Tea at the Time Out Abu Dhabi Restaurant Awards 2018 because of the lovely spread, which features plenty of savoury bites (we hate it when they neglect the not-so-sweet options), and fun cakes such as doughnuts and cute cupcakes.
Dhs250. Daily 2pm-6pm. Jumeirah at Etihad Towers, Corniche West (02 811 5666).

The Drawing Room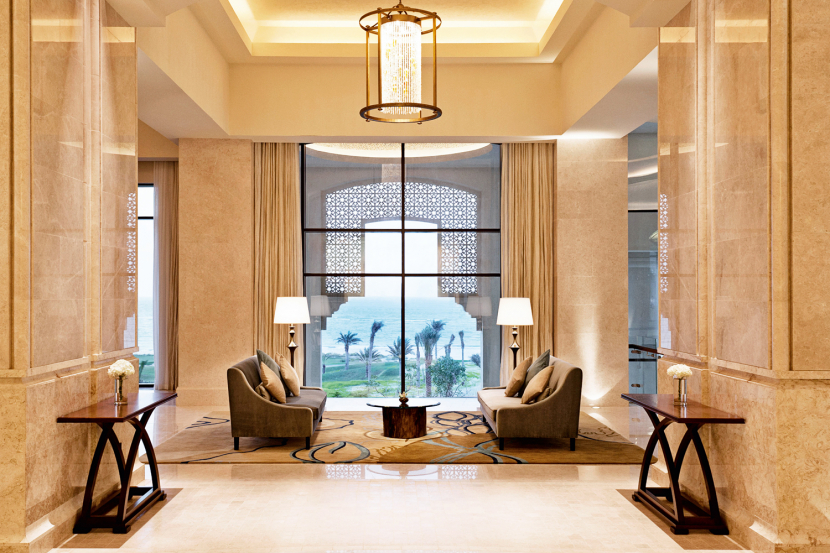 Being able to gaze out at the blue Gulf while relaxing in an armchair and munching on incredible sandwiches and desserts is an experience that's hard to beat. The Lady Astor Afternoon Tea is inspired by the founder of the first St. Regis hotel in New York, and you can choose from traditional favourites in the classic option, or Middle Eastern recipes in the local spread. Younger guests can also try their own mini afternoon tea.
Dhs195, Dhs240 (one glass of bubbly), Dhs120 (children). Daily 2pm-6pm. The St. Regis Saadiyat Island Resort, Abu Dhabi, Saadiyat Island (02 498 8443).

The Library
The London-themed afternoon tea at The Library isn't just for keen readers. The modern lounge is a lovely place to relax for the afternoon, and there are plenty of tempting treats in both the sweet and savoury options. Feast on sophisticated sandwiches filled with truffled egg mayonnaise, cheddar cheese and chutney and more, and finish off proceedings with a spread of super English classics such as bakewell tart, trifle and homemade scones. Reservations must be made at least 24 hours in advance, so get planning.
Dhs199 (hot beverages), Dhs249 (sparkling), Dhs299 (bubbly). Daily 1pm-5pm. Park Hyatt Abu Dhabi Hotel & Villas, Saadiyat Island (02 407 1138).
Be the first to get all the latest Abu Dhabi news, reviews and deals into your inbox by signing up to our free
newsletter
,
click here to sign up
.