Abu Dhabi has a real thing for dim sum.

Whether you like yours fried, steamed, open, closed, vegetarian, meaty or full of seafood, you can find every possible different variety here in the capital.

But while all-you-can-eat dim sum nights seem to be popping up all over the place, we've decided to be a bit particular and pick out the very best individual dishes in the city.

With everything from high-end creations to cheap street food-style bites, the following list is about to make you feel very hungry indeed (we hope for your sake that it's not long until dinner where you are).
Deep-fried chicken wontons at Beijing Restaurant
Sometimes we want to keep our meals as clean and healthy as possible, and on other occasions we don't want anything that isn't fried and covered in sauce. So, whenever we're feeling like a cheat day (we have several a week, so what?), Beijing Restaurant is one of our go-to places. Like the rest of the menu, the dim sum are super good value, with most plates under Dhs20 each. The Hong-Kong-style steamed chicken sio moi deserve a mention but nothing tops the deep-fried chicken wontons with sweet and sour sauce. They're super crispy, satisfying and very very addictive. We never regret a single calorie.
Dhs15. Open daily 11am-10pm. Various locations, including Reem Island (02 650 1996).
Isei ebi age gyoza at Barfly by Buddha-Bar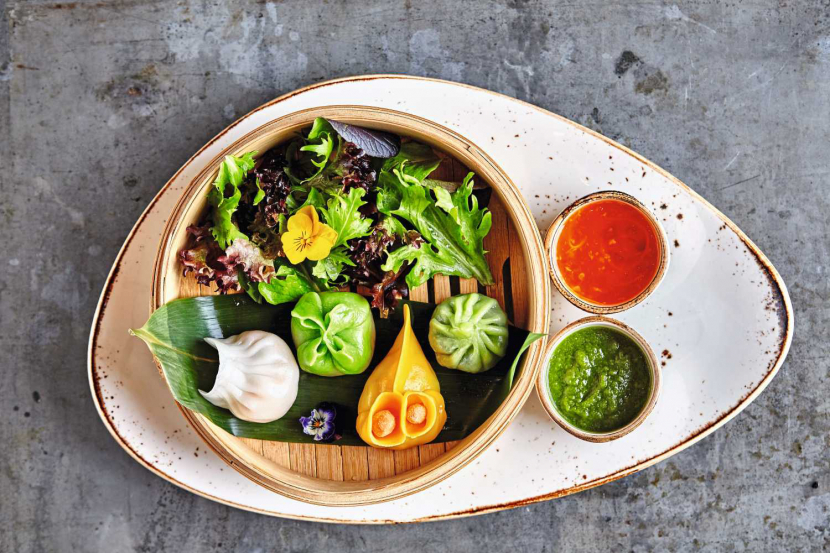 Super trendy bar Barfly by Buddha-Bar is one of our favourite places to enjoy a few drinks and some delicious Asian plates. It's particularly great when the weather is cool and you can sit out on the terrace by the Grand Canal, but with a bar area decorated with cool paintings and sculptures, the inside is incredible too. The sushi and noodles always go down a treat, yet the dim sum might be the best bit of the menu. The truffle chicken gyoza are certainly worth a try, however it's the isei ebi age gyoza (or lobster gyoza) which really gets the top score for us. The pretty parcels are filled with shellfish, seasoned with lemongrass and served with a punchy Nikkei-style yellow chilli sauce.
Dhs75. Open Sun-Wed 6pm-2am; Thu 6pm-3am; Fri 4pm-3am; Sat 4pm-1am. Venetian Village, The Ritz-Carlton Abu Dhabi, Grand Canal, Khor Al Maqta (056 177 7557).
Deep-fried lobster dumplings at Buddha-Bar Beach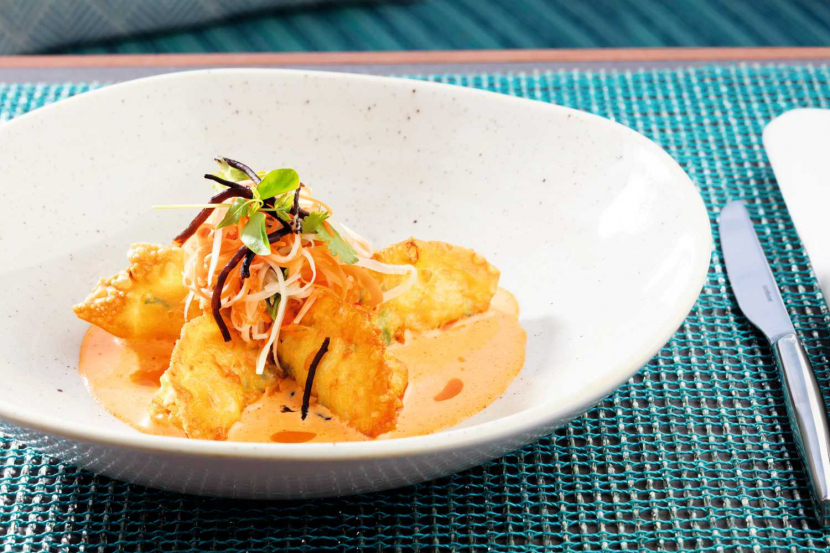 Buddha-Bar is a global institution with legendary status. From Paris, to London, to Dubai, it needs no introduction. Looking over the beautiful shores of Saadiyat Island, Buddha-Bar Beach Abu Dhabi has certainly found an appropriate home. From walking up the palm-tree lined pathway, to being greeted by the hostesses in matching blue maxi dresses, to the details such as crystal glasses and floating candles, immersing yourself in this incredibly cool world is thrilling. The pan-Asian menu is carefully selected with ceviches, salads, sushi and stir fries. But of all the brilliant dishes we have tried here, it's the deep-fried lobster dumplings that are the most memorable. It comes swimming in a creamy, but not overly rich tom yum sauce and topped with a delicate portion of crunchy papaya salad, it's nothing short of perfection.
Dhs85. Open daily noon-4pm & 5pm-1am (Sun-Wed), 5pm-2am (Thu-Sat). The St. Regis Saadiyat Island Resort, Abu Dhabi (02 498 8888).
Prawn dim sum at Cho Gao Marina Walk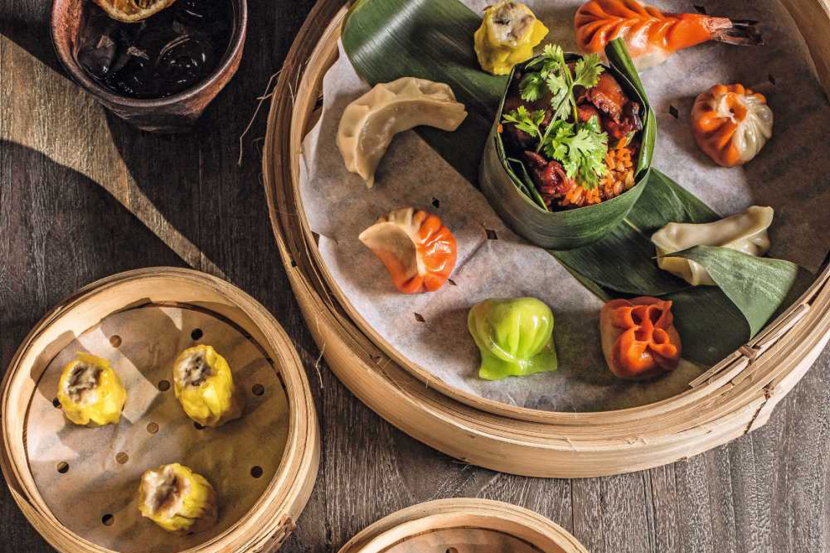 With hanging paper lanterns, moody lighting and a stupendous outdoor terrace with views over the marina and towards Etihad Towers, Cho Gao Marina walk is one of the coolest Asian restaurants imaginable. The menu is full of quality dishes from across the continent, and we can never resist the maki rolls, vegetable tempura or generous portions of pad thai. The dim sum menu is short and sweet, and while the vegetable and chicken dumplings both tick all the boxes, it's the prawn variety that really do it for us. The chunky pieces of shellfish are so large that the tails stick out of the end of these vibrant orange snacks. They taste so delicious that we could eat them until our jeans won't fasten anymore (it's a common problem).
Dhs56. Open Sat-Wed 6pm-1am; Thu-Fri 6pm-2am. InterContinental Abu Dhabi, King Abdullah Bin Abdul Aziz Al Saud Street (800 423 463).

Har Gow at Dai Pai Dong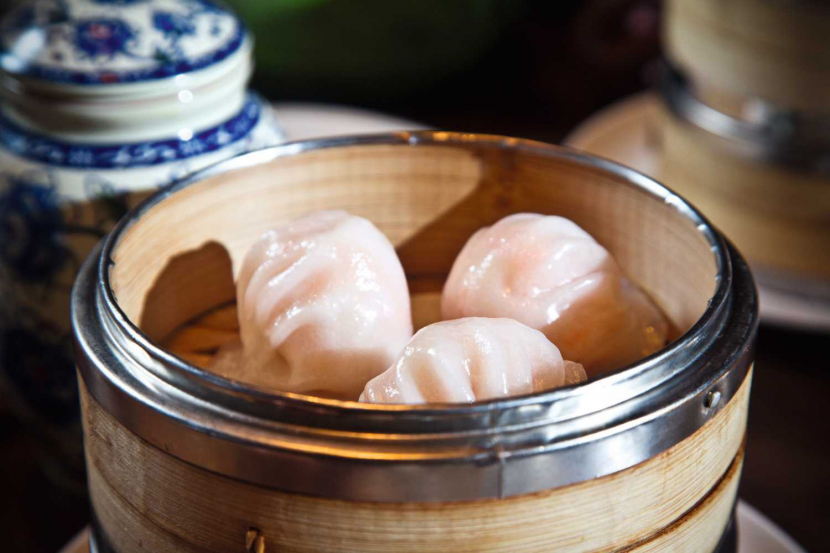 While this exceptionally cool restaurant is known for its hot pots, noodles and barbecued meats, it's perhaps the dim sum selection which gets the most attention. But with over ten different and amazing varieties on offer, there's no mystery about about why dim sum fans flock here. You can try each and every one of these tasty morsels at the weekday all-you-can-eat dim sum lunch (which will set you back less than a Dhs100 note each), or at the Saturday yum cha brunch. We love them all, but our favourite has to be the steamed shrimp and bamboo shoot dumpling. Filled with superb meaty shellfish, we think we might be a bit in love.
Dhs42. Open Sat-Wed 6pm-1am, Thu-Fri 6pm-2am. Rosewood Abu Dhabi, Al Maryah Island (02 813 5550).

Supreme dim sum platter at Hakkasan Abu Dhabi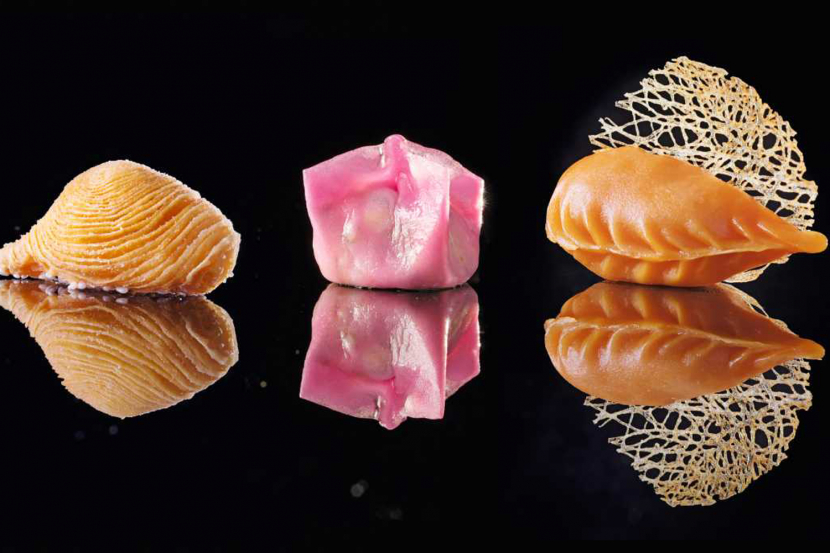 If you haven't been to Hakkasan Abu Dhabi yet, then you probably need to sort that out as soon as possible. The Cantonese dishes are on another level of delicious, with each plate full of fresh ingredients and delicate flavours. You won't find any flavourless, greasy meals here. The healthy menus, gluten-free options and vegetarian dishes are all impressive, but we think there's nothing better than the supreme dim sum platter (it's on this week's cover, after all). Even if you're a super-keen foodie, there's a good chance that you won't have had a lobster dumpling with gold leaf and lychee before. But this is Emirates Palace after all, so everything has to be just a bit more fancy. The sharing plate also includes abalone and chicken shui mai, royal king crab jade dumpling and sea bass dumpling with black truffle. It's all sensational.
Dhs138. Open daily 6pm-midnight. Emirates Palace, West Corniche (02 690 7999).
Beijing-style seafood dumplings at Li Jiang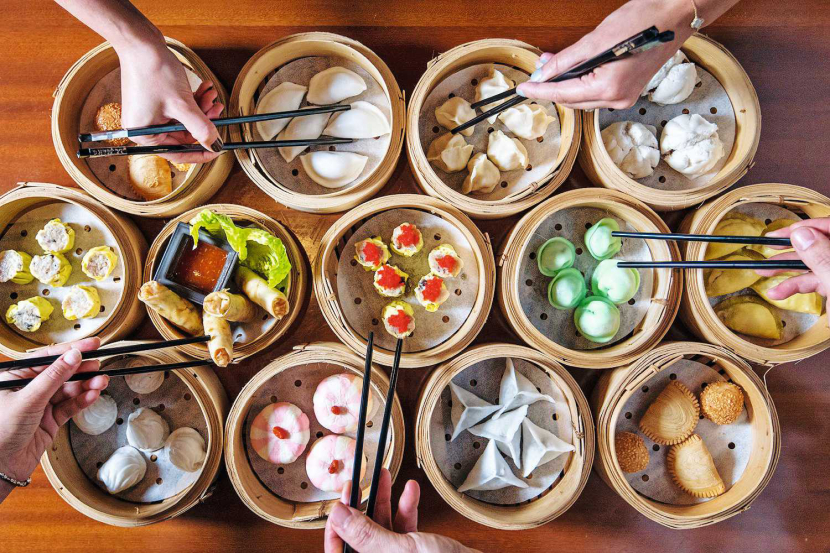 This Chinese restaurant is found in one of the fanciest hotels in the capital – The Ritz-Carlton Abu Dhabi, Grand Canal. With views over to the Grand Mosque, this classy restaurant is a bit of an expert when it comes to making super delicious dim sum. Our favourite way to enjoy these dumplings is by taking part in the Monday-night unlimited dim sum dinner (Dhs115 per person), where the highlight is without a doubt the Beijing-style seafood dumplings. Also available on the a la carte menu, this dish features impossibly fresh seafood paired with crispy shallots, coriander and homemade soya sauce. We could quite literally eat hundreds (well, about ten at least).
Dhs30. Daily 6pm-11.30pm. The Ritz-Carlton Abu Dhabi, Grand Canal, Khor Al Maqta (02 818 8282).

The crystal vegetable dumplings at Noodle Bowl
Positioned above the bowling alley at Zayed Sports City, the location of this Chinese restaurant couldn't be more different to the capital's high-end Asian restaurants like Hakkasan and Buddha-Bar Beach. But if you can ignore the crashes of pins being knocked down below you (it all adds to the atmosphere, honest), then you'll be in for a real treat. Noodle Bowl serves some of the most authentic dim sum in the capital, and the selection is enormous. Here you'll find everything from red bean bao buns to chicken prawn and coriander dumplings, and even a cream custard bao if you've got a real sweet tooth. But nothing beats the crystal vegetable dumplings, which feature pretty, carefully put-together balls packed full of bright and colourful veg. Plus, at less than Dhs20 per portion, you can always justify ordering another batch.
Dhs18. Daily 11am-11pm. Unlicensed. Zayed Sports City Bowling Centre, Al Madina Al Riyadiya (02 447 2405).

Cecilia's dumplings at P.F. Chang's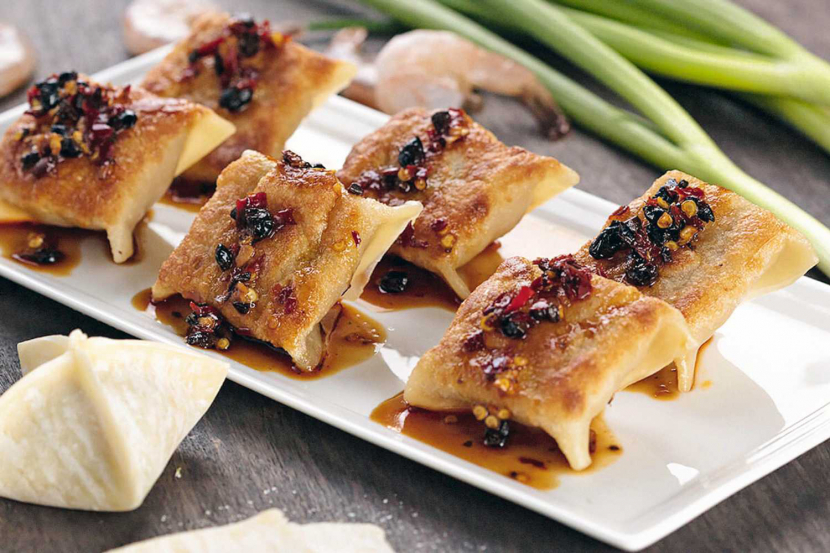 Mentioning this popular chain might seem obvious, but there's a reason why so many in the capital are obsessed with this Asian hangout. So next time you're feasting on the legendary dynamite shrimp, spicy chicken and other staple dishes make sure you order a side or two of Cecilia's dumplings. We're not quite sure who Cecilia is, but whether you go for chicken or shrimp or steamed or fried, you'll love every bite of her dumplings.
From Dhs35.70. Sat-Wed 11am-11pm; Thu-Fri 11am-midnight. Various locations, including Yas Mall, Yas Island (02 418 2424).

Philly cheese and wild mushroom dumplings at Royal Orchid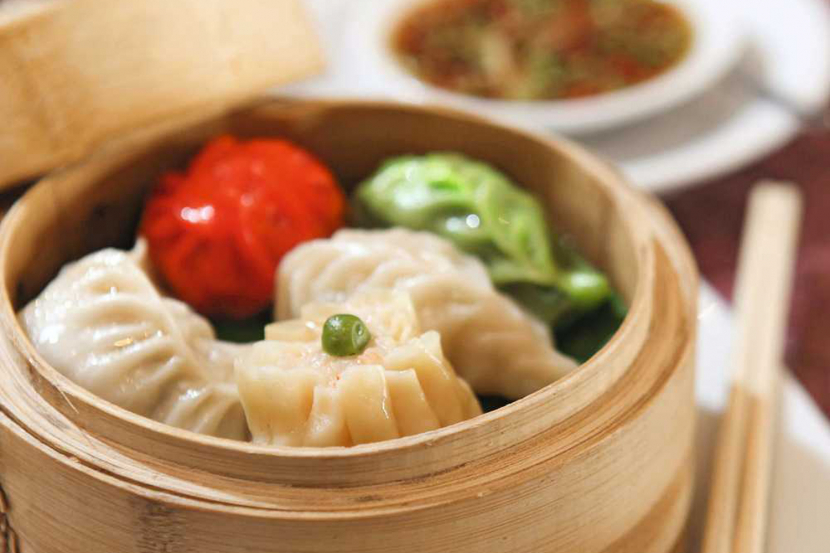 There are several branches of this cool Asian restaurant throughout the city, so it's normally an easy drive away whether you want a casual bite out or fancy grabbing something to enjoy infront of a film. It's a great place for vegetarians as well as meat eaters, with vegetable Shanghai and bamboo shoot and water chestnut varieties on the menu. But the big attraction is the philly cheese and wild mushroom dumplings. Not convinced that cheesy dim sum are the way to go? Well this will change your mind. Drizzled with luxurious truffle oil it might not be the most traditional of dishes, but it sure is delicious.
Dhs25.25 (three pieces), Dhs35.75 (five pieces). Open daily 11.45am-11pm. Various locations, including The Galleria, Al Maryah Island (02 677 7301).
The Shanghai dim sum basket at Shanghai Surprise
Located in the Diar Capital, one of Abu Dhabi's older hotels near Zayed Port, Shanghai Surprise isn't as flashy as some of the other Chinese restaurants in the city. But once you open the menu, or tuck into your first bite, you'll see that this is a super place to try authentic Chinese cuisine. Each section of the menu is split into classic, modern and beyond China, and there's a huge choice of dim sum. The chicken and shrimp jiaozi and siumai really hit the spot, but we can't get enough of the mix of vegetable, chicken and seafood-filled dumplings in the Shanghai dim sum basket.
Dhs48. Open daily noon-midnight. Al Diar Capital Hotel, Mina Street, Al Zahiyah (02 677 2756).
Steamed seafood dumpling with baby spinach at Shang Palace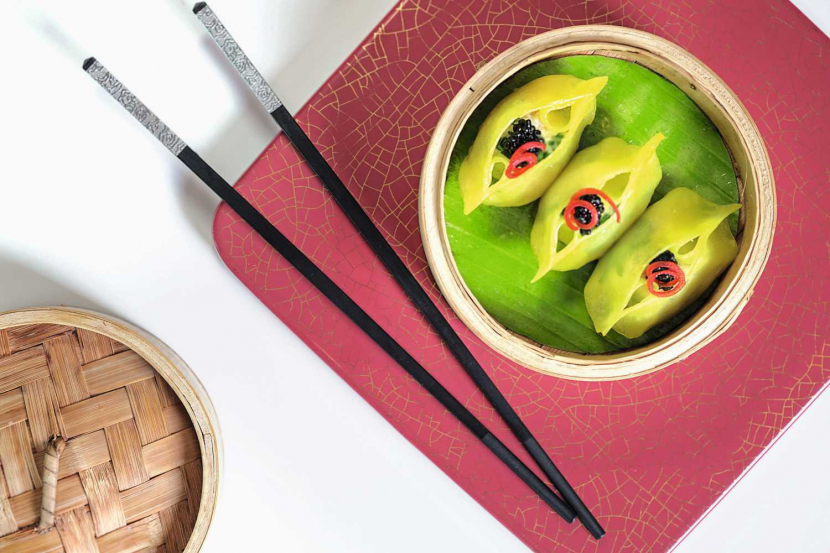 While classic prawn and chicken dumplings will always be a big hit with us, sometimes we like to go for something a bit different. The steamed seafood dumpling at Shang Palace is anything but ordinary, and the little pieces of joy are filled with fresh American scallop and river prawns. There's also some baby spinach in there (so you can feel healthy and pleased with yourself) and each piece is finished off with a delicate pile of cavier. The portions come with three pieces, but you'll wish the basket would just keep on refilling itself.
Dhs58. Open daily noon-3pm, 7pm-11.30pm. Shangri-La Hotel Qaryat Al Beri, Bain Al Jessrain (02 509 8503).
Be the first to get all the latest Abu Dhabi news, reviews and deals into your inbox by signing up to our free
newsletter
,
click here to sign up
.