Long gone are the days when being vegan was a quirky and unusual lifestyle here in Abu Dhabi.

Now that vegan pizzas are about the coolest things around and we're discovering a new plant-based milk alternative every week (oat milk is our preferred choice at the moment, just FYI), the vegan options in Abu Dhabi have never been more varied, colourful and so incredibly tempting.

In the past year, the Beyond vegan burger has appeared in numerous restaurants across the city, vegan menus have launched at our favourite outlets, a vegan afternoon tea has made its debut on the scene and even vegan takeaways have emerged for those times when even the thought of avocado toast isn't enough to tempt us into leaving the house.

So here are the most exciting places to grab vegan food in the capital, and there isn't a boring plain salad in sight.
Bareburger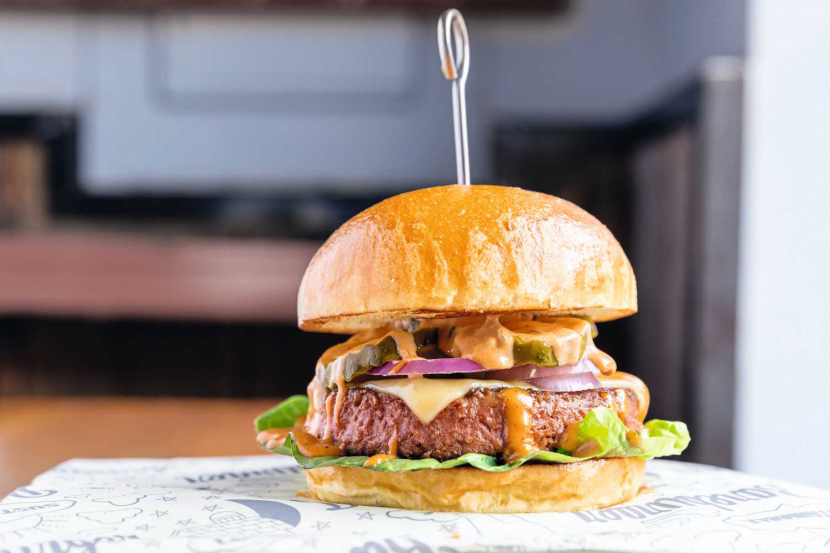 The organic burger chain was one of the first to bring the legendary vegan Beyond burger to the capital, and that's just one of the many reasons we love it. The patty is made from pea protein and potato starch, yet really does taste almost exactly like meat. Plus, thanks to a clever bit of science (and a lot of beetroot juice) it even "bleeds" when you take a bite, which is not actually as creepy as it sounds. At Bareburger it comes fully loaded with vegan cheese, caramelised onions, mustard, ketchup, pickles, lettuce and served in a multi-grain bun. It's definitely worth an Instagram post, at the very least.
Open Sun, Tue & Wed, Sat 10am-11pm; Mon, Thu & Fri 10am-midnight. Marina Mall (02 441 1723).

BLOOM Vegan Kitchen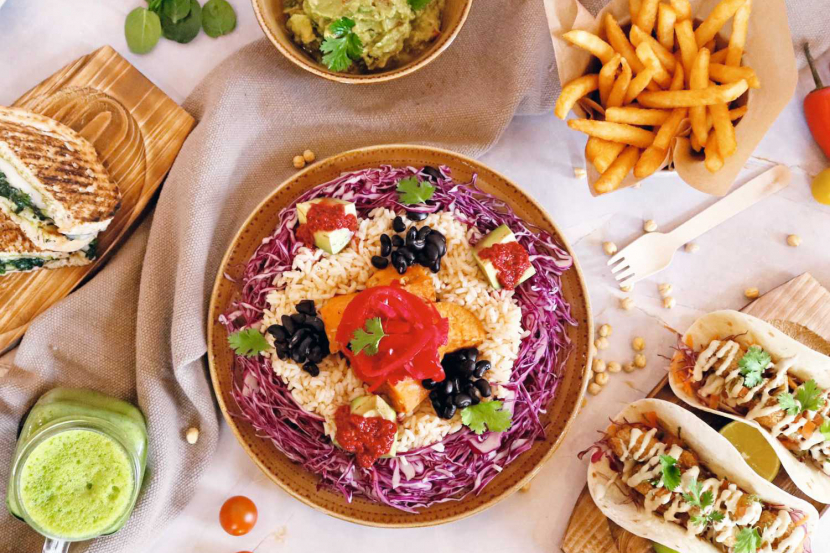 Takeaway food service BLOOM Vegan Kitchen has only been operating in the capital for a couple of months, but its already got many fans. Offering tasty plates which are all 100 percent vegan friendly and served in packaging which is 90 percent recyclable, BLOOM is an environmentally conscious brand which specialises in fresh and healthy homemade dishes. The menu includes nutritious breakfast plates like hummus veggie toast, colourful quinoa bowls, huge mushroom burgers and more. It's the perfect accompaniment for a night in with a movie.
www.bloomvegankitchen.com.
BurgerFuel
It seems that the capital has become seriously addicted to the mighty plant-based Beyond burger patty, so much so that you can now grab this beef burger lookalike at fast food specialists BurgerFuel. The Beyond Beleaf burger is a brand new addition to the thriving vegan scene in Abu Dhabi, and we're already having to accept that we can't ever visit Yas Mall without popping in for one. Or, if you want a more traditional veggie burger, the 'V-Dub Vege' features a delicious combination of pumpkin, carrot, chickpea and ginger bites piled with a load of delicious toppings. If you hold the aioli and cheddar cheese it's totally vegan friendly.
Various locations, including Yas Mall, Yas Island, www.burgerfuel.com/uae.
C.taste
We've had more pizza-fests, taco Tuesdays and curry nights than we can shake a soggy poppadum at, but just when we thought all that bingeing was starting to get a bit crass, we came across the unlimited burger night at C.taste, and most importantly, the fact that the event includes delicious vegan burgers. Yes, every Thursday from 6pm onwards, we can eat as many tasty vegan burgers as we like. There's loads of amazing toppings to balance on top and although it could be called an exercise in pure gluttony, it's really the perfect Thursday-night blow out.
Dhs99 (soft drinks), Dhs149 (house beverages). Thu 6pm-10.30pm. Centro Capital Centre, Al Khaleej Al Arabi Street, Abu Dhabi (02 409 6512).

@DISTRICT by Amalfi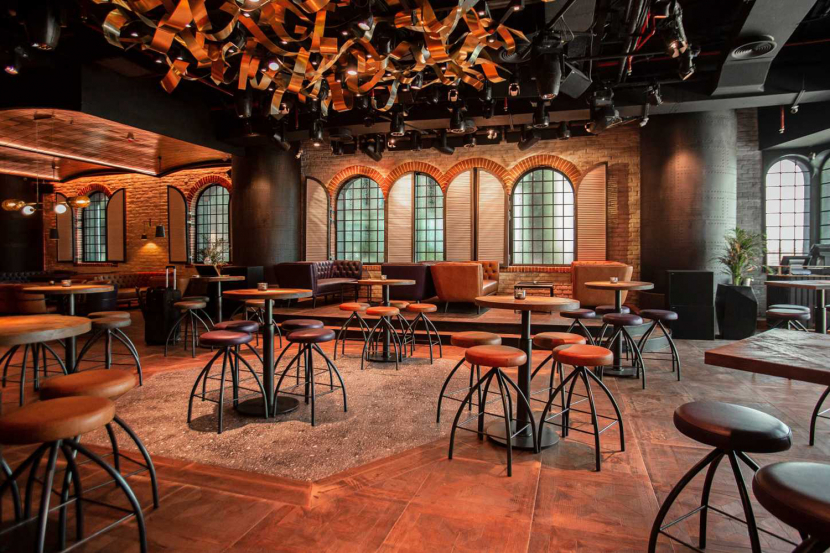 The dedicated vegan menu at this urban New York-inspired Italian offers loads of incredible options. There's crispy pizzas loaded with vegan mozzarella, roast potatoes, a whole range of vegetables and shaved truffle, creamy butternut linguini, starters like garlic bread and bruschetta, and even a funky fig and coconut pizza for dessert. The Sunday ladies' night deal lets girls sample all these delights for Dhs99 per person.
Open daily noon-4pm; 6pm-11pm. Le Royal Méridien Abu Dhabi, Sheik Khalifa Bin Zayed Street (800 101 101).
Foodshed
There's a friendly, rustic vibe to this cute café, and with excellent coffees and so many super healthy dishes, it always attracts a crowd. If you're here for a quick lunch you might go for the vegan wrap packed with quinoa, seasonal veggies and loads of creamy avocado. Other strong options include either the chickpea or aubergine and lentil curry (both perfect bowls of comfort food), and the Country Garden pizza, which is topped with vegan cheese, mushrooms, tomatoes, baby sweetcorn and colourful peppers. There are several great choices for dessert too, with freshly baked vegan cinnamon rolls, banana muffin and a super key lime cake.
Open daily 8am-10pm. Khalifa Park area (02 671 1113).
GuiltFree
This is one of our go-to choices whenever we're feeling too lazy to cook. Offering an online delivery service and a food truck that regularly appears at events around the capital, every dish is homemade, organic, responsibly source, and of course 100 percent vegan friendly. Offering everything from vegan sushi to pizzas to power bowls and nibbles like buffalo cauliflower, anything you choose will be wonderful. The pistachio pancakes are on another level of delicious, and now we've discovered its breakfast options, including acai bowls, avocado toast and Turkish bagels, we never want to go back to our usual bowl of porridge ever again.
www.guiltfree.ae.
iScream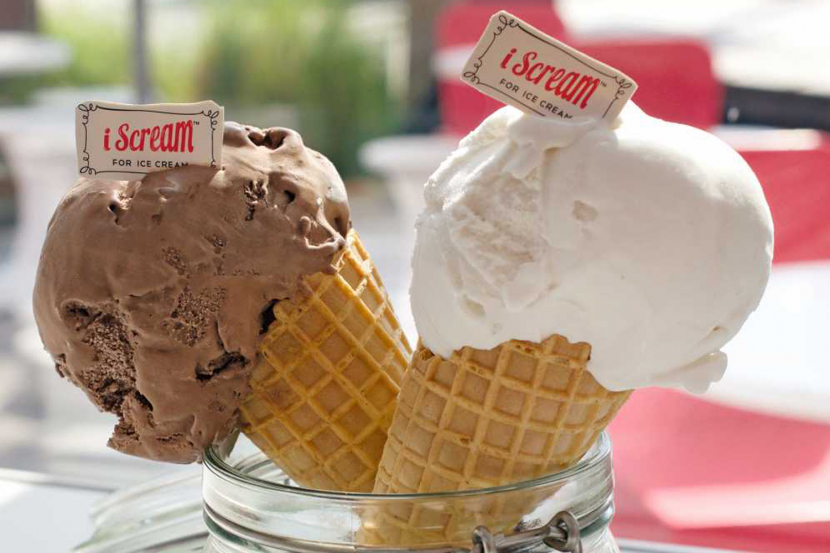 Already a huge hit up the road in Dubai, this creative ice cream shop recently opened up a branch in eco-friendly mall My City Centre Masdar. Nothing about this quirky parlour is ordinary, and it's perhaps most famous for its unusual flavours like emirati coffee, red velvet, Mexican chilli chocolate, kulfi and date, plus its quite frankly whacky ones like curry, wasabi and tabbouleh. Vegans can choose from a range of dairy-free sorbets, and the chain has also just introduced two vegan ice cream varieties. Flavoured with refreshing coconut and rich chocolate, both are indulgent, creamy and utterly delightful. Oh, and they're totally gluten free too.
Dhs16 per scoop. My City Center Masdar, Masdar City, www.iscream.ae.

Jelly Belly
Just because you're sticking to a plant-based diet it doesn't mean that you have to miss out on the unbeatable joy of tucking into a big bowl of ice cream. Ice cream parlour Jelly Belly has really pulled out all the stops for its Belgian dark chocolate ice cream. Made from coconut milk, vegan Belgian dark chocolate and coconut powder, it's also got coconut flakes and fudge mixed in to make it even more delicious.
From Dhs17. Open Sat-Wed 10am-midnight; Thu-Fri 10am-1am. Dalma Mall, Mussafah, www.jellybellyicecream.com.
Jones the Grocer
This Aussie café is super popular throughout the city, and while the beef burgers might be raved about, the plant-based options are just as incredible. You can start your day with a wholesome mango coconut chia bowl, grab a bowl of warming lentil or sweet potato soup for lunch (soup on a hot day isn't weird, okay?), or try a fresh salad or hearty sandwich with a side of sweet potato fries for a weekend treat. Plus, if you really love the dishes, you can also take part in vegan cooking classes to learn how to make the eatery's signature masterpieces at home.
Open Sun-Thu 10am-11.30pm, Fri-Sat 9am-11.30pm. Various locations, including Pearl Plaza Tower, Al Khalidiyah (02 639 5883).

Market at EDITION
This healthy eating restaurant at the Abu Dhabi EDITION is totally on trend, so naturally it offers a top quality range of vegan options. The menu by British chef and Michelin favourite Tom Aikens is all made with fresh, high-quality ingredients, and the make-your-own poke bowls are ideal for vegans. As well as sesame tofu you can choose to add your choice of grains or pulses, plus loads of vegetables, pickles and tasty sauces. Then, if you fancy something sweet after, you can finish off your meal with the incredibly hipster vegan chocolate and avocado moose. Served with yet more avocado (told you it was fashionable), lime jelly and cocoa nibs, it's both good for you and delicious.
Daily 6.30am-6pm. The Abu Dhabi EDITION, Al Bateen (02 418 2503).
Moni's Healthy Choice Café
You'll find products from this Abu Dhabi-based clean eating brand being sold all over the capital, including at Souq Planet, Your Urban Market and even at yoga studio YogaOne. But the local company also has a café in Al Bandar too. Producing a huge range of vegan dishes as well as gluten and dairy-free options, the tempting menu includes breakfast puddings, salads, soups, cakes and of course, lots of awesome protein balls. You can even get all the best fashionable beverages like celery juice and golden and matcha lattes made with coconut, almond, brown rice or oat milk.
Al Bandar, Al Raha Beach (050 818 8870).
Pachaylen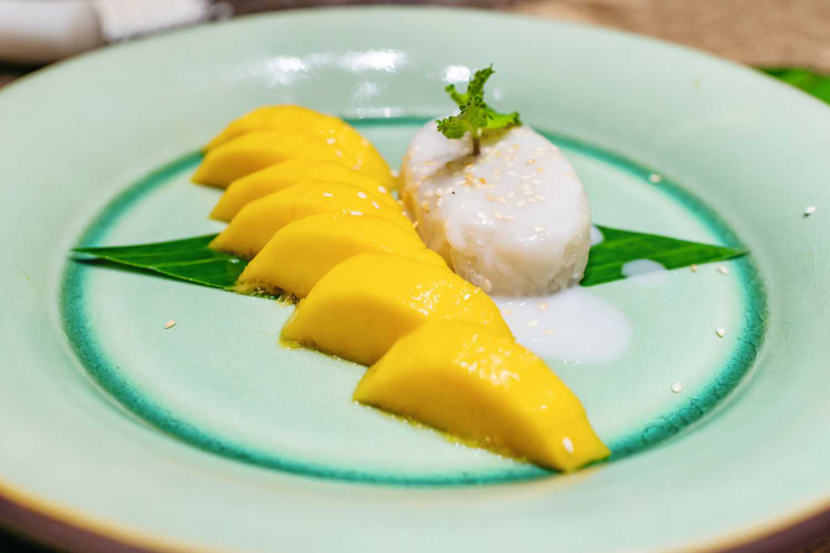 The Thai restaurant at Anantara Eastern Mangroves has a Tuesday ladies' night that caters especially for the city's vegans. Available from 7pm until 11pm every week, ladies can indulge in a three-course Thai feast that features som tum Thai, phad to ho khung onn and khao sueoy, amongst other authentic dishes. The menu costs Dhs125 per lady and it includes a glass of grape to wash down all those lovely spices.
Dhs125. Tue 7pm-11pm. Eastern Mangroves Hotel & Spa by Anantara, Al Salam Street (02 656 1000).

Park Bar & Grill
Looking to offer another great option for vegans in the capital, Park Hyatt Abu Dhabi Hotel and Villas has launched a vegan afternoon tea. The super spread delivers all the best aspects of an afternoon tea, including mini sandwiches and tasty cakes, but without using any animal products or compromising on taste. Don't worry there are vegan scones too (in both plain and raisin varieties), plus plenty of jam to go with them.
Dhs199. The Library, Park Hyatt Abu Dhabi Hotel and Villas, Saadiyat Island (02 407 1234).
Taqado Mexican Kitchen


There's nothing we love more than getting our chops around a hearty burrito, so we were super excited when Taqado launched a vegan menu, offering quick and tasty fast food that's completely plant-based. The Lean Mean Bean menu includes incredible dishes like a vegan burrito stuffed with delicious veggies, a fully-loaded vegan quesadilla and vegan earth salad. We're ever so slightly obsessed.
Prices vary. Various locations, including The Galleria, Al Maryah Island www.taqado.com.
The Foundry
Known for its excellent cuts of meat and legendary make-your-own burrata stand at the Friday brunch, you might be thinking that the steakhouse has somehow sneaked into this list by mistake. But that's where you're wrong, as we're pleased to announce that The Foundry has become the first steakhouse in Abu Dhabi to serve the popular Beyond burger. Containing even more protein than beef and with a fantastic taste, we reckon it will even tempt a few intrigued meat-lovers into trying it. Sports bar Blu Sky Lounge & Grill (found just upstairs) has also added the burger to its menu of pub grub as well. So whether you're after fine dining or a casual bite, they'll always be a Beyond burger waiting for you.
Dhs75. Open daily noon-3pm; 6pm-11pm. The Southern Sun Abu Dhabi, Al Zahiyah (02 818 4888).
Vegan-friendly supermarkets
Carrefour
My City Centre Masdar is an eco-friendly mall which tries to care for the environment in every way possible. So it makes sense that it has also embraced the vegan trend.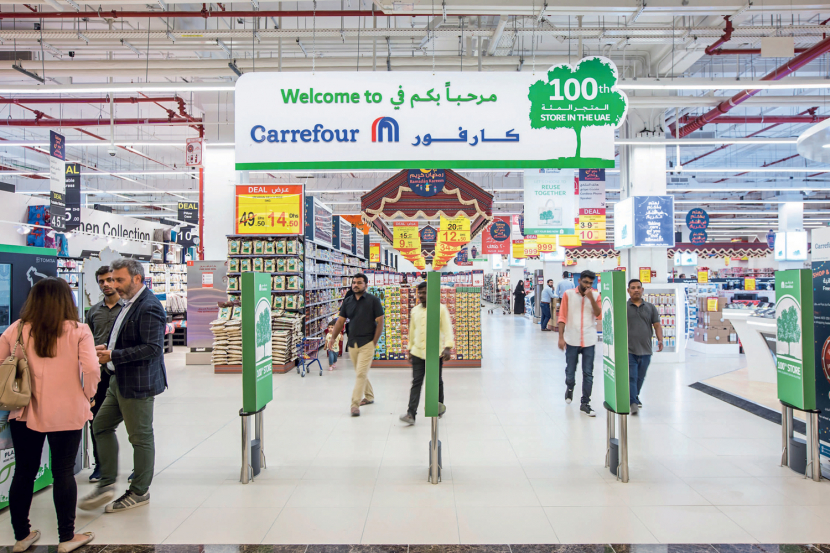 Not only has the huge Carrefour in this shopping complex become the first supermarket in the UAE not to offer plastic bags at the counter, but it's made us further admire it by offering a great range of plant-based products.

There's a huge section dedicated to vegan and free-from products, and here you'll find loads of tasty snacks and products including vegan vegetable crisps, fudge made from soya milk and every kind of plant-based milk you could wish for (and more, probably).
Don't leave without checking out the frozen vegan burgers either.
Open daily 9am-midnight. Airport Road, Abu Dhabi City (02 449 4300).
Souq Planet
This health-conscious supermarket at Etihad Plaza has an amazing range of frozen vegan products. There's vegan sausages, chicken strips, veggie balls and of course, every vegan's favourite patty, the Beyond burger, which is perfect if you fancy staying in and trying to come up with better topping combinations than the big restaurants. Or if you're craving a sweet treat, there's vegan-friendly chocolate bars, ice creams, peanut butter cups, and even croissants.
Open daily 6am-midnight. Various locations, including Etihad Plaza, Khalifa City A (02 556 3142).
Your Urban Market
Offering an experience that's very different to that of the usual supermarkets here, doing the food shop is so much more fun when it's at Your Urban Market (or YUM, if you want to be down with the kids). There are two locations in Al Bateen Marina and the Khalifa Park area, and it's full of trendy and hipster-approved grocery brands (including the homegrown Moni's Healthy Choice products), healthy lunch options and an amazing selection of fresh juices. We could spend hours in here.
Various locations, including Al Bandar Marina, Al Bandar (050 411 8757).
Be the first to get all the latest Abu Dhabi news, reviews and deals into your inbox by signing up to our free
newsletter
,
click here to sign up
.