They say beauty is in the eye of the beholder.
But even the most hard-to-please couldn't fail to be impressed with some of Abu Dhabi's most romantic restaurants.
Whether it's a first date with a prospective new partner or a fancy night out with your long-term lover, there's a venue out there for you.
Here's the top ten romantic restaurants to try in 2019, as voted for in the recent Time Out Abu Dhabi Restaurant Awards.
WINNER: BUDDHA-BAR BEACH
Saadiyat might officially be Abu Dhabi's cultural quarter but thanks to venues such as Buddha-Bar Beach, it can also lay claim to being the city's romantic island.
The laid-back vibe will soon have you forgetting any lovers' tiffs as the sun sets in these beautiful surroundings.
Buddha-Bar is a global institution with legendary status. From Paris, to London, to Dubai, it needs no introduction.
Until recently, the Buddha-Bar Beach venues were seasonal events that popped up for the warmer months on the Greek islands of Mykonos and Santorini, as well as in Baku and the Maldives. But Abu Dhabi is lucky enough to have the first permanent, year-round version.
Looking over the beautiful shores of Saadiyat Island, it's certainly found an appropriate home. From walking up the palm-tree lined pathway, to being greeted by the hostesses in matching blue maxi dresses, to the details such as crystal glasses and floating candles, immersing yourself in this incredibly cool world is totally thrilling.
The culinary offerings will make your heart skip a beat, too. The menu is Asian-influenced, and each dish has something a bit special about it. There's sushi, cerviche, soups, salads and also a modest, but clearly very carefully selected, list of main courses too.
The St. Regis Saadiyat Island Resort, Abu Dhabi (02 498 8888).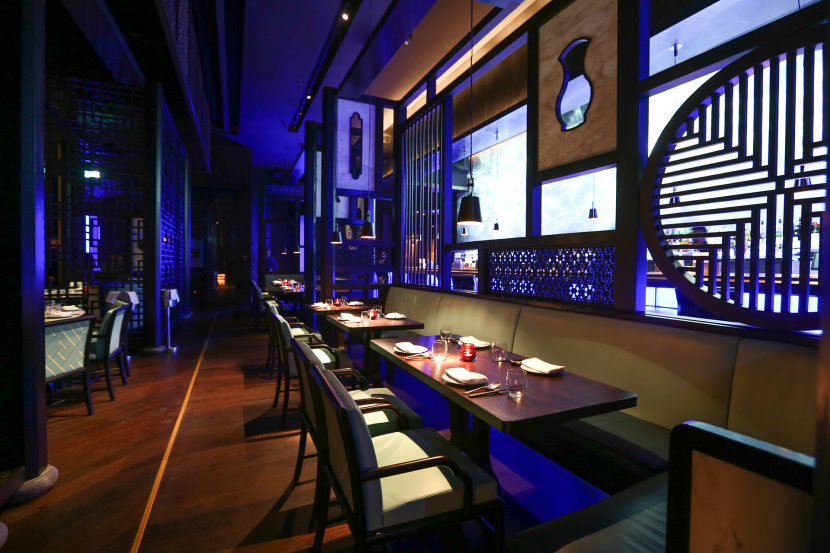 HIGHLY COMMENDED: HAKKASAN
It doesn't need be Valentine's Day to show your special one you really care. Take them to Hakkasan for an evening of unbridled food passion that will remind them precisely why they fell in love with you in the first place.
Chinese cuisine really doesn't come any better than this. When it comes to Hakkasan, forget everything you think you know about Chinese restaurants. It serves traditionally-made food to a contemporary audience using local ingredients in a super-chic environment.
The upmarket chain has been in the capital since 2010 and is still going strong. The swanky setting of Emirates Palace is the perfect place for the restaurant. As you navigate the gold-strewn corridors there is no mistaking that this is a classy way to enjoy Chinese food. It's about as far away from instant noodles as you can get.
Everything about the restaurant feels exclusive, from the dim lighting to the attentive staff. And the prices reflect that, with a half Peking duck costing Dhs480.
Emirates Palace, Corniche West (02 690 7739).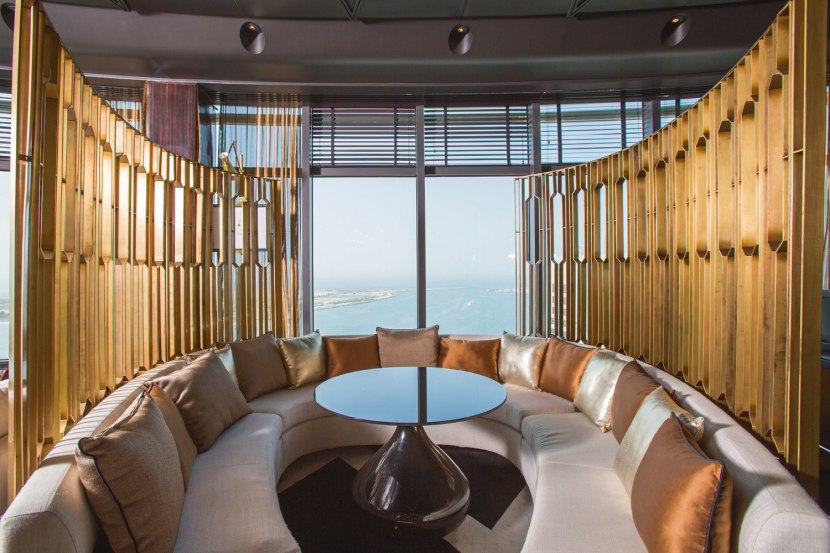 HIGHLY COMMENDED: STRATOS
Show that special someone your whole world revolves around them by treating them to a slap-up meal at this swanky sky-high spot.
As the dining room slowly revolves, constantly refreshing the view of downtown Abu Dhabi's twinkling night-time skyline, you can't help but feel excited for the meal that's to come.
It's not just the novelty of eating on the move that will keep you happy here, it's the whole package that makes it feel special. The staff make you feel genuinely valued and, if you're with a loved one, the surroundings scream "this was expensive, appreciate what I've done for you!" The descriptions on the starter menu alone are enough to have you drooling.
Try the lobster mac and cheese – it's creamy, salty and luxurious, with added texture from a brioche crust.
The steaks are just right and the fish dishes will prove to your loved one that you're a real catch.
Le Royal Méridien Abu Dhabi, Sheikh Khalifa bin Zayed Street (02 695 0490).
SHORTLISTED
BBQ AL QASR
Date night venues really don't come much better than this Emirates Palace venue, with the scenery bound to make your other half swoon. Grab a gazebo on the sand and enjoy an intimate evening backed up by fantastic food and superb service. It's a regal affair, fit for your king or queen.
Emirates Palace, West Corniche (02 690 7999).
FINZ
This chic coastal cubby hole has a distinguished yet comfy vibe in a picturesque setting that will make you think you're miles away from the bustling city. While gazing out at the view of the city lights on the water, tuck into one of the many delicious sharing platters that will warm even the coldest of hearts.
Beach Rotana Abu Dhabi, Al Zahiyah (02 697 9011).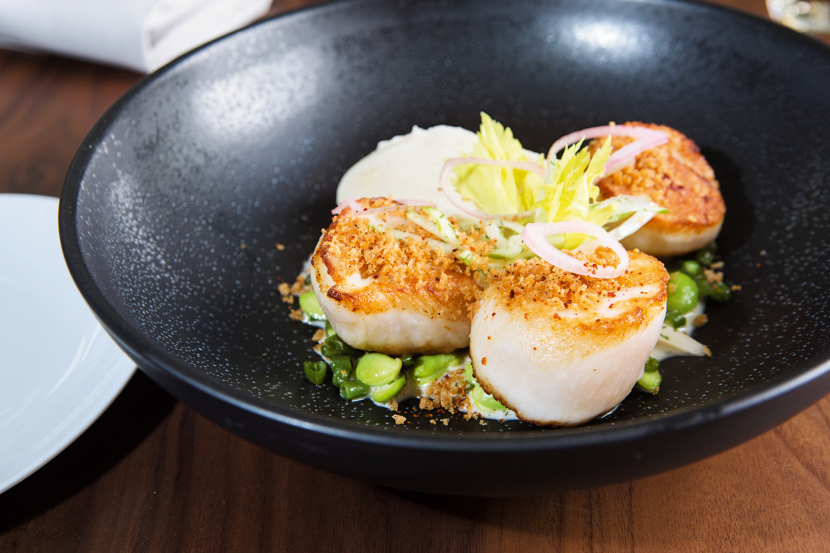 KOI ABU DHABI
Born in Los Angeles, this contemporary Japanese restaurant might have an A-list following back home but it also provides the perfect menu to show your other half that you really love them. The mood lighting sets the tone for a night of romance, while the sheer brilliance of the dishes served up will make any awkward silences instantly count for nothing.
The Collection, The St. Regis Saadiyat Island Resort, Saadiyat Island (02 678 3334).
RAY'S GRILL
Should you have lofty ambitions for date night, hold their hand as you're whisked up to the 63rd floor of the iconic Jumeirah at Etihad Towers. The view – and the superb steaks – will take your collective breath away and if your better half is a pescatarian, they can always get their claws into the cracking Canadian lobster.
Jumeirah at Etihad Towers, West Corniche (02 8115666).
SMOKIN' PINEAPPLE
One of the capital's most secluded islands, Zaya Nurai is perfect for a couple's soirée. Smokin' Pineapple offers the chance for you to sample some mighty fine wood-fired-oven pizzas while scoring some serious points when it comes to picture-perfect settings. The delightful staff will be more than happy to snap you swinging on the sea swings.
Zaya Nurai Island (02 506 6274).
SONTAYA
The St. Regis Saadiyat Island is the perfect getaway destination for couples (especially parents) crying out for some resort-based refinement. And at Sontaya, you'll find a charming setting paired with an exquisite menu. The floating pavilions at this tremendous restaurant is housed in will see any of your worries drift away.
The St. Regis Saadiyat Island Resort, Saadiyat Island (02 498 8443).
ZUMA
Few things say 'I love you' better than booking a table at Zuma for date night, a birthday, or whenever the romantic mood should take you. Our Restaurant of the Year puts even a surprise breakfast in bed to shame, dishing up food that is as close to perfection as a romantic stroll on the banks of the River Seine. A night here will melt their hearts every time.
The Galleria, Al Maryah Island (02 401 5900).
Be the first to get all the latest Abu Dhabi news, reviews and deals into your inbox by signing up to our free
newsletter
,
click here to sign up
.