We at Time Out Abu Dhabi are big fans of lazy weekends. But what is a relaxing Saturday afternoon without a lovely roast dinner?

There should be some kind of law that states it's compulsory.

But the best thing about a roast is that it doesn't need to be limited to weekends.

A delicious slab of juicy meat, complete with Yorkshire puddings, vegetables and gravy (okay, we're drooling now) tastes incredible any day of the week.

Perhaps you've not long moved to the capital and are missing the hearty dinners that you used to get at home? Well, we know how you feel.

Take a look at our selection of the best roasts in Abu Dhabi and start pencilling in those family-style gatherings now.
55th&5th, The Grill
Typically, a roast dinner should be enjoyed in a country pub beside a roaring fire. But this is Abu Dhabi, so obviously we do things our own way. Head to Saadiyat Island and you can enjoy a beautiful roast along with surreal views of the bright-blue ocean. Classy Manhattan-style grill 55th & 5th has perfected its braised Wagyu beef cheeks, served with celeriac mousseline and glazed vegetables. It's very fancy, but we promise you, it's just as satisfying as any classic British roast. The delicious sides include mac and cheese and buttered corn. Devine.
Dhs325. Open daily 7pm-11pm. St. Regis Saadiyat Island Resort, Abu Dhabi (02 498 8008).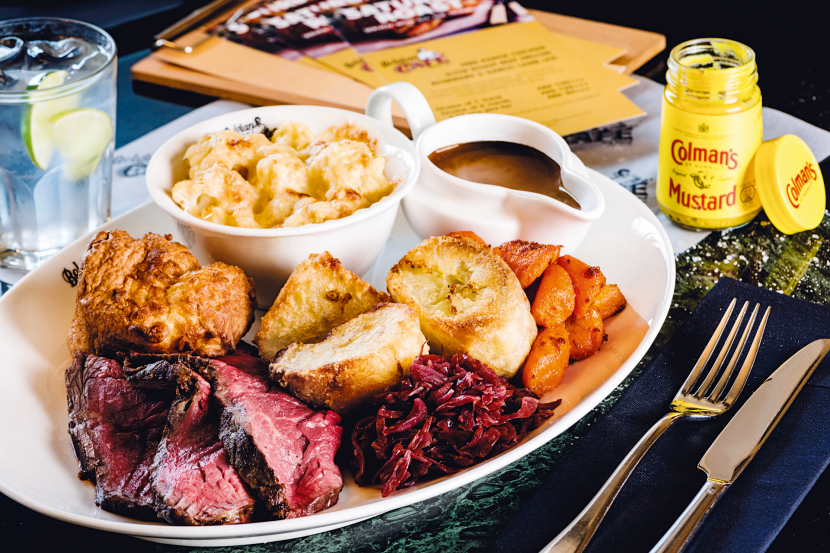 Belgian Café
Meat lovers won't be able to get enough of this Saturday roast. It would be almost impossible to choose between the hefty portions of free-range chicken, slow-roast beef sirloin and rosemary and garlic lamb leg, but as it's an all-you-can-eat offer, that's not a problem (phew). You can also wash it down with a pint of ice-cold hops for Dhs25.
We think a visit here needs to become part of everyone's weekly routine.
Dhs125. Sat 1pm-5pm. Radisson Blu Hotel, Yas Island (02 656 2000).
Bentley Kitchen
Don't get us wrong, a roast with the traditional accompaniments of potatoes, carrots, peas and Yorkshire puddings is amazing. But we hope you don't hate us for suggesting that sometimes it's fun to mix it up a bit. Bentley Kitchen know how to cook a good piece of meat. Whether it's the braised lamb shank with roast new potatoes and spicy harissa bean cassoulet or the grilled chicken with charred broccolini, this is the place for a more sophisticated and inventive take on a roast.
From Dhs110. Open daily noon-1am. The Galleria, Al Maryah Island (02 626 2131).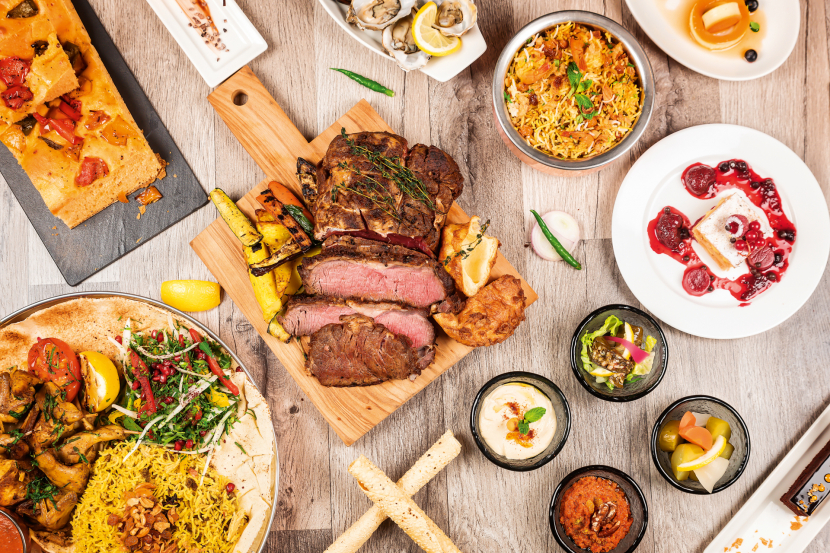 Bistro
This amazing buffet-style lunch includes tender and aromatic meats such as beef and chicken, plus all the trimmings including roasted carrots and Yorkshire puddings. But the starters are just as good. Before you even start on the main event you can enjoy crispy garden salads, prawn cocktails, oysters and mussels. Even if you have a friend who doesn't fancy a roast (what is wrong with them?), everyone will find something they like in this magnificent spread.
Dhs160 (soft drinks) Dhs285 (house beverages) Dhs80 (children). Fri 12.30pm-4pm. Courtyard by Marriott World Trade Center, Hamdan Street (02 698 2222).

Blu Sky Lounge & Grill
We all love a brunch and we all love a carvery. So cool sports bar Blu Sky have decided to put them together and launch a Thursday night carvery brunch. Genius. Start your weekend with mouth-watering meats, Yorkshire puddings, gravy and all the veggie sides you could wish for. You'll also find a host of pub grub classics such as bangers and mash, nachos, curries, salads and selection of cheeses, soups and a dessert platter. Music is provided by the bar's regular DJ Chris.
From Dhs99. Thu 7pm-10pm (carvery) 9pm-1am (DJ). Southern Sun Abu Dhabi, Mina Street, Al Zahiya (02 818 4888).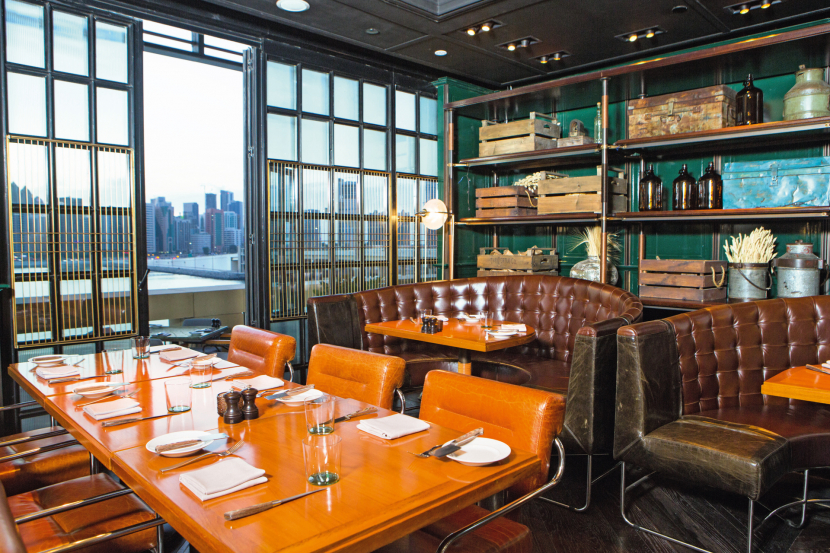 Butcher & Still
This very cool 1940s-style restaurant bagged the prize for Best Steakhouse at our 2017 Restaurant Awards. But it's not just steaks that it does brilliantly. Relax in your swish leather chair, take in the prohibition-themed interior and enjoy classy dishes such as the garlic-roasted chicken, rosemary gravy and turned potatoes. Meat lovers might be sceptical about the idea of a meat-free roast, but the roasted cauliflower steak flavoured with parmesan, brown butter and sage is enough to convert even the most avid carnivore to the veggie way of life.
From Dhs120. Open daily 4pm-2am. Four Seasons Hotel, Al Maryah Island (02 333 2444).


Café 28
Visiting this legendary falcon-shaped building is always exciting, and Café 28 has a perfectly situated terrace that overlooks the golf course. This is a classic traditional roast that comes with all the trimmings and lots of gravy. It's not trying to reinvent the wheel and we love it for that. So whether you're treating yourself after a round or visiting specifically to sample this huge dinner, you'll adore every last mouthful.
Dhs110 (guests) Dhs99 (members). Sat noon-3pm. Abu Dhabi Golf Club, Sas Al Nakhl (056 536 2230).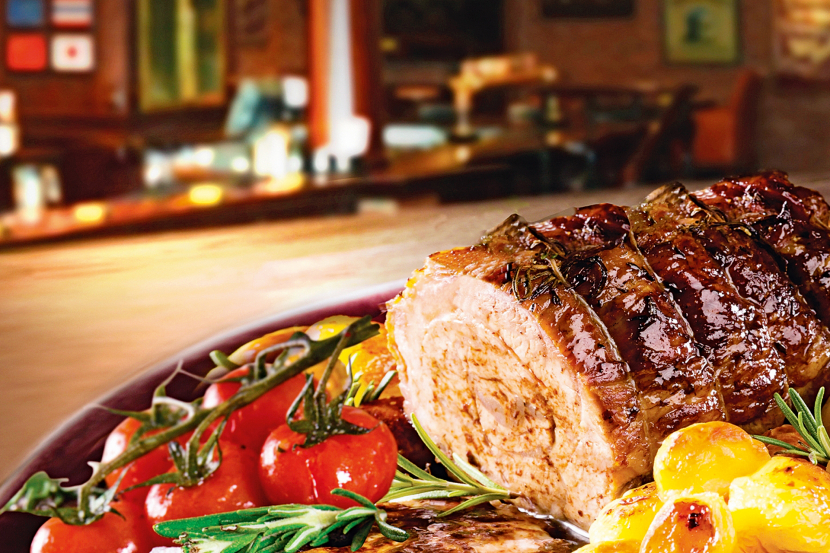 Cooper's Bar & Restaurant
Fancy stretching your roast out over a long afternoon? Well head to Cooper's and check out the Friday brunch, it's an absolute must. The beef brisket and roast turkey are absolutely sensational, and of course it includes all the sides and veggies you could wish for. With such a buzzing vibe, you'll be shocked how quickly four hours can fly by.
Dhs165 (soft drinks) Dhs235 (house beverages) Dhs255 (premium beverages). Fri noon-4pm. Park Rotana, Khalifa Park
(02 657 3325).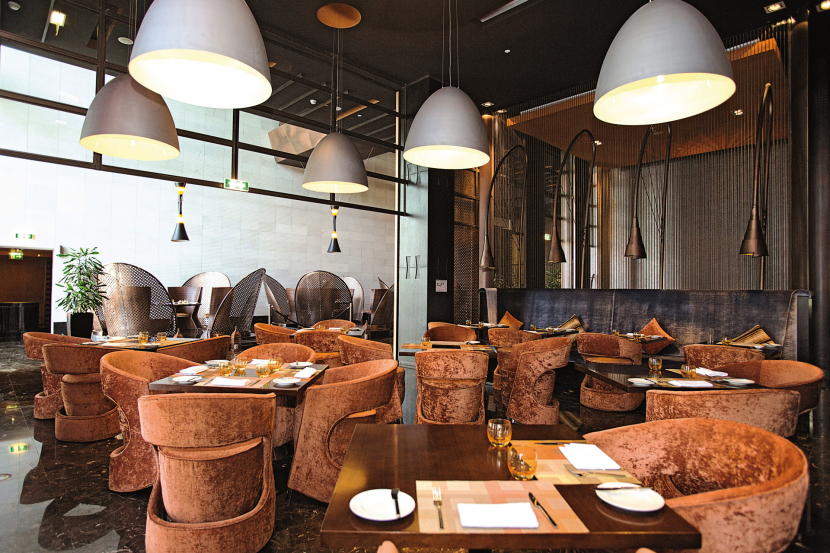 The Foundry
Whether you're a beef, lamb or chicken person, a roast here is exceptional. The intimate steakhouse is known for its high-quality cuts of meat but next time you go, forget about the steak and try one of the following dishes. The oven-roasted welsh lamb rack with charred aubergine purée, borlotti beans and pot jus is basically other worldly. Let's just say it's a bit fancier than the carvery that you used to get at your local. The pan-roasted chicken is also presented in a unique and special way. Finished with polenta, pepper parmigiana and thyme jus, it's an exotic taste sensation. Just don't tell your grandma that you prefer it to her own version.
From Dhs180. Open noon-3pm (lunch) 7pm-11pm (dinner). Southern Sun Abu Dhabi, Al Mina Street (02 818 4888).
McGettigan's
The menu at our former Bar of the Year is inspired by dishes from Ireland, America, Asia and beyond, however its traditional roast is also where it's at. You might have been dancing until the early hours of Saturday morning at this Al Raha hotspot, so why not make a weekend of it and return the next day to carry on the fun? This scrumptious roast is served every Saturday and Sunday until they run out; it's guaranteed to help banish any sense of homesickness you might be feeling.
Dhs99. Sat noon-10pm Sun 3pm-10pm. Al Raha Beach Hotel and Resort, Channel Street, Al Raha (02 652 4333).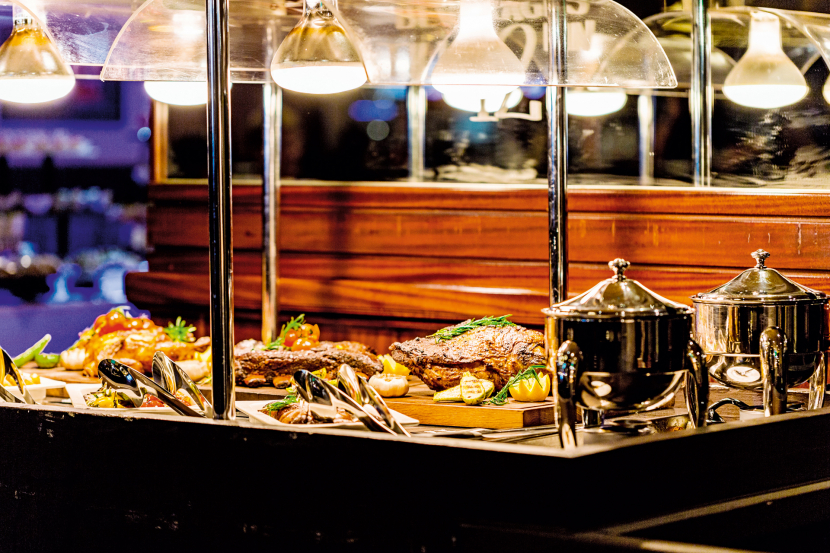 Porters English Pub
Nowhere serves towering plates of meat, potatoes and veggies quite like an English pub. Porters has perfected this art and its huge carvery buffet is served in a casual, all-you-can-eat manner. Served on a Sunday to keep with tradition, the thought that we head straight from the office to indulge in this amazing spread is more than enough to banish any start-of-the-week blues. The carvery package also includes one house beverage. Yes, please.
Dhs79. Sun 7pm-9pm. Grand Millennium Al Wahda Hotel, Hazza Bin Zayed Street (02 495 3890).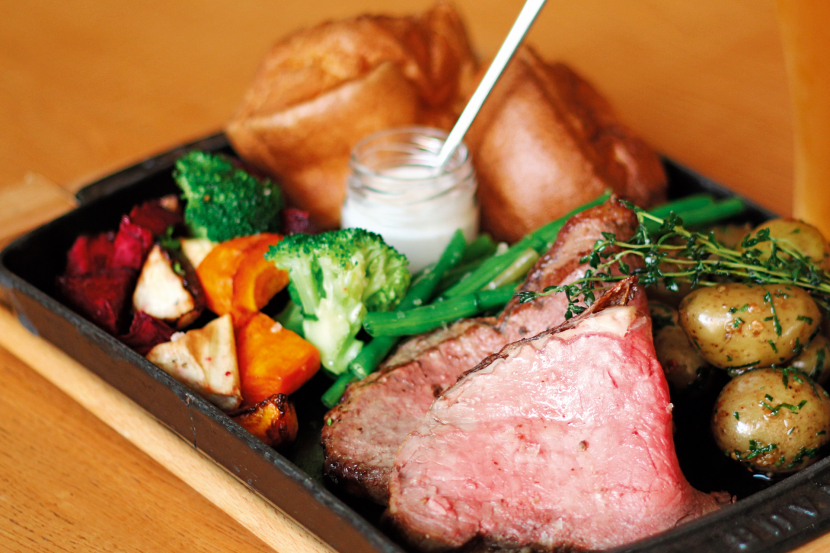 The Retreat
End your weekend on a high with a traditional roast dinner that has a hop or grape thrown in, too. The Super Saturday Roast at this friendly bar definitely lives up to its name. Grab your friends and spend a leisurely afternoon watching the biggest sports matches on the multiple screens. It prides itself on being a fun roast, so be prepared for some surprises popping up throughout the afternoon as well.
Dhs130 (with one house beverage). Sat noon-6pm. The Westin Abu Dhabi, Sas Al Nakhl (02 616 9999).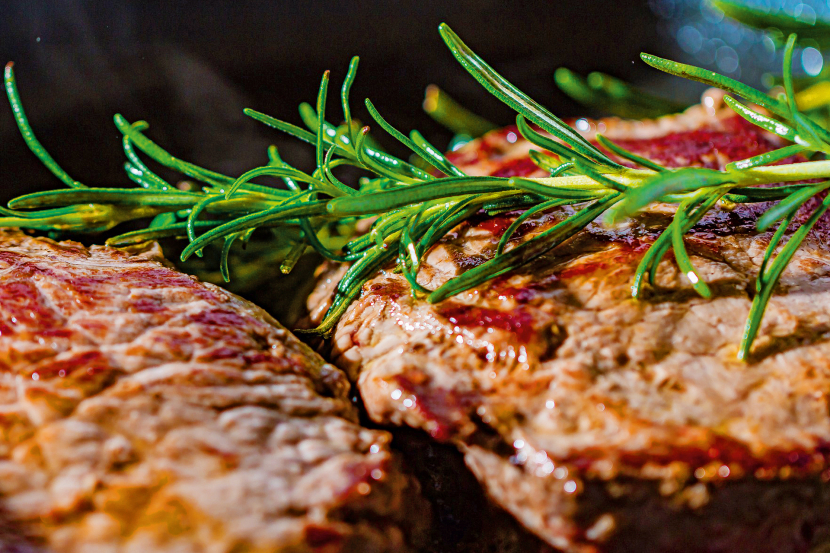 The Rooftop
You're probably aware that the Rooftop is one of THE places to go for poolside drinks, but did you also know that it does a brilliant roast every Saturday? If you fancy chilling out before work starts the next day you can have a roast and soft drinks for only Dhs120. Or if you're not ready to accept that the weekend is coming to a close you can get a roast with unlimited house drinks for Dhs228.
Dhs120 (soft drinks) Dhs168 (two glasses of grapes) Dhs228 (unlimited house beverages) Sat 1pm-4pm. Aloft Al Ain, Hazza Bin Zayed Stadium Development (03 713 8888).
Sim Sim
Feasting at Sim Sim is always a spectacular event. With views of Saadiyat Island's famously blue water, you can either start or end your weekend with a banquet of foodie delights. The roasts are enough of a sell by themselves. The beef brisket is accompanied by truffle roast potatoes and a rosemary jus. Meanwhile the herb-roasted chicken goes perfectly with the grilled bell peppers and shallots. Perfection.
Dhs225. Sun and Thu 6.30pm-10.30pm. Saadiyat Rotana Resort & Villas, Saadiyat Island (02 697 0000).
The Sportsman's Arms
We love the Sportsman's Arms for chilling and watching sport, catching brilliant live music, and also for its fabulous roasts. The award-winning offering includes beef, lamb or chicken served with mixed vegetables, Yorkshire puddings and gravy. If you combine this deal with their daily happy hour, where selected drinks are only Dhs20 from noon to 11pm, you're generally just winning at life.
From Dhs85. Fri-Sun noon-11pm. International Tennis Centre, Zayed Sports City (02 447 1066).
Be the first to get all the latest Abu Dhabi news, reviews and deals into your inbox by signing up to our free
newsletter
,
click here to sign up
.