We do like to be beside the seaside here in the UAE capital.
One of Abu Dhabi's biggest attractions – along with the shiny skyscrapers, all-year sunshine and super-fast rollercoasters, of course – is the beautiful water all around us.

One of the best spots to enjoy the gorgeous Gulf from is Al Bateen – one of the city's oldest neighbourhoods and also one of its trendiest.
The area has undergone major redevelopment in recent years, with a swathe of new buildings and restaurants popping up to take advantage of its prime location.

If you fancy enjoying a bite to eat while soaking up some lovely views, you need to try out the flourishing food scene in Al Bateen.

Art House Café
The works of art aren't just adorning the walls of this cool and quirky café attached to one of the city's many cultural attractions, Etihad Modern Art Gallery.
You can really drink in – and eat – the culture here.
After feasting your eyes on the many masterpieces on show and checking out the colourful furnishings, made out of re-designed items such as bird cages, old kettles, tin basins, barrels and more, you can savour fine food presented with a touch of flair, including fresh salads, pizza, burgers and Norwegian salmon.
A visit here is a fine addition to a picture-perfect day out in Al Bateen.
Open daily 9am-11.30pm. Al Huwelat Street, Al Bateen (02 666 0175).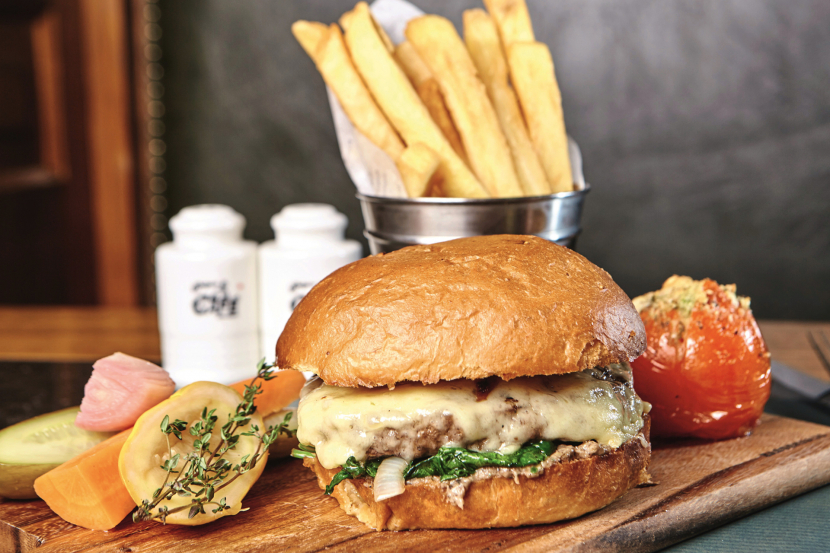 Belgian Café
Everyone has that trusty old friend who you pick up just where you left off with, however long it is since you last got together.
A trip to the Belgian Café, which first swung open its doors nearly a decade ago, feels just like that. There might be newer and shinier places to drop by, but you never forget your favourites.
The darkly-lit venue always offers a warm welcome and you will be happy to get settled in with a menu showcasing the best of Belgium, including pots of creamy mussels and chunky frites. If you haven't been in here for a while, get reacquainted.
Open Sat-Tue 4pm-1am, Wed-Fri 4pm-2am. InterContinental Abu Dhabi, King Abdullah Bin Abdulaziz Al Saud Street (02 666 6888).

Bu Tafish
If it is a taste of tradition you are after, then you will be hooked by Bu Tafish.
While there have been a number of new eateries opening up on water-lined Al Bateen, this seafood spot has been in the city for the long haul.
Owner Radwan Osman Ishtay Al Tamimi founded the restaurant 50 years ago, using the nickname he was given by the UAE's founding father Sheikh Zayed bin Sultan Al Nahyan. It remains hugely popular decades on, thanks to its extensive selection of seafood dishes and homely charm.
Pick your fish, choose the way you want it cooked, then sit back and relax safe in the knowledge you're in good hands.
Open daily 11am-midnight. Al Marasy, near Central Bank (02 304 8296).

Chao Gao – Marina Walk
Foodie fans in the city love Chao Gao, and since the InterContintal opened this marina-facing version last year it has proved incredibly popular.
There's a whole lot more of what you like here, from the spacious dining area complete with its own sushi bar to the picturesque terrace looking out onto the marina and a great bar area (and weekly deals that come with it).
Diners can expect Pan-Asian fare here, too, such as wasabi prawns, pad Thai, wok-fried mains and sushi rolls. Time to go on another Asian adventure in Al Bateen.
Open Sat-Wed noon-1am, Thu-Fri noon-2am. InterContinental Abu Dhabi, King Abdullah Bin Abdulaziz Al Saud Street (02 666 6888).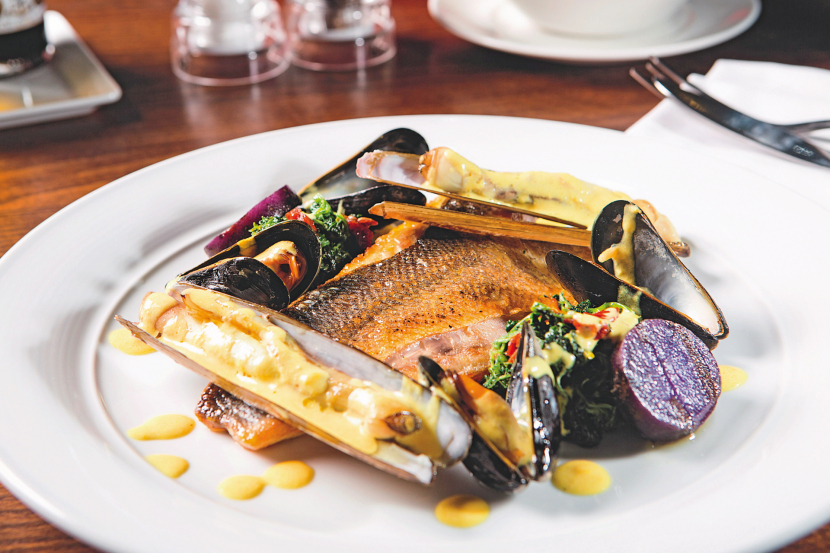 Circo
Now, the Italians really know how to create a slap-up meal, so it's no surprise this old favourite comes with an extra dash of class.
Circo, based in the five-star InterContinental Abu Dhabi, presents authentic Tuscan tastes passed down through the generations of the Maccioni family (who founded the restaurant), which are still being devoured with relish right here in the UAE.
Whether you spend your stay in the refined dining area or step outside for an alfresco feed on the pretty terrace, you will take a little slice of Italy away with you (even if you're not eating pizza).
Open Sun-Thu noon-3.30pm, 7pm-11.30pm; Fri noon-4pm, 7pm-11.30pm; Sat noon-11.30pm. InterContinental Abu Dhabi, King Abdullah Bin Abdulaziz Al Saud Street (02 666 6888).

Keki
You'd have to have a heart made of stone not to instantly fall in love with this super-cute café. If you have a sweet tooth – you'll adore it all the more. Abu Dhabi's only dedicated Japanese bakery is every bit as kitsch and quirky as you could hope for it to be.
The menu is bowl-loads of fun, too, with innovative creations such as super fluffy pancakes and a jiggly Japanese cheesecake that gives new meaning to the term moveable feast.
Open daily 8.30am-11pm. Al Bateen Park (02 309 3999).
No.57 Boutique Café
Black never truly goes out of fashion, and there's no place in Al Bateen quite as on trend as this funky café.
It's the kind of spot where you won't know whether to reach for your phone first to grab an Instragram-worthy snap or go straight for the knife and fork and risk ruining the picture as the food is just too good to wait.
Style and substance is married perfectly here, in eye-catching treats such as the activated charcoal pancakes and brilliant black bagel, given a few extra shades of colour by fried egg, turkey ham, avocado, sriracha mayo and alfalfa sprouts. Just yum.
Open daily 9am-10.30pm. Al Marasy, Al Bateen Harbour (02 441 6100).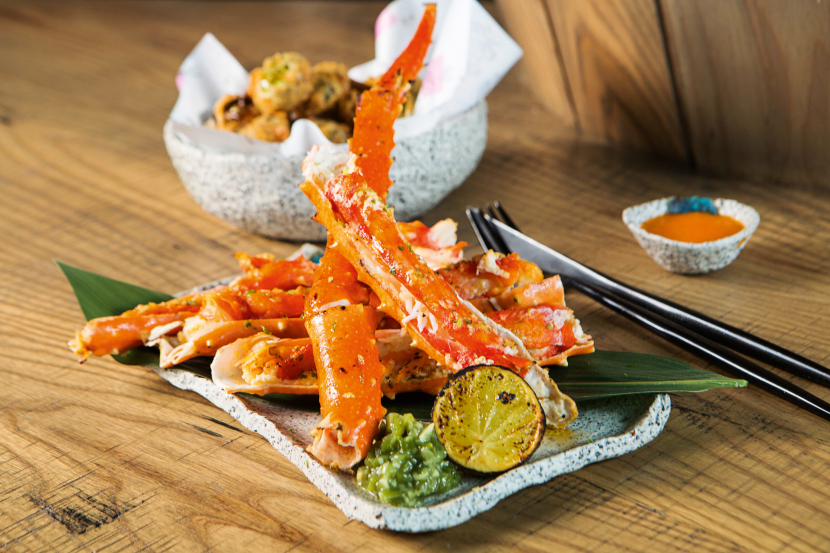 Ozo
The joy of Japanese cuisine is all around us in Abu Dhabi – and we don't think we will ever get sick of those fantastic Far-Eastern flavours.
Luckily, there is a recent addition to the growing roster of restaurants from the Land of the Rising Sun that is sure to brighten up any visit here. Cosy Ozo is warm and friendly from the outset and the menu is packed to the brim with delicious dishes, from robata grills, edamame lifted to a whole new level by a lathering of spicy sauce to superb sashimi and blow-torched beef nigiri.
There is even a giant robot leg in the middle of the restaurant, adding to the sheer sense of fun.
Open daily 1pm-11pm. Building 1, Al Marasy, Al Bateen (02 631 0442).
Switch
So you feel you've assimilated yourself into life in the Middle East pretty well, do you? Well, there's only one thing left to do; get your hands on a camel burger.
There's no better place to give it a try than Switch, a home-grown brand that has been a hit up the road in Dubai for years. As well as all styles of camel dishes (you can also devour Bolognese or even a dip) there are plenty of grills and pastas and innovative deserts. It's time to get switched on.
Open daily 10am-midnight. Al Bateen Wharf (02 556 5556).

Tashas
If you like your food served up with a personal touch, then make sure to pay a visit to Tashas. The charming, family-friendly café makes every customer feel right at home. Each dish is bespoke, made to order and packed with fresh ingredients.
Staff here aim to cook up food that is comforting, unpretentious and honest – which mirrors the whole ethos of the place itself. If you need a little break from glitzy fine dining, enjoy a refuel here during a trip through Al Bateen.
Open daily 8am-midnight. Unit BO2, Marsa (02 445 0890).

The Bagel Bar
If you have a craving for a breakfast bite or just want a snack after a marina stroll, then stop by The Bagel Bar. You can probably guess from the title what is big on the menu here, and there are plenty of varieties of the ring-shaped savoury delight to try out, too.
The traditional breakfast bagel is joined by top tastes such as a Beef Philly bagel, a veggie option, an Italian offering and even a Ploughman's bagel.
Open daily 7am-1am. Al Marasy, behind Abu Dhabi Islamic Bank (02 665 1442).
The Coffee Club
There is no better place to wake up and smell the coffee when out in Al Bateen.
The well-established chain not only offers up a plethora of perfectly percolated pleasures – from espresso's and latte's to iced coffees and frappé's – but you can also dig into bumper breakfasts, big brunches, pancakes, sandwiches and a whole lot more.
Open Sat-Wed 7.30am-11pm, Thu-Fri 7.30am-midnight. Al Bateen Wharf Retail and East Marina (02 222 1266).
Waterlemon
Even though we still keep wanting it to be called Watermelon (no, we won't let it go) we have become firm fans of this international café, located halfway up the cool strip of foodie spots on Al Bateen marina.
The venue is light and bright and there is an outdoor deck offering lovely views. The menu is full of choice, from buffalo hot wings to grilled salmon, pizzas and an array of deserts. If you are in the mood for a chilled-out unwind away from the hustle and bustle of the city, Waterlemon will cater for your needs.
Open daily 8am-11.30pm. Al Bateen Wharf (02 635 5050).
Be the first to get all the latest Abu Dhabi news, reviews and deals into your inbox by signing up to our free
newsletter
,
click here to sign up
.