DETAILS: Dhs165 (soft drinks), Dhs190 (house beverages), Dhs215 (bubbly). Fri-Sat noon-4pm. Pearl Rotana Capital Centre, Al Khaleej Al Arabi Street (02 307 5591).

There's a reason why Italian food was voted the world's best cuisine by CNN in 2016. In fact, there are many. The simplicity, the variety of dishes and the celebration of the usually demonised carbs. But ask any Italian and chances are their reason will be closer to home: family. Eating is a celebration of family, something to be shared with loved ones whether a quick breakfast of a pastry and piping hot cappuccino or a vast banquet on a special occasion. Food and family go together like spaghetti and meatballs in Italy.

So, it should go without saying then that brunch at Dino's is an all-family affair. A place where the kids can chomp on gooey, cheesy pizza while colouring in on the table mat, while the big kids share a bottle of grape and a meat and cheese board.

We arrive to a warm welcome from the host and take a window seat in the corner. The restaurant, while a little OTT on the Italian trattoria-style décor, is inviting and homely. Yes, the red and white checkered table cloths, the black and white framed photographs on the wall and the Italy flag lightshades are a tad cheesy, but it just about manages to feel like a home from Rome.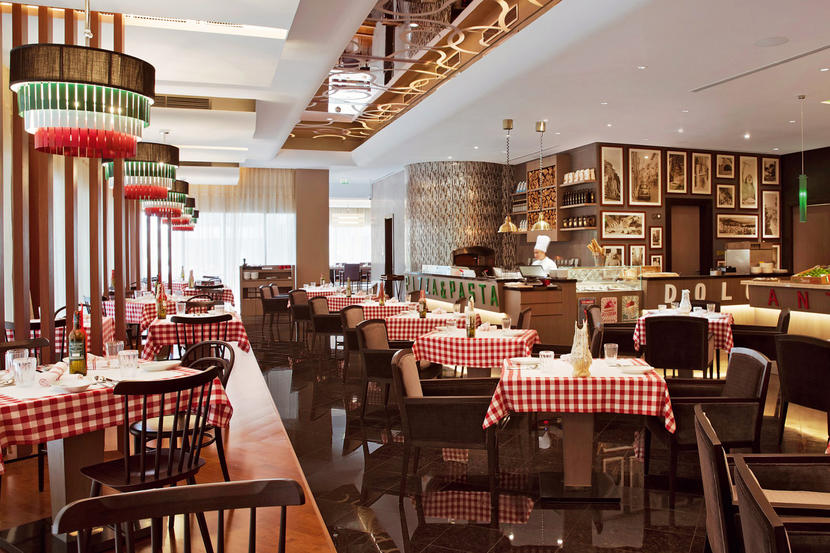 Brunch is served à la carte and covers all the staple Italian dishes. Diners are asked to tick off what dishes they want from the menu – so naturally we tick them all off. It's a bold move but one we're very happy we made. There's little chance to sip our leggero fondente (espresso with frothed milk and cocoa) before the starters pour out: crispy calamari, parmesan-cauliflower fritti, caesar salad and mozzarella and tomato salad, alongside a board of three cheeses and cold meats. More than enough food for a family to nibble away at, even for fussy eaters. If you can, and we know it's a struggle, make sure you save room for the next courses: because the wood-fired oven pizzas are sensational. Wafer-thin crusts that snap like breadsticks. Choose from pepperoni, margherita, vegetarian or the special, or just choose them all. We could happily sit and devour half a dozen.

Thankfully, the high-standards continue with the mains: a fillet of sea bream is excellent, while the three pasta dishes of chicken and mushroom, carbonara and ricotta and spinach ravioli are simply yummy. It's no frills food, but boy does it pack a punch. We barely have room to fit in the trio of desserts (but we still do). Who can resist tiramisu, panacotta and chocolate cake? Not us, and we don't regret a single thing.
The bottom line
Top grub for all the family.
Be the first to get all the latest Abu Dhabi news, reviews and deals into your inbox by signing up to our free
newsletter
,
click here to sign up
.