Bareburger
Being plant-based doesn't mean sacrificing your favourite fast food.
Head to Bareburger and you'll see just how easy, and tasty, it is to carry on the naughtiness of a burger. There are two options to choose from: the Guadalupe burger and the Farmstead.
The first is a rice and black bean patty, served with guacamole pickle jalapeno, tomatoes, alfalfa on multigrain bun. While the latter (pictured) is also gluten-free.
Bareburger's signature dish is made of sweet potatoes, quinoa, alfalfa, romaine, tomatoes, hummus and lemon dressing wrapped in a collard green leaf.
Prices vary. Sat-Wed 10am-11pm; Thu-Fri 10am-midnight. Marina Mall, Marina Village (02 441 1723).
Black Tap
Burgers and veganism find home on Instagram, as does New York-based burger bigwig Black Tap.
So, imagine the likes, reposts and hashtagging overload when the trio combine? The new Abu Dhabi branch of Black Tap has rolled out a vegan burger, served with either fries, onion rings or other sides.
It is crafted from a black bean patty, pickled onions, salsa verde, coriander and vegan mayo.
You can see it on the cover this week. Phones at the ready everyone… #foodenvy #whatareyouwaitingfor
Dhs85. Sat-Wed 10am-10pm; Thu-Fri 10am-midnight. Yas Mall, Yas Island (800 927 6255).
Café 302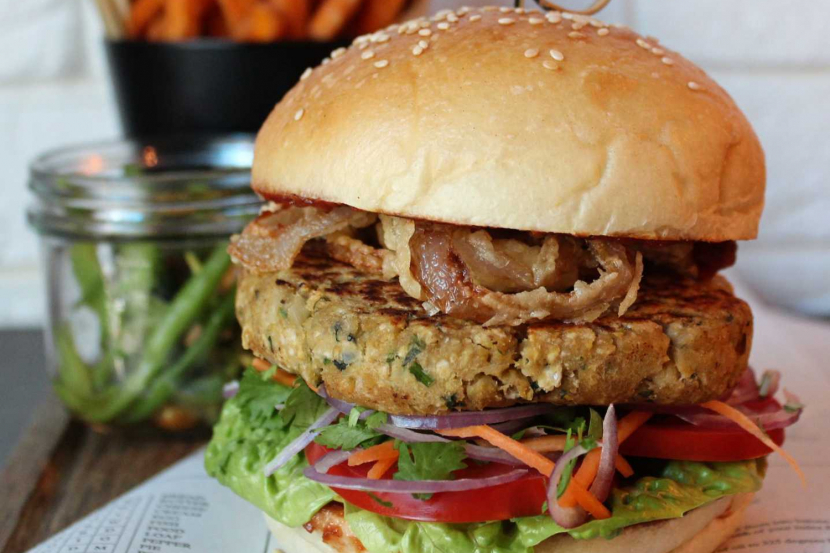 One of the city's outstanding vegan menus can be found at our current Best Café.
Inspired by the most-loved dishes from the Café 302 menu, unique dishes are now available for those who follow the plant-based diet.
The handpicked menu features savoury dishes ranging in breakfast, starters, salads, main course and dessert.
Vegan milk is available to substitute beverage at no extra cost. The red lentil and cauliflower burger is a must, the homemade tomato relish and crispy fried onions are irresistible.
Open daily 6am-11.30pm. Al Maha Arjaan by Rotana, Sheikh Hamdan Bin Mohammed Street (02 610 6666).
Circle Café
The café has just recently released a new vegan menu with options including cauliflower and BBQ chickpea flatbread, brown rice noodles and edamame, pumpkin and tomatillos with roasted almonds, and the vegan sandwich (consisting of slow cooked mushrooms) and served with sweet potato fries.
There's a 25 percent discount promotion for ordering online, too.
Prices vary. Sun-Thu 7.30am-11pm; Fri-Sat 7.30am-10.30pm. Al Raha Gardens, Abu Dhabi (02 556 1550). Sun-Thu 8am-11pm; Fri 9am-midnight. Saadiyat Beach and Residence, Saadiyat Island (02 448 4255). Open daily 7am-11pm. Mangrove Village, Abu Dhabi (02 666 0829).
Dino's Bistro Italiano
Classy-yet-rustic Italian joint Dino's can cook up any vegan pizza on request by ditching the dairy.
The Vegetariana is topped with roasted aubergine, courgette, pepper, mushroom and tomato pizza topped with basil. You definitely won't miss the cheese here.
Dhs60. Pearl Rotana Capital Centre, Al Khaleej Al Arabi Street (02 307 5591).
Frankie's Italian Restaurant & Bar
Champion jockey Frankie Dettori has linked up with world-famous chef Marco Pierre White to create this sophisticated Italian restaurant chain.
And vegans are well catered for with a specially created menu boasting starters, mains and puddings.
The mushroom risotto is outstanding – busting with truffle, porcini and morel mushrooms and with garlic and parsley.
Who needs butter and cheese?
Open daily noon-3pm, 7pm-12.30am. Fairmont Bab Al Bahr, Khor Al Maqta (02 654 3333).
Hoi An
Vegan and vegetarian dishes are heavily rooted within the culture of the Vietnamese restaurant Hoi An.
Therefore, all dishes customisable for vegans. One worth mentioning in particular is the Đau hông xíu.
Essentially a clay pot braised tofu, cooked with cabbage, mushroom, leek, celery, onion and soya bean sauce, it's one big bowl of comfort.
Open daily 6pm-11.30pm. Shangri-La Hotel Qaryat Al Beri, Abu Dhabi (02 509 8555).
Jones the Grocer
The well-known chain doesn't have a specific vegan menu, but it does serve two cracking dishes for plant-based diners.
Try the black quinoa, kale and roast sweet potato salad, a hearty meal served with avocado, pomegranate and toasted pine nuts. It's not only vegan but gluten-free, too. Who needs eggs for breakfast when you can have a banana and peanut butter smoothie bowl instead?
It's pure organic acai topped with banana, peanut butter, fresh strawberry, kiwi, mango, blueberries, chopped raw almonds, chia seeds, coconut flakes and date syrup. One word: delicious.
Prices vary. Sun-Thu 10am-11.30pm; Fri-Sat 9am-11.30pm. Various venues including Pearl Plaza Khalidiyah, Zayed The First Street (02 639 5883).
La Petite Maison
On meat-free Mondays you'll find an array of organic, vegan dishes at outstanding French restaurant La Petite Maison.
Try starting with sweet roasted peppers in garlic, paprika and white balsamic vinegar before tucking into a beautifully bright lentil salad for your main. Ingredients include lentils, apples, burnt cherry tomatoes, red onions, celery, fennel, spring onions, and jalapeno dressing.
Other top salads on offer include French bean and balsamic or a simple quinoa option.
Open daily noon-3.30pm, 6pm-11pm. The Galleria, Al Maryah Island (02 692 9600).
Simple Café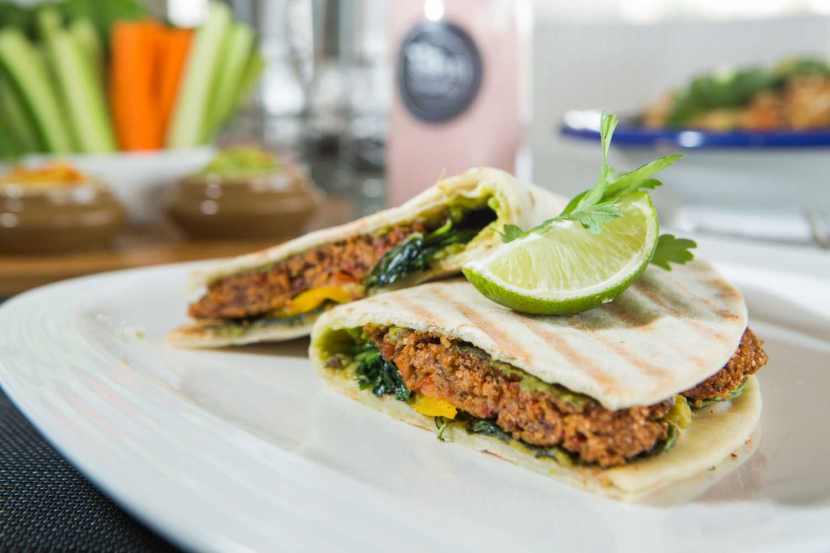 For anyone combining a healthy diet with a fitness regime, Simple Café is a gym bunny's dream.
The Zayed Sports City spot offers vegan, gluten and dairy-free meals. Not only that, but there are a range of meal plans you can sign up for, ranging from a three-day detox to one-month weight loss programme, and beyond.
Simple Café makes everything involved, from smoothies and sports fuels to juices and energy bites, with all plans specifically designed by nutritional experts.
Prices vary. Sun-Thu 5am-9.30pm; Fri 7am-6pm; Sat 7am-7pm. International Tennis Centre, Zayed Sports City (02 583 3612).

Pinza Pizza
The Abu Dhabi favourite Pinza Pizza can be found inside Umm Al Emarat Park in Mushrif.
Once there you'll find five vegan pizzas including the El Padrino, Mother Earth, The Faux Meat Lover, Oh My Vegan Pinza and Truffled Vegan.
Don't fancy any of them? No problem, you can make your own bespoke guilt-free treat.
Prices vary. Open daily 4.40pm-2.30am. Umm Al Emarat Park, Mushrif (800 74692).
Pizza Di Rocco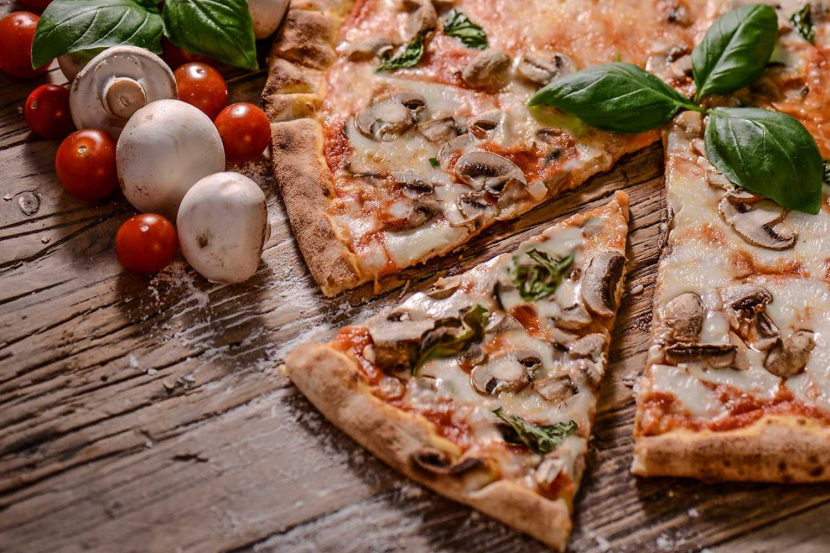 Cheese. It's a staple of a good pizza – in fact many would refuse to even look at one without the essential gooey strings of molten mozzarella or goat's cheese (this is 2018, after all) being devoured.
But, ever the innovators, Pizza Di Rocco introduced a new vegan menu in 2017 and began using vegan mozzarella and faux meats from US brand Field Roast.
Check out the Pizza Patron (Dhs55) for a tomato, vegan mozzarella and Mexican chipotle sausage treat.
Prices vary. Sat-Wed 11am-midnight; Thu-Fri 11am-2am. Salam Street, Al Dharah (02 885 3222). Other location: Etihad Plaza.
The Coffee Club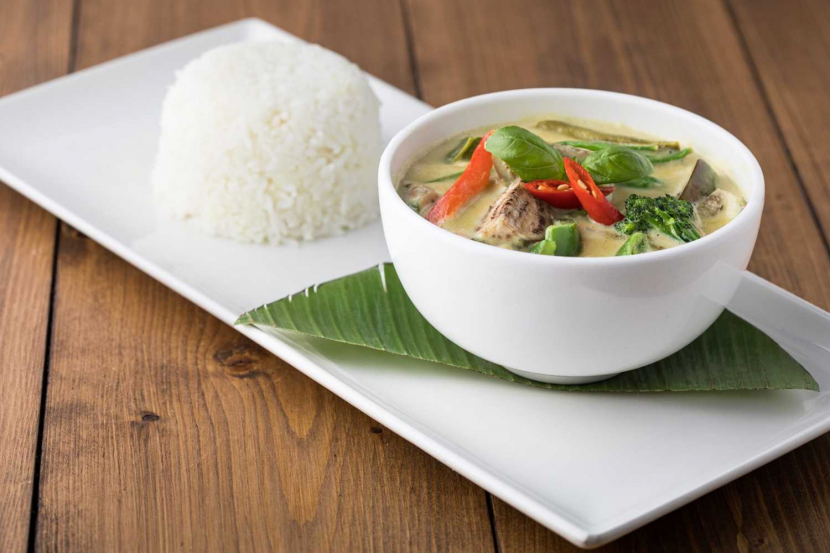 Here you'll find a selection of vegan pizzas with crunchy thin crusts, Singapore noodles (hot stir-fried noodles topped with za'atar, crusted tofu, mushrooms, tomato and red capsicum) and an excellent vegetable Thai green curry that's also suitable for vegans.
It's made with aubergine, broccolini, snow peas, bell peppers, lime leaf and basil and served with steamed jasmine rice.
It's clean, green South East Asia in a bowl.
Prices vary. Open daily 7.30am-11.30pm. Al Mushrif Cooperative, Al Khaleej Al Arabi Street (02 644 8811).
The Forge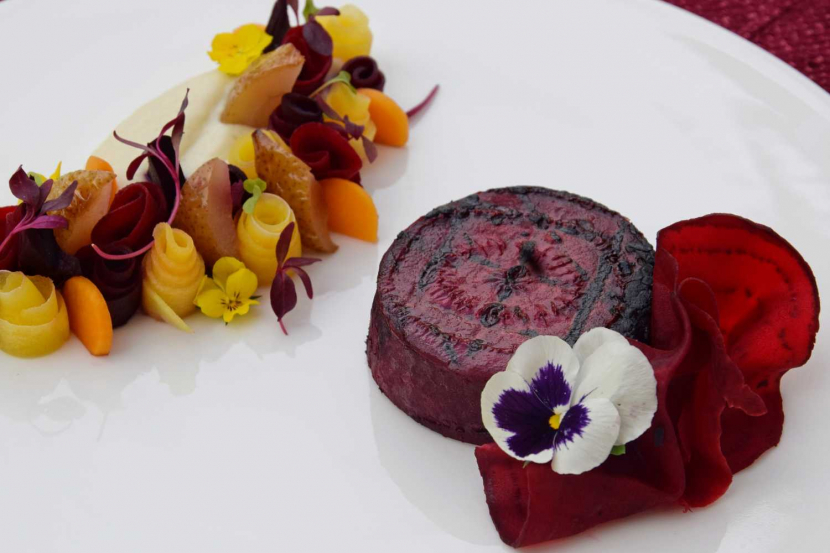 Chefs at this classy Abu Dhabi restaurant will prepare a bespoke menu for vegan guests, based on their preferences.
One of its hit dishes is the beetroot steak. The beetroot is marinated with herbs and garlic before being cooked half way in the oven and finished off on the grill for a smoky taste.
It is accompanied with a coconut-parsnip puree and topped with roasted pears, carrots, butternut squash, and turnip.
Dhs115. Mon-Sat 8pm-11pm; closed Sun. The Ritz-Carlton Abu Dhabi, Grand Canal, Khor Al Maqta (02 818 8282).

The Raw Place
Now, Raw is famed for super-healthy drinks, however its vegan-friendly dishes are the real stars here.
The pad Thai, mushroom arancini, pesto noodles and desserts (including almond fudge, lemon cheese and coconut parfait) are just exceptional.
Sat-Thu 7am-11pm; Fri 10am-11pm. The Souk at World Trade Center Abu Dhabi, Al Markaziyah (02 633 4677).
The Third Place
If you're in a hurry and need a quick-fix of pulses, plants and pleasure then head to this neighbourhood café.
The vegan salad is one of the city's best and is made from quinoa, avocado, tomato, lentils, cucumber, beetroot, palm hearts, pomegranate, chickpeas, walnuts, green leaves.
Finished off with a drizzle of pomegranate dressing it's a surefire winner for plant-eaters.
Open daily 8am-11pm. Villa T3, Corniche Road (02 681 1877).
Be the first to get all the latest Abu Dhabi news, reviews and deals into your inbox by signing up to our free
newsletter
,
click here to sign up
.