After a year of tirelessly eating our way through Abu Dhabi's restaurants (it's a hard job, honest), we honoured the very best eateries in the city in a glittering ceremony at the Rosewood Abu Dhabi.

Held on Tuesday November 26, venues were crowned in 20 categories plus the two big ones, Best Newcomer and Restaurant of the Year.
To find out more about how the restaurants are chosen, you can head here, and you can find all of the nominees here.
Below you'll find all the winners and highly commended venues from the Time Out Abu Dhabi Restaurant Awards 2019.
AMERICAS
Winner
COYA Abu Dhabi
This very cool and funky Peruvian restaurant was always going to take some beating. It was our Best Americas winner last year as well, and as it has continued to produce beautiful ceviches, tasty tacos and so many more fantastic dishes throughout this year. So, we thought it would be a crime to take the title away from it. If you haven't tried it yet we urge you to sort that out as soon as possible, whether it's for a day out at the super Friday brunch, or a few nibbles watching the sun set.
The Galleria Al Maryah Island (02 306 7000).
Highly commended
Amerigos Bar & Restaurant
This chilled Mexican restaurant had a revamp in late 2019 and the result is a more colourful and modern dining room, plus more vegan and vegetarian options on the menu. The classics like fajitas, nachos and enchiladas are all done flawlessly, with lots of sauces and toppings to add to the fun. The baja fish tacos are just one of our go-to dishes here, and we challenge you to find a more satisfying bite or creamier guac anywhere in the city.
Park Inn Abu Dhabi Yas Island (02 656 2412).
Loca Restaurant & Bar
This lively bar and restaurant is filled to capacity every Wednesday evening due to the mega-popular ladies' night, but it also offers a fabulous menu of Mexican dishes. The traditional plates like burritos, fajitas and nachos are served in generous portions, while the guacamole is prepared and customised to your taste at the table. If you want to convince yourself you're being healthy then try the shrimp tostada salad, which has to be the least boring salad in the whole world.
The Galleria Al Maryah Island (02 582 3639).
ASIAN
Winner
Buddha-Bar Beach
If you want to enjoy amazing views, tasty pan-Asian dishes and generally just join the cool crowd for a night, there's really nowhere better to go than this picturesque beach restaurant on Saadiyat Island. All of the dishes are presented with artistic flourishes, and they almost look too good to eat. But you won't be able to resist tucking into the sushi, stir-fries and dumplings for very long. Everything from the stylish staff to the produce used is flawless.
The St. Regis Saadiyat Island Resort, Abu Dhabi (02 498 8888).
Highly commended
Cho Gao Marina Walk
This vast restaurant boasts a cool Asian-themed interior and wide terrace overlooking the marina. It's busy on any night of the week, and no more so than for the Thursday night brunch, which offers endless plates of tasty nibbles like sushi, wasabi prawns, beef rendang and more. The full menu contains everything from various types of tempura to stir-fried tofu and broccoli in oyster sauce. It's all full of flavour and absolutely delightful.
InterContinental Abu Dhabi, King Abdullah bin Abdul Aziz Al Saud Street (800 423 463).
Pachaylen
With a spot right by the beautiful Eastern Mangroves and a glamorous gold dining room, this Thai restaurant certainly scores highly when it comes to the setting. But the food is exceptional too, with the perfectly cooked chicken satay, crunchy papaya salad and hearty crab cakes standing out as just some of the many highlights on the extensive menu. Whether you want classics like green curry or something more creative, you'll find it all.
Anantara Eastern Mangroves Abu Dhabi Hotel (02 656 1000).
CHINESE
Winner
Dai Pai Dong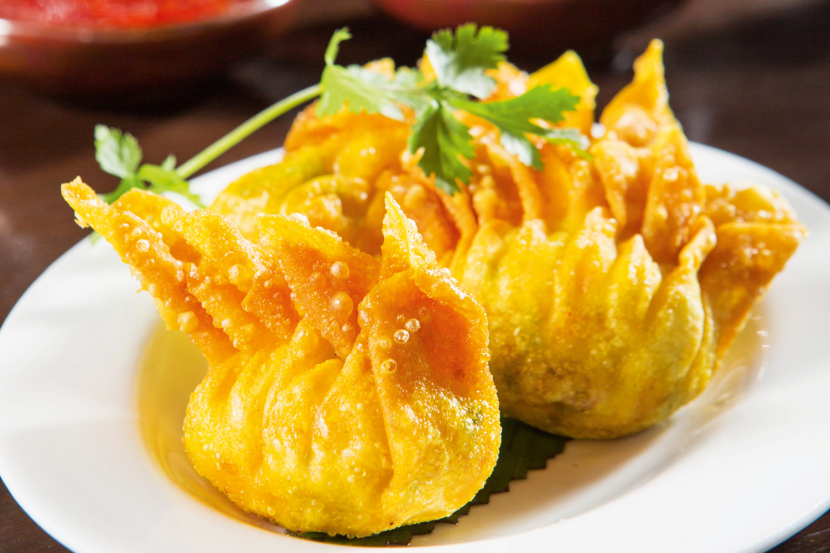 After bagging the Highly Commended gong last year, we decided that this year it certainly deserved to take the title of Best Chinese. The high-quality Cantonese plates are simply better than ever, in particular the huge range of dim sum, grilled meats and legendary hot pot brunch. Year after year it continues to stand out as one of the best spots for food on Al Maryah Island.
Rosewood Abu Dhabi, Al Maryah Island (02 813 5550).
Highly commended
Hakkasan
Found in the most glamorous of all the hotels in Abu Dhabi, Hakkasan is one of the finest high-end restaurants in the capital. We'd happily come here just for the views over Etihad Towers alone, but really it's in the creative and striking Chinese dishes that it really shines. Here you can enjoy elaborate dim sum, noodles, soups and more, all made with the very best ingredients.
Emirates Palace, Corniche Road West (02 690 7739).
Shang Palace
With the outline of the stunning Sheikh Zayed Grand Mosque standing proudly in the background, this Chinese restaurant offers some of the best views of any venue in the capital. The plates it serves are all exceptional too, with the Beijing duck standing out as one of the most popular recipes. Periodical pop-ups from visiting chefs add further variety to an already incredible range of dishes.
Shangri La Hotel, Qaryat Al Beri, Abu Dhabi, Bain Al Jessrain (02 509 8555).
EUROPEAN
Winner
Le Petite Maison
This French venue offers a modern fine-dining experience that has once again, proved impossible to top. The dining room is bright and welcoming, the staff absolutely never miss a beat and the menu is filled with super Niçoise specialities, meaning you get Mediterranean classics inspired by France and Italy. Dishes are designed to share and the sea bass baked in a sea salt and herb crust is one of the signature favourites. Served with asparagus and cherry tomatoes, it's absolutely beautiful and you really need to try it.
The Galleria Al Maryah Island (02 692 9600).

Highly commended
Alba Terrace
We love all three of the restaurants at stylish yet understated hotel The Abu Dhabi EDITION, but Alba Terrace is the one to head to when the weather is perfect (like right now, for instance). It's lucky enough to have a pretty outdoor area right by the infinity pool, and some of the booths are sunk right into the water. But don't worry, you won't get wet as you tuck into the fresh and wholesome Mediterranean plates such as calamari with squid ink, spinach and kale risotto or indulgent Sicilian cheesecake. The staff are real characters, too, and they make sure everyone has the best time in this pristine venue.
The Abu Dhabi EDITION, Al Bateen Marina (02 418 2506).
Bentley Kitchen
This cool restaurant serves up a creative take on European dining with dishes inspired by French cuisine and also other magnificent dishes from around the world. The fun light bites include Cajun salmon sliders, chicken bao buns and lobster tacos, while the mains feature a range of quality steaks, huge grilled tiger prawns and other European staples like chicken schnitzel.
The Galleria Al Maryah Island (02 626 2131).
INDIAN
Winner
Namak by Kunal Kapur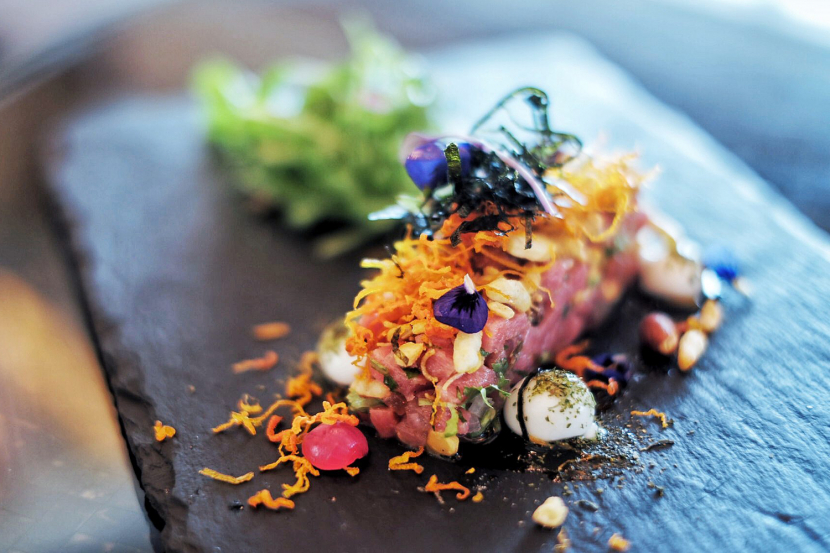 Created by one of the most popular chefs in India, this restaurant at the Dusit Thani Abu Dhabi has quickly earnt an excellent reputation. The pretty plates don't just look like works of art, they also deliver the most amazing combinations of authentic flavours. The Saturday brunch lets you sample a superb selection of the very best dishes, and we recommend starting your meal with the juicy katifi prawns before moving onto one of the hearty curries like the stone-cold classic chicken tikka masala.
Dusit Thani Abu Dhabi (02 698 8137).
Highly commended
Punjab Grill
With a fantastic spot at the Venetian Village, we don't just love this place for the wide terrace that's ideal for people watching and admiring the view of the Grand Canal. This popular Indian does all the classics superbly, and the creative signature dishes also get our stomachs rumbling too. There's loads of vegetarian options and our absolute favourite has to be the rather quirky paneer roulade, featuring rolls of soft cheese stuffed with sweetcorn and spinach, and then covered in makhani and spinach sauce.
Venetian Village, The Ritz-Carlton Abu Dhabi, Grand Canal, Khor Al Maqta (02 449 9839).
Tamba
The very cool Indian-inspired restaurant was just knocked off the top spot this year, but that doesn't mean that there isn't loads to love about it. The plates are served with plenty of theatrics, and by that we mean you should have your phone out ready to record the entertaining displays of dry ice and sparklers. The food is also devine, with super curries like smoked chicken in tomato gravy, classics like biryani and decadent desserts such as the very Insta-worthy The Break Up (which is an incredible chocolate pudding).
The Hub at the Mall at the World Trade Center Abu Dhabi (02 672 8888).


ITALIAN
Winner
Circo
With a cool circus-inspired interior, a visit to this colourful Italian restaurant is guaranteed to make you forget all your worries in an instant. The glass walls of the kitchen mean you can watch the expert chefs at work creating the homemade pasta dishes and authentic thin and crispy pizzas, and the menu is full of all your favourite Italian staples. It also specialises in putting creative twists on the classics, and the courgette parmigiana and buttery butternut ravioli are good enough to win awards just by themselves.
InterContinental Abu Dhabi, King Abdullah bin Abdul Aziz Al Saud Street (800 423 463).
Highly Commended
Dino's Bistro Italiano
This quirky and casual venue is a breath of fresh air in a city that's so full of prim and proper fine-dining restaurants. Here you're actively encourage to scribble on the tables in colourful crayons and even play a game or two of noughts and crosses on the tablecloth while you wait for your simple, yet skilfully put together Italian classics. The pizzas are some of the best in the city, while the cauliflower fritti will always ensure that your meal starts off on a real high. Accessible, delicious and fun.
Pearl Rotana Capital Centre, Khaleej Al Arabi Street (02 307 5551).
Villa Toscana
This traditional Italian is really rather grand, with murals of the Italian countryside covering the walls of the dining room plus crispy white tablecloths and heavy, dark wood furniture. It's not exactly a super-cheap date night, but the good thing is you just know that everything you try will be exceptional. The homemade pastas always hit the spot and the very chocolatey desserts are well worth saving room for. An old favourite that never lets us down.
The St. Regis Abu Dhabi, Nation Towers, Corniche West (02 656 2412).
JAPANESE
Winner
Zuma
When it comes to creative Japanese cooking, nowhere does it better than Zuma. This is where the classy and good-looking crowd in Abu Dhabi hang out, and the views from the sleek dining room over the waters around Al Maryah Island are tremendous. The highlights of the Japanese-inspired menu include the signature black cod, fresh tiger prawns squeezed with lemon, bao buns and super salads like sautéed spinach with creamy sesame paste. Even the simplest things like edamame beans are exceptional.
Al Maryah Island (02 401 5900).
Highly commended
99 Sushi Bar & Restaurant
This Japanese restaurant originated in Spain, and the super-stylish outlet specialises in immaculate plates of impossibly fresh sushi that are prepared with care and skill by the talented chefs at the sushi bar. It oozes class from every corner, and the business lunch is a good-value way of experiencing some of the best dishes. From the fresh tuna ceviche to the chicken dumplings, it's all sublime.
The Galleria Al Maryah Island (02 672 3333).
Tori No Su
Stepping inside Tori No Su feels like you've been whizzed over to Tokyo for the evening. Both the feel and the dishes on offer are extremely authentic, and this modern restaurant at Jumeirah at Etihad Towers always manages to impress. The sushi, tempura and noodles are all unmissable, while the signature mains like soft shell crab are also really worth your time, too.
Jumeirah at Etihad Towers, West Corniche (02 811 5666).
MIDDLE EASTERN
Winner
Byblos Sur Mer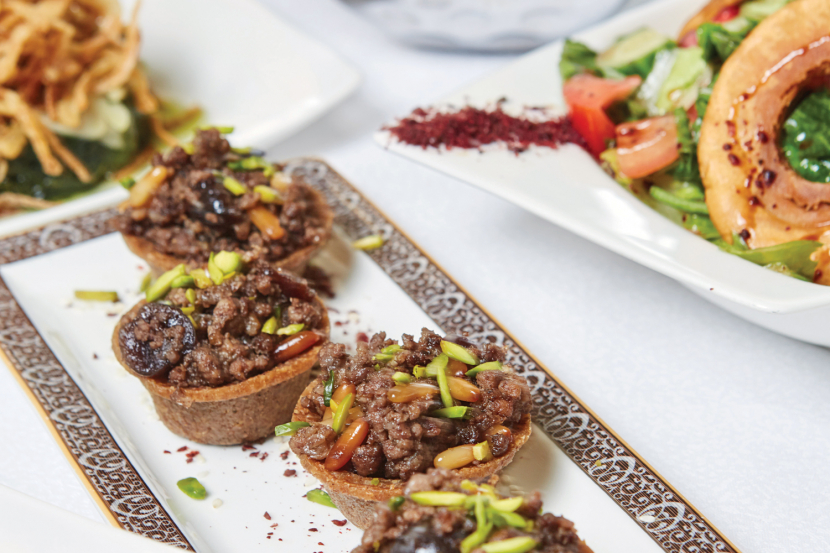 This fine dining restaurant serves up some of the best and most authentic Lebanese dishes imaginable. We love starting a meal here with some beautifully presented hot and cold mezze, before moving on to the amazing grilled meats and traditional mains. The views over the marina at the InterContinental Abu Dhabi are gorgeous, and generally a meal here is easily as lovely as any you'd find in the actual coastal town of Byblos Sur Mer in Lebanon.
InterContinental Abu Dhabi, King Abdullah bin Abdul Aziz Al Saud Street (800 423 463).
Highly commended
Li Beirut
As last year's winner in this category, the venue at Jumeirah at Etihad Towers impresses us every time we visit. The portions are huge, the mezze is varied and made with the most super ingredients money can buy, and enjoying it all out on the balcony whilst admiring the view of the private beach is an experience that's hard to beat.
Jumeirah at Etihad Towers, Corniche West (02 811 5666).
TEAN
This is one of the latest high-end Middle Eastern restaurants to open in the capital, and it has already earned a brilliant reputation. Found at Jumeirah at Saadiyat Island, the outdoor terrace is just steps away from the perfect white beach. The dining room is clean and classy, while the food contains classics delivered with flair and attention to detail, plus some more inventive plates like the very pretty rose water crème brulee.
Jumeirah at Saadiyat Island, Saadiyat Island (02 811 4444).
AFTERNOON TEA
Winner
Observation Deck at 300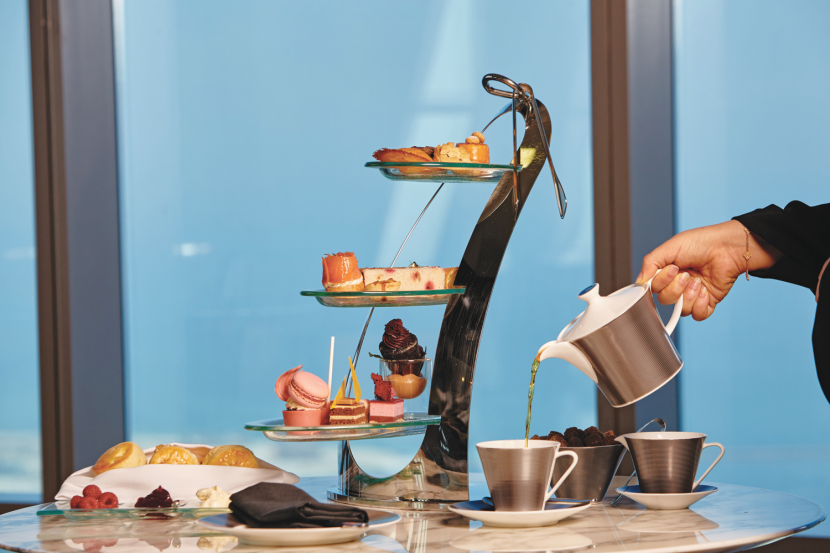 This sky-high afternoon tea is our winner for the second year in a row, and there are so many reasons why this was a no-brainer. As the name suggests, you get a 360-degree view of the city, but it's not just the amazing vistas that draw so many people here. The lovely spread features plenty of savoury bites (we hate it when they neglect the not-so-sweet options), and fun cakes such as doughnuts and cute cupcakes. It's perfect for impressing visitors, too.
Jumeirah at Etihad Towers, Corniche West (02 811 5666).
Highly commended
Lobby Lounge (Shangri-La Hotel, Qaryat Al Beri)
If you grab the corner table in this decadent lobby lounge you'll have a perfect view of the private beach, the Grand Canal and the impressive outline of the Sheikh Zayed Grand Mosque. The staff are super-friendly, too, and both the sweet and savoury bites look like little miniature works of art. Highlights include the roast duck and avocado sandwich, while the freshly ground coffee and loose-leaf tea options are excellent as well.
Shangri-La Hotel, Qaryat Al Beri, Abu Dhabi, Bain Al Jessrain (02 304 8036).
The Library
The London-themed afternoon tea at The Library isn't just for keen readers. The modern lounge is a lovely place to relax for the afternoon, and there are plenty of tempting treats in both the sweet and savoury options. Feast on sophisticated sandwiches filled with truffled egg mayonnaise, cheddar cheese and chutney and more, and finish off proceedings with a spread of super English classics such as bakewell tart, trifle and homemade scones.
Park Hyatt Abu Dhabi Hotel & Villas, Saadiyat Island (02 407 1138).
BAR FOOD
Winner
Hamilton's Gastropub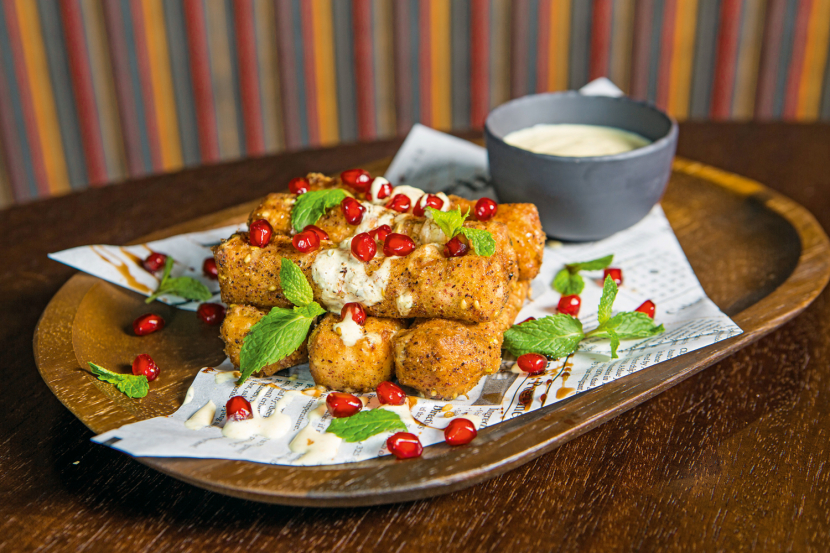 This laid-back bar bagged the Highly Commended gong for Best Newcomer at last year's awards, and since then we have watched it blossom into the incredible venue that it is today. As one of the more chilled-out venues to be found on Saadiyat Island, it's an unpretentious place to watch some sport or catch up with mates. The bar bites are definitely on the fancy side, and we come back time and time again for the halloumi fries, huge scotch eggs and quality burgers.
Saadiyat Rotana Resort & Villas Abu Dhabi, Saadiyat Island (02 697 0000).
Highly commended
Blu Sky Lounge & Grill
Themed around Premier League champions Manchester City, owned by the UAE capital, this venue is a great spot for sports fans to catch a match or two. But it also offers a menu of exceptional bar food, and there's loads to draw you here whether you are a sports fan or not. Expect a wide range of fantastic burgers, enormous portions of nachos and many more superior bites.
Southern Sun Abu Dhabi, Al Mina Street, Al Zahiya (02 818 4888).
The Warehouse
We're big fans of this cool grape and tapas bar, so much so that we named it our Bar of the Year at the Time Out Abu Dhabi Music & Nightlife Awards 2019. While the vibes are electric and it's a great place for a night out, the menu has a lot to offer, too. We adore the mini sliders (we have a real weakness for the chicken parmigiana ones), flatbreads with a variety of toppings and customisable pans of mac 'n' cheese. Cheese fans also need to check out the Friday fondue night for a truly authentic European feast.
Pearl Rotana Capital Centre, Khaleej Al Arabi Street (02 307 0000).
BREAKFAST
Winner
tashas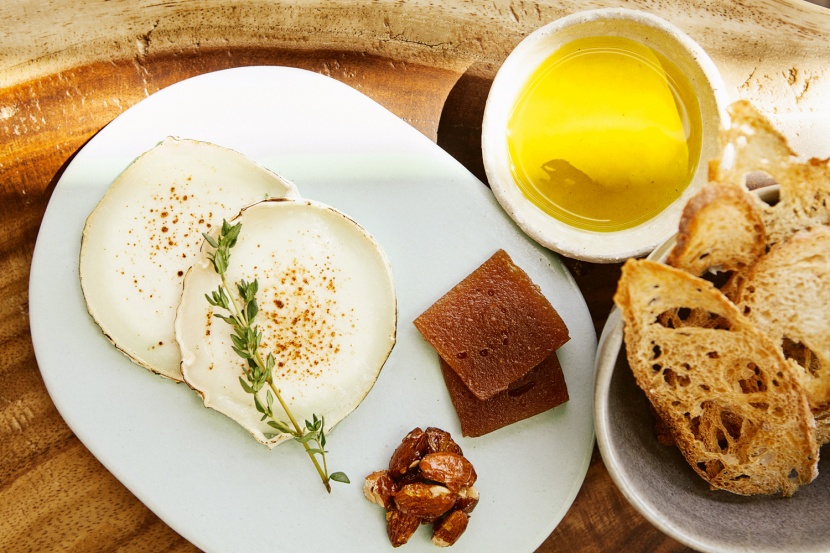 With a gorgeous location at Al Bateen marina, there's very often a wait for a table at this popular South African café. There's a no reservation policy, but your patience will certainly be rewarded with a long list of healthy and tasty breakfast dishes. We often go for the mariachi eggs to kick off our day with a bit of fire and colour. Scrambled eggs are mixed with chilli, avocado, parmesan, spring onions and tomatoes, and served with warm tortillas. There's also cooked breakfasts with bacon and sausages, omelettes, acai bowls and delightful brioche French toast. You'll want to return every weekend.
Al Marsa, Al Bateen (02 445 0890).
Highly commended
Market at EDITION
This is without a doubt one of the most exciting breakfast venues in the city. The healthy restaurant has put together a list of dishes the likes of which you'll find nowhere else, and we love it a little bit more every time we visit. If you're a bit of a foodie (like us), you'll be thrilled to see that almost everything includes ingredients like buckwheat, flax seeds, chia seeds, turmeric yoghurt, blueberry labneh and other similarly exotic additions. Highlights include the cured salmon bagel with beetroot, sprouts, dill cream and garden greens, plus the rye, quinoa and chia seed porridge. But honestly, anything you choose will be fantastic, and you don't even have to feel guilty about it afterwards, which is nice.
The Abu Dhabi EDITION, Al Bateen (02 208 0000).
Raw by Nolu's
Nestled next to Al Seef Mall and mere metres away from two gyms, the healthier branch of Nolu's has managed to bag a perfect location. While many might just call in for a post-workout smoothie to go, we like to take a seat in the cosy indoor area or on the sunny terrace, and start our day with some of the wholesome breakfast options. The edamame explosion toast is exceptionally tasty, and something a bit different to your usual eggs and bread. If you've never tried edamame hummus before, well be prepared to have your mind blown. It's joined by poached egg, sunflower seeds and tomatoes and layered on a very on-trend chia seed bagel.
Al Seef Village, Khalifa Park area (02 444 8080).


BUDGET
Winner
Burro Blanco
This casual Mexican doesn't rely on stylish décor or fancy gimmicks to attract its customers, not when it produces some of the finest burritos that the capital has to offer. You could be forgiven for walking past this Al Khalidiya outlet without realising it's there, but that's part of the charm. Our go-to order is a 12-inch pulled beef burrito with zesty black beans, coriander lime rice, medium hot salsa, guacamole and aged white cheddar, but whatever you go for, it will be brilliant. Plus, even though we know we've raved about them before, there are few things better in the world than the avocado fritas, featuring silky green fruit encased in a light batter and served with a variety of spicy salsa dips.
Zayed the First Street, Al Khalidiya (02 309 3911).
Highly commended
Bonna Annee
This unassuming Ethiopian eatery is a wonderful introduction to this very tasty cuisine. The portions are huge, with most dishes based around stews and curries served on top of injera, a traditional sourdough bread. Order a Bonna Annee special and you'll be treated to a sample of each house signature dish, or the staff will happily explain what everything is on the rest of the menu and help you decide what to go for. The gomen be sega is another winner, consisting of delicious beef cubes with sautéed collards, onions, garlic and ginger. You'll be coming back here time and time again, which is why it won our Best Budget Restaurant award in 2018.
Al Salam Street, Al Zahiya (02 491 2128).
Panda Bao Bao
We're obsessed with the cute panda theme of this Chinese restaurant. Everything from the bowls to the spoons are covered in images of the cuddly creatures, and it's a great spot for families and kids of all ages. The dishes are truly authentic, too, with traditional favourites like dim sum boasting a variety of fillings, noodles, congee and desserts such as Sichuan ice jelly. It's great fun.
Hazza Bin Zayed The First Street, Al Dhafra (055 512 7461).
CAFÉ
Winner
Café 302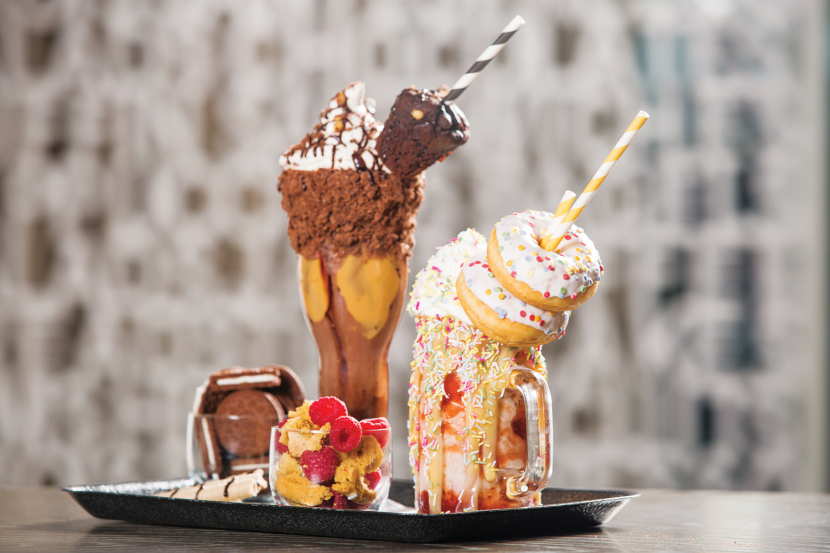 Decorated in a predictably stylish fashion, it's all about wooden furnishings, tempting food displays and minimal fuss at hipster-friendly Café 302. The fresh juices and cold brews come in a glass milk bottle (of course) and while you could call the fancy presentation unnecessary, both the hot and chilled caffeine-based beverages are all excellent. The food options include something for everyone, and vegans are very well catered for with a special Thursday-night vegan buffet, and plant-based breakfasts such as tofu benedict, warming oatmeal with soya milk and cranberries and blueberry rice pancakes.
Al Maha Arjaan by Rotana, Hamdan Street, Al Markaziyah (02 610 6666).
Highly commended
Joud Café
This café prides itself on preparing everything in-house using the best ingredients the chefs can get their hands on. That means they bake their own breads, cakes and desserts, sauces are made from scratch, meat is hormone-free and produce is organic where possible. We can never resist the tempting cakes, and savoury highlights include the spicy Mexican taco salad and naughty crispy chicken burger.
Al Khaleej Al Arabi Street, Al Bateen (056 525 8235).
No. Fifty Seven Boutique Café
Yes this place has a thing for charcoal-coloured items, but that doesn't mean it's trying too hard or a bit pretentious. The menu at this Al Bateen venue is packed with exciting and flavourful dishes, which means that it always takes us ages to order whenever we come here. This place offers everything from hearty salads like the crispy grain bowl, to snacks like boneless chicken wings and teriyaki Brussel sprouts. The aforementioned activated charcoal pancakes are worth a try, too.
Al Marasy, Al Bateen Harbour (02 441 6100).
FINE DINING BRUNCH
Winner
Zuma
Holding on to the title of Best Fine Dining Brunch once again, it's really hard to know where to start with describing all the wonderful food that's on offer at the Baikingu Brunch. Even the simple things like the grilled corn and broccoli (a surprise highlight) are done so brilliantly, and you're also able to help yourself to a huge buffet of sushi, salads, hot bites (such as skewers of meat and noodles), plus a main each from the à la carte menu. There are too many highlights to mention, but favourites include the signature black cod fillet, wagyu sliders, bao buns and mochi ice cream.
Al Maryah Island (02 401 5900).
Highly commended
COYA Abu Dhabi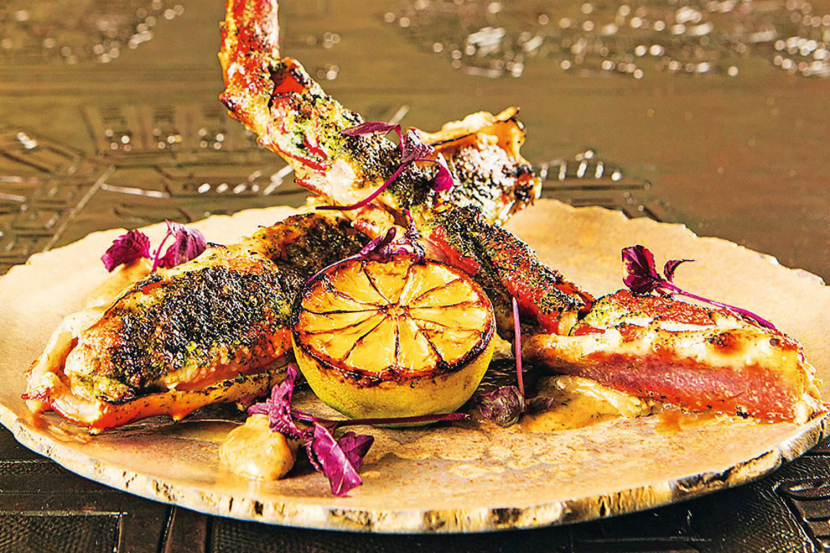 This fun Peruvian restaurant certainly knows how to throw an awesome brunch. With upbeat Latin music and welcome drinks to start you off, you'll be in a proper party mood before you've even taken a seat in the vibrant dining room or on the pretty garden-themed terrace. The menu includes some of COYA's best dishes such as sushi, ceviches, bao buns, creamed corn, grilled meats, fresh fish and much more. The desserts are also unmissable, so save plenty of room.
The Galleria Al Maryah Island (02 306 7000).
Tamba
The lazy lunch at this very stylish Indian-inspired restaurant is a relaxed affair. There's no scrum to get the best bits of sushi, or endless cheese and chocolate rooms to navigate, instead everything is brought out in a steady stream to the table. You start with 'street snacks' like spicy tuna with avocado, oysters, stuffed mushrooms and quinoa chicken salad, before moving on to the signature mains like dahl makhani and the intriguing okra kurture. Meanwhile, the dessert spread is all singing, all dancing spectacular served with theatrics like gold sparklers, and it contains some of the best sweet treats you'll have ever tasted.
The Hub, Mall at World Trade Center Abu Dhabi (02 672 8888).
INTERNATIONAL BRUNCH
Winner
Nahaam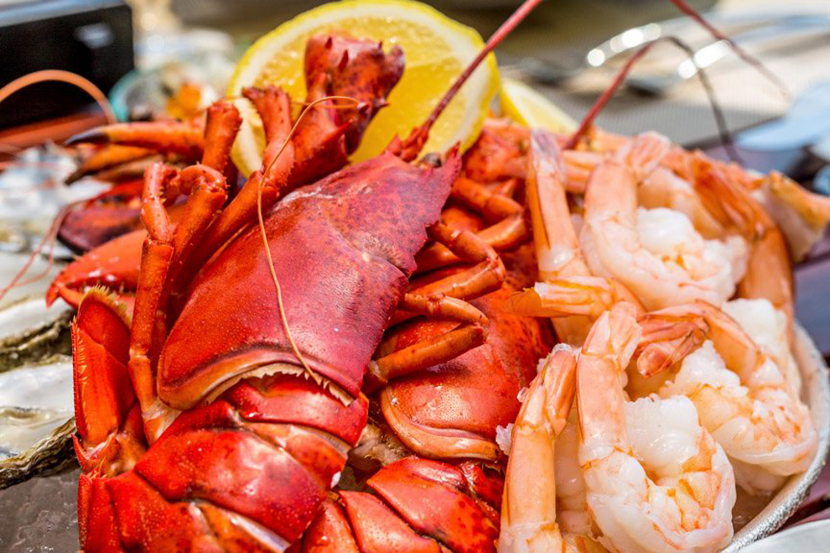 You'll find food from across the impressive restaurants at Jumeirah at Etihad Towers all laid out for you to try at this truly excellent brunch. Inside the dining room is light and airy and full of sushi, salads and a super spread of desserts, but you really can't beat the amazing vibes out on the terrace. Here you can dance to tunes from the live band, relax on the beach and take a dip in the infinity pool. Service is quick and friendly, and you'll also find live stations serving barbecued meats, curries, burgers, grilled seafood and much more. It's one of the best days out you'll ever have.
Jumeirah at Etihad Towers, West Corniche (02 811 5666).
Highly commended
Las Brisas
Set out in the grounds of one of Abu Dhabi's most iconic and luxurious hotels, Brunch at the Palace is designed to look like a gourmet street food market. Offering dishes from all over the globe, chefs are on hand to serve up an amazing selection of meats, seafood, salads, mezze, sushi and more. The live band is guaranteed to get everyone dancing and it's a great afternoon spent out in the sunshine.
Emirates Palace, West Corniche (02 690 9000).

Saadiyat Rotana Resort and Villas
The Market Brunch offers a huge buffet of multiple live stations, taking over the whole of the all-day-dining restaurant and spilling out onto the terrace. From here you can admire the huge pool with the private beach and shining waters of the Gulf beyond, and there are also countless stations serving mixed drinks plus a cool live band and DJ to set the mood. The seafood stand is one of the best bits, with lobsters, swordfish, sea bass, crabs and more. Simply choose your catch and wait for it to be grilled to order and delivered to your table, and in the meantime there's sushi, a special room dedicated to traditional meats, curries and more to keep you busy. It's an experience that few can rival.
Saadiyat Rotana Resort & Villas, Saadiyat Island (02 697 0000).
OUTDOOR RESTAURANT
Winner
Mare Mare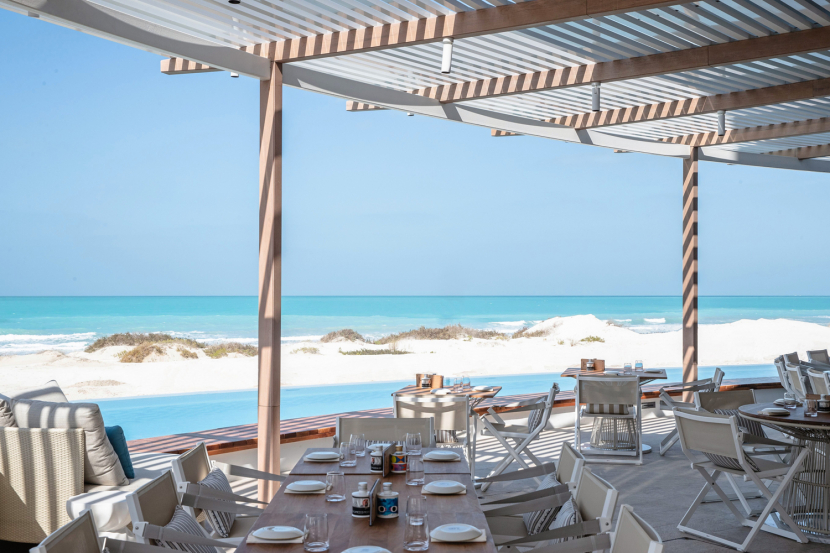 This Mediterranean restaurant at Jumeirah Saadiyat oozes coastal chic and it specialises in taking traditional Italian dishes and giving them a modern twist. The terrace is also one of the most pleasant spots in the city. It's got a real holiday vibe, and make sure you keep an eye on the Gulf infront of you in case a pod of dolphins happen to pass by. The burrata pizza is on another level of deliciousness, and a meal here at any time of day is always a total joy. A worthy winner.
Jumeirah Saadiyat Island Resort (02 811 4444).
Highly commended
Beach House
With so much competition on Saadiyat Island, you really have to extra special to stand out from the crowd. But with its marvellous Mediterranean food and lovely sea views, the Beach House manages to do so easily. The weekend breakfast deal is also a favourite of ours, where you can enjoy a spread of pastries, yoghurt, fruit and a hot main course just steps away from the pristine sands of the beach at the Park Hyatt Abu Dhabi. Both the lunch and dinner options are outstanding, too.
Park Hyatt Abu Dhabi Hotel and Villas, Saadiyat Island (02 407 1138).
Filini Garden
As al fresco eating experiences go, the one you'll find at Filini Garden is hard to beat. Arrive early enough for a sundowner to fully appreciate just how serene the setting is, and take in the lovely views over Yas Links and out towards Al Raha Creek. The Filini Sunsets deal offers Italian mixed drinks for Dhs30 in the early evening, and the crispy pizzas and sharing antipasti boards are just some of the highlights from the extensive menu. We keep falling more and more in love with this place.
Radisson Blu Hotel, Abu Dhabi Yas Island (02 656 2000).
PUB FOOD
Winner
PJ O'Reilly's
It's been a successful year for the friendly Irish bar. Not only did we crown it our Pub of the Year at the Time Out Abu Dhabi Music & Nightlife Awards 2019, but we also can't get enough of its pub grub. This venue has been satisfying Abu Dhabi residents for over 26 years and the popular venue shows no signs of slowing down yet. The good-value plates mainly feature speciality meats, and all the staples like pies, burgers and fish and chips are done very well indeed.
Le Royal Méridien Abu Dhabi, Sheikh Khalifa Street (02 695 0515).
Highly commended
Cooper's Bar & Restaurant
We always feel at home in this British-style pub, and people don't just flock here for the long happy hours and numerous ladies' nights. Highlights of the extensive menu (we know it well) include some rather huge hotdogs, lighter bites like kale and quinoa salad, sophisticated flatbreads topped with hummus and lamb kofta and utterly irresistible quesadillas. It's far more than your average pub grub, and right now is the perfect season for making the most of the recently revamped outdoor terrace.
Park Rotana Abu Dhabi, Khalifa Park area (02 657 3325).
Victor's Bar & Restaurant
Since opening in 2017, this pub has become quite the institution. Whether you want to sing karaoke, watch sport or dance to tunes from a live band you can do it all here. The food is one of the main reasons why it's become such a big hit, and it does the classics like Shepherd's pie, curries and burgers all perfectly. There's also some more sophisticated options like the hummus trio starter if you fancy being a bit more fancy.
Hilton Capital Grand Hotel, Sheikh Rashid Bin Saeed Street (02 666 5508).


ROMANTIC
Winner
Sontaya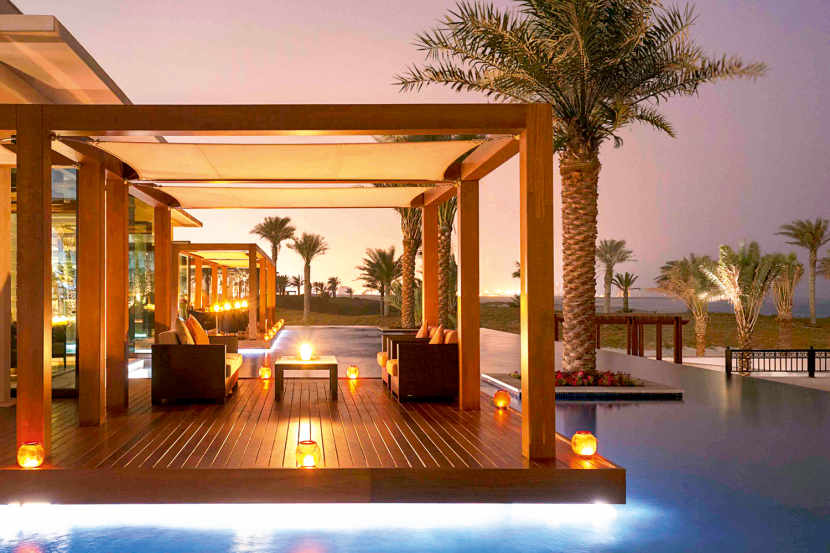 The St. Regis Saadiyat Island Resort, is a hotel that really makes the most of its beachfront setting, and as a result pan-Asian restaurant Sontaya is the perfect spot for creating that romantic feeling. The dining room is light and airy, while the picturesque terrace features tables sitting over bright blue pools, almost floating like water lillies. The menu features all the best dishes from across South East Asia, and we could happily munch on the nibbles like fish cakes and chicken satay, plus the excellent mains like yellow prawn curry and roasted duck, every day of the week.
The St. Regis Saadiyat Island Resort, Abu Dhabi (02 498 8088).
Highly commended
BBQ Al Qasr
Last year we named this gorgeous venue our Best Outdoor Restaurant, and with a spot on the beach at Emirates Palace, it's an ideal place to charm your loved one. The prime steaks are outstanding and it's without a doubt one of the best date-night venues in the country. A visit to Emirates Palace is always a special occasion, and this might just be the most impressive venue in the hotel.
Emirates Palace, West Corniche (02 690 7999).
Hakkasan
If you haven't been to Hakkasan yet, then you probably need to sort that out as soon as possible. The Cantonese dishes are on another level of deliciousness, with each plate full of fresh ingredients and delicate flavours. The healthy menus, gluten-free options and vegetarian dishes are all impressive, but we think there's nothing better than the supreme dim sum platter. With a slick, dimly lit dining room and a gorgeous terrace overlooking Etihad Towers, this is a place to take someone you want to impress.
Emirates Palace, West Corniche (02 690 7999).
SEAFOOD
Winner
Finz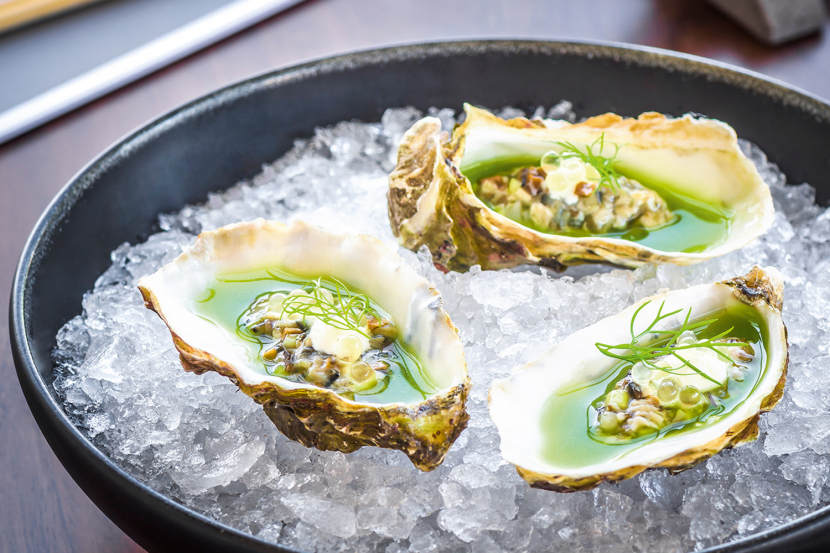 This stunning restaurant is based at the end of the beach at Beach Rotana, jutting out over the water. The terrace is one of the prettiest places to enjoy a meal in the city, with great views towards Al Maryah Island. Sitting out here, for dinner (or just for drinks and a few bites) is a real treat. We recommend trying one of the seafood platters or the incredible roasted sea bass, but either way, seafood doesn't get any fresher than this.
Beach Rotana Abu Dhabi, Al Zahiya (02 697 9011).

Highly commended
Catch
The trendy seafood restaurant at Nation Riviera Beach Club serves up beautifully presented, fresh seafood in a pretty setting right by the white sands of the Corniche. The dining room is well put together with a classy, nautical theme and the plates include fresh fish such as grilled Chilean sea bass, perfect sushi and some Insta-worthy shellfish, such as the king crab in a creamy spicy sauce. The business lunch is exceptionally good value, while the 15-course brunch is an absolute delight. The rooftop bar is great, too.
Nation Riviera Beach Club, West Corniche (02 611 0909).
Fishmarket
The concept of this lovely restaurant is brilliantly simple. At the centre you'll find a huge display of fresh fish and shellfish on ice, all set up to look like a fancy fish market (the name makes sense now, right?). Then all you need to do is select your catch, cooking method, sauce and side and wait for it to be delivered to your table. No menu, no fuss, just truly excellent seafood.
InterContinental Abu Dhabi, King Abdullah Bin Abdulaziz Al Saud Street (02 666 6888).
STEAKHOUSE
Winner
Oak Room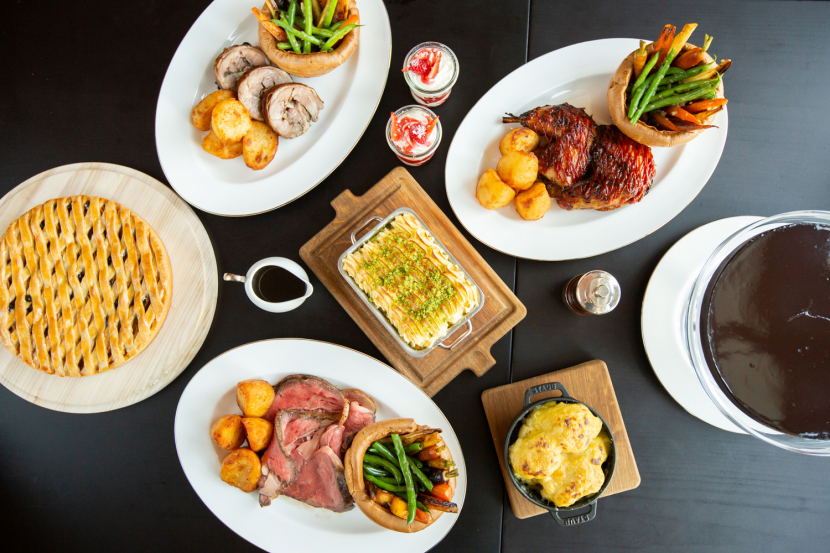 Of all the many restaurants in the capital, few ooze as much charm as Oak Room. This super-cool steakhouse has a rock and roll theme, with arty shots of The Rolling Stones, David Bowie and Lou Reed covering the walls, and an awesome soundtrack of the best British rock and indie artists. It specialises in beautiful meat, and the Weekend Roast is one of the best ways to spend a weekend. Featuring fine cuts of meats or a creamy fish pie served with roast vegetables and all the trimmings. Finish your feast with classic puddings like Victoria sponge and apple pie.
The Abu Dhabi EDITION, Al Bateen (02 208 0000).
Highly commended
Butcher & Still
This prohibition-themed steakhouse Butcher & Still is the very definition of the word cool. The 1930s theme is carried out to brilliant effect, making it glamourous, sophisticated and very hipster-friendly all at the same time. The food is incredible, too, and it's always a good sign when the side dishes such as the potato gratin, cheesy roast cauliflower and creamy spinach are just as fantastic as the tasty cuts of meat.
Four Seasons Hotel Abu Dhabi at Al Maryah Island (02 333 2444).
JW Steakhouse
With comfy leather seats and a Southern-USA feel, JW Steakhouse at Marriott Hotel Downtown Abu Dhabi is a very cool place to enjoy a fine cut of meat. The sides here are worth the money too, with smoky fries with paprika and gruyère, mash with truffle or cheddar cheese, loaded potato skins, lobster mac 'n' cheese and indulgent creamed spinach all on offer. It's all really quite fantastic and good value.
Marriott Hotel Downtown Abu Dhabi, Shaikh Rashid Bin Saeed Street (02 304 7777).
BEST NEWCOMER
Winner
Marco's New York Italian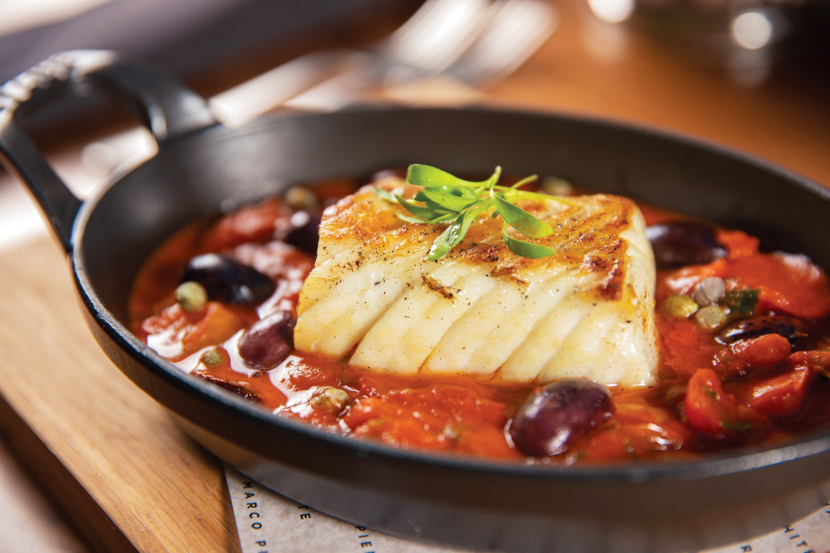 With a cool bar area, lots of retro booth and photos of the man himself covering the walls, the latest Abu Dhabi restaurant from celebrity chef Marco Pierre White is certainly a venue made for Instagram. But this casual yet buzzing venue isn't just a stylish place to hang out and feel like a slick hipster. The Italian plates are simple (like all good Italian grub should be), expertly made and created with the highest possible ingredients. The pizzas are incredible, and the other American-influenced plates include steaks with barbecue glaze, Boston crab cakes, mighty burgers and a good range of salads. We're thrilled to welcome it into our already thriving dining scene.
Fairmont Bab Al Bahr, Khor Al Maqta (02 654 3238).
Highly commended
Martabaan by Hemant Oberoi
The dining room at this swish new Indian restaurant is a grand and opulent as you would expect from a venue in Emirates Palace, but with comfortable plush pillows and cosy booths, it's also a welcoming spot for a special meal. The open kitchens mean you can watch the talented chefs at work in the tandoor ovens, and this adds to the anticipation as you wait for your meal. Every dish is presented with real skill and creativity, and it all features the most wonderful flavour combinations. Our favourites include the tandoor-fired paneer wali machi, slow-cooked lamb shank and bay prawns, but really, it's all sensational.
Emirates Palace, West Corniche (02 690 7999).
Mazi
Themed around shades of bright blue and yellow, and with one massive wall filled with blue rustic doors, Mazi makes you feel like you are away on holiday at a picturesque Greek island. The plates are just as authentic, colourful and full of flavour as the ones you'll find in Greece, too, with a relatively short but totally perfect selection of jars, salads, hot plates, signature dishes and desserts – all designed to be shared. This pretty venue is perfect for a leisurely lunch or a relaxed dinner, and Saadiyat Island is all the better for it.
The St. Regis Saadiyat Island Resort, Abu Dhabi (02 498 8888).
RESTAURANT OF THE YEAR
Zuma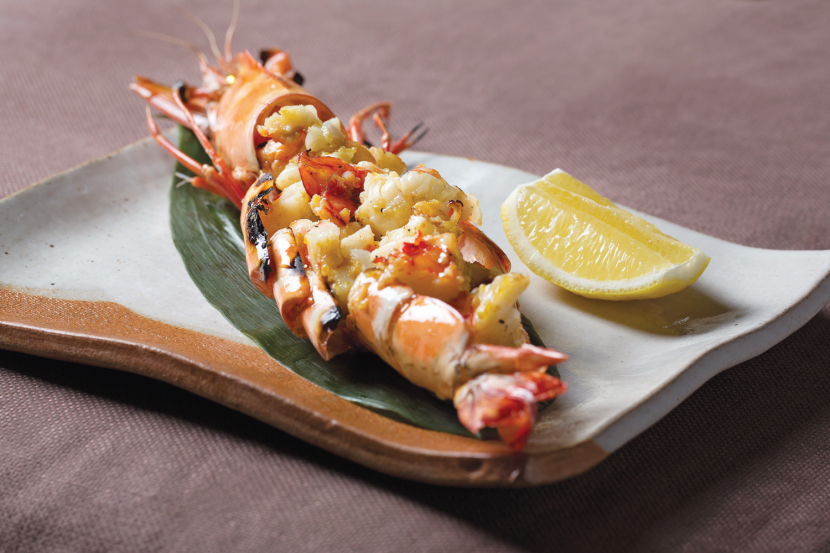 Where to start with the power of Zuma? This Japanese restaurant has legendary status, and once again we find ourselves compelled to name is our well-deserving Restaurant of the Year. Aside from the incredible dishes, including colourful maki rolls, ceviches and tiger prawns, grilled meats, fresh salads, plus the tasty nibbles like tempura, skewers and bao buns, it's the setting and overall experience of Zuma that makes it stand out above the rest. We could happily linger for hours and hours just in the bar area alone (in fact we often do), admiring the bottles of Japanese beverages stacked to the ceiling and nursing a pretty mixed drink. The staff are charming and friendly, and with breath-taking views of the waters surrounding Al Maryah Island, a meal at Zuma is something totally extraordinary. A worthy winner once again.
Al Maryah Island (02 401 5900).
Be the first to get all the latest Abu Dhabi news, reviews and deals into your inbox by signing up to our free
newsletter
,
click here to sign up
.