Ramadan is the ninth month of the Islamic calendar and Muslims observe it all over the world as a period of fasting (sawm, one of the five pillars of Islam) from sunrise to sunset.
It's a sacred period of reflection, worship and self-improvement, as well as an important time for families and friends to come together.

Ramadan is called by the moon-sighting committee in Saudi Arabia at the appearance of the new moon.
This year, Ramadan is expected to begin on Monday, May 6 and finish on Tuesday, June 4, after which three days of Eid Al-Fitr will be celebrated.

This is a special month of the year that everyone can benefit from, and a great time to immerse yourself in the country's culture and heritage.
In the Gulf region many iftar and suhoor events are set up in homes, hotels and restaurants as a way of bringing the entire community together, while Abu Dhabi itself hosts a series of unique events.
Even if you haven't been fasting yourself, you are still welcome to join.

Ramadan kareem!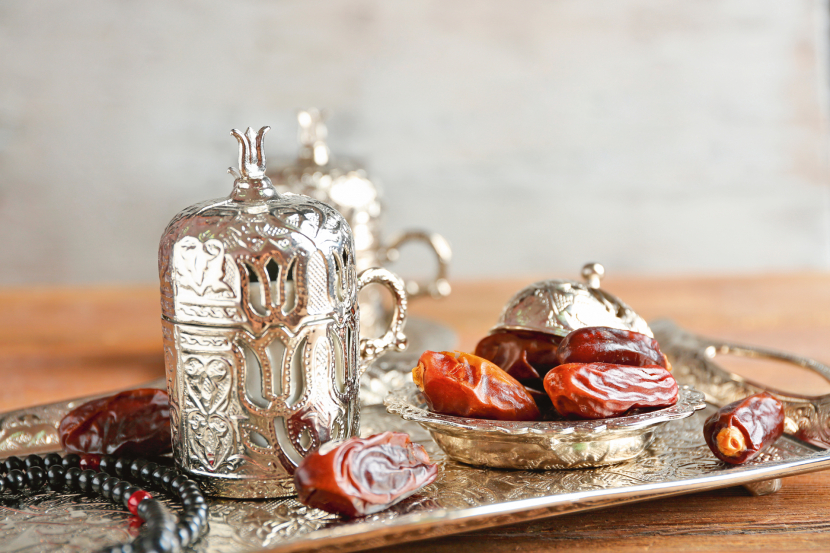 Dos and don'ts
Be courteous to those around you during Ramadan by following these guidelines:
Do…
Dress appropriately, especially in public areas such as malls and parks. Be especially considerate of these during Ramadan. Men and women should wear clothes that cover their shoulders and knees.
Do…
Respect those around you. If you're not fasting, be considerate and mindful of others who are. Drinking and eating in public is considered very offensive and can even attract a fine or a reprimand from the police. If you want to eat or drink in daylight hours during Ramadan it has to be done indoors and out of sight. Be sure to look out for designated screened-off areas within public places that can also be used to consume food or drink without causing upset.
Do…
Show extra consideration when doing business. Where a handshake might be normal at the start of a meeting for the rest of the year, someone who is fasting may wish to avoid a greeting of physical contact.
Do…
Travel earlier or later on roads at sunset, since people who are fasting are likely to be travelling at this time to attend iftar.

Do…
Accept invitations to iftar. Aside from being a wonderful way to experience the UAE's culture, it's just polite. Take a small gift, such as a box of dates.
Do…
Use Ramadan greetings such as Ramadan kareem and Ramadan mubarak.
Do…
Be charitable. A big part of Ramadan is about helping others. There are lots of official charities and causes to support in Abu Dhabi.
Don't…
Eat, drink or chew gum in public during daylight hours. This includes on the street, in cars, at the office (check your own office rules) and any other public spots. Breaking this rule is legally punishable.
Don't…
Play loud music in public. If you're in a car, keep the volume of the radio down. If you're using public transport, keep the volume down on your headphones. Be mindful of disturbing others during Ramadan.
Don't…
Use offensive language or gestures. This isn't something you should make a habit of anyway, but it's particularly important to refrain from this during Ramadan.
Don't…
Smoke in public areas. If your workplace or hotel has an outside public smoking area be aware that you will need to change your routine accordingly for the month.

TERMS TO KNOW
Iftar: In its most literal translation, this means "break fast". The first meal after sunset.
Suhoor: Pre-dawn meal before the fast begins for the day. Usually served à la carte in restaurants.
Ramadan kareem: A greeting that means "generous Ramadan".
Ramadan mubarak: Another greeting that means "congratulations, it's Ramadan".
Sawm: The word used for fasting.
Zakat: One of the five pillars of Islam, requiring adult Muslims to pay 2.5 percent of their wealth to people who need it most.
Salah: The word for prayer. Five prayer times are observed throughout the day: dawn, noon, mid-afternoon, sunset and night.
Tarawih: Special congregational prayers held each evening during the month of Ramadan.
Eid Al-Fitr: Three-day celebration marks the end of Ramadan – with prayers, festivities, food and gifts.
Mubarak aleik al shahr: A greeting meaning "may you get the blessings of the month".

More: Where to have suhoor in Abu Dhabi in Ramadan 2019

More: The best iftars in Abu Dhabi for Ramadan 2019

More: Free parking hours in Abu Dhabi for Ramadan 2019

Be the first to get all the latest Abu Dhabi news, reviews and deals into your inbox by signing up to our free
newsletter
,
click here to sign up
.