Clare Lavin – mum to six-year-old Oscar and 18-month old Darcy – has always been passionate about cooking. The Dubai-based mother-of-two made it to the quarter finals of Junior Masterchef and then later appeared on the cookery show, Masterchef Goes Large. Having passed on her love of whipping up fun, innovative meals to Oscar, she now encourages him to help her in the kitchen teaching him new skills and encouraging his creative flair. Her specialities are cooking quick and easy dishes that the whole family can enjoy. For more family-friendly recipes, follow Clare on Instagram @claresfamilykitchen.

Hummus with roasted chickpeas
Ingredients
X2 400g can chickpeas, drained
60ml extra virgin olive oil
1 garlic cloves, peeled and crushed
1 lemon, juiced then ½ zested
3 tbsp tahini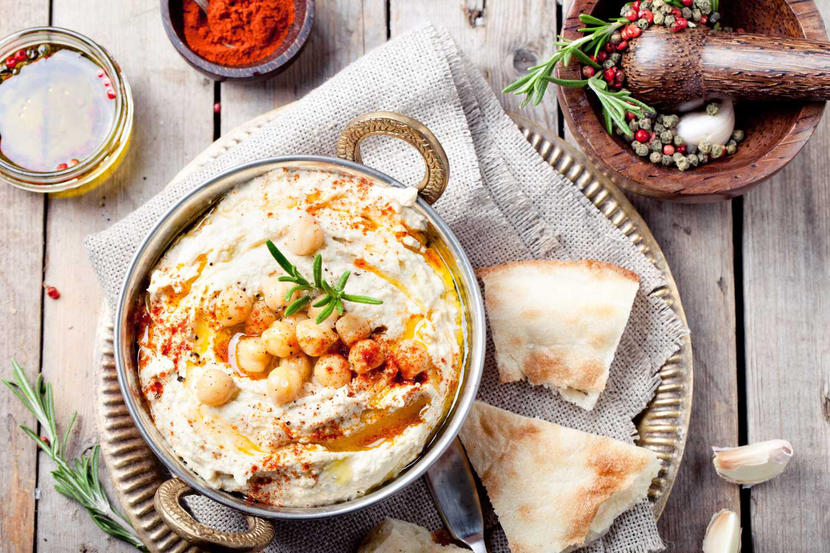 Method
Step 1: Rinse one can of chickpeas in water. Tip into a food processor along with the oil and blitz until almost smooth. Add the garlic, lemon and tahini along with 30ml water.

Step 2: Blitz again for about 5 mins, or until the hummus is smooth and silky. Transfer to a bowl.

Step 3: with the other can of chickpeas, rinse then dry, and put onto a baking tray covered in foil. Drizzle with olive oil, season with salt and pepper and move around until evenly covered. Put in the oven at 180 for 30 mins (or until slightly crunchy). Serve on top of the hummus.

TIP: Serve with some lightly toasted Arabic bread, the perfect way to break a fast.

Date and coconut balls
Ingredients
20 Medjool dates
½ cup coconut powder
½ cup rolled oats
½ cup cornflakes
1 tbls honey
1 tbls coconut oil
1 tbls water
1 tsp cocoa powder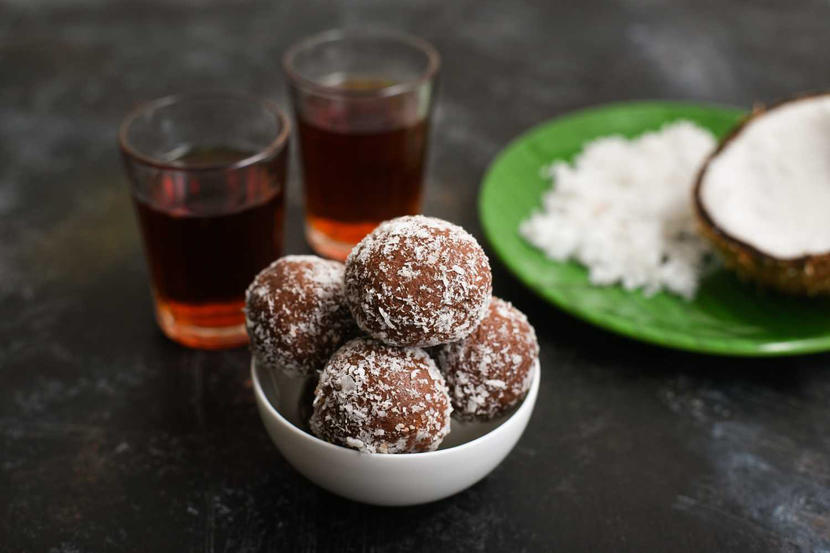 Method
Step 1: carefully remove the stones in the middle of the dates.

Step 2: Put all ingredients in a food processor and blend until a semi smooth paste. If mixture is not combining well, add a little more water.

Step 3: Remove paste from the food processor bowl and take small teaspoon sized amounts, roll into a ball and roll again into coconut powder. Small bite sized balls are great for the children to eat all in one! Healthy snacking!

TIP: It's important to use Medjool dates in this recipe, they are large, soft and very sweet dates.

Pomegranate, almond and olive oil cake
Ingredients
1 cup self raising flour
½ cup ground almonds
4 eggs, separated
3/4 cup caster sugar
Grated zest of 1 lemon
½ cup olive oil (can be a light olive oil or extra virgin)
½ cup pomegranate seeds
¼ cup flaked almonds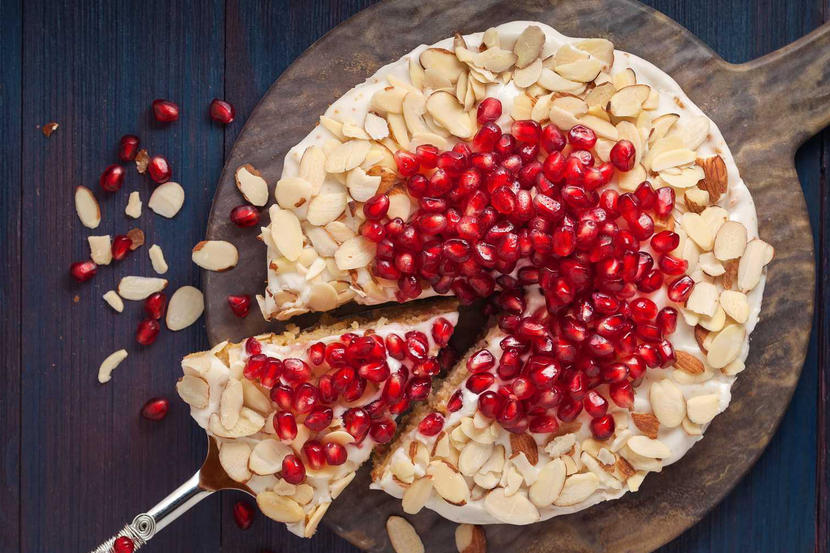 Method
Step 1: Using an electric whisk beat the egg yolks and sugar until light and creamy. Add the lemon zest and then the oil in a few batches, beating lightly after each addition. It will thicken slightly.

Step 2: Fold through the flour and and the ground almonds.

Step 3: Using a clean whisk, beat the egg whites until soft peaks form. Gently fold through the cake mix.

Step 4: Add a handful of pomegranate seeds and stir through. Put into a round cake tin, lined with greaseproof paper, sprinkle with some flaked almonds, and cook in the oven on 180 for 40-45 minutes.

Step 5: Once cooled, scatter over the remaining pomegranate seeds and enjoy!

TIP: You could serve with a drizzle of thing cream... Yum!

Persian rice
Ingredients
4 cups pre-cooked basmati rice (equivalent of 1 cup uncooked rice, cooked and left to cool)
1 pinch saffron
1 potato, thinly sliced
1 red onion, finely sliced
Handful of fresh herbs – coriander or parsley, chopped
½ cup pomegranate seeds
½ cup frozen peas
Plain yogurt and flat breads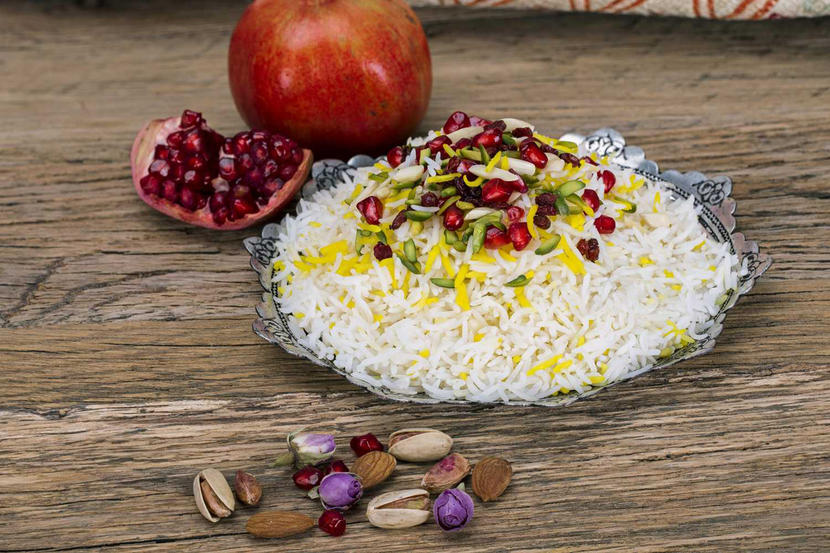 Method
Step 1: put the pinch of saffron into a small amount of hot water

Step 2: fry the onion on a low heat in some olive oil until soft, add the potato and fry until the potato is cooked through. Add the peas until defrosted.

Step 3: remove the ingredients from the pan, and then divide the mixture and rice into 3 parts. Layer back into the frying pan, some of the onion/potato/pea mixture, then the rice, then a drizzle of the saffron water, layering and layering until the frying pan is full.

Step 4: on a low heat, leave to cook for 20 minutes checking the edges are not burning. Once cooked, carefully dip the bottom of the saucepan into a sink of cold water (don't allow the water to touch the rice), and turn out. Sprinkle with the pomegranate seeds and chopped fresh herbs. A crowd pleaser for the whole family!

TIP: Serve with plain yoghurt and flat bread.
Be the first to get all the latest Abu Dhabi news, reviews and deals into your inbox by signing up to our free
newsletter
,
click here to sign up
.