Clare Lavin – mum to six-year-old Oscar and 18-month old Darcy – has always been passionate about cooking. The Dubai-based mother-of-two made it to the quarter finals of Junior Masterchef and then later appeared on the cookery show, Masterchef Goes Large. Having passed on her love of whipping up fun, innovative meals to Oscar, she now encourages him to help her in the kitchen teaching him new skills and encouraging his creative flair. Her specialities are cooking quick and easy dishes that the whole family can enjoy. For more family-friendly recipes, follow Clare on Instagram @claresfamilykitchen.
Mini birds nest cupcakes
Makes 12 small cupcakes.
Prep time: 15 mins.
Cook time: 15 mins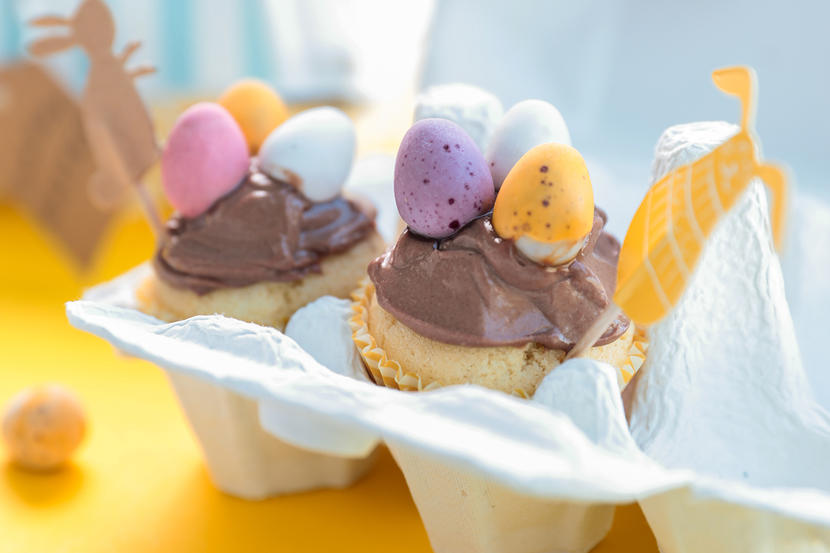 Ingredients
100g self-raising flour
100g unsalted butter
50g caster sugar
2 eggs
Dash of vanilla essence
2 tablespoons cream cheese
1 teaspoon cocoa powder
2 tablespoons icing sugar
1 pack mini eggs

Method
Step 1
To make the vanilla sponge, cream together the sugar and butter. Stir in the eggs, flour and vanilla essence.

Step 2
Put into mini cupcake cases on a mini cupcake tray and bake on 180 degrees Celsius for 15 minutes.

Step 3
When the cupcakes are cooked, leave to cool completely. Make the icing by creaming together the cream cheese, cocoa powder and icing sugar.

Step 4
To decorate the cupcakes, cover each one in the icing, and decorate with the mini eggs.

TIP: Arrange the cupcakes in an egg box for a cute finish.


Creme egg rocky road
Makes 10 rocky road.
Prep time: 20 mins.
Cool time: 1 hour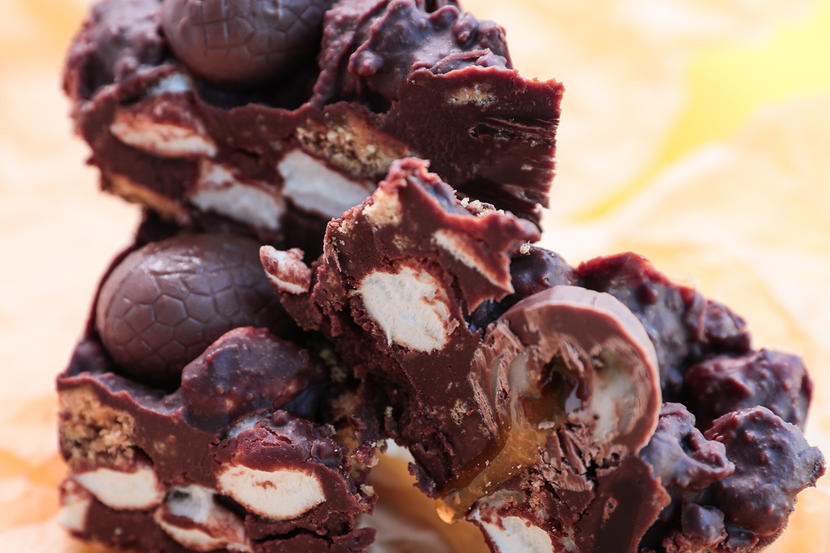 Ingredients
100g milk chocolate
100g dark chocolate
1 tbls golden syrup
100g unsalted butter
100g digestive biscuits
Handful mini marshmallows
1 pack mini Cadburys creme eggs

Method
Step 1
Melt the chocolate, golden syrup and butter over a bain mairie, until smooth and silky.

Step 2
Crush the biscuits into small pieces and add to the chocolate mix, together with the marshmallows. Stir well.

Step 3
Transfer chocolate mix into a pirex dish or deep baking tray.

Step 4
Dot the top of the rocky road with the mini crème eggs (removed from the wrappers). Put in the fridge for an hour until set, then cut up and serve!

TIP: These go perfectly with a glass of milk for kiddos and with a cup of tea for parents, if your little ones will share them that is!


Spring chick mimosa eggs
Makes 8 mimosa eggs.
Prep time: 20 mins.
Cook time: 10 mins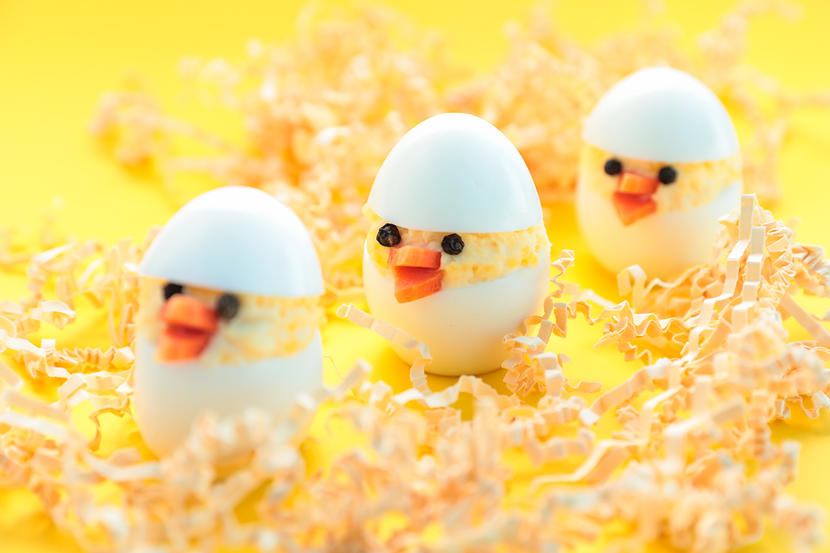 Ingredients
8 free range eggs
2 tablespoons mayonnaise
4 black olives
1 carrot

Method
Step 1
Cook the eggs until hard boiled (10 minutes), then cool down in cold water and peel. Put in the fridge to completely cool.

Step 2
Cut the top off the eggs and scoop out the yolk into a bowl without breaking the white of the egg. Add the mayonnaise and mash into a smooth paste.

Step 3
To decorate, fill the eggs with the yolk mix, making a small chick head at the top. Cut small olive circles for eyes and a small beak out of carrot. Then admire your handywork!

TIP: Cute food art that can be used year round to get kids to eat eggs.


Bunny jelly in grass
Makes one large jelly.
Prep time: 10 mins.
Cool time: overnight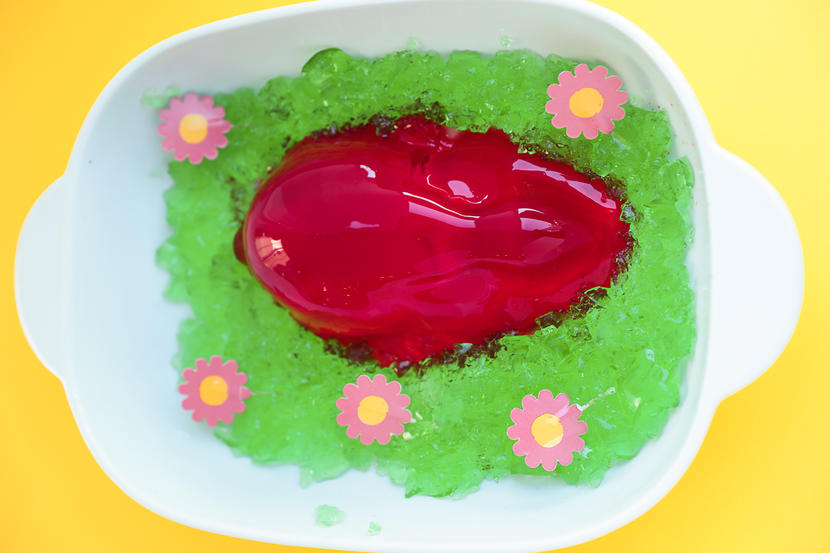 Ingredients
1 packet raspberry or strawberry jelly
1 packet of lime jelly
1 rabbit shaped jelly mould

Method
Step 1
Make the jelly to the packet instructions. Fill the jelly mould with the raspberry flavor and put the lime jelly in a small pirex bowl.

Step 2
Chill the jelly overnight in the fridge until set.

Step 3
To serve, remove the rabbit jelly from the mould, dunking in hot water if necessary so the jelly comes out. Careful not to over heat! Mash the lime jelly with a fork to resemble grass and put around the rabbit.

TIP: You can scatter pretty flowers made out of edible paper around the jelly rabbit.
Be the first to get all the latest Abu Dhabi news, reviews and deals into your inbox by signing up to our free
newsletter
,
click here to sign up
.