In the past 30 years actor/director Dexter Fletcher's career has taken plenty of twists and turns, but since 2018 his star his risen pretty dramatically.

After starting out as a child actor in the 1970s, the Londoner's big break came in the 1989 kids' newsroom-based TV show Press Gang. The award-winning show, written by Steven Moffat (Sherlock, Doctor Who), ran for four years and made stars out of Fletcher and Julia Sawalha (who went on to play Saffron in Absolutely Fabulous).

Other acting credits on the 53 year old's CV include Lock, Stock and Two Smoking Barrels, Band of Brothers, and last year's animated Sherlock Gnomes (alongside the voices of Johnny Depp, Emily Blunt and James McAvoy).

The films he has directed since 2011 are arguably more interesting, though, with the underrated Wild Bill leading on to The Proclaimers-influenced Sunshine on Leith (2013) and Brit Winter Olympian biopic Eddie the Eagle (2015).

Fletcher was called upon to finish a movie called Bohemian Rhapsody after director Brian Singer was fired from the set, and though his work went uncredited, he played a big part in getting the movie to the big screen.

Sticking with the theme, his next film is Rocketman, about Elton John. Starring Taron Egerton (Kingsman) as the singer-songwriter, it promises to be a bit more grown up than the Freddie Mercury movie.

Here's what Fletcher has to say about it.
Has your favourite Elton song changed during the process of making the movie?
Yes, of course, because they're now synonymous for me with certain moments in the film and they have huge emotional content. It's not, "Oh, I'll just stick on a bit of Yellow Brick Road", now it's like, "Oh, that's the restaurant scene with Bernie [Taupin]." It's an incredible back catalogue. Bernie is a storyteller and stories with music is what cinema is. Elton can write a catchy tune.
Were you always a fan of Elton?
Um, I always liked Elton. Fan is a funny word to me, because it's derived from "fanatic" and I don't know if I'm fanatical about much. My first experience was going to my cousin Caroline's house and she'd just been to four Elton shows back-to-back at the Rainbow [Theatre in Finsbury Park, London], and she had the Goodbye Yellow Brick Road album. We'd listen to it incessantly. I was seven or eight but that stuck in my memory.
Elton was producer on the film. What sort of boss was he?
That word doesn't spring to mind. Collaborator, maybe. It's a tricky one for him. For the rest of us it's a parlour game: "Who'd play me in a movie?", because we know it's never going to happen. I'm going for Jake Gyllenhaal at the moment. But for him, it's reality and it's his life. And he understands there's a certain amount of objectivity that he possibly can't possess. He watches the rushes but he understood that he had to be slightly removed from it. It was: "Do it," though not "do whatever you want".
Were there any red lines for him?
No, nothing was off limits but how far I went with things, I had to be considerate. He's a married man with a family, he's got to sit and watch it. I don't want to humiliate him or make things uncomfortable for him; I just want to tell a good story. The idea is that as many people will see it as possible. Sure, it's R-rated but that's the lifestyle that he and other people were leading in the '70s and '80s. We're not trying to pretend that didn't happen or sweep it under the carpet. Some people call it warts and all – I don't like the phrase but it's all in there. There's high and there's lows, and you can't show the lows in a PG way.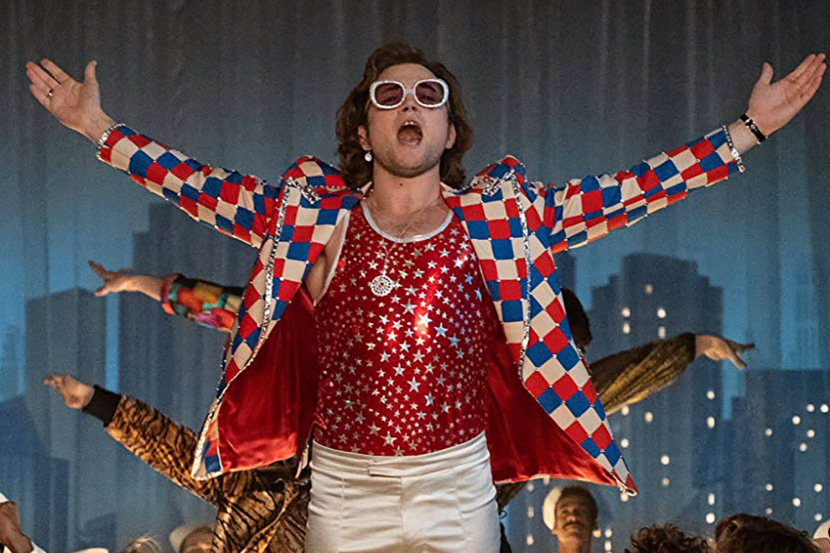 Would you call it a musical?
It kinda sits alone: it is a musical, it's got fantasy elements but it's got elements of social realism as well. The whole thing, really, is a fantasy and Elton is our storyteller. Like in All That Jazz when Roy Scheider is looking back on his life. I like the idea that Elton is our storyteller and he doesn't remember it properly. A biopic is a factual recounting of [events], this is an emotional recollection of a period in somebody's life. By its very nature, it's messed up and flawed. That's why he sings Crocodile Rock at the Troubadour when that song wasn't even written then; it informs us emotionally of where the character is going and that's what's important.
Are you ready for Elton purists to come at you?
Of course, they'd be right to. I'm not trying to rewrite history. He also didn't sing Rocketman at the bottom of a swimming pool [laughs]. Either people get that or they don't. I'm not trying to do a biopic or a docudrama.
Tom Hardy was going to play Elton for a while. Were you involved in the movie at that time?
No, I wasn't. I saw that and was like "Oh, interesting choice" but Tom's an incredible, versatile actor and I wouldn't be remotely surprised if you watched it and thought "wow, he's amazing." But when I heard Taron was in the picture that seemed like a really smart fit. He's physically like Elton, more stocky, and I knew he could sing because on Eddie the Eagle, for a laugh Gary Barlow [from Take That] asked if he wanted to record a single. He went to the studio, did it in three takes and then left. Gary phoned me and went [puts on Gary Barlow accent]: "He's amazing!".

How do you look back on your role in making Bohemian Rhapsody?
[Producer] Matthew Vaughn called it my Rocketman boot camp. It was a very unique set of circumstances. I'm very proud to be part of it. I love Rami [Malek], I'm made-up for him [that he won the Oscar]. If it had gone badly and no-one had gone to see it, I could have gone, "Well, nothing to do with me!" That's why I've not said anything, because it's not my project. I directed 30 percent of it.
There's been suggestions that the film didn't fully explore Freddie Mercury's character. Do you feel you need to defend it?
I'm not the spokesman for the film. The only thing I can say about it is that they set out to make a PG film and that's what they made. All the other issues are for other people to talk about. I understand the debates around it [but] I personally don't think it's answerable to it. Rocketman isn't answerable to it – I just want to do what is responsible. It's very different from Rocketman.

You once had a dinner party with Christopher Walken, Hugh Jackman, Taron Egerton and Alan Rickman. That sounds amazing.

It was quite something. Walken was over for two days to film Eddie the Eagle with Taron and Hugh. When we were talking about him being in the film, he phoned me up and said: "I read the script and I get it, yeah, it's interesting. I read something three times and I've read it twice and I got one more time to go." I told him it'd be so nice to have him over for dinner, and that I've got to have Hugh Jackman feel like he's not the biggest dog in the room. Alan Rickman's a friend and he'd love to meet you. So eventually he turns up [to film] and he's in the make-up chair. The make-up lady came over and said: "He thinks Alan Rickman's in the film. He keeps saying how much he's looking forward to working with Alan Rickman and that he's a big fan." I was like, "No, no! He's got the wrong end of the stick." I had to go and tell him that we were just having dinner and that he wasn't actually in the film. He was like "Oh, oh, okay! Great." He was the first to arrive and he came over and sat down on the sofa with me and my wife. We got the food cooking and we started talking about being child actors – because we have this common ground – so we really connected on that level. Then Rickman turned up, so you had Rickman and Walken sitting on opposite sides of the table and one's talking about working with Tennessee Williams and the other's talking about Brecht, and Jamie Oliver's there, looking at me, like, what is going on? It was great. It really was a truly special night.

Alan Rickman was your best man too, wasn't he?
He made some jokes, yes. It was in a little Polish restaurant, The Patio, on Shepherd's Bush. We had no money at the time. Yeah, he'd known me since I was 14. He was brilliant at boosting me up. He was always very supportive and loving towards me.
You had some similar issues to Elton in your twenties. What did you connect with in the film?
As a director, when you're taking on new material that's not your own, you have to find something to connect with. That was certainly something that I had a handle on, and spoke to Elton and David [Furnish] about. It felt like something I could address with a certain authority. My own struggles are maybe a bit different from Elton's but the result is the same, it's something to get through. That's what the film is dealing with. What I love about Elton is that he's a survivor and that's what I connected to. I understand where you get to when you're paranoid and feel like everyone's betraying you. There's absolutely no glamour or glorification around that.

Rocketman is in cinemas across the UAE from June 13.
Be the first to get all the latest Abu Dhabi news, reviews and deals into your inbox by signing up to our free
newsletter
,
click here to sign up
.