Dino's 300gm meatball and spaghetti at Dino's Bistro Italiano
Clearly, at Dino's they take their pasta very seriously. They also know that families with kids love to eat, and that the Italian favourite is something that most little ones can agree on. That's why they serve 300gm of pasta for hungry diners, young and old. Made with pomodoro sauce and sweet basil, this dish is all about the huge portion and lots of messy eating. And with it's cosy interiors, this restaurant is just encouraging it. We hope we can slurp it all.
Dhs75. Open daily Noon-3.30pm, 6pm-11pm. Pearl Rotana Capital Centre, Khaleej Al Arabi Street (02 307 5551).
Linguine al tonno at Pizza Amore
We wouldn't normally consider the pasta at a venue with the word "pizza" in it's name, but with Pizza Amore's extensive pasta menu, and super family-friendly vibes, we just had to. This pasta is particular will win over seafood lovers, with toppings including the saltwater fish, capers, cherry tomatoes, marinated rocket and finely-chopped anchovies. Mmm, two salty fish in one pasta, we mudt be dreaming.
Dhs35. Open daily Noon-2pm. Al Zahiyah (02 644 9990).
Maccheroncini con gamberi e zucchine at Prego's
Ditch the Ragù and go for a more authentic option at Beach Rotana's Prego's. Homemade maccheroncini, a silky egg pasta, is cooked with black tiger prawns, shrimps, fresh tomato sauce, cream and zucchini – then served piping hot at the well-lit, buzzing beach-view restaurant. Bibs out and ready for this one.
Dhs95. Open daily Noon-11.30pm. Beach Rotana Abu Dhabi, Al Zahiyah (02 69 79011).
Penne Arrabiata at Teatro
We love it when a restaurant gets a dish that can be very boring, but somehow manages to make it a bit more fabulous. This is how we feel about Teatro's penne, where you can add a hint of peperoncini or just go for the garlicky version for homemade-style goodness. It may sound boring, but it totally isn't. You can take our word for it.
Dhs60. Fri-Sat, 6pm-1am, Fri noon-10pm. Park Rotana Abu Dhabi, Khalifa Park area (02 657 3322).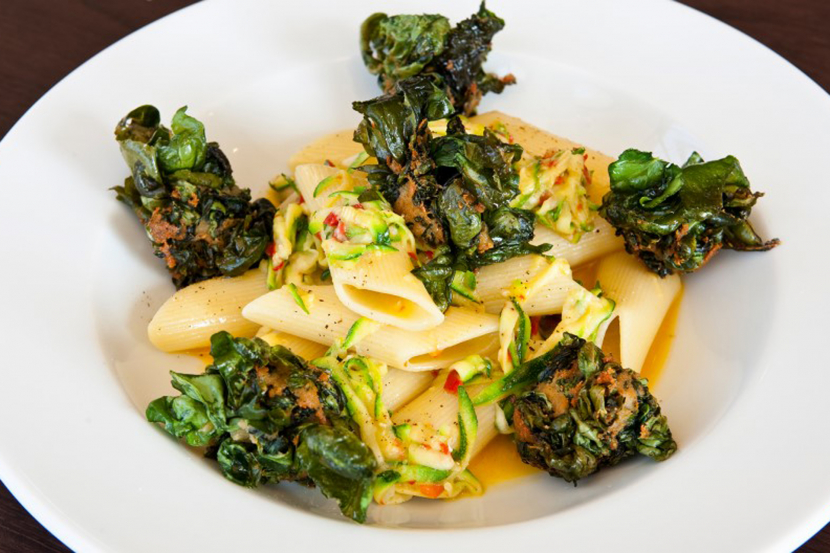 Penne Giardiniera at Carluccio's
This is one of the chef's favourites at this popular Italian chain, and we can totally tell why. Legend has it, he whipped it up for a friend one day – and it was so good, he's been making it ever since. Giant Pugliese penne is tossed with zucchini, fried spinach balls, Parmesan and garlic to make this generously-portioned Italian dish. Can we be friends with the chef too?
Dhs62. Open daily, 9am-midnight. Eastern Mangroves Promenade, Al Salam Street (02 441 3814).
Rigatoni chicken alfredo at Melius
At Chef Yasser's Melius, the chunky pasta is put to good use with chicken strips and mushroom on a creamy base. Then, get this, beetroot sprouts are added to the rich dish for a bit of earthiness. And the lime green interiors make it all that much funkier...
Dhs60. Open Sun-Thu, 6.30-am-9pm, Fri-Sat 11am-9pm. IRENA Headquarters, Masdar City (02 558 3000).
Rigatoni Calabrese at Parmigiana
Another kid-friendly venue that gets this pasta just right, Parmigiana's rigatoni reminds us of the best pizza toppings in town, added to pasta. Basil, garlic, beef bacon, mushrooms and black olives are cooked in fresh cream and mixed into this dish that you can enjoy while watching a magnicfient Corniche sunset. Calabrian-style pasta and a good view, we're not complaining.
Dhs65. Open Sun-Fri, noon-3.30pm, 7pm-10.30pm. Sofitel Abu Dhabi Corniche, Corniche Road (02 813 7777).
Smoked tortelli at Al Gusto
Tortelli can be stuffed with loads of things, but at Al Gusto, it's smoked ricotta for a thick texture and mild taste. Topped with a choice of creamy tomato or mushroom sauce, it's a basic dish, but does the moon-shaped pasta justice in our book. Not a fan of spaghetti? Try the toasted potato gnocchi, mushroom fetuccine or (yes, we'll say it) one of the risottos instead.
Dhs80. Open Sat-Thu, 8am-10pm, Fri noon-10pm. Avenue at Etihad Towers, Corniche Road West (02 304 8364).
Spaghetti "gentile" al pomodoro fresco e basilico at Amici
No, we're not referring to how gentle this pasta is. To the contrary, this thin, long, solid strand variety has a rough surface, which makes it hold any sauce a lot better. Made with fresh tomatoes and basil, this dish is full on flavour thanks to the authentic Italian pasta, fresh tomatoes and aromatic basil. You won't need to keep adding cheese.
Dhs80. Sun-Thu, 12.30-3pm, 7pm-11pm; Fri-Sat 12.30pm-11pm. Yas Hotel Abu Dhabi, Yas Island (02 656 0600).
Strozzapreti with mushrooms and cheese at Mama Rossella
Kids love this elongated, hand-rolled pasta's pillowy consistency, and the ever family-friendly Mama Rossella serves it doused in sauce, with Portobello mushrooms and just enough parmesan.
Dhs75. Fri-Sat, 11am-pm. Ferrari World Abu Dhabi, Yas Island (02 496 8237).
5 PASTA FACTS
Pasta was first eaten in China
The first recorded reports of people eating pasta came from China. Legend has it that famed explorer Marco Polo introduced the noodles to Italy in the 12th century. We're not convinced.
It comes in 600 different shapes
That's according to the International Pasta Organisation, and means we have many, many more varieties to try. Hooray!
Italians get through approximately
600 million kilometres of spaghetti every year That's enough to wrap around the planet 15,000 times. Greedy lot.
Eating pasta makes you happy
This is one we can definitely believe, and there's science behind it. Carbohydrates in pasta increase the body's production of serotonin, the neurotransmitter that trigger feelings of happiness and wellbeing.
It tastes better than it sounds.
In Italian, "spaghetti" means strings, "vermicelli" are small worms, "farfalle" are butterflies, "orecchiette" means small ears, "linguine" are little tongues and "ravioli" means small turnips
Be the first to get all the latest Abu Dhabi news, reviews and deals into your inbox by signing up to our free
newsletter
,
click here to sign up
.