Culture and an appreciation of the arts are enough to capture the imagination of us all.

Whether that is through the fleeting beauty of the spoken word, a deep appreciation of a painting or the rhythmic movement of a dance, there is something about artistic endeavour that soothes the soul.

Thankfully, here in Abu Dhabi, we have more than our fair share of art.

Everybody knows about the major attractions such as the Louvre and the yet-to-be-opened Guggenheim museum, but there is much more besides.

Whether you are looking to immerse yourself in creative expression of your own or just be enchanted by the work of local and international artists, Abu Dhabi has a thriving art scene.

From workshops and movie screenings to paintings created by some of art's grandmasters, there is loads to see and appreciate in the UAE.

Check out our pick of some of the must-see cultural attractions to give your eyes and ears a treat here in the capital of the UAE.
Abu Dhabi Art Hub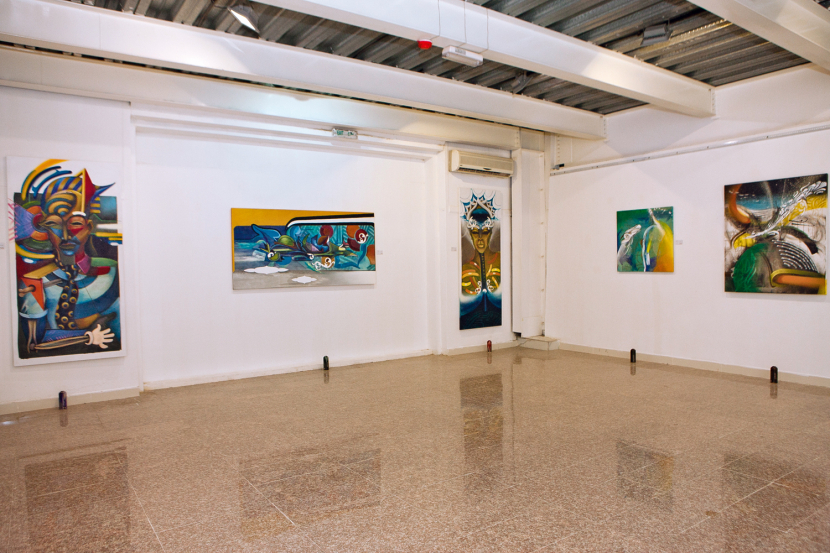 After helping people in Abu Dhabi unleash their inner artist for more than ten years there is a lot going on at both outlets of this creativity centre. As with all the best galleries the exhibitions are frequent and varied, with paintings, illustrations, calligraphy and much more on display. Interestingly, though, it is just as well-regarded for the art lessons and workshops it offers. Turn up and you can work on your watercolours, pencil illustration, acrylic art or even jewellery making.
Sat-Wed 10am-10pm; Thu-Fr 10am-11pm. The Mall at WTC Abu Dhabi, Sheikh Khalifa Street and The Galleria Al Maryah Island (055 550 9640).

Abu Dhabi Heritage Village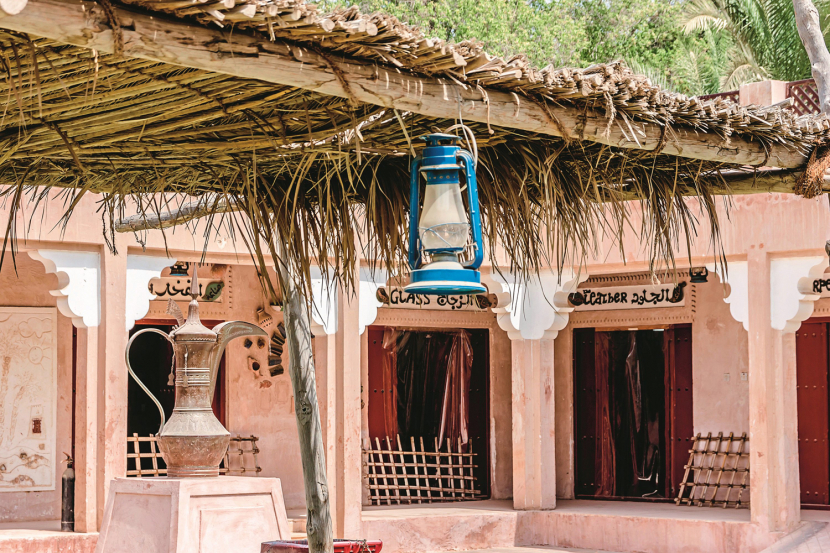 Think of this as a living museum that faithfully recreates a traditional Emirati village from a time before air-conditioned shopping malls, Ferrari-themed rollercoasters and luxury hotels. As well as walking among the Bedouin-style homes and faux-village buildings you can watch heritage artisans demonstrate crafts such as pottery-making, fabric-weaving, metalwork and much more. During holidays and on special occasions there are special events and one-off cultural happenings that ate well worth a look.
Sun-Thu 7.30am-15.30pm. Corniche Breakwater (02 445 6456).
Al Ain Classical Car Museum
Car enthusiasts will love this impressive and well-maintained museum. Apart from the fact they get to drive out on the desert road to Al Ain, there is an ever-expanding private collection of vehicles at this museum. Owned and managed by the man behind the Abu Dhabi Classic Car Club it is dedicated to premium vehicles. The emphasis is on retro cars and there are many to appreciate in the 2,000 sq m complex.
Sat-Thu 9am-6pm (closed for lunch); Fri 4pm-7pm. Al Ain Classical Car Museum, Al Ain Faida Complex (050 774 0701).
Al Ain Palace Museum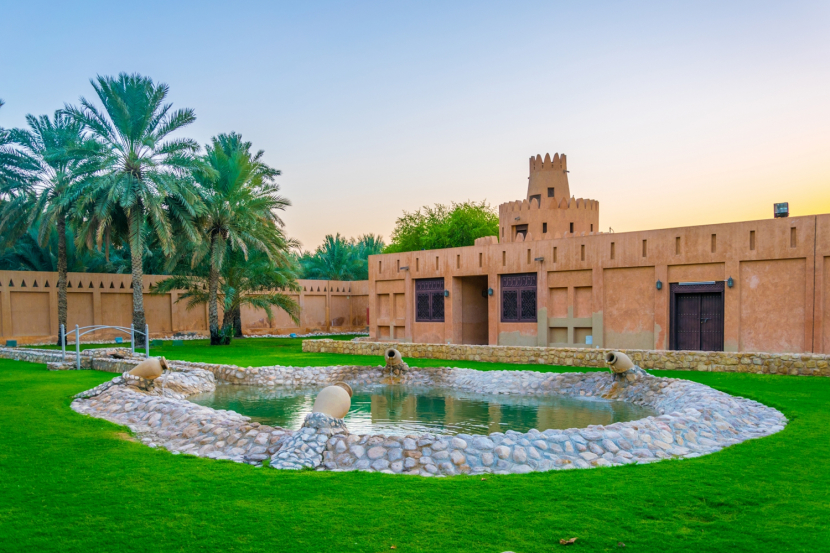 The palace of the late Sheikh Zayed bin Sultan Al Nahyan was built way back in 1937, long before the UAE came into being. Since 2001, however, the former private residence of the ruler and his family has been a museum. Inside you will find many of the rooms and courtyards in historically accurate condition and it gives a genuinely fascinating look at the early lives of the family that helped form the nation we know today.
Sat-Thu 8.30am-7.30pm; Fri 3pm-7.30pm. Hessa Bint Mohammed Street, Al Ain (03 711 8388).
Al Qattara Arts Centre
A reconstructed Al Ain fort, it has art galleries exhibiting works by Emirati and expat artists as well as studio space for artistic lessons and even a small museum area with items of archaeological interest. While there is a heritage feel, there is also a digital room for photography and computing, a pottery studio and calligraphy area.
Sat-Thu 8am–8pm. Mohammed Bin Khalifa Street, Al Qattara, Al Ain (03 761 8080).
Al Jahili Fort
You might recognise it from the Dhs50 note, but this Al Ain fort has also been a place of military significance for generations. Now, thankfully, it is battling only for tourist attention. There are exhibitions and events throughout the year, so keep an eye out for happenings as this is one of the most picturesque heritage locations in the country.
Tue-Thu and Sat 9am-5pm; Fri 3-5pm. Al Mutawaa, Al Ain (03 711 8311).
Alliance Francais Abu Dhabi
So much more than just a language school, this long-standing association is a representative of all things French in the UAE. As such you can expect to see a cultural calendar that includes music, art and an ongoing movie night. Screenings of French films are an enjoyable alternative to the box office spectaculars in the malls' multiplexes.
Sun-Thu 9am-8pm; Sat 9.30am-5.30pm. Villa 75, Street 32, www.afabudhabi.org (02 612 2900).
Bait Al Oud
The cultural heritage of the UAE isn't limited to the visual arts and renovated forts. Bait Al Oud is a place to both document and develop the history of the region's favourite instrument. Similar to the European lute it has a sound familiar to anybody who has heard classical music from across the region. The music institute welcomes visitors as well as arranges regular performances and training.
Sat-Thu 10am-10pm. Al Nahyan Street (02 641 5699).

Cultural Foundation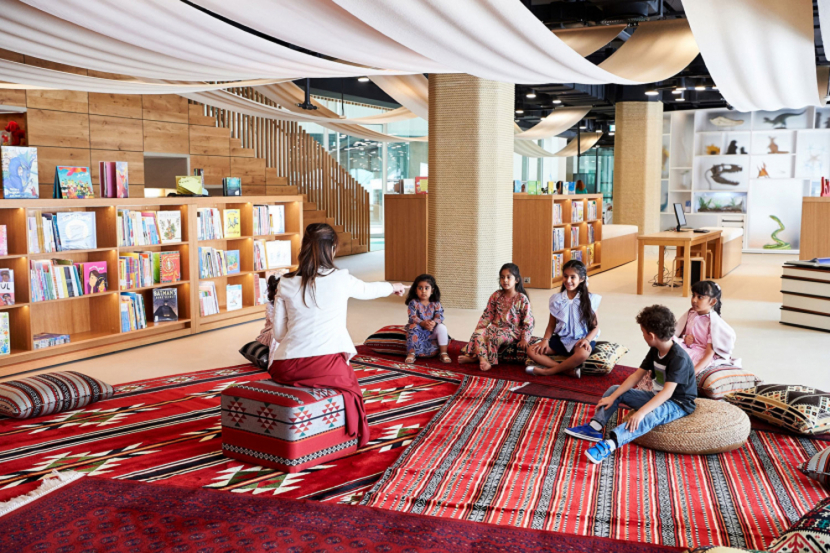 At the very centre of all things cultural for nearly 40 years, there is a dizzying array of activities and events hosted here. You're as likely to see big-name artists from the Arab world and theatre and dance as you are calligraphy and modern art. There are also workshops, screenings and much more at the Qasr Al Hosn site. With a diverse programme of events, it's worth repeat visits through the year.
Sat-Thu 10am-8pm. Al Hosn, Sheikh Rashid Bin Saeed Al Maktoum Street (02 657 6348).

Folklore Gallery
It started out as a framing shop, but this humble gallery in Khalidiya now offers much more. Particularly well-known for portraits of the royal family and UAE culture it also accepts commissions and exhibits large-scale canvasses mainly by UAE resident artists.
Sat-Thu 9am-1pm, 4-9pm. Khalidiya Street (02 666 0361).
Guggenheim Abu Dhabi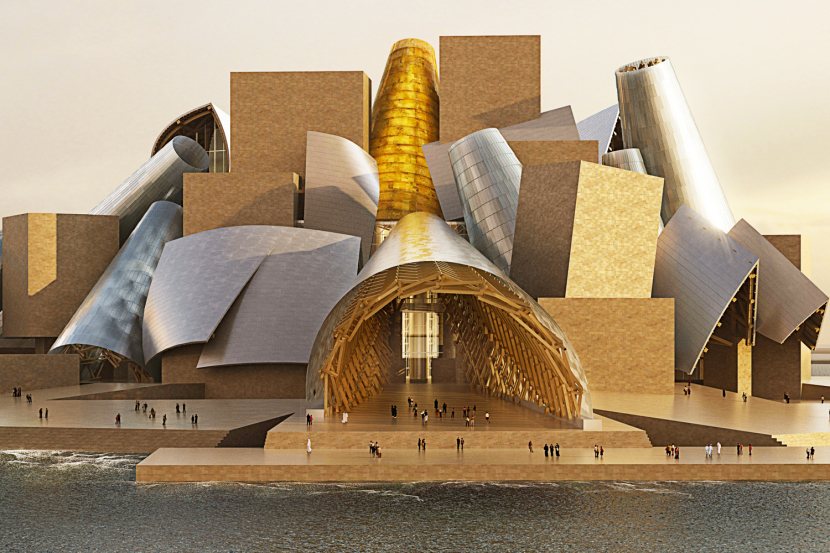 Despite not being expected to open until 2022 at the earliest, no conversation about art and culture in Abu Dhabi is complete without mention of the much-anticipated Guggenheim Abu Dhabi. Our very own offshoot of the famed international museum and art space will be an architectural splendour in its own right and have custom-commissioned works and international exhibitions inside the Frank Gehry-designed space. Watch Saadiyat Island with interest to see it take.
See www.guggenheim.org for more information.

Emirates Palace Auditorium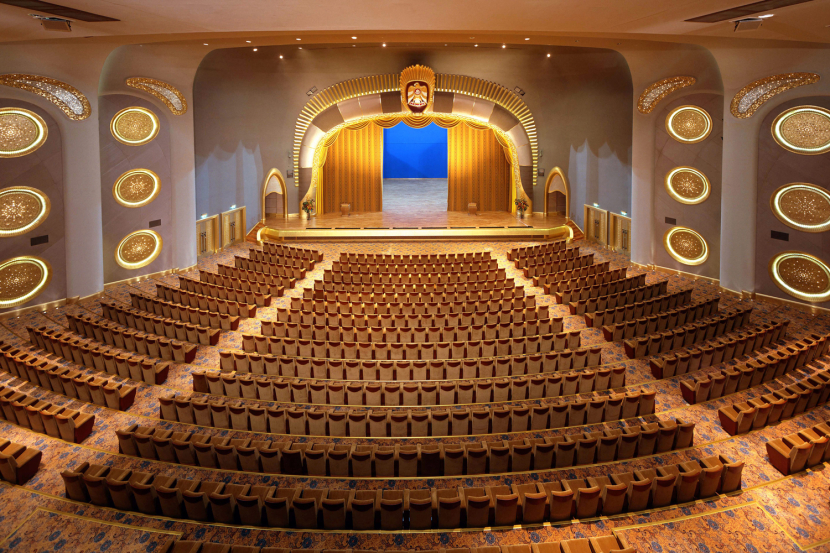 While not exactly an independent venue in its own right we can't look at premium arts and cultural performances in the city without mentioning this luxury hotel's stunning auditorium. Why? Just look at the long list of stellar concerts, recitals and performances that have happened here over the years. The next few months alone will see The Cleveland Orchestra, Emirates Youth Symphony Orchestra, a performance of Romeo and Juliet the ballet and gigs by Yo-Yo Ma and Gregory Porter.
See Culture on Your Calendar at end of this feature for more details.

Founder's Memorial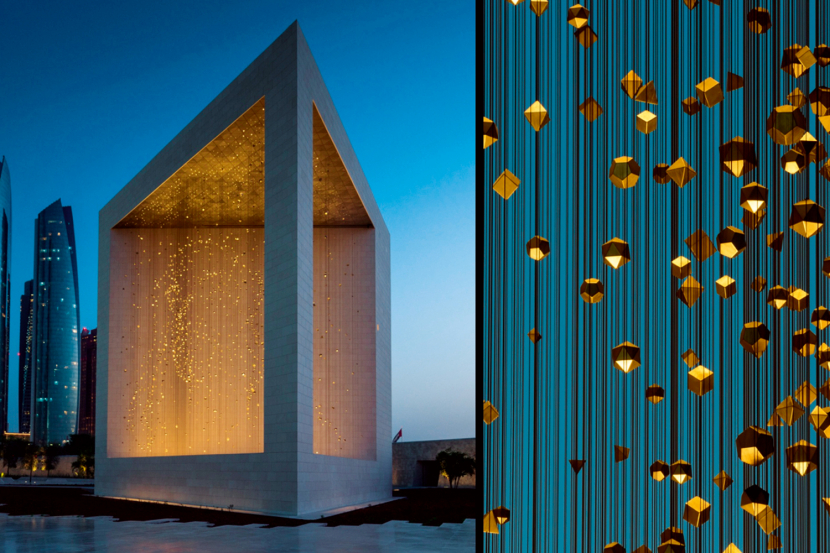 A permanent landmark that pays tribute to the late Sheikh Zayed bin Sultan Al Nahyan and the influence he had on the UAE and the world. The vast 3D portrait has won many awards and stands more than 30m tall. Walk around it in the day, at sunset or when it is illuminated at night for a masterclass in perspective-altering sculpture and design.
Daily. 9am-10pm. West Corniche (02 410 0100).
Julia Ibbini Studio
This private gallery studio and art space is home to the critically acclaimed artist. Known for her intricate and beautiful 3D designs the work may be familiar to exhibition visitors from showings across the UAE. Although it is closed so the artist can create work, viewings can be made by appointment to see them outside of the stunning Instragram images. Viewings are by appointment only.
Saadiyat Island (055 609 3775).
Korean Cultural Centre
There is so much more to Korean culture than K-Pop, kimchi, taekwando and incredible cinema. But they seem like good places to start, and this South Korean Government-funded buraeu is an excellent place to immerse yourself in all things Korean. Regular free film screenings, art and cookery lessons are a gateway to your next obsession.
Sun-Thu 9am-6pm. Ministries Complex, Khalifa Park area, www.uae.korean-culture.org (02 491 7227).
L'Atelier des Arts
There are occasional exhibitions and displays here, but it is most interesting as an art school and supply shop for you to enhance and develop your own creative side. There are courses and workshops in varied mediums including canvas painting, ceramics, crochet, decoupage, illustration, mosaic and much more besides.
Sat-Thu 9am-9pm; Fri 10am-9pm. Al Musalla Villa 677, 15th Street, www.latelierdesarts.com (02 639 7104).
Louvre Abu Dhabi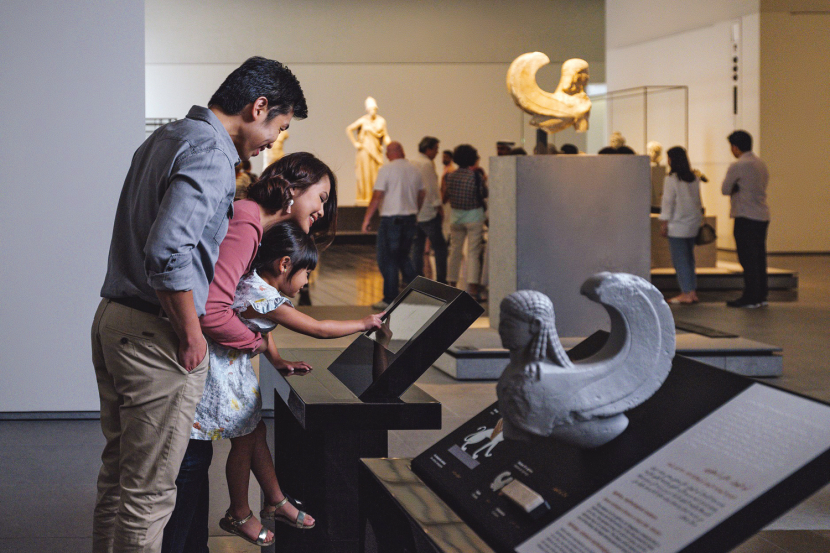 A global headline-grabber and a gallery of international importance the outpost of the famed French cultural hub is the jewel in the crown of Abu Dhabi's art scene. As well as being able to see works from artists such as da Vinci, Warhol, Pollock, Matisse. Manet and Mondrian it has an enormous collection of historical artefacts. From an ancient Egyptian sarcophagus to a history of luxury items and fashion through the ages there is more to see than you can savour on one visit. Especially when you consider the curated exhibitions and additions that roll throughout the year. We'd be happy merely to come and marvel at the building itself, but membership and patronage of the gallery is worth looking at to discover the splendour that lies within.
Sat-Sun Tue-Wed, 10am-8pm; Thu-Fri 10am-10pm. Saadiyat Cultural District, Saadiyat Island (600 565 566).

Manarat Al Saadiyat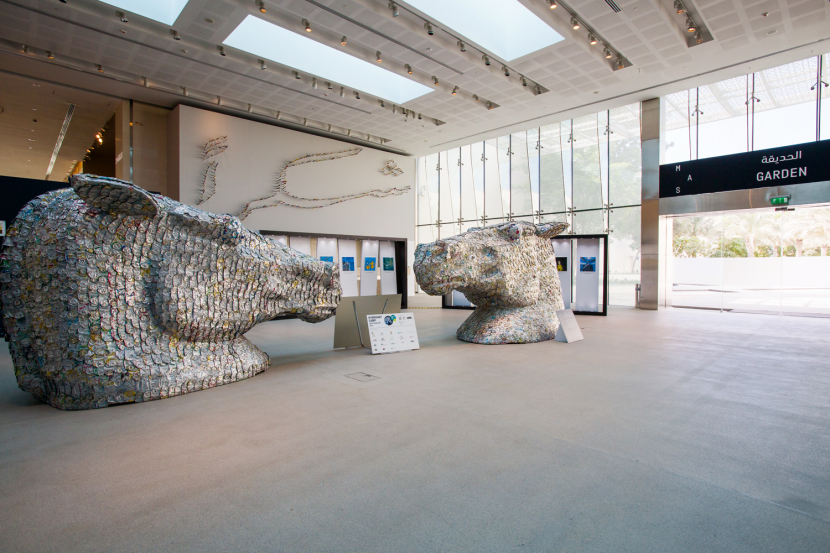 This key part of the Saadiyat Cultural Quarter is best-known for hosting the annual Abu Dhabi Art festival. Throughout the year, however, it is a hip place to appreciate and join in the art scene. It is a gorgeous and well-maintained and curated space with multiple gallery exhibitions, screenings and workshops. The weekly Cinema Space, which shows interesting movies from around the world, is just one of many highlights that also include performance, open mics and an enormous amount of interactive hands-on workshops in a vast selection of styles. Art space can be rented and it is a good point of contact should you wish to create and exhibit in more or less any media thanks to the 15,400 sq m of space divided up in to multiple studios and galleries, Plus there is a funky (licensed) restaurant and coffee shop, Larte
Daily 9am-8pm. Saadiyat Cultural District, Saadiyat Island (02 657 5800).
Etihad Modern Art Gallery
As much as we like this space and the accessibility of this gallery, it is the way it curates exhibitions that makes it an Abu Dhabi favourite. Exhibitions are frequent, diverse and challenging. You can find street art-inspired canvases one month and classical mixed media the next. It has attracted major artists in to the city to share their work, but is also representing the UAE art scene internationally by exhibiting and attending fairs overseas. An excellent place to start your art education by simply looking at and thinking about paintings and other works.
Sat-Thu 10am-10pm. Al Huwelat Street, Al Bateen, www.etihadmodernart.com (02 621 0145).
N2N Gallery
Predominantly an exhibitor of paintings, but with some sculpture as well, this gallery has been an interesting addition to the Abu Dhabi art scene since it opened in 2013. Activities tend to fall in to two categories: solo exhibitions, frequently by European artists and art master classes. The latter has seen workshops on everything from landscape painting and portraits to photography and lessons on botanical watercolours.
Sat-Thu 10am-10pm. Al Ain Tower, Khalidiya Street (050 728 3778).
NYU Abu Dhabi
Theatre, dance, poetry, music, cinema - there is no wonder why NYU Abu Dhabi has become one of the most important cultural locations in the UAE and the wider Middle East. There are two spaces here, The Arts Centre and The NYU Abu Dhabi Art gallery. Both have lots to recommend and between them offer live performances, workshops, exhibitions and more. The university setting is welcoming to all, but especially relevant to people who want to look beyond the mere visuals of the art they see before them and really debate the art.
NYU Abu Dhabi, Saadiyat Island, www.nyuad-artgallery.org and www.nyuad-artscenter.org (02 628 8000).
Qasr Al Hosn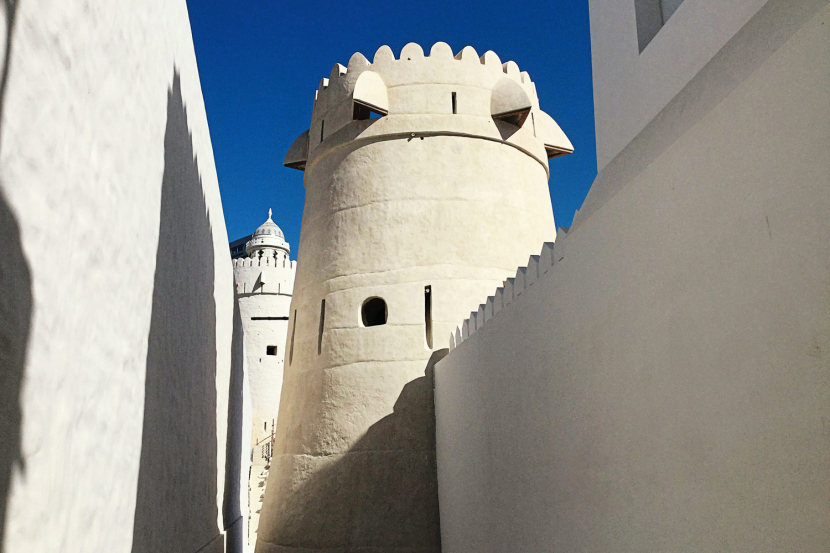 The oldest standing structure in Abu Dhabi is obviously a place of cultural significance. The traditional fort building is a home to cultural and usually heritage-themed events and activities most weekends, with poetry, dance, music, falconry, and traditional Bedouin and marine craft demonstrations featuring heavily. We've never got our hands on one, but we're told it is also on the Dhs1,000 note.
Sat-Thu 9am-7pm; Fri noon-10pm. Sheikh Rashid bin Saeed Al Maktoum Street, www.qasralhosn.ae (02 697 6400).
Qasr Al Muwaji
Before the Abu Dhabi we all know and love so much, there was a different world and this exhibition and museum space tells its story. Although the history dates back further, it is perhaps best known as the birthplace of HH Sheikh Khalifa bin Zayed Al Nahyan and much of the elegant glass-walled space tells the story of his achievements. There are interactive sessions in archaeology and performances such as falconry to see if you are over in the UNESCO World Heritage Site in Al Ain as well.
Tue-Thu 9am-7pm; Fri 3-7pm; Sat 9am-7pm. Khalifa Bin Zayed Street, Al Ain (03 767 4444).
Qasr Al Watan
You might have seen the stunning light and sound shows that are projected on to the exterior of this Emirati palace on Instagram, but we assure you the insides are just as impressive. So much so, in fact, that the presidential palace has been making headlines around the world as a top cultural landmark. Even if you have witnessed the Palace in Motion projections, the tours inside, including the stunning Great Hall and truly incredible libarary should be on your must-do list for capital life.
Daily 10am-8pm. Corniche West, www.qasralwatan.ae (600 544 442).
Salwa Zeidan Gallery
A true gallery experience. You won't like everything that comes here. You won't understand all of it. You won't even be able to pinpoint exactly what much of it actually is. And that is exactly why it is one of the most important galleries in the UAE and some of its exhibitions categorised as must-see. Specialising in contemporary art from established and emerging artists from around the world the Saadiyat gallery plays a crucial role in the city art scene and you should make time to visit.
Sun-Thu 10am-7pm; Sat 11am-5pm. The Collection at The St. Regis Saadiyat Island Resort, Abu Dhabi,
www.salwazeidangallery.com (050 398 8319).
Sheikh Zayed Grand Mosque
A cultural an architectural triumph the enormous mosque is a fascinating and enriching place to visit. As well as marvelling at the general architecture, illuminations, stunning carpets, breath-taking chandeliers, reflective pools and more, there are guided tours and frequent cultural events that give a greater understanding of Emirati traditions and Islam. You have to make a visit at some stage.
Sat-Thu 9am-10pm; Fri 4.30-10pm. Sheikh Rashid Bin Saeed Street (02 419 1919).
Wahat Al Karama


A stunning public art structure that remembers and honours UAE heroes and the nation's diplomatic and humanitarian efforts. The centrepiece is an enormous aluminium-clad memorial designed by British artist Idris Khan. There is also a visitor centre, memorial plaza and impressive engraved pavilion where you can see the art and pay respects.
Daily, 9am-10pm. Wahat Al Karama Street, www.wahatalkarama.ae (02 668 1000).
Warehouse 421
While the Louvre brings in work of international and historical repute, this creative hub is dedicated to the region's home-grown creatives. As such it has developed a reputation for nurturing emerging talent and a steady stream of exhibitions, workshops and hubs is eclectic to say the least. One day you might be able to try Palestinian embroidery and the next you're being challenged by cinema screenings. The large space has hosted all manner of mixed media commissions and has inspired a next generation of artists in numerous fields. As there are often artists, creators, makers, debaters, poets, filmmakers and creatives of all types under one roof in a hip environment the atmosphere can be culturally enriching and a visit is highly recommended whether you are going to join in the artistic endeavour, join the conversation or simply look at art.
Tue-Sun, 10am-4pm. Mina Zayed, www.warehouse421.ae (02 676 8803).
Culture in your calendar
If year-round exhibitions and world-class institutions and artspaces are not enough for you there are some major events on the Abu Dhabi art calendar coming soon to look out for. Visit timeoutabudhabi.com/culture for all your arty needs all through the year.
Abu Dhabi Festival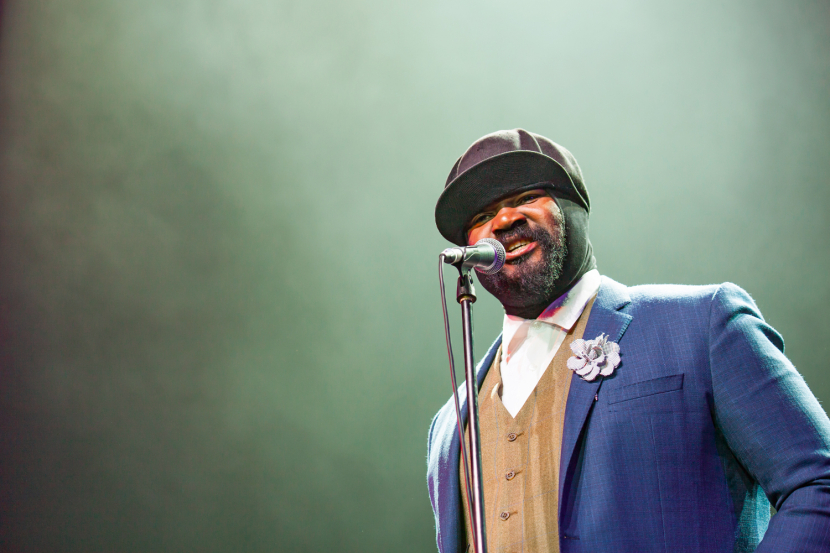 From the end of March to the beginnig of April the city's leading festival of arts and culture will be back for a 17th year. As well as pop-events across the Emirate there will be major collaborations with the likes of the New York Met and American Ballet Theatre. Legendary musicians Yo-Yo Ma and Gregory Porter will feature, and there are more highlights besides.
Various times, dates, prices and locations. www.abudhabifestival.ae.
Hay Festival Abu Dhabi
We love it when sporting events such as tennis and golf championships come to Abu Dhabi because of the big-name players that travel to pay here. It stands to reason, then, that when one of the world's biggest literary festivals sets up its bookshelves here we will see the great and the good of the literary world as well. That is why attendees of the Hay Festival, coming to the UAE for the first time, has a library full of literary figures signed up to take part. From Booker Prize winners such as Jokha Alharthi and Bernardine Evaristo to Nobel Prize winners Wole Soyinka, Shirin Ebadi and Ahmed Galai. There's a full kids and Arabic programme, too.
Various venues. Feb 25-28. www.hayfestival.com.
Be the first to get all the latest Abu Dhabi news, reviews and deals into your inbox by signing up to our free
newsletter
,
click here to sign up
.