Abu Dhabi Art Hub
If you're looking for any kind of arty service in the capital, this is the place to come. Whether you want a space to exhibit your own work in, buy a piece of art or art materials, take part in art classes, go on an art retreat or get a piece framed, the Art Hub will sort you out. The workshops cover a huge range of skills including drawing, using soft pastels, jewellery making, calligraphy and painting with watercolours, oils, and acrylics. Designed to be a place where artists and art lovers can meet to swap ideas and encourage each other, this is a truly inspirational place to visit. It also holds various art exhibitions and events throughout the year.
Prices vary. Sat-Thu 10am-7pm. The Mall at World Trade Center, Al Markaziya (055 550 9640).
Etihad Modern Art Gallery
Dedicated to growing the art scene in Abu Dhabi and promoting Emirati art and traditions to a local and global audience, there is always something interesting to do or see at this dynamic art space. Currently showing is A Step Back in Time by the Chinese artist Jack Lee. Featuring works that explore the legacy of Sheikh Zayed, as well as the landscape and families of the UAE, it runs until November 11. All the exhibitions are free to enter, so make sure you stop by next time you're in the area, or on your way home from your weekend lunch date at the Marasy Al Bateen.
Free. Sat-Thu 10am-10pm. Al Huwelat Street, Al Bateen (02 621 0145).
Louvre Abu Dhabi
From the moment you see the stunning star-filled dome as you arrive at the Louvre until the moment you leave, this is a place to enthral people of all ages. Just one year old, the museum is already one of the leading places in the world to view ancient and modern art. Everything is displayed chronologically rather than by art movement, so you can see pieces from all over the world sitting together side by side. From Egyptian relics to paintings by Andy Warhol there's art of every kind here. Be sure to check out the temporary exhibitions on your visit, too, and look out for workshops and live performances – pop star Dua Lipa was booked to play the museum's first birthday bash.
Dhs60 (adult) Dhs30 (ages 13-22). Open Sat-Wed 10am-8pm, Thu-Fri 10am-10pm. Saadiyat Cultural District, Saadiyat Island (600 565 566).
Manarat Al Saadiyat
There is always so much going on at this arty hub. Whether you're into music, cinema, art, or just want to work on your own creative skills, you'll find something to capture your interest at Manarat Al Saadiyat. This place was the first piece of the Saadiyat Cultural District jigsaw, and its programme is always full of workshops, gigs, art fairs and other special events. Head to the drop-in studio to have a go at creating your own work of art for just Dhs30. All materials are provided and art instructors are on hand to offer inspiration. Meanwhile, the Cinema Space is a legendary Abu Dhabi institution. Free screenings of restored classics and contemporary world films are shown every Monday and Saturday.
Free (Cinema Space viewings), Dhs30 (drop-in studio). Open daily 9am-8pm. Manarat Al Saadiyat, Saadiyat Island (02 657 5800).
N2N Art Gallery
This cool gallery showcases more than 170 sculptures, pieces of graphic art and paintings, and the result is an exciting fusion between realism and modernism. The collection is constantly being refreshed, so you know that every time you visit, they'll be something different just waiting to wow you. Or, if you're looking to encourage your own creative side, masterclasses from well-established artists are regularly hosted here. For instance from November 8 to 14, painter Katerina Spirtus is teaching a series of watercolour lessons.
Master class prices vary. Open Sun-Thu 10am-10pm. Al Ain Tower, Al Khalidiya (050 728 3778).
Salwa Zeidan Gallery
If contemporary art is your thing, you will genuinely love the works that are on display here. The gallery represents both well-established and emerging artists from all around the globe. Featuring paintings, photography, sculptures, installations and performance art, each piece on display has been carefully selected by the artist Salwa Zeidan herself. Focusing on works that are full of raw emotion, the collection takes the viewer through every possible feeling. Meanwhile, the Salwa Zeidan Gallery will be hosting a booth at this year's Abu Dhabi Art Fair, so get along and chat to Ms Zeidan in the flesh.
Sun-Wed 10am-10pm, Thu & Sat 10am-midnight, Fri (by appointment only). The Collection, The St. Regis Saadiyat Island Resort, Abu Dhabi (02 666 9656).
The Arts Center at NYU Abu Dhabi
We're sure we're not the only ones who wish that our university experience had been based on the amazing campus of NYU Abu Dhabi. But at least we all get to enjoy the fantastic facilities at The Art Center. Described as a place where performance, education and the community come together, the events include film screenings, dance performances, poetry readings and musical recitals. There are also less traditional theatre experiences that require audience participation. For instance, Remote Abu Dhabi takes the audience on a walk around Abu Dhabi, while Tangle asks children and their families to contribute to a huge colourful piece of art made with elastic bands.
Prices vary. NYUAD Campus, Saadiyat Island (02 628 6868).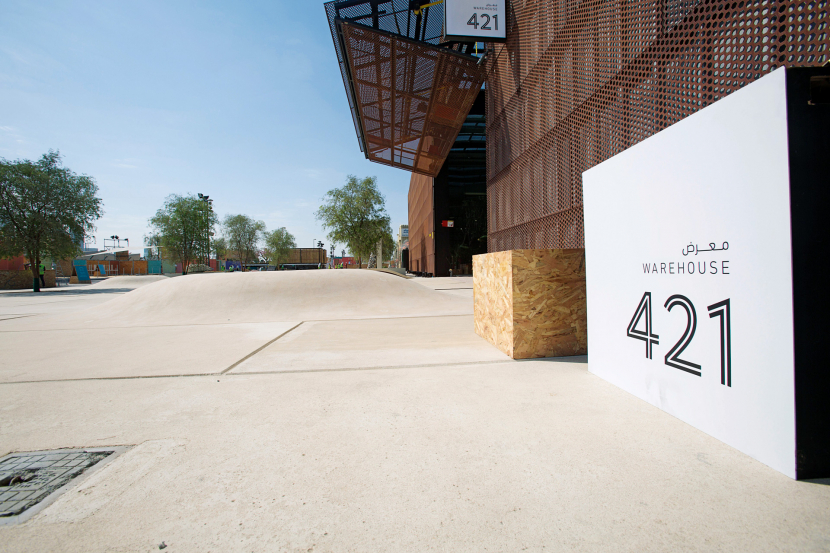 Warehouse 421
These days, there's nothing cooler than turning an old warehouse into a food market, music venue, art space, or anywhere else that bearded hipsters like to hang out. Abu Dhabi is no exception, and the ultra-cool creative hub Warehouse 421 was forged by renovating two former industrial warehouses in the Mina Zayed area of Abu Dhabi. Since opening in November 2015, it has hosted 14 different exhibitions and showcased the work of more than 200 local and regional artists and designers. Visitors can also get arty themselves by taking part in its programme of interactive initiatives including talks, workshops, film screenings and performances.
Prices vary. Open Tue-Sun 10am-8pm. Mina Zayed (02 676 8803).
Be the first to get all the latest Abu Dhabi news, reviews and deals into your inbox by signing up to our free
newsletter
,
click here to sign up
.