Grabbing a grande, decaf, iced, sugar-free, vanilla latte with soy milk might be the longest road to hipster coolness you'll ever take, but are you really maximising your coffee shop experience?
You no longer earn cool points for opening up your MacBook, popping on your Beats by Dre and trawling your Facebook timeline for animal memes when you really should be at work.

No, instead, the newest way to boost your street appeal is by heading to D10 Café and indulging in a dying art: interacting with other people.
The unthinkable social anomaly is making a storming comeback thanks to a series of nights hosted at the relative newcomer to Abu Dhabi's fledging arts and coffee scene.




Owners Abdulla Aljaberi and Abdullah Al Mansour have created a space centred on getting people to unplug from their electronic-enforced isolation in a coffee shop and engage with others.
They run two weekly book clubs, one for adults and one for kids, they host live music nights and they collaborate with artists from studio Bait 15 too, all for free.
More: Inside Abu Dhabi's coffee culture
And as Aljaberi explains to Time Out Abu Dhabi, the pair's sole focus is about shaking up the modern café culture.
He says: "The idea is that D10 Café is a social hub rather than a coffee shop. People come here and we drink coffee, of course, but we also chat. We have discussions about books, we talk about art, we have people playing whatever live music they want to play.




"It's all about getting people to interact with each other, and strike up a conversation with someone they've never met before. To share ideas, to share talent.

"For us it's a lifestyle, we love this lifestyle. We're loving what we do and it's not work to us, it's life."

Aljaberi and Al Mansour started their first book club with people they met in a coffee shop in Edinburgh, Scotland, in 2006. From there, Al Mansour moved back to Kuwait while Aljaberi moved to London – where he later joined other book clubs.

He adds: "We wanted to continue that here in Abu Dhabi, and so far it's been a huge success.

"We still focus on speciality coffee – using different single origins from Costa Rica, Guatemala and others.

"We don't charge for the events, if a group want to perform we provide free coffee and a free space.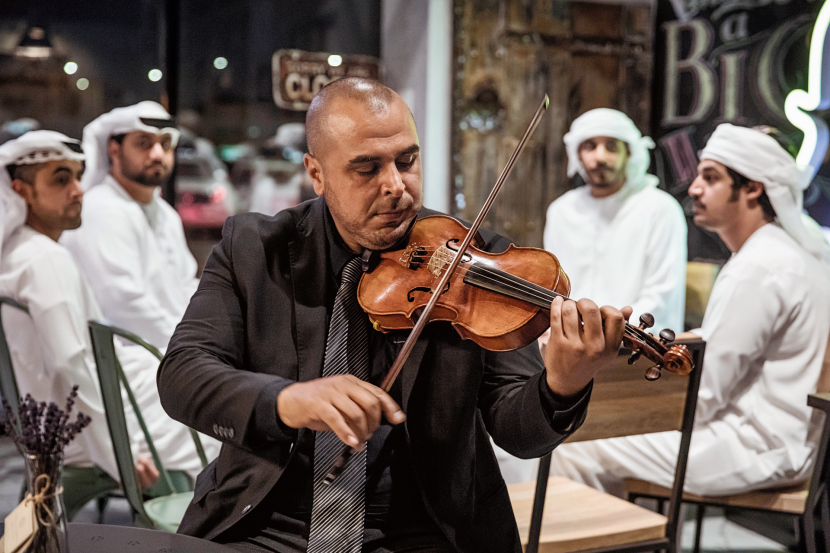 "While on our art nights we will select a chapter from a book, send it to eight different artists at Bait 15 and they create a piece of work based on their interpretation of the chapter. It's a great way to live life, which is why we love it."

The group are currently reading The Girl on the Train in English, while the Arabic book club are reading Aljneyah. The weekly discussions take place on Tuesdays.

The kids' club is hosted on Fridays by Aljaberi's ten-year-old daughter Shamma.

Having opened in January this year, D10 Café is quickly cementing its place at the heart of Abu Dhabi's flourishing third wave coffee scene.

So head there and find out just why it's a best-seller.

Free. Sun-Thu 7am-11pm, Fri 2pm-11pm, Sat 10am-11pm. New Siha Building, Opposite Brighton College, Ministries Complex (056 617 1281).
Be the first to get all the latest Abu Dhabi news, reviews and deals into your inbox by signing up to our free
newsletter
,
click here to sign up
.