Abu Dhabi May be a modern metropolis with loads of luxury and lavishness but at its heart is a cultural city with some amazing sights to see.
Look beyond the shiny skyscrapers, the glistening waters of the Arabian Gulf, the supercars, gold leaf and bountiful brunches and you can experience the essence of the UAE, it's traditions and culture.
Ready to explore? Here are the top cultural attractions in Abu Dhabi you don't want to miss.
Abu Dhabi Art Hub
After helping people in Abu Dhabi unleash their inner artist for more than ten years there is a lot going on at both outlets of this creativity centre. As with all the best galleries the exhibitions are frequent and varied, with paintings, illustrations, calligraphy and much more on display. Interestingly, though, it is just as well-regarded for the art lessons and workshops it offers. Turn up and you can work on your watercolours, pencil illustration, acrylic art or even jewellery making.
Sat-Wed 10am-10pm; Thu-Fr 10am-11pm. The Mall at WTC Abu Dhabi, Sheikh Khalifa Street and The Galleria Al Maryah Island (055 550 9640).
Al Ain Classical Car Museum
Car enthusiasts will love this impressive and well-maintained museum. Apart from the fact they get to drive out on the desert road to Al Ain, there is an ever-expanding private collection of vehicles at this museum. Owned and managed by the man behind the Abu Dhabi Classic Car Club it is dedicated to premium vehicles. The emphasis is on retro cars and there are many to appreciate in the 2,000 sq m complex.
Sat-Thu 9am-6pm (closed for lunch); Fri 4pm-7pm. Al Ain Classical Car Museum, Al Ain Faida Complex (050 774 0701).
Al Jahili Fort
You might recognise it from the Dhs50 note, but this Al Ain fort has also been a place of military significance for generations. Now, thankfully, it is battling only for tourist attention. There are exhibitions and events throughout the year, so keep an eye out for happenings as this is one of the most picturesque heritage locations in the country.
Tue-Thu and Sat 9am-5pm; Fri 3-5pm. Al Mutawaa, Al Ain (03 711 8311).
Al Ain Oasis
If you're looking to enjoy a cultural experience that feels a world away from a busy city then this is the one to visit. The 3,000 acre oasis is jam-packed with 147,000 palm trees and has been a UNESCO World Heritage Site since 2011. You can see how early inhabitants in the region created irrigation systems and a steady water supply to combat the intense heat of the desert. Plus, it makes for some amazing Instagram shots too.
Free entry. Sat-Thu 9am-4pm; Fri 2pm-4.30pm, Hessa Bint Mohammed Street, Al Ain, visitalain.ae.
Al Ain Palace Museum
This historical venue was the royal residence of UAE founding father Sheikh Zayed until 1966. The building, constructed in 1937, has loads of great things to see and offers some unrivalled insight into the childhood of the late Sheikh Zayed. The sprawling lands themselves are impressive and there are plenty of great photo opportunities too.
Free entry. Sat-Thu 8.30am-7.30pm; Fri 3pm-7.30pm. Hessa Bint Mohammed Street, Al Ain, visitalain.ae (03 711 8388).
Al Qattara Arts Centre
A reconstructed Al Ain fort, it has art galleries exhibiting works by Emirati and expat artists as well as studio space for artistic lessons and even a small museum area with items of archaeological interest. While there is a heritage feel, there is also a digital room for photography and computing, a pottery studio and calligraphy area.
Sat-Thu 8am–8pm. Mohammed Bin Khalifa Street, Al Qattara, Al Ain (03 761 8080).
Cultural Foundation
At the very centre of all things cultural for nearly 40 years, there is a dizzying array of activities and events hosted here. You're as likely to see big-name artists from the Arab world and theatre and dance as you are calligraphy and modern art. There are also workshops, screenings and much more at the Qasr Al Hosn site. With a diverse programme of events, it's worth repeat visits through the year.
Sat-Thu 10am-8pm. Al Hosn, Sheikh Rashid Bin Saeed Al Maktoum Street (02 657 6348).
Etihad Modern Art Gallery
As much as we like this space and the accessibility of this gallery, it is the way it curates exhibitions that makes it an Abu Dhabi favourite. Exhibitions are frequent, diverse and challenging. You can find street art-inspired canvases one month and classical mixed media the next. It has attracted major artists in to the city to share their work, but is also representing the UAE art scene internationally by exhibiting and attending fairs overseas. An excellent place to start your art education by simply looking at and thinking about paintings and other works.
Sat-Thu 10am-10pm. Al Huwelat Street, Al Bateen, www.etihadmodernart.com (02 621 0145).
Heritage Village
Step back in time at the Heritage Village and you can get a sense of what the UAE's capital was like in the past. The traditional village includes a souk, mosque, artefacts and artisans creating traditional handicrafts and goods. The Emirates Heritage Club also run regular workshops where you can observe traditional crafts like palm weaving, pottery and more.
Free Entry. Sat-Thu 9am -4pm; Fri 3.30pm to 9pm. Corniche Breakwater, near Marina Mall, www.visitabudhabi.ae.
Louvre Abu Dhabi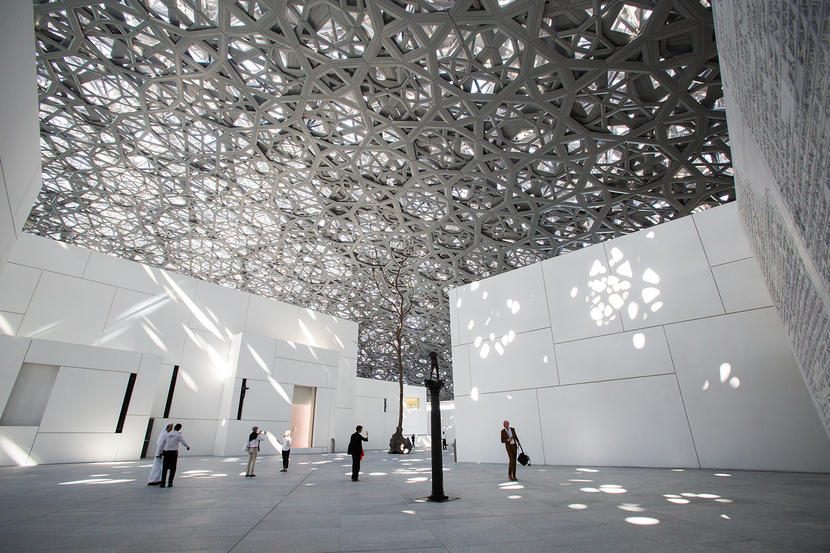 A global headline-grabber and a gallery of international importance the outpost of the famed French cultural hub is the jewel in the crown of Abu Dhabi's art scene. As well as being able to see works from artists such as da Vinci, Warhol, Pollock, Matisse. Manet and Mondrian it has an enormous collection of historical artefacts. From an ancient Egyptian sarcophagus to a history of luxury items and fashion through the ages there is more to see than you can savour on one visit. Especially when you consider the curated exhibitions and additions that roll throughout the year. We'd be happy merely to come and marvel at the building itself, but membership and patronage of the gallery is worth looking at to discover the splendour that lies within.
Sat-Sun Tue-Wed, 10am-8pm; Thu-Fri 10am-10pm. Saadiyat Cultural District, Saadiyat Island (600 565 566).
Manarat Al Saadiyat
This key part of the Saadiyat Cultural Quarter is best-known for hosting the annual Abu Dhabi Art festival. Throughout the year, however, it is a hip place to appreciate and join in the art scene. It is a gorgeous and well-maintained and curated space with multiple gallery exhibitions, screenings and workshops. The weekly Cinema Space, which shows interesting movies from around the world, is just one of many highlights that also include performance, open mics and an enormous amount of interactive hands-on workshops in a vast selection of styles. Art space can be rented and it is a good point of contact should you wish to create and exhibit in more or less any media thanks to the 15,400 sq m of space divided up in to multiple studios and galleries, Plus there is a funky (licensed) restaurant and coffee shop, Larte
Daily 9am-8pm. Saadiyat Cultural District, Saadiyat Island (02 657 5800).
Qasr Al Hosn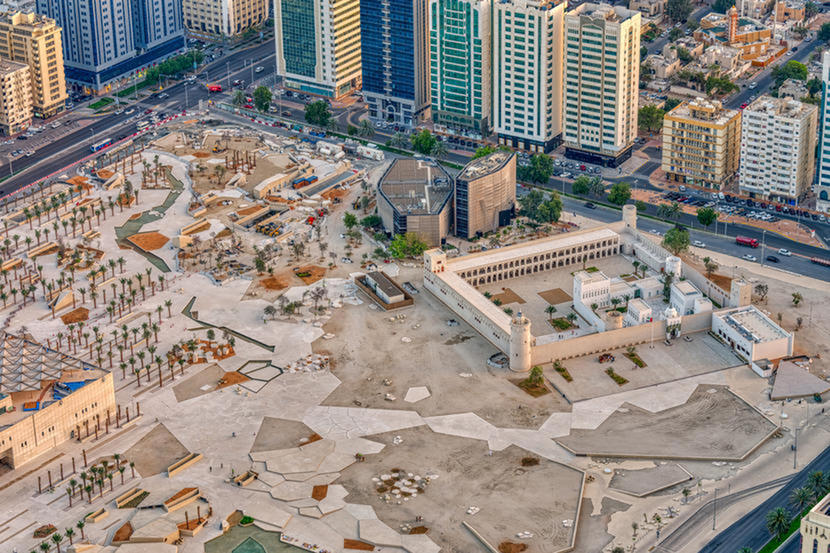 As the oldest standing building Abu Dhabi, Qasr Al Hosn is a great place to visit to imagine the city long before the skyscrapers dominated the capital's skyline. Built in 1790, the old stone fort was originally constructed to overlook the coastal trade routes and offer protection to the growing settlement on the island. Now, having completed successful restoration, you can see the original structure and visit a number of other cultural attractions at the site including the Cultural Foundation and Children's Library.
Dhs30 adults, Dhs15 children. Sat-Thu 9am-7pm; Fri noon-10pm Corner of Zayed the First Street and Sheikh Rashid bin Saeed Street, www.qasralhosn.ae.
Qasr Al Muwaiji
Head to the Garden City of Al Ain and you can explore an impressive archaeological and historical structure and UNESCO World Heritage Site, at Qasr Al Muwaiji. The impressive structure is also birthplace of the country's president, HH Sheikh Khalifa bin Zayed Al Nahyan in 1948. Visitors can explore a variety of historical and traditional experiences, including oral narrations of the significant moments of Sheikh Khalifa's life from his early childhood, leadership and vast national achievements. The museum also features interactive activities and performances that celebrate the overall spirit of the significant cultural site as well as daily tours. It's one to check out when in Al Ain.
Free entry. Tue-Thu, Sat-Sun 9am-7pm; Fri 3pm-7pm. Khalifa Bin Zayed Street, Al Ain, www.qasralmuwaiji.ae.
Qasr Al Watan
The stunning Qasr Al Watan, part of the Presidential Palace, has opened its doors to the public for daily tours. A total of 149,000 unique pieces of silver, crystal and china were used in the construction of the palace that was completed in 2017. Visitors are able to explore a host of facilities and attractions during their visit including the extensive gardens, great hall, library, visitors centre, courtyard and more. In the evening a sound and light show brings the building to life and celebrates the culture and heritage of the UAE. One thing is for sure, it's absolutely stunning and it has to be seen to be believed.
Dhs60 adults, Dhs30 (kids aged four-17). Daily 10am-8pm. Qasr Al Watan, Presidential Palace, Ras Al Akhdar (600 544 442).
Sheikh Zayed Grand Mosque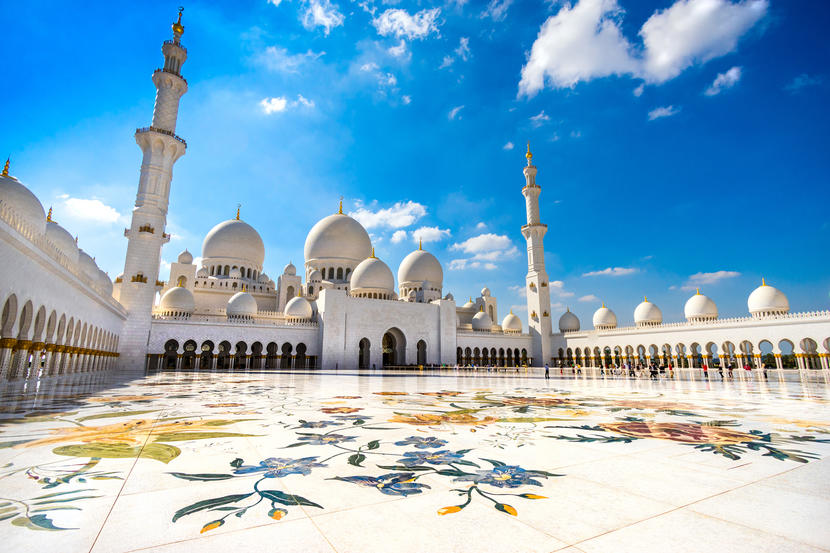 Even if you've just landed in Abu Dhabi you've probably heard of the Sheikh Zayed Grand Mosque already. The stunning landmark is the jewel in the city's crown and is an attraction that you will visit time and again, especially when you have visitors in town. No matter how many times you visit it never fails to take your breath away as you notice more incredible details and handiwork. Just remember that it is a place of worship and you should behave and dress respectfully at all times.
Free entry. Sat-Thu 9am-10pm; Fri 4.30pm-10pm. Sheikh Rashid bin Saeed Street, www.szgmc.gov.ae.
The Founder's Memorial
It may be one of the newest cultural attractions in the city but The Founder's Memorial in no less impressive. Launched the mark the 100th birthday of the late ruler HH Sheikh Zayed, the impressive grounds and centrepiece installation are a great visit any time of day but is especially impressive in the evening. As the sun sets over the city the installation, depicting the likeness of the UAE's founding father with 1,327 geometric shapes illuminated by more than 2,000 lights, brightens up the night's sky. Go and see it for yourself.
Free entry. Daily 9am-10pm. Corniche West, next to Emirates Palace, www.thefoundersmemorial.ae.
Wahat Al Karama
A stunning public art structure that remembers and honours UAE heroes and the nation's diplomatic and humanitarian efforts. The centrepiece is an enormous aluminium-clad memorial designed by British artist Idris Khan. There is also a visitor centre, memorial plaza and impressive engraved pavilion where you can see the art and pay respects.
Daily, 9am-10pm. Wahat Al Karama Street, www.wahatalkarama.ae (02 668 1000).
Warehouse 421
While the Louvre brings in work of international and historical repute, this creative hub is dedicated to the region's home-grown creatives. As such it has developed a reputation for nurturing emerging talent and a steady stream of exhibitions, workshops and hubs is eclectic to say the least. One day you might be able to try Palestinian embroidery and the next you're being challenged by cinema screenings. The large space has hosted all manner of mixed media commissions and has inspired a next generation of artists in numerous fields. As there are often artists, creators, makers, debaters, poets, filmmakers and creatives of all types under one roof in a hip environment the atmosphere can be culturally enriching and a visit is highly recommended whether you are going to join in the artistic endeavour, join the conversation or simply look at art.
Tue-Sun, 10am-4pm. Mina Zayed, www.warehouse421.ae (02 676 8803).
Be the first to get all the latest Abu Dhabi news, reviews and deals into your inbox by signing up to our free
newsletter
,
click here to sign up
.