With some brunches in Abu Dhabi it can be difficult to find the right fit for everyone in your party. Some might want to splash out and be lavish, others want it cheap and cheerful, some of us have friends with young children who need to be entertained... The list goes on and on.

You can't please everyone all of the time, but luckily we've got loads of options for a weekend brunch in Abu Dhabi so there's pretty much something for all.

The Elements Brunch at Le Royal Méridien is one of those places that has most of the boxes ticked and bases covered.

When we arrive, a clown, an acrobat and a mime artist are already entertaining the little ones in attendance (who seem to be enjoying it, and that's before they've seen the spinning wheel of sweets).

The sweeties look good to us, but as responsible adults we decide to pile our plates high with curry, pizza and sushi before tucking into the cola bottles.

The brunch space itself is vast, with seating in Café Palmier, @District by Amalfi, whEAT and the outdoor area at LRM Central.

There is food everywhere you look, from sushi and seafood, to Levantine, Indian, Italian cuisines and more, but what really catches our eye are the outdoor food trucks.

There's a taco stand making Mexican bites to order, a grill carving up brisket and meats, a burger and hot dog stand and some gelato.

There are even a few mixed drink stands on offer, and we make ourselves acquainted with those throughout the afternoon.

There are a lot of families here and we can see why, there's everything an adult could want from a brunch and kids are well catered for, too. The kids' hot food section serves up all the classics, including pizza and burgers.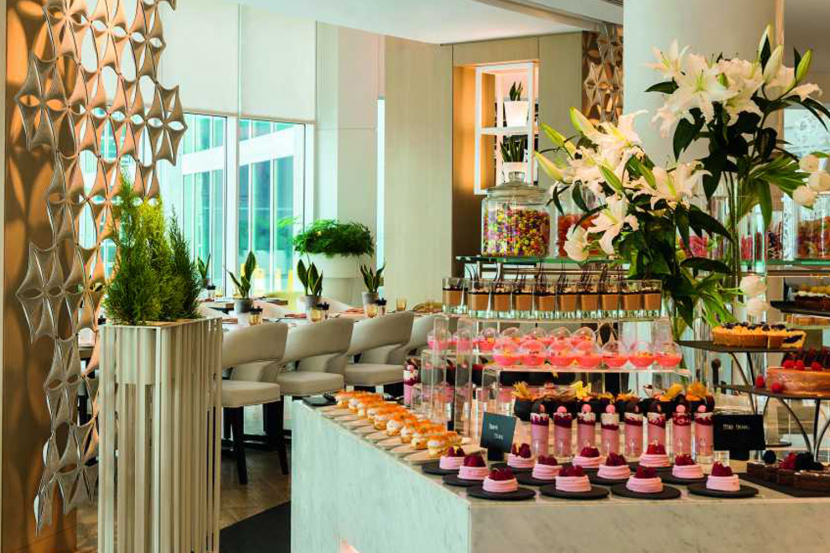 We plot a course for the taco stand and the DIY tacos really are brilliant.

We take the taco shell filled with crispy fish and load on our toppings of salsa, guacamole and jalapeños. It's excellent.

Our friends waste no time getting a burger cooked to order, and while it's great it's the waffle fries that have the whole table stuffing their faces.
Back inside we discover the brilliant pizza and we're glad we did.

After a few plates of food we're stuffed and we've barely scratched the surface of what's on offer. There are at least a dozen other things we would have liked to try but we simply don't have the space.

The huge variation, good quality and chilled vibe make for a relaxed afternoon and we can't believe how quickly time has flown by. Everyone is fed, we've all had a great time and with the sun winding down we're enjoying the last few rays with cool drinks outside, wishing we could do it all over again.

This brunch is a crowd pleaser, truly family friendly and is great for bringing visitors.
Dhs275 (soft drinks), Dhs375 (house beverages), Dhs425 (sparkling), Dhs495 (bubbly), Dhs125 (kids aged six to 12). Friday. 1pm-4pm. Le Royal Méridien Abu Dhabi, Sheikh Khalifa Street (0800 101 101).

Be the first to get all the latest Abu Dhabi news, reviews and deals into your inbox by signing up to our free
newsletter
,
click here to sign up
.