A meal at Dino's Bistro Italiano is always loads of fun.

Firstly, anywhere that actively encourages you to scribble on the paper table 'cloth' with big crayons gets our seal of approval, and when you take into the account the huge variety of Italian dishes and the value of the deal (Dhs200 for mixed drinks, hops and grapes), it really is a faultless combination.

This brunch runs all weekend, and when we arrive on a Saturday the place is super busy.

It's popular with families, with activities like pizza making for kids included, and we like it doesn't try to be a trendy party brunch.

It also has plenty to make couples and groups of friends feel welcome too. For a start, we instantly warm to our friendly server after he scrawls his name on our table and invites us to do the same. The quirky ordering system of ticking boxes on a card (in the same red-and-white Gingham style as the decor) to indicate which starters, pizzas, soups and mains we want is a nice touch.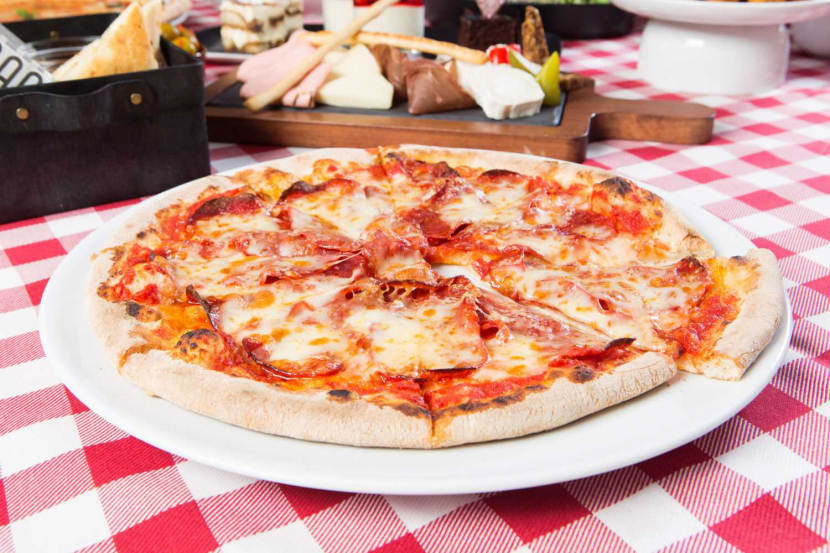 You can order as many things as you want in each category, and the options range from classics such as pasta with bolognaise, to more adventurous plates like sea bream, veal scallopini and mushroom rissotto.

Service is quick, and it takes just moments before our first round of drinks as well as starters of fried calamari and house Caesar salad are in front of us.

The shellfish is served in a generous portion and the batter is light and not too greasy. The creamy dressing on the salad is excellent, neither overly rich or too heavy.

We also can't resist sharing a chunk of the warm cheesy focaccia bread along with some of the sun-dried tomato dip. We know filling up on bread is generally unwise at a brunch which promises so many tremendous dishes to come, but we decide in this case we should make an exception as it's just too good.

Next is a vegetarian pizza scattered with mixed Italian herbs and chunks of courgette and aubergine. The base is superb; thin and crispy but still soft and fresh right to the edge in that perfect authentic Italian way.

It's one of the best pizzas we've had in Abu Dhabi, and other topping options include pepperoni and salmon.

We skip the other starters of kale and baby spinach salad and mozzarella and tomatoes, and also decide against the cream of mushroom and white bean and sausage soups.

We need to leave room for the mains, and again we're pleased with our choices of fettuccine alla bolognaise and chicken parmesan. All the dishes are the perfect size for sharing, and we wouldn't recommend just going for your own dish as you'll definitely want to try a few things.
The bolognaise meat is as tasty as we had hoped for from a proper Italian and the thick strands of pasta are cooked perfectly al dente. The breaded chicken is coated in a tomato sauce plus plenty of cheese; simple but tasty.

The dessert platter features mini versions of red velvet cake, tiramisu, panna cotta and toffee mousse. It's the weakest of the three courses by far, but perhaps that's just because the other two were so superb.

If you want excellent pizzas and pastas and a good-value drinks deal, it's hard to beat an afternoon at this colourful venue.
Dhs165 (soft drinks), Dhs200 (house beverages), Dhs215 (sparkling). Fri-Sat noon-4pm. Pearl Rotana Capital Centre, Khaleej Al Arabi Street (02 307 5551).

WHAT IS IT...
A table-service, family friendly Friday and Saturday brunch

WHY GO...
For the incredible pizza, and to embrace your inner child and draw all over the tables
Be the first to get all the latest Abu Dhabi news, reviews and deals into your inbox by signing up to our free
newsletter
,
click here to sign up
.