The Friday brunch at Zuma is one of those brunches that has achieved legendary status in Abu Dhabi, and after our latest visit, we're left in no doubt as to why.

It's really hard to know where to start with describing all the wonderful food that's on offer, as even the simple things like edamame beans, grilled corn and broccoli (a surprise highlight) are done so brilliantly.

We start with a fruity welcome drink at the bar. Normally we'd linger here for hours and hours, admiring the bottles of Japanese beverages stacked to the ceiling, but today we're keen to push on and begin eating.

The staff are charming and friendly, and they helpfully start off by explaining that we can help ourselves to the buffet of sushi, salads and hot bites (such as skewers of meat and noodles), before selecting a main each from the à la carte menu.

But, to save us the trouble of getting up straight away (a gesture we appreciate so very much), they bring out some nibbles to get us started. They include the aforementioned edamame with sea salt, rock shrimp tempura and a selection of nigiri and maki rolls. It's all light, fresh, and clearly made with incredibly high-quality ingredients.

The rock shrimp is lightly battered and coated in a sauce with a lovely kick. We finish the portion in no time before moving on to the sushi. We enjoy every bite of the selection of maki rolls and nigiri, with the flambe salmon nigiri and eel and omlette roll standing out for us, although it's all really superb.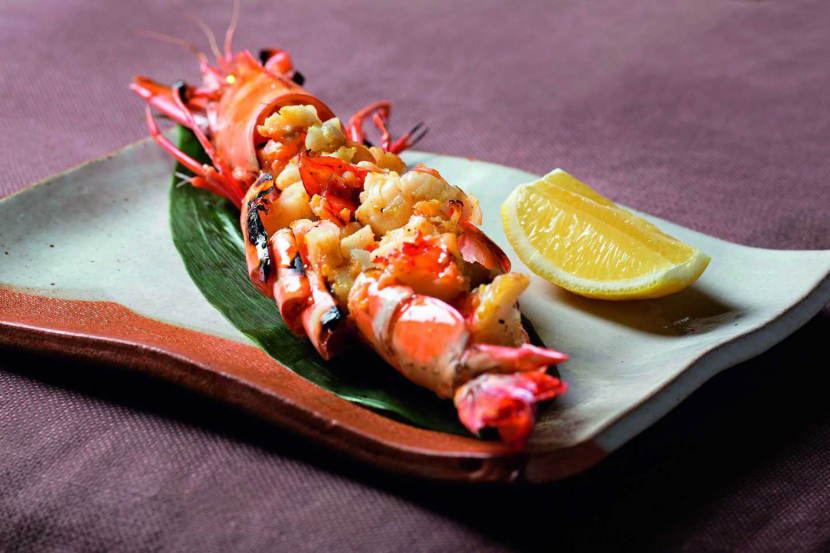 Next we stray away from the seafood and attack the main section of the buffet, where we find it a real struggle to decide what to select. It all looks so good it's a shame to have to miss out on anything.

But just as we're selecting our pick of the vegetable tempura, a commotion errupts from the centre of the dining room. A ceremony begins for the opening of a barrel of Japanese beverages, and as everyone gathers around to watch we feel like the afternoon is only going to keep getting better and better.

We're correct, and our next plate of mini sliders (we didn't know it was possible for a straightforward beef burger to taste this good), beautifully creamy spinach with sesame, and a mixed salad tossed with the most zesty and flavoursome dressing imaginable only cements our theory further.

The asparagus and carrot tempura taste like they've come straight from the kitchen, and the sweet flavours of the vegetables have us thinking they must have been picked only this morning.

The sticky sesame beef is also a sensation, and we're tempted to go back for more.

But we finally face the difficult decision of picking a main course, and with our server's recommendation we settle on the black cod (one of Zuma's most famous dishes), and the tiger prawn. Both are incredible, and despite being full to bursting at this point, we finish every bit of the delicate dishes.

We make an obligatory trip to the dessert stand, too, although the main point of going to Zuma is surely to try the plethora of exceptional savoury plates rather than the (still very good) sweet ones.

The mochi is very enjoyable, however, as is the intensely creamy vanilla cheesecake.

Sitting right by the window with a view over the water around Al Maryah Island, the afternoon feels completely perfect. This is an experience that's hard to top.
Dhs395 (soft drinks), Dhs495 (house beverages), Dhs595 (bubbly), Dhs195 (kids aged four to 12). Fri 12.30pm-4pm. The Galleria Al Maryah Island (02 401 5900).

Be the first to get all the latest Abu Dhabi news, reviews and deals into your inbox by signing up to our free
newsletter
,
click here to sign up
.