The Friday Marina Brunch is probably the busiest brunch we've ever been to, and we've been around the block a few times.

The tables are all full, the place is buzzing and the venue is desperately trying to find extra chairs from the InterContinental's other restaurants to meet the demand.

But it's not really a bad problem to have, as we're sure many of the capital's other hotels and restaurants will attest to.

As much as we're all crammed in and bumping knees and elbows with one another, there's a great atmosphere and no one is bold enough to suggest a table outside in the intense heat – we're all much happier in the cool air conditioning.

When it comes to Friday brunch a lot of them offer pretty similar food.

There's the standard salads, curries, sushi, seafood and pasta combinations… The five staples of the UAE brunch scene.

And while each of these is represented in one way or another at the InterContinental, the huge variation and choice on offer is really quite impressive.

In fact, as we walk the length of the brunch (we like to see everything that's on offer before we grab a plate), we find ourselves taking a journey from Chamas all the way to the other end of Cho Gao Marina Walk, passing dozens of dishes and live cooking stations along the way.

It's impressively large and we can confidently say that everyone will find something they like here.

So where do you even begin to start with so much choice? Seafood, always seafood.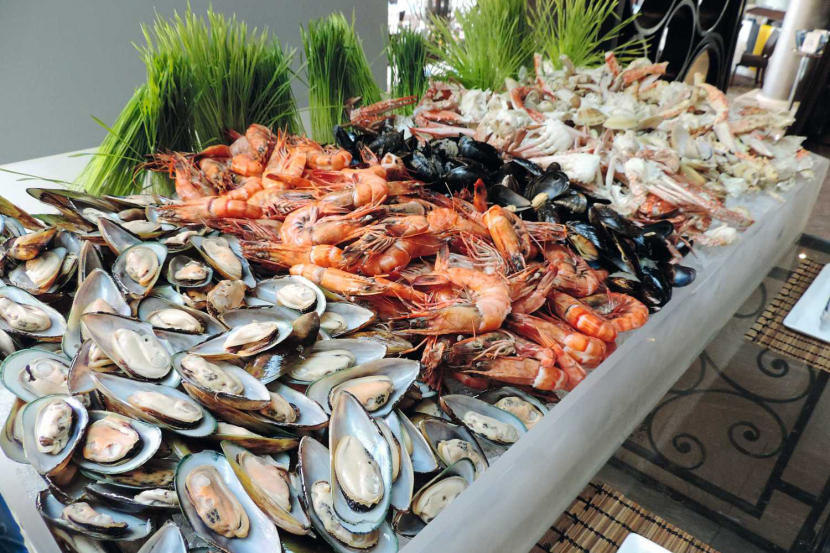 Believe us, we know brunch.

Oysters aren't to everyone's taste but these half-shelled beauties are a delight.

The plump prawns are fought over and regularly restocked and can you really say no to a juicy lobster tail? We don't think so.

With such a huge offering of Asian delicacies and dishes on offer, you'd also be foolish not to explore what's hiding under the bamboo steamers and bubbling away in the pots at Cho Gao.

With the wonderful aroma of lemongrass and ginger in the air we find ourselves gliding along like Pepe Le Pew on his way to a feast.

The dim sum goes down easily and we find ourselves filling more than one plate with the tasty morsels.

The plentiful Thai curries and noodle dishes aren't to be sniffed at either (although you should actually, because they smell amazing) so we load
up another plate with a mish-mash of Oriental dishes and demolish them all.

But filling up at Cho Gao isn't actually the way to go, as delicious as it is.

The meat at Chamas is sliced fresh to your liking, and the succulent beef is a joy to behold (we never miss an opportunity to tuck into a plate with gravy and mashed potato).

Cooked pink, the meat is tender and yes, we go back for more because it's brunch and it would be rude not to.
That being said it might have been one plate too far.

As we sit full and defeated, unable to contemplate putting anything else into our stomach for the foreseeable future the picturesque scene of the marina is the perfect view to end our day with.

The Friday Marina Brunch really is up there as one of Abu Dhabi's best brunches.
Dhs215 (soft drinks), Dhs275 (house beverages). Noon-4pm. InterContinental Abu Dhabi, Al Bateen (02 666 6888).

WHAT IS IT...
A massive brunch offering all sorts of amazing food in one place

WHY GO...
Walking between the stations is a welcome workout
Be the first to get all the latest Abu Dhabi news, reviews and deals into your inbox by signing up to our free
newsletter
,
click here to sign up
.